Every few weeks, I like to spotlight a sewing pattern. This week we will be chatting about the Padded Fabric Storage Bins pattern. I'm going to show you a few ideas for variations on the pattern and give you some sewing tips for pattern construction. Even if you're new to sewing, I think you can tackle this simple sewing project!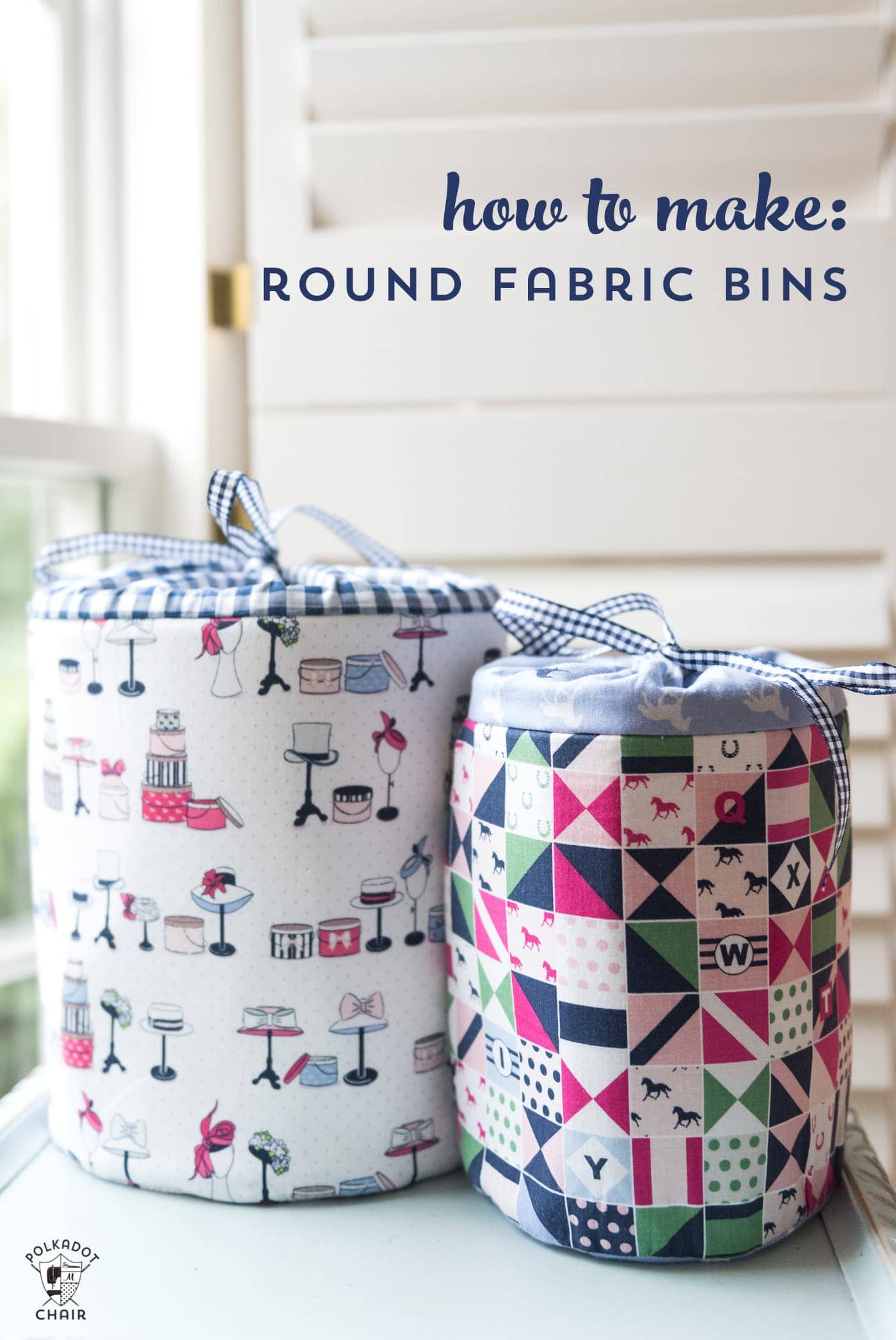 Table of Contents
I was going through my "stash" of sewing patterns last weekend and realized that there are quite a few patterns that I've stitched up and either not shared with you, or chatted about once a long time ago then never mentioned again. 
Like they disappeared into nothing"ness" LOL!! (p.s. why don't we have emojis on blogs yet!!?? insert laughing emoji – then winking emoji). One of those patterns I realized was this one for Padded Fabric Storage Bins!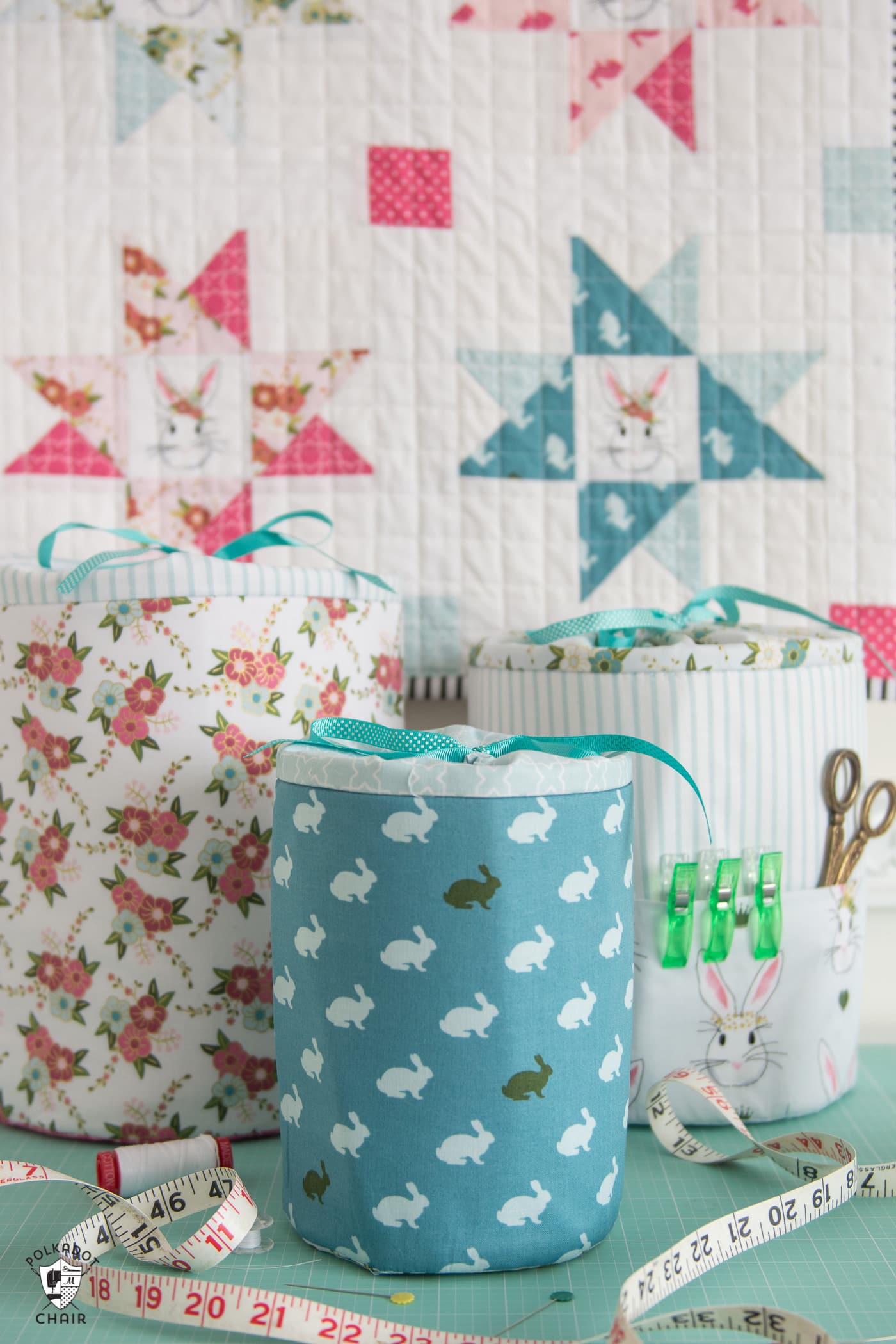 I'm going to start spotlighting one of my patterns every few weeks here (and putting the pattern on sale for a limited time!!!) I think it will be a good way to give you tips for construction the pattern and along with more ideas when it comes to fabric choices and options for the patterns. I know that personally when I decide to stitch up a sewing pattern that I spend HOURS deciding what fabric to use and having lots of pictures of the pattern stitched up always helps me to decide what to use.
About the Padded Fabric Storage Bins Sewing Pattern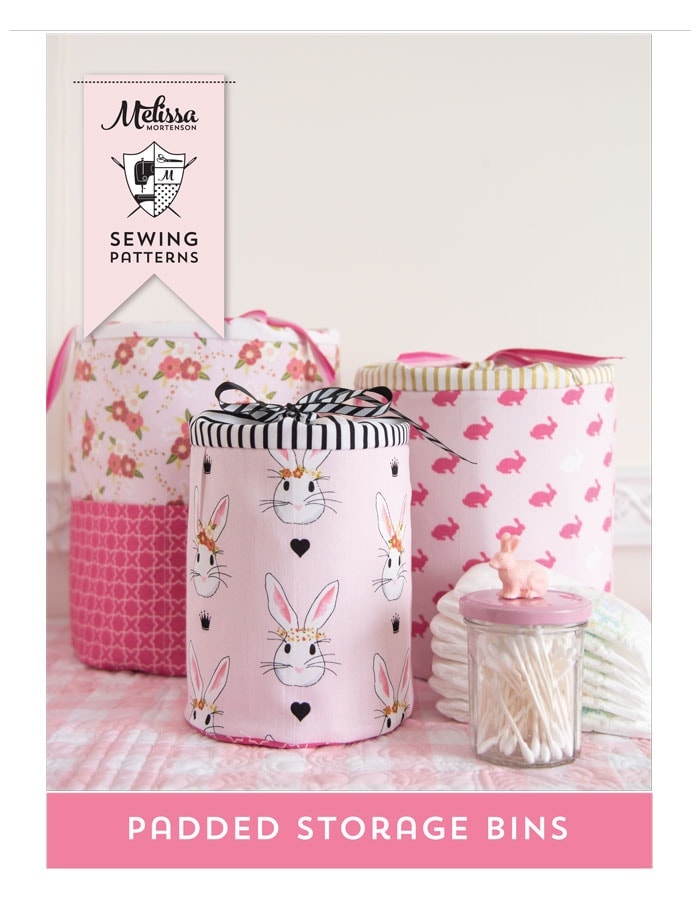 One of my favorite patterns offered in the shop is my Padded Storage Bins pattern. I have made so many of these handy little bins! I love to give them as gifts to friends having babies, or friends for themselves. My daughter has a set that she keeps in her dorm room to store some of her jewelry.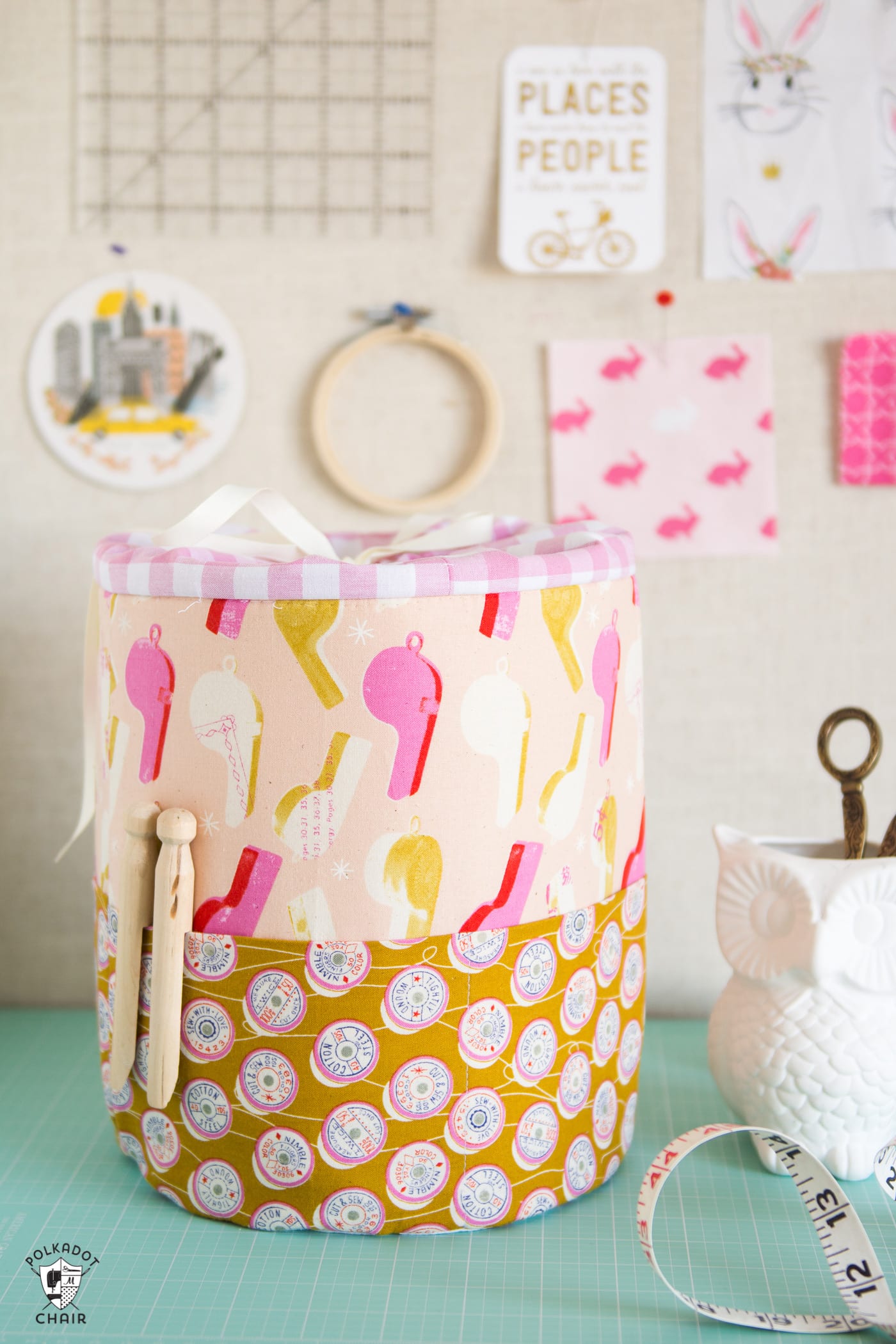 Personally, I have a medium sized bin that I'm keeping a needlepoint belt project in. It's the perfect size for holding all of the threads and supplies for the belt. It's also cute, which is important because I think it will be sitting on my table for a long time – I'm not moving too fast on making that belt!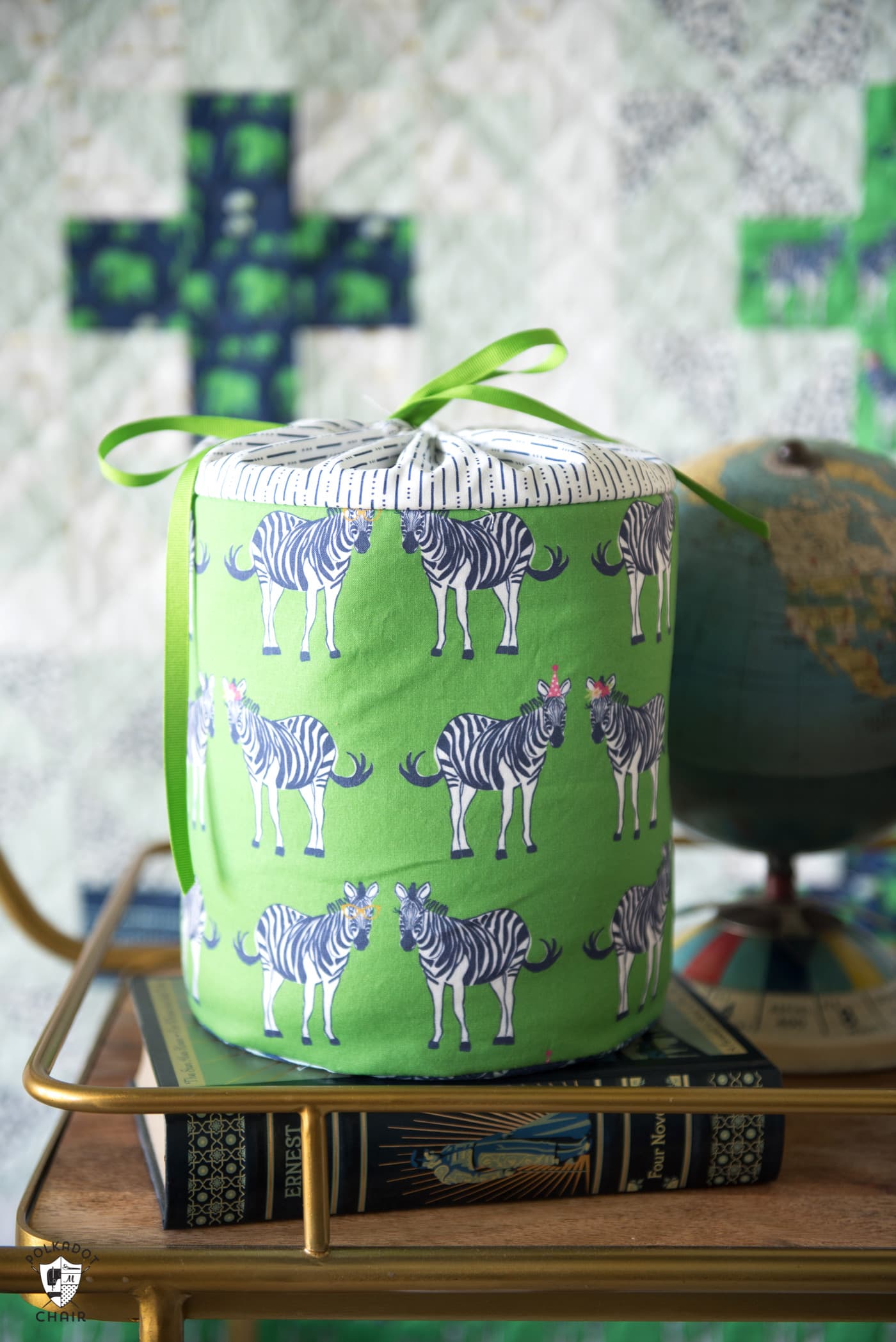 I did want to point out that this is a paid pattern. There are hundreds of free patterns on this site. I've found in my 10 years of doing this that some projects are better served in a printable pattern form. They are usually ones that involve lots of steps and would take up many pages on a blog. For convenience's sake, it's much easier to have a printable version of the project.  This is one of those projects.

The DIY Storage Bins Sewing Pattern Features
Small, Medium and Large Size Options
Instructions to include an optional exterior divided pocket, great for holding pens, pencils or scissors
The pattern is offered in both print and PDF format
It is fully lined, with no exposed raw edges on the inside.
Includes a drawstring "lid", which can be folded into the bin if you don't want to use it.
Today I'll share how to create an interior divider as well
Ideas for Using the Storage Bins
Nursery Storage (store diapers, wipes, or toys) – this would be especially great if you lined the bin with laminate fabric.
DIY Toy Storage – legos, cars, doll clothing etc.
DIY Sewing Basket
Travel Organization for cords or jewelry
Household Organization – cute bins to hide all the cluttery stuff!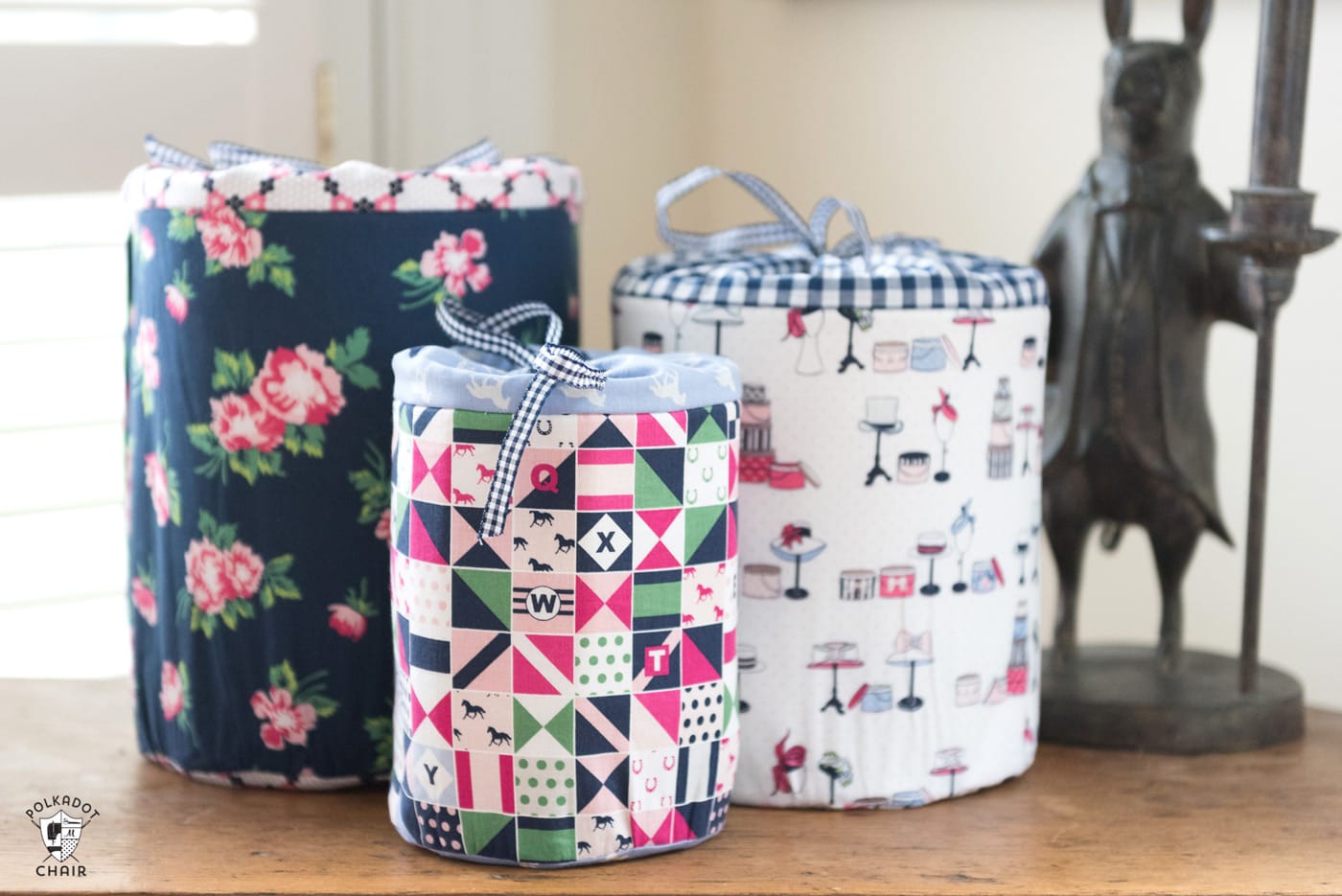 Recently I stitched up a set of the fabric bins using my Derby Day fabrics. I was headed out on a trip and needed something to organize my cords and cables in. The zip pouch I had was not quite big enough so I made the smallest storage bin to hold all of my chargers for the trip.
I figured since I was already stitching, that I'd go ahead and whip up two more too, I have not found it hard to find uses for the bins.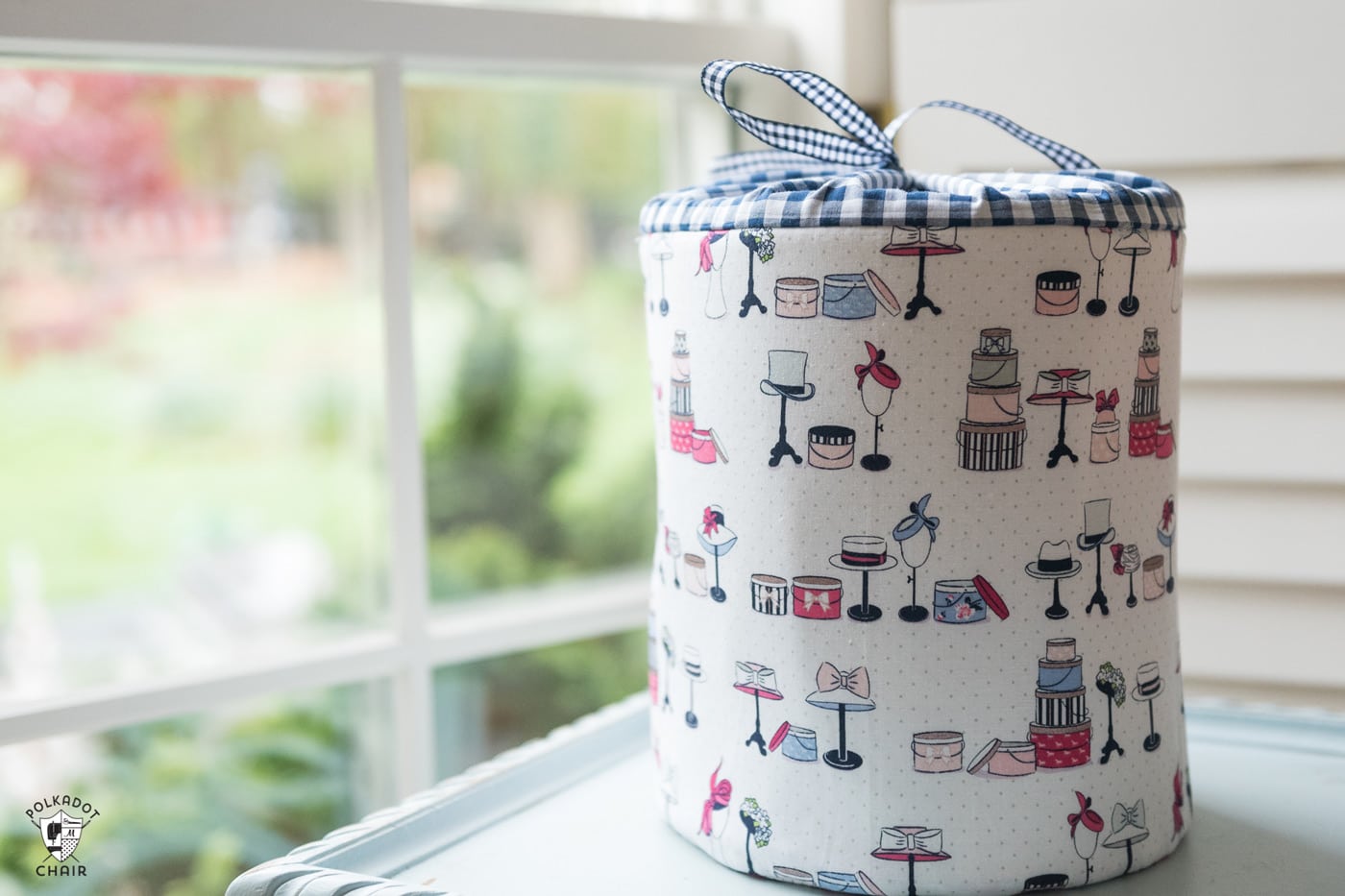 Today I wanted to quickly show you how to add a divider to the inside of the bin. It's a great feature if you're looking to organize bottles that you want to stay in place as they are transported, I think it would be perfect for shampoo bottles or other toiletries.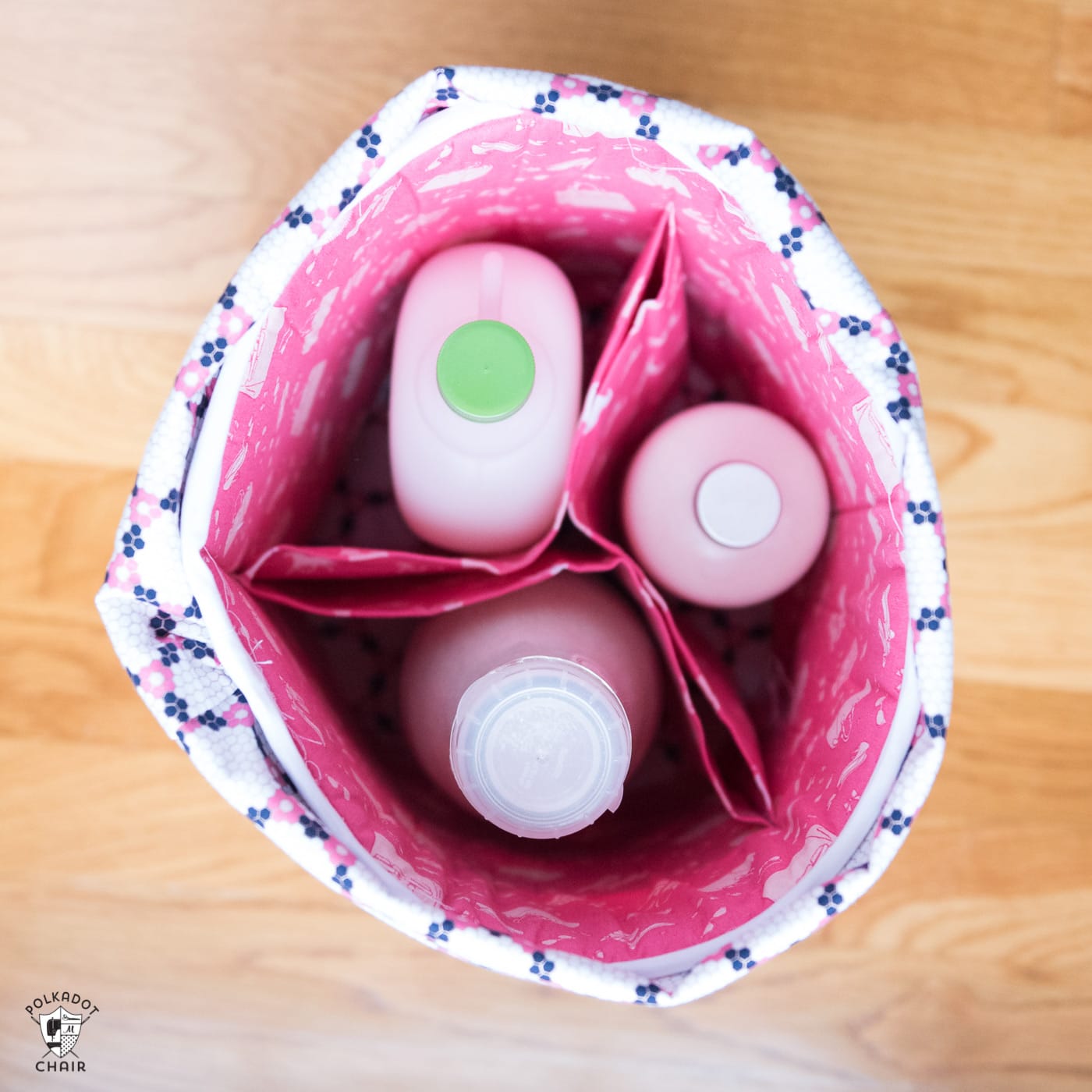 How to Get the Pattern
You can find the pattern in our shop. It is available as a digital PDF pattern and as a printed sewing pattern that is mailed to you.
How to Add a Divider to the Interior of the Fabric Bin
NOTE: you need the pattern, grab it here.
Step One:
Cut one extra pocket piece. If you're putting a divider on the inside and a pocket on the outside, you'll want to cut 2 pieces.
Follow the instructions on the pattern until you get to the point where you will construct the lining of the bin.
Step Two:
Fold the pocket piece in half, right sides facing along the long side. Stitch along the raw edge with a ½″ seam allowance.
Turn the piece right side out and press.
Step Three:
Place the pressed divider on top of your bin lining pice which has been adhered to your foam interfacing. Place the divider 1″ up from the bottom of the lining piece. Stitch it to the lining at both of the short ends. Stitch two additional lines on the divider so that you've evenly divided the piece into 3 sections. Make sure you backstitch that top and bottom of those lines.
Continue construction as normal.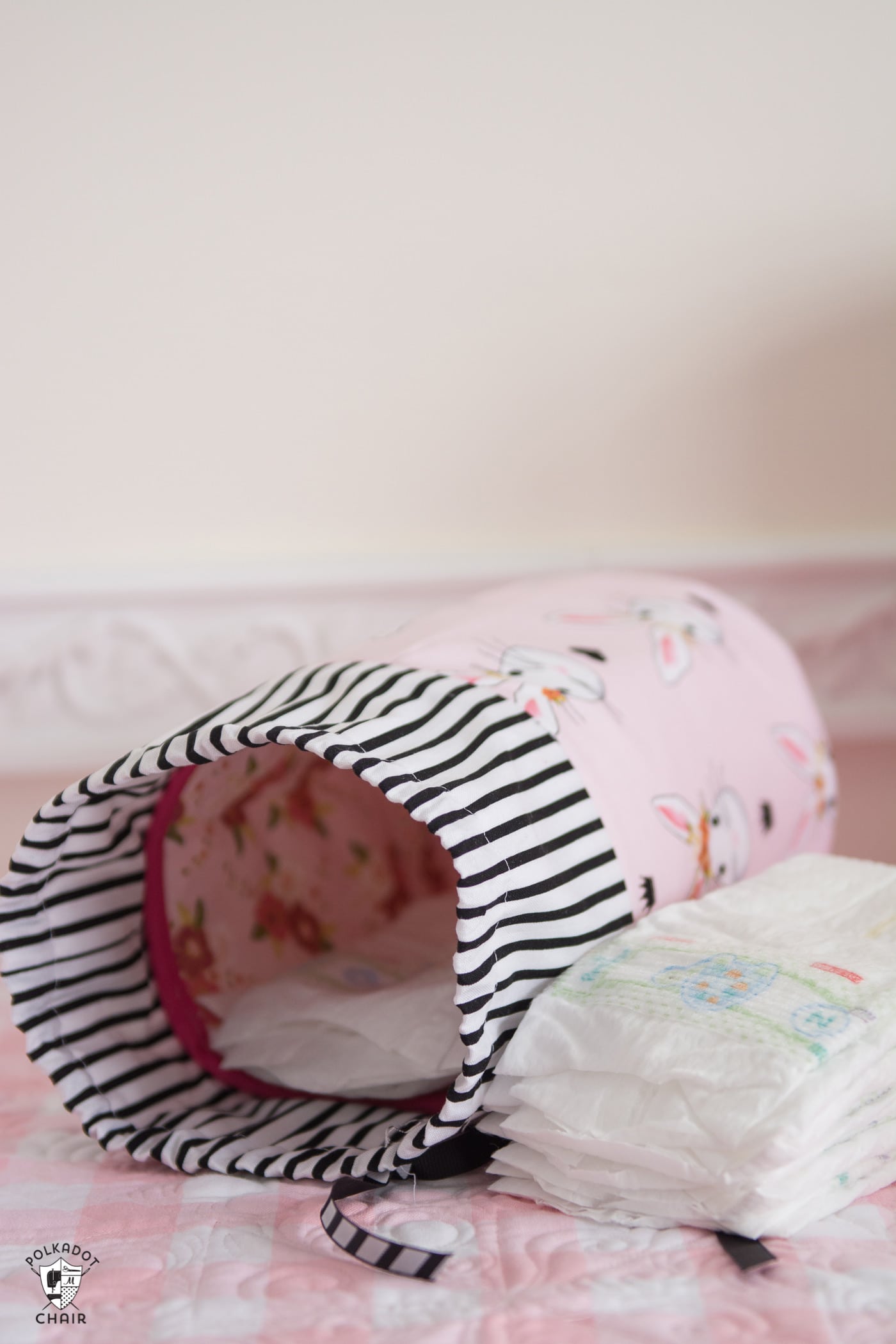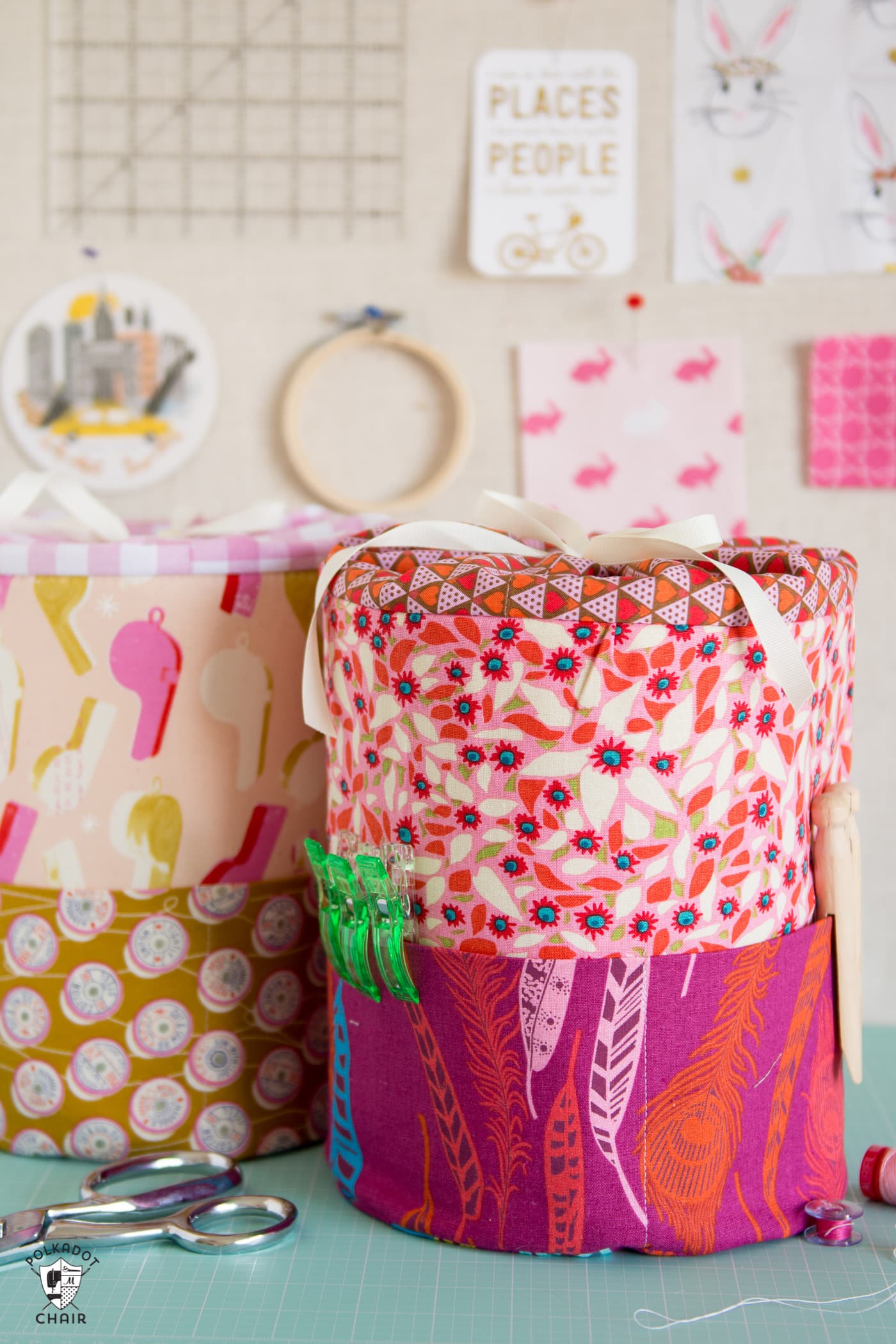 I hope that helps you and you enjoy the extra suggestion for the pattern. If you have any questions just leave them in the comments, I'll try to get to them as quickly as possible. 
The biggest tip I am going to give you is don't let the divider get caught in the bottom seam of the bin. If you do that, you'll just end up with an oddly shaped pocket (don't ask me how I know this *wink*).
For international buyers, please use Etsy.
Happy Sewing!!
You may also like these Free Sewing Patterns