A great big thank you to SayitwithApplique.com for providing the supplies for, and sponsoring this tutorial! All work and opinions are 100% mine.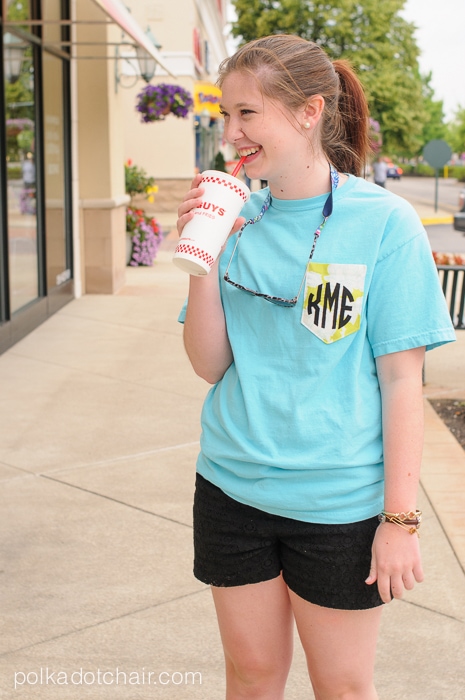 Last year my oldest daughter came to me and said "Mom, I found a new project for your blog!" She proceeded to show me some photos of t-shirts with colorful pockets sewn on. I thought "hey, that would be a fun project".. and filed away a pocket tee tutorial onto my "to do" list.
Then last summer we were out shopping and she wanted to buy one of the pocket t-shirts that she had shown me earlier, I thought "ok" then I looked at the price tag and had a "don't buy that I can make it!" moment. I talked her out of it convincing her that we could make one at home and she could pick whatever fabric she wanted on the pocket.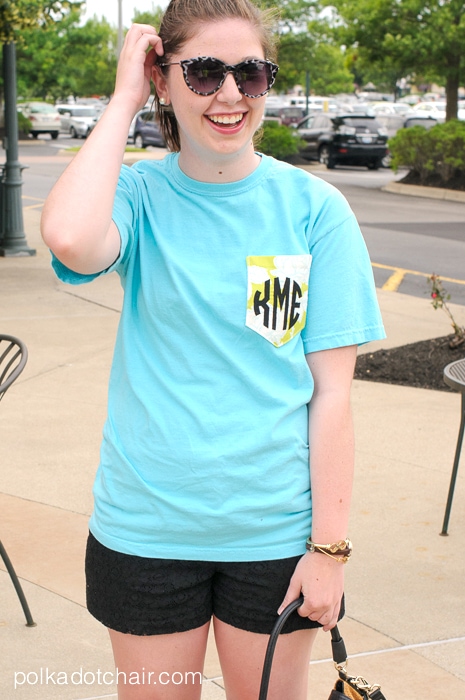 Fast forward a year, she headed off to college out west and along with missing her I admit I lost one of my creative "muses". She was always so good (and excited) to suggest new projects for my blog ( and was a huge help coming up with ideas for my book).  Well…. she's home for the summer (although only temporarily, she's headed off to Europe for a study abroad later this summer)… and so it was finally time to make her a pocket t-shirt.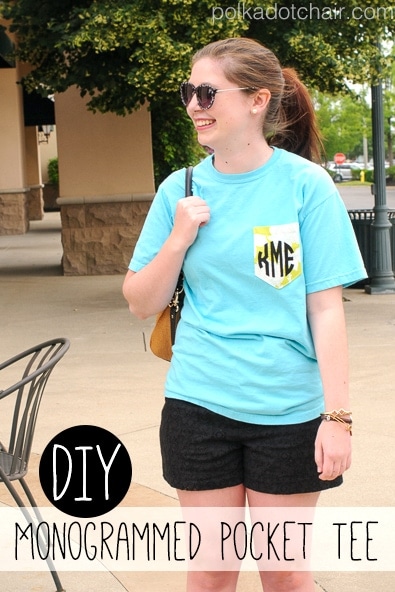 She's been obsessed with monogramming EVERYTHING this year.  I think it stems from growing up in the South and moving out West where monogramming is not quite as popular. To her I think it's a little something that reminds her of home.
The kind folks at Say it with Applique contacted me about working with some of their laser cut fabric letters last Spring. I knew that they would be a great fit for this project. (I've got another fun monogram project from them coming next week!) I promptly order my daughters monogram.  Then it showed up in the mail and I found out that ORDERED THE WRONG LETTERS!  (just to be clear, they sent the ones I ordered, I just ordered the wrong ones)… Worst thing, I didn't even notice until she pointed it out! Yes, total DUH moment,  I seriously don't know my own daughter's initials???? I had messed up and ordered my middle name as hers— I swear I wonder where my brain is going.  After quickly reordering the right monogram and having them show up really fast, I got to work on her t-shirt.
Say it with Applique offer letters and monograms that are pre-fused and laser cut. The thing I like about them the best is that their letters (aside from the fact that they are laser cut, hallelujah) are all cut from high quality 100% cotton fabrics.
They have several fonts and colors to choose from.  If you've ever wanted to add a name to a project you're working on, these are perfect.
I chose to work with the circle monograms.  They come in two sizes small and large. The one on the t-shirt is the small monogram, next week I'll share a project using the large circle monogram.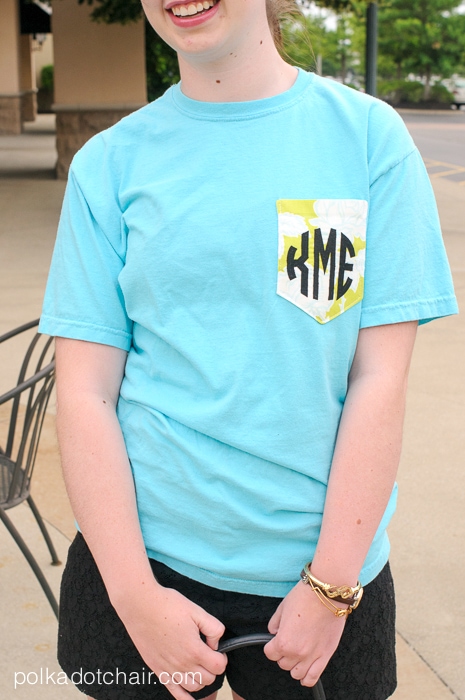 Okay,
To make the shirt you're going to need:
-Pocket Template Piece (you can download it here)
-Circle Monogram, Small
-Scrap of fabric
-T-shirt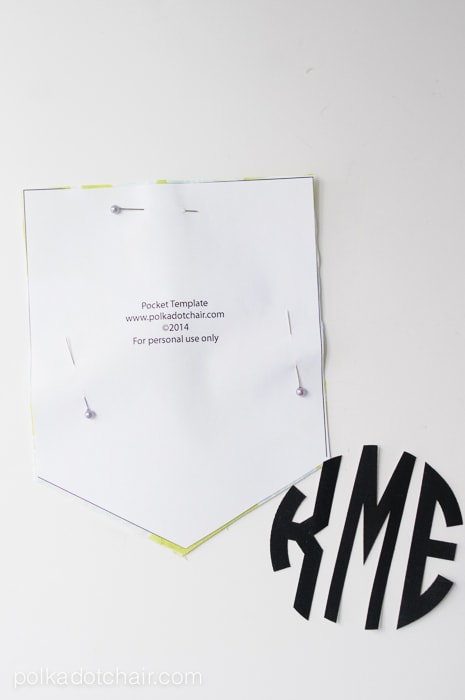 Begin by cutting out two pieces of fabric from the pocket template piece.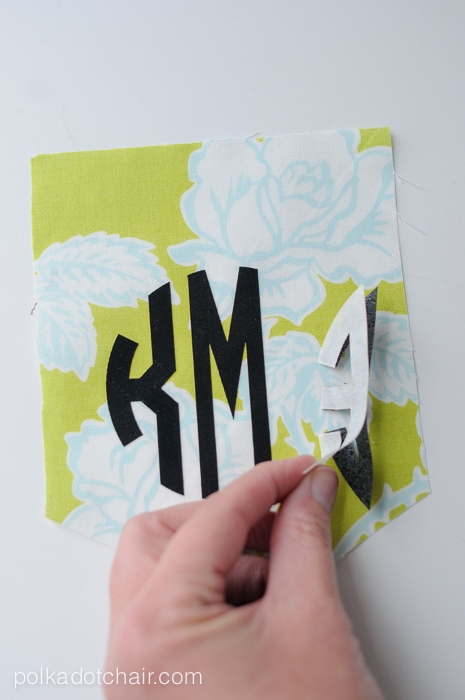 On one pocket piece apply the monogram. Start in the center and apply one letter at a time. Just peel the back off of the letter and iron onto the fabric.
Since I knew that this shirt would be washed a lot I decided to also stitch the letters down. To make it simple, I stitched down the center of each letter in matching thread.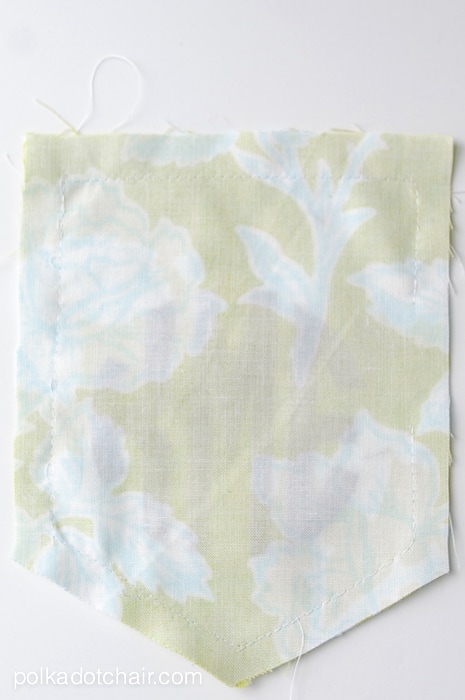 Next put your two pocket pieces right sides together and stitch with a ½″ seam allowance. Leave 2″ opening in one side of the pocket to turn it right side out.
Clip the corners and turn right side out and press.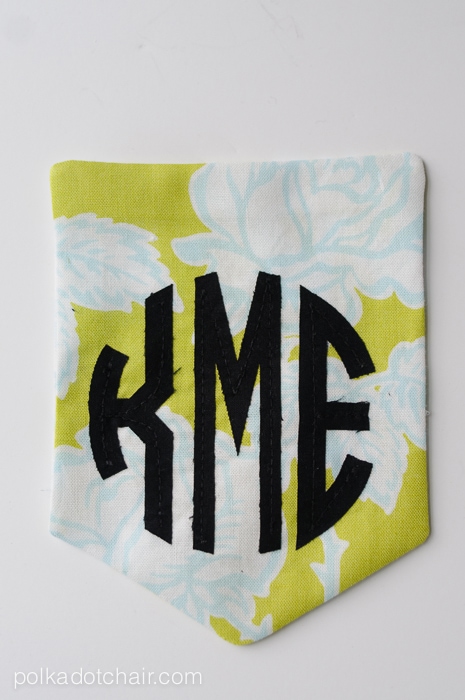 For a bit of extra detail, stitch a line ¾″ down from the top of the pocket.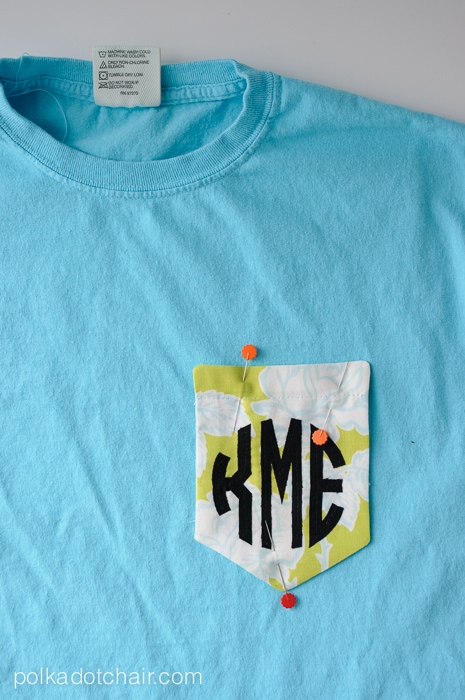 Pin the pocket to the t-shirt in the desired location and stitch in place. Be sure to backstitch a few times at the top of the pocket.
That's it! The shirts are so quick and easy to make I may even make her a few more!
To find out more about Say it with Applique visit their website.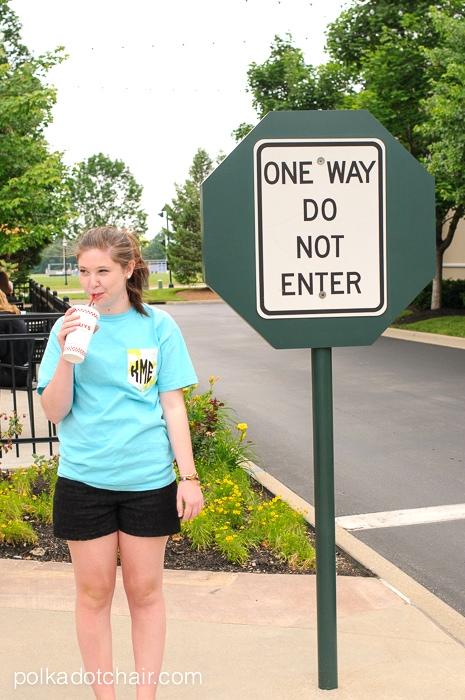 Connect with me: