Have you ever started a sewing or quilt project only to get stuck when it comes to picking the colors and fabrics for your project? Does color theory overwhelm you a bit? I'm breaking down my best tips and tricks for picking and combining fabric colors for sewing and quilting projects.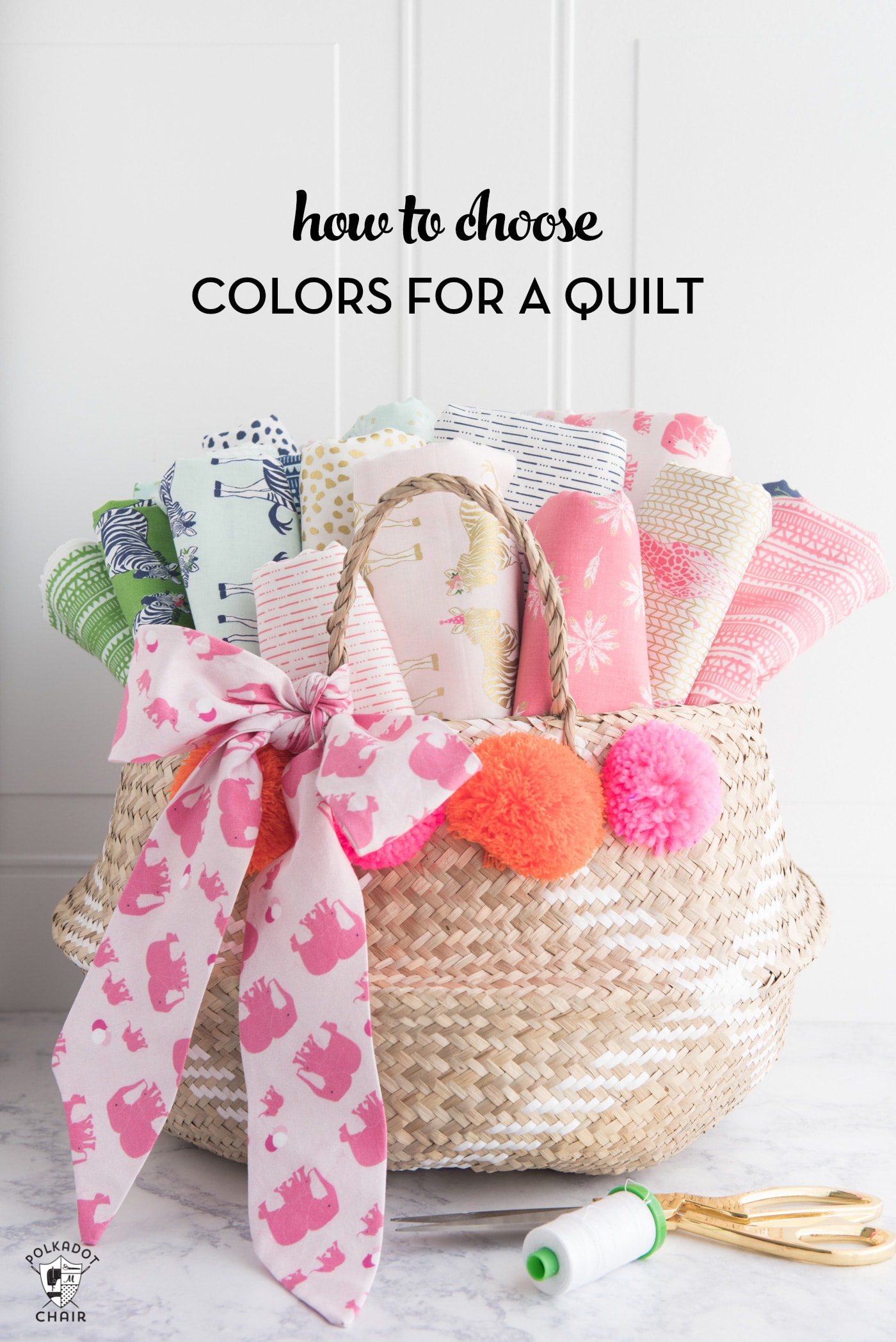 (fabrics above are from my Safari Party line with Riley Blake Designs)
Whether you are new to quilting and sewing or an experienced Maker, you may sometimes get stumped by which colors and fabrics to use for a project. Even after all of these years of writing patterns and blog posts, I get stumped a lot! Today I'm sharing with you how I pick colors for my projects in the hopes that it helps you out a bit too!
Table of Contents
Color Theory for Quilting
When it comes to color theory, you will notice a lot of terms that are thrown around frequently—analogous, Triadic, Monochromatic, Complementary, Split Complementary, etc. Personally, I get really confused when I try to assign a color scheme to one of those color combo names.
I prefer to use a few "shortcut" color combos and thought I'd share them with you today. I am not claiming to be a color expert, but I have picked up a lot of tips and tricks in my years of designing fabric and sewing and quilt projects.
To keep things simple for you, I've broken down my suggested color combinations into the following categories (I have used the official names for a few of the categories).
Colors From the Same Family (monochromatic)
Warm Color Combos
Cool Color Combos
Warm and Cool Color Combos
Complementary Color Combos
Color Combos for Holiday Projects
When I think of planning quilt or sewing projects, the categories above are my "go-to's." I'm breaking down each color scheme suggestion below with examples of finished quilts and sewing projects made from that color scheme.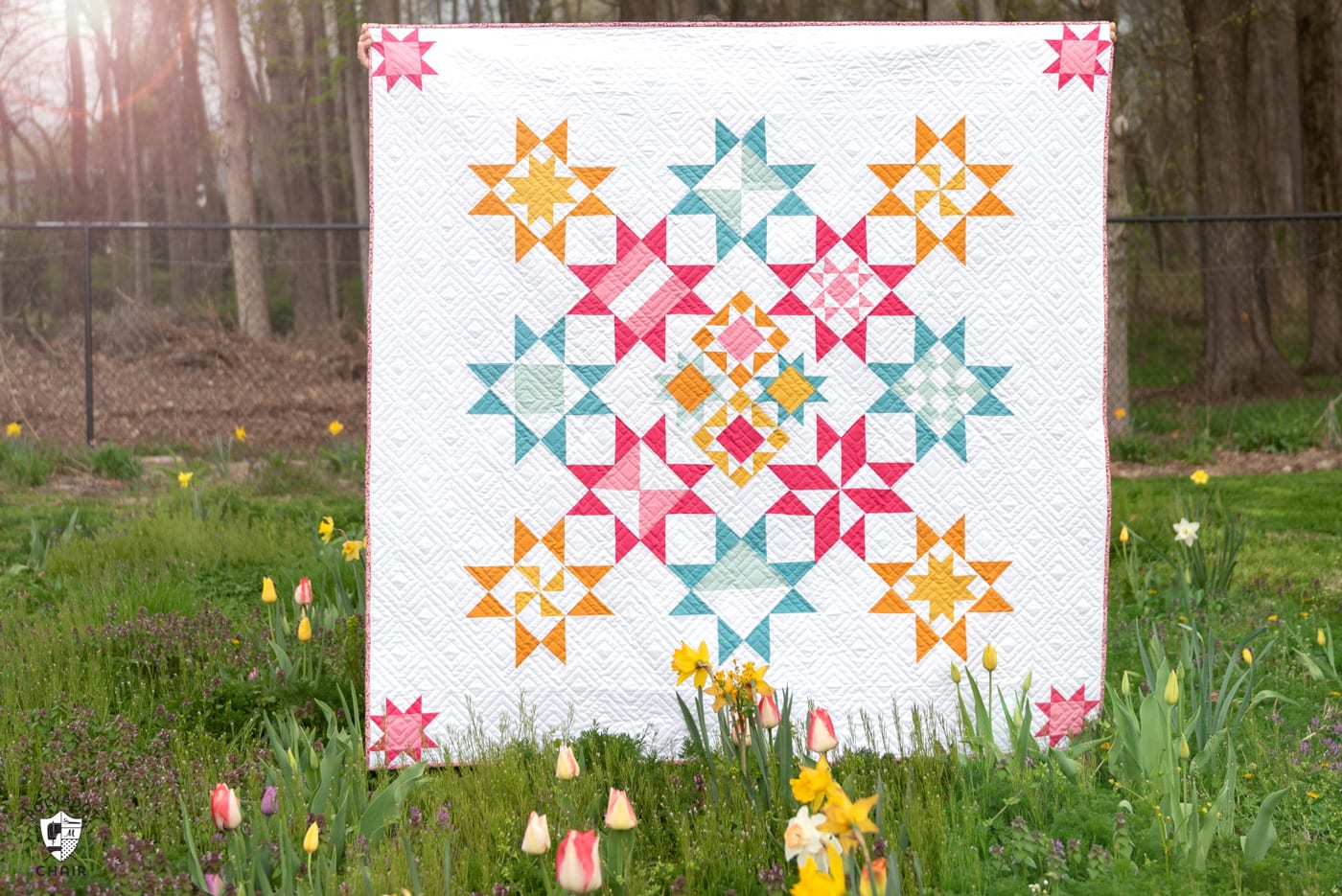 If you are really interested in color theory, there are classes and articles, and videos that delve deeply into the subject. I was a science major in college, so this part of design really fascinates me.
My goal today, however, is not to write a thesis on color theory but rather to give you some practical, useable suggestions for you when you're planning your next sewing or quilting project.
All of the fabric swatches in the photos below are from my Sparkler line with Riley Blake Designs. I've listed the exact color names below each photo for reference.
Colors all From the Same Family
Commonly referred to as a monochromatic color scheme, this is a common color combo for many quilt projects.
Basically, what this refers to is many shades all of the same color. One example would be the red and pink stack of fabrics below.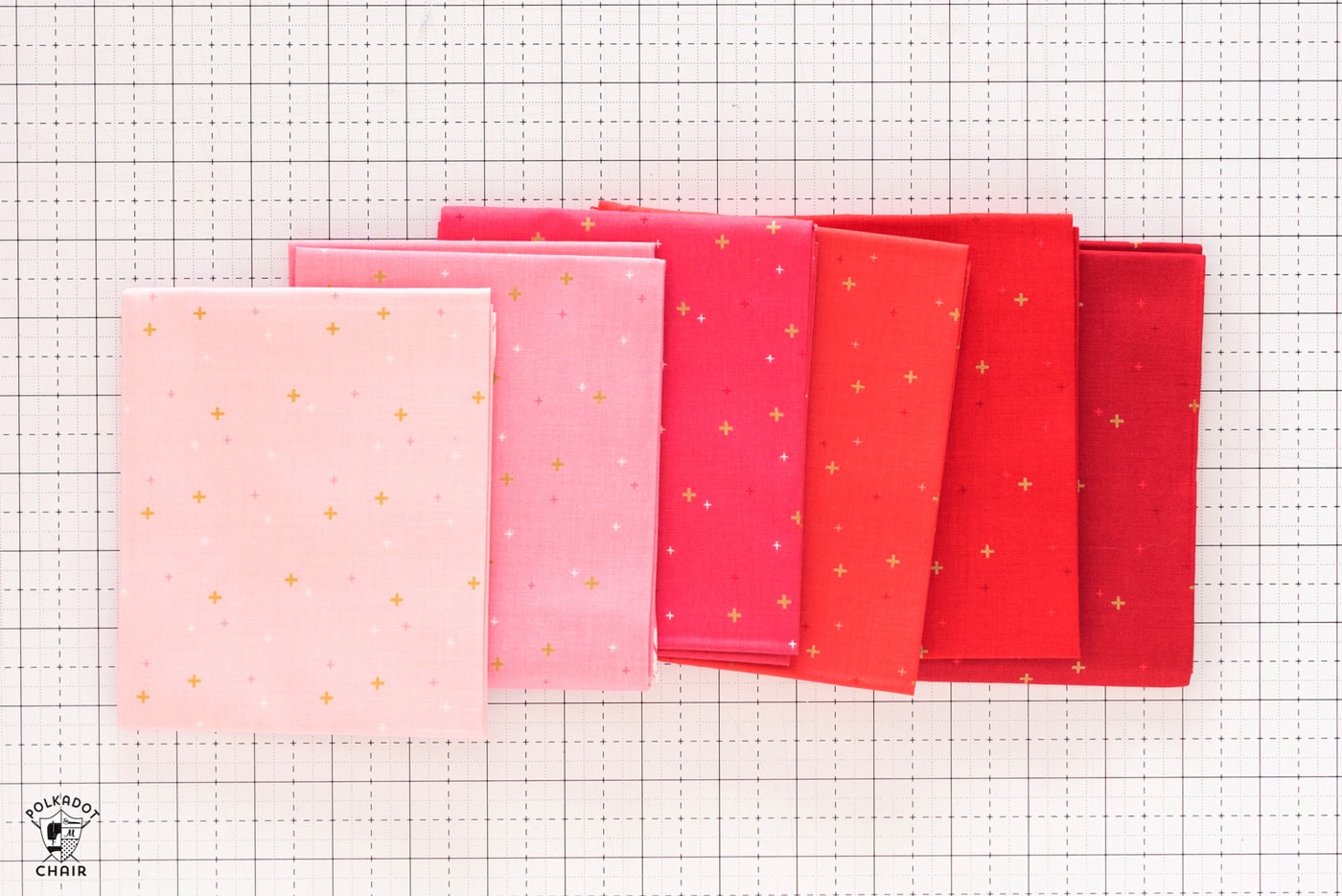 There is a bit of 'orange' in this stack, but for the most part, all of the colors are variations and shades of red. If you mixed white paint with red paint, you could, in theory, get many of the colors below depending on the amount of red and white paint.
When to Use It
Many times when I'm working on a quilt with a lot of colors, I will create one block in the quilt with a monochromatic color scheme. It gives your eyes a place to rest in the finished project.
The block below is just one of the blocks from my Riley Blake Challenge quilt. The rest of the blocks feature a lot of blue, green, and yellow combos, and the addition of a monochromatic block adds a bit of balance.
You can also create an entire quilt or sewing project out of monochromatic fabrics. The fabrics and blocks below are from a Riley Blake Challenge quilt from another year. It's not fished yet, but you can see most of the colors in the quilt are shades of blue-green.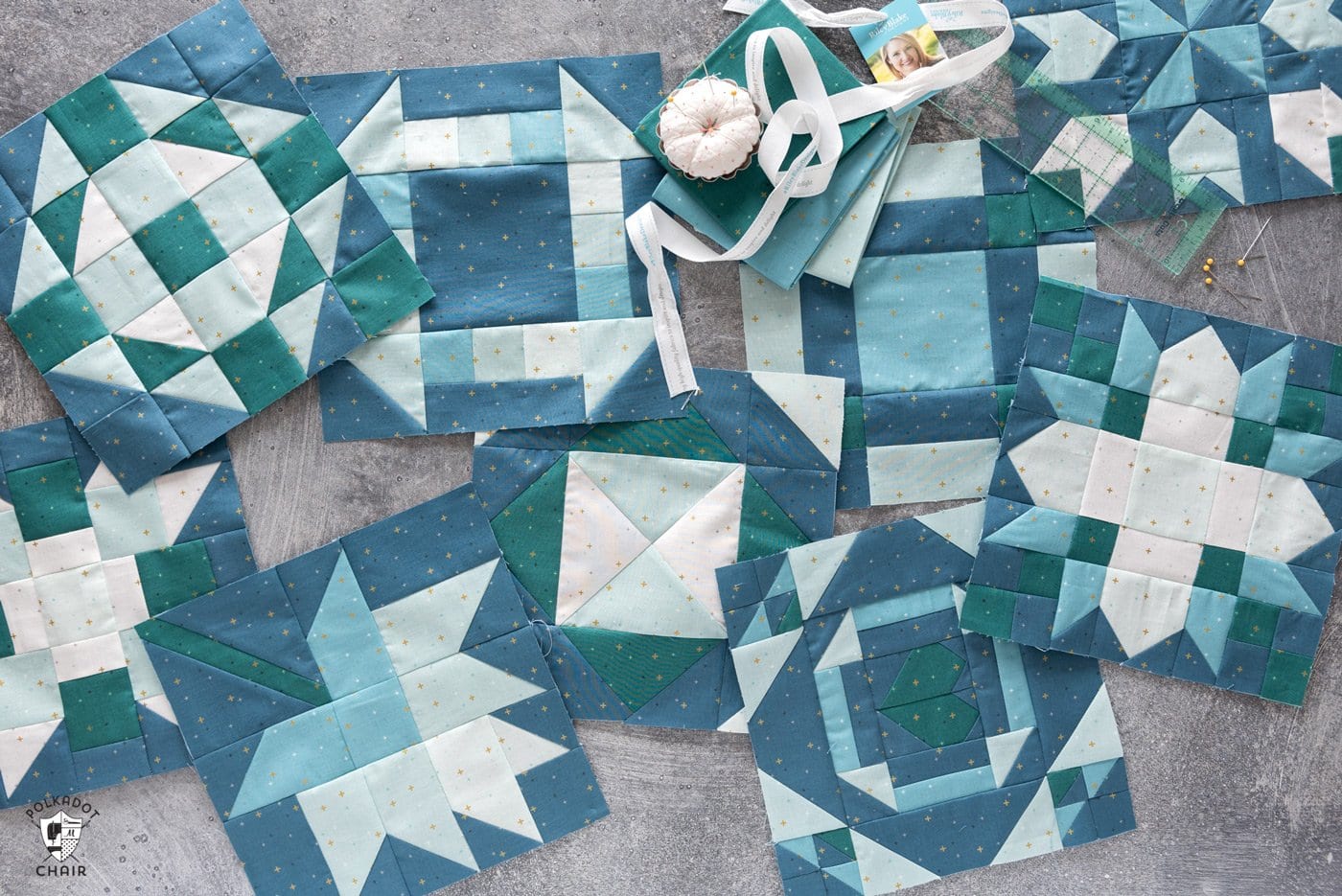 Warm Color Combos
Another common color scheme is a warm color combo. If you're confused as to what makes a warm color or a cool color, think of sunset colors. Most of the time, the colors we associate with sunsets are warm colors.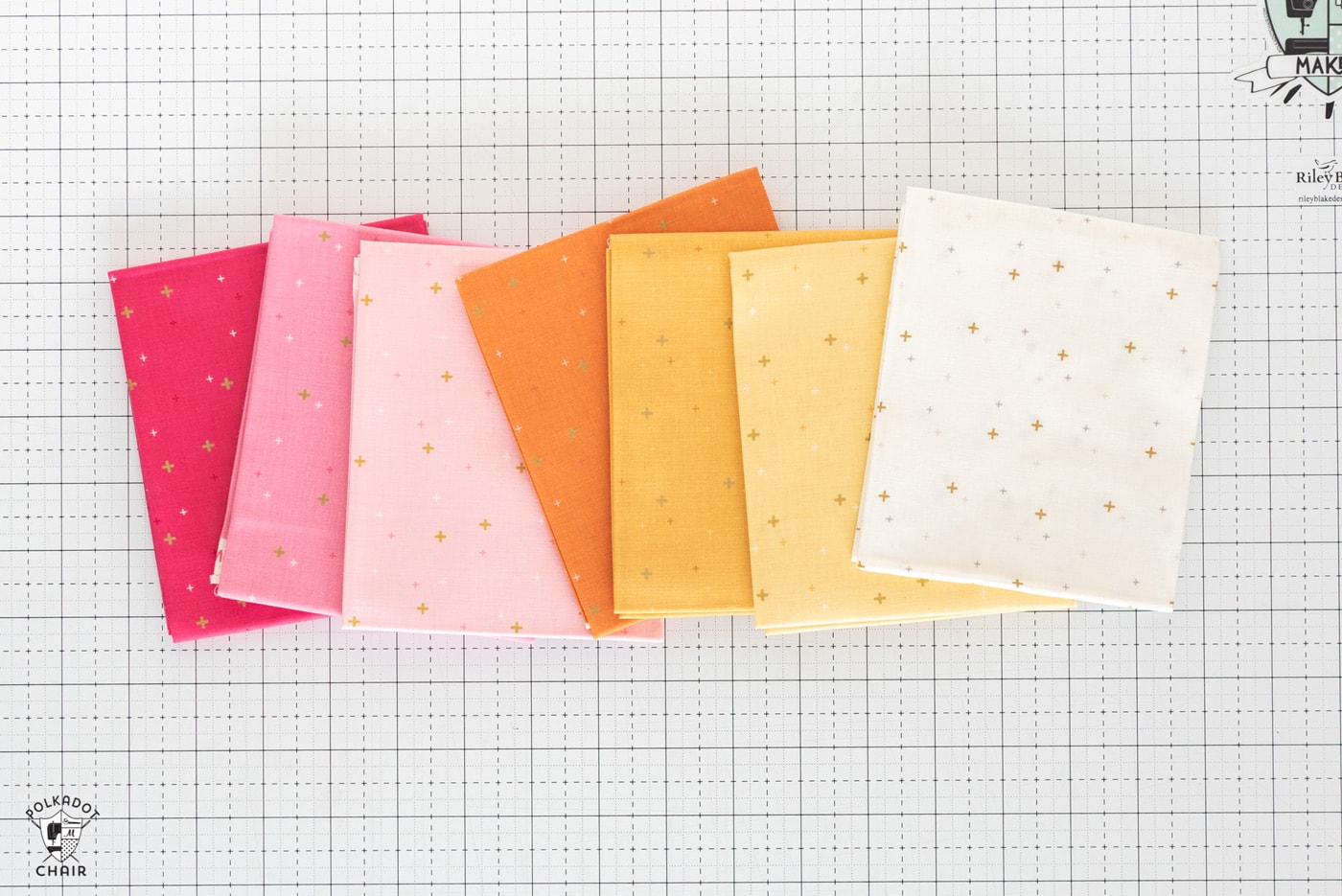 These colors include reds, pinks, yellows, and oranges. When mixed together, they can create beautiful color palettes.
The All the Hearts quilt below is made using mostly all warm colors.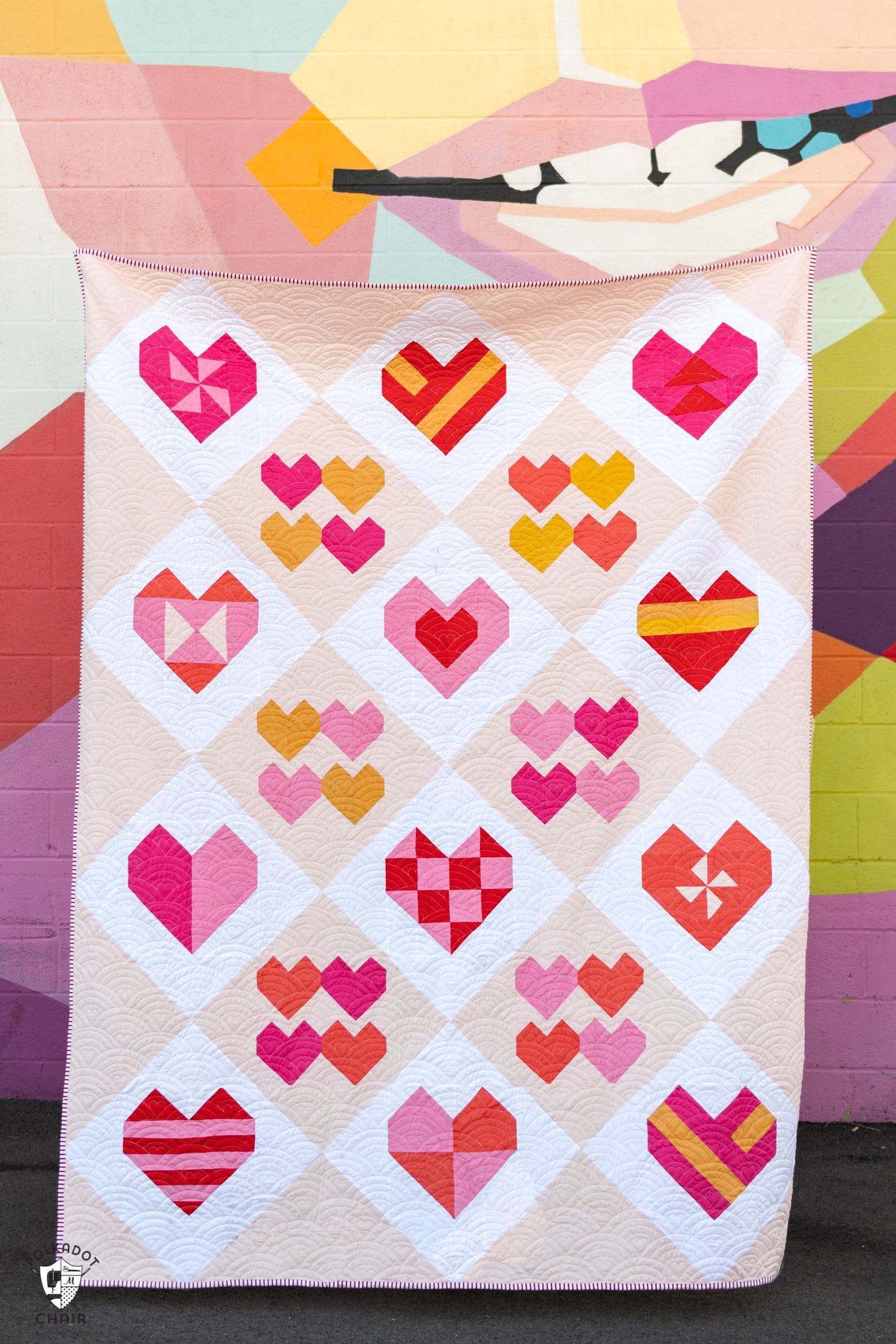 The color-blocked zip pouch is another example of a project made from all warm colors.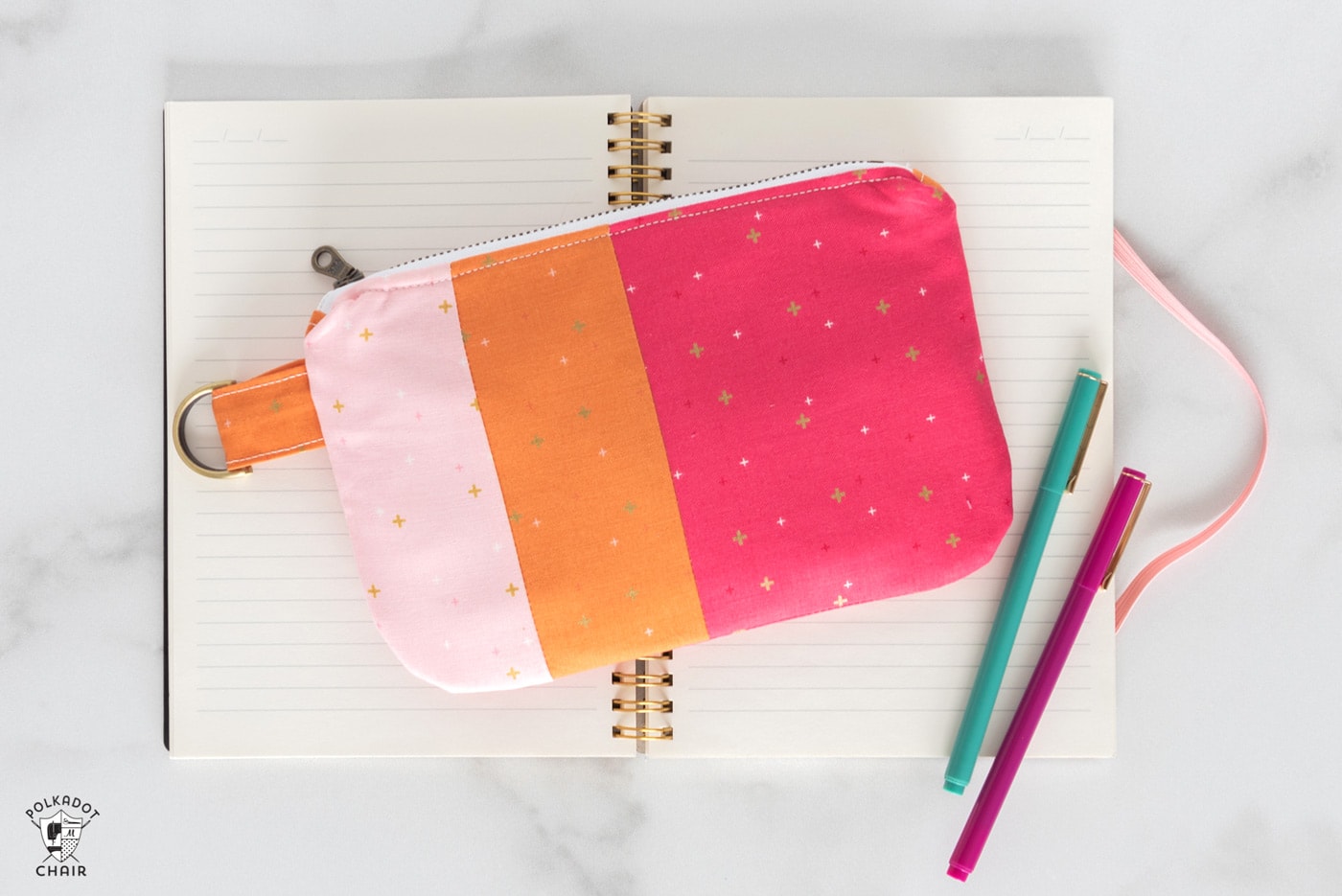 Cool Color Combos
Cool colors are on the opposite side of the color wheel from warm combos and are colors we often associate with the Ocean.
Think blues, greens, aquas, and mints.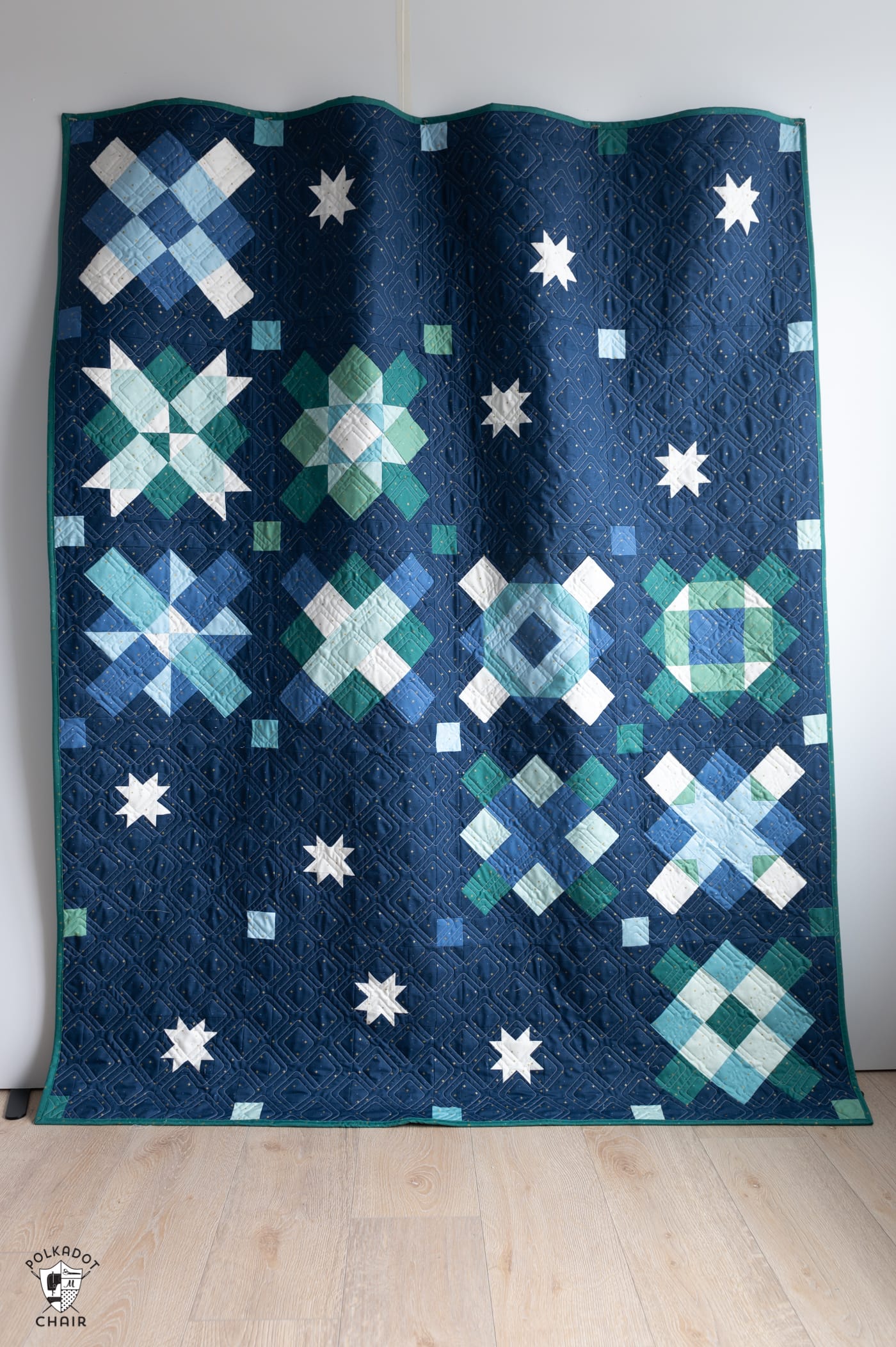 This Sparkle More quilt is created using all cool fabrics. There are green fabrics in the quilt, but all of the greens in the quilt are blue-greens, not yellow greens.
This quilt could also be considered monochromatic, but since there are shades of true blue and blue-green, I'm putting it in the "cool" group.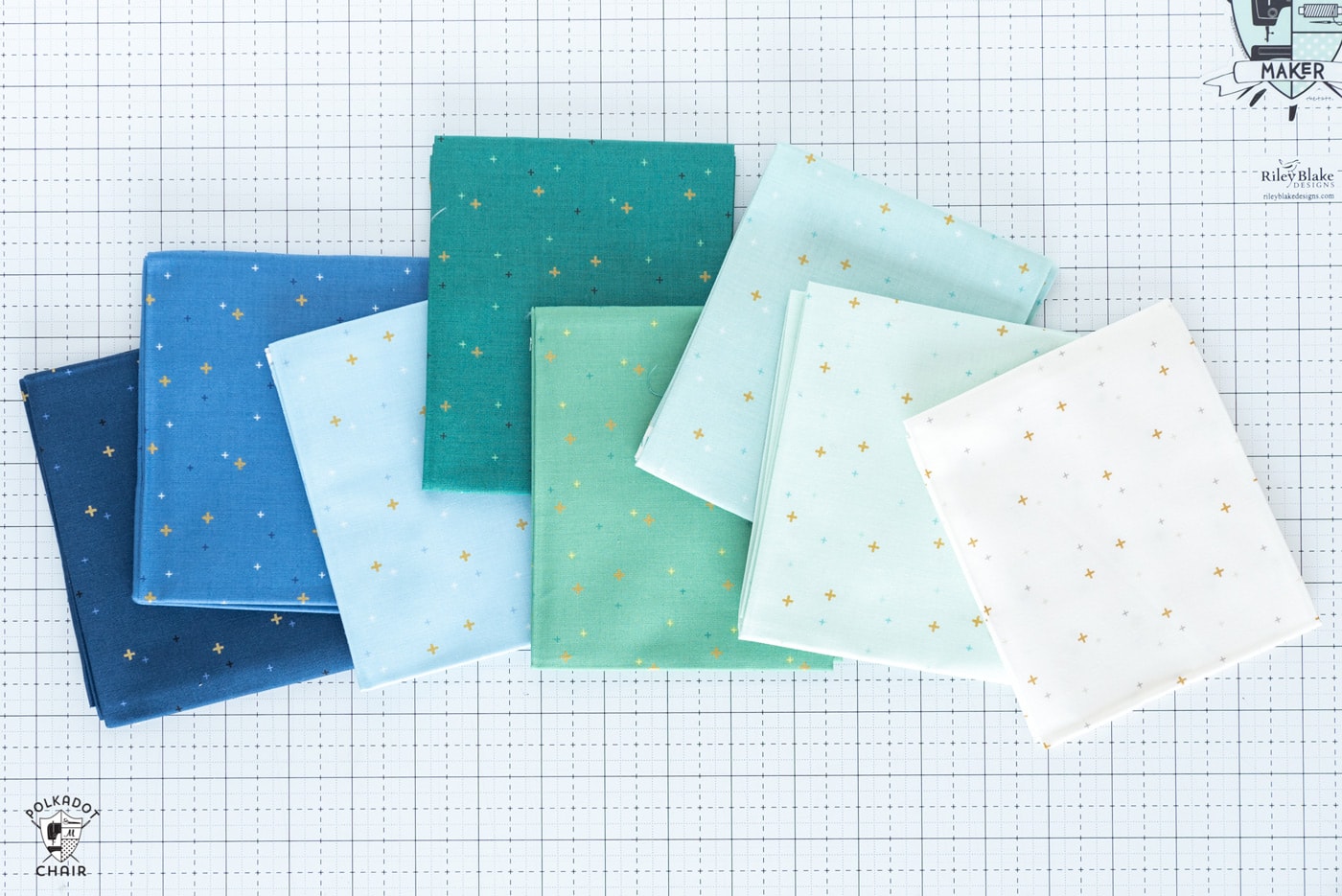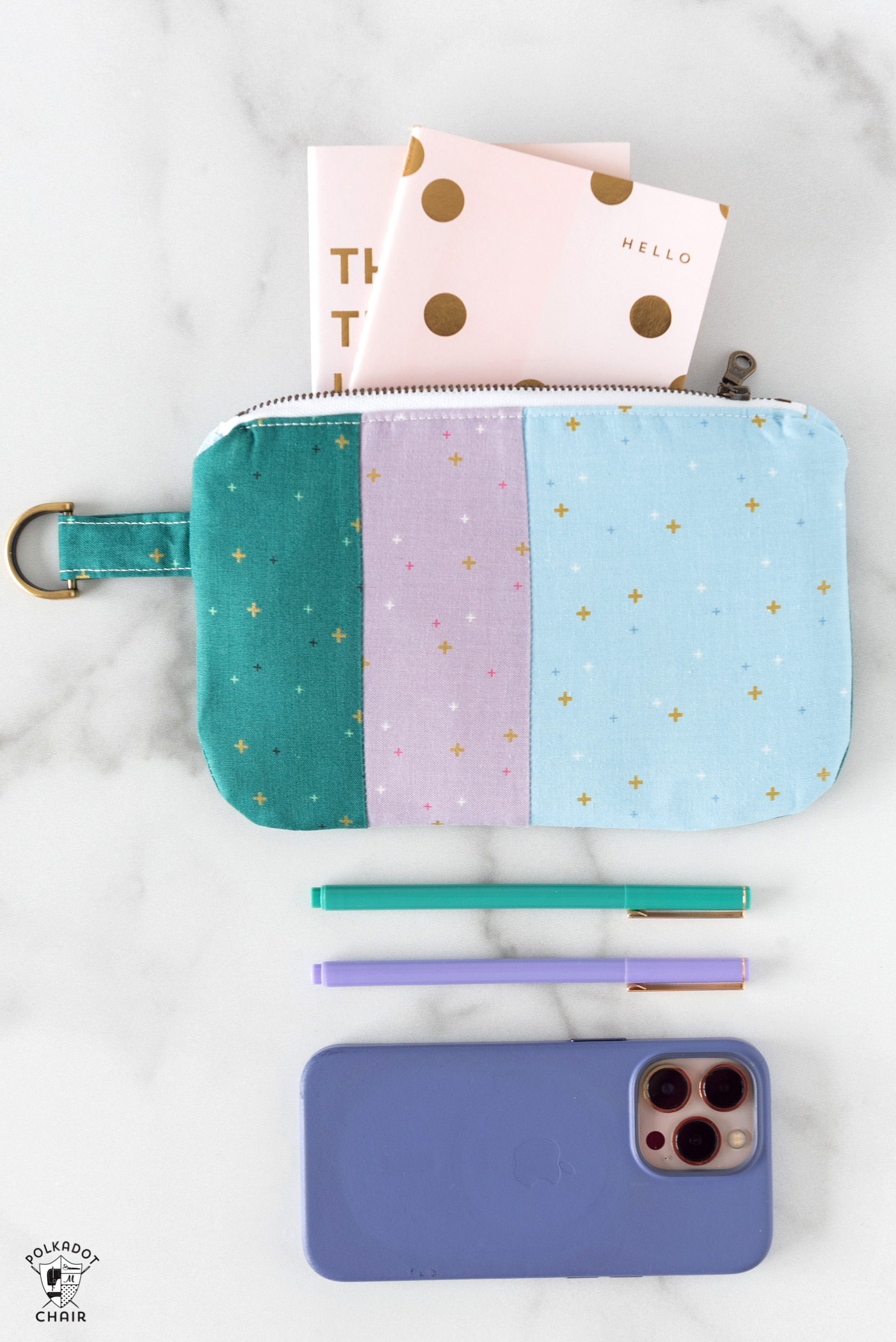 This color-blocked zip pouch is created using cool fabrics as well. The lilac here has a lot more blue in it than red, which makes it cooler than a traditional purple color.
Color Combos with Warm & Cool Fabrics
Okay, in my opinion, this is where the "magic" happens. There are few things that I love more than mixing warm and cool colors together in the same project.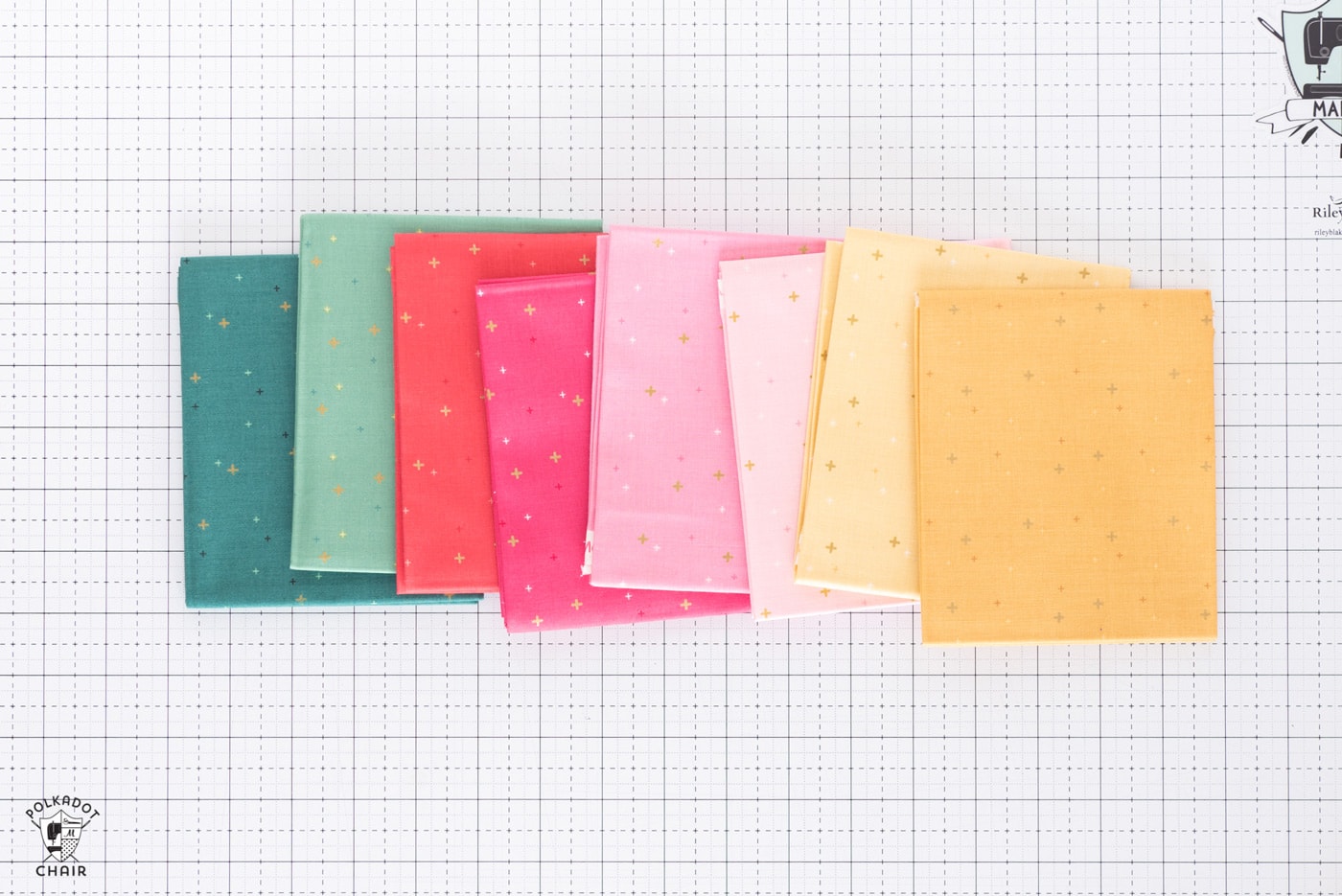 The pops from the warm colors are balanced out nicely by the toned-down cool shades. If I'm stuck for a color combo on a project or a quilt, I'll almost always default to a warm/cool palette.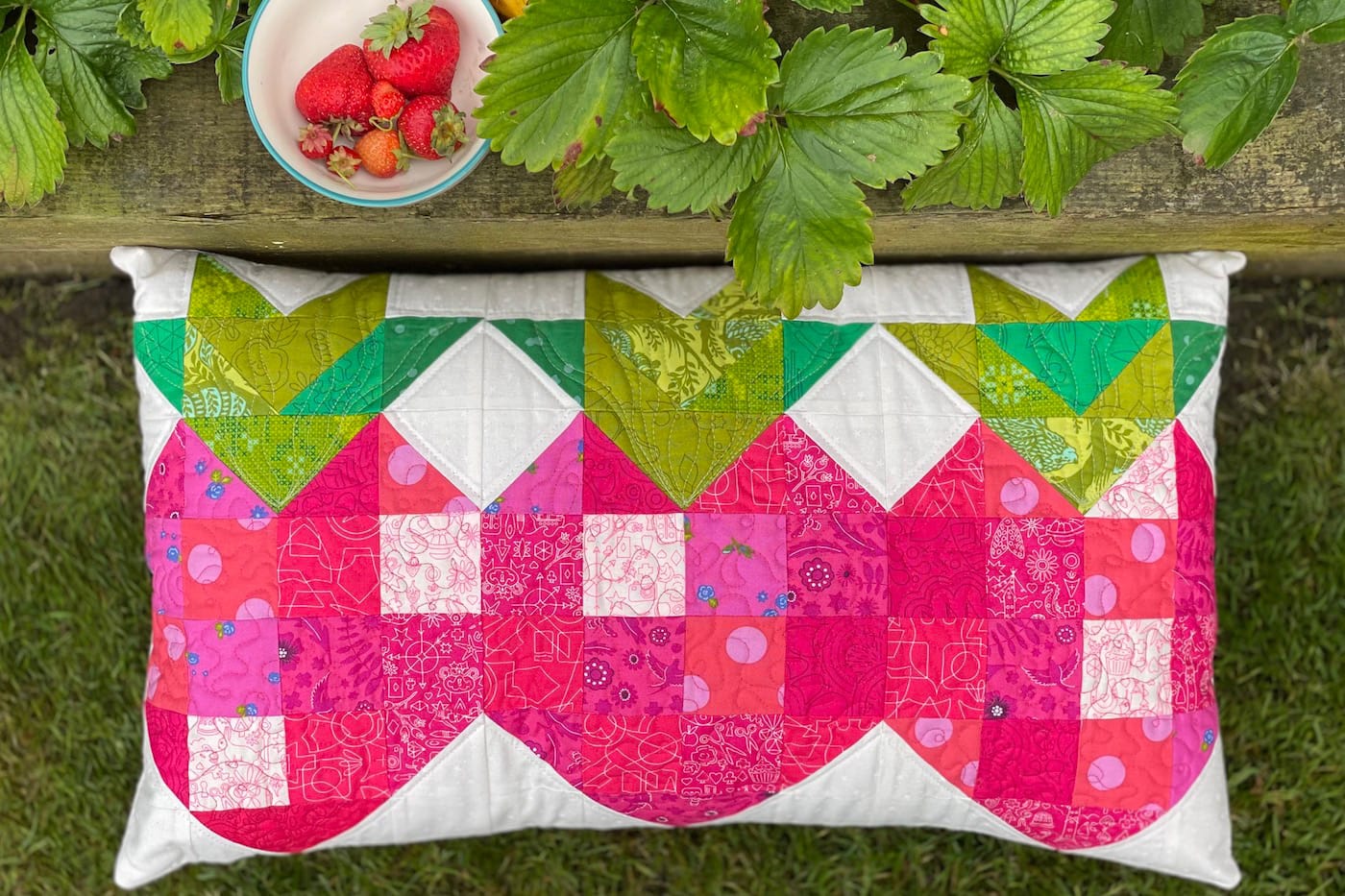 This Strawberry Pillow is a great example of both a complementary and a warm/cool combo. The warm pinks and reds look beautiful with the greens. The greens in the pillow are also warm and cool; if you look closely, some of the greens are very blue-green, and some are yellow-green. It really makes it pop!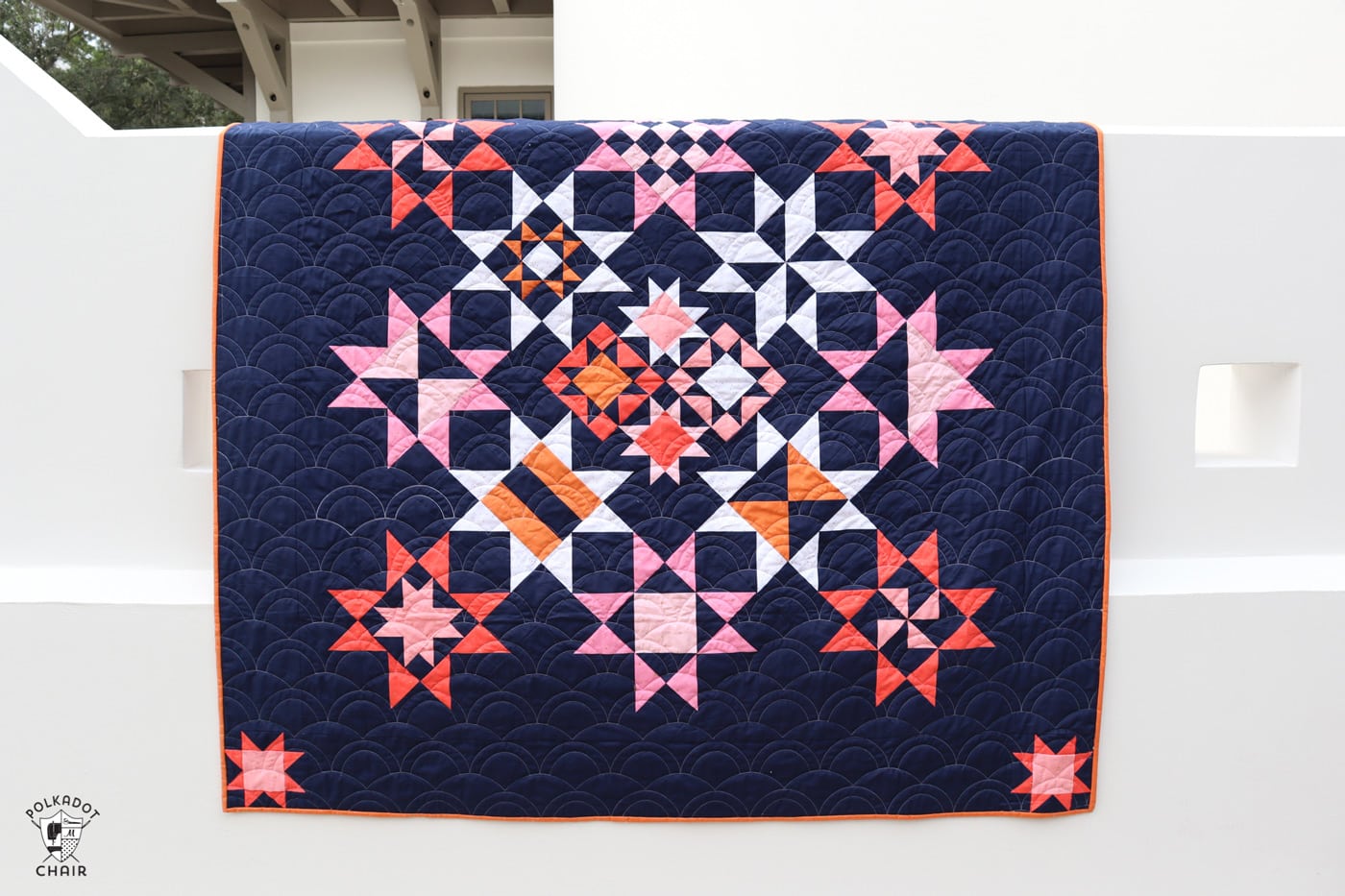 This navy version of the Choose Happiness quilt is another great example of a warm/cool scheme. The navy ground is cool, and the star blocks are all created from warm fabrics (the oranges and the pinks).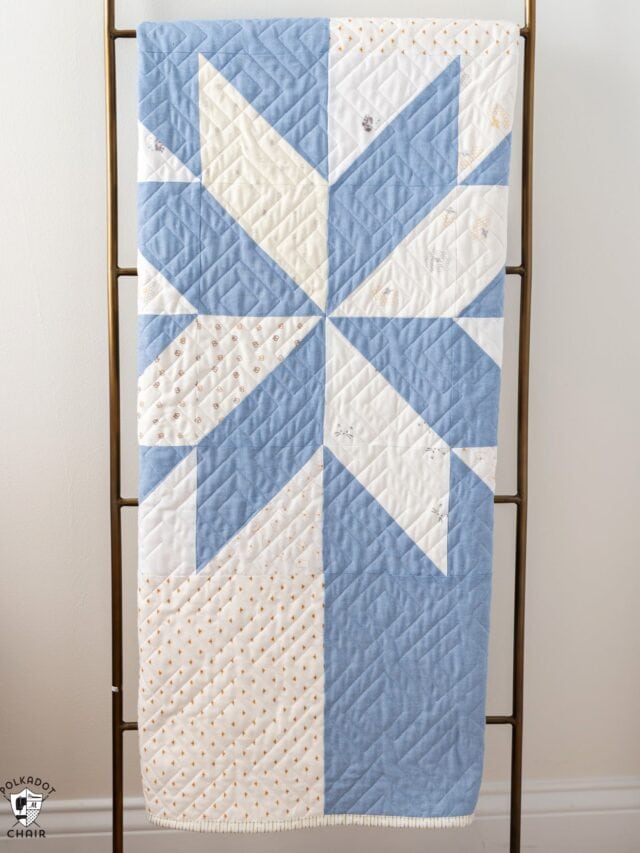 This Hunter's Star Baby quilt is another example of a warm/cool combo. It's more subtle. The cool chambray blue is nicely complimented by the warm creamy background fabrics.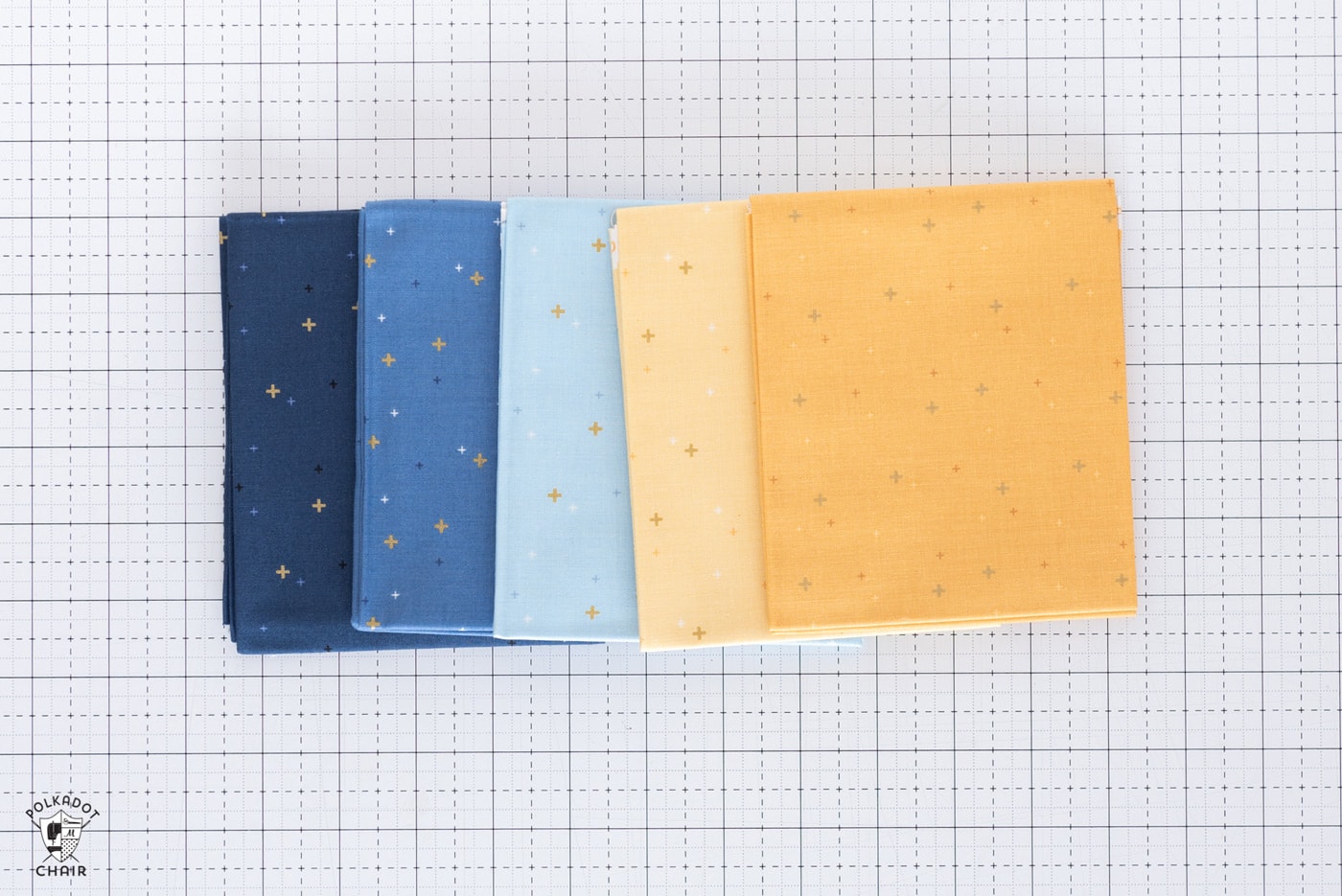 Here you can see a selection of blue and yellow fabrics and see how nicely the colors work together.
Complementary Color Combos
A complementary color combo refers to two colors that are opposites on the color wheel. If you want to get a color wheel, it's helpful, but these color combos are pretty easy to memorize.
Red & Green
Blue & Orange
Purple & Yellow
Yellow-Green & Red-Purple
Red-Orange & Blue-Green
Within each of those color groups, there are thousands of shades and tints and variations of color, but they are good to keep in mind if you want a quick color match.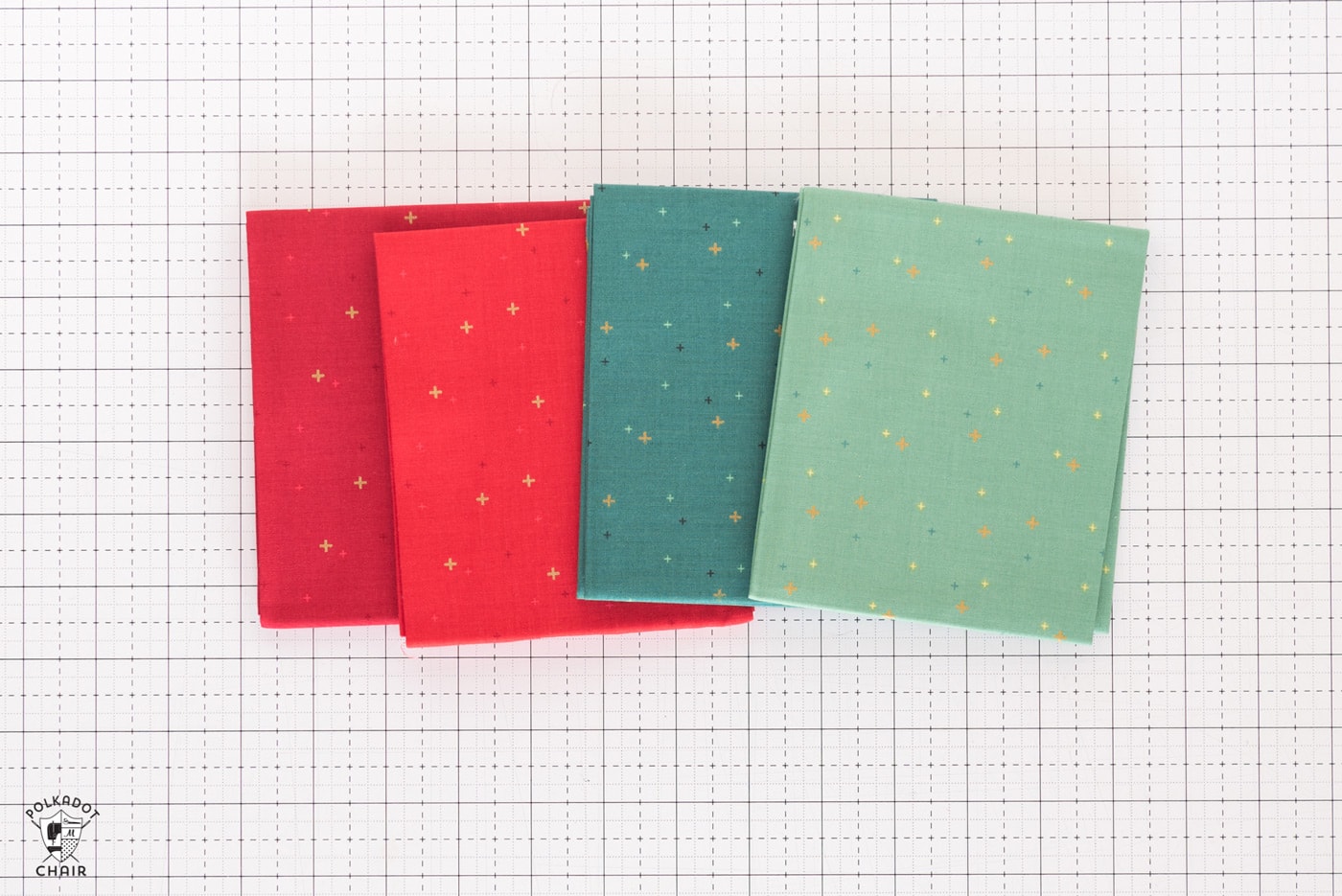 This is an example of a Red-Orange & Blue-Green combo. It's also a nice color palette for a Christmas quilt!
Holiday Color Combos
I've included a section for Holiday project color ideas as well. Many of us, myself included, love to sew and quilt based on the Holidays. I like to make summery quilts in the summer and have committed to making a Christmas quilt each Christmas.
Below are a few suggested color combos for a variety of Holiday projects.
Spring and Easter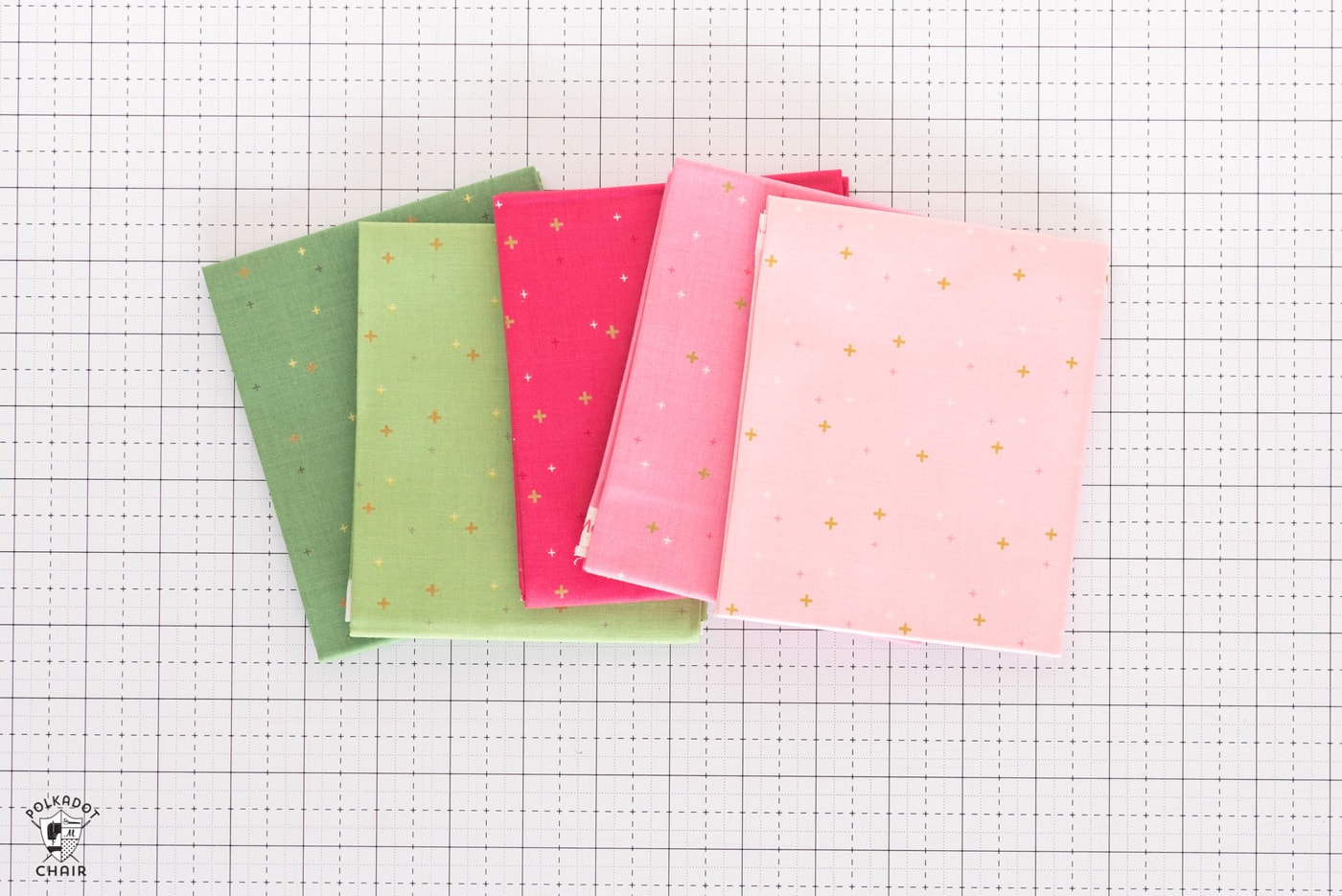 Warm greens and pinks make beautiful color combos for spring projects. Have you ever noticed that your trees and grass are very yellow-green when they first arrive each Spring? Then fade to a darker green as summer goes on.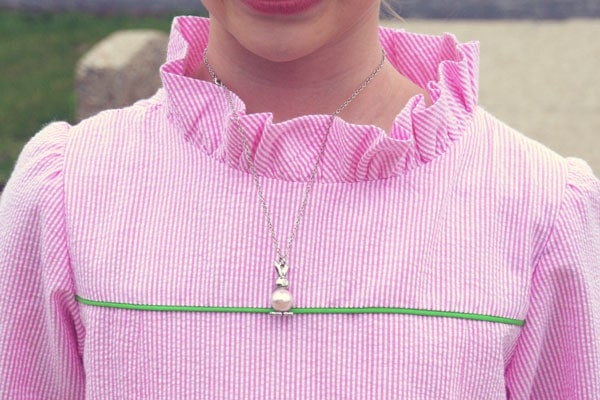 I think that's why we associate that yellowy-green so much with Spring time. The color scheme above could be taken right off of a spring tulip! You can see how much that green pops out from the bright pink in the Easter dress above.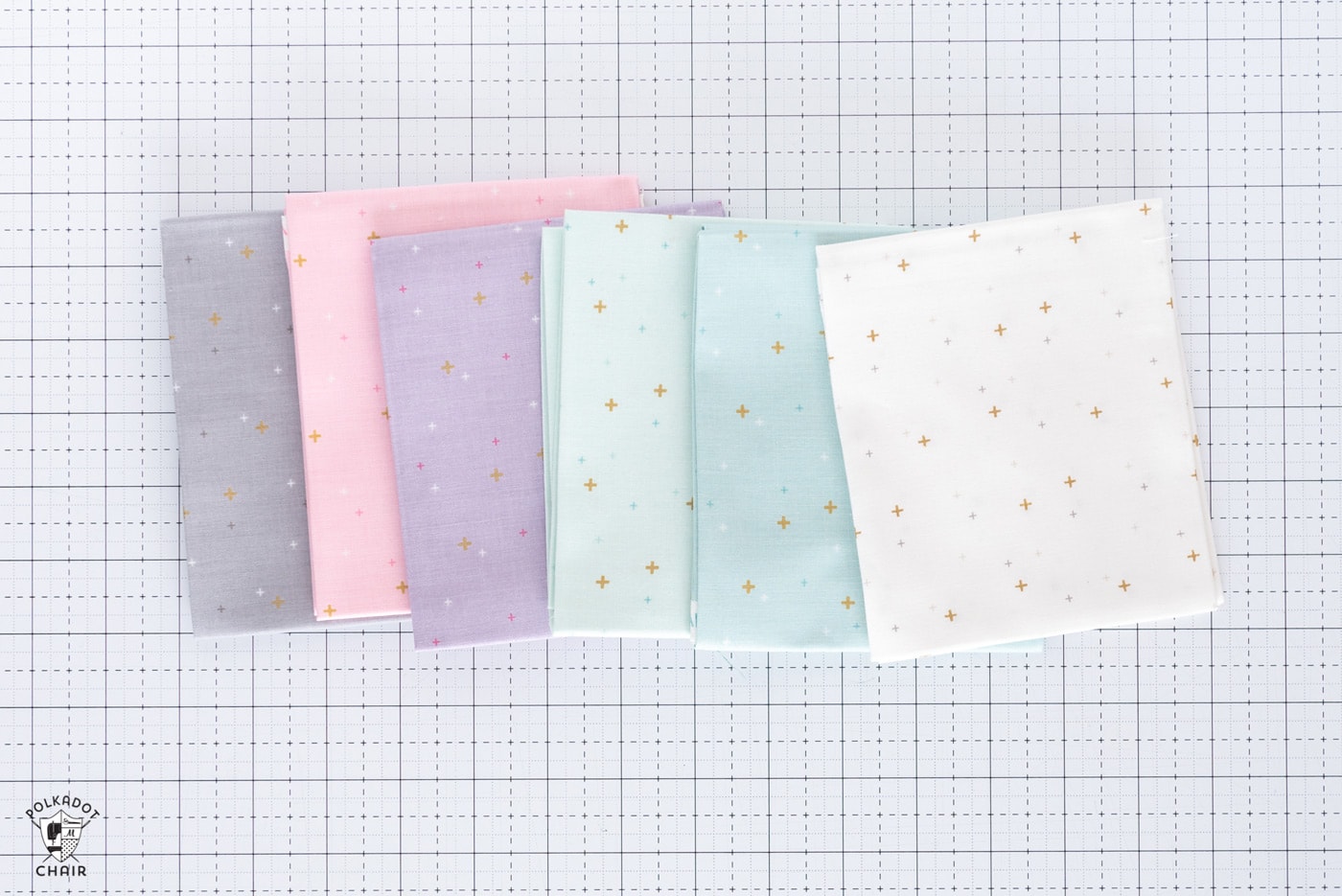 A soft palette is also nice for Spring projects and is often associated with babies and baby quilts.
Fourth of July (Summer)
Does anything scream summer as much as red, white, and blue?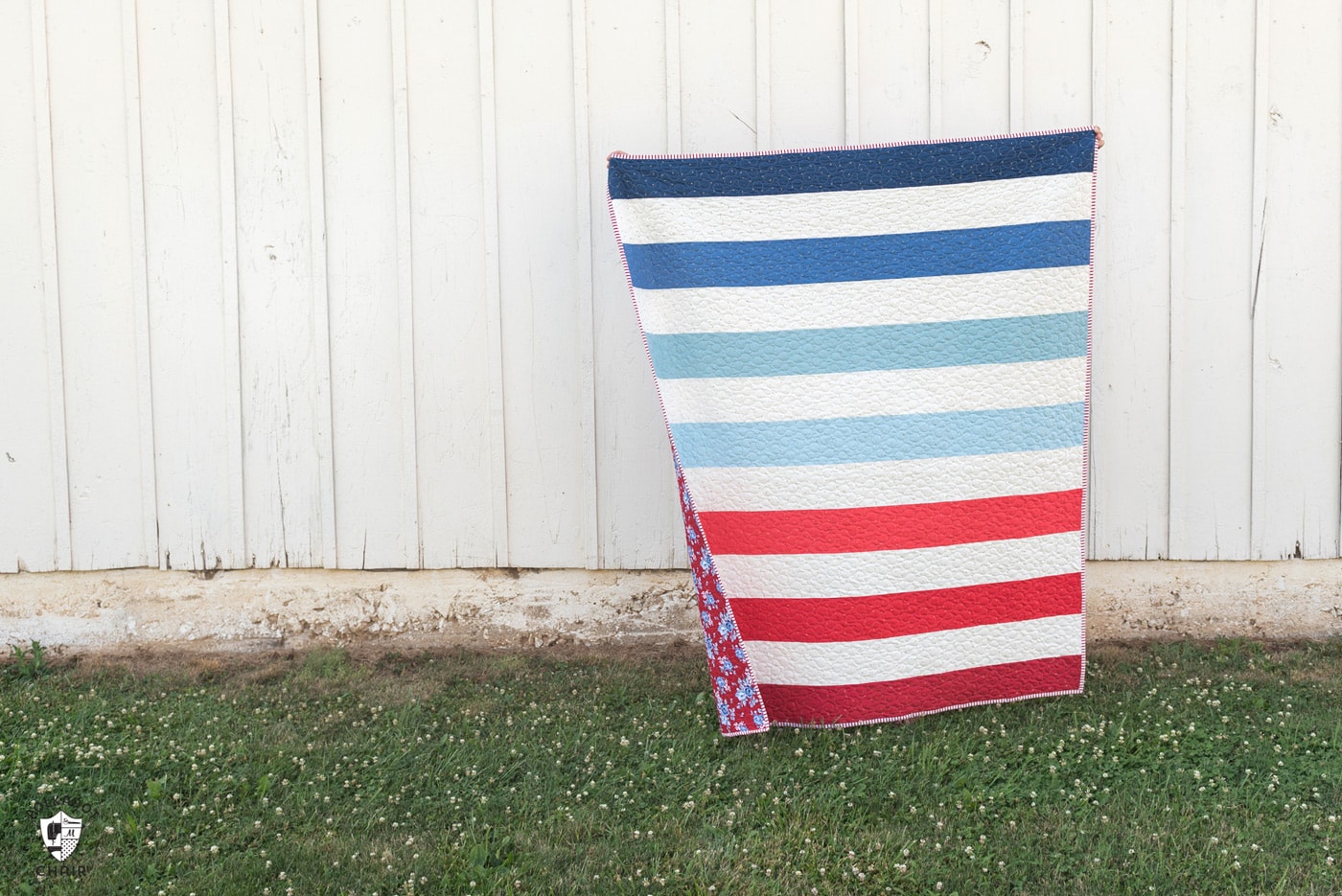 This simple strip quilt is created using seven colors from my Sparkler line of fabrics. When thinking of color combos for the Fourth or Summer, you don't need to use Navy, Red, and White. Expand out to baby blues, denims, and red-orange colors. It will really make your projects pop.
Halloween
Since Orange and Purple are complementary colors, you will see a lot of purple in Halloween color schemes. It looks so great with the pumpkins that we all have all over our homes each October.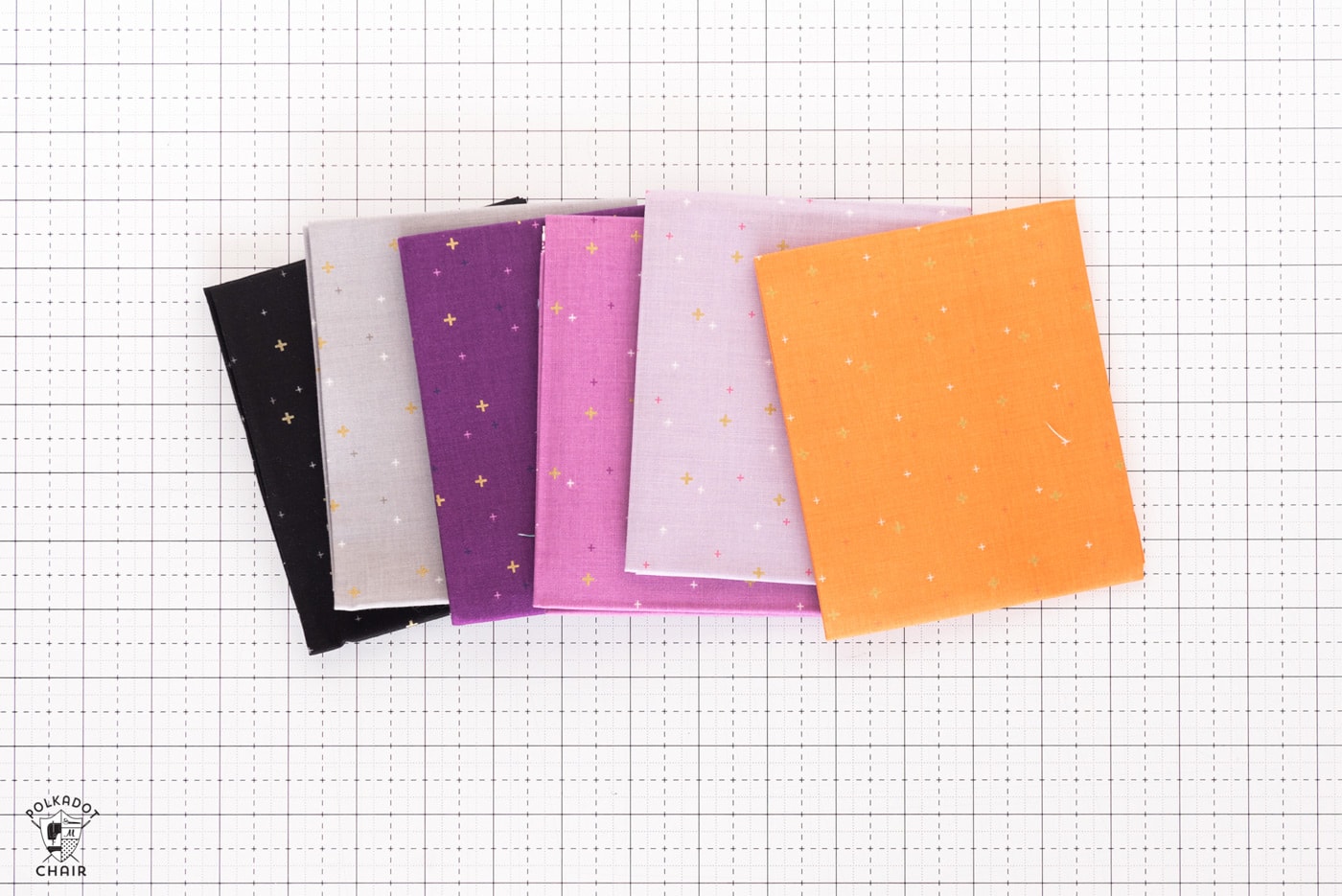 Personally, I'm not a fan of purple fabric, but I do love to use it for Halloween. (I also love to use Pink in Halloween projects, which is a bit more non-traditional).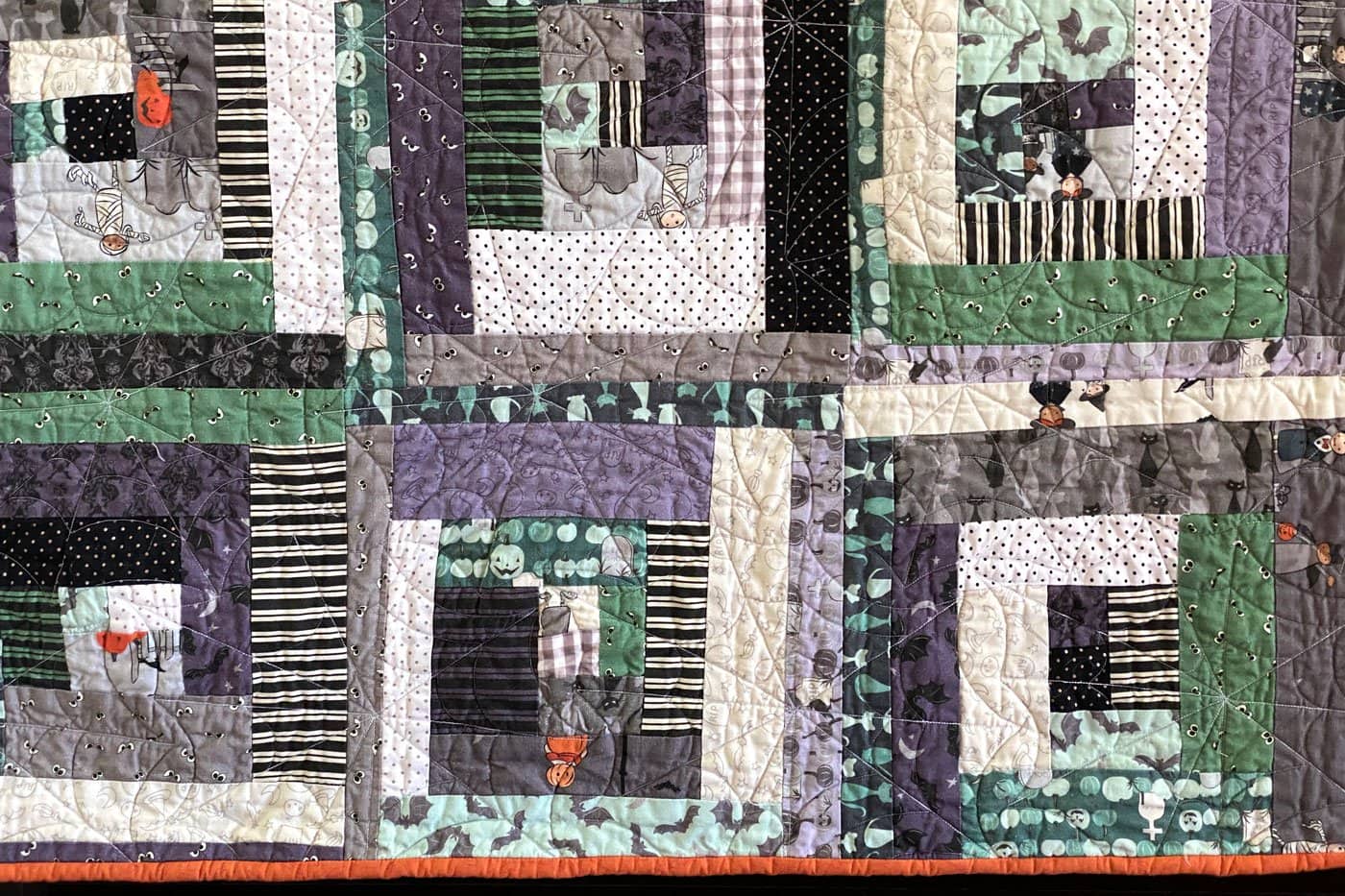 Look how the orange binding on the Scrappy Log Cabin quilt really pops against the purples and grays of the Halloween fabrics.
Christmas
Christmas has really branched out from the traditional Red and Green color palette in recent years. You can now find "all the colors" when it comes to Christmas decorations. If you're looking for a simple color scheme for a quilt project, I suggest the combo of Sparkler fabrics below.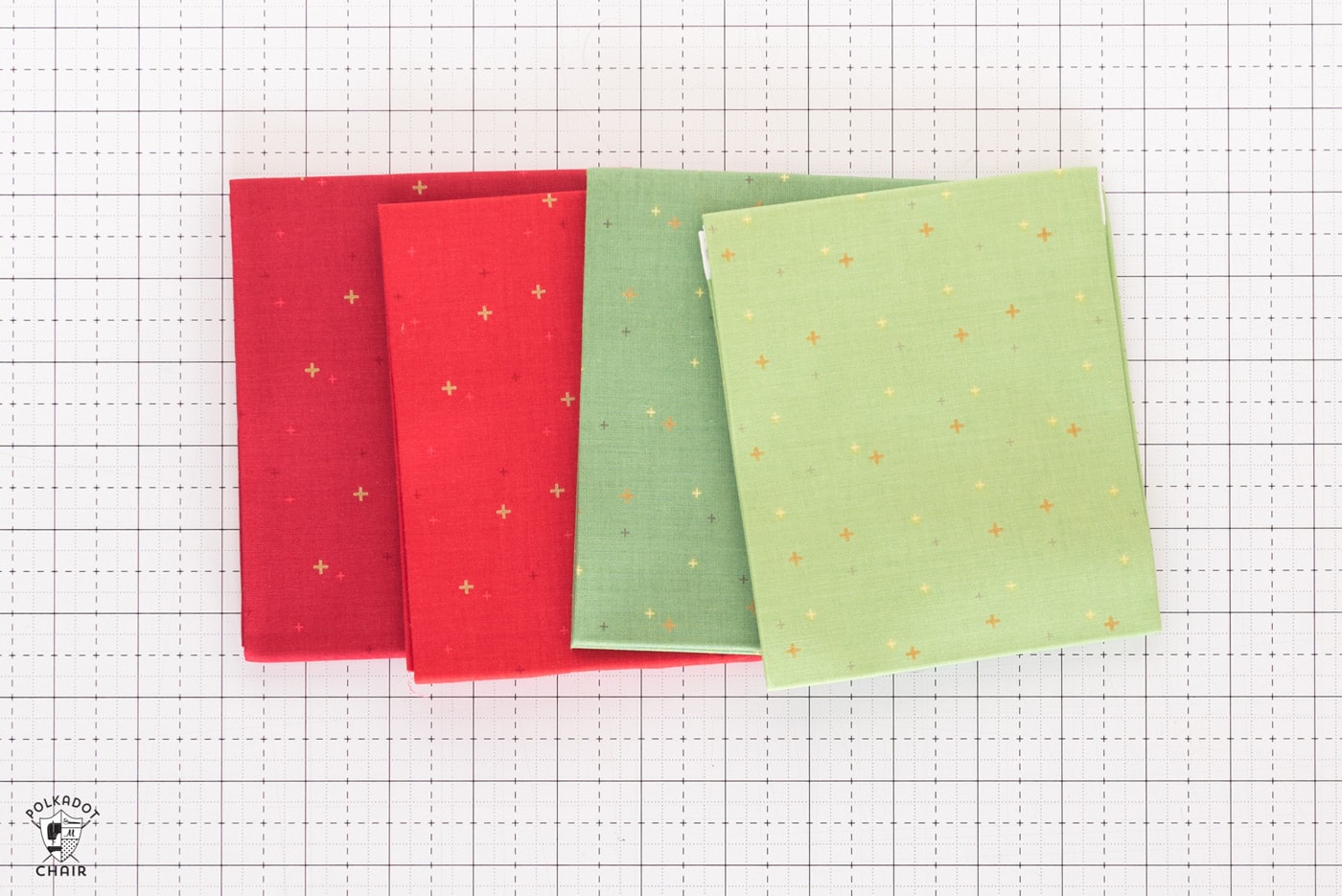 Personally, I love the yellowy greens with the darker reds in this color group. How cute would a Christmas quilt be made from these fabrics and the Simple Striped Quilt Tutorial?
Ok, so there you go; these are just a few suggestions that will hopefully help you out a bit when picking colors for your next project.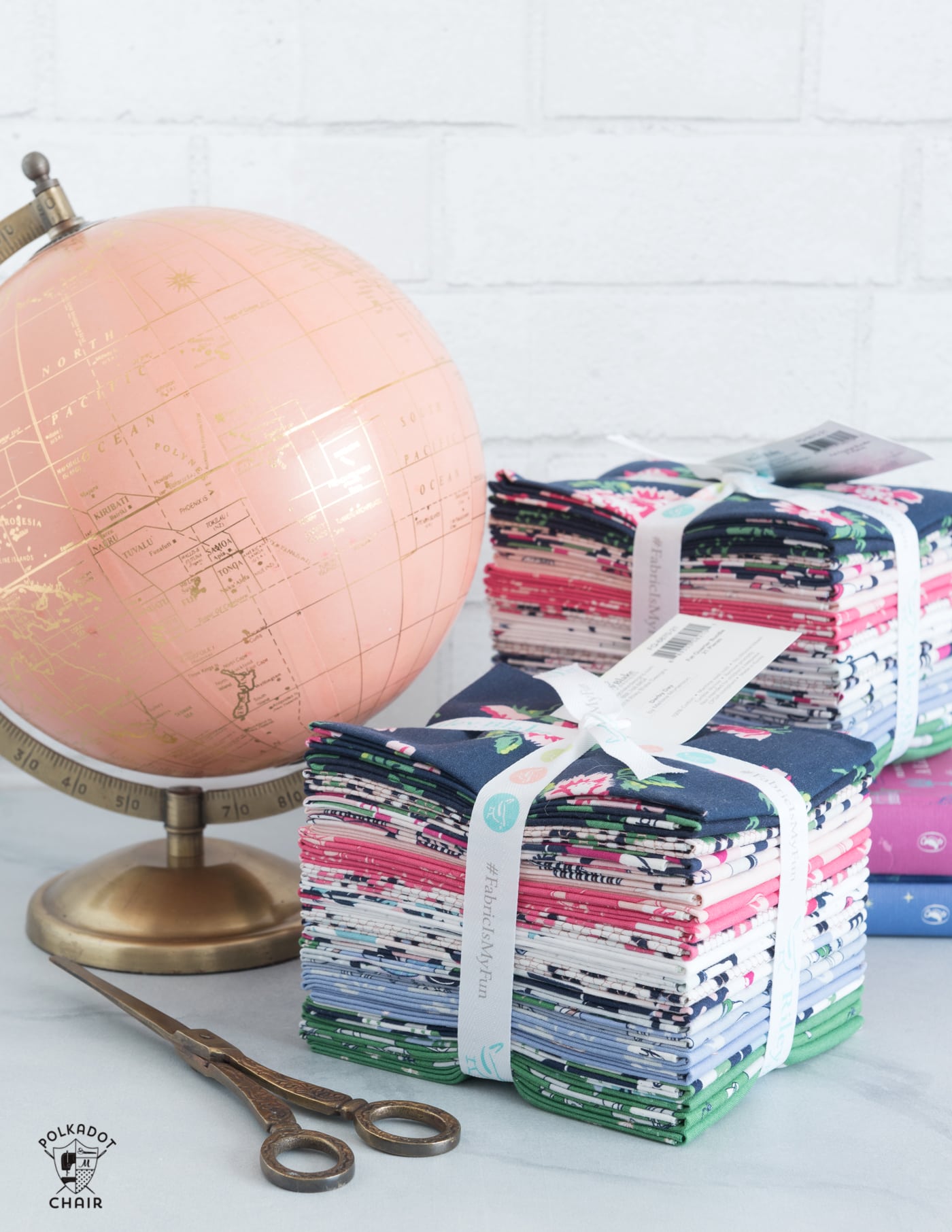 If you're still totally stumped by colors and color schemes, my suggestion is to create a project using fabrics all from the same collection. Fabric designers spend HOURS combing over color combos and shades when they design a collection. They've done much of the hard work for you, so use it!
You May Also Like: