Practice your Foundation Paper Piecing (FPP) skills while you create this cute cat-themed quilted table runner! Sarah Ashford is sharing a free MEOW FPP Quilt pattern with us today!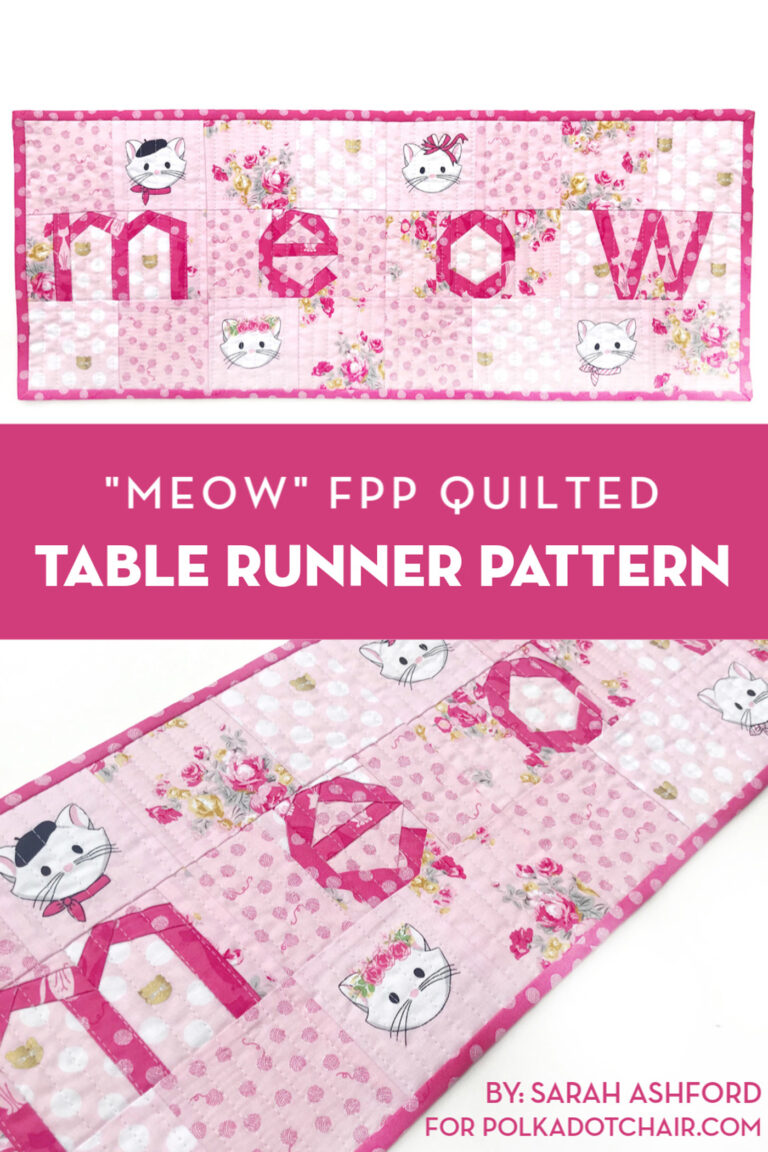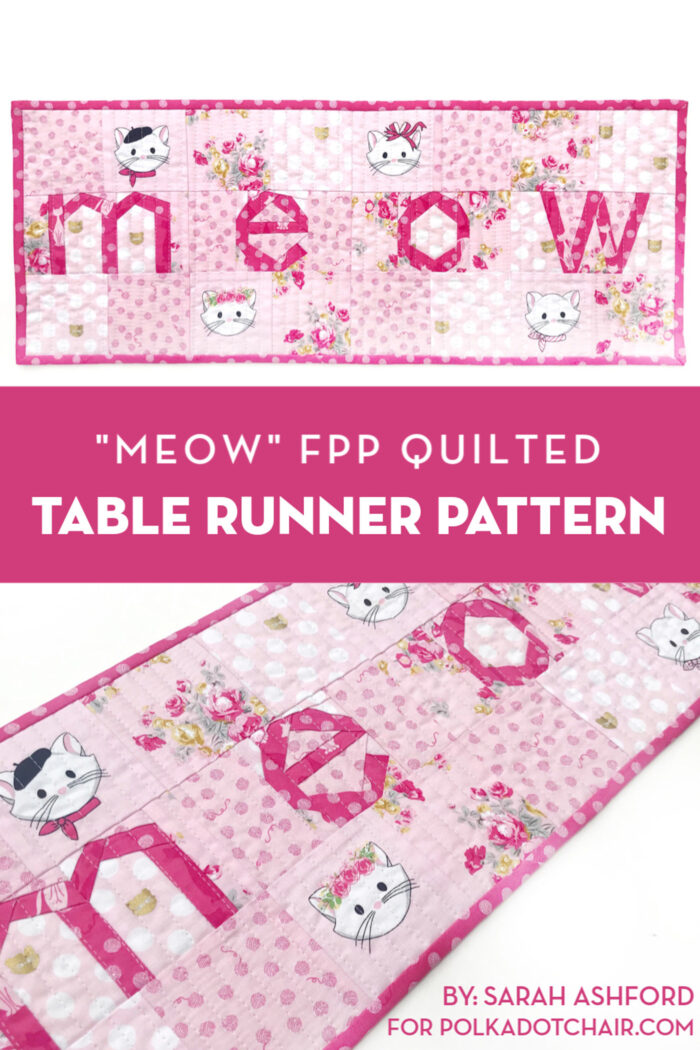 Jump to:
I have to confess to a little happy dance when I received a gorgeous bundle of Chloe and Friends from Melissa in the post. The baby pinks, turquoise greens and cute Chloe cats, coupled with a hint of gold and some text prints thrown in for good measure literally make my heart sing. So to design a project with this beautiful bundle was such a pleasure and I hope you love it.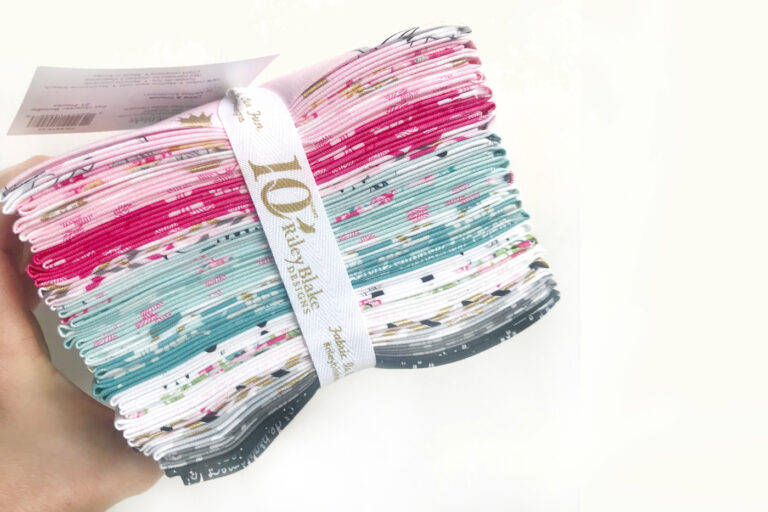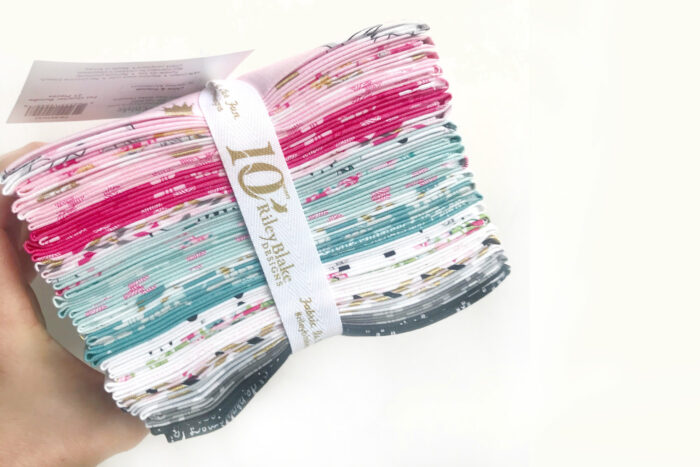 This mini quilt includes foundation paper pieced letters to spell out the word 'MEOW' and you can find my full foundation paper piecing tutorial HERE. It really is a great, accurate technique once you get the hang of it, and it works so well with the letters, which otherwise would be tricky to piece! So if you're new to FPP give this tutorial a good read through and maybe have a practice first, then you'll be able to sew up purrrrfect MEOW letters in no time.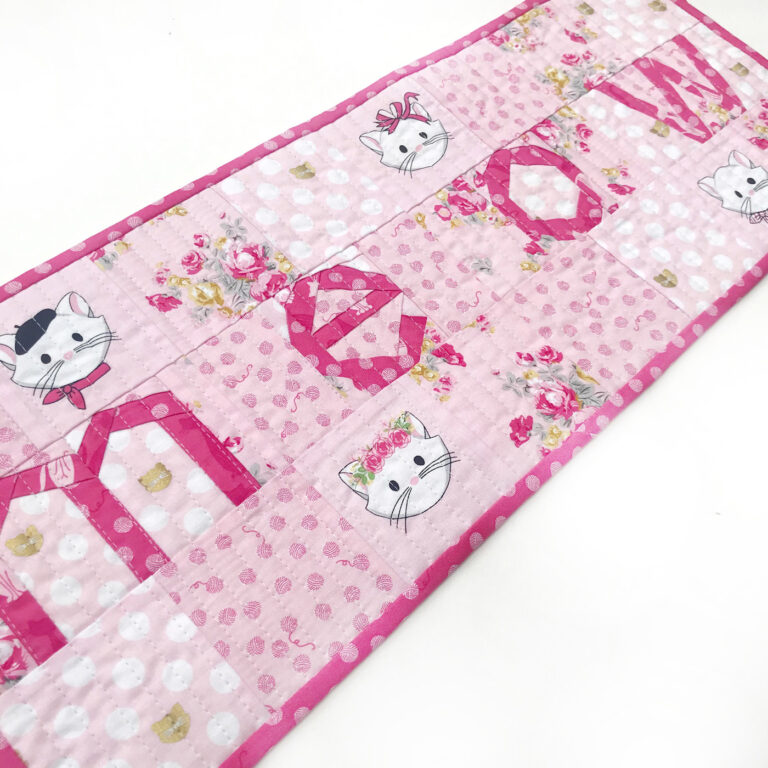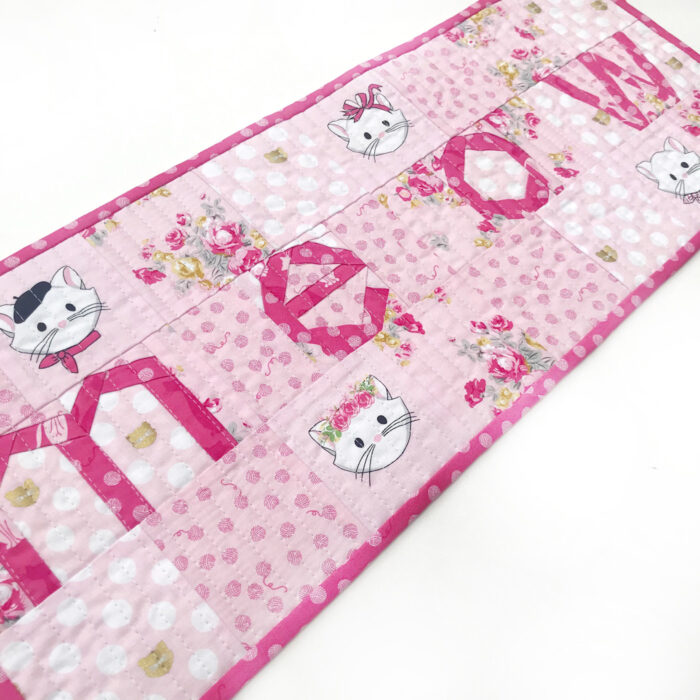 I hope you enjoy stitching up this mini as much as I have enjoyed making it. Those cute Chloe kitties just love being centre of attention!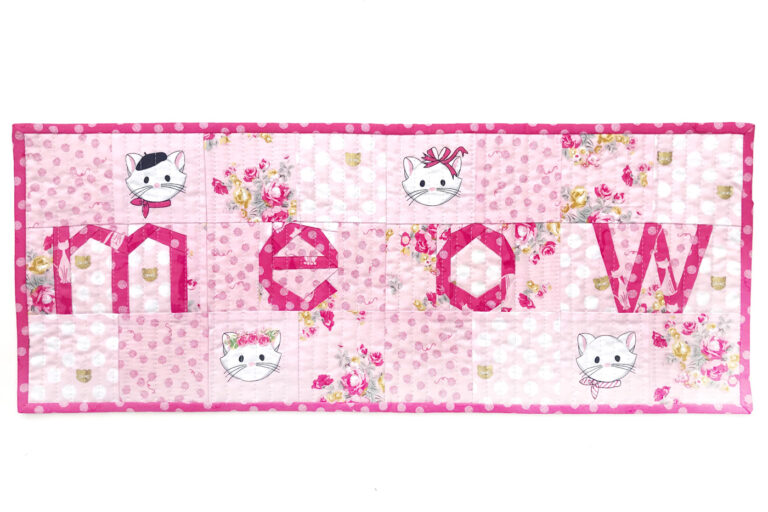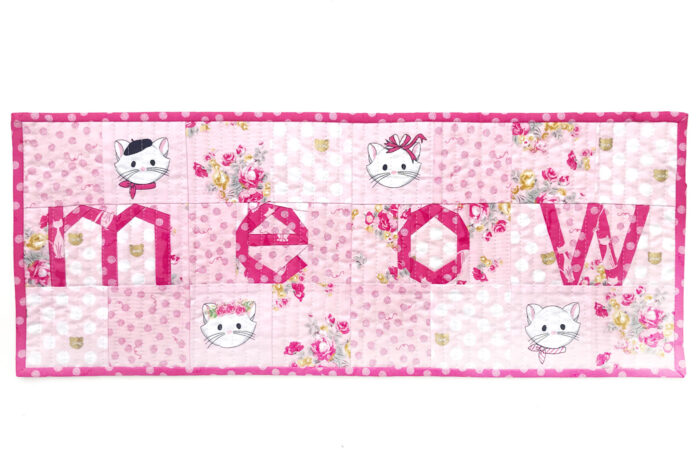 What Is Foundation Paper Piecing?
Foundation paper piecing (usually referred to as FPP) is a technique that utilizes paper as the foundation of a quilt block. Instead of sewing individual cut pieces of fabric together, you sew them to a piece of paper. The piece of paper has the pattern for the quilt block printed on it. You can easily print FPP patterns at home on your home printer. When quilt blocks are FPP'd you are able to create more intricate patterns, with more complex angles than traditional quilt piecing.
I do not think that FPP is harder or easier than traditional quilt piecing. It is only different.
How do I learn how to Foundation Paper Piece?
We have a few tutorials on the site to help you learn how to FPP. They are linked below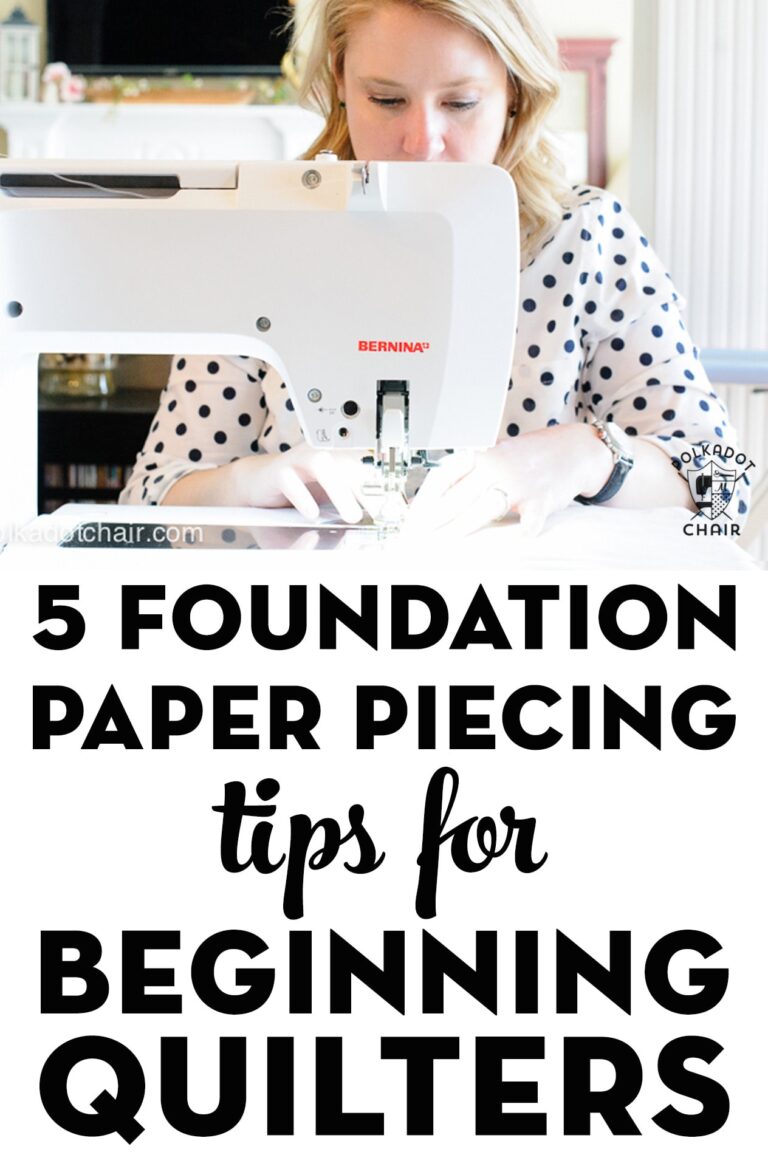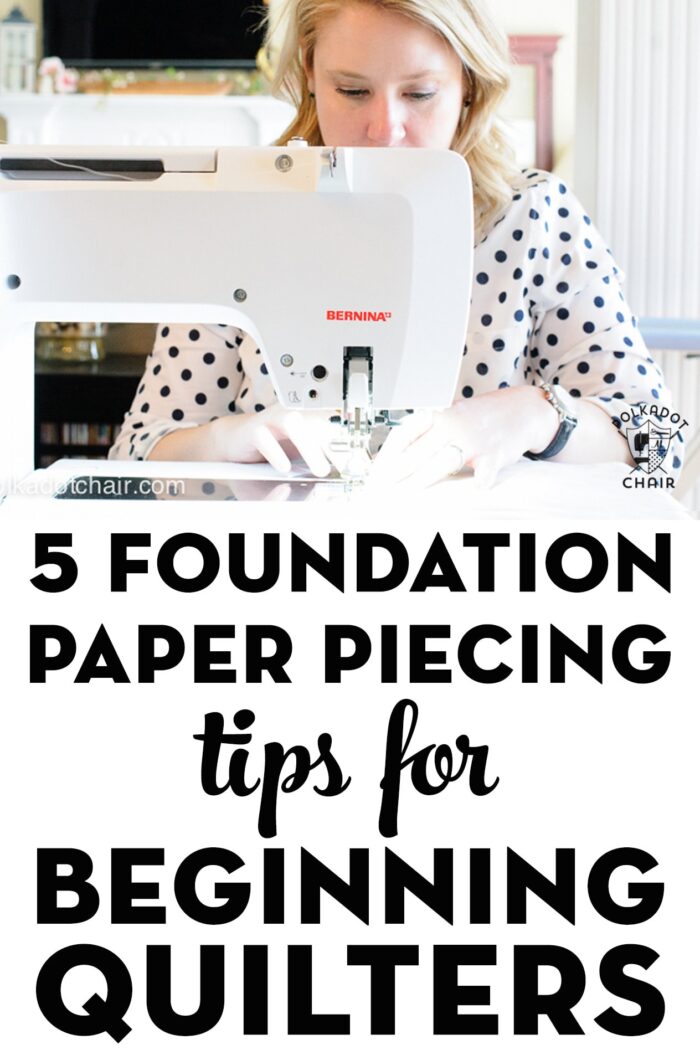 How to Get the Free FPP Patterns for this Project
How to Get the Printable Pattern Pieces. You can download a copy of the pattern pieces used in this project in our Template Library. Access to the library is for our Newsletter subscribers and subscriptions are free. Please CLICK HERE and follow the instructions to download the pattern pieces. PLEASE READ the instructions on that page. NOTE: The download only contains the pattern piece, you still need to read this tutorial to complete your project.
Instructions
MEOW FPP Quilted Table Runner Pattern
Create a cute cat themed quilted table runner using Foundation Paper Piecing.
Yield:
1
Table Runner 23 ½″ x 10″
Materials
MEOW FPP Templates

Download using the directions in the "how to get the downloadable pattern pieces" above

6

Fat Quarters

Fabric is Chloe & Friends by Riley Blake Designs. We used 4 light and 2 dark fabric fat quarters

1

piece

Batting

26" x 12"

1

Fat Quarter of Fabric

for Backing

4

strips

Fabric Cut 1 ¼" x 22"

22 is the lenght of your fat quarter
Instructions
Cutting
Cut sixteen 3 ½" squares from the light pink patchwork background.  You may want to fussy cut some of these fabrics.  For example, I have fussy cut the 'Chloe' cat 4 times and made sure I have featured some gold cats too. They are so cute! 
Create the Letters using FPP
If you are new to Foundation Paper Piecing, you can find a beginners guide to FPP on our site. It is linked above. You can also type "beginner FPP" into the search box on the blog.

Using the Foundation Paper Pieced Templates for each 'M' 'E' 'O' 'W' letter, make up the letters using the dark pink fabrics for the letters and the light pink fabrics for the background.  

Carefully remove the papers from the reverse of the letters.  You may find tweezers are helpful for this to get any stubborn papers out from underneath the stitches. Press carefully.  
Create the Table Runner Layout
Lay the letters out in a row to spell the word 'MEOW' and lay out eight squares above it and 8 squares below in a pleasing and balanced arrangement.  Stitch the squares into pairs and press the seams to one side.  

We are now going to stitch the pairs of squares to the top and bottom of each letter.  This will help stabilise the FPP letters and make construction more manageable.  
Assemble Sections
Next stitch the M section to the E section and the O section to the W section.  

Sew all the sections together to complete the mini quilt top.  
Finishing
To make the backing, take one fat quarter and fold in half length ways.  Cut down the middle and join the two pieces together to give you a long backing.  Trim off the excess length but ensure that there is enough fabric to extend the quilt top by at least an inch all the way around.  

Baste the quilt top and quilt using your preferred style.  I have vertically straight line quilted this quilt at ½" intervals.  

Cut 4 binding strips from your chosen fat quarter.  I like to use single fold binding so I've cut them at 1 ¼" and joined them together on the bias. Machine stitch the binding to the front, mitring the corners then hand stitch it to the back for a purrrrrfect finish!
Copyright Notice
This is Copyrighted Content. You may NOT Copy it, Distribute it, Sell it or Package it with a Kit. You may NOT teach a class using it. If you do, it is not only dishonest, but also a violation of the terms of use of this website. We will pursue damages from violators. All items are for personal use only. No commercial use is allowed.
About the Maker: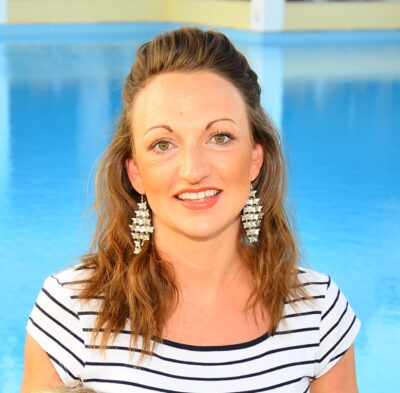 Sarah Ashford is a British Quilter and embroiderer and founder of the GreatBritishQuilter challenge on Instagram. Sarah regularly contributes projects to magazines and loves to spread the joy of quilting everywhere she goes. Follow her on Instagram at @sarahashfordstudio and be sure to check out her beautiful sewing room decals in her Etsy shop www.etsy.com/shop/sarahashfordstudio