Welcome to "finish it Friday" a new blog series aimed at helping me (and you) empty out that WIP (work in progress) bin! We're kicking things off this week with a finished Giant Star Baby Quilt!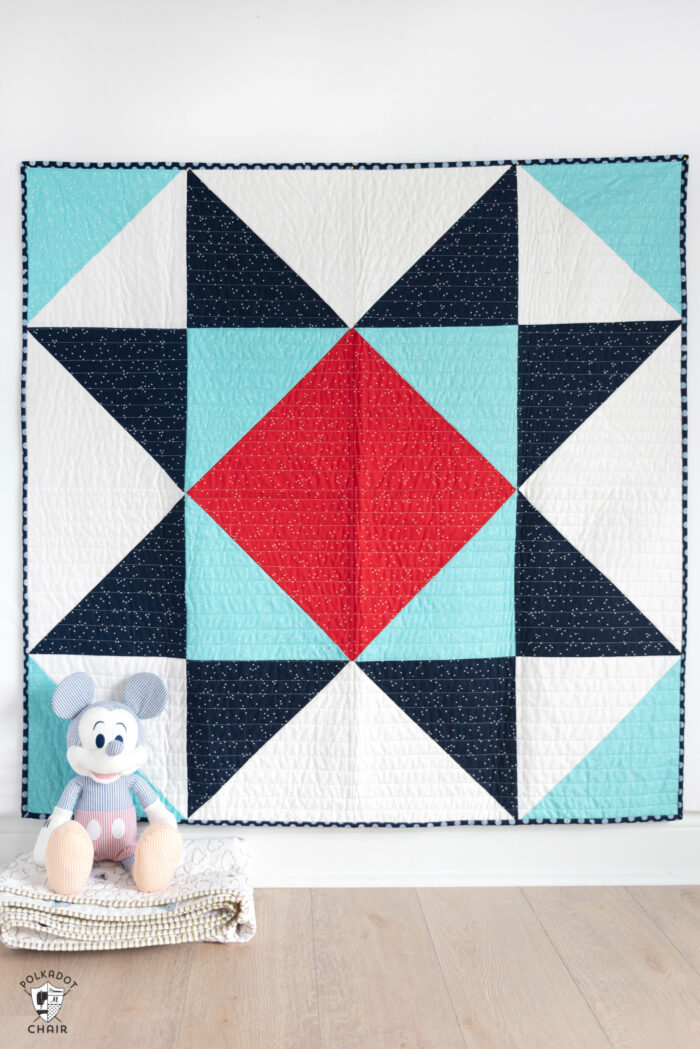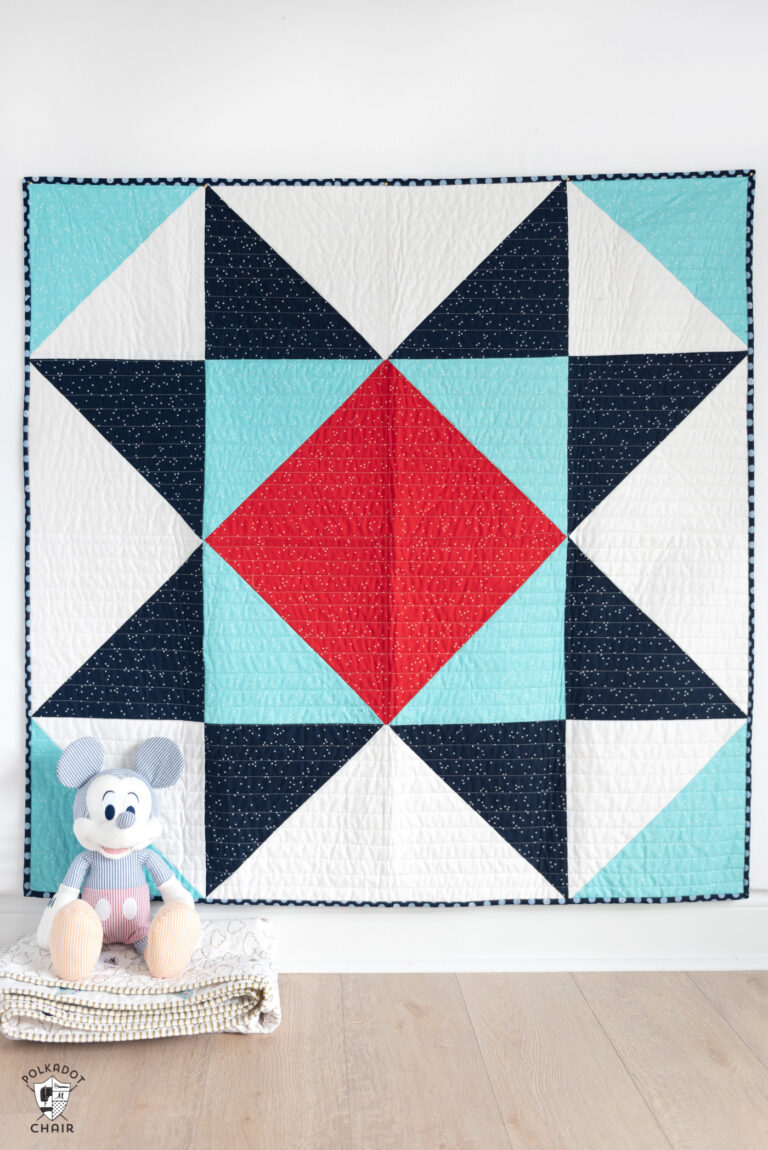 I recently made a list of all of the projects that I've made but still needed to share here on the blog. That's a crazy thing about writing a sewing or quilting blog; you end up with a big pile of projects that are 80-90% done.
I counted, and I have 5 quilt tops that need to be quilted and 3 quilts that have been quilted that I've not shared with you.
Table of Contents
I'm getting sick of the giant WIP pile in my sewing room. I thought that starting a new blog series might help me clear it out a bit. I'm guessing I'm not the only one with a HUGE sewing "to do" list and thought you guys might like to participate too.
How it Works
Each Friday, pick one project in your pile to finish by the next Friday. Maybe it's a quilt that needs to be bound or a skirt that needs a hem. You guys know what I'm talking about, those little details at the end that keep you from calling something finished.
If you like, share it on Instagram with the hashtag #FinishitFriday and #polkadotchair. I didn't "invent" this phrase or concept, so there are other projects with a similar hashtag, so use the #polkadotchair hashtag as well. I'll then share some of the projects on my stories during the week.
Not all of my "finish it" projects will be quilts. I have several pillows, bags and clothing items to share as well.
Giant Star Baby Quilt Details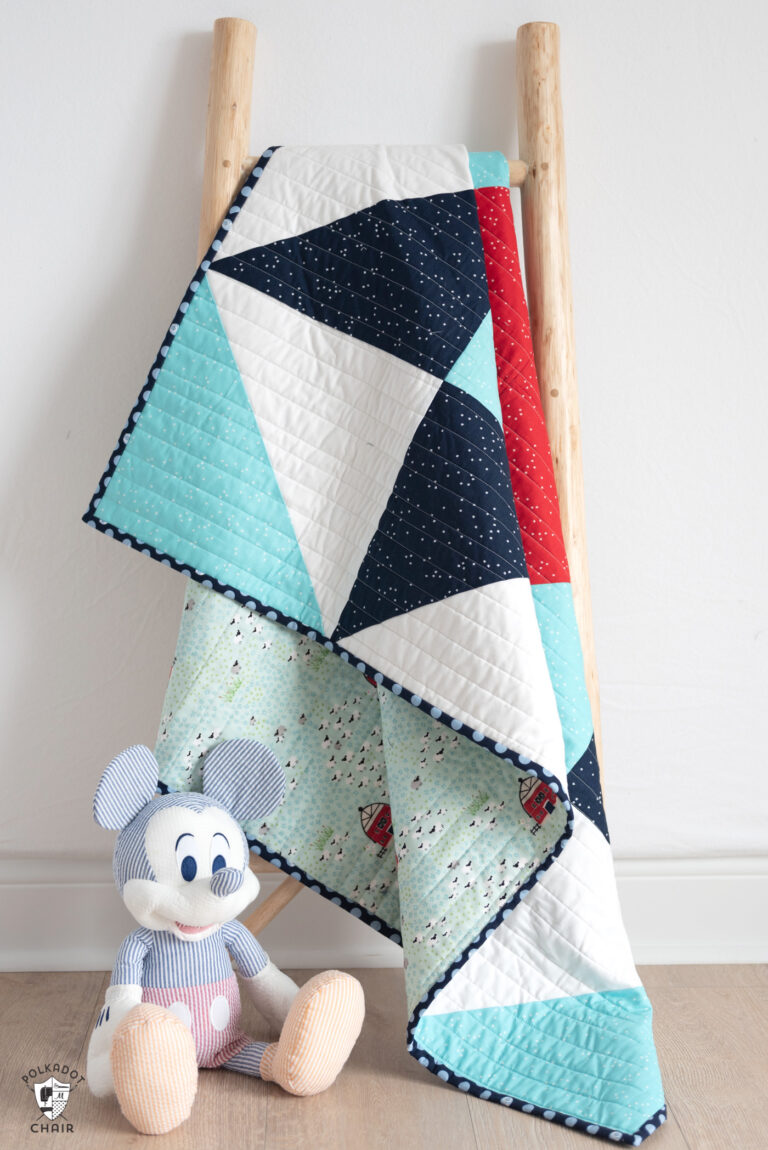 This week, I'm sharing my finished Giant Star Baby Quilt. This quilt pattern actually came about by accident!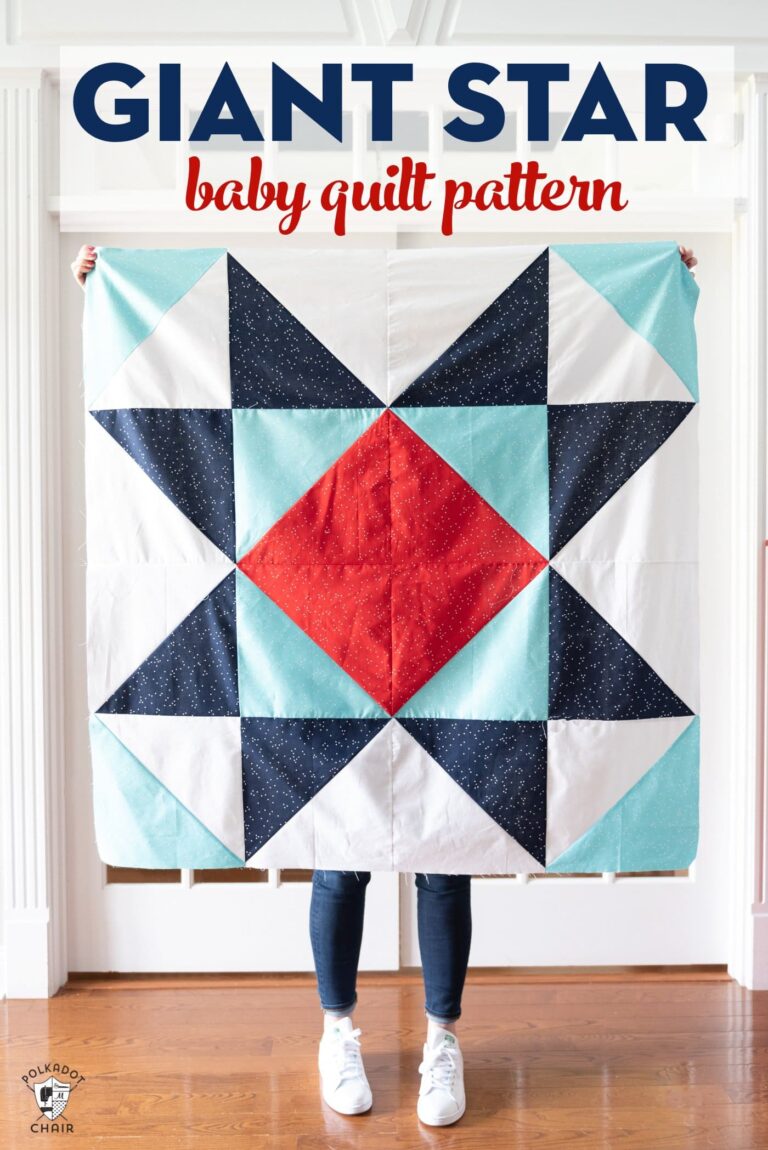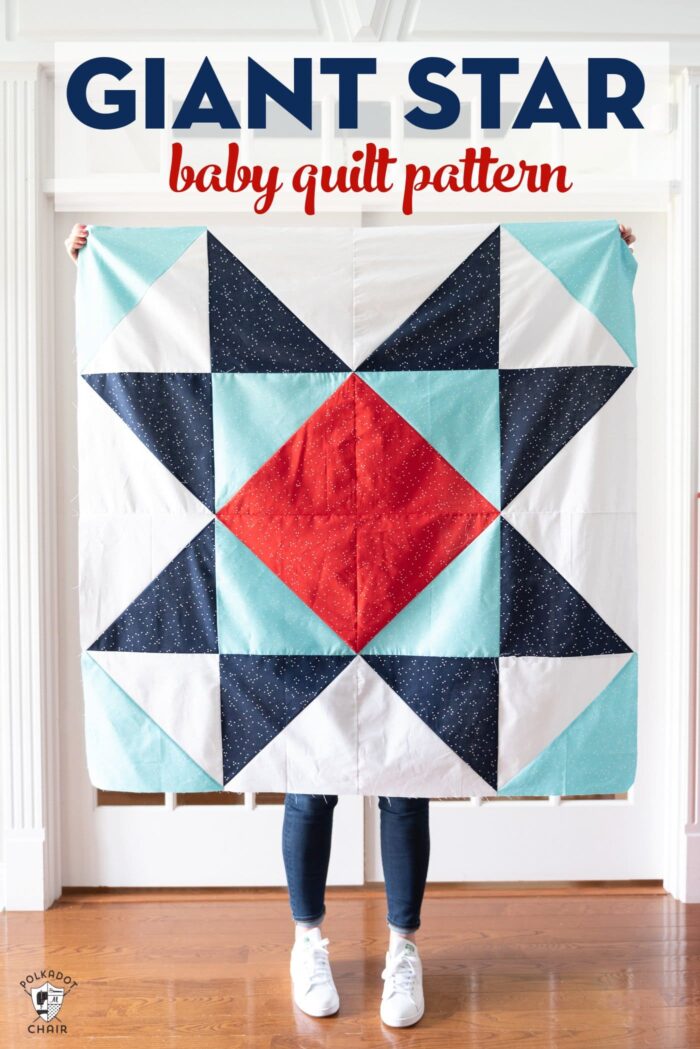 I wrote the block pattern for the center of my Just for Fun Quilt and doubled all the measurements! I ended up with a GIANT quilt block. Instead of scrapping it, I shared it as a stand-alone tutorial.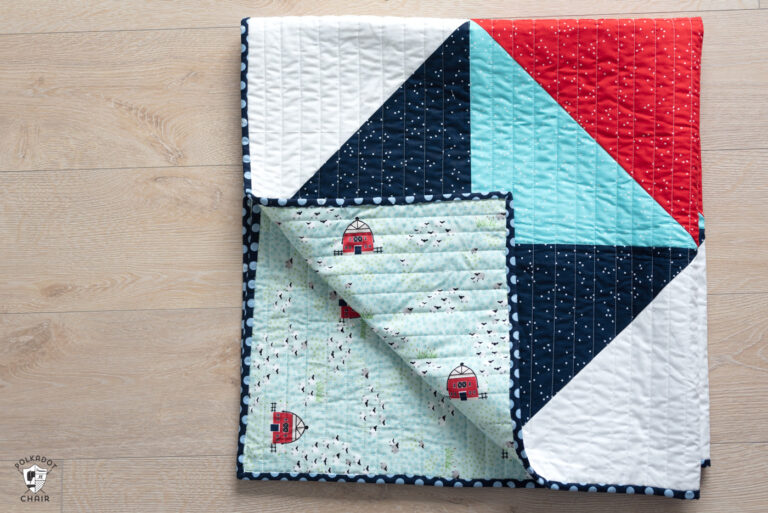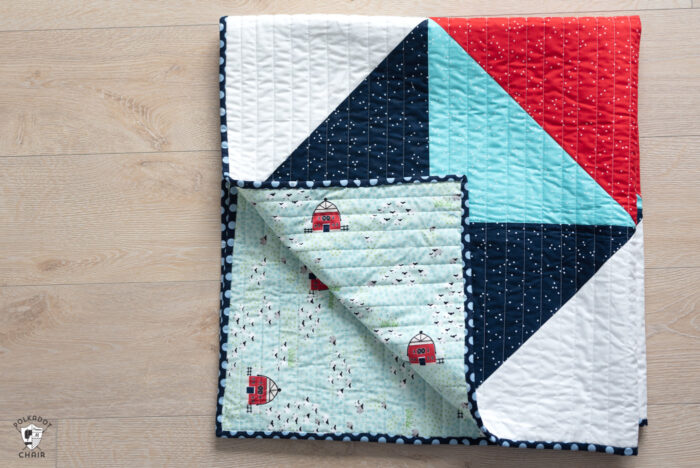 This baby quilt is a great one to make for a new baby because it can be easily customized. If the parents prefer a more modern look, you can make the quilt out of all solid fabrics. If they love a more cozy look, then you can use some of your favorite fabric prints.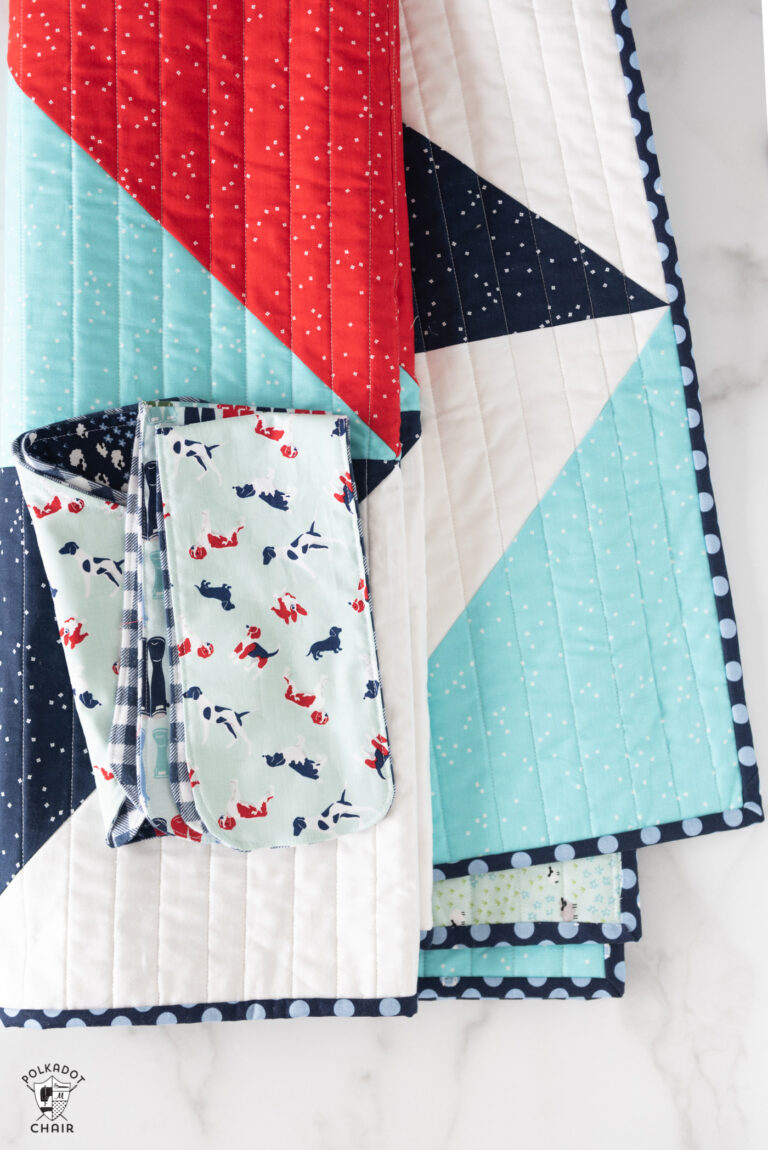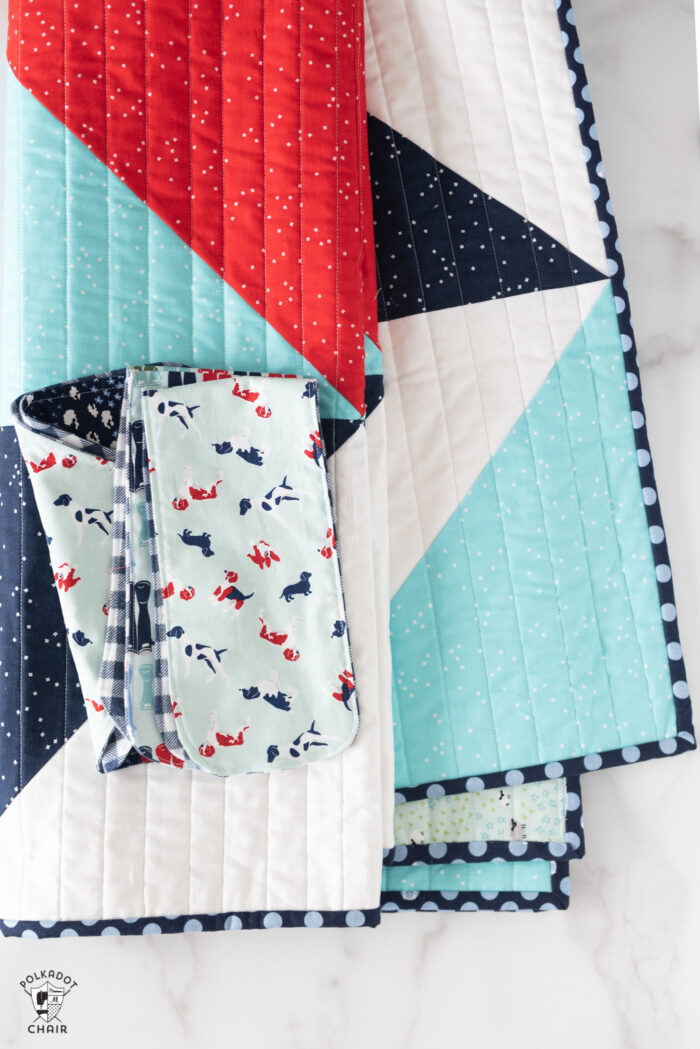 This quilt was gifted to a friend of my daughters who had a baby boy. We packaged it up with a set of matching burp cloths.
Finishing Details
The backing for the quilt is a print from my Fox Farm fabric collection.
The pattern is my Giant Star Baby Quilt
I used 100% cotton batting by Quilters Dream as the batting.
It was quilted on my home machine. I quilted straight horizontal lines 1″ apart. I sew on a BERNINA 770QE and used a walking foot and Aurifil 40wt thread.
The binding is a polka dot print also from my Fox Farm fabric collection.
You May Also Like
Simple Turnstile Baby Quilt Tutorial