Who's ready to get organized? (Raises hand!) I'm going to do my part to help you organize your sewing, quilting, and craft projects this year with these free printable monthly project planners. Download one planner set a month and keep yourself on track throughout the year!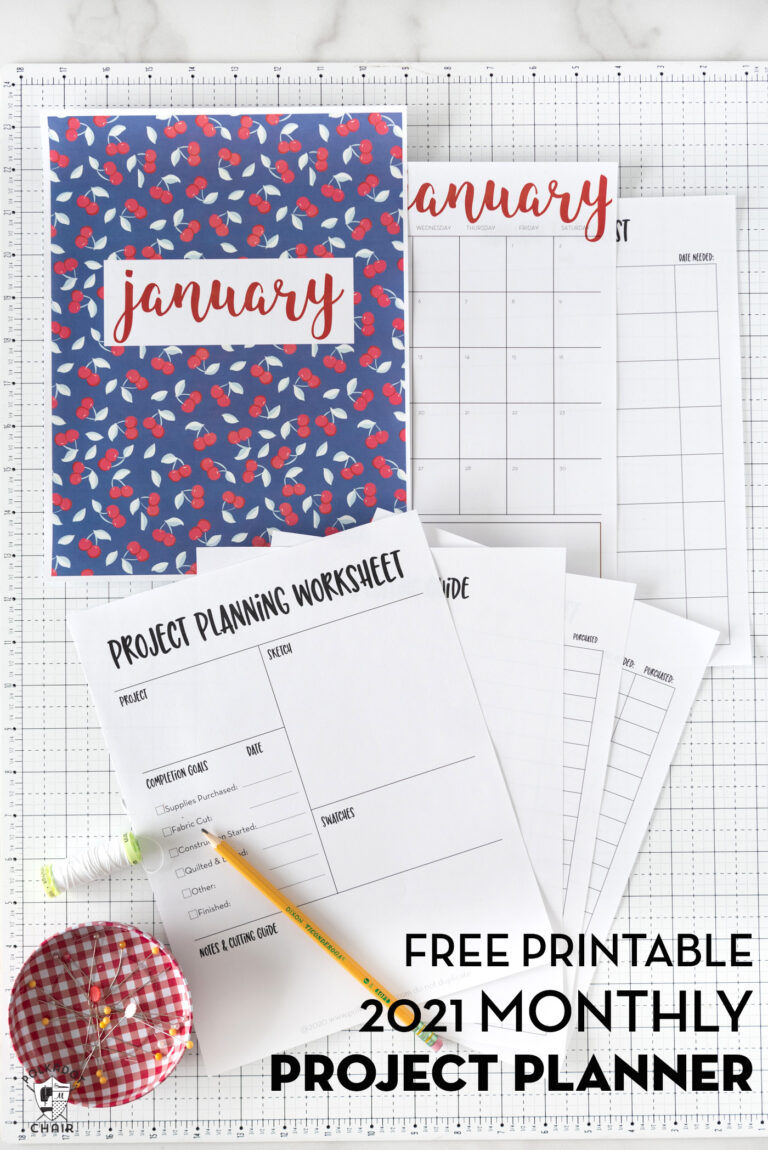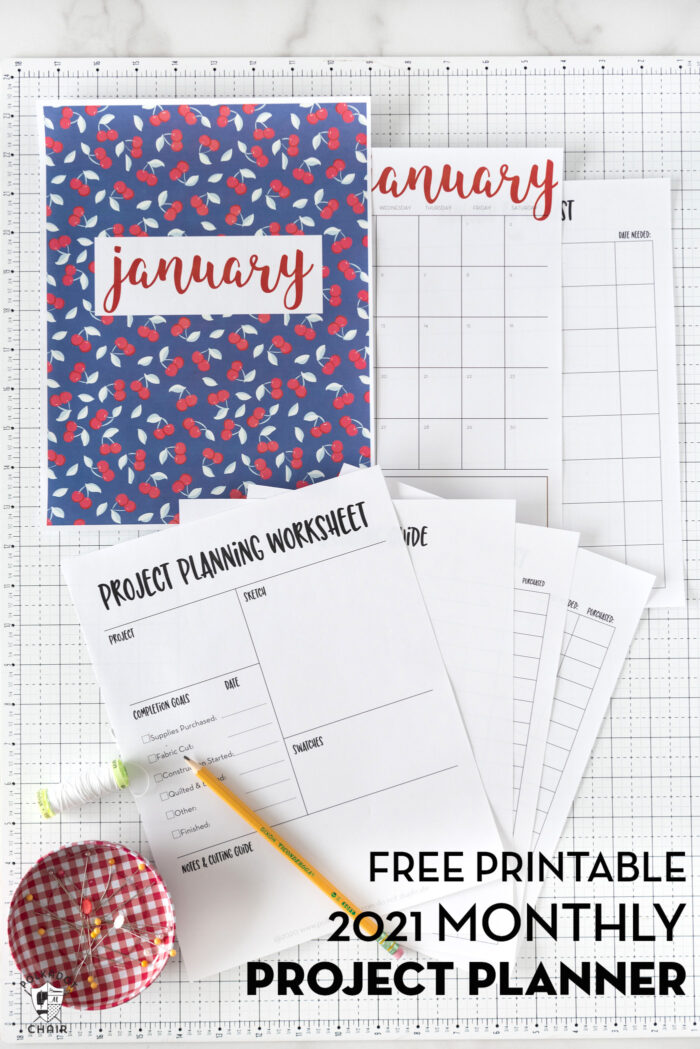 I like many of you sat down at the beginning of the year to "get myself organized". I've been a little off track the last few months and I have begun a plan to "right the ship" for lack of a better term.
Table of Contents
As I was planning out the patterns and projects I wanted to share here in the coming year I began to make myself set of project planners.
First I broke down by month what I wanted to accomplish, then began making a list of what I would need to do it.
We offered a set of planner pages like this last year and they were so popular that we've decided to do a 2021 version of the pages!
The 2021 version includes NEW cover art and updated calendars.
NOTE: Some images feature our 2020 calendar art, but all of the downloads will contain the updated 2021 art.
Why a Separate Project Planner?
I have a traditional paper planner. I keep it at my desk and use it to keep track of deadlines and major events, I do not like to use it as a project planner. For me, I feel its better to keep that separate.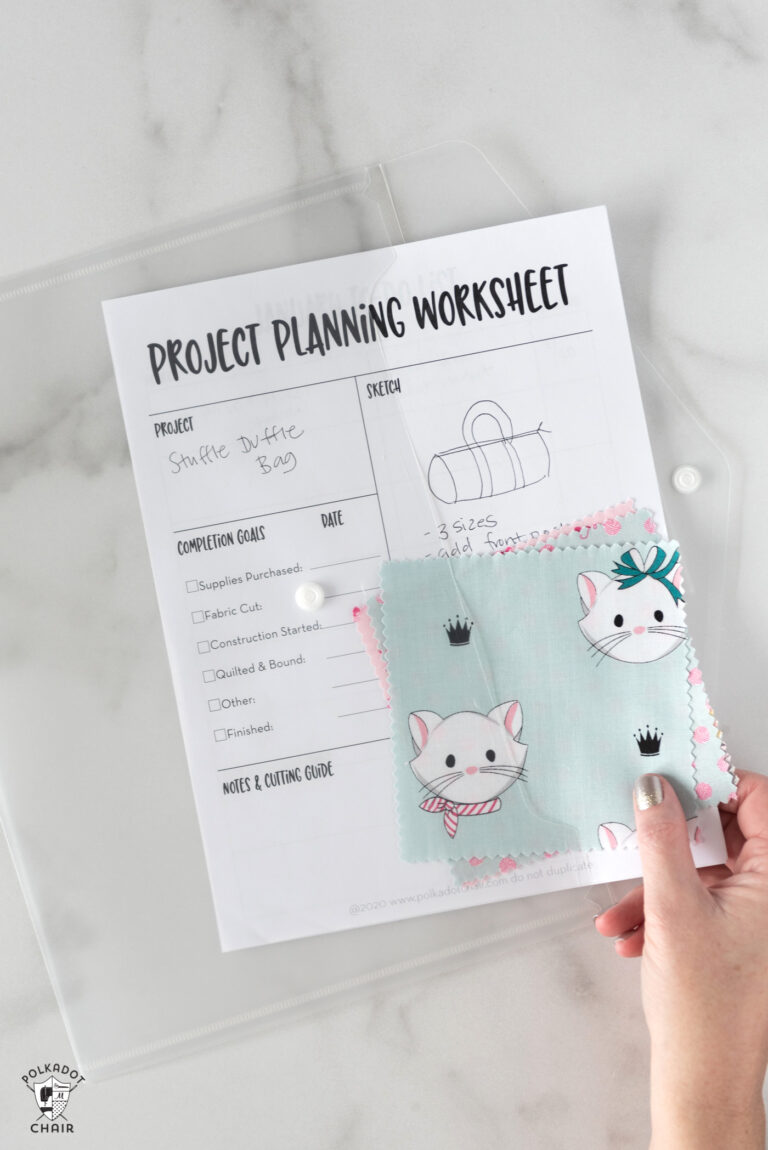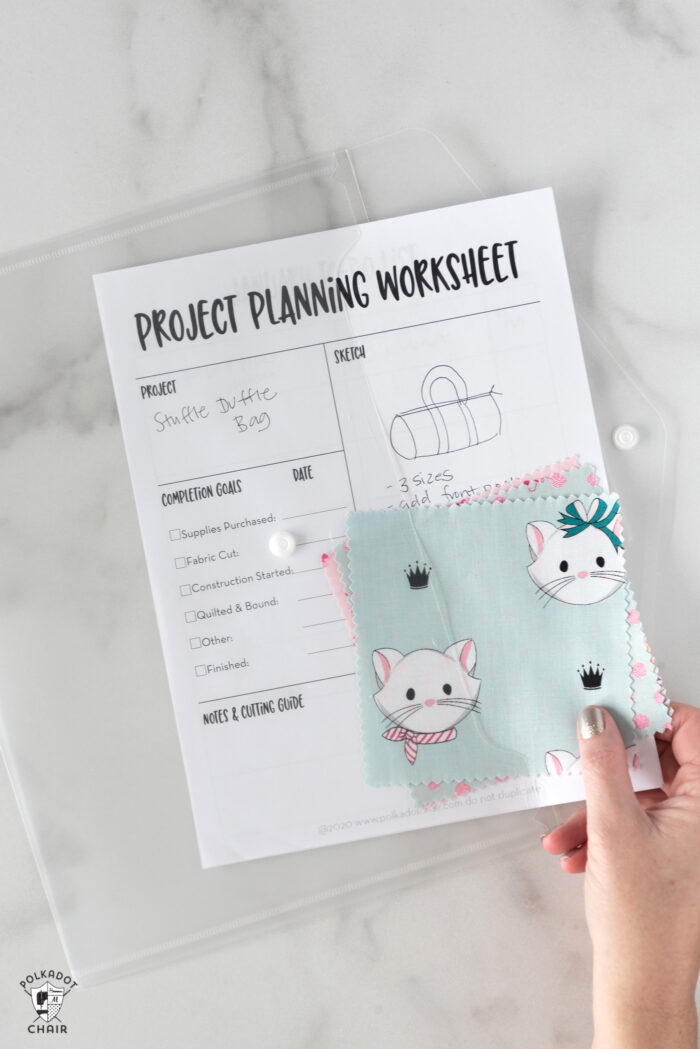 For my projects, I prefer to use large notebooks. I like to have lots of room to write and sketch. Since those are so big, I don't want to carry them around with me. I have found that traditional planners are usually too small and don't have enough "free" space for notes and sketches.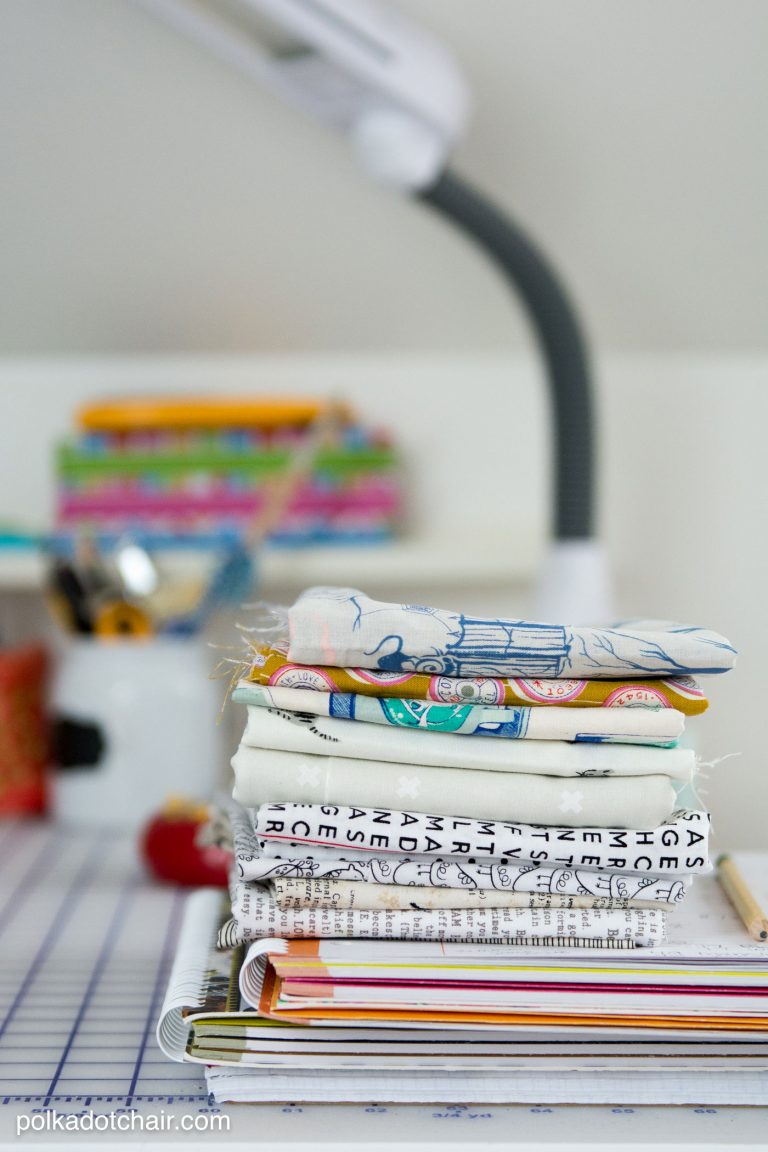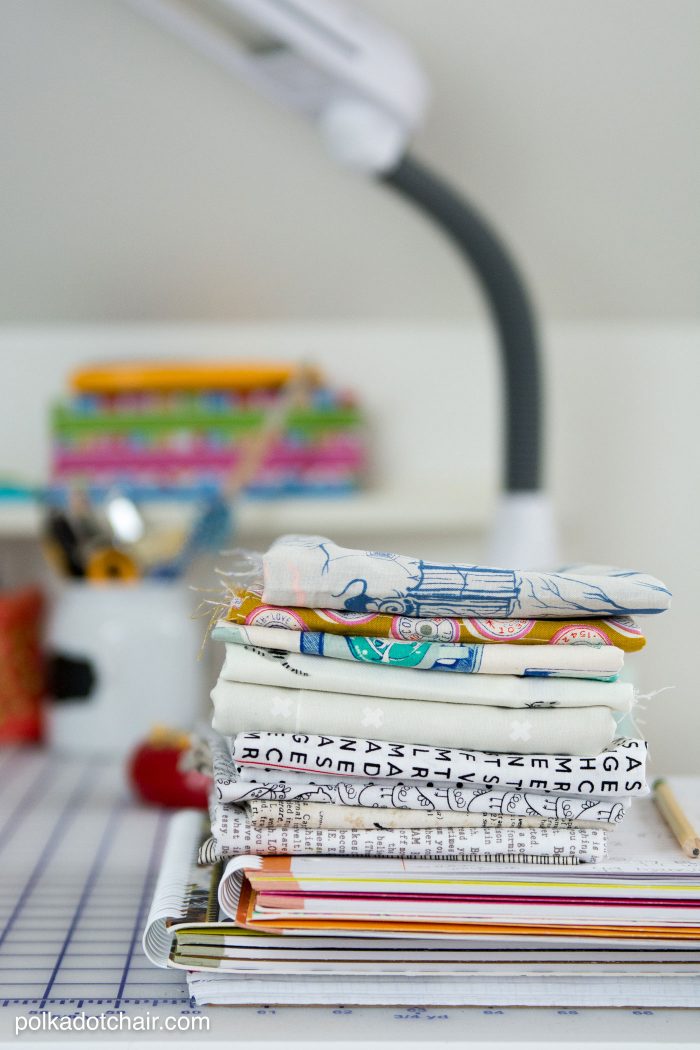 About the 2021 Monthly Project Planner Pages
Recently those large notebooks have not been working well for me as they have become a notebook full of unorganized random notes and scribbles, for this reason, I've begun transitioning to a more project-based system.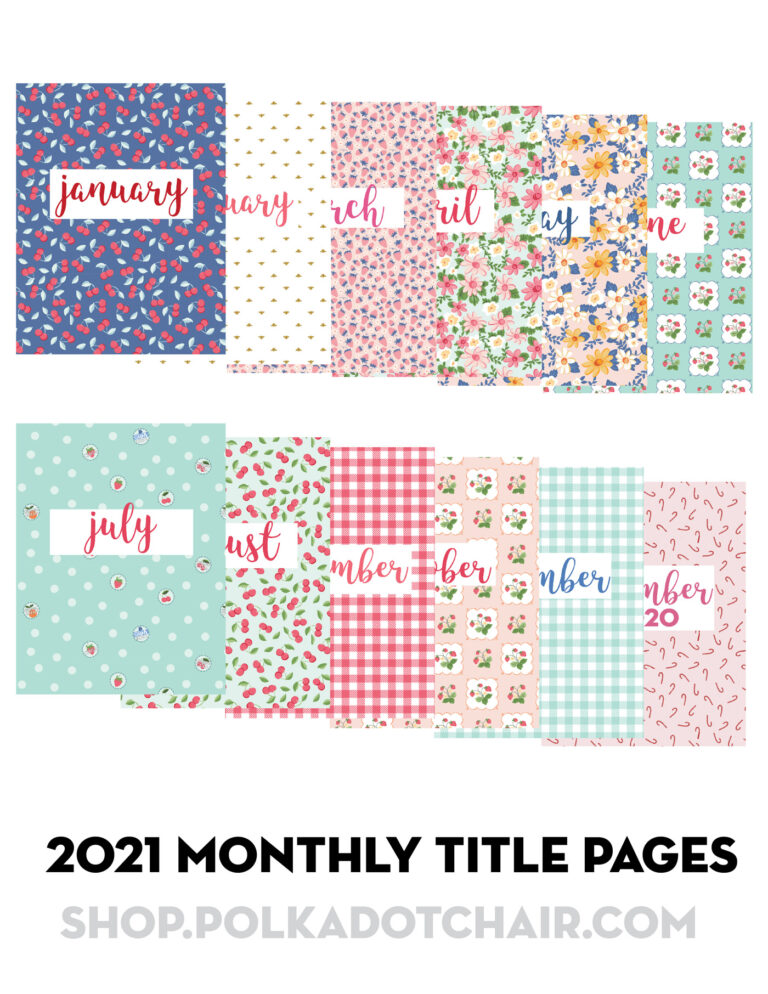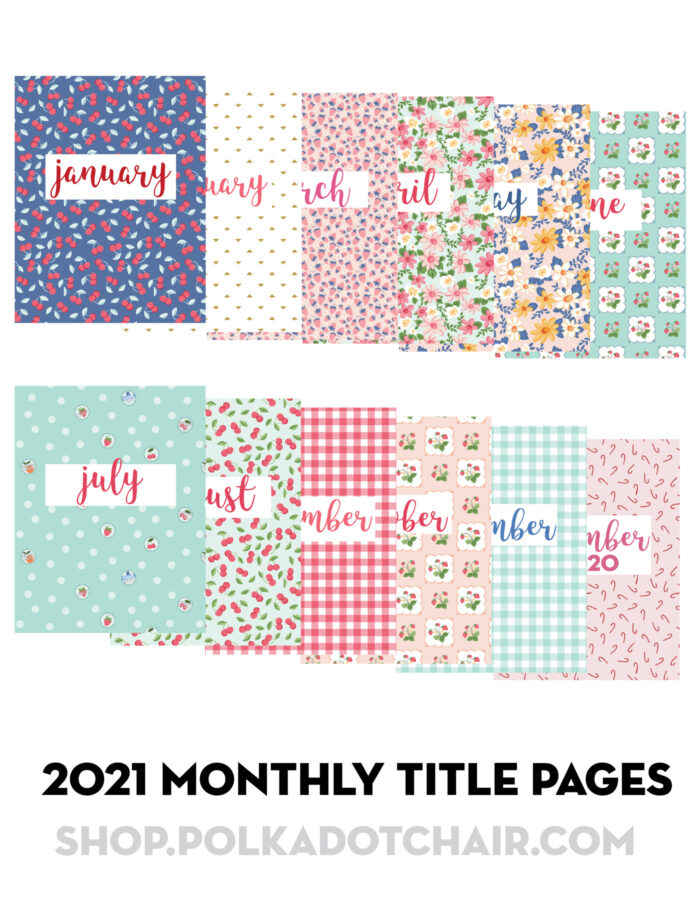 Recently I've been using individual project planners. I shared my Holiday project planner recently and it was a big hit!
Soo…. since I was designing a set of project planners for myself in the new year I thought I might as well share those with you too!
These project planner pages are designed specifically to help you plan, manage & complete your sewing, craft, and quilting projects through the year.
What exactly is in the Printable Monthly Project Planners?
This is the system I am using for myself this year. I have a lot of experience planning and executing projects on a timeline.
I constantly have to get projects finished with a set deadline and I have learned over the years how to "get stuff done". I'm sharing the knowledge I've gained from doing that with you.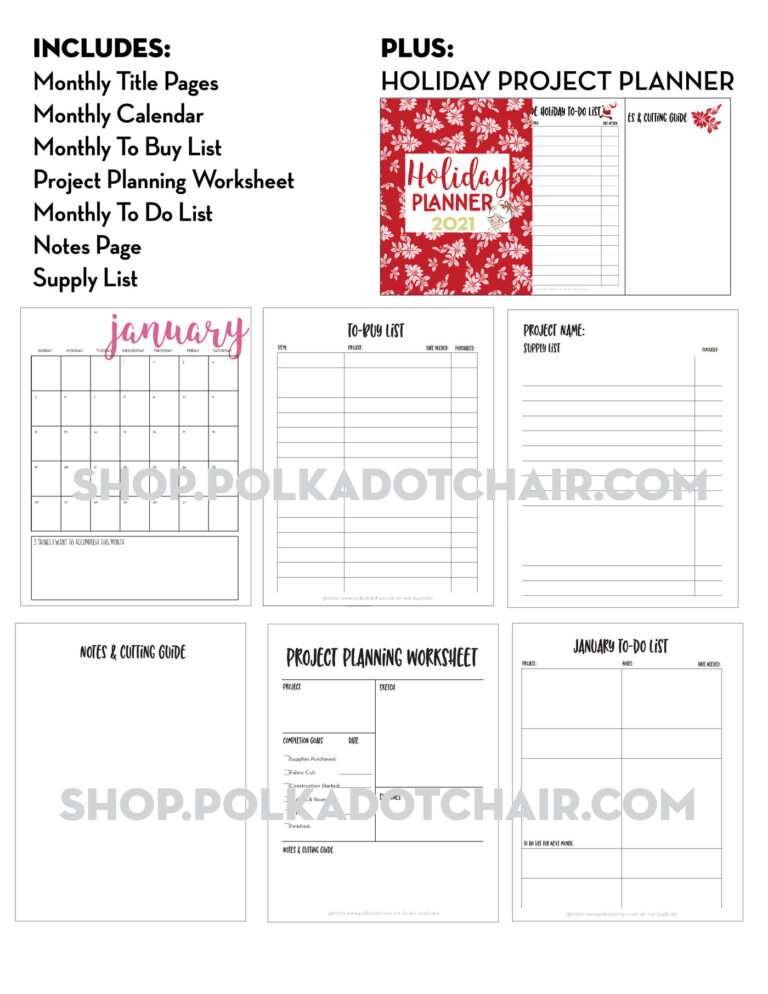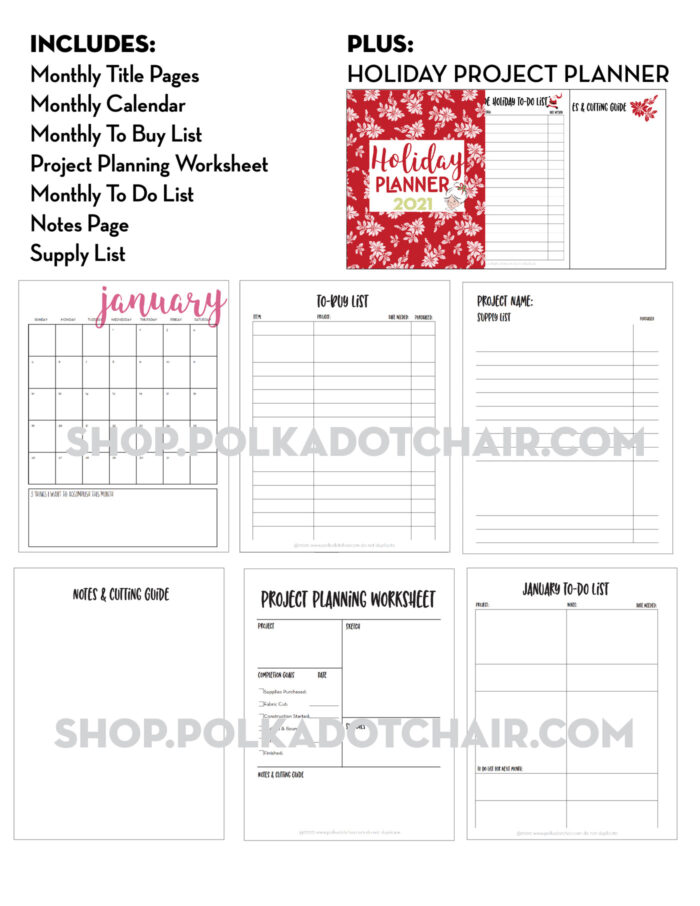 The idea behind these planning pages is that you print out ONE set a month. Each month has 7 pages. You can print as many or as few of each specific page as you want. It all just depends on what you're working on that month.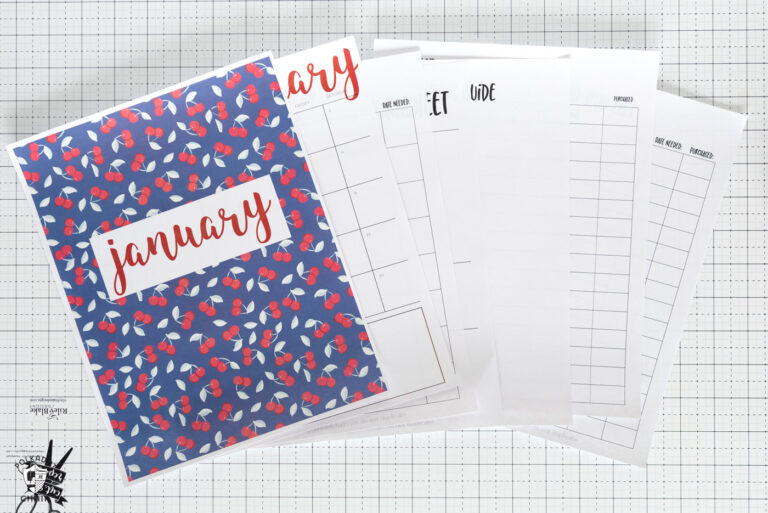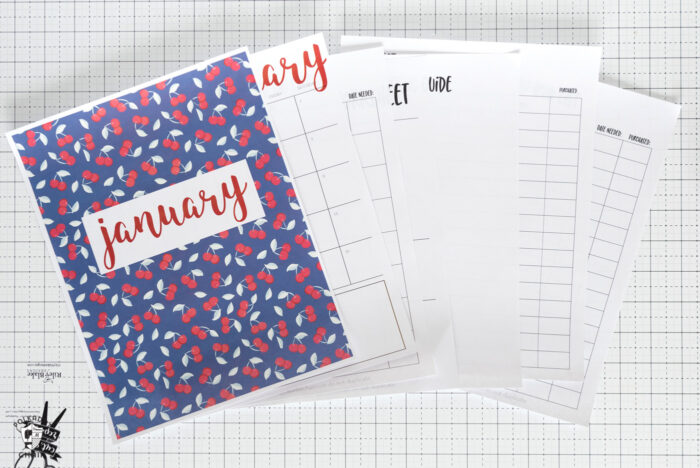 Title Page
2021 Monthly Calendar Pages
Project Planning Sheet
Project Specific Supply List
Monthly To-Do List
Notes & Sketches Page
To Buy List
Each of the title pages includes an exclusive design for the cover! All of the covers feature graphics from my upcoming Summer Picnic fabric collection.
On the Monthly calendar printable, there is a spot at the bottom for you to list the 3 things you want to accomplish most that month. I've found that long "to do" lists just overwhelm me and it's better to concentrate on specific attainable tasks.
How Do I turn the Loose Pages into a Planner?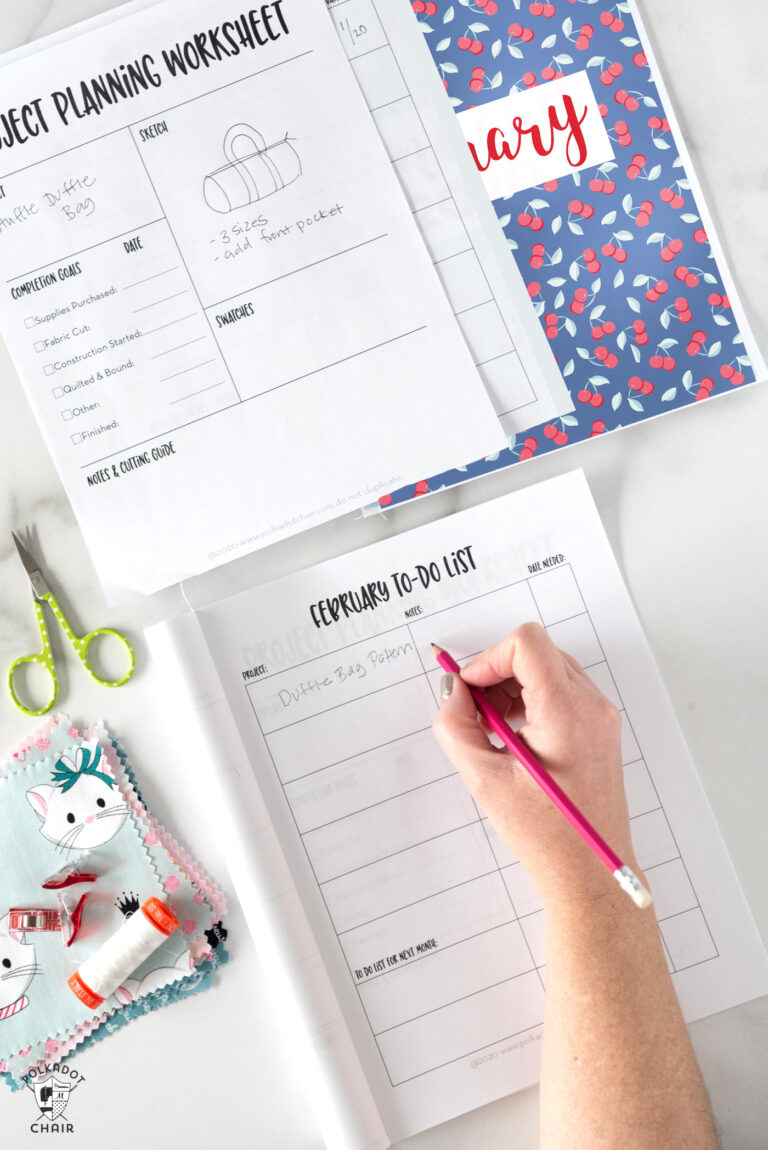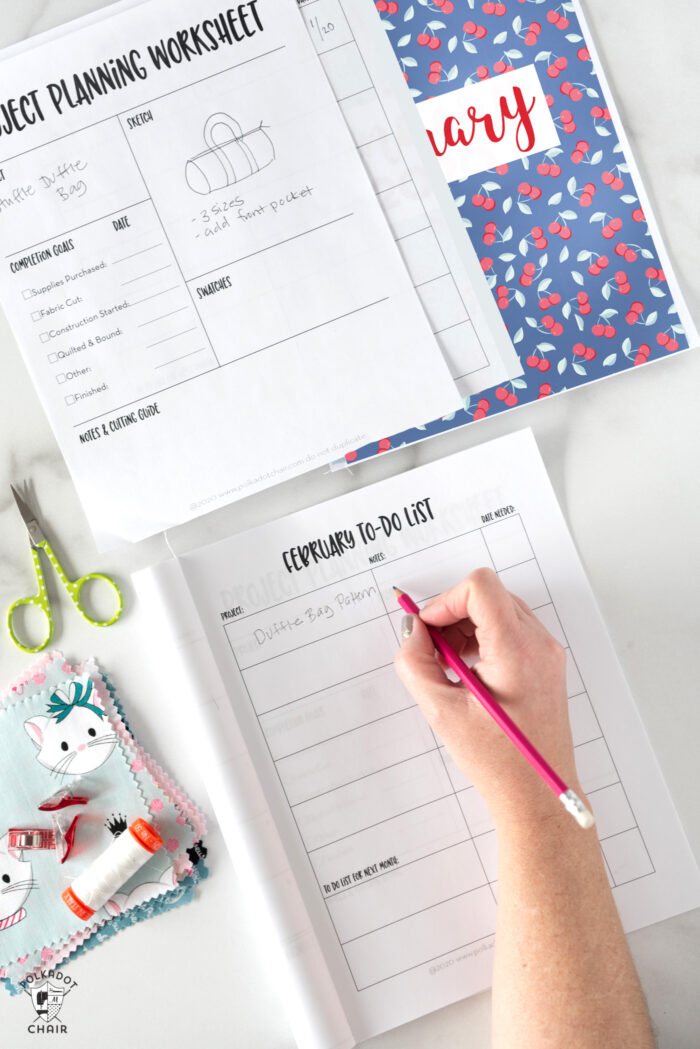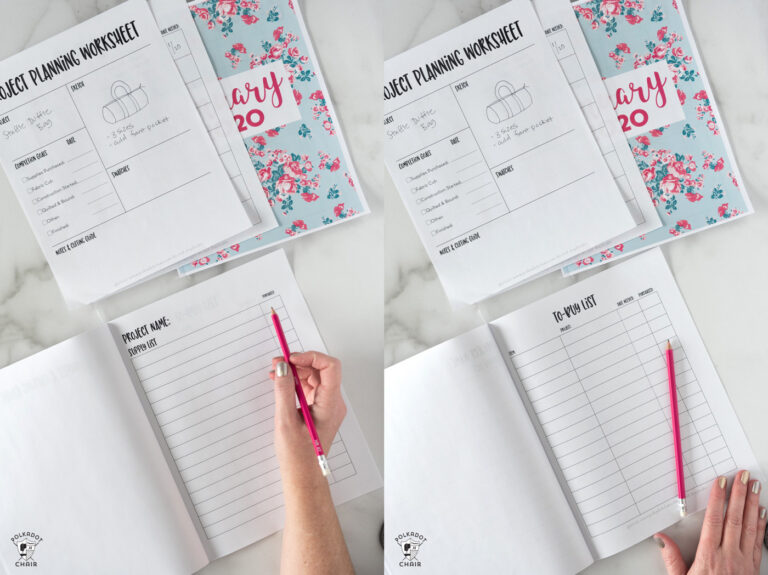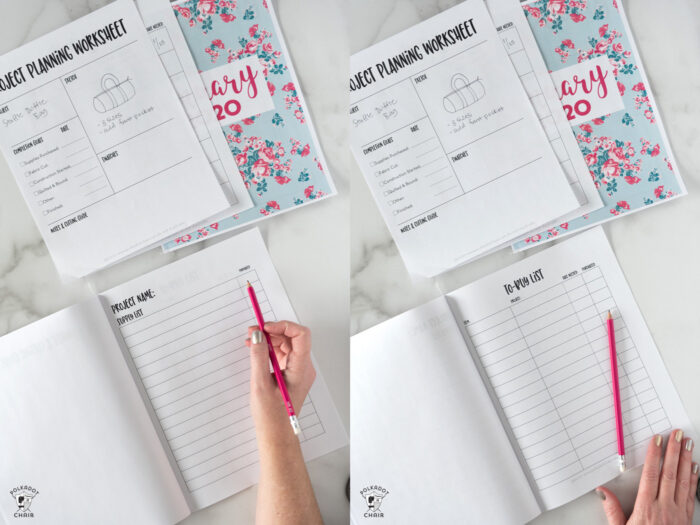 You have a few options, you can:
Print them out and put them in a 3 ring binder.
Staple the pages together
Keep the pages paperclipped together and put them in a notebook with pockets
Keep them loose in a plastic envelope
Sew the pages together to create a "bookbinding"
Take them to a copy shop and have them spiral bound
You can also mix and match them with loose leaf lined paper or graph paper
NOTE: Some images feature our 2020 calendar art, but all of the downloads will contain the updated 2021 art.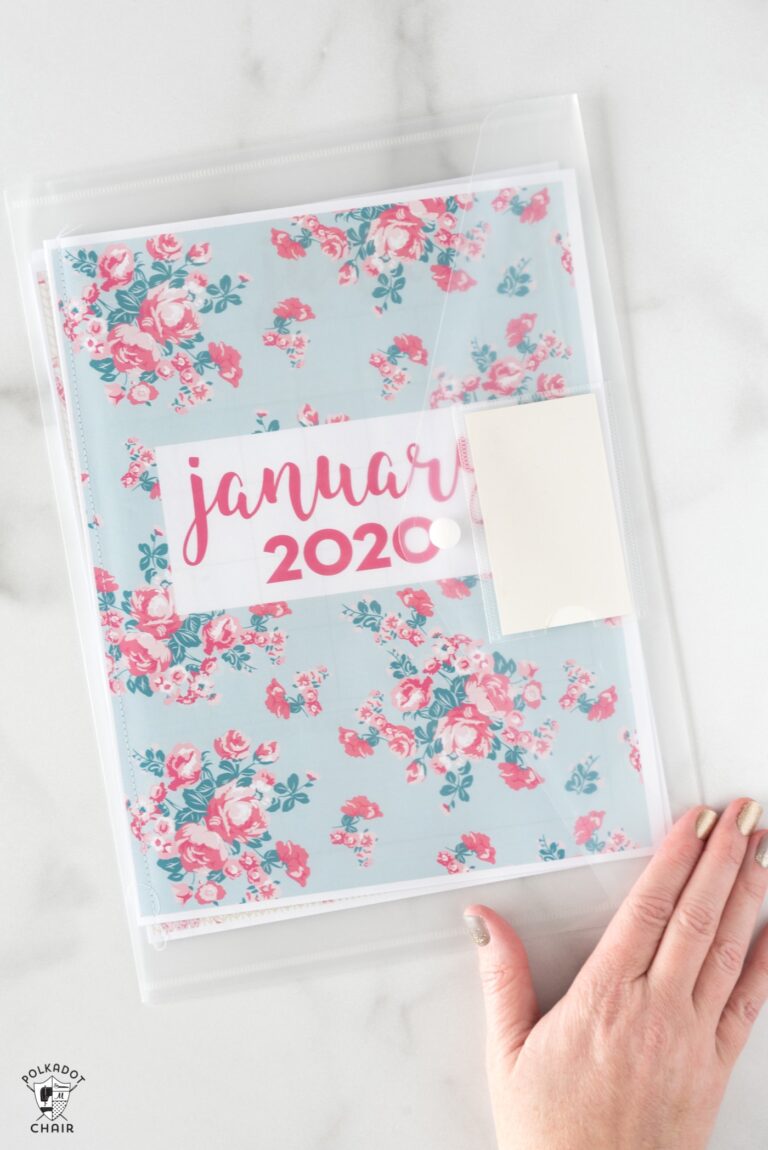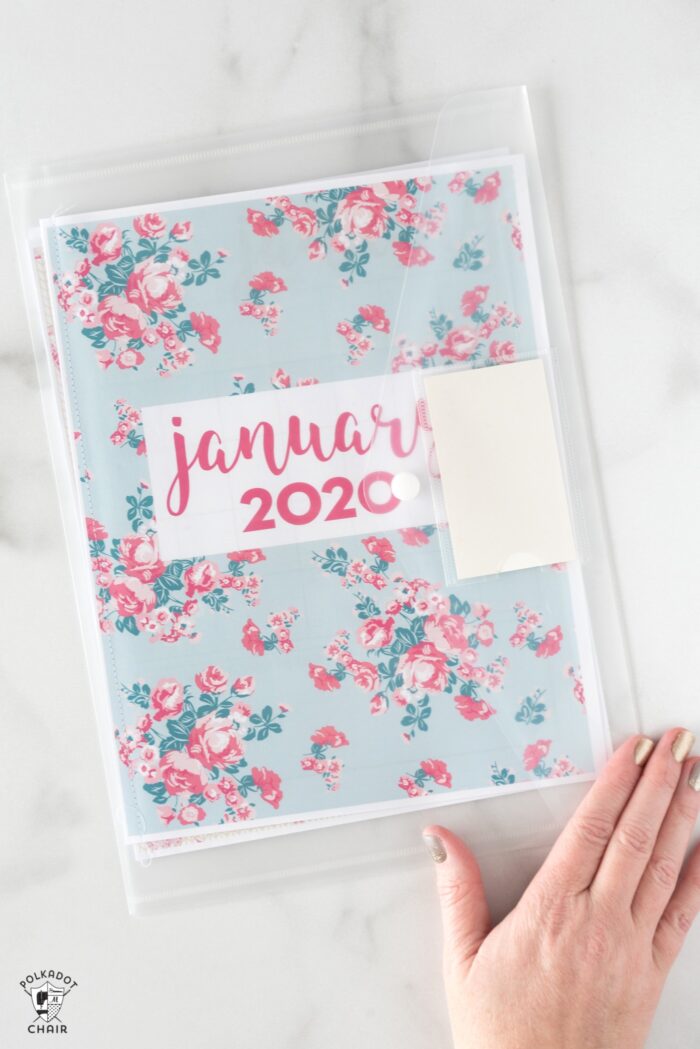 If you choose to take them to a copy shop and have them bound I would recommend using a heavy cardstock on the front and back pages to make them more sturdy.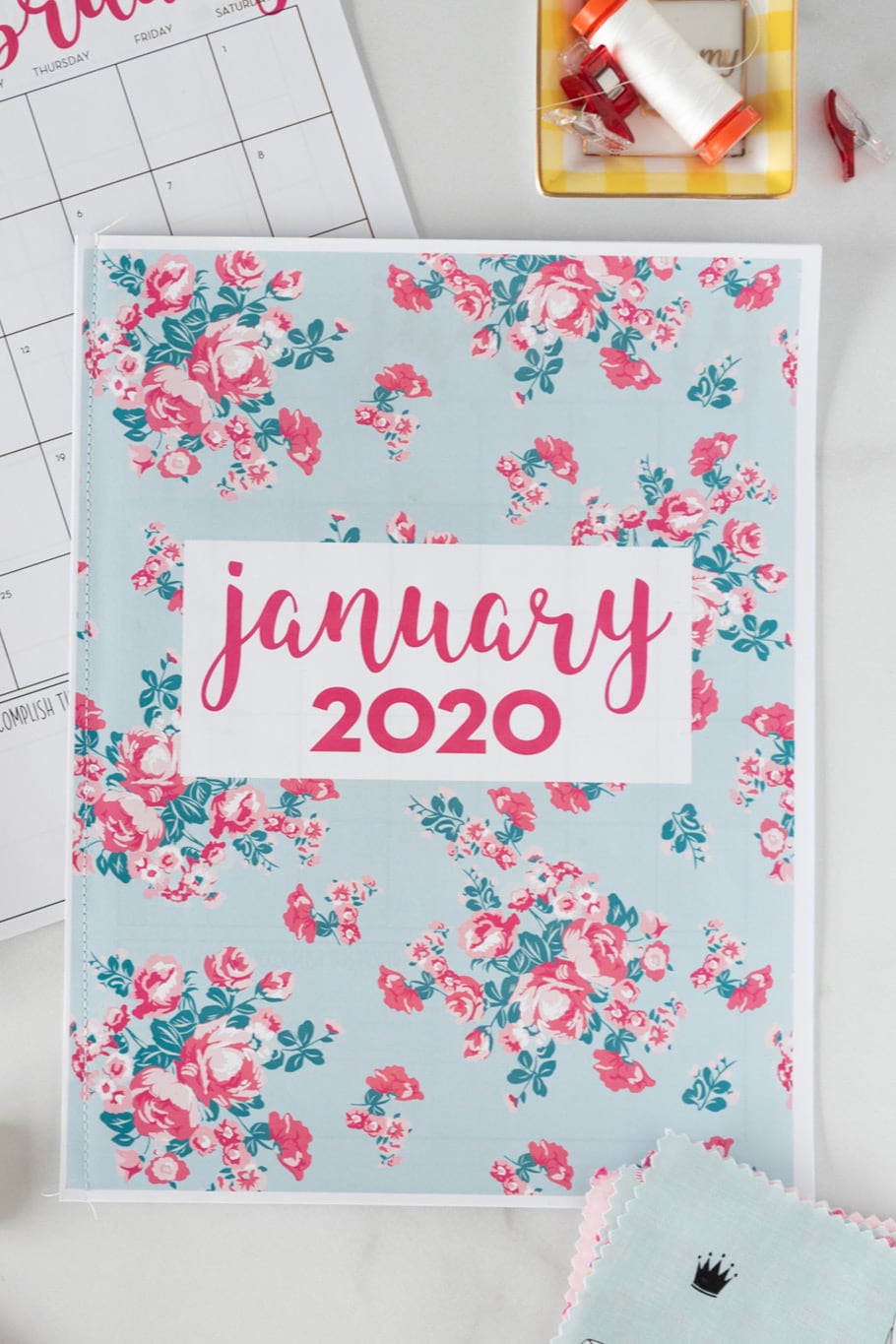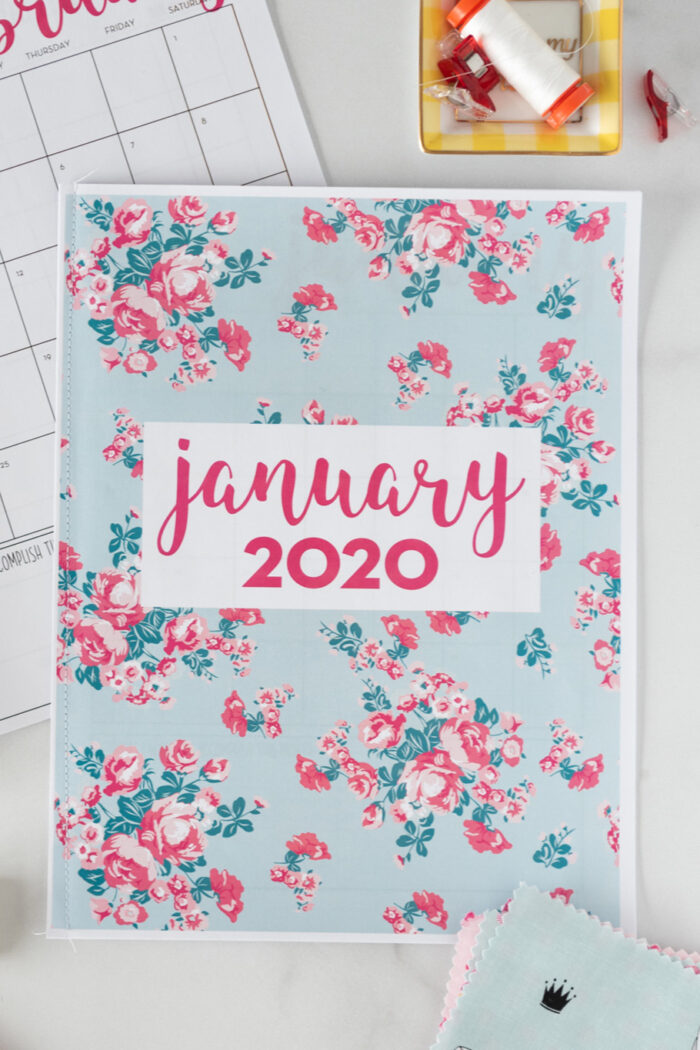 My favorite of those methods is to just sew the pages together. I mean you've got a sewing machine, right? Why not use it? Just set your machine to a longer stitch length (like 3.5) and sew right down the side. I use binding clips to keep my pages together as I sew.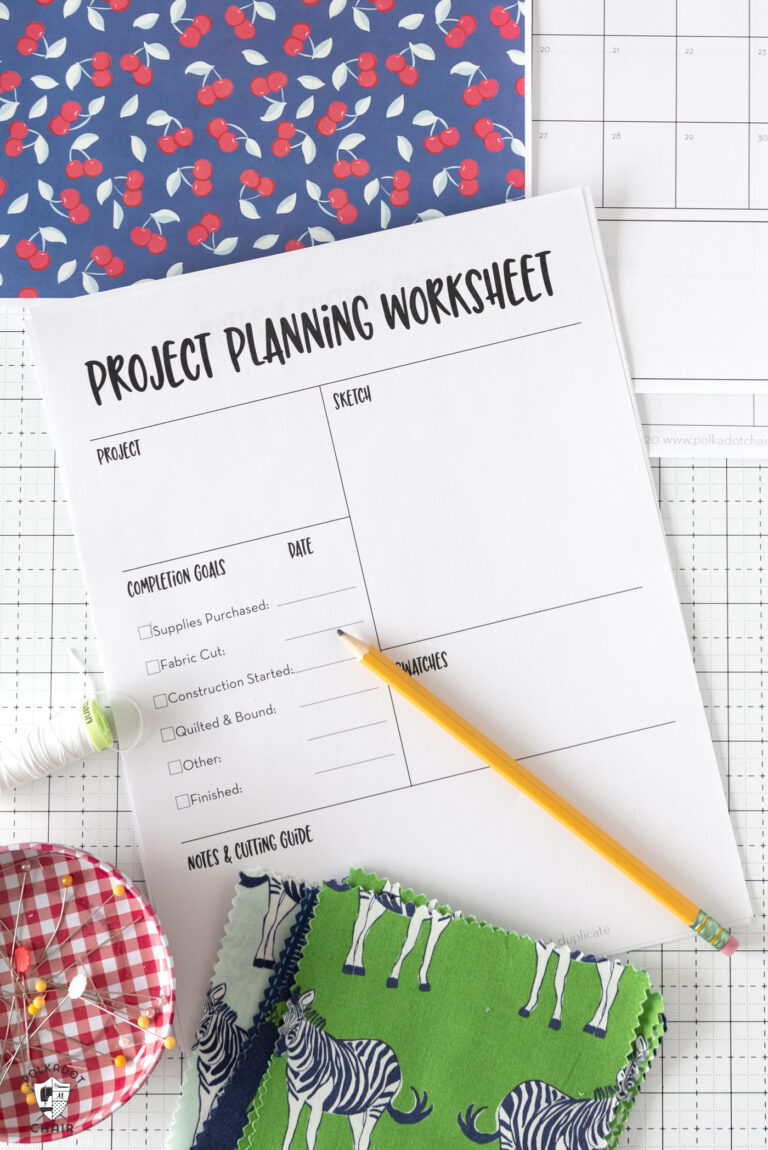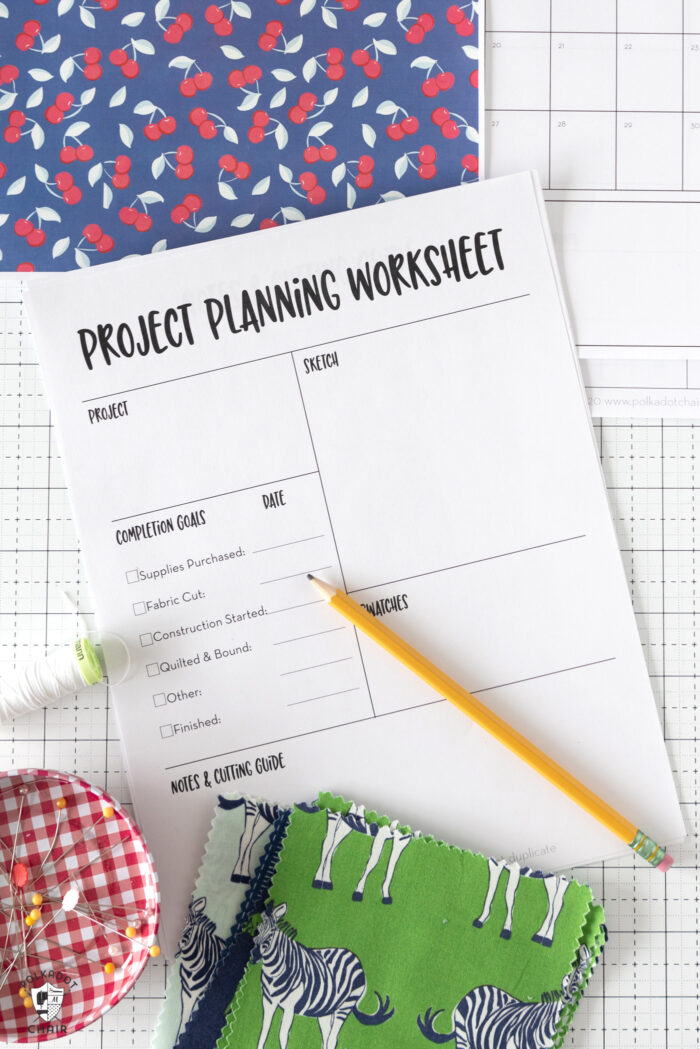 How to Download the Planner Pages
There are two options.
Option One:
Visit the blog monthly and download the planner pages for NEXT month. If you sign up for our newsletter we will email you when the new pages are available.
Two months' printables are available in the library. The library is exclusively for newsletter subscribers. Find out how to subscribe (it's free) and get the link to download below.
How to Get the Printables. You can get a copy of the printable featured in this post in our Printable Library. Access to the library is for our Newsletter subscribers and subscriptions are FREE. Please follow the instructions to obtain the printable. PLEASE READ the instructions on that page. Note: Printables in the library may not be sold or used for any commercial purpose.
After that, each month I'll post the NEXT month's pages on the 1st. So March pages are available February 1st etc. Past month's pages will be deleted from the downloads area monthly.
Option Two:
If you want all of the pages now I've added them to the shop! You can download each of the twelve PDF's right away. You don't need to join our printable library. It's a one-time purchase.
As a special bonus, if you buy the planner you get an "early" release version of our 2021 Holiday Planner!
This is not meant to be a FULL planner. Like I mentioned before I have a traditional planner (I like the Simplified Planner by Emily Ley) that I use separately.
If you're looking for a more "all in one" planner I recommend the Quilters Planner. It's very thorough with lots of fun projects and ideas included in the planner.
More Ways to Get Organized This Year:
How to Organize your Fabric Stash
How to Make Printable Stickers for your Planner
Roll Up Sewing Machine Mat Organizer Tutorial