Today I have a fun project for you that is perfect for Valentine's Day or any other day for that matter, this "Bless your Heart" DIY Hand Painted Wood Sign tutorial! If you like this project you may also like this "BEE my Valentine" printable.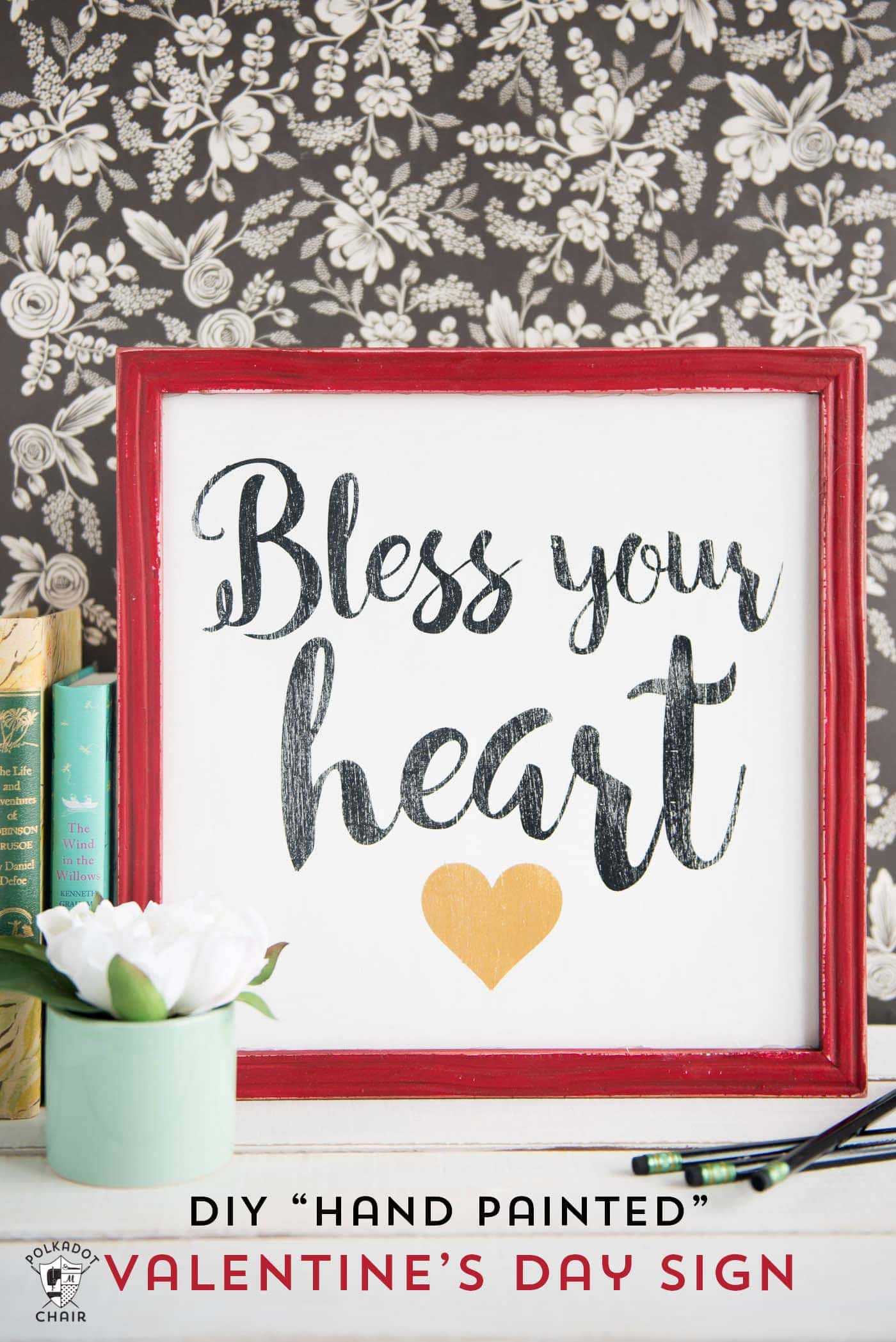 I grew up in Salt Lake City, Utah.  I was born and raised there. I went to college there. While I was in college (I went to BYU incase inquiring minds want to know), I met a boy from Kentucky. As soon as I heard where he was from, my interest peaked. I had met many cute boys from Utah, California, and Arizona before, but he was the first one Kentucky.  We chatted a few times before I got up the courage to ask him out on a date. He said yes, but the date didn't really go well. After the date we saw each other a couple of more times. During one of those times he told me he wasn't interested in dating me. If you just went HUH?!?, then I feel ya, there is quite the story there, but it will have to be saved for another day.  Two days after he told me he didn't want to date me, he started showing up at my apartment everyday. Long story short, we got married.
We stayed in Utah for two years after we were married,  then he found out he got into graduate school in Kentucky and we moved to Louisville. It was his home town, and my first time living outside the state of Utah. When we moved I made a decision to "bloom where I was planted" and have tried over the years to embrace all the good things that my new city and state had to offer.  Kentucky is in the South, some people say it's not, but don't tell that to a Kentuckian.  Sweet Tea and Bourbon are popular here (two things Kentucky things I have not indulged in), it's a million degrees and insanely humid in the summer, seersucker and bowties are popular, and everywhere you go you are greeted with a warm, genuine smile.  It didn't take long for me to pick up on some of the local vernacular, and soon "y'all" became a part of my daily vocabulary.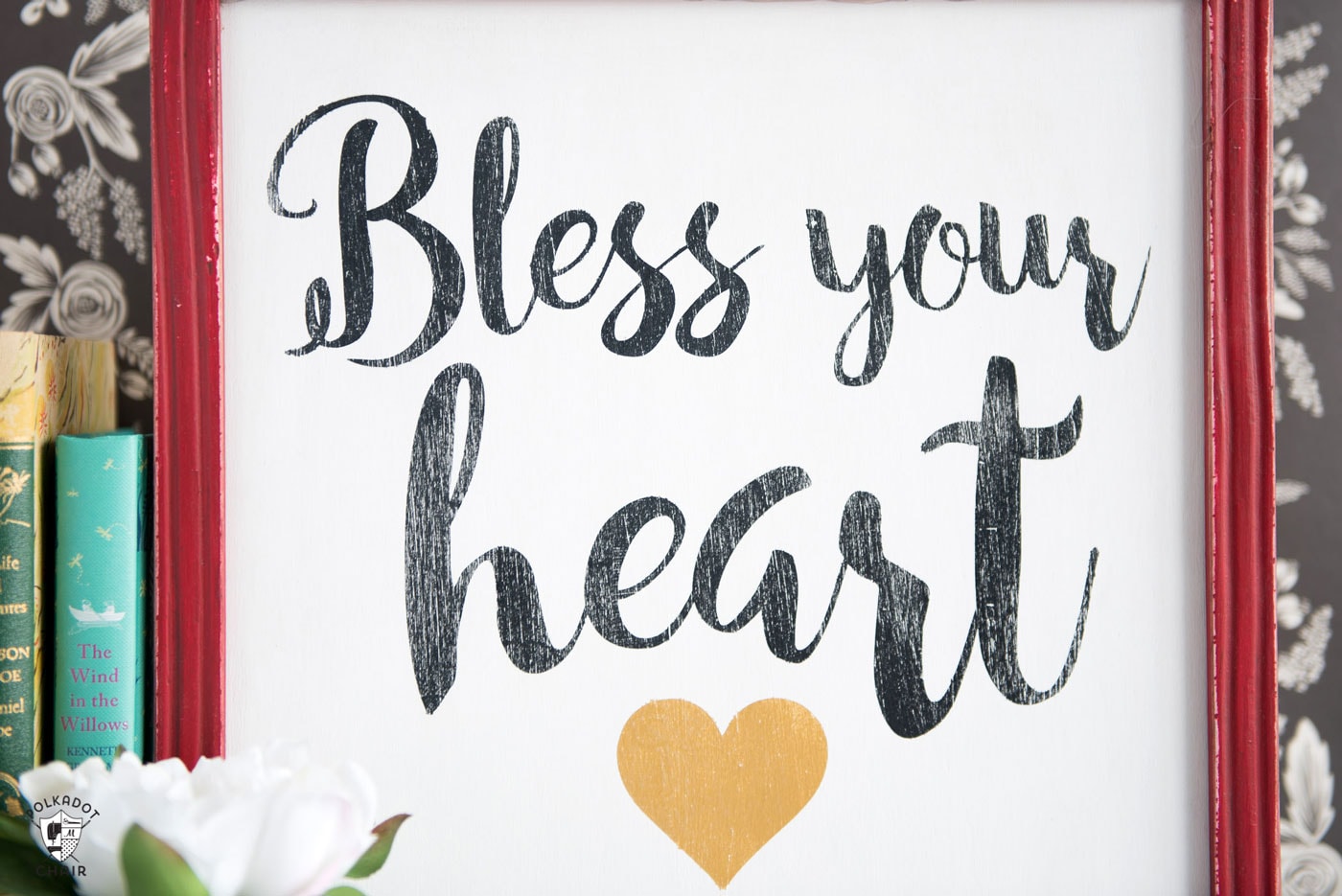 One of the sayings that I hear frequently is "Well, bless your heart". It's cute and sweet and I love it. When my twins were babies and we walked around the mall I'd hear that expression a dozen times a day. I think people knew I really needed the "bless" part of that saying in my daily life.  People also day "bless" a lot, but not in the way you think.. usually when they are exasperated.. For example, they'd say "My teenage son leaves his socks all over the house" then exhale deeply and say "Bless".  It's cute and seems like quite a polite way to complain about your teenagers (wink).
I was thinking about Valentine's Day and dreaming up a few projects to share with you and immediately thought that I needed a "Bless Your Heart" sign for my house. I thought you might like one too, so I've designed a FREE CUT file so you can  make your own hand pained wood sign at home.  I use the term "hand pained" loosely, since this is a quick CHEATER way to make a hand painted wood sign… and I say when it comes to crafting cheating is encouraged!
Do you want to make one? Here's how!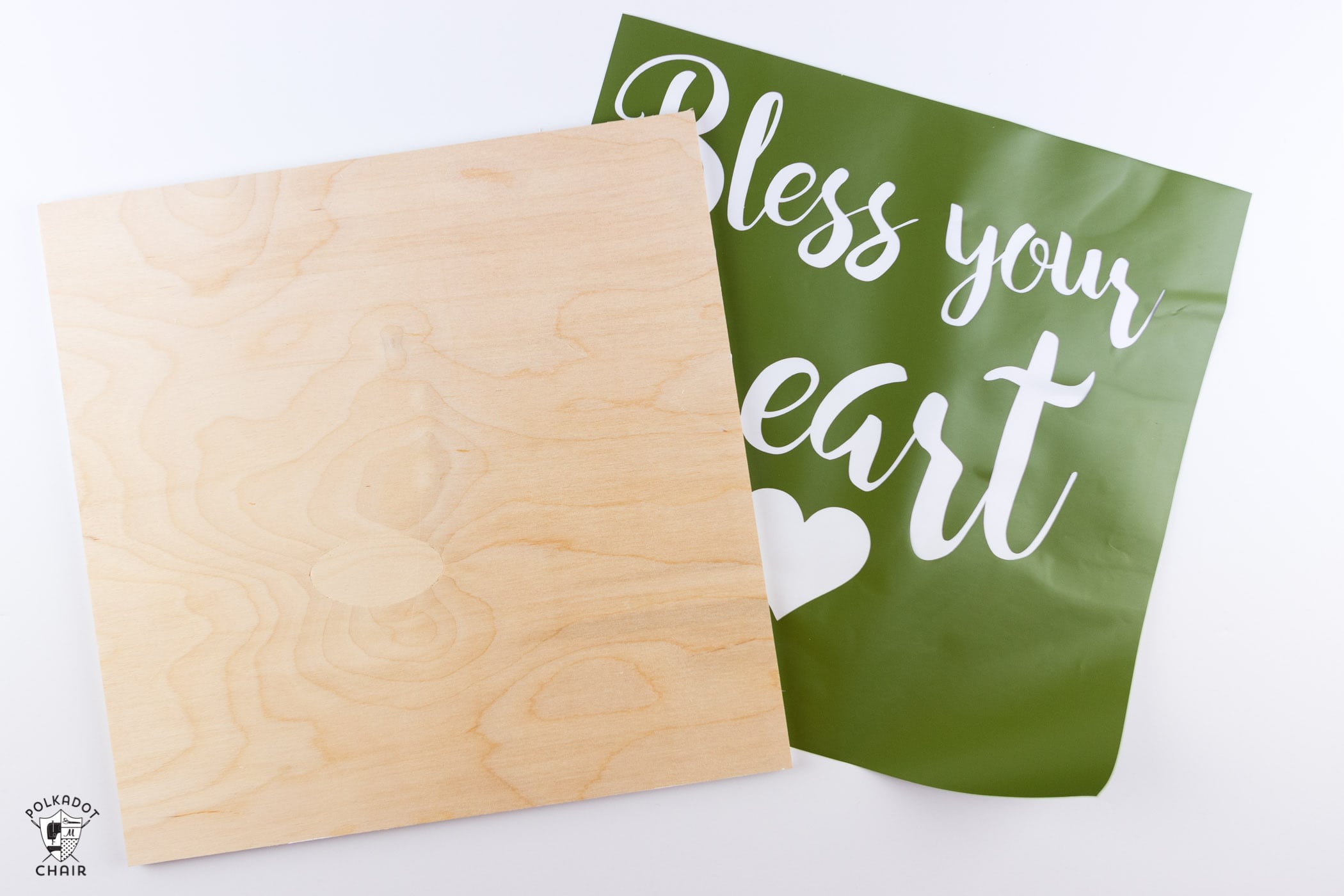 SUPPLIES:
You need click on the links for sources, contains affiliate links:
12×12 piece of wood (you can buy it on Amazon or at your local craft store)
Chalk Paint (I recommend using Annie Sloan Chalk Paint -in Louisville, you can pick it up at Vintage Style & Designs)
Wax for the Chalk Paint
Bless your Heart Cut file (CLICK HERE to download it for free on the TEMPLATES PAGE)
Cricut or other e-cutting machine
Sandpaper
INSTRUCTIONS:
Begin by cutting out your "Bless your Heart" stencil. Pull the file into the Cricut design space. Click on all of the layers and then click "WELD".
Resize your image to close to 11″ wide.
Cut it out.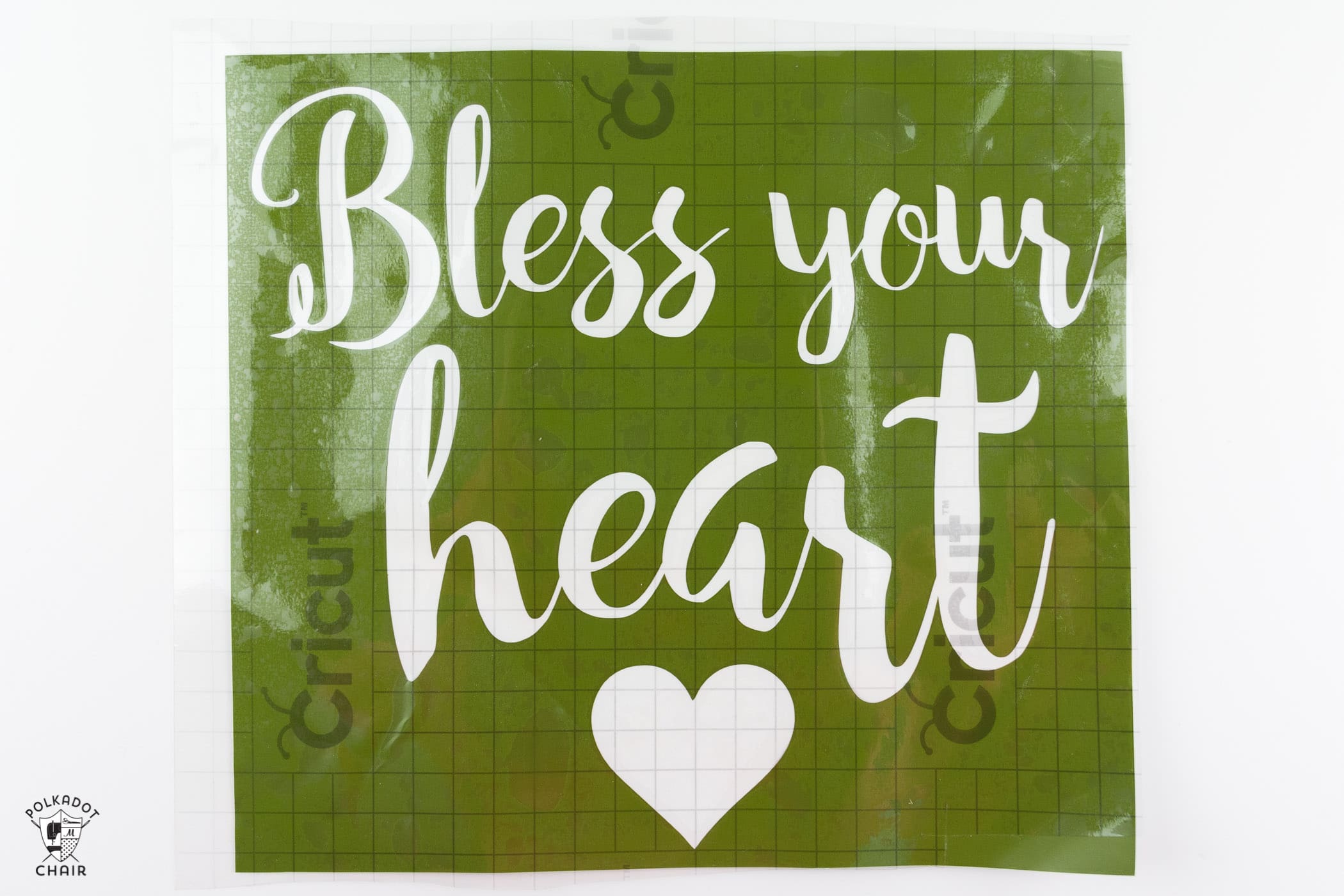 Peel away the letters, leaving the stencil behind (make sure you leave the insides of the letters)
Apply the transfer tape to the top of the vinyl, and peel the vinyl off of it's plastic backing.
Paint your 12×12 piece of wood with 2 coats of white chalk paint (chalk paint works better for this, as it absorbs the stencil better).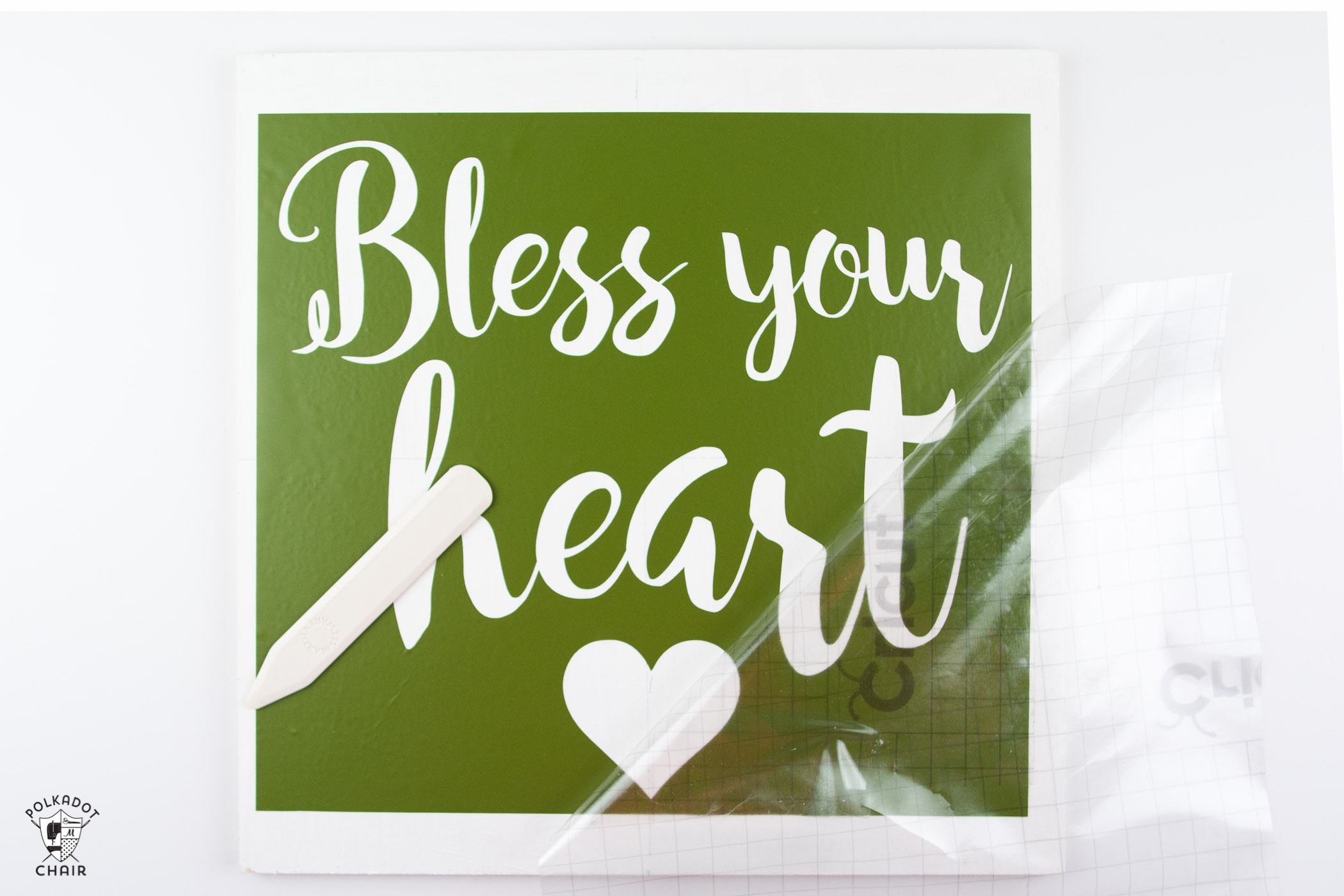 After your paint is dry, apply the vinyl stencil to your wood board.
Peel away the transfer tape.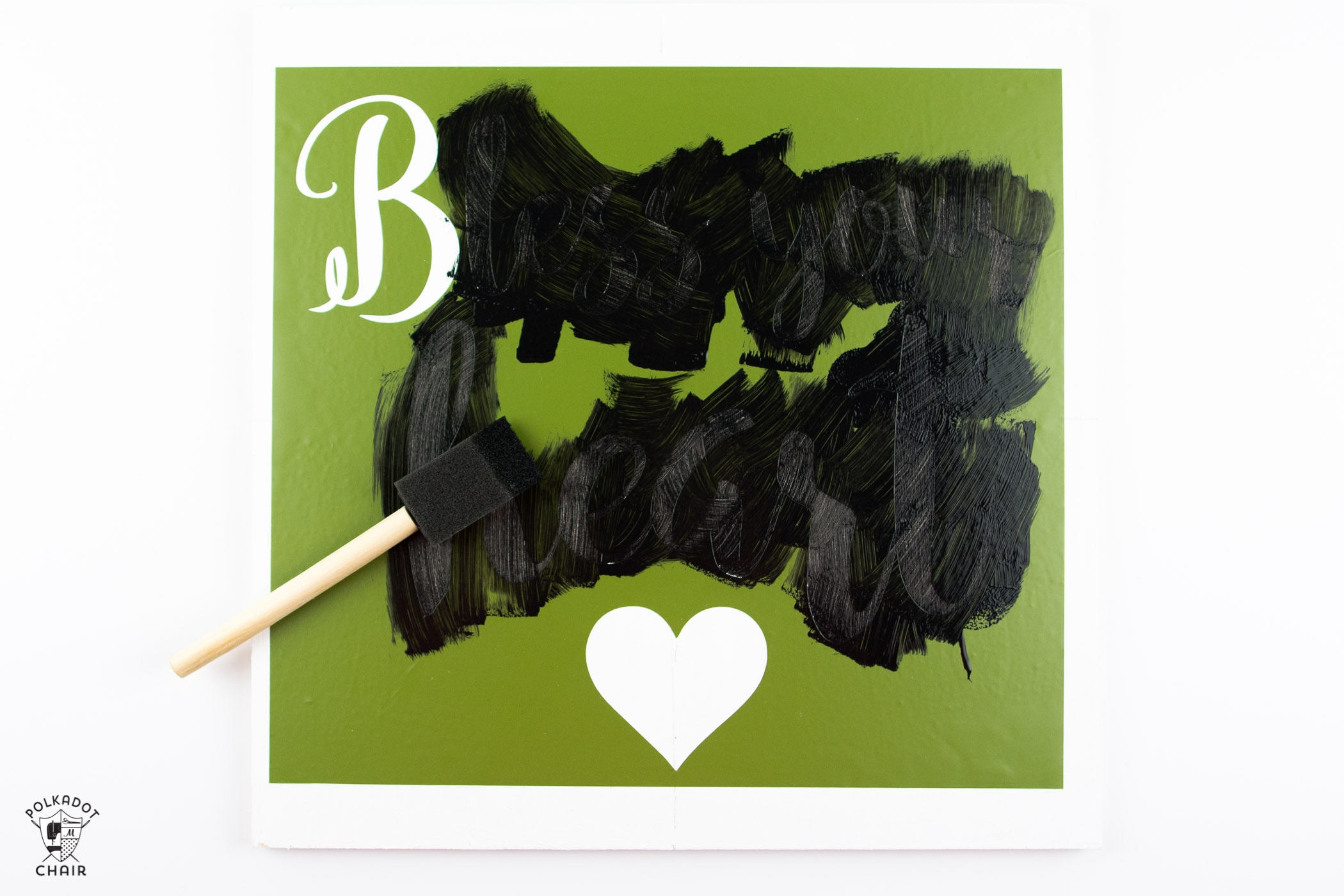 Paint in the letters with black acrylic paint. Then paint the heart with gold paint. It will take two coats.
When the paint is dry, peel of the stencil.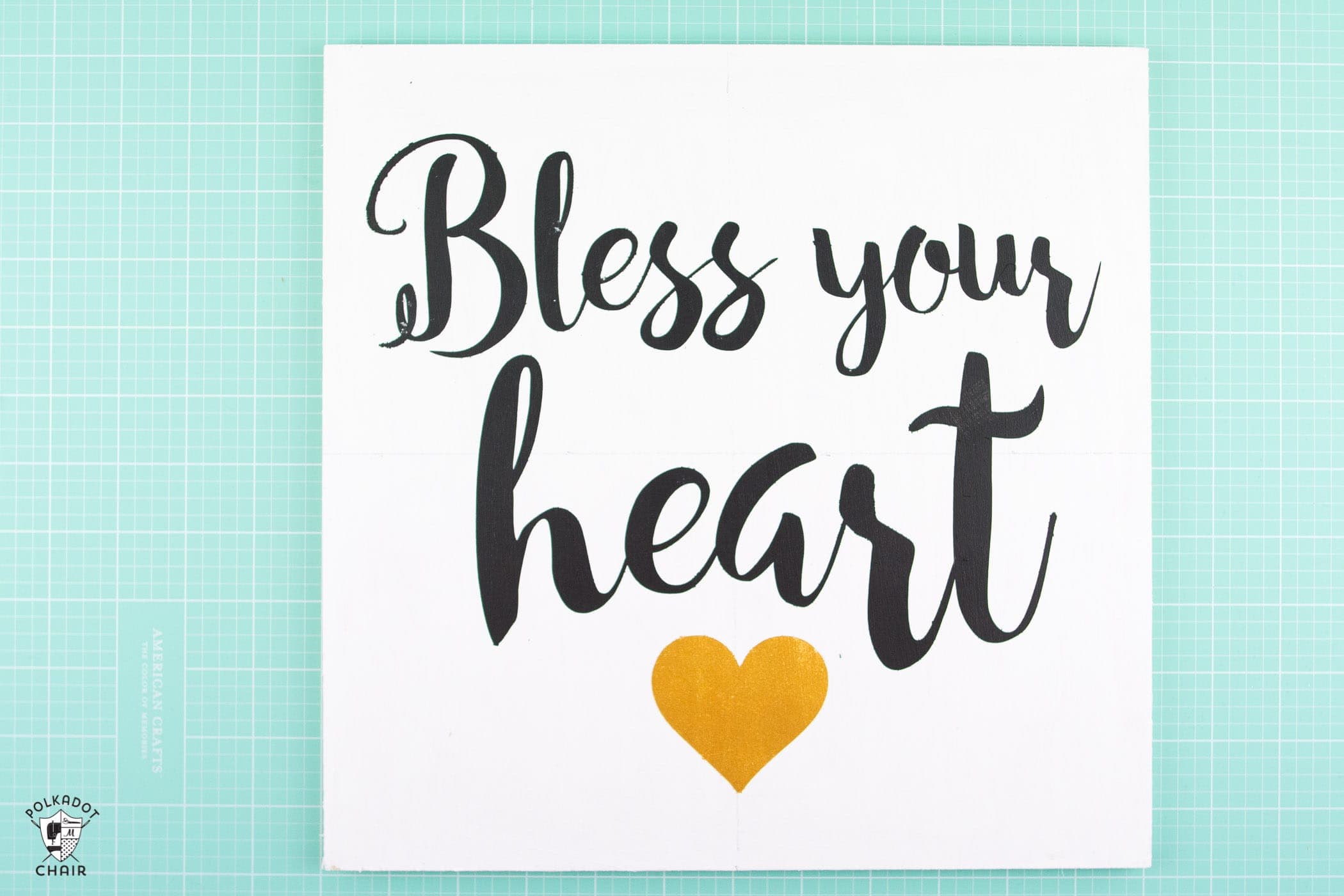 Using your sandpaper, sand the sign down as much as you'd like.
To finish apply a coat of wax. Apply the wax, let it dry then "buff" it with a clean white cloth.
Slide the sign into the frame (I painted my frame, it was white to start with) and you're done!