Today I have a fun and simple Handmade Cute Christmas Gift idea for you. This fun Elf Mason Jar Christmas Gift! Fill it with candy and gift to family and friends this Holiday!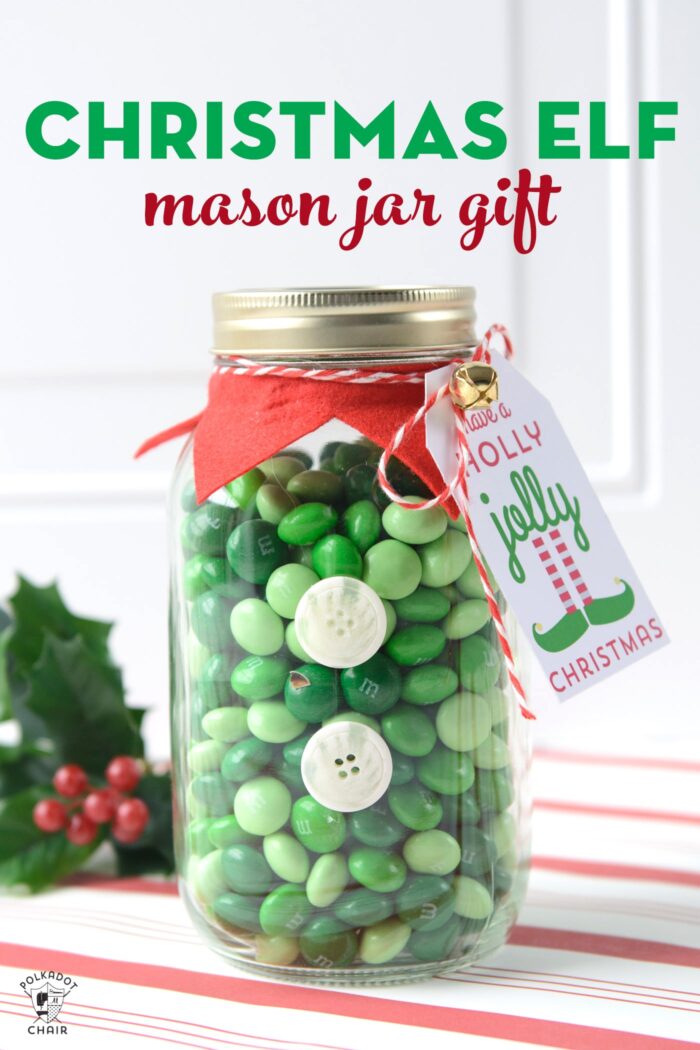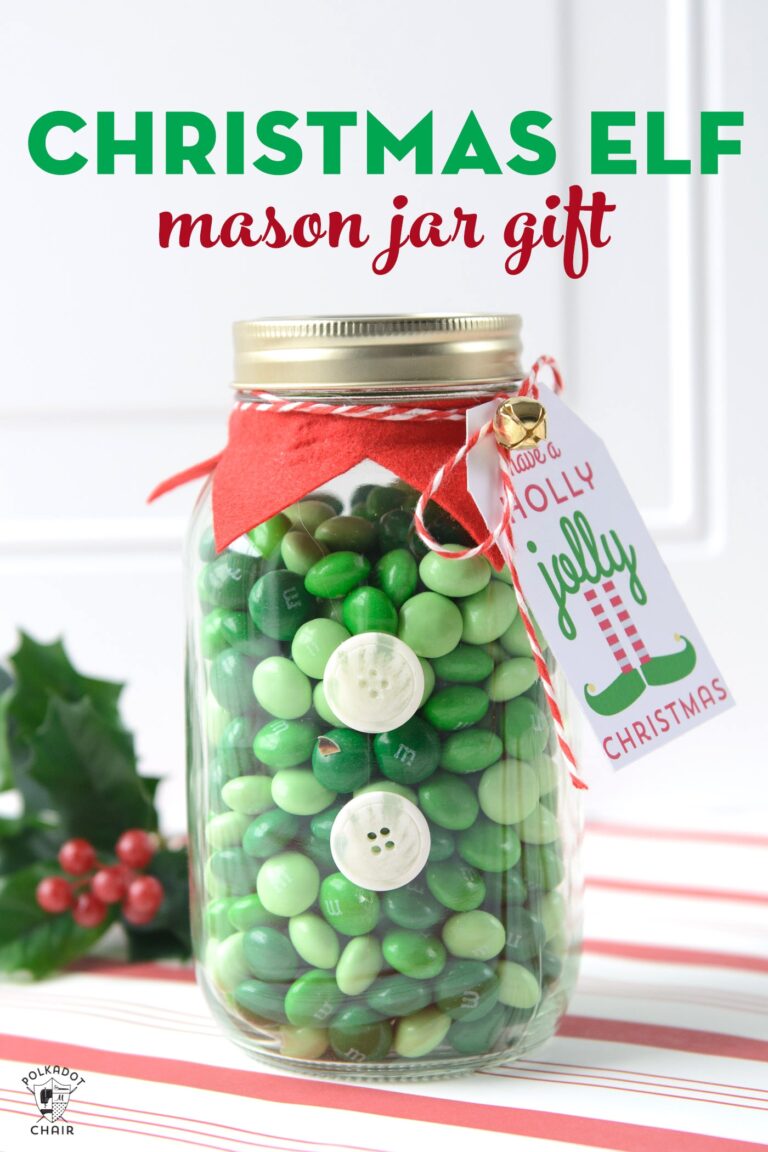 Last year I shared a very simple Santa Claus Mason Jar Christmas gift idea, today I'm going to share with you an Elf Christmas Mason Jar Gift Idea and Craft.
Table of Contents
I was astonished how popular the Santa Mason Jars became, I posted it and next thing I knew it was all over Pinterest and stayed there all year long. It was funny to me because of all of the things I've made it wasn't what I would have picked to go viral.
Later in December last year, I made it a "friend" this snowman mason jar, inspired in part by the Frozen phenomenon that was happening at the time.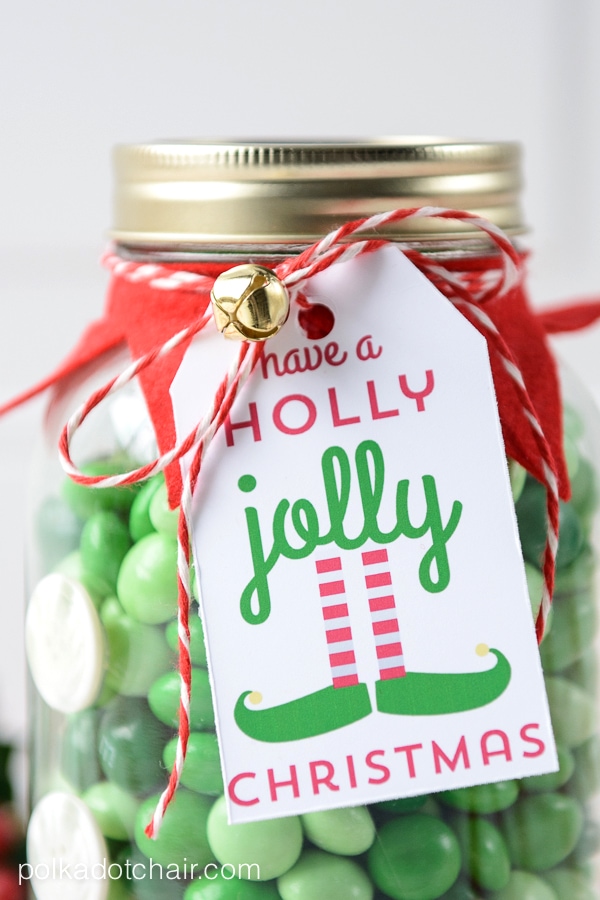 This year I thought that the little mason jars needed one more friend, and since you all seemed to like the others so much, I decided to go ahead and add an Elf to the mix this year.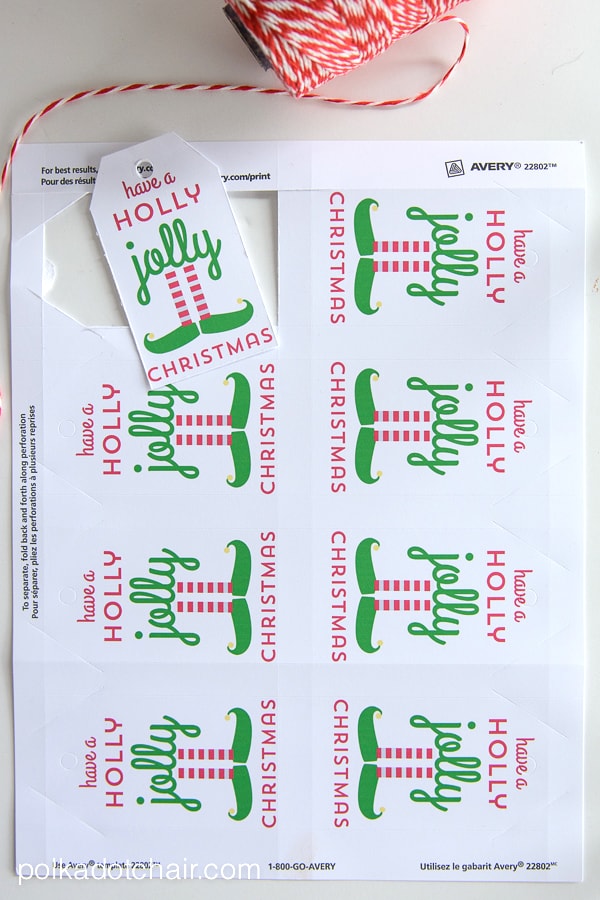 It's the same idea as the other two. Very simple mason jars filled with colorful candy and easily embellished. I also included a printable Christmas gift tag to go with the jar.
Elf Christmas Mason Jar Gift Idea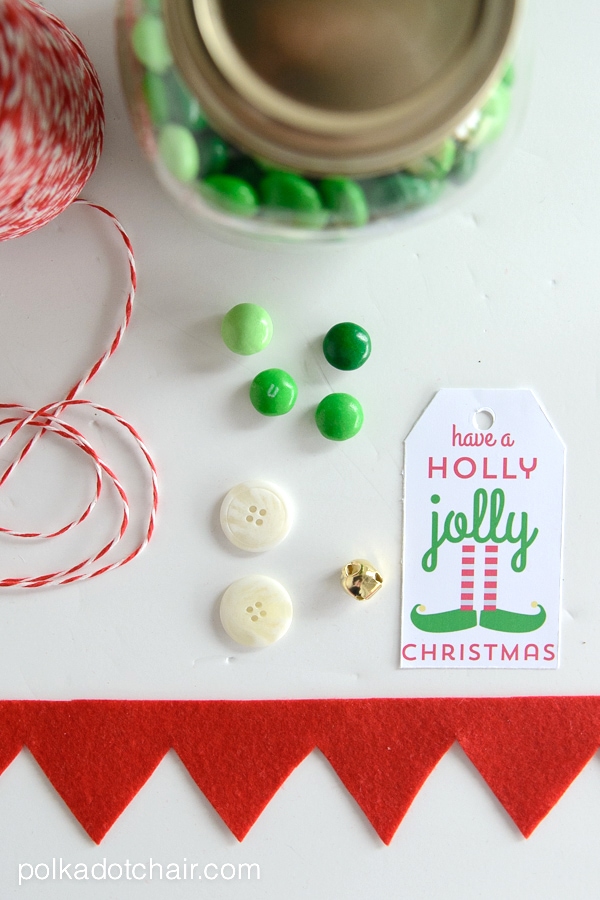 Supplies
Smooth Mason Jar: You can find them HERE
Avery Tags or Cardstock —the tags on plain cardstock or save yourself some effort and print on perforated tags (the printable is formatted for these tags, they are my absolute MUST have Christmas wrapping item, no cutting out tags!!)
Green Candy – I used mint M&M's
How to Get the Christmas Tags
Due to the popularity of the tags last Christmas I am simplifying the process for you to download ALL of my Christmas Mason Jar tags.
The Ultimate Christmas Tag Bundle offers ALL of the Christmas tags (including the one for this craft) plus a bonus of 5 other tags that are not offered with any other project! (including Santa, Reindeer, Merry Christmas, Snowman etc).  You do not need to subscribe to this site. It's a one-time purchase.
A link to download the file yourself will be sent to you immediately after you complete your purchase. This file includes versions of the tags formatted for BOTH cardstock and pre-scored Avery Tags.
Christmas Tag Bundle Includes:
Snowman Gift Tags
Holly Jolly Christmas Gift Tags
Merry Christmas Tags
Elf Tags
Santa Tags
Round Tags
Reindeer Tags
Nail Polish Gift Tags
Baking Gift Tags (4 styles)
Angel Gift Tags (and wing cutout)
NOTE: AOL users, check your spam/junk folder for your email confirmation.
Assembly Instructions
Step One: Make the Elf Felt Collar
Cut a zig-zag pattern from the piece of felt. You'll want it to be a bit wider than the mouth of the mason jar. Just "wing it" and cut the zig-zags, think, elementary school craft project LOL! Secure the felt to the jar with a bit of hot glue (be careful, the hot glue is… well.. hot).
Step Two: Glue the Buttons to the Jar
Then add the buttons (also with hot glue).
Step Three: Attach the Tag
Print and cut out your tag. Cut a piece of twine about 2x as long as your mason jar, run it through your tag and bell. Tie to the mason jar!
Follow me on Instagram for even more FUN DIY Crafts and Christmas Ideas!
More Cute Christmas Gifts that you can make: