Recently our family took a Norwegian Cruise. My father used to live in Bergen and was a great tour guide. I thought I'd share some tips for visiting Bergen with you today.  I hope you enjoy reading about a few of the fantastic things we discovered about Bergen, Norway.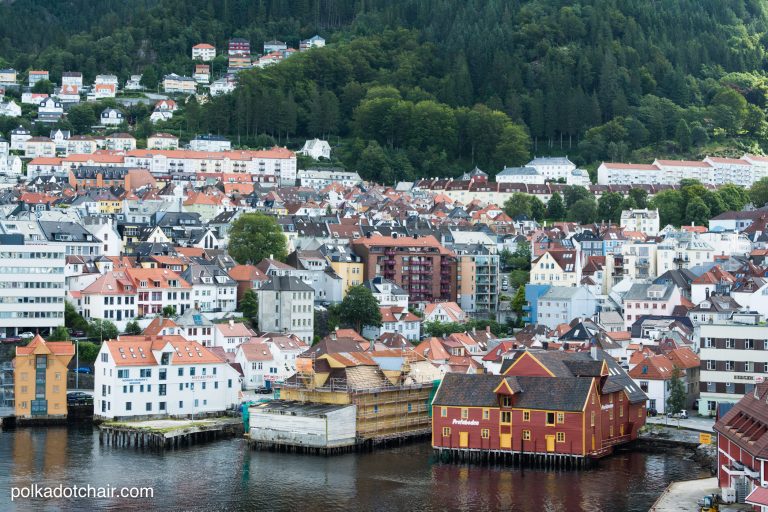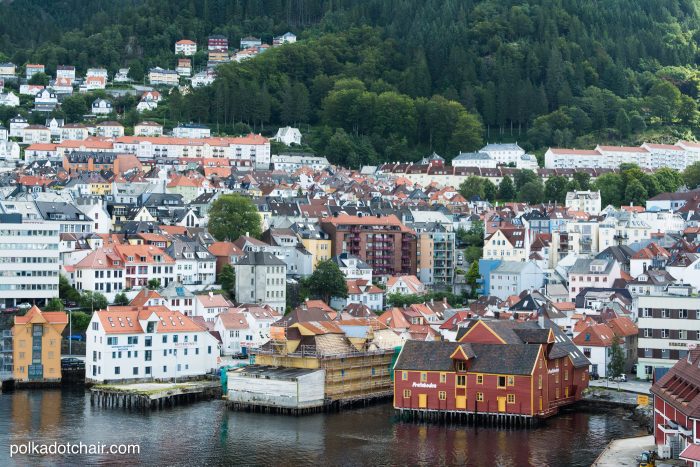 If you're getting into this story in the middle, I'll "sum up" quickly.  Last summer, I was able to take a trip to the Netherlands and Norway with my family, parents and Aunt and Uncle. It took months of planning and years of saving, and I'm still amazed that we pulled it all off. If you're interested in the other things we've done on our trip, you can click HERE for a full digest.
We began our trip with 3 days in the Netherlands, then hopped on a cruise ship bound for the Norwegian Fjords in Amsterdam. If you're curious about what cruise we took and if we liked it you can read all about that part HERE.
Okay, now onto Bergen!
Visiting Bergen, Norway: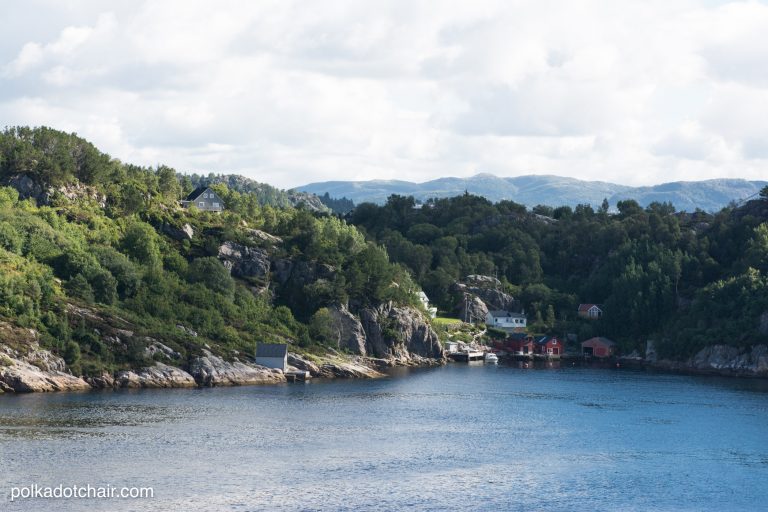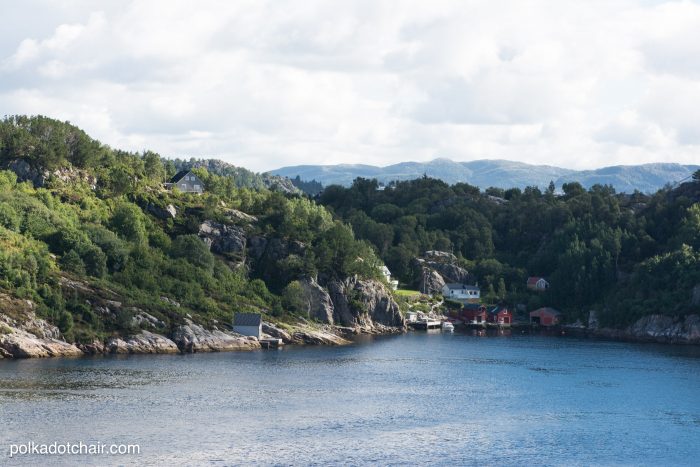 Our second stop in Norway was Bergen. After 3 days of rain and cold weather, we were delighted to pull into port and see the sun.  It turned out to be a gorgeous day and one of my favorite days on our entire trip.
The storms in the North Sea delayed our arrival in Bergen by a few hours, even though the cruise ship extended our all ashore time by a bit, we really only ended up with about 6 hours in Bergen. We needed much more.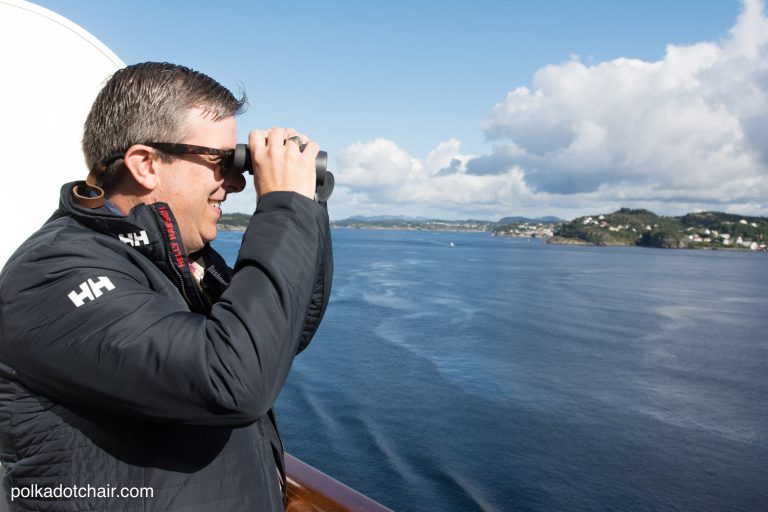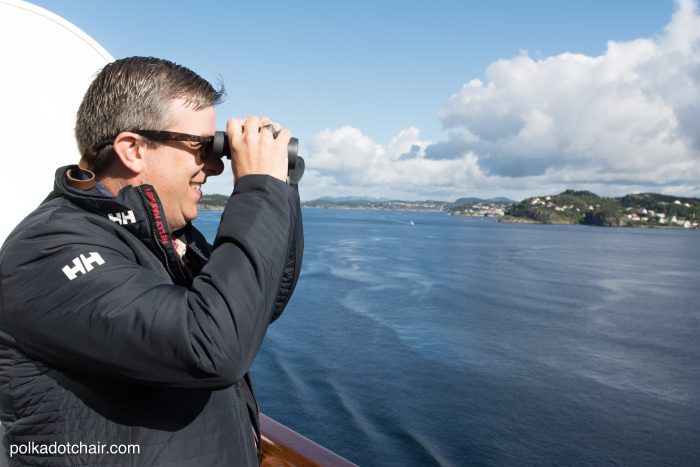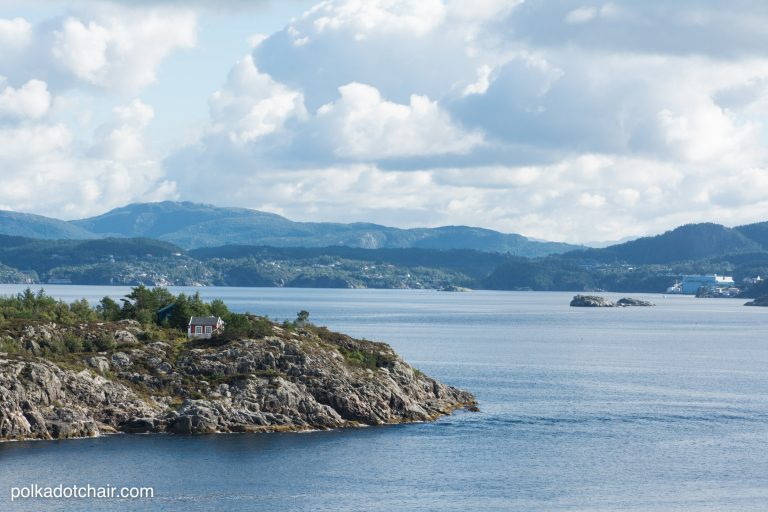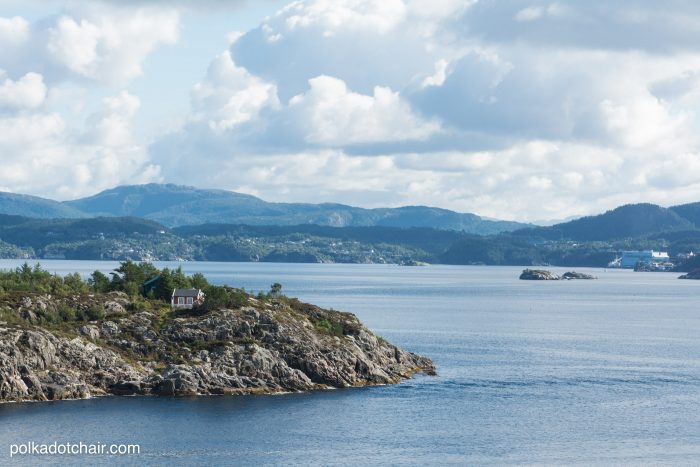 Before we left I read Rick Steeves' Norway guidebook (those books are my "go to", he's not steered us wrong yet). From the book I learned that there were multiple, "must dos" on our day in Bergen. Given our short time in port, we prioritized our list and decided to spend the majority of our time in the "main" waterfront area.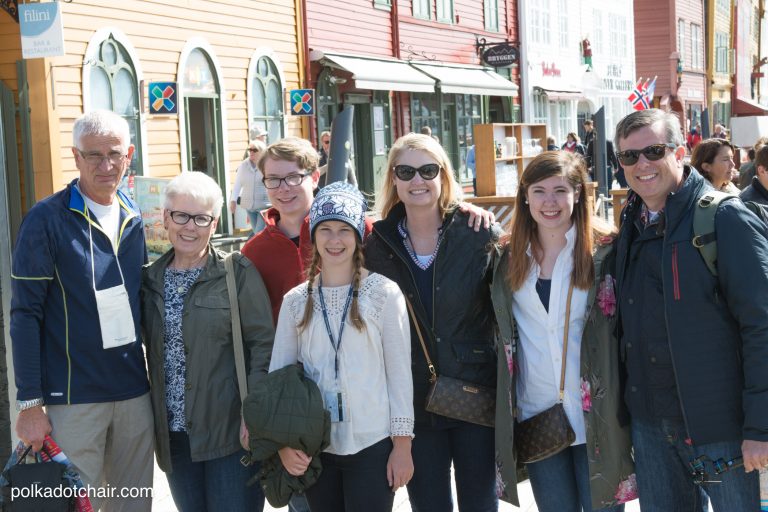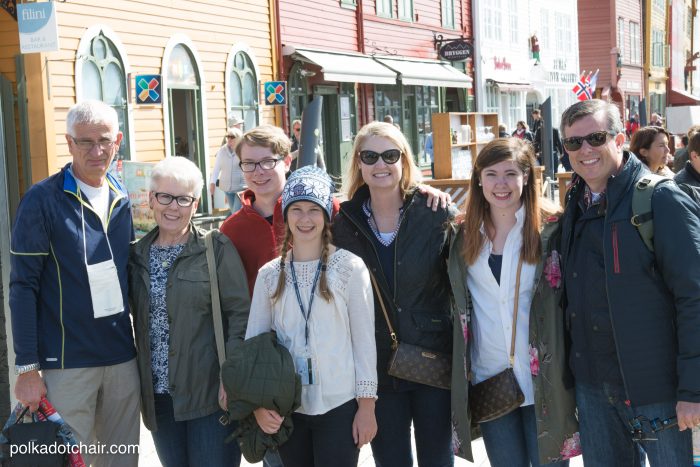 Bergen in One Day:
Fish Market
Bryggen Wharf Area
Mt. Florien
Shopping
Normally when we are on vacation, I've got a map glued to my hand the entire time. I'm the navigator, I lead, the kids walk in the middle, and my husband follows in the back making sure we don't lose anyone along the way.  This day it was a bit different. My Dad actually lived in Bergen for a while in the late 60's serving as a missionary. He knew his way around. It was so nice to just follow him around all day and not worry about navigating.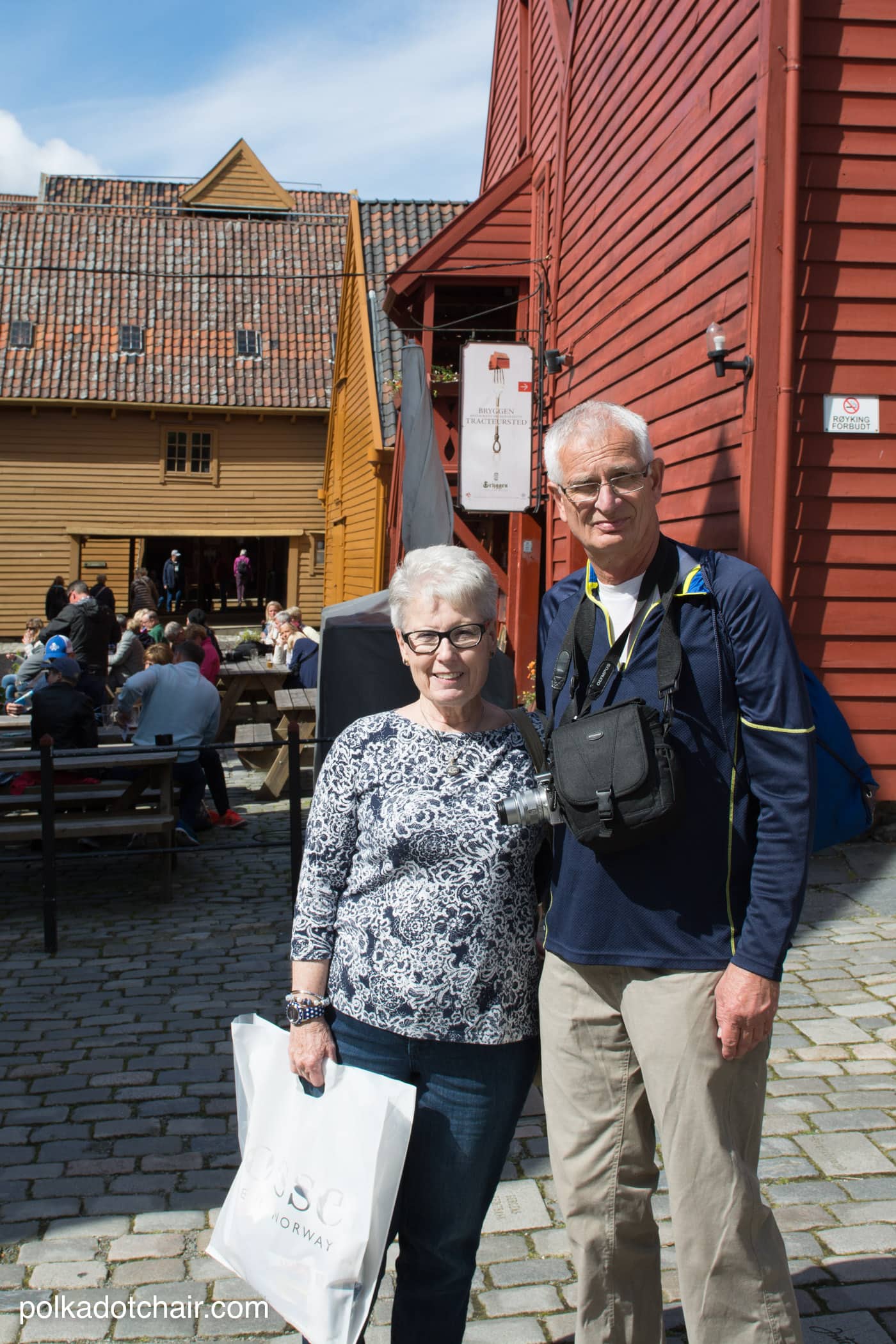 He suggested that we start in the fish market, move onto shopping in the Bryggen area then take the funicular to the top of Mt. Florien. We could then wander the town with whatever time we had left in the day.
The Bergen Fish Market:
So that's pretty much what we did. We walked from the ship to the waterfront and made our way around. We began with a walk through the fish market. I had read about the amazing berries that you could buy in Norway. Apparently the longer, yet cool, days in the summer help the berries to develop a sweetness that you don't find very many other places.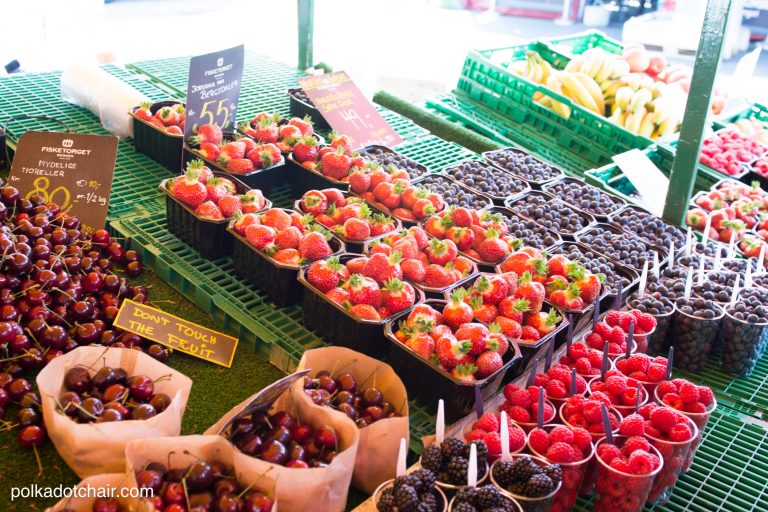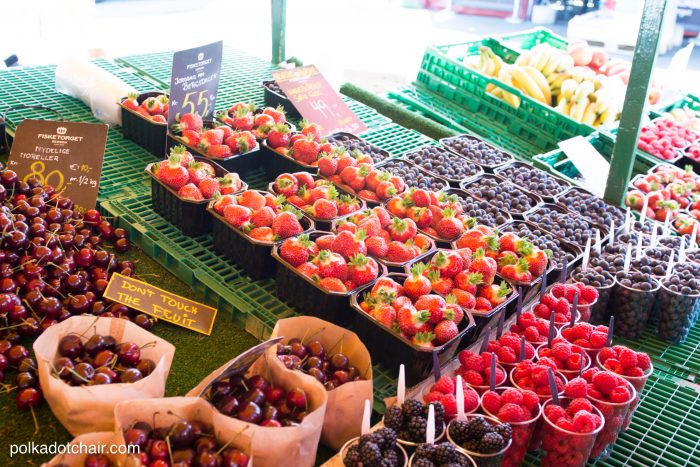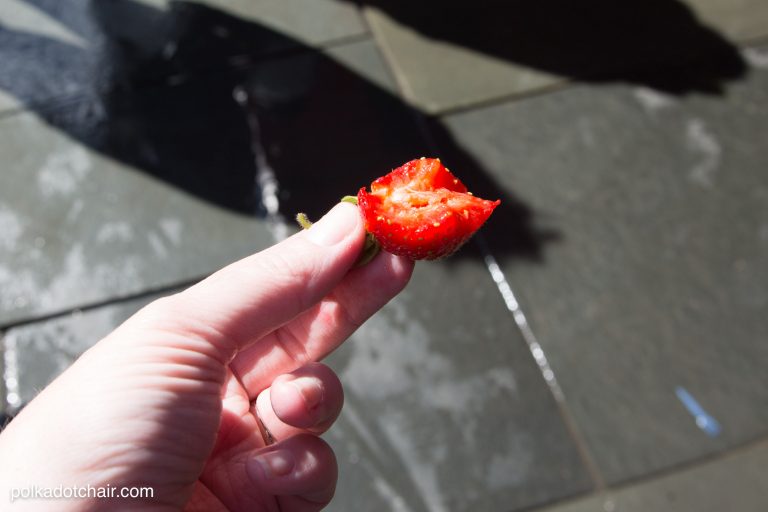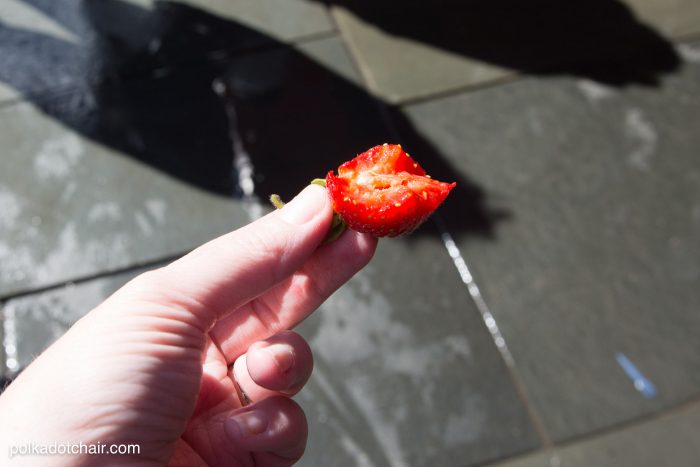 Immediately upon entering the market, we spotted a display of fruit. We bought strawberries and cherries and devoured both of them in a matter of seconds. I should have just bought everyone their own serving as they were all fighting over the strawberries.  The article was right, they tasted like no other strawberries that I had ever had before. Sweet and juicy with not even the slightest hint of the normal acidity you taste in strawberries.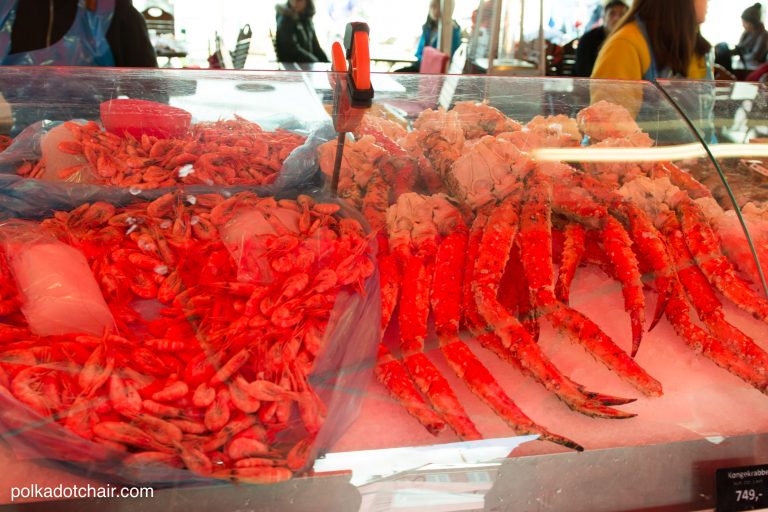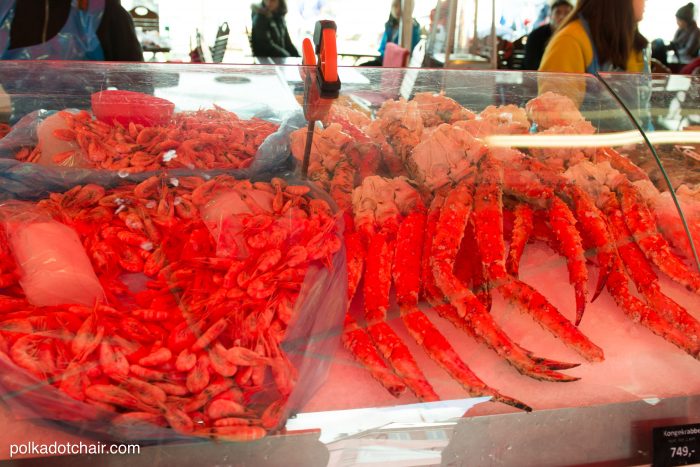 We wandered the aisles of the market, taking in all of the sights and smells. There were massive fish, giant crabs, tons of shrimp – I could go on and on. My husband remarked at one point "I bet the Alaskan king crab is really good here". About 10 seconds later he caught himself and realized that they do NOT have Alaskan crab in Norway they have Norwegian king crab. (and we did get some for a snack and yes, it was amazing).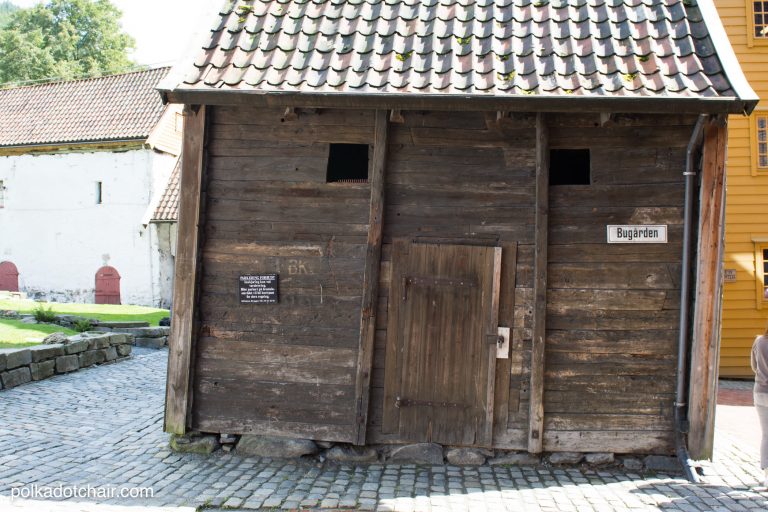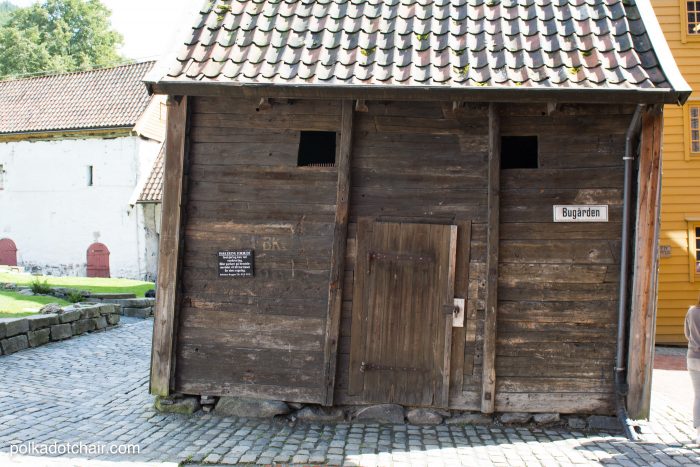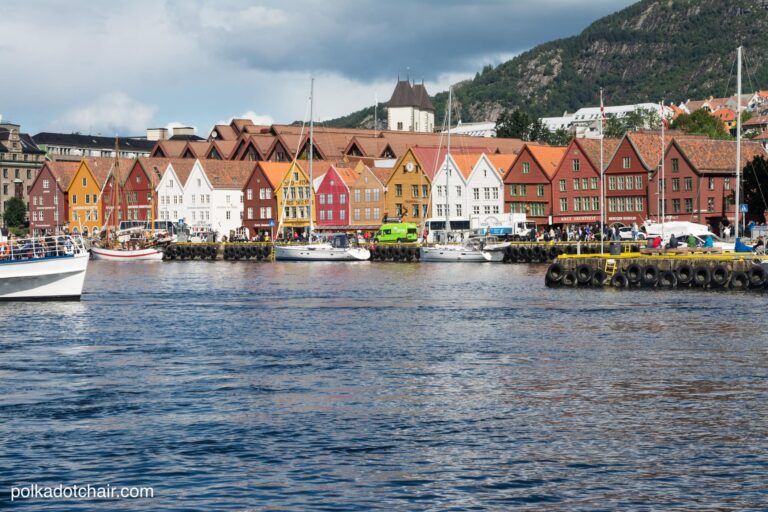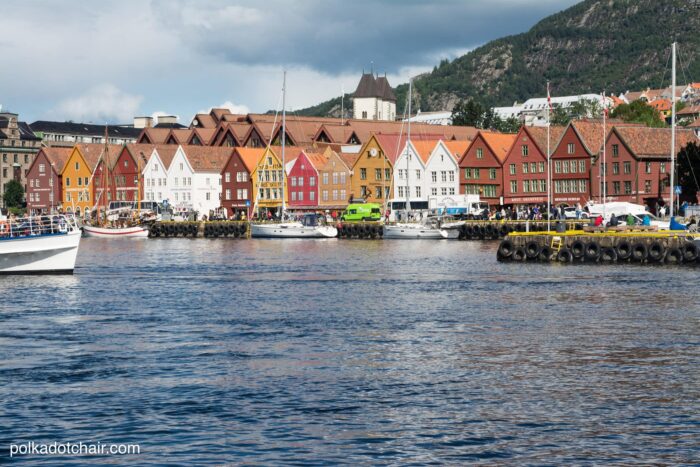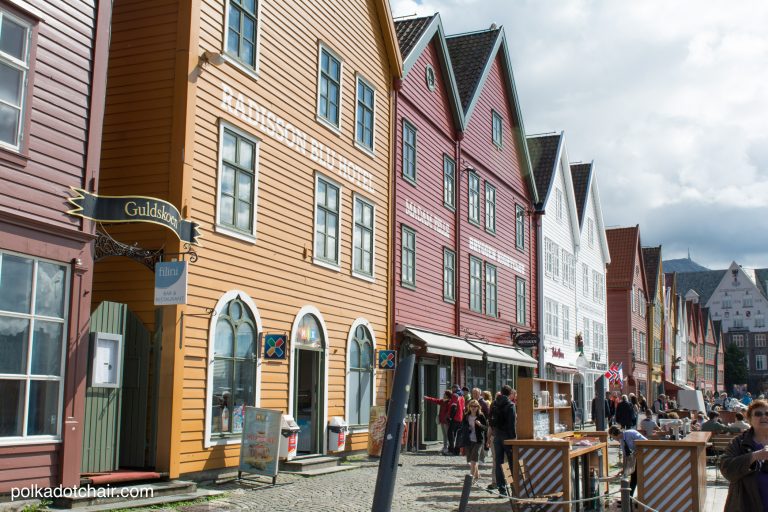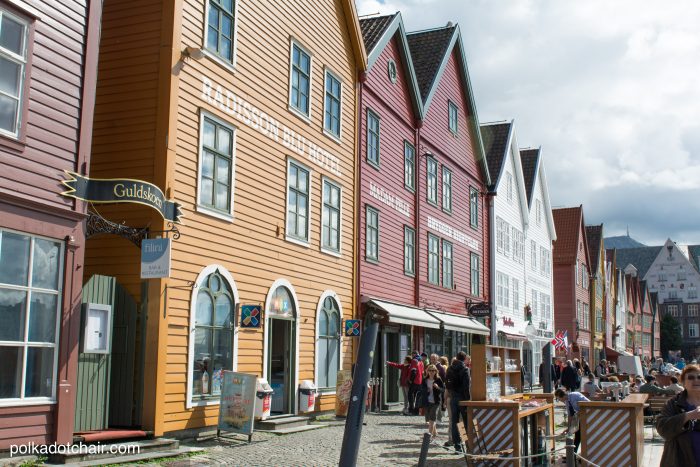 Bryggen Wharf Area:
After the fish market we began exploring the Bryggen wharf area. All of the buildings are old and charming. Most seemed like they were about to fall over.  I stumbled on a Norwegian knit shop and was able to purchase some trim that is usually used on sweaters. I adore it and I wonder if I'll ever be able to convince myself to use it.
The kids had fun shopping for souvenirs and were even more happy to find WIFI. My husband "go pro'd" the entire trip and recently we were watching back some of the videos. I think we need to edit all of the "hey they have wifi?" and "is there wifi here?" comments together in a vacation blooper reel. 
As someone said it every ½ an hour ALL. DAY. LONG. Before you think too poorly of them though, they didn't want wifi to text their friends or play on their phones. They were just dying to post a few photos on Instagram.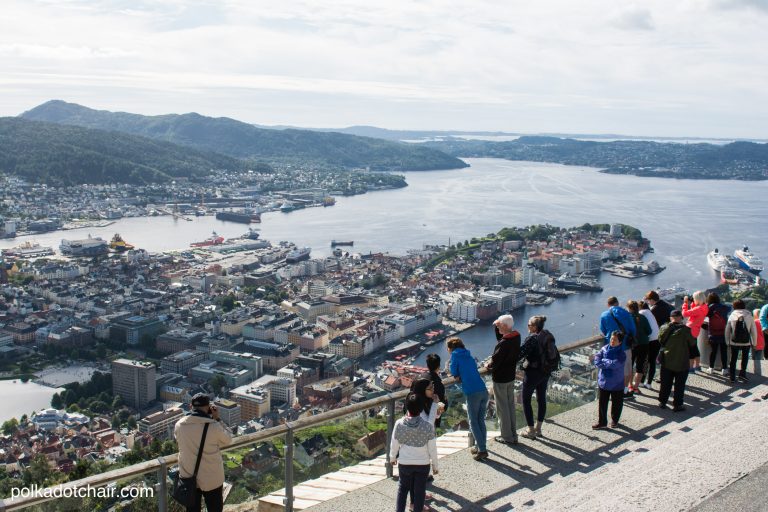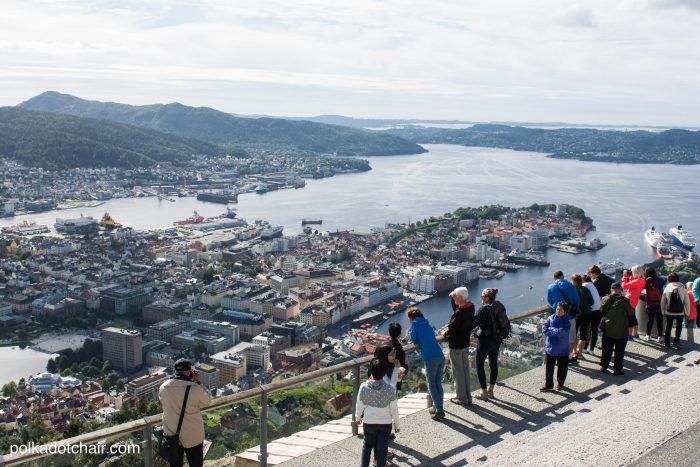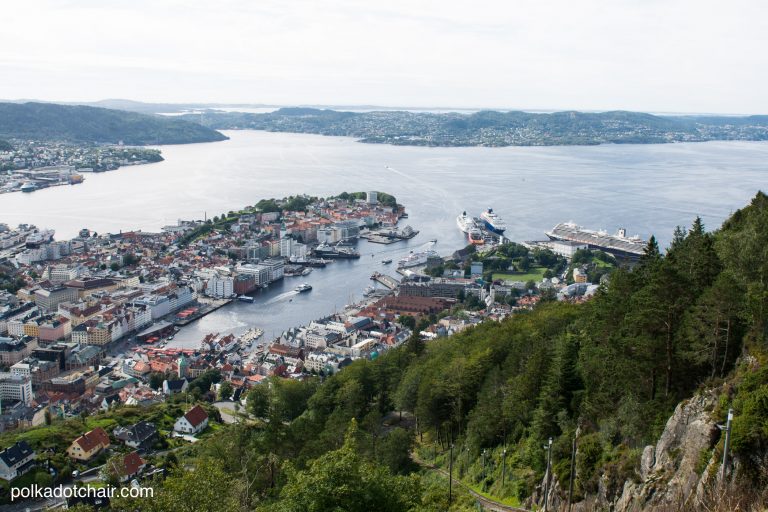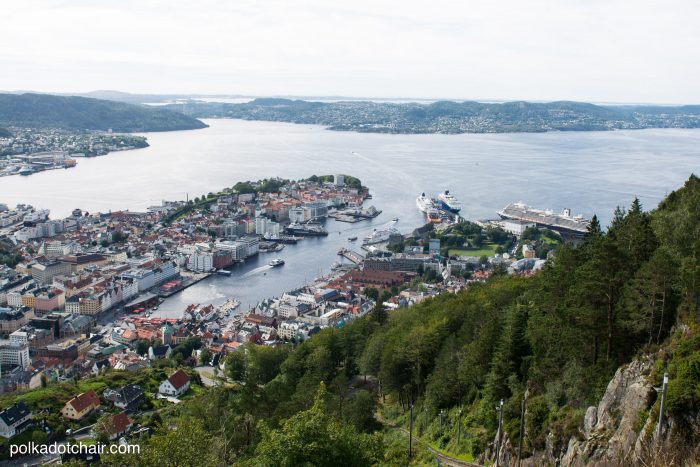 Mt Florien Funicular:
After filling our shopping bags, we headed up to the funicular.  If you're not familiar with it, it's pretty much a train that goes up the side of a mountain. Since it was tourists season, and a sunny day the line for the train was pretty long. I don't know how long we waited, but it seemed to be quite a while. From what I understand if you do a tour, then you get to cut to the front of the line with your group. Something to consider if you're visiting the city. Although if you do a tour, you will be limited on where you go and what you do for the rest of the day – a bit of a catch 22 I guess.
The view I at the top of the funicular was spectacular and totally worth the wait. Since it was such a clear and sunny day you could see really far. There is a tiered concrete deck at the top, with plenty of room to sit down and enjoy the view for a while.
Our original plan was to hike down from Mt Florian back to the ship. The walk is supposed to be very pretty and takes you through some nice neighborhoods on the way back to the wharf area.  Given the late arrival of the ship, and the long wait at the funicular, we decided to take it back down instead of walking.  We didn't want to risk missing the ship- although I would not have been horribly disappointed to be stuck an extra day in Bergen *wink*.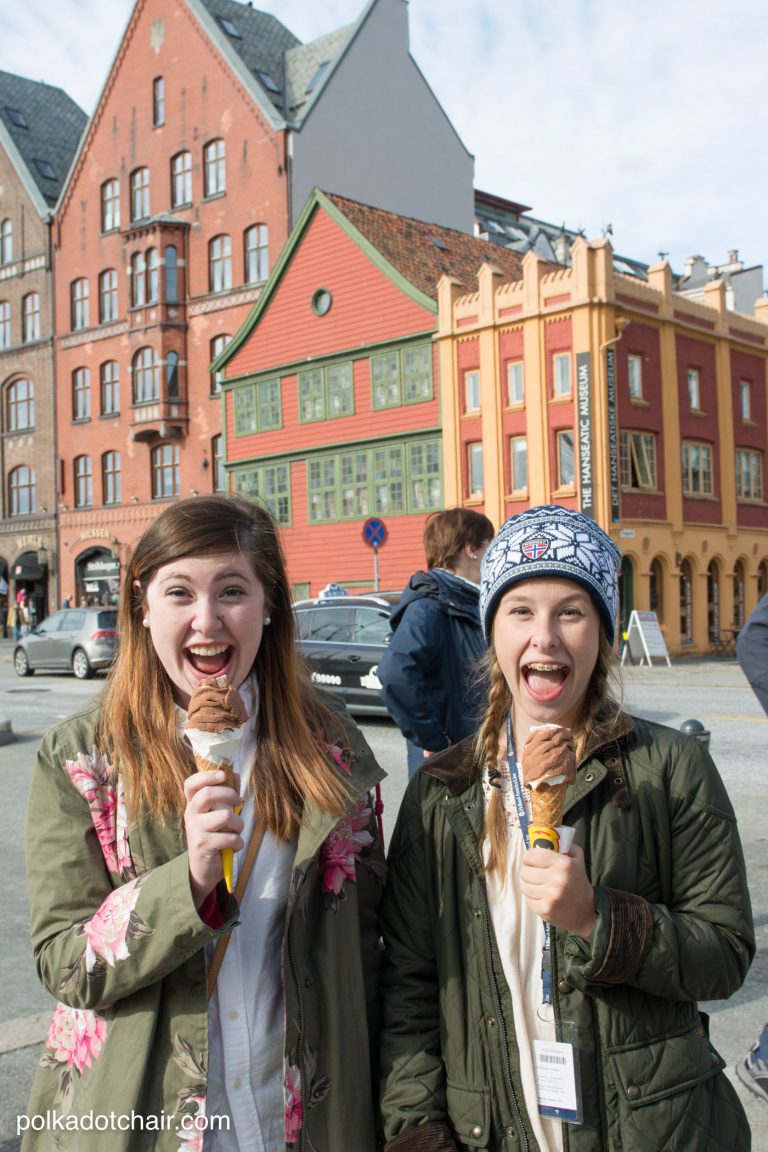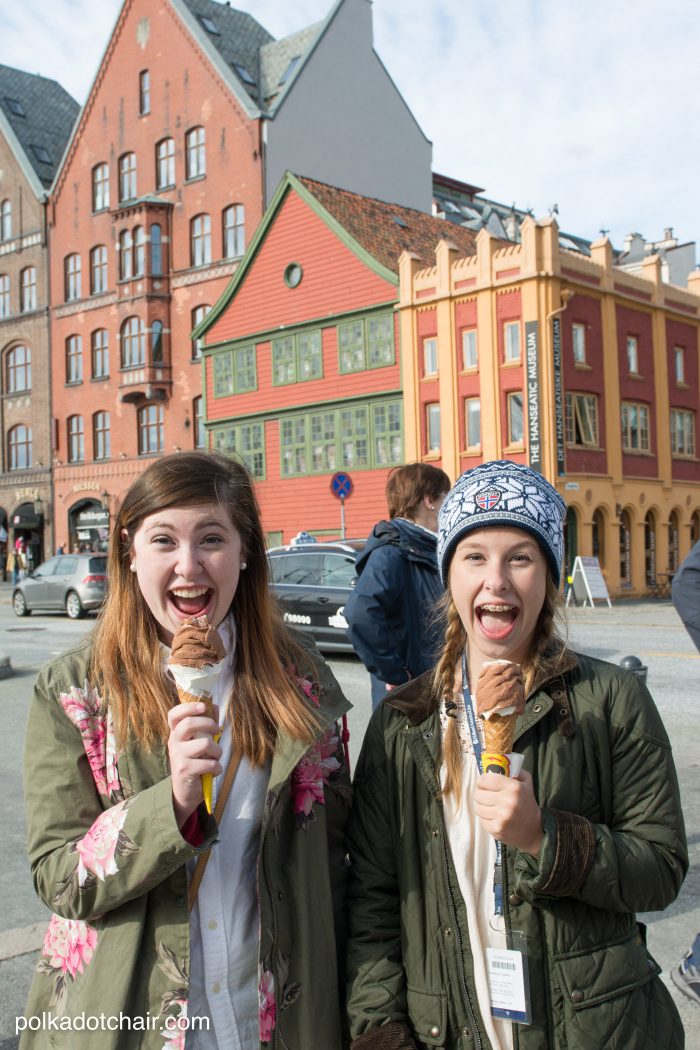 Food in Bergen:
With our remaining time in Bergen, we loaded up on snacks. They have a special type of soft serve ice cream there. They make it then dip it in chocolate powder- kinda like nestle quick. Such a clever idea that someone needs to bring to the states.
We also managed to find a bakery and I was able to find more cinnamon rolls (I discovered some inGeirangerr the day before) ! I've decided they are my favorite treat- they have cardamom in them and less sugar than the ones in the US. I'm not a huge fan of overly sweet baked goods. If I was a better baker, I'd be on the hunt for a recipe for sure.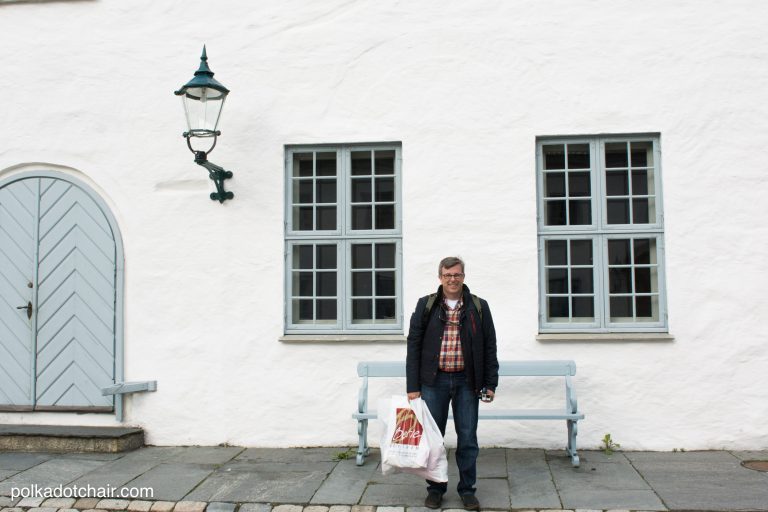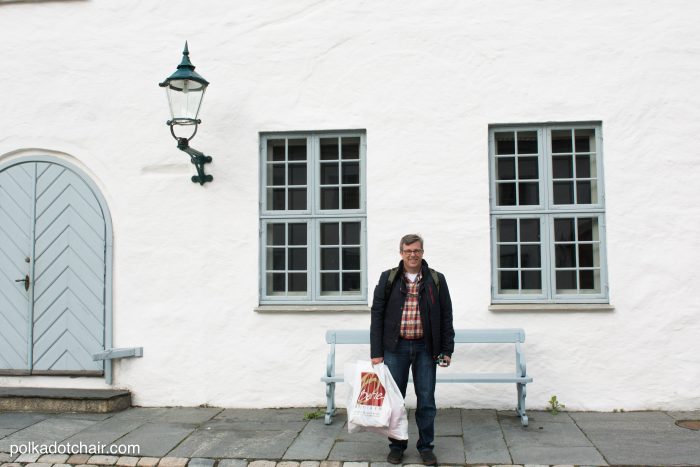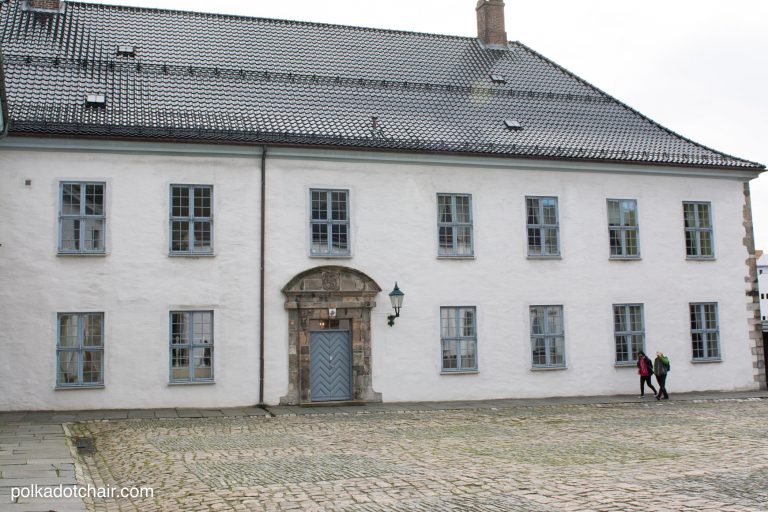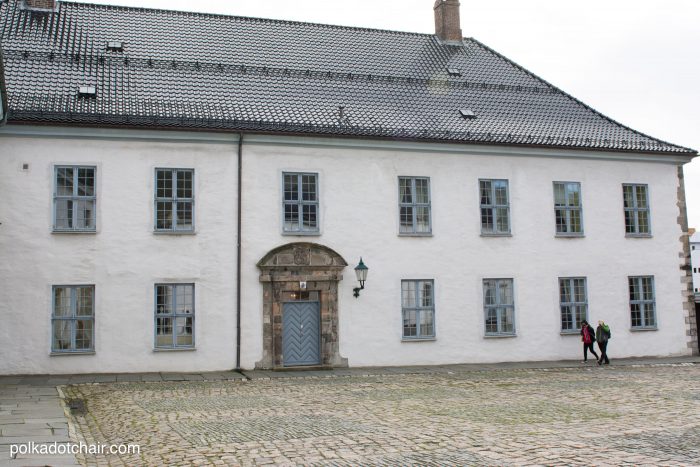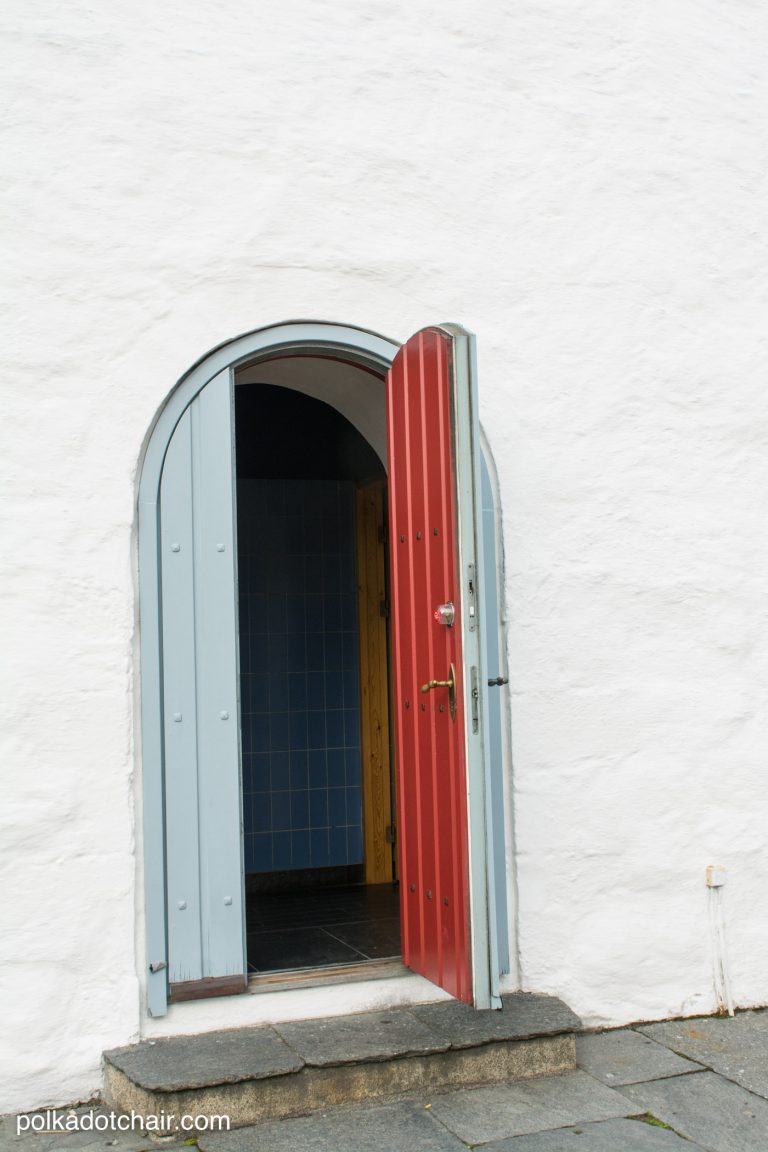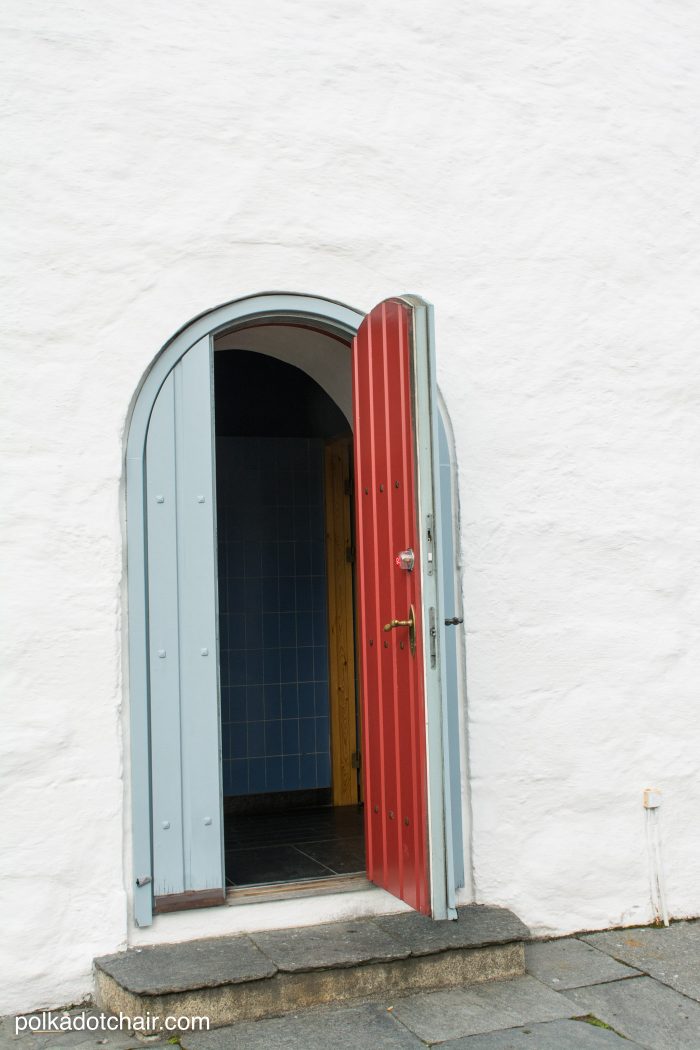 Bergenhus Fortress:
On the way back we walked through the castle, (mostly on accident, since we were on the hunt for bathrooms). Bergenhus Fortress was known as Holmen and previously served as the Royal residence of Norway. Later it was used as a bunker during WWII, and is believed to date all the way back to 1100. By the way, if you're interested in reading a good book about the Norwegian resistance moment during WWII check out  The Winter Fortress– my husband and dad absolutely loved it.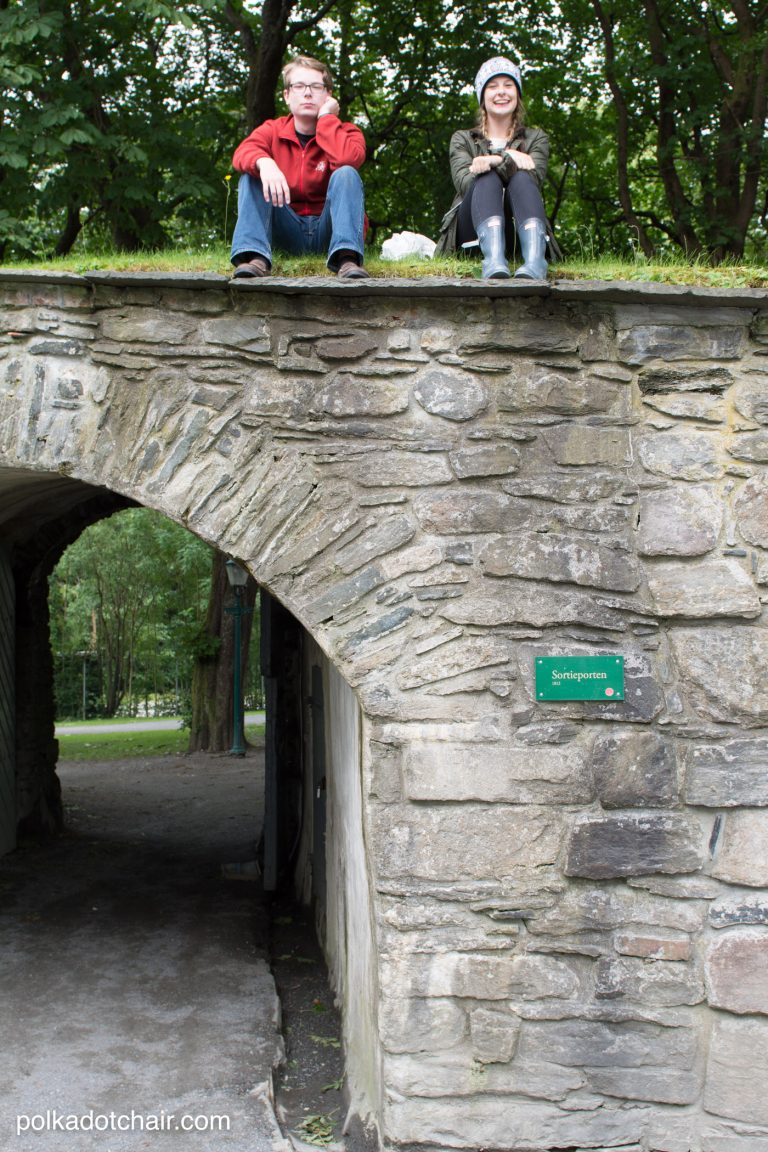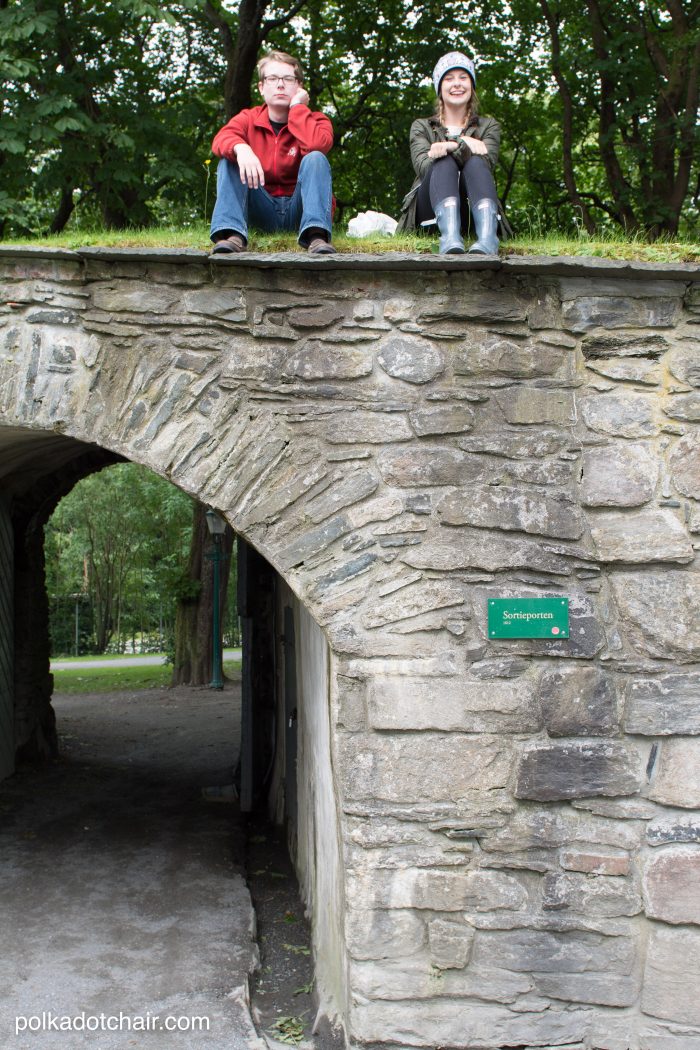 While they were waiting for us in the restroom the kids found a "troll" bridge and bugged my husband for about 15 minutes to make a funny voice and stand under the bridge and talk like a troll (not that we know what trolls sound like when they talk). Normally he'd be up for that, but they only wanted to do it to make fun of him on Snapchat, so he refused. It became a running joke the rest of the trip.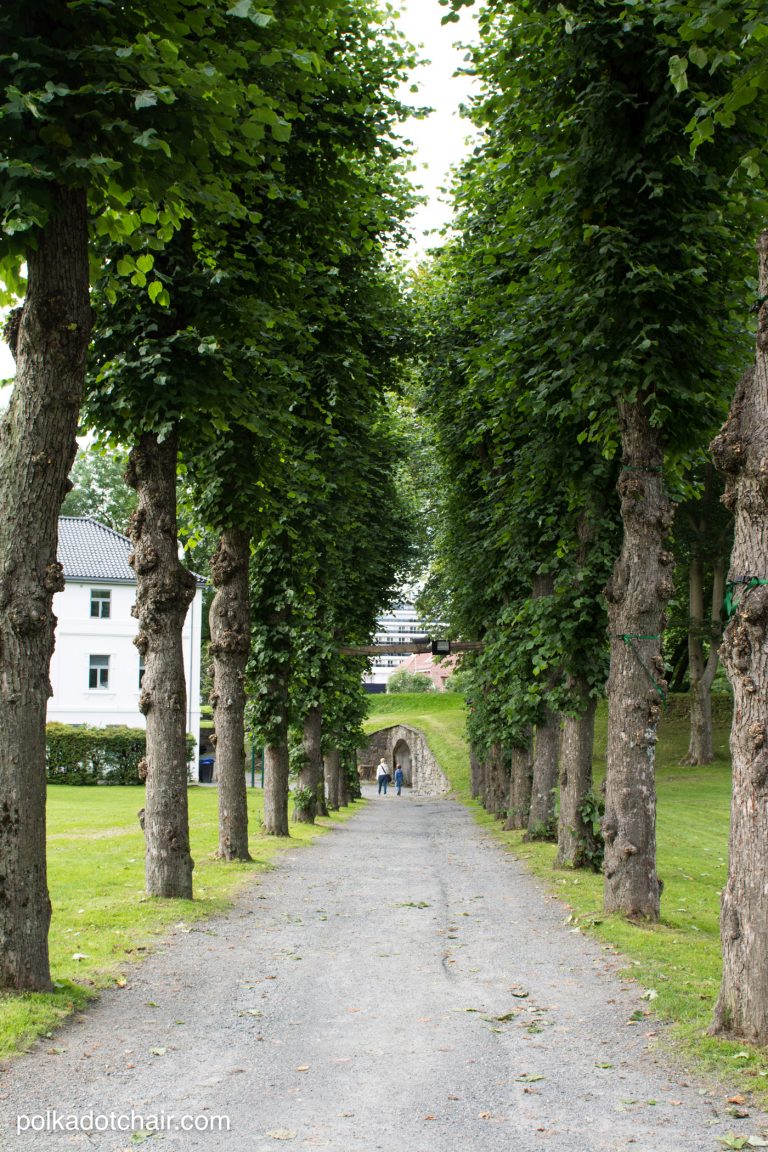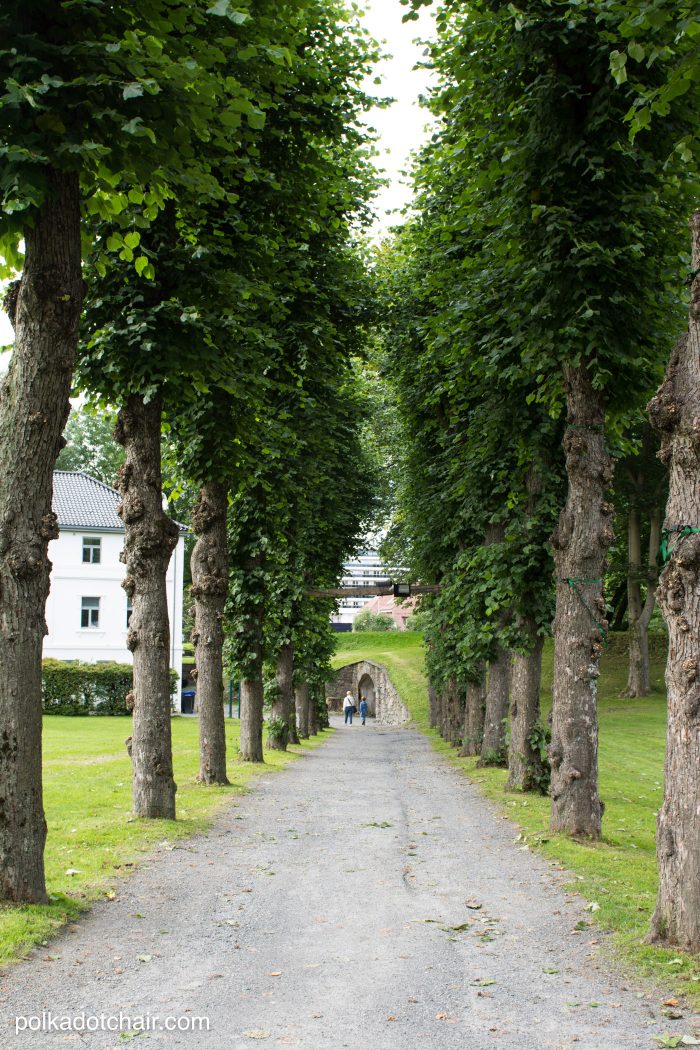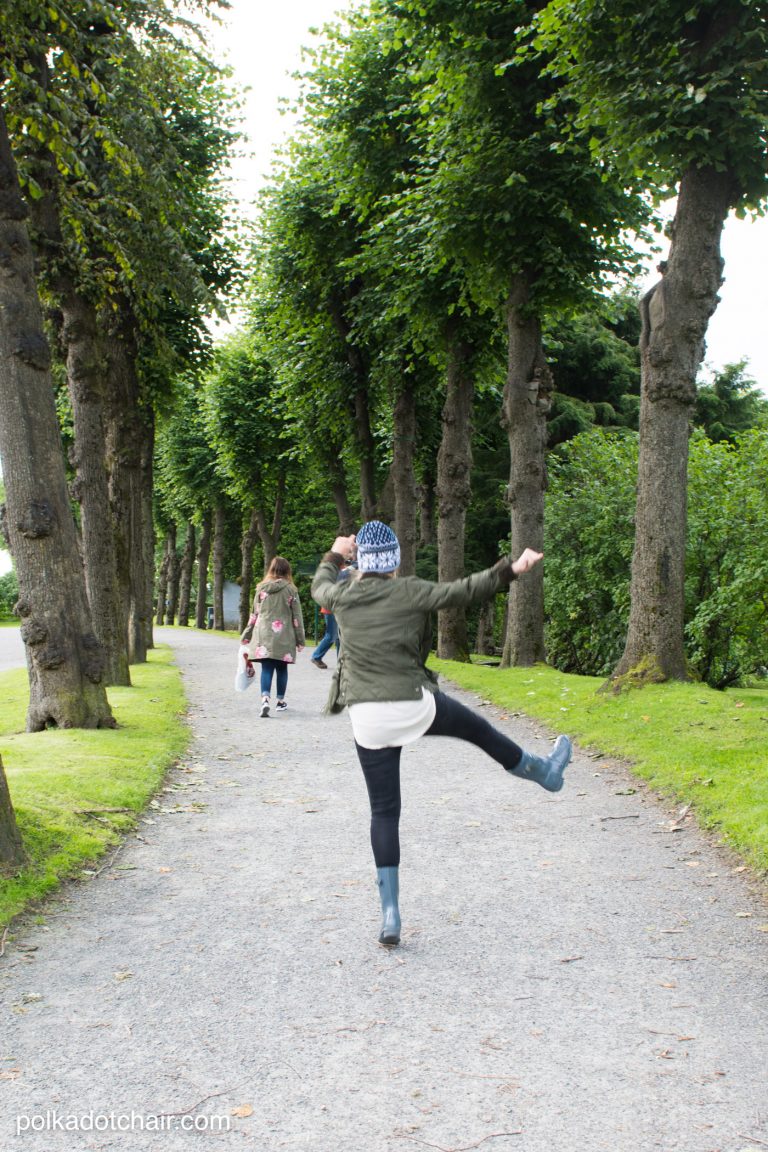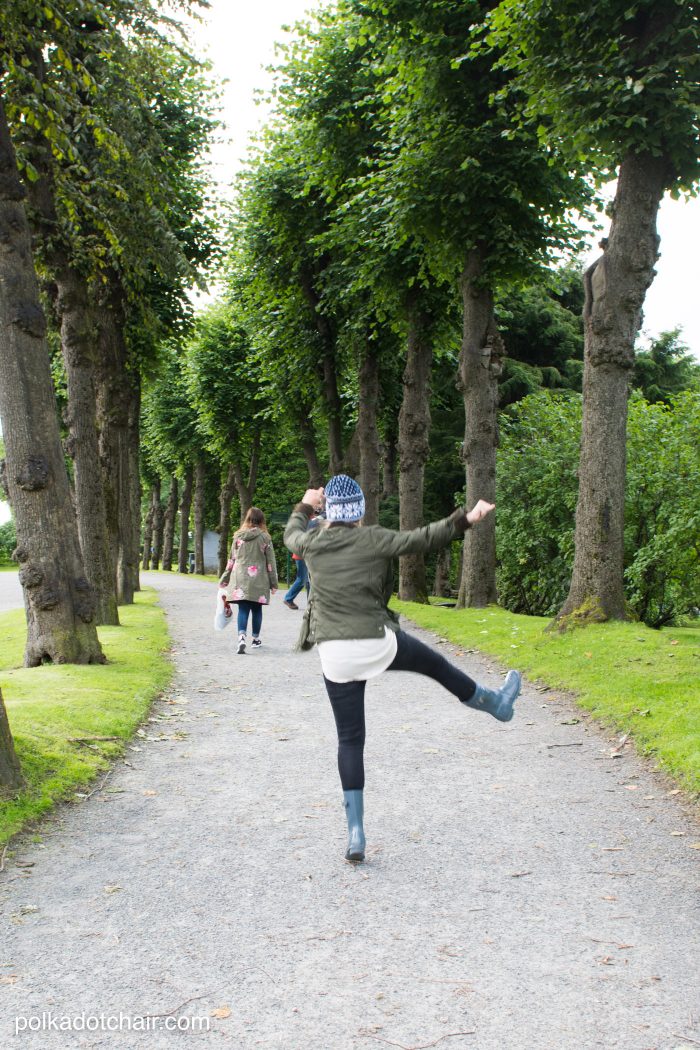 All in all, I LOVED Bergen. We definitely needed more time there. That's the beauty of a cruise though, you get a small sampling of what there is to see in any given place so that you know what places you'd like to try to go back to. 
If I can get myself organized I've got two more posts to share from our trip. I've actually enlisted my oldest daughter to write a post about Amsterdam. I think you'll all get a kick out of her perspective on the trip.
Just a few more photos of Bergen: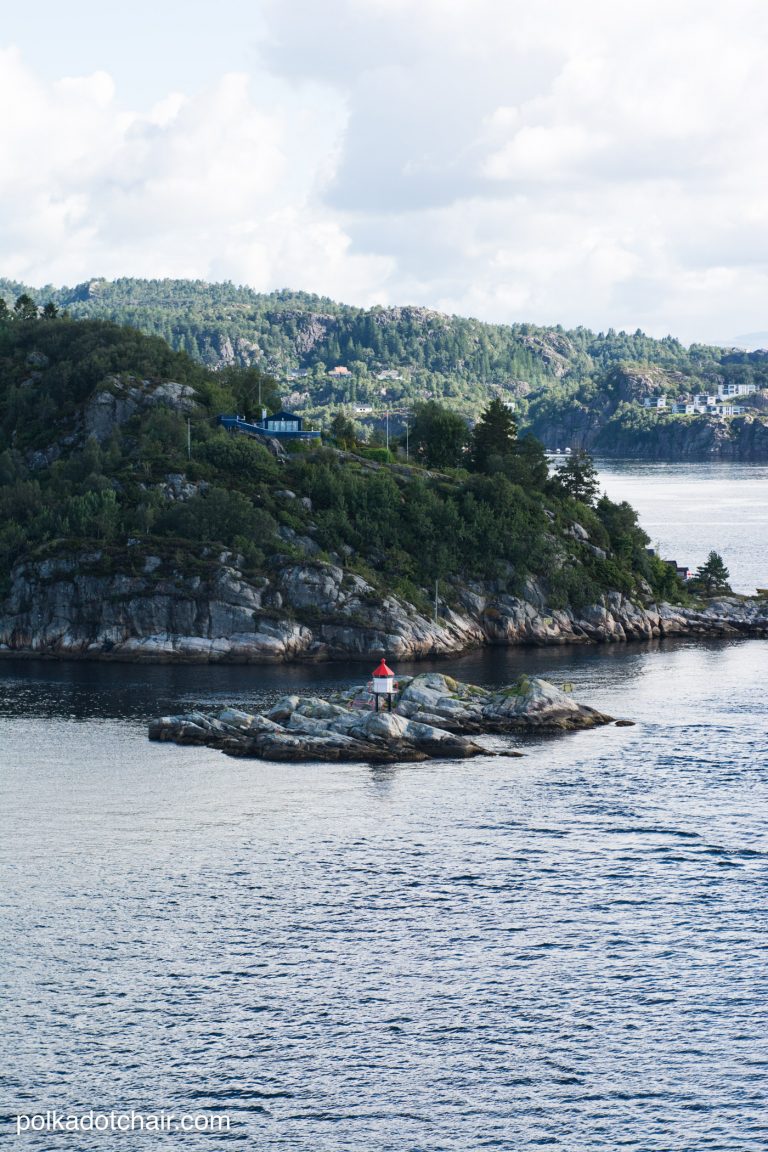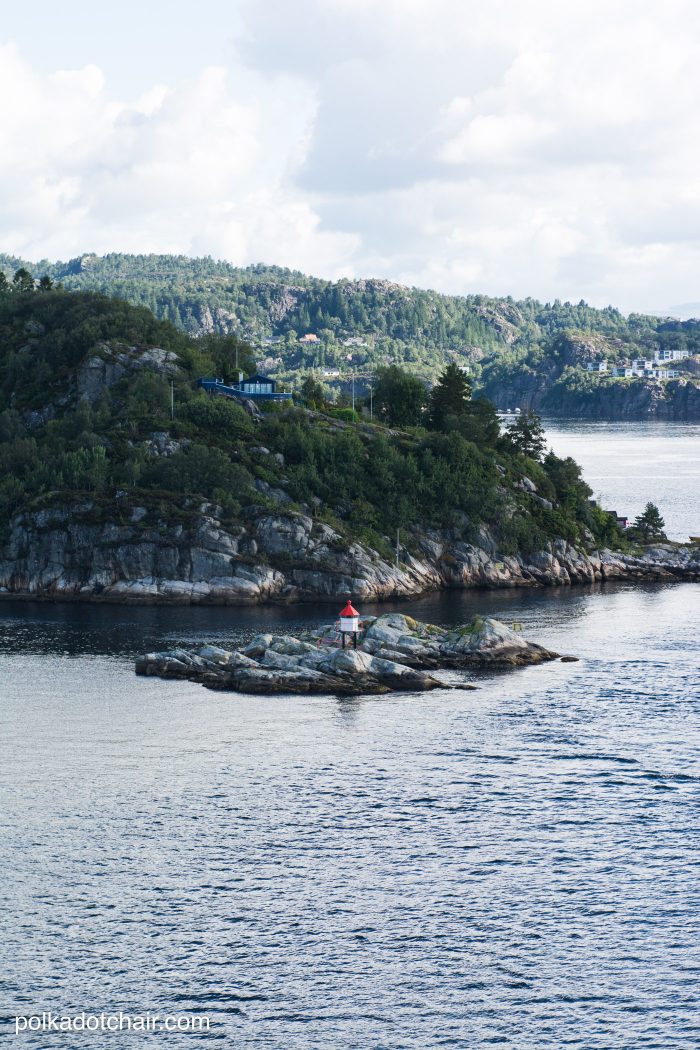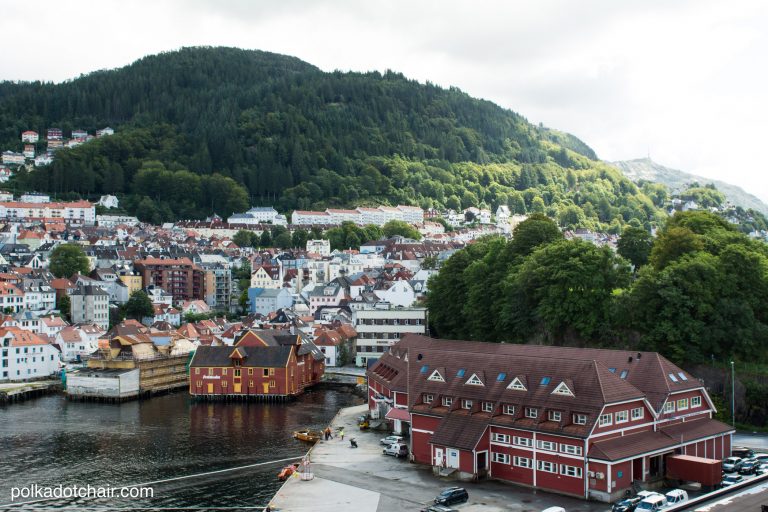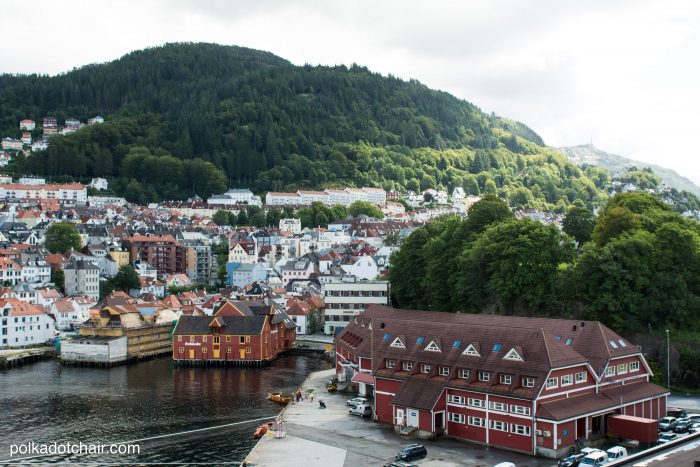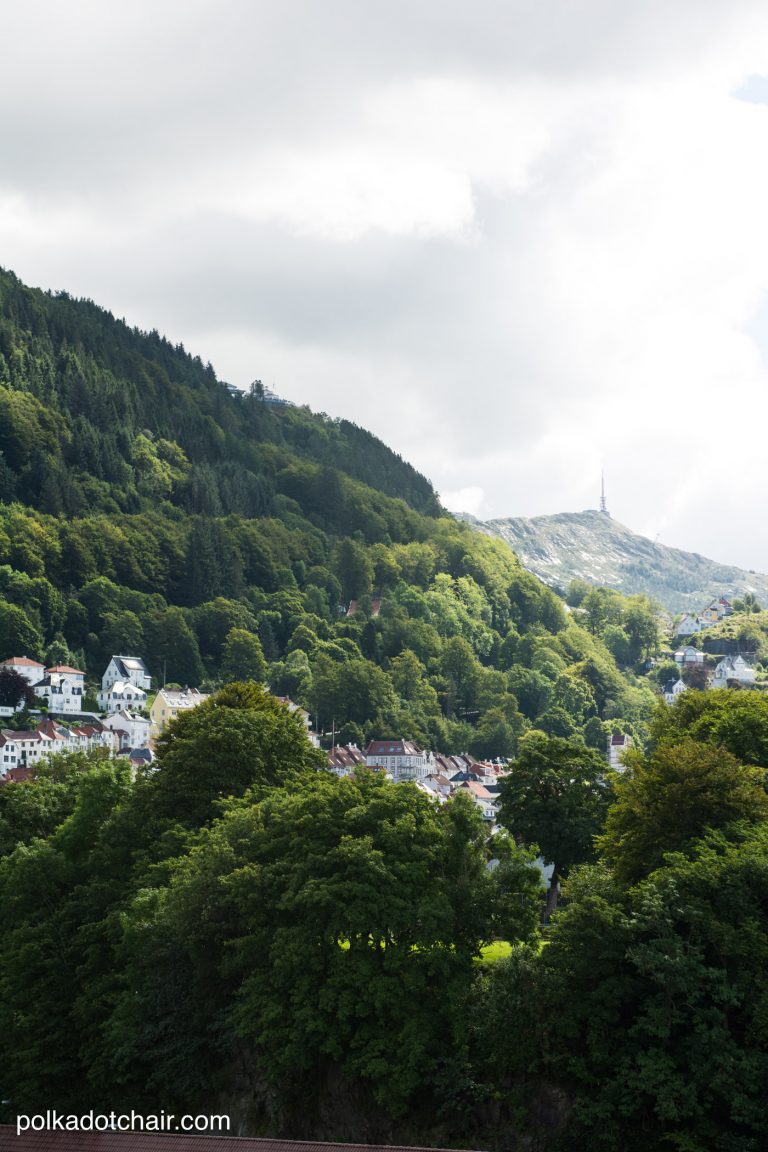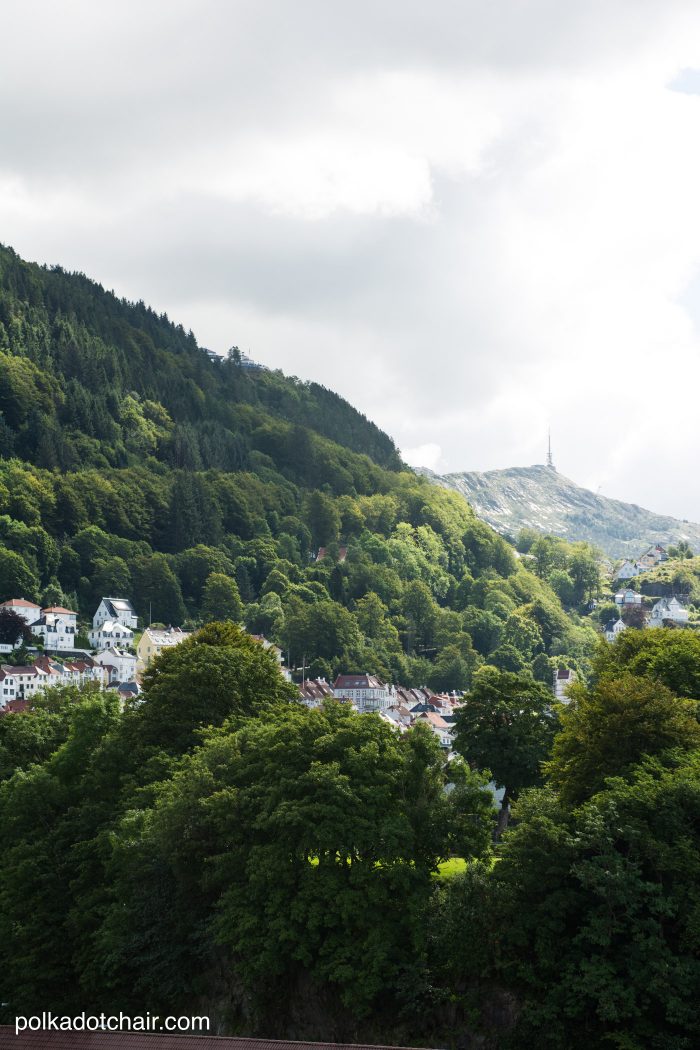 You May Also Like:
Things to do in the Netherlands with Kids
Visiting the Norwegian Fjords on a Cruise
10 Things I love about South Africa