Are you a Disney fan or know one? Do you love to craft, sew or DIY? Then you might love today's article! I'm sharing with you more than 25 of my favorite Disney DIY projects! Everything from DIY Disney family shirts to how to make Disney purses.
Last month I was scouring the web looking for DIY Disney craft and sewing projects. I have a friend who loves Disney just as much (possibly more) than me and I was looking for an idea to make her a birthday gift. In the end, I decided on a set of Drawstring Travel Bags made from Disney Fabric (which I have yet to finish and give her, *yikes*).
Table of Contents
While I was searching for the projects, I came across so many cute ideas that I thought I'd share a few of the ones that I found with you today.
(at the Magic Kingdom, back when the kids were cute and little!)
We Love Disney, I'm guessing you do too
We are headed out on a Disney Cruise for Spring Break. I'm excited and sad all at the same time. We're excited that we get to go, but sad because this might be our last Spring Break with our younger kids.
Next year they are Seniors and who knows what we will be doing then (looking for college apartments I'm guessing). Since this might be our last cruise as a family for a little bit, I'm also planning on making a few of these fun ideas for myself! You've got to soak up all of the wonderful childhood stuff with your kids as long as you can!
To help you out, I've broken down the DIY Disney projects by category! Most of the projects are from this blog, but many are from other DIY and Craft blogs.
You can also follow my Disney Board on Pinterest!
25+ DIY Disney Craft Projects
Disney Sewing Projects
Many of these would be so cute made out of Disney Fabric
Mickey Mouse Purse Pattern. This is a variation of my Alice Bag pattern that comes free with the pattern purchase. Use it to turn your round handbag into a set of Mickey Ears. It's just the right size to tote around the parks with you since it can hold a phone and your everyday necessities.
Mickey Mouse Coin Purse Tutorial. This little Mickey Zip pouch would be great for holding coins (if you still carry those LOL) or earbuds. It also makes a great gift.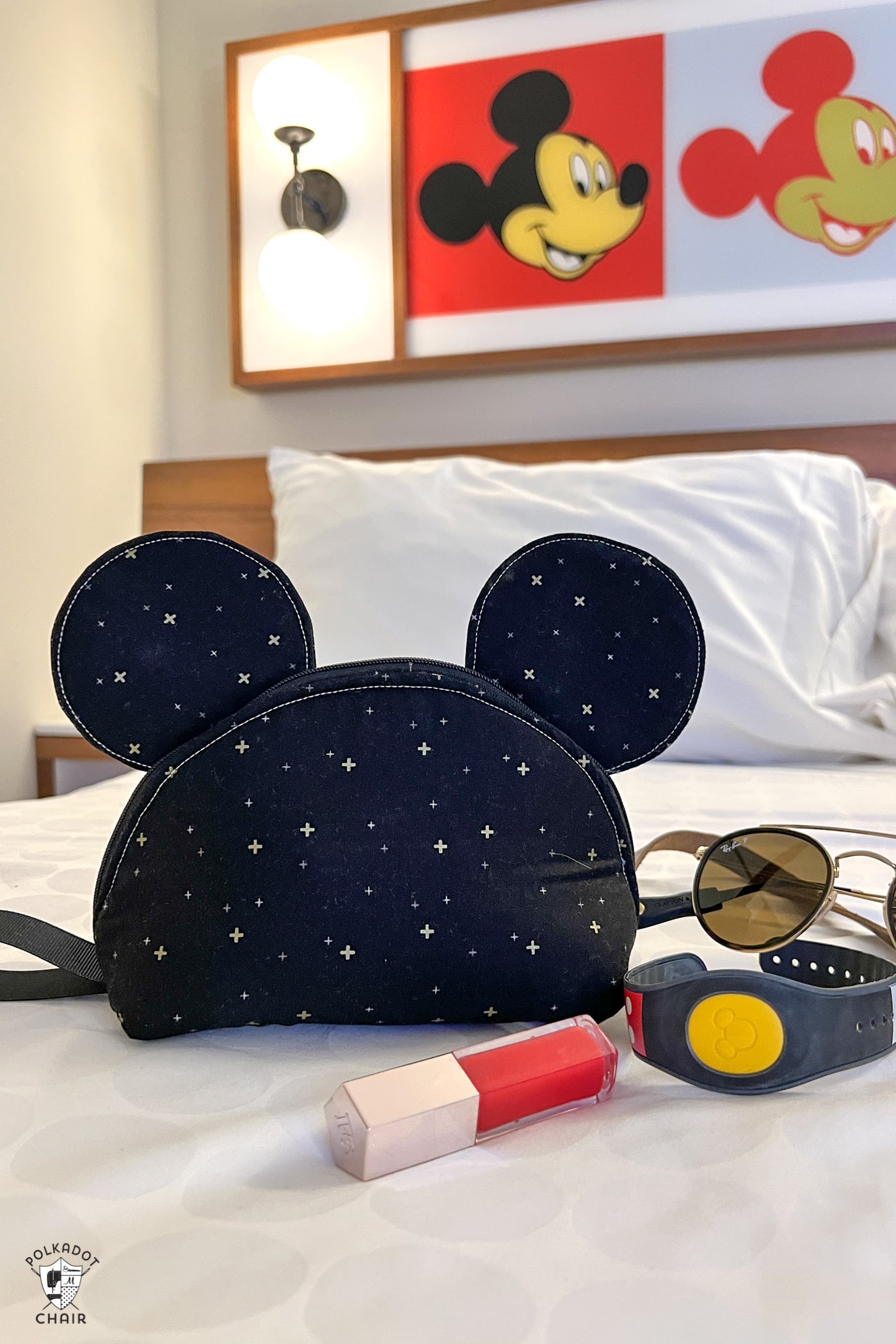 All Ears Pouch. This little zip bag reminds me of the classic Mickey Mouse Ear hats! There's even a series of videos walking you through how to make the bag on our YouTube channel.
Minne and Mickey Pillows. How cute would these fun pillows be on a kids bed or on a sofa in a movie room? Get the tutorial at 5 Little Monsters.
UpCycled T-Shirt Bag. Do you have a Disney t-shirt that you love but can't wear anymore? Turn it into a fun tote bag with this tutorial at Chi Chi Dee Handmade.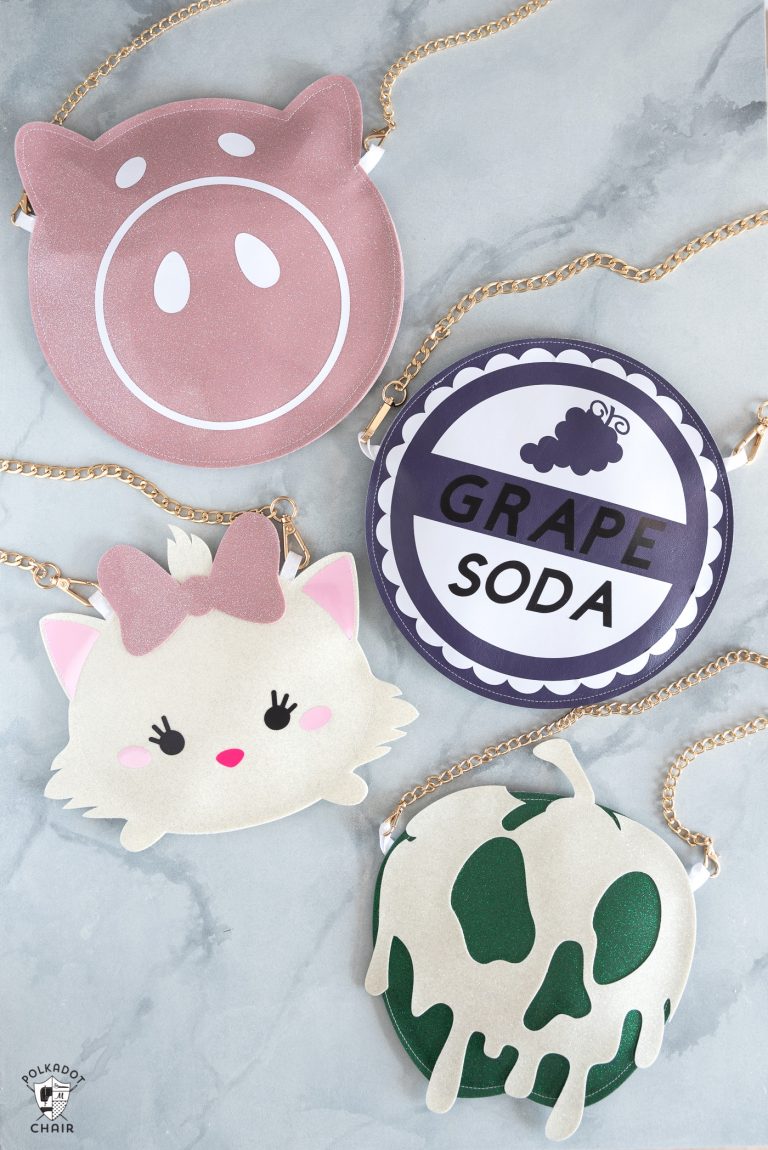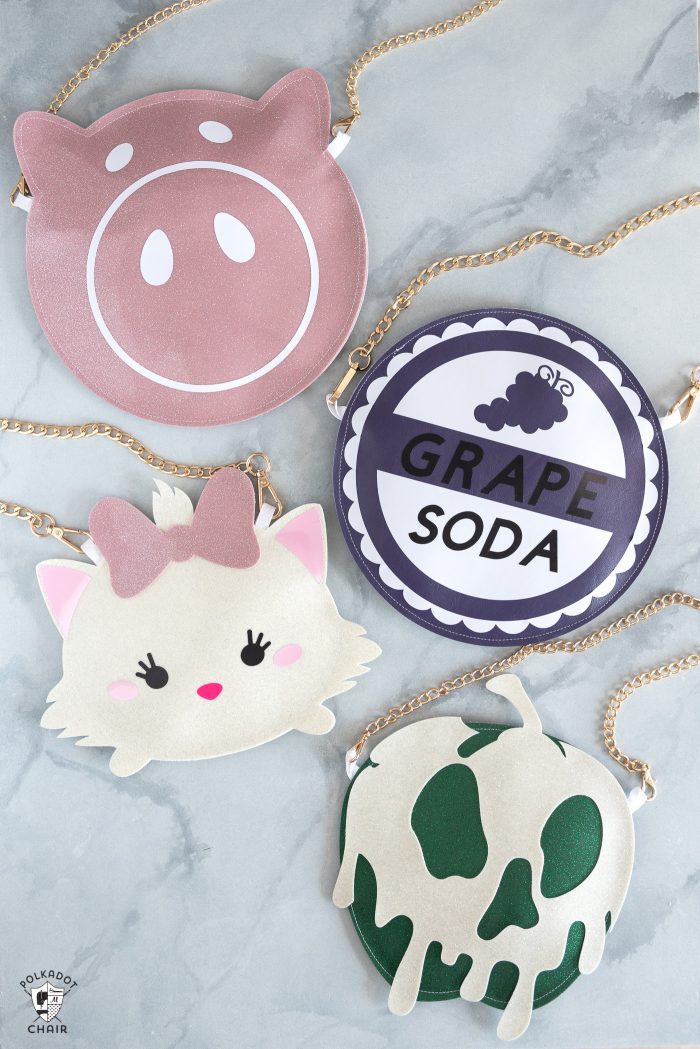 DIY Disney Purses. Create a fun set of "character" Disney purses using our tutorial. These bags are cut out on a Cricut Maker, and the details are added with Vinyl. So easy to make! You'll want to make one for all of your favorite Disney Characters!
Disney DIY Things to Wear
Including lots of fun Disney Family Vacation Shirt Ideas!
Hat Hair Don't Care DIY Disney T-Shirt Iron On. We have loads of fun Disney cut files for your Cricut or Silhouette machine.
DIY Haunted Mansion T-Shirt. This Haunted Mansion-inspired cut file includes some of that famous speech by the one and only Madame Leota. There is also a fun "Hello I am your Ghost Host" SVG file to coordinate with it.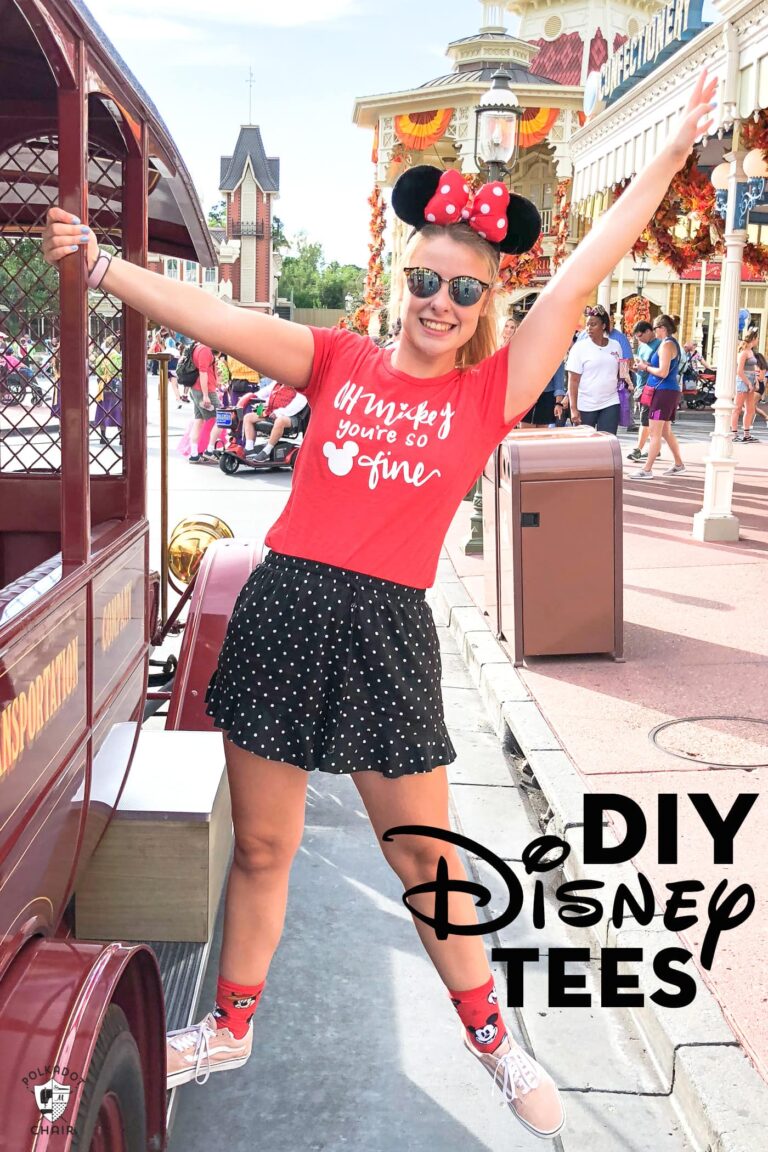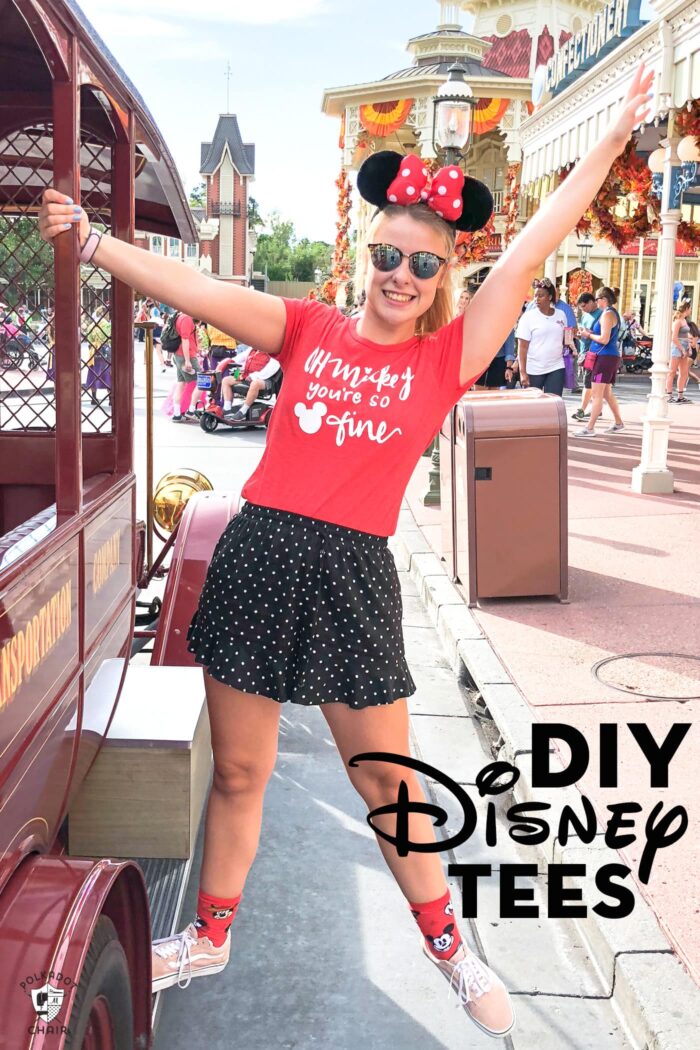 Disney Parks Inspired Tees. Load these SVG cut files into your cutting machine software to create fun matching Disney Family shirts! After you've grabbed the file and loaded it into design space you can cut out as many decals as you like for t-shirts. Simply iron them on when you're done. Full instructions are found in the blog post.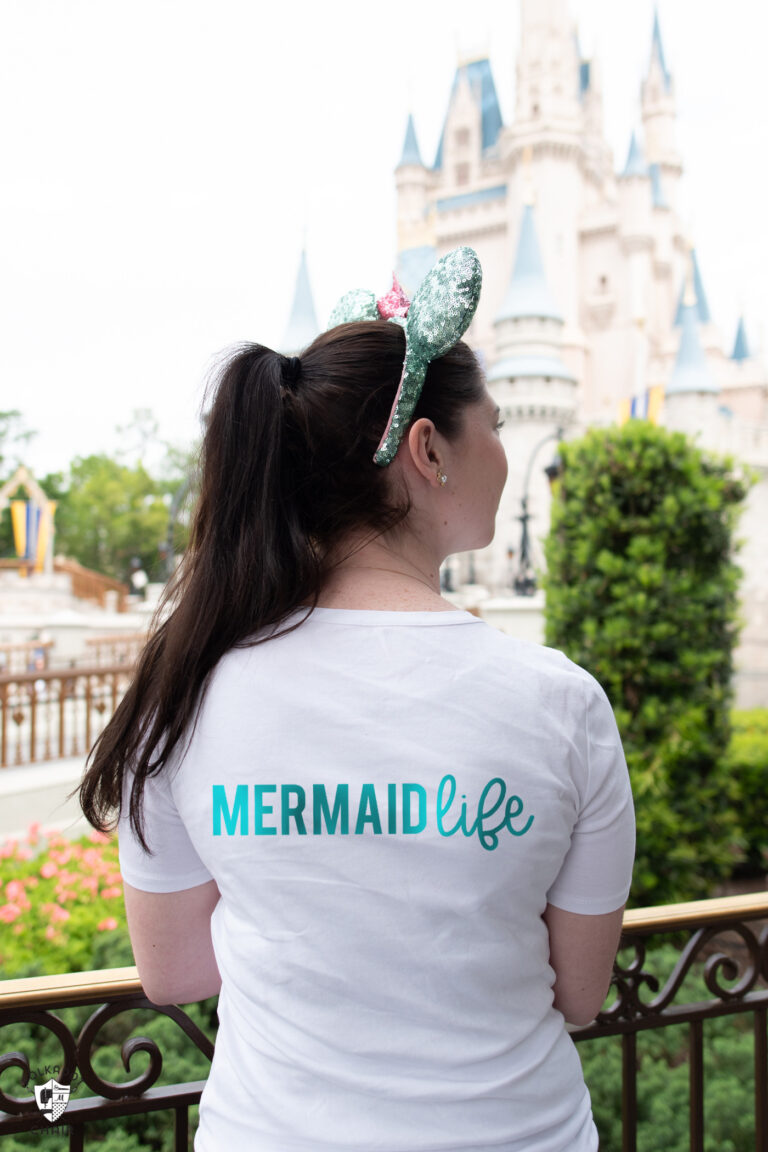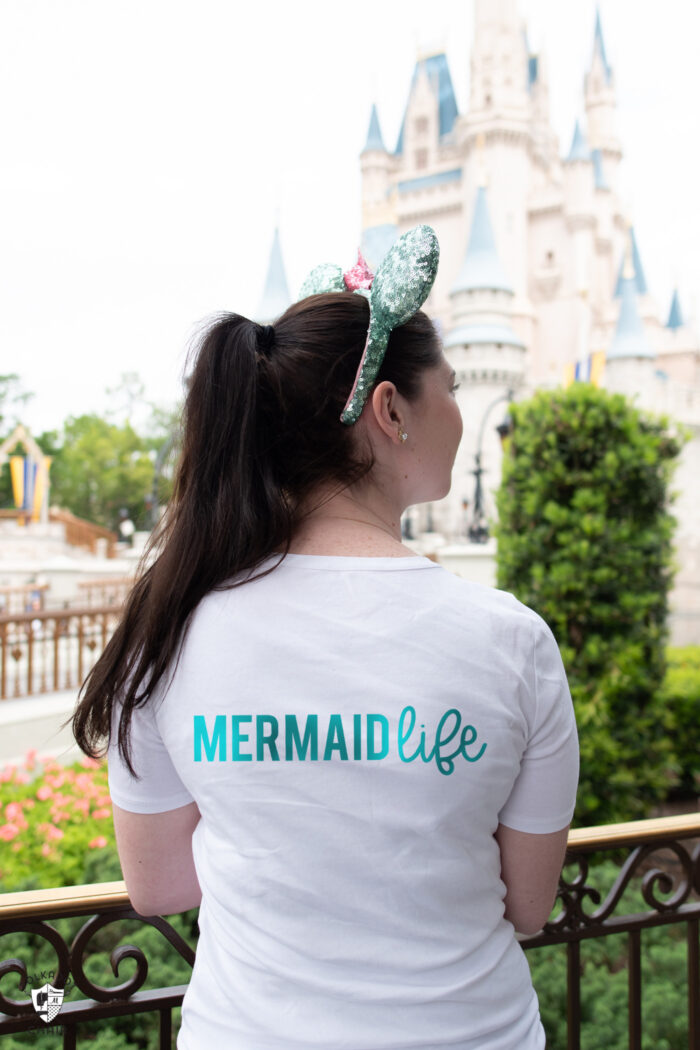 How to Make Mermaid T-Shirts. Who doesn't want to be a mermaid? My girls loved the Little Mermaid growing up and we've got a set of mermaid-inspired cut files for you as well.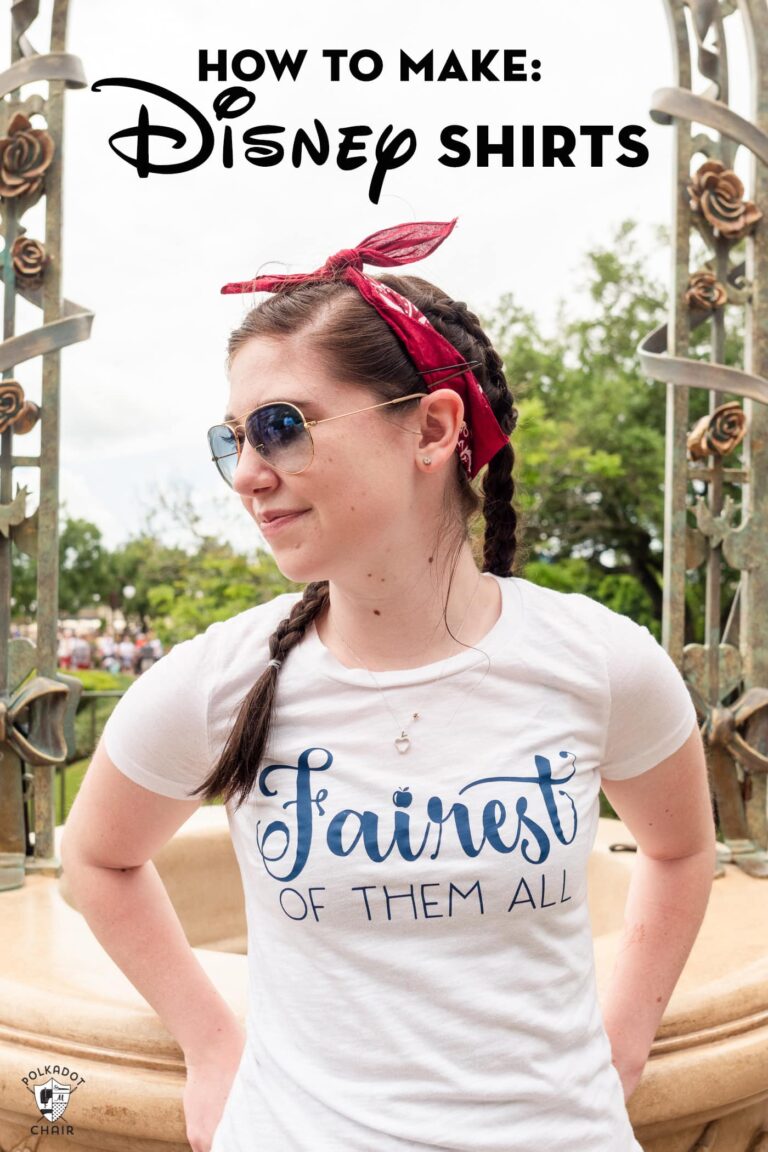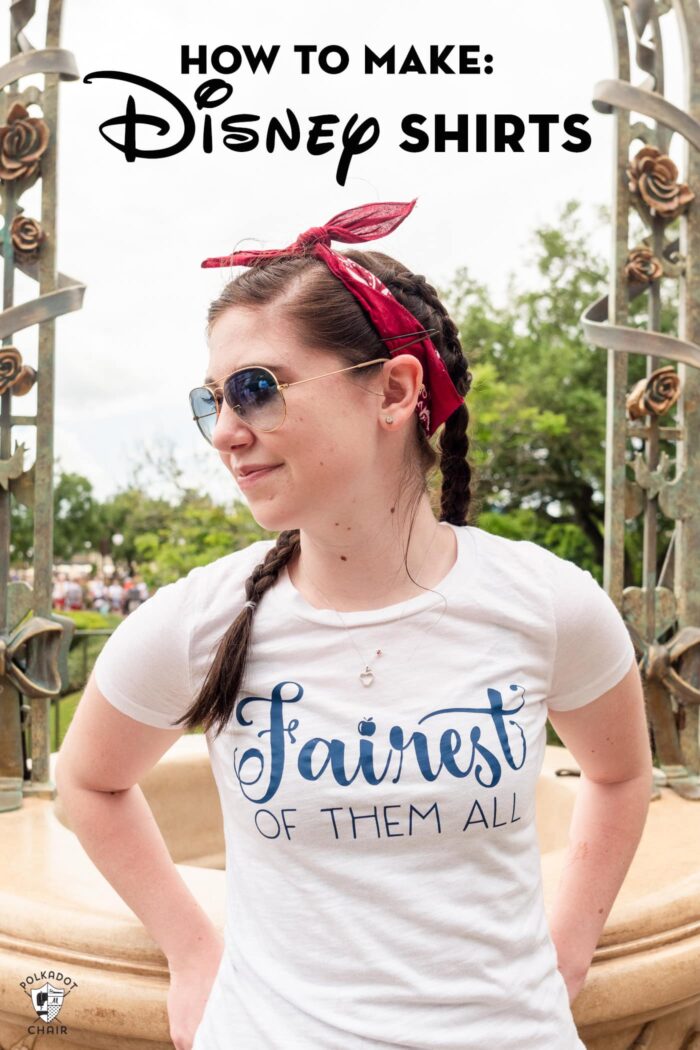 SVG Disney Cut Files & T-Shirt Ideas. These Cricut cut files are inspired by some of your favorite Disney Princesses.
How to Make Run Disney T-Shirts, Tanks & Jackets. I have a friend who loves to attend the runDisney races! Someday I hope to be as cool as her. These Cricut files are great for Disney races or to help motivate you on a daily basis.
DIY Mickey Mouse Ears. You can DIY a set of Mickey ears to take you to the park. Use this fun tutorial at Moms Without Answers.
Mary Poppins T-Shirt. This Mary Poppins cut file at the Crafted Sparrow is one of my all time favorites! I might make it for myself for my next Disney visit.
DIY Patched Denim Disney Jeans. Oh, how I love these jeans! You can now buy these cute patches online and in the Disney parks. How fun would it be to make these?
DIY Disney Villains Inspired T-Shirts. We made these cute Disney Villians t-shirts for a party with my daughter and her friends. Everyone left with their own shirt. It was really inexpensive and loads of fun.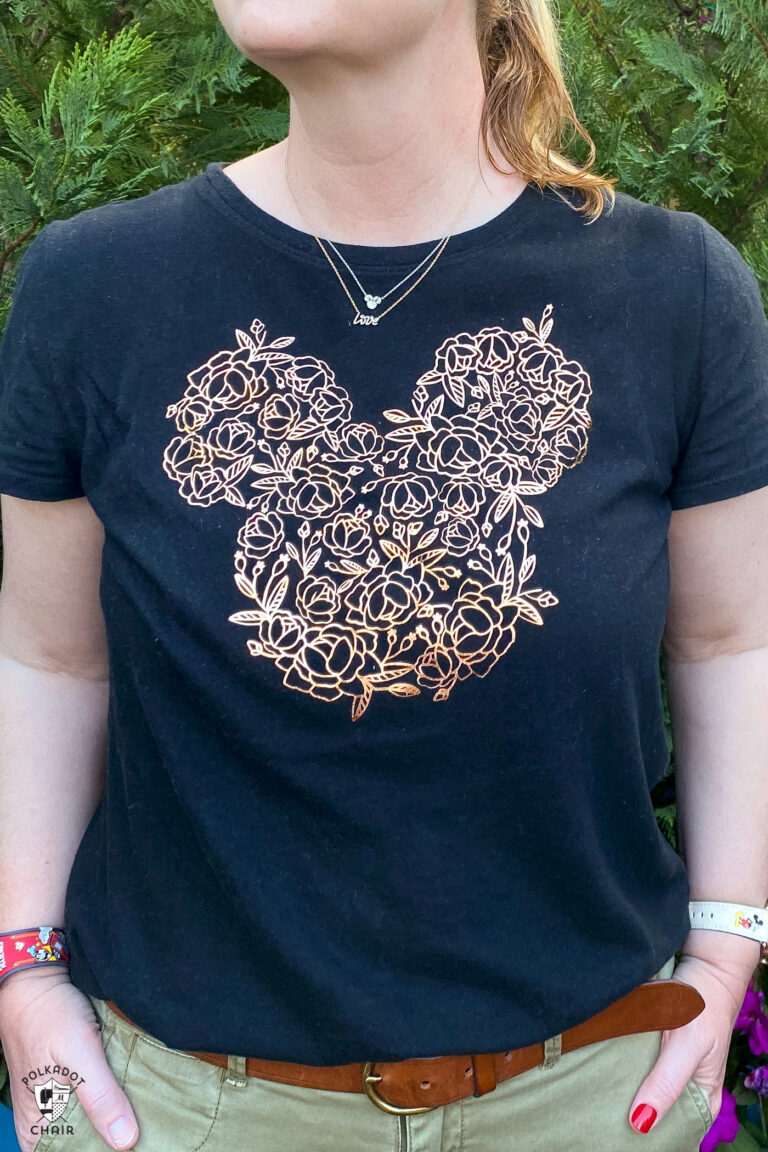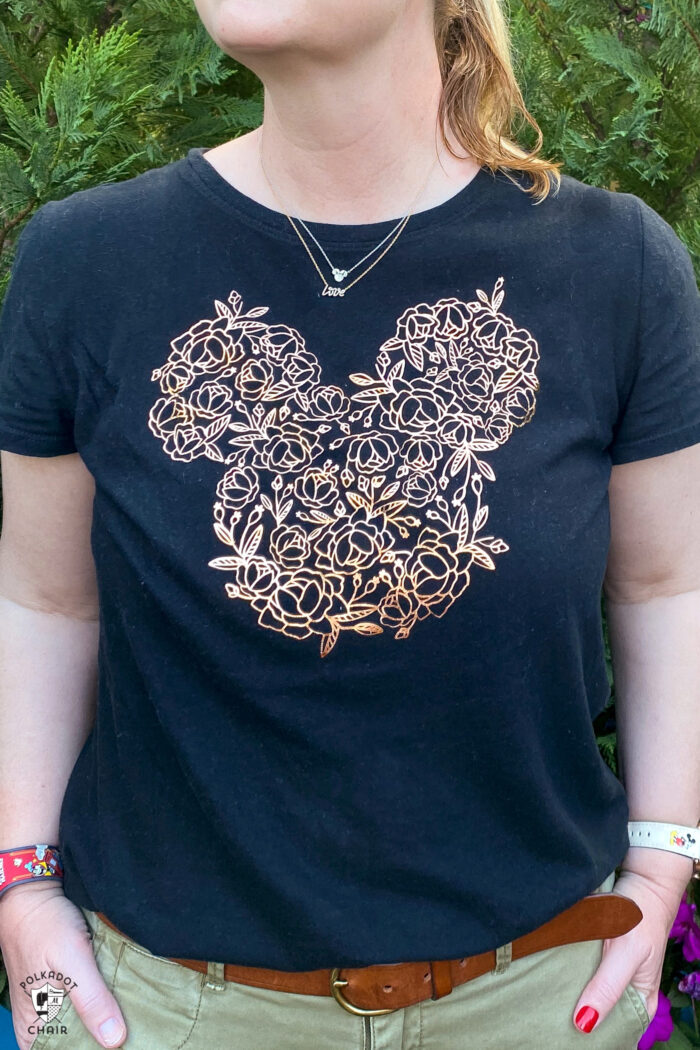 Floral Mickey T-Shirt: Use our free Floral Mickey SVG file to create a beautiful tee that is perfect to wear to the Epcot Flower & Garden Festival. This would also be a great SVG file to use to create a cute tote bag.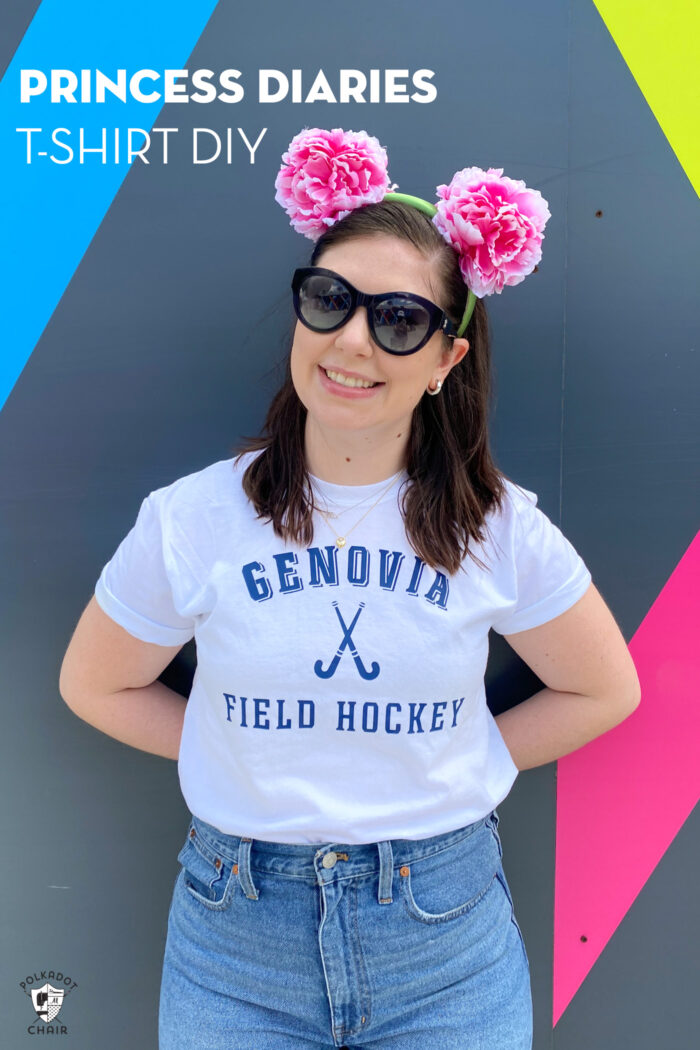 Princess Diaries Tees. DIY an adorable set of t-shirts inspired by the Princess Diaries movie with our Genovia Sports-themed SVG files.
DIY Disney Mugs & Cups
DIY Mad Tea Party Teacups. I admit I've never been on the Teacups ride, but I love the idea of it. Plus the styling is sooo cute! These DIY teacups are inspired by that fun ride. Get the tutorial at Persia Lou.
DIY Beauty and The Beast Mugs. Bring a bit of Beauty and the Beast into your home with this cute mug tutorial at the SITS girls.
Disney Monogrammed YETI Tumbler. Did you know that there are drink refill stations on Disney Cruise ships? I made this fun set of Yeti Tumblers to take with me on our last cruise. I was so glad I did, my Diet Coke stayed cold all day while I laid by the pool.
DIY Disney Decorations for the Home
Disney Pin Display Board. When my kids were little we loved to collect and trade Disney pins. When they got home I never knew what to do with the pins. I designed and created this pin display canvas so we could show off our favorites at home.
Whistle While You Work Sign. This cute sign is made using a stencil. Get the how-to at Liz on Call.
Disney Savings Jars. This idea is so simple and so genius! Just attach a mickey to the top of a jar and start a Disney "savings" account at home.
Park Map Coasters. Ever wonder what to do with those park maps when you get home from vacation? Turn them into fun coasters with this tutorial on the Disney Parks Blog.
Welcome, Foolish Mortals Lanterns. I LOVE the Haunted Mansion. I have to convince myself that I need to put these cute lanterns away after Halloween. Personally, I'd keep them up all year long.
Simple Disney Photo Album. Turn your Disney photos into an album with this oh-so-easy tutorial.
DIY Disney Cruise Scrapbook. If you're looking to create a scrapbook album of your trip, consider this cute one made using chipboard and binder rings.
DIY Disney World Mini Scrapbook & Travelers Journal
Other Fun Disney Stuff: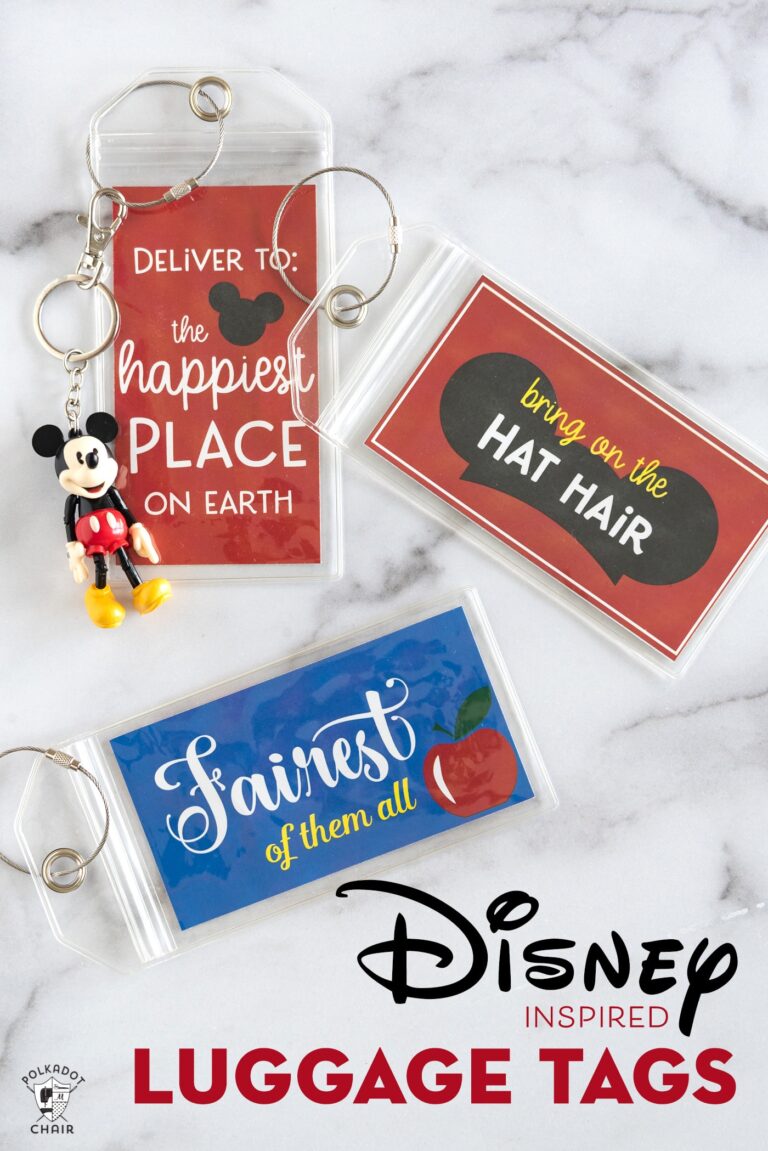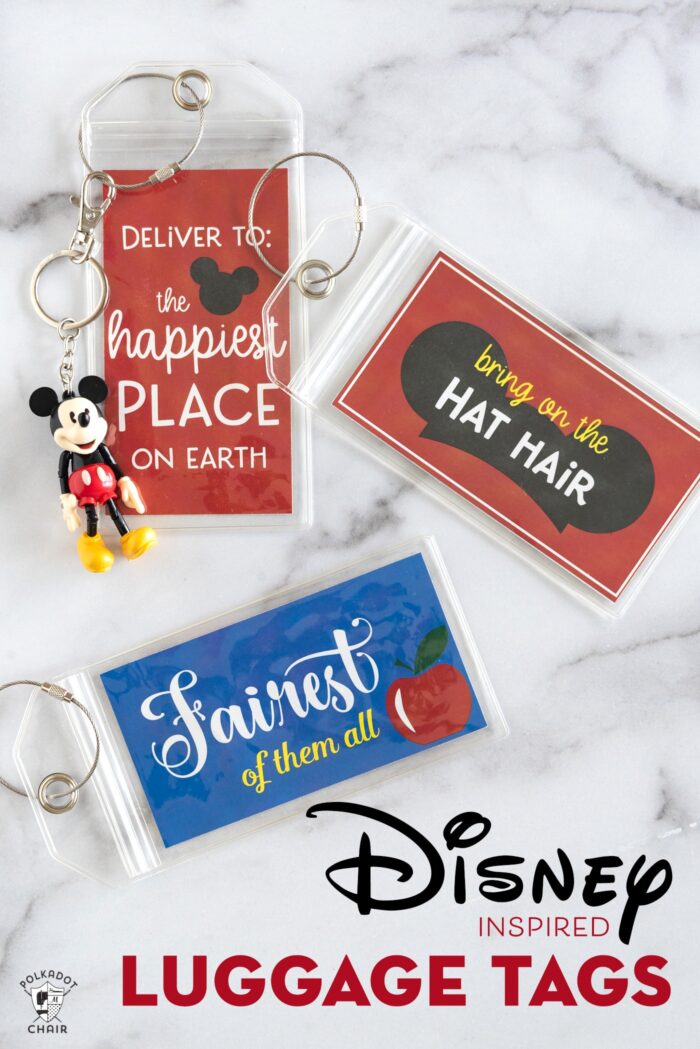 Free Printable Disney Inspired Luggage Tags. Print out a set of tags to mark your bags before your next trip. This is a free file available on our blog.
Mickey Mouse Pom Pom Garland. Such a cute and clever craft idea. It would be great for a party or hanging in a kids room.
Nemo Inspired Phone Charger Decal. Kim at Girl and a Glue Gun always has the cutest ideas! This DIY decal for a phone charger is simple and clever.
Donald and Daisy Perler Beads Necklaces. My kids love Perler beads (even how that they are older). Turn the beads into cute key chains or necklaces with this tutorial on eighteen25.
Winnie the Pooh Embroidery Hoop Art. My daughter recently left for college. Before she went she told me wanted a bit of "Disney Magic" to decorate her dorm room with. We created this embroidery hoop wall art with one of our favorite quotes from the Pooh books.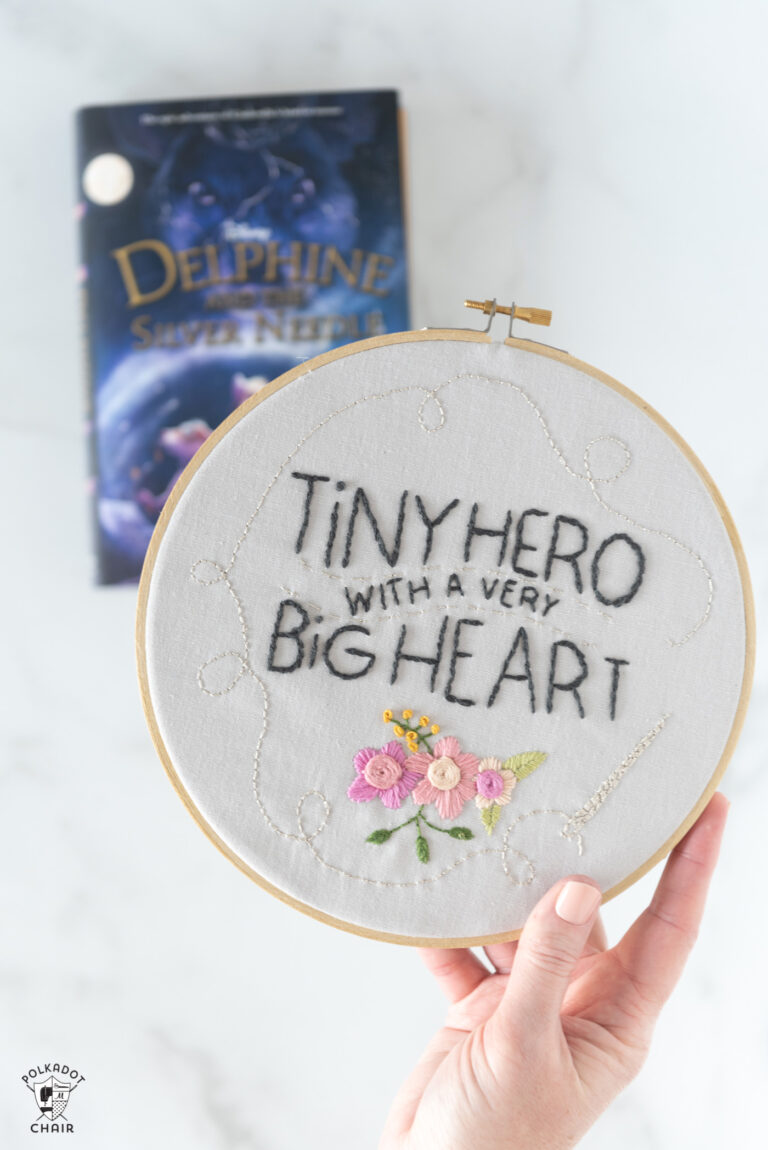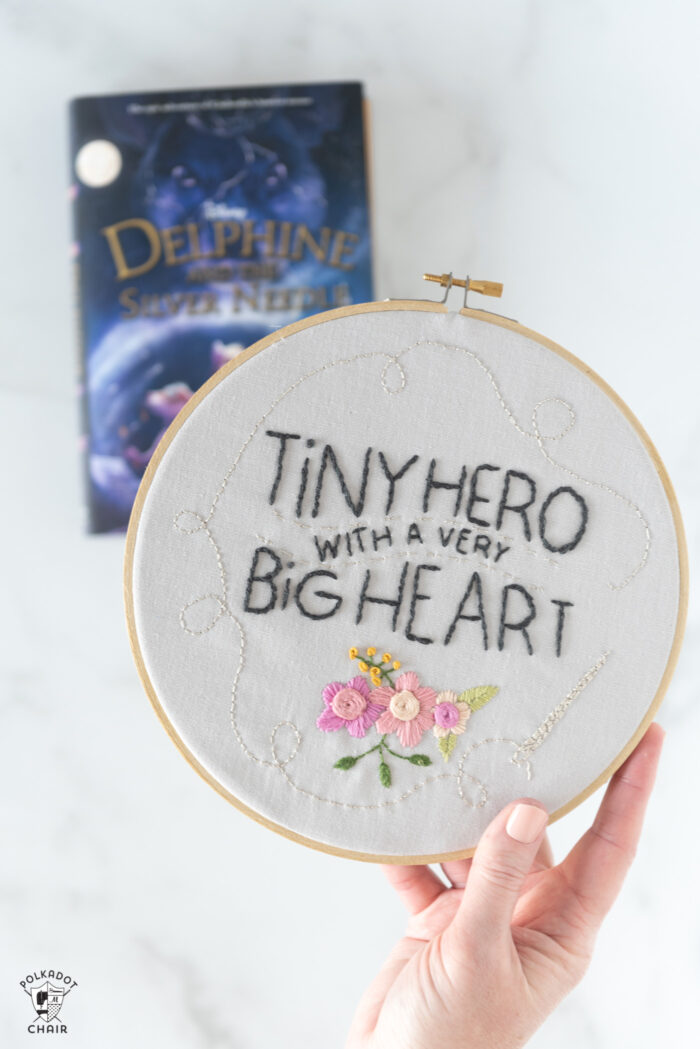 Tiny Hero Embroidery Hoop Project. Stitch up this inspirational saying, perfect for a kid's room, with our free "Tiny Hero with a Very Big Heart" Hand Embroidery Pattern. Inspired by their new book Delphine and the Silver Needle.