Create a cozy lap or baby quilt with our Sawtooth Star Quilt Pattern. It's an easy to follow, fat quarter friendly, quilt pattern featuring large quilt blocks.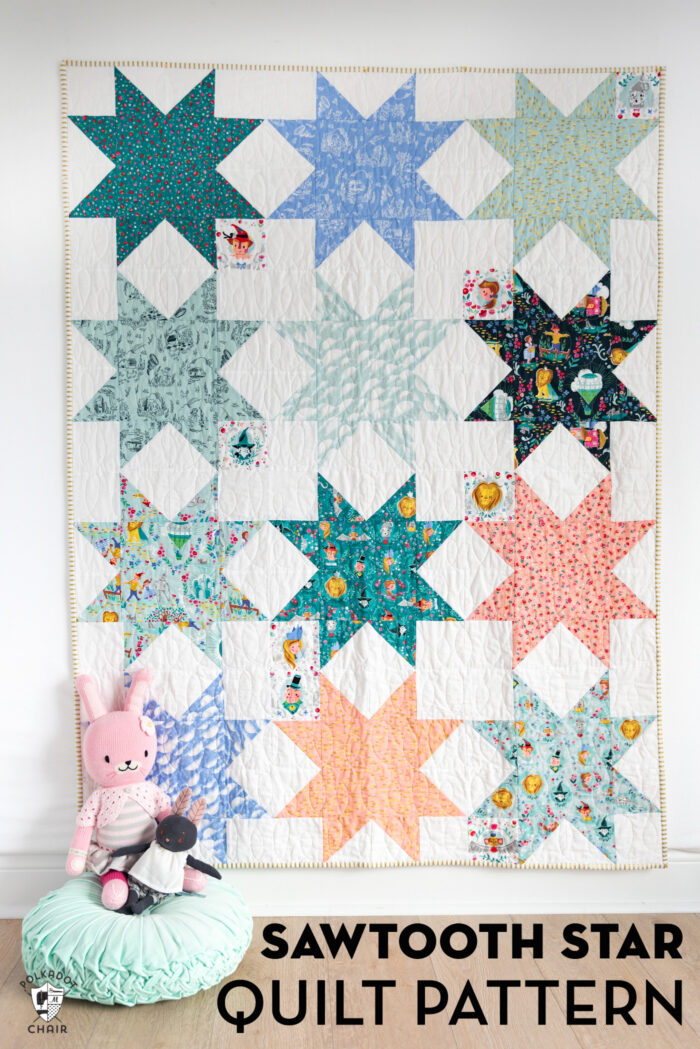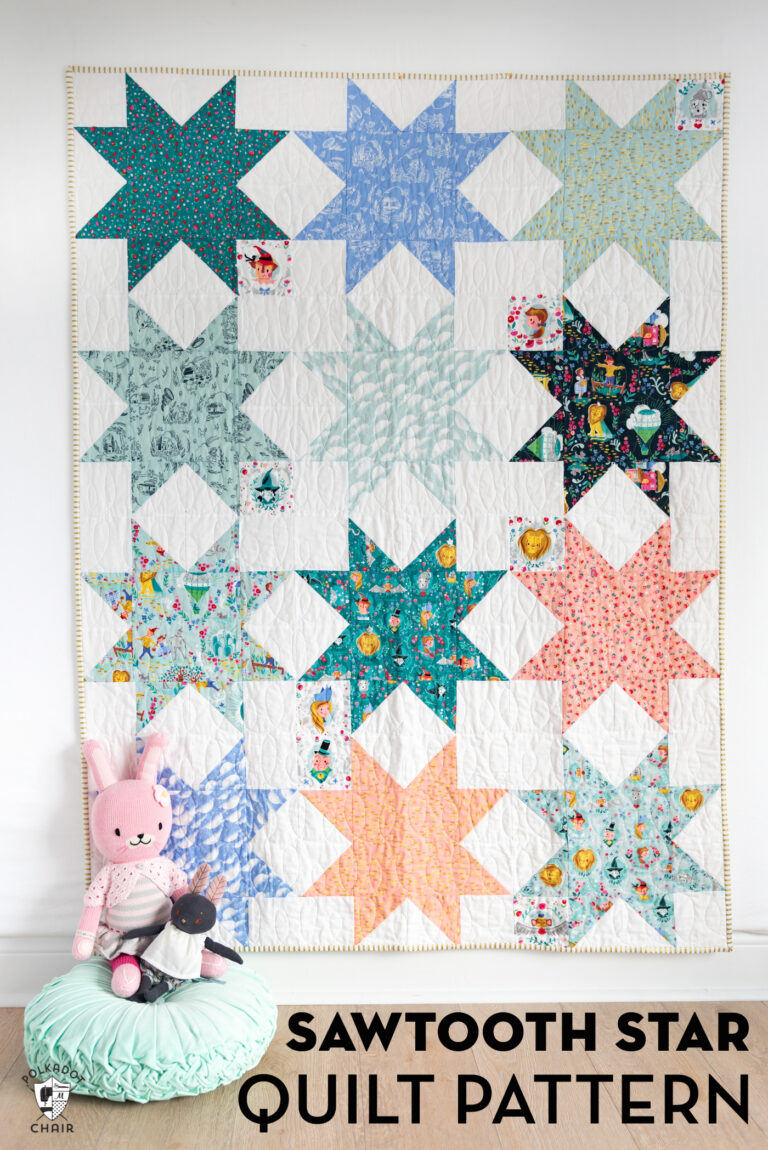 Last summer I decided to make a quilt for someone who loves the Wizard of Oz. I was smitten with Jill Howarth's fabric line from Riley Blake called Dorothy's Journey.
Table of Contents
I bought a stack of fat quarters of the line, not really sure what I wanted to make. In the end, I settled on a quilt made up entirely of Sawtooth Star quilt blocks. The quilt came together quickly and it was easy to plan the layout since it was made from fat quarters of fabric.
After I finished the quilt I wasn't sure how to share the instructions with all of you. If it was just one quilt block, I could just write a blog post (you can find a free tutorial for a Sawtooth Star block here). This quilt even though it's made up of the same block, is a bit too complicated to share as a blog post.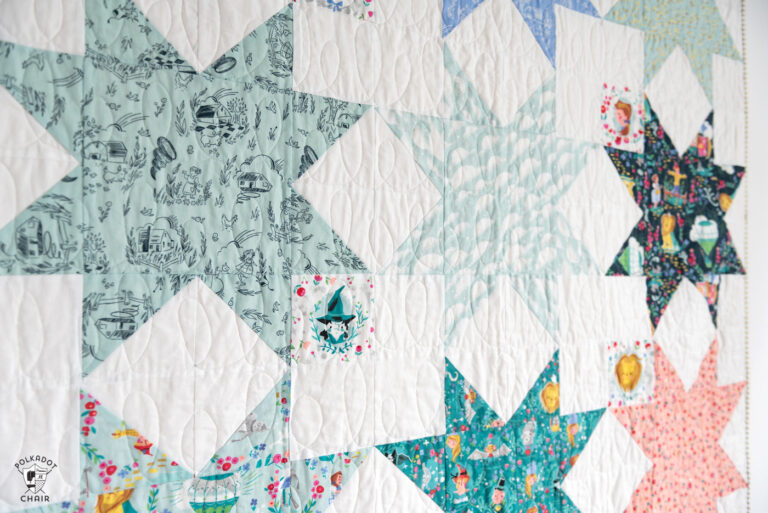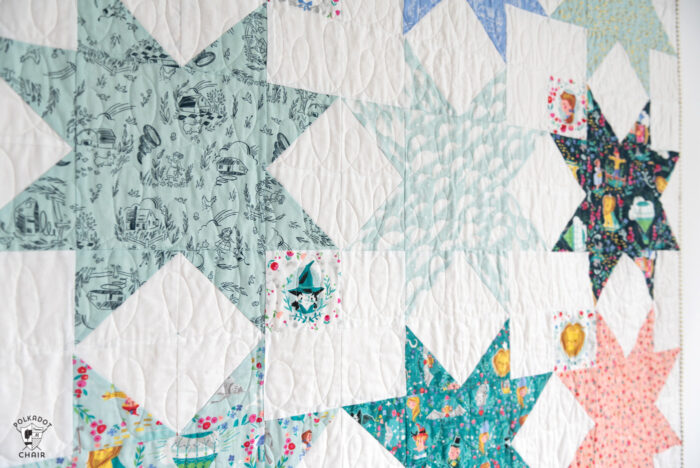 It also didn't seem like it was a detailed enough project to warrant a full quilting pattern. In the end, I decided to launch it as a "mini" pattern. After I decided that I realized that I have several mini patterns in the shop and I should just give them all a name!
Polka Dot Chair Pint Sized Patterns
I'm launching Polka Dot Chair Pint-Sized Patterns. These are digital sewing and quilting patterns designed to fill the gap between a free blog tutorial and a full paid quilt pattern.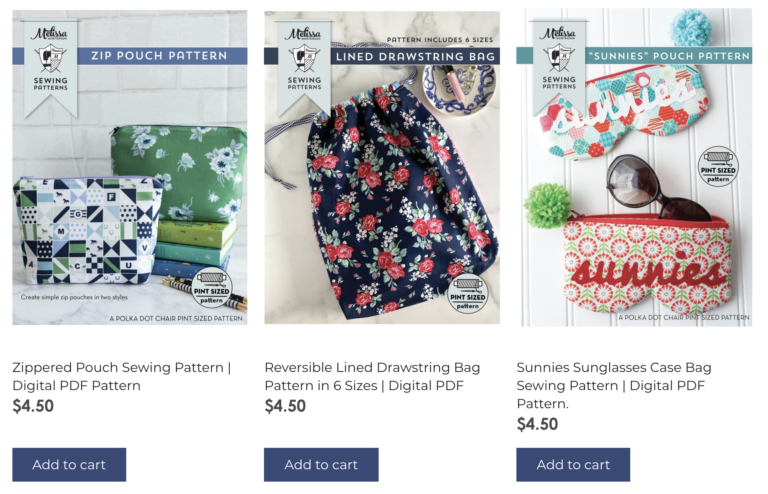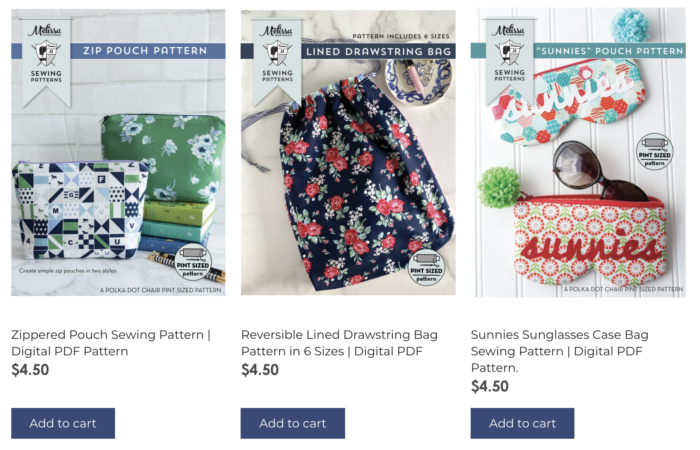 They are less than half the price of my other digital patterns and are delivered to you via email in PDF format. This allows you to both easily print the pattern and save it to your computer so you have it forever.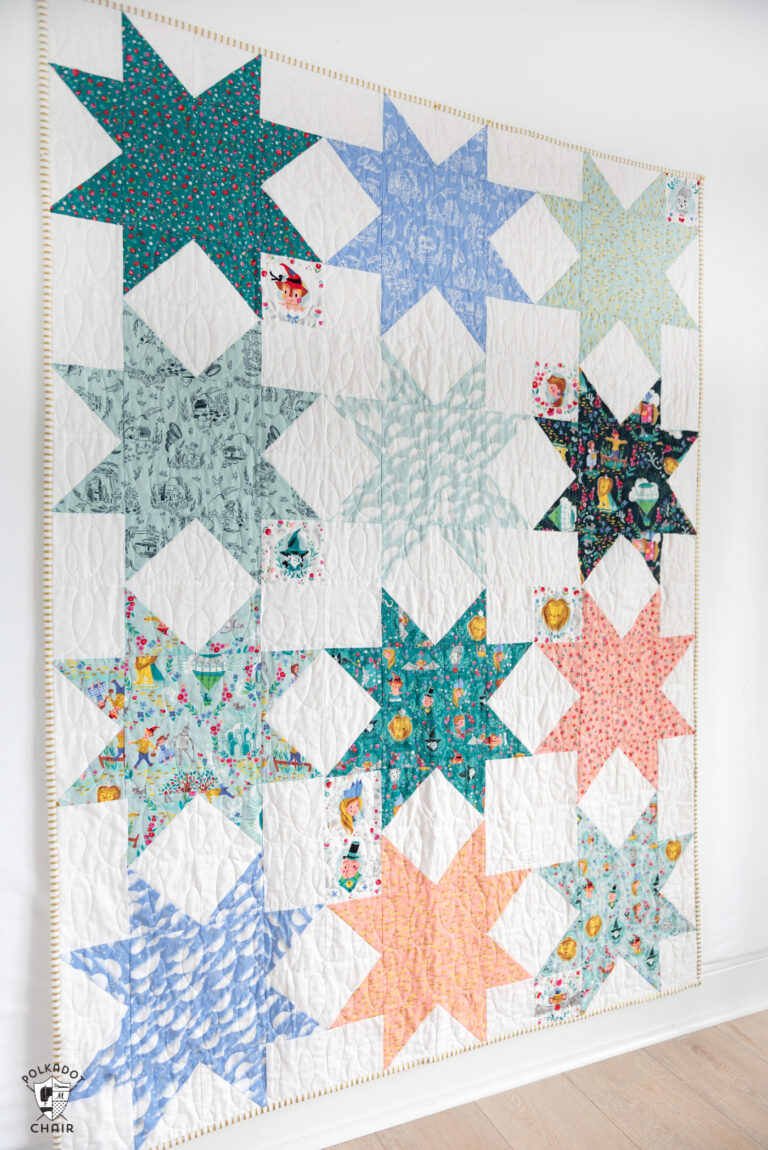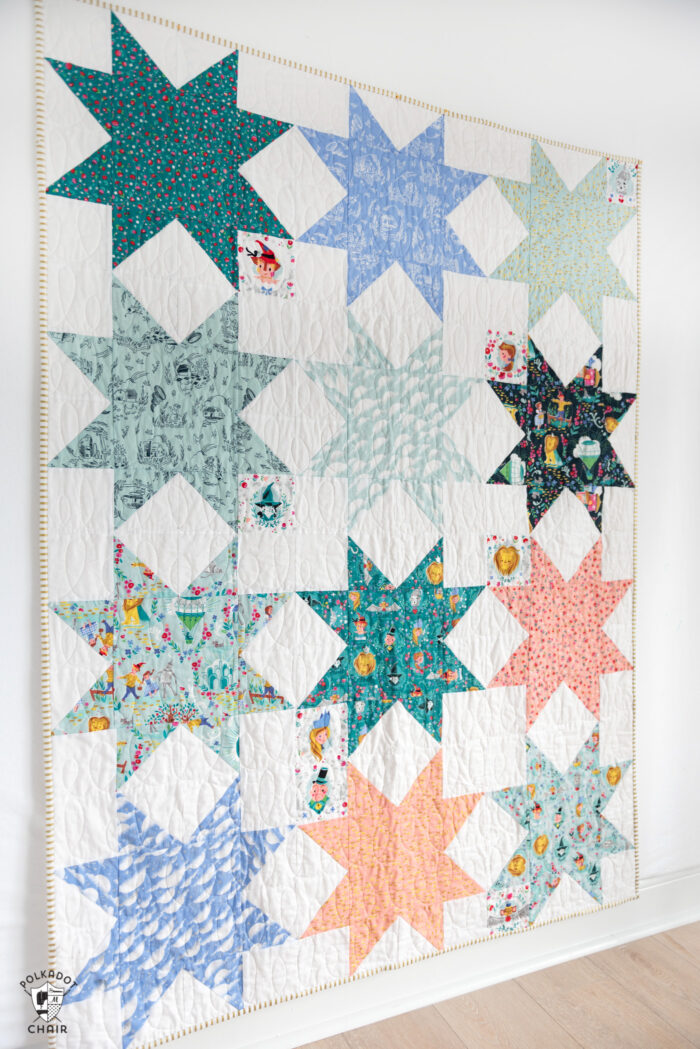 Right now we have 4 Pint-Sized Patterns in the shop. I have 2 more in the works. I'm really excited about this. I hope it provides a way to deliver the content that you want in a format that is easy to use!
About the Sawtooth Star Quilt Pattern
This quilt pattern is 48″ x 64″ which makes it a great size for a lap or baby quilt. This quilt features 12 quilt blocks and each block is made from a fat quarter of fabric. To make this quilt you need 12 fat quarters, 2 yards of fabric plus backing and binding.
For the back of my quilt, I used a flat sheet that I got at Target. I think the gold cloud print goes along with the "over the rainbow" theme of the fabric so nicely.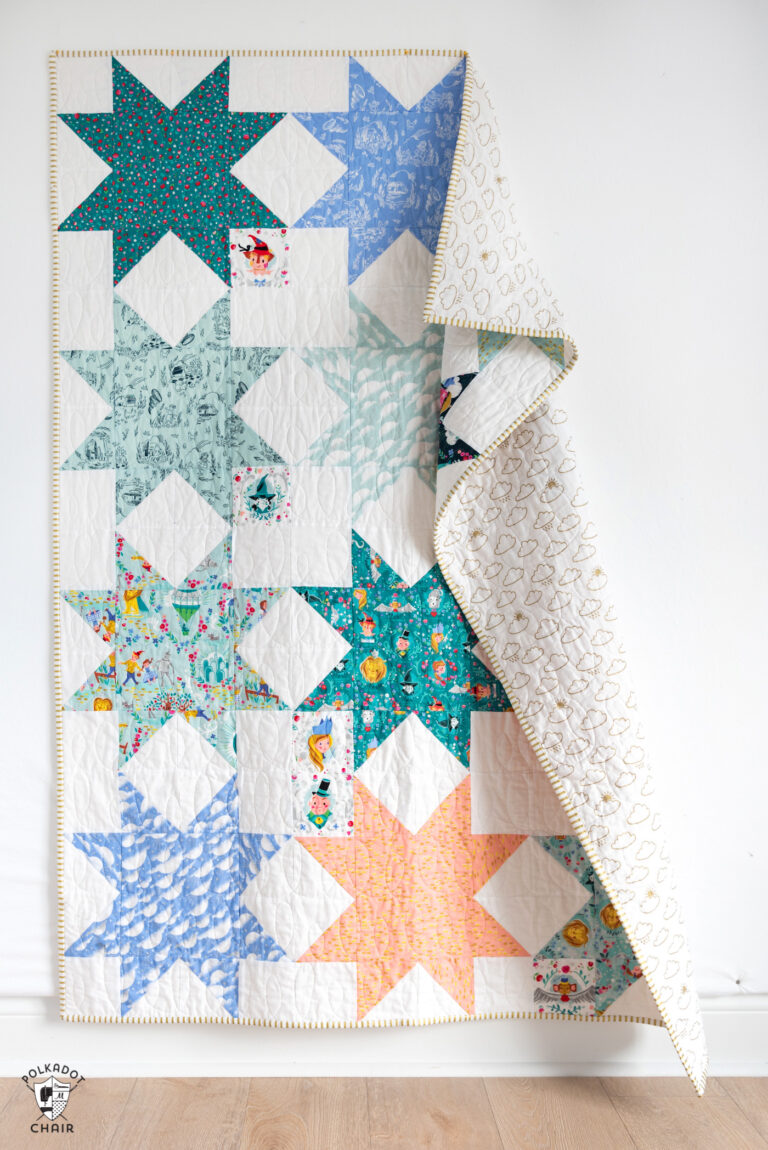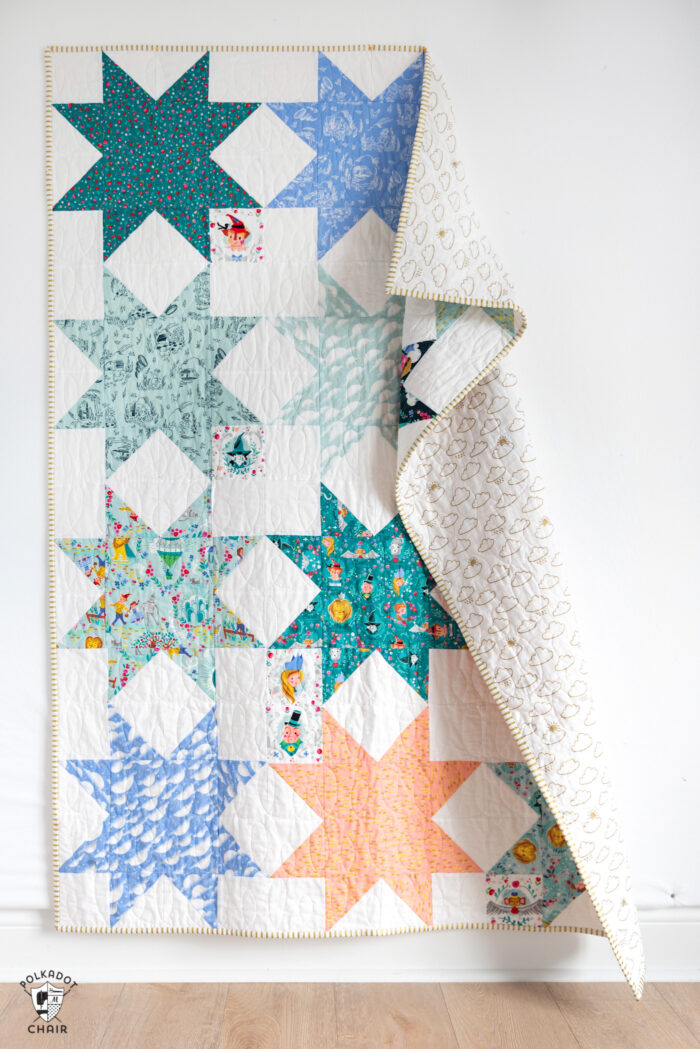 If you look closely at my quilt you will notice that I've added some novelty prints to the corners of some of the star blocks. Since my background fabric was white, I purchased an extra bit of fabric with a white background but in a print.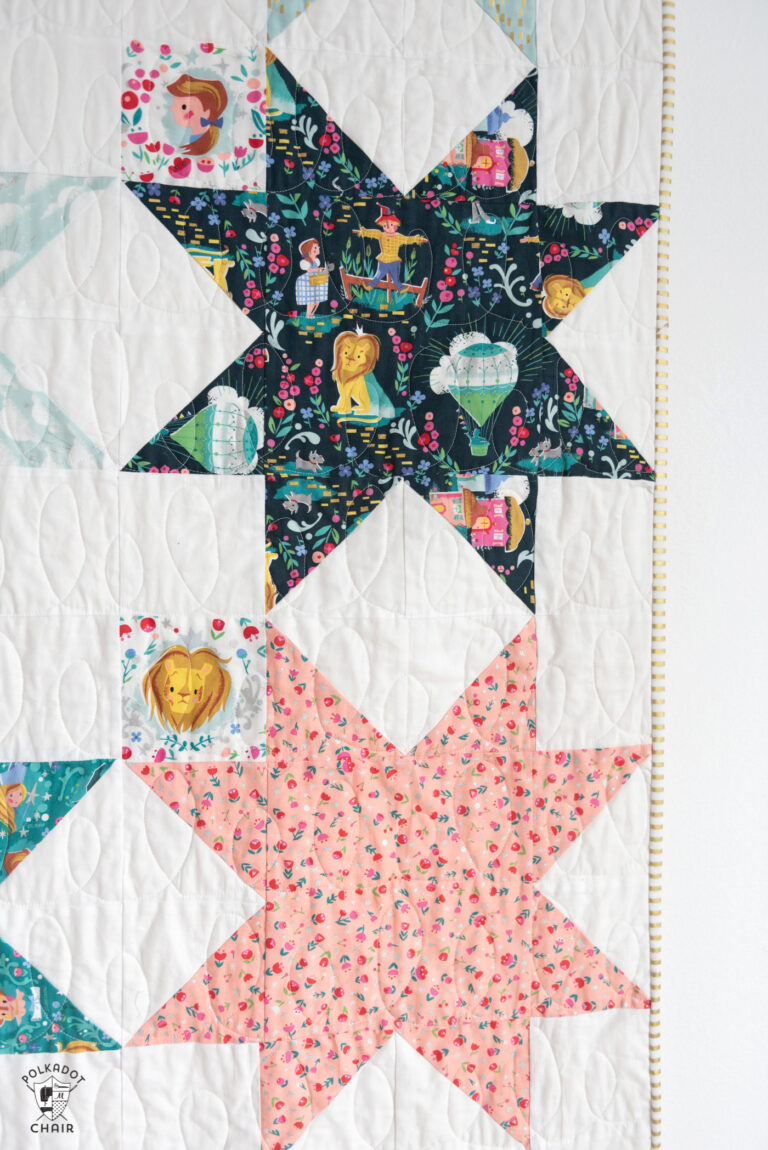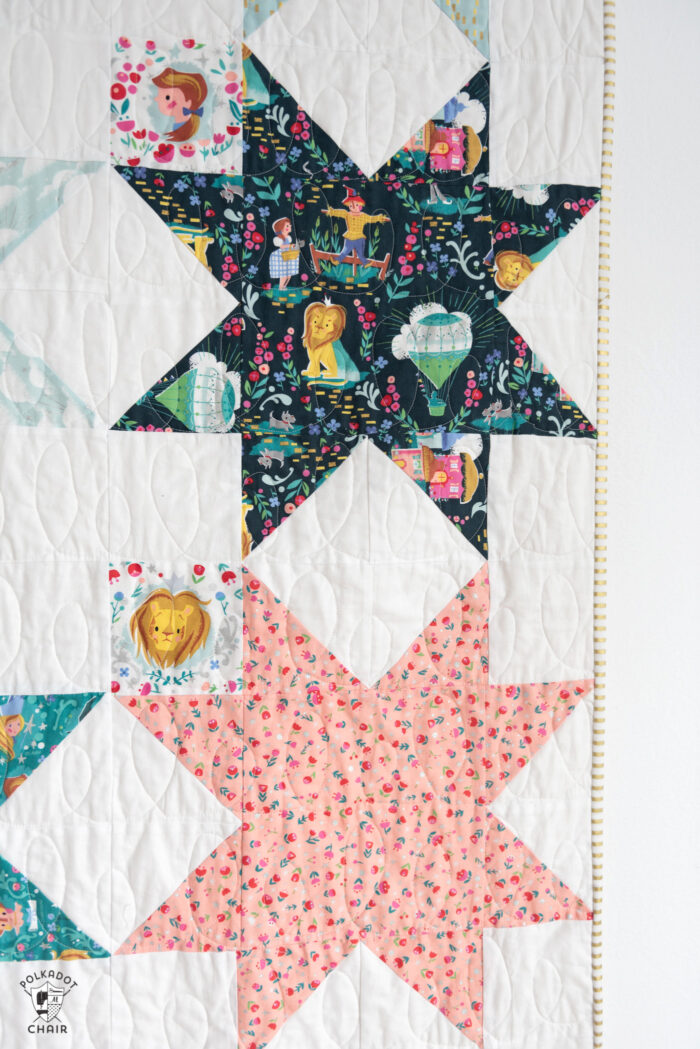 I then fussy cut some of the images from the print to use in the corners of the quilt. I think it adds a fun unexpected pop to the quilt.
The pattern includes instructions to add contrast corners if you want.
How to Get the Pattern
The pattern is now listed in the shop. It's delivered to you in PDF format. You will be emailed a link to download it immediately after you purchase it.
More Modern & Creative Quilt Patterns
"Seas" the Day Nautical Quilt Pattern
Soft N Snuggly Sensory Baby Quilt Pattern