Today I'm excited to introduce you to our new Block of the Month Quilt pattern, the Just for Fun Quilt!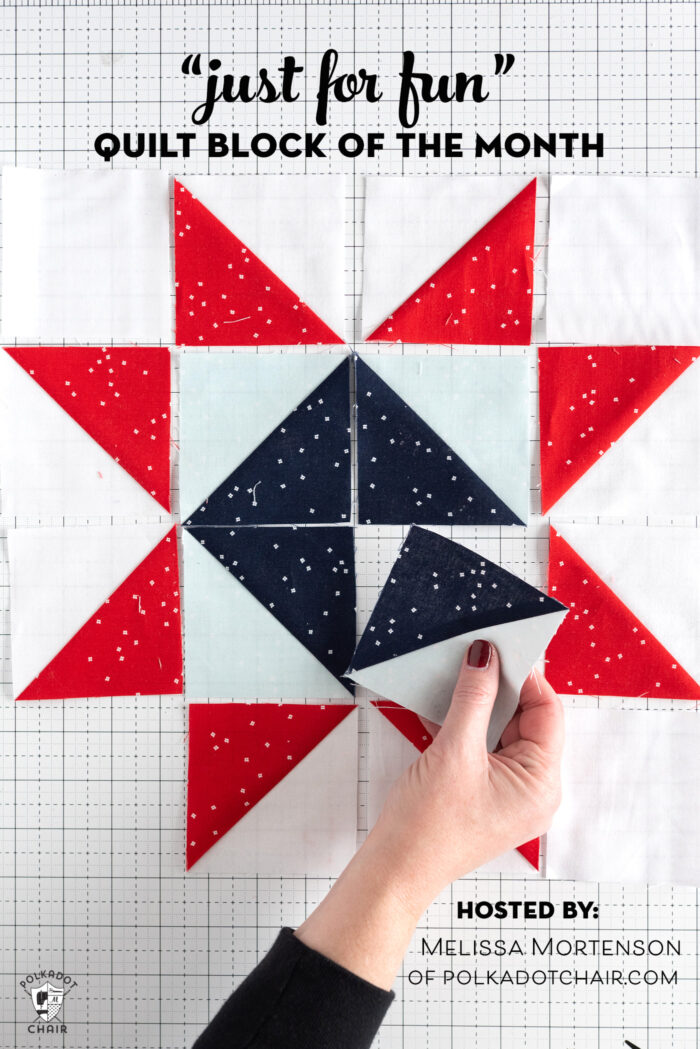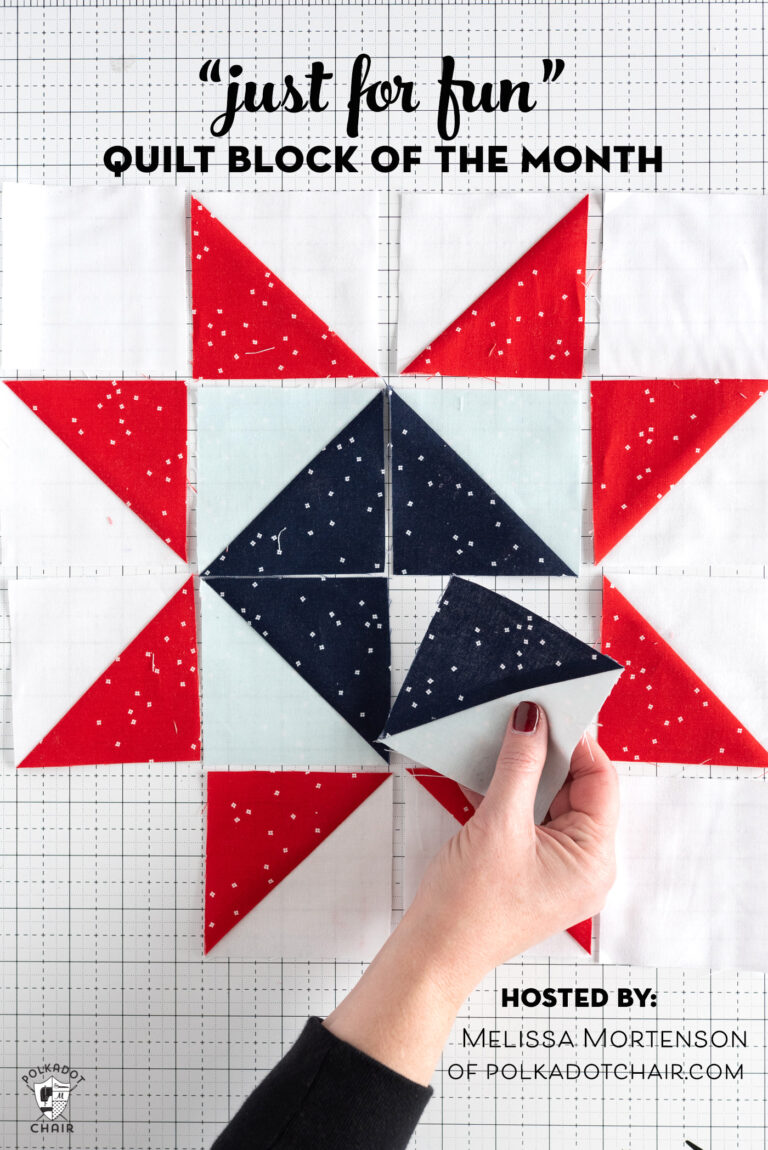 A few years ago I hosted a block of the month program. I've had a few requests to do another Block of the Month (BOM) and am happy to announce that I have a fun BOM quilt planned for 2019.
When I was thinking about what type of BOM program I'd want to offer I decided that I wanted something simple that would be easy to work into your "to make" routines in 2019. I don't want to stress anyone out or overwhelm you with information or too many fancy techniques.
The Just for Fun Quilt Block of the Month Pattern:
With that in mind, I'm calling this the Just For Fun Quilt, because I want it to be that, "just for fun". Something without giant expectations or looming deadlines. Just easy and fun and simple.
The quilt features 6 different quilt blocks. Each block will be named after something I like to do "just for fun".
How do I find instructions to make the blocks?
Note: This is an ongoing quilt along. It will be the end of 2019 before ALL of the blocks/instructions are posted.
All of the Blocks in the Just for Fun Quilt Along:
UPDATE:
Now that the Quilt Along is over, you can purchase a PDF with all of the Quilt Block in ONE document. It includes all of the blocks shared in the series in an "easy to print" format.
A Few Details About the Quilt Along:
We are starting with what I'm calling the "Under the Stars" Quilt Block (CLICK HERE FOR THE BLOCK INSTRUCTIONS. It's cold and wintery here and the thing I want to do most is lay under the stars and gaze up at the sky on a warm summer night. We have a boat and RV and spend most of our summers outdoors, and winter really starts to get to me after a while!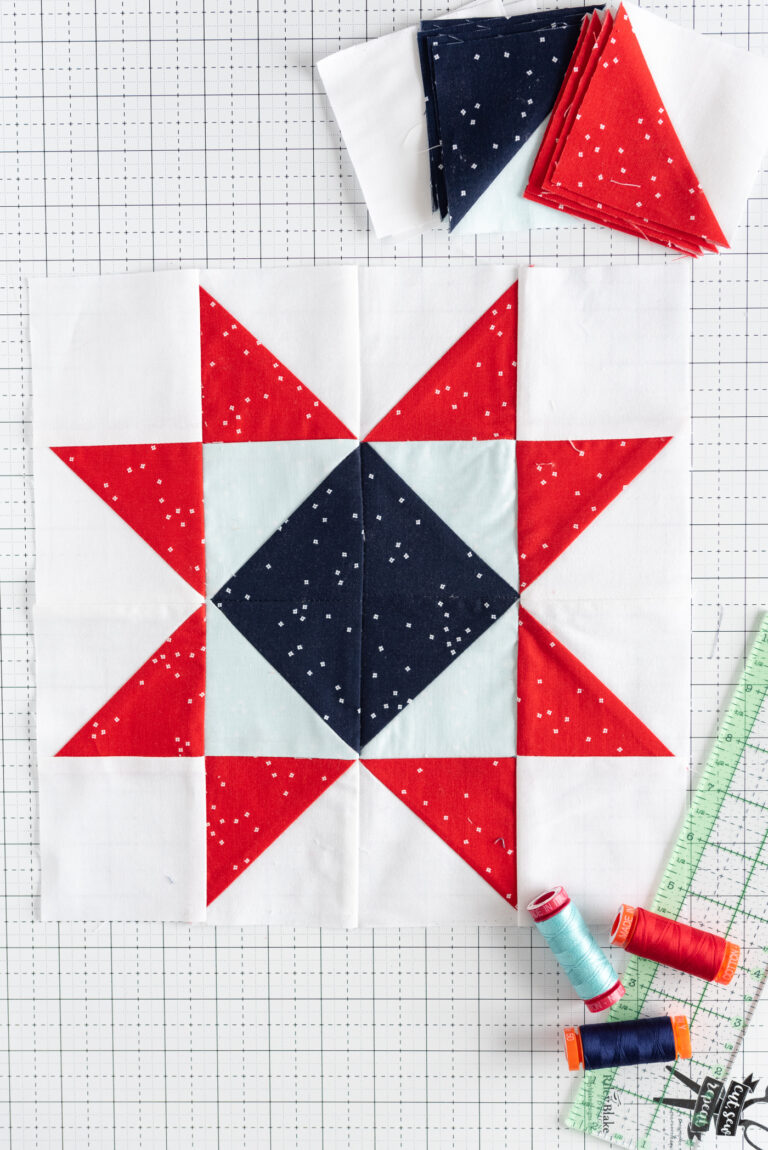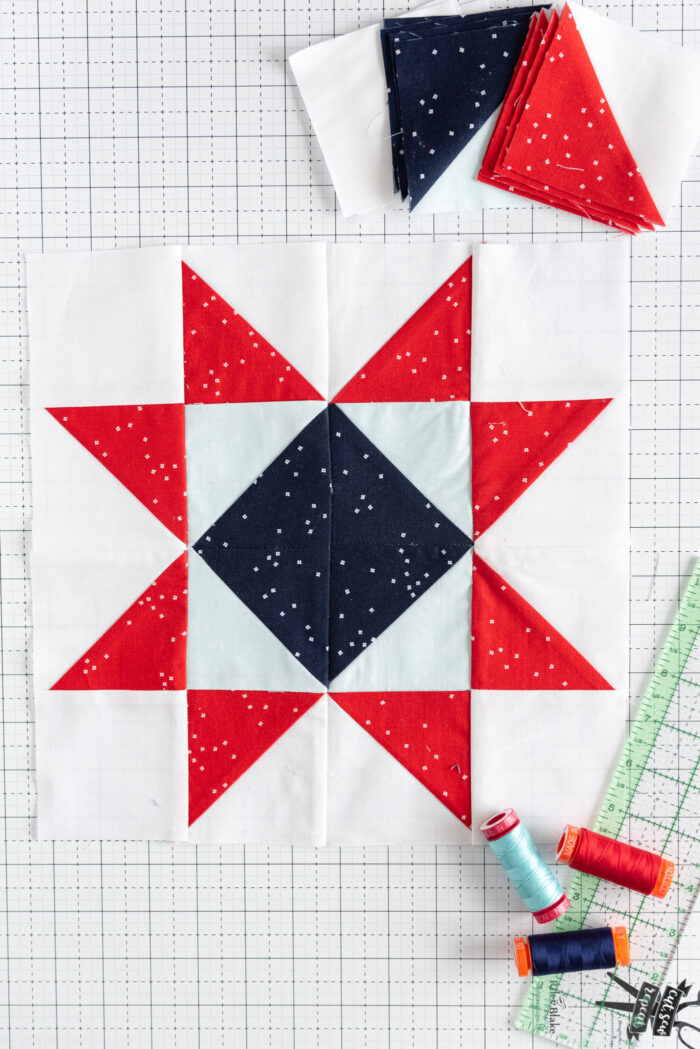 The dark navy center of this block reminded me of a window looking out to a starry night sky.
Since I know a lot of you consider yourself beginning quilters, I wanted to make it beginner friendly, in the hopes that by the end of the quilt along you'd improved your quilting skills and will be ready to "promote" yourself from beginning to experienced quilter.
The Finished Quilt Layout: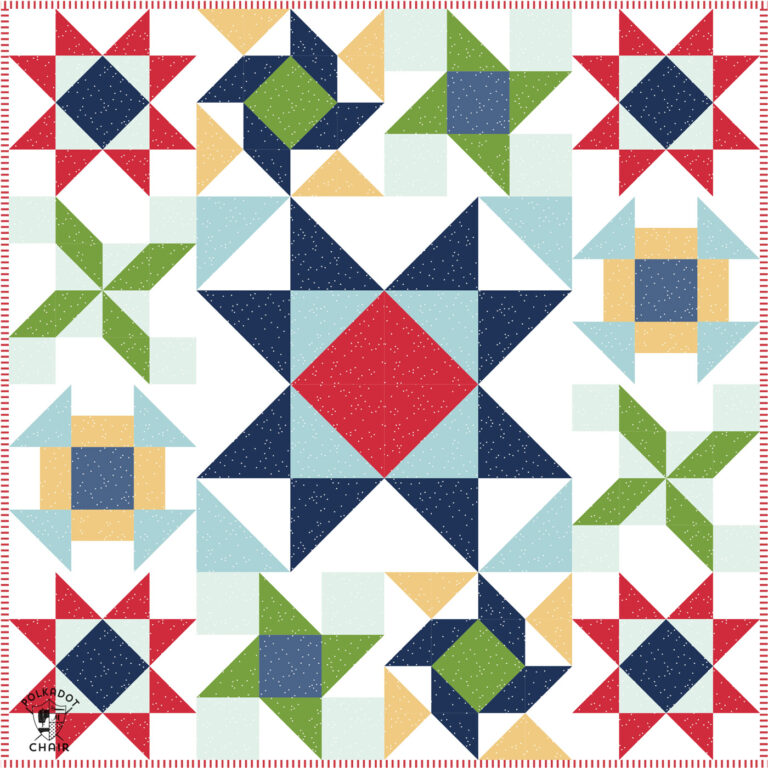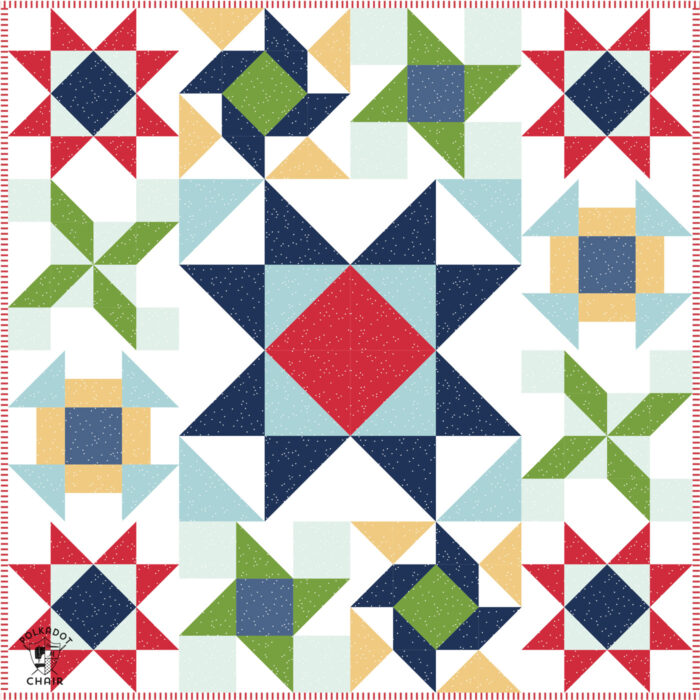 The quilt features 6 different quilt blocks. Since this is a year-long project, the blocks will be posted every other month.
Most of the blocks in the quilt are duplicates, so if you'd like to make one block a month then you can make the duplicate blocks during the off months.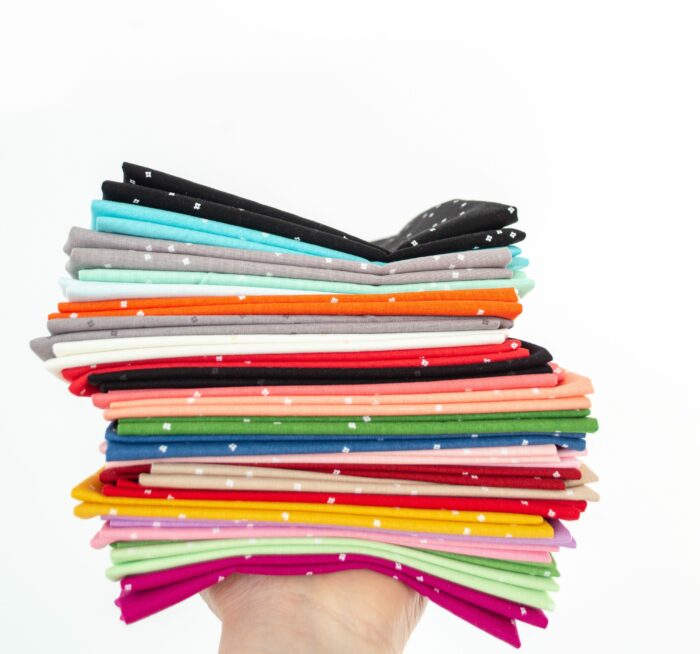 Blossom Fabrics from Riley Blake Designs:
I'm making my quilt out of Blossom, which is a new basic from Riley Blake Designs and Christopher Thompson of the Tattooed Quilter. I've been wanting to "dabble' more in solid fabrics, but can't seem to bring myself to make the jump to all solids.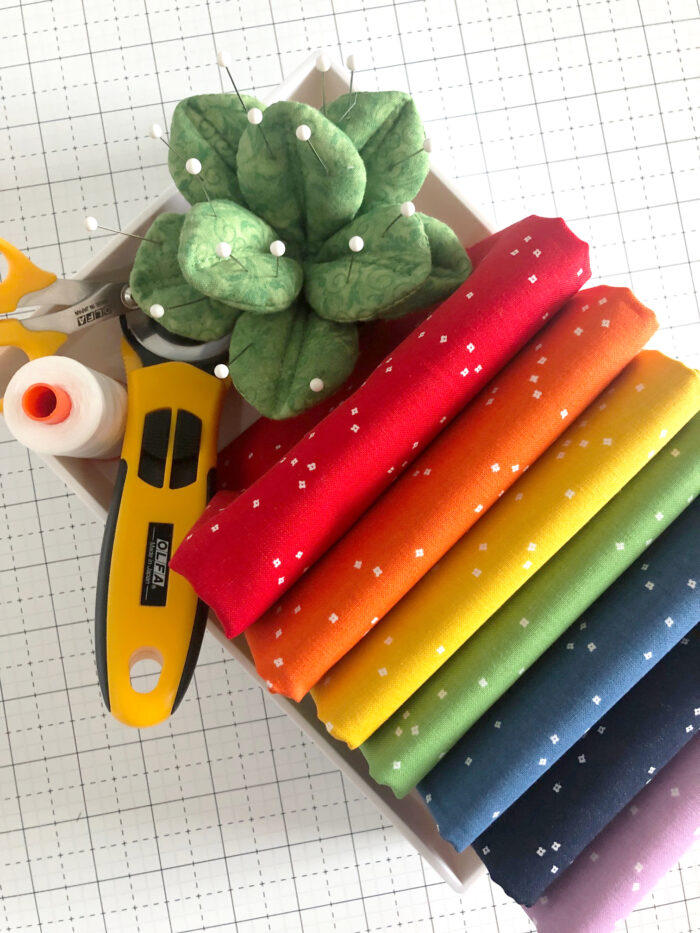 I love that this line gives the feel of a "solid" fabric but contains just enough pattern to give some interest and variety to your quilt. To me, I feel like there are little "sparkles" sprinkled over my entire quilt. The fabric just started shipping so it should be in stores now (or very, very soon!)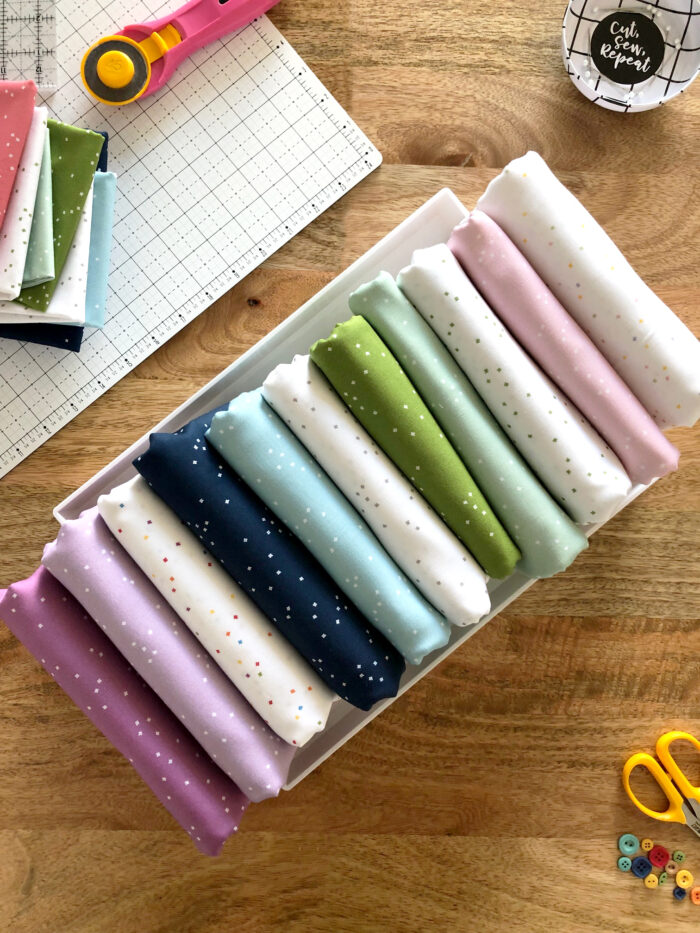 (photos from the Tattooed Quilter)
Here is break down of the fabric requirements for the entire quilt along with the dates that the blocks will be posted.
Just for Fun Quilt Fabric Requirements:
White Fabric: 1 ½ Yards
Blossom Print Fabric Colors:
Red: ½ Yard
Bleached Denim: ½ Yard
Navy: ½ Yard
Holly: ¼ Yard
Denim: ¼ Yard
Aqua: ¾ Yard
Honey: ½ Yard
Binding: ½ Yard
Block of Month posting dates 2019:
January 22nd
March 22nd
May 24th
July 19th
September 20th
November 15th
The dates may change by a day if conflicts with other projects come up. Here it is in printable form (just click HERE to download the PDF), so if you'd like to kit the quilt along, you can just include this printable sheet with the kit. It has a special URL to help you find all of the blocks easily!
(As a reminder all of the patterns on this blog are copyrighted and you can not print and distribute them).
I hope you'll join me! You won't have to wait long for the 1st block pattern as it will be up later tonight.
Last time I did a Block of the Month Quilt Along, I got a lot of questions, so here are some answers to those FAQ's.
Block fo the Month FAQ's: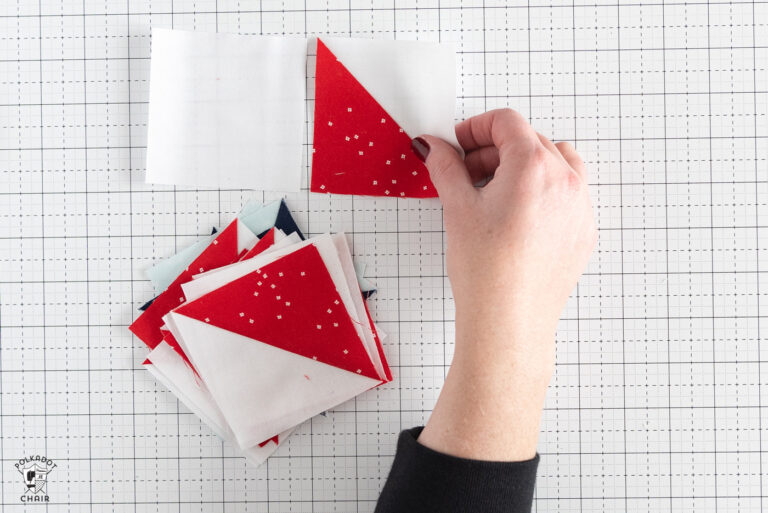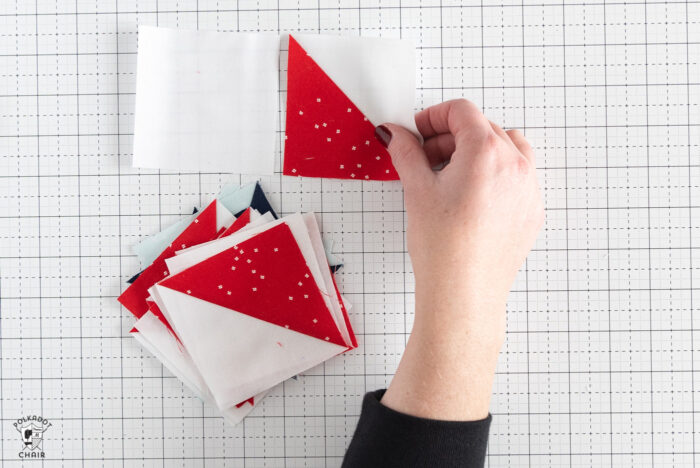 Is there a Facebook Group for the Quilt Along?
Yes, it's actually called "Quilt Fun" and will cover this quilt along and all others that we host! You can click here to join!
What is the Quilt Size?
It's approximately 48×48
(you can make it bigger if you want at the end by adding borders, but that would be something you'd do on your own).
How do I sign up?
You don't need to sign up for this quilt along! Just pop into the blog on the dates the blocks are posted (listed on this printable sheet).  If you want I'd LOVE for you to sign up for my weekly newsletter. Then you'll be sure never to miss a post! (Plus we have lots of fun quilt projects here all year)
[optin-monster-shortcode id="vrbmhxkz5qwzgg51″]
Is there a cost?
No, it's free. I run advertising on my blog to allow the content to be free for you.
Can I print the directions?
Yep, just hit the "print friendly" button at the bottom of the post.
Can my friends join?
Of course! Just send them my way. All of the posts will be indexed so they can find them easily. I just ask that you have your friends visit the site themselves, instead of copying and distributing the blocks. Because that's just not cool, and I can't keep doing this if that's what people are doing.
Can I work ahead?
For this block of the month, no. Sorry, I'm actually making the quilt WITH you as we go, so it will be a fun experience for all of us (myself included) and I'm not organized enough that I have all the directions written up for ALL of the blocks!
Can Beginners make this Quilt?
I think so. You'll need to know how to make a half square triangle. I've got a tutorial here FULL of photos to help you out. Just go slow and be patient with yourself, and you'll be fine. Plus if you mess up, who cares? It's just for fun *wink*.
That's it! I hope you'll jump in and join!
If you are a Beginning Quilter, check out these other posts, I think they may be helpful for you:
45+ Beginner Quilt Patterns & Tutorials