Today I'm excited to introduce to you my newest pattern the Tic Tac Cat Quilt pattern. It's a fun mix and match quilt pattern that you can customize to make a quilt that is uniquely you!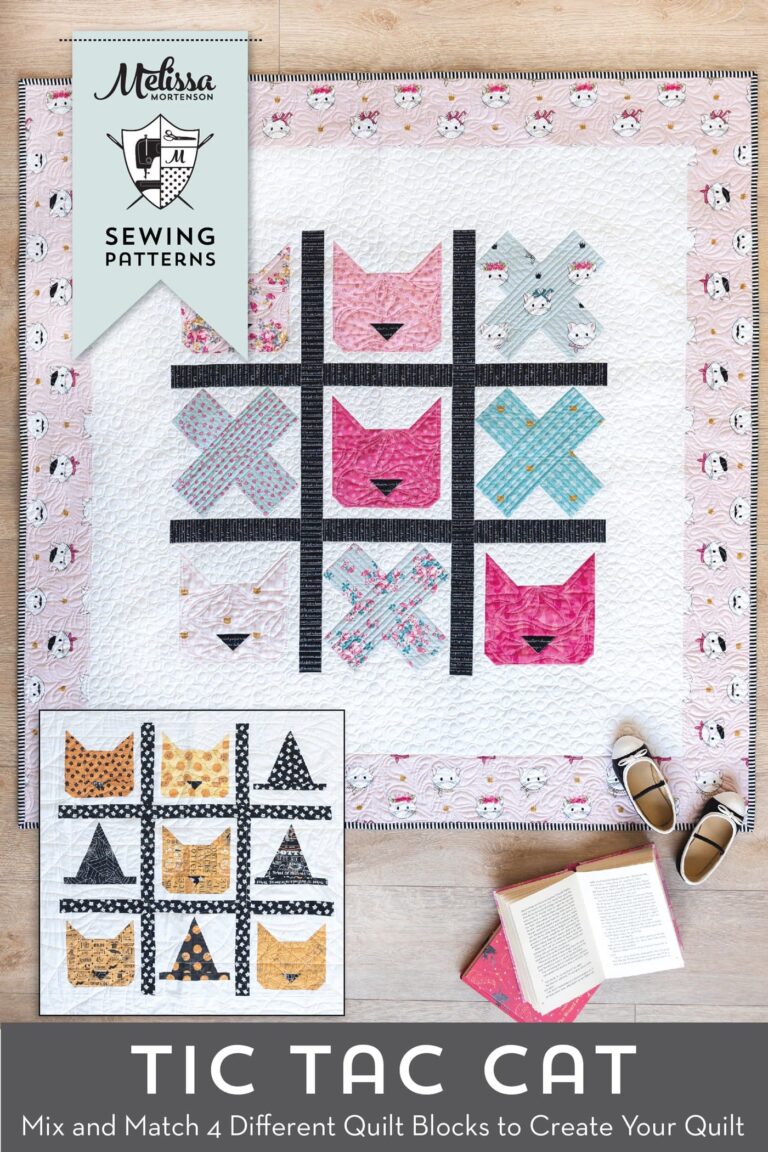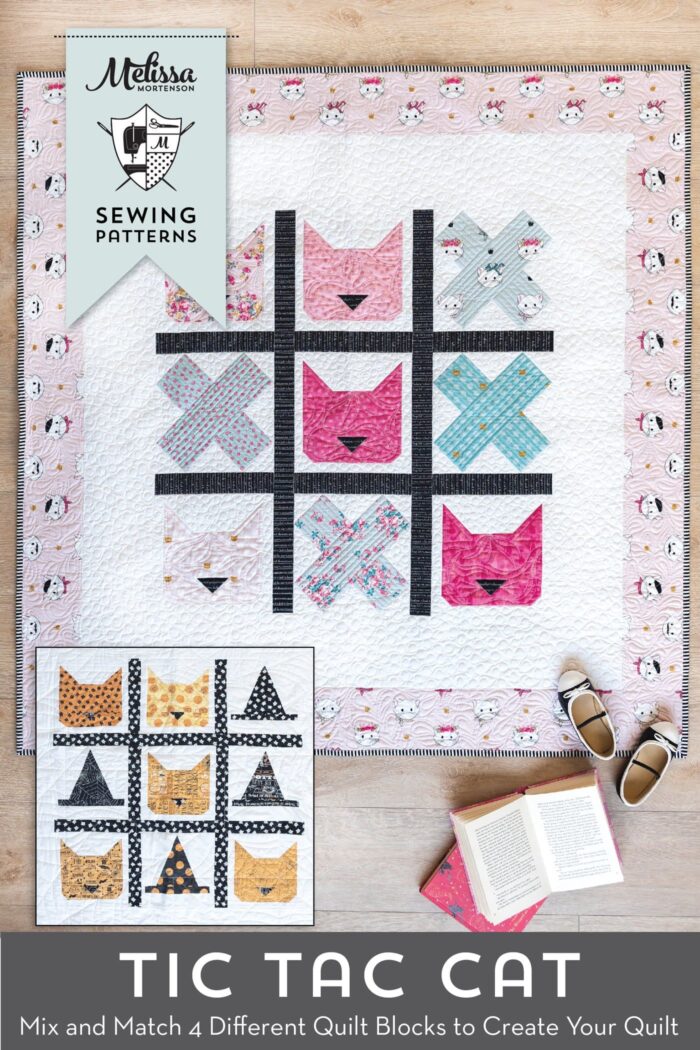 Chloe & Friends Fabric:
This October I have a new fabric line releasing with Riley Blake Designs, it's called Chloe and Friends and is inspired by my daughters first cat, Chloe.
The line is not due to release until October and I don't want to share too much about it too soon. I hate it when you see something online then you can't get it! (You can get a sneak peek at the line here).
For the line, I was asked to design a quilt pattern to compliment the collection. I got the idea to do a Tic Tac Toe game with quilt blocks. Doesn't the game have something to do with cats anyway?
I designed the Tic Tac Cat Quilt pattern almost 18 months ago and am excited to release it for you today.
Normally I would not release a quilt pattern for a fabric line this far in advance of the line. However, this pattern has 4 different versions and one of them is Halloween based.
Given the Halloween aspect of the pattern, I've decided to release it early so you can get a jump on your Halloween sewing.
About the Tic Tac Cat Quilt Pattern:
The Tic Tac Cat pattern is a mix and match quilt block pattern. The pattern comes with directions to create 4 different quilt blocks, and you can mix and match those 4 patterns to create the design that you want.
The 4 Included Quilt Block Patterns are:
Cat Heat Quilt Block
X Quilt Block
Witch Hat Quilt Block
Heart Quilt Block
The grid of the quilt has space for 9 quilt blocks. You can mix and match the blocks as you like.
The quilt measures approx 51″ x 51″ when finished. All of the blocks are traditionally pieced and I'd consider the pattern an advanced beginner or intermediate pattern.
Tic Tac Cat Quilt Pattern Ideas:
Make a Cat Quilt:
Using the pattern you can make a Cat quilt pattern like this one.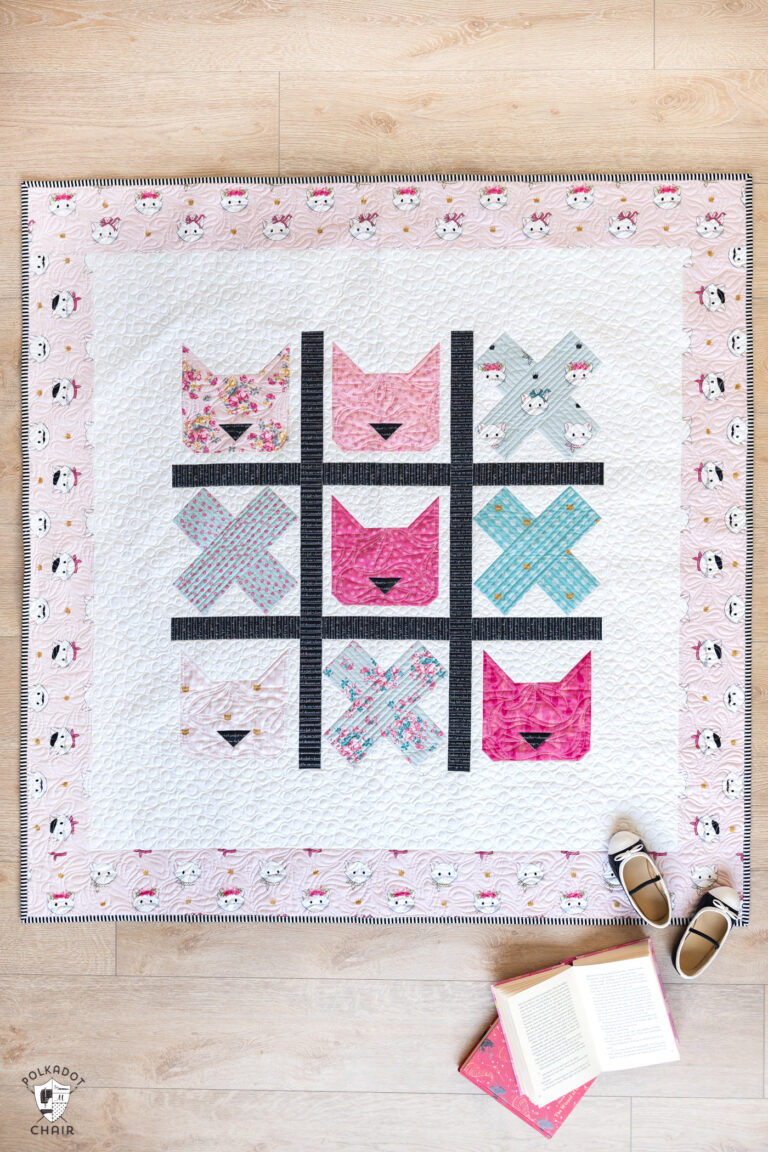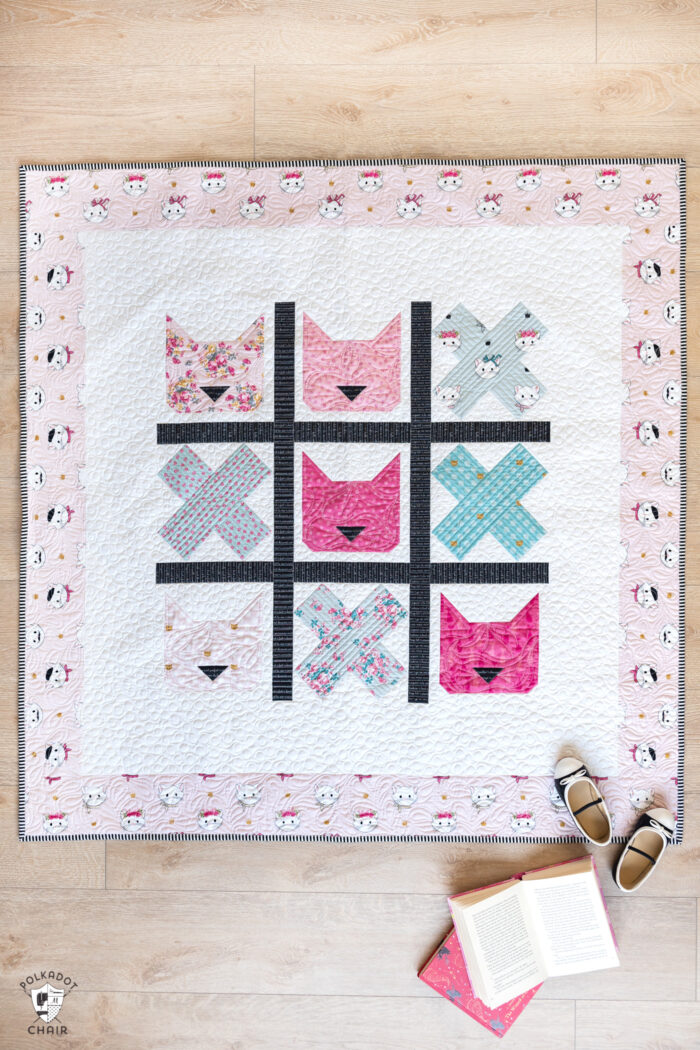 Create a Halloween Quilt: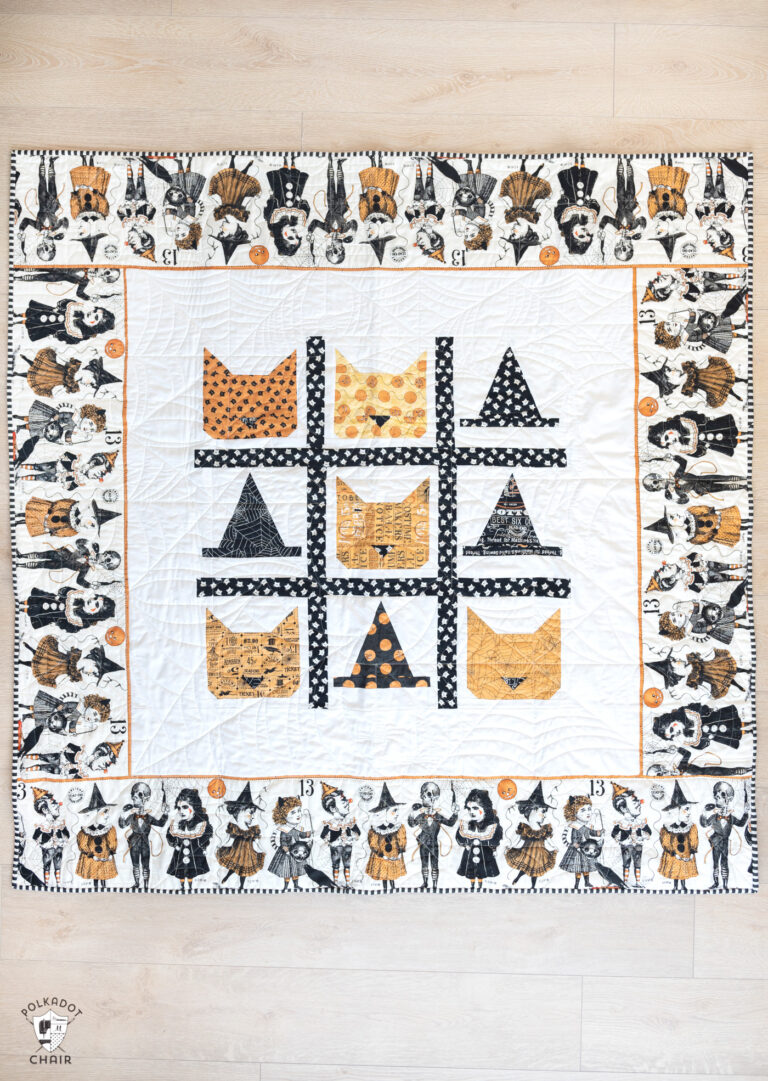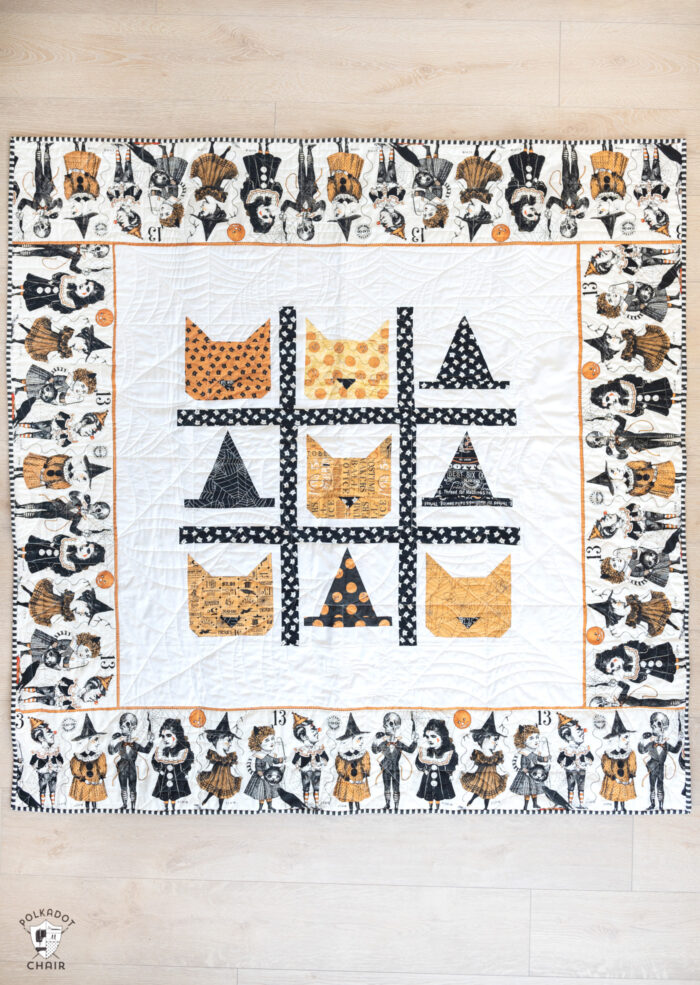 You can also use the cat blocks and the witch hat blocks to create a fun Halloween Quilt. The fabric on the Halloween quilt is from the Costume Maker's Ball line from Riley Blake Designs.
Just note: The border print that I used on my quilt was wider than the border called for int he pattern. I manually adjusted the width of my outer pattern pieces to accommodate the wider fabric.
Create a Valentine's Day Quilt: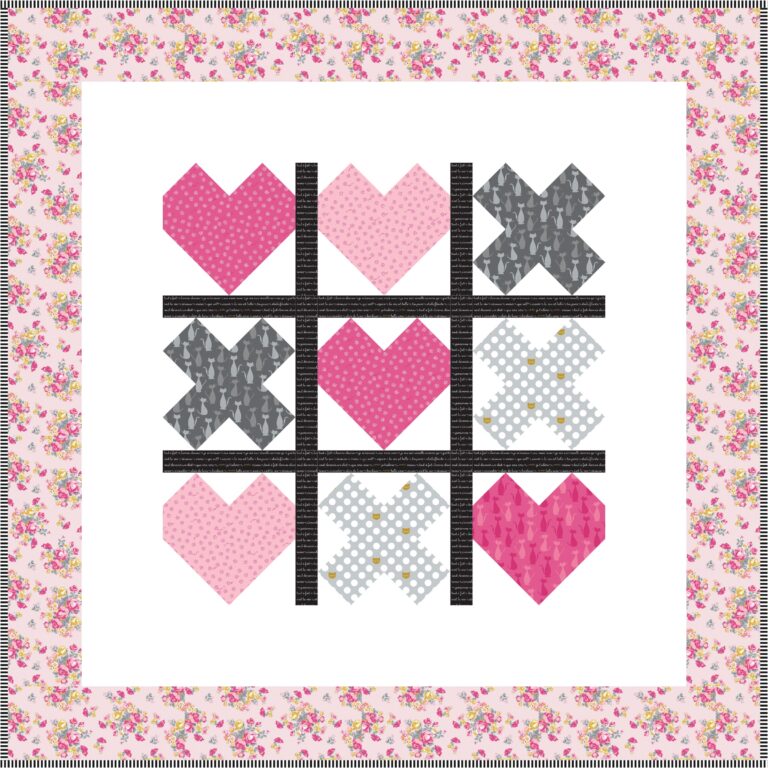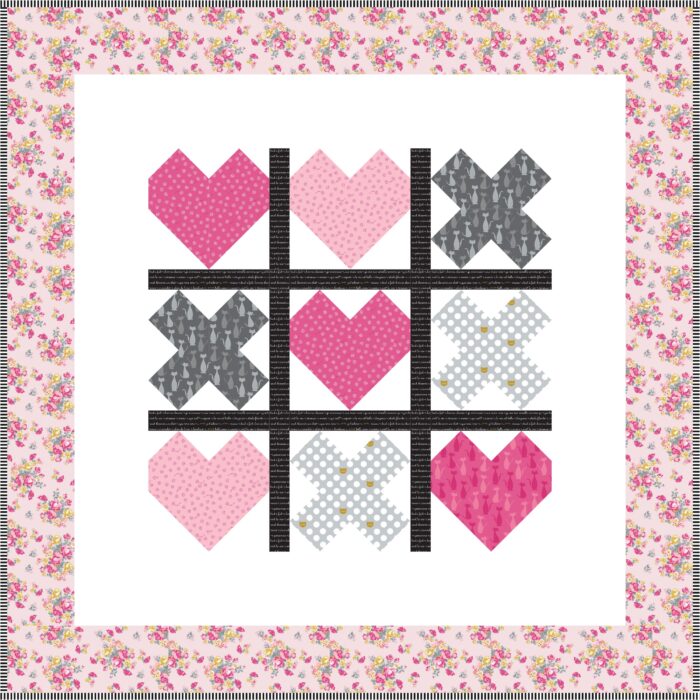 Swap out the cat blocks for heart blocks and you've got a sweet quilt for Valentine's day (or for a sweet new baby). The fabrics shown in this mockup are also from the Chloe and Friends Fabric Line.
Make a Tic Tac Toe Game Board Quilt:
You can even use plain pieces of fabric (instead of blocks). This will give you a "blank" canvas for a Tic Tac Toe game.
Grab some bean bags and you've got an endless tic tac toe game board! The fabrics shown on this mockup are from the Blossom fabric line.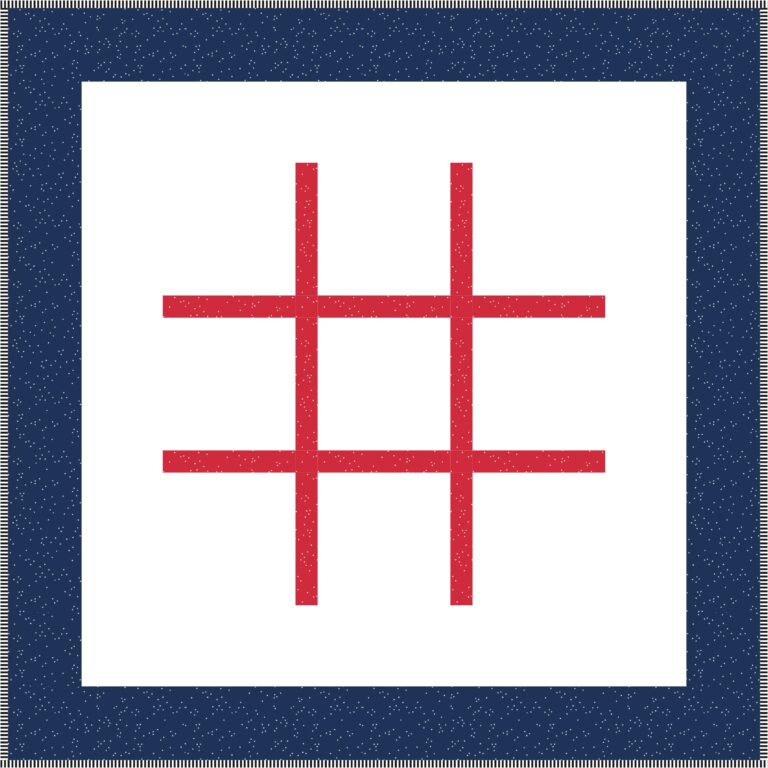 How to Get the Pattern:
The pattern is available now in the Shop. Just click here to take you to our pattern shop. It is available in PDF and Print Format:
If you are outside of the United States, please use THIS link to purchase in our Etsy shop.
I can't wait to see what combinations you guys come up with for this quilt! If you make the quilt please be sure to share it on Instagram- you can find me on Instagram @polkadotchair – use the hashtag #TicTacCatQuilt. I love to regram the projects you make using my patterns so be sure to tag me!
A few Free Quilt Patterns that you might enjoy!
Just for Fun Quilt Block of the Month Pattern