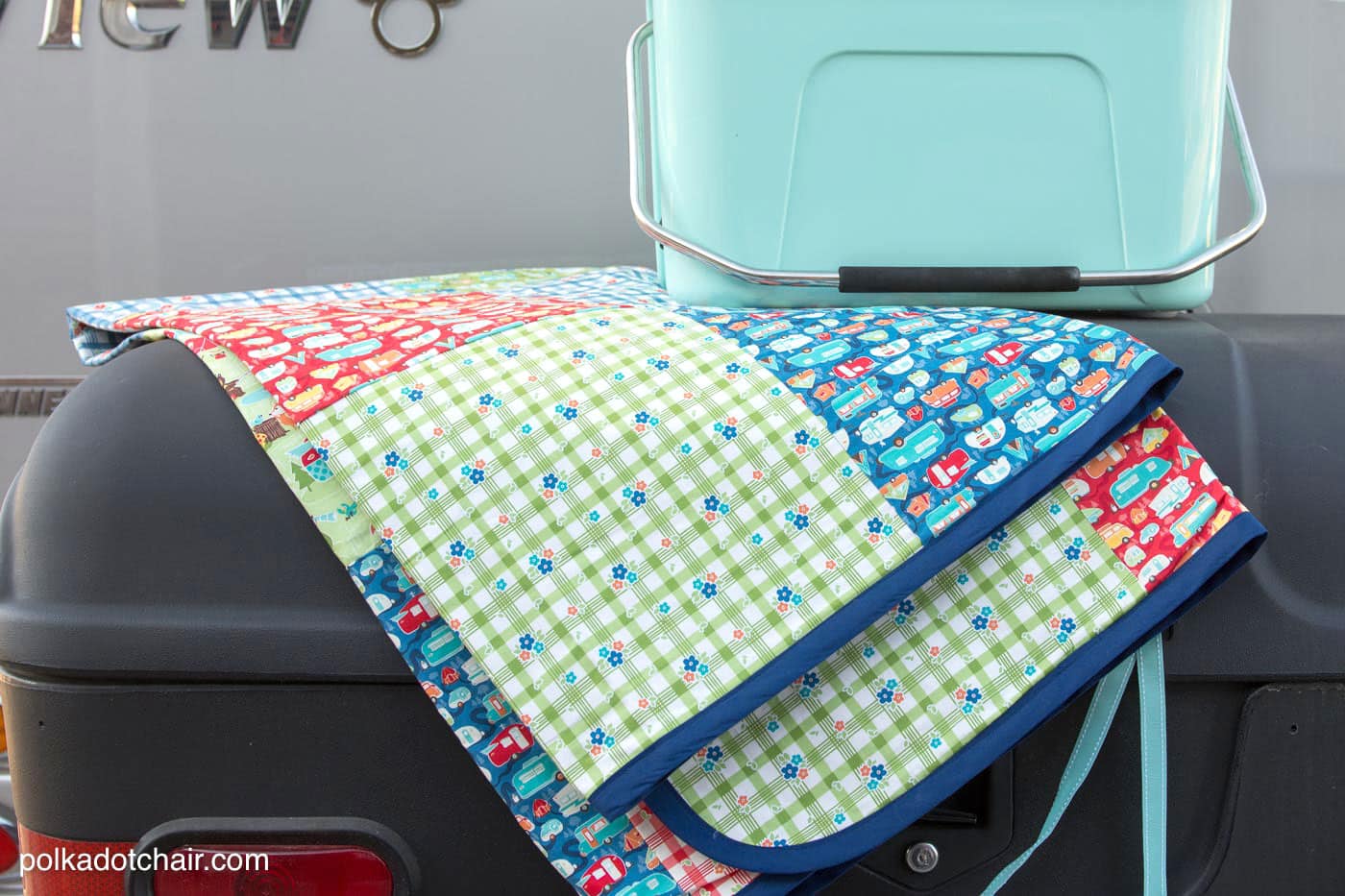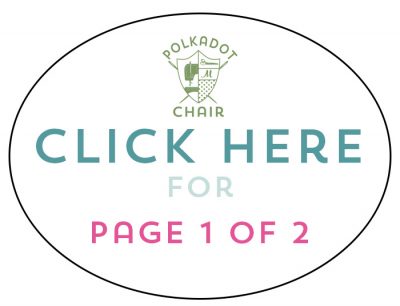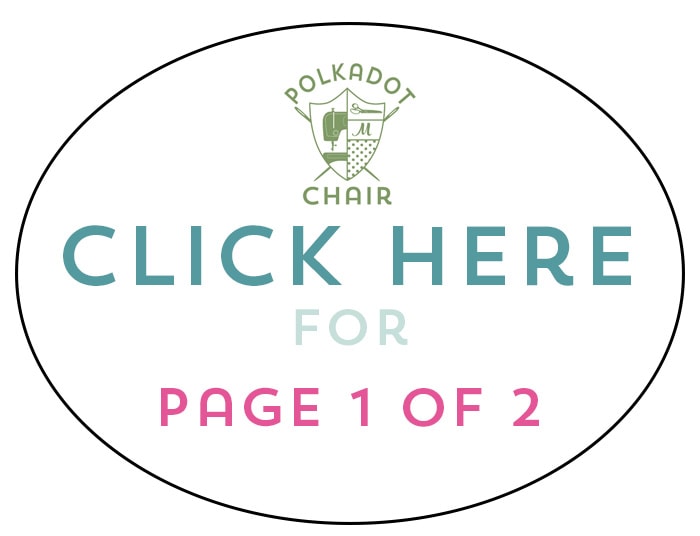 To make the blanket you will need:
1/2 Yard each of 7 different fabrics ( total yardage 3 1/2 yards)
1 55×70 or larger vinyl tablecloth: edited to add… mine was purchased on AMAZON, click here to buy it (you could also use laminate cotton, you'll just need to stitch it together so that it is 55″ wide)
3 packages of double fold packaged quilt binding
2 yards 1/2 wide ribbon
Basting Spray
Safety Pins
Begin by cutting 21 pieces each 14″ x 14″ out of the 7 different fabrics. You need a total of 20 squares each 14″ x 14″. You will have 1 square left over (also if you want to use fewer fabric prints, it doesn't matter, as long as you end up with 20 squares overall).
Stitch the squares together into 5 rows of 4 squares each. Use a 1/4″ seam allowance.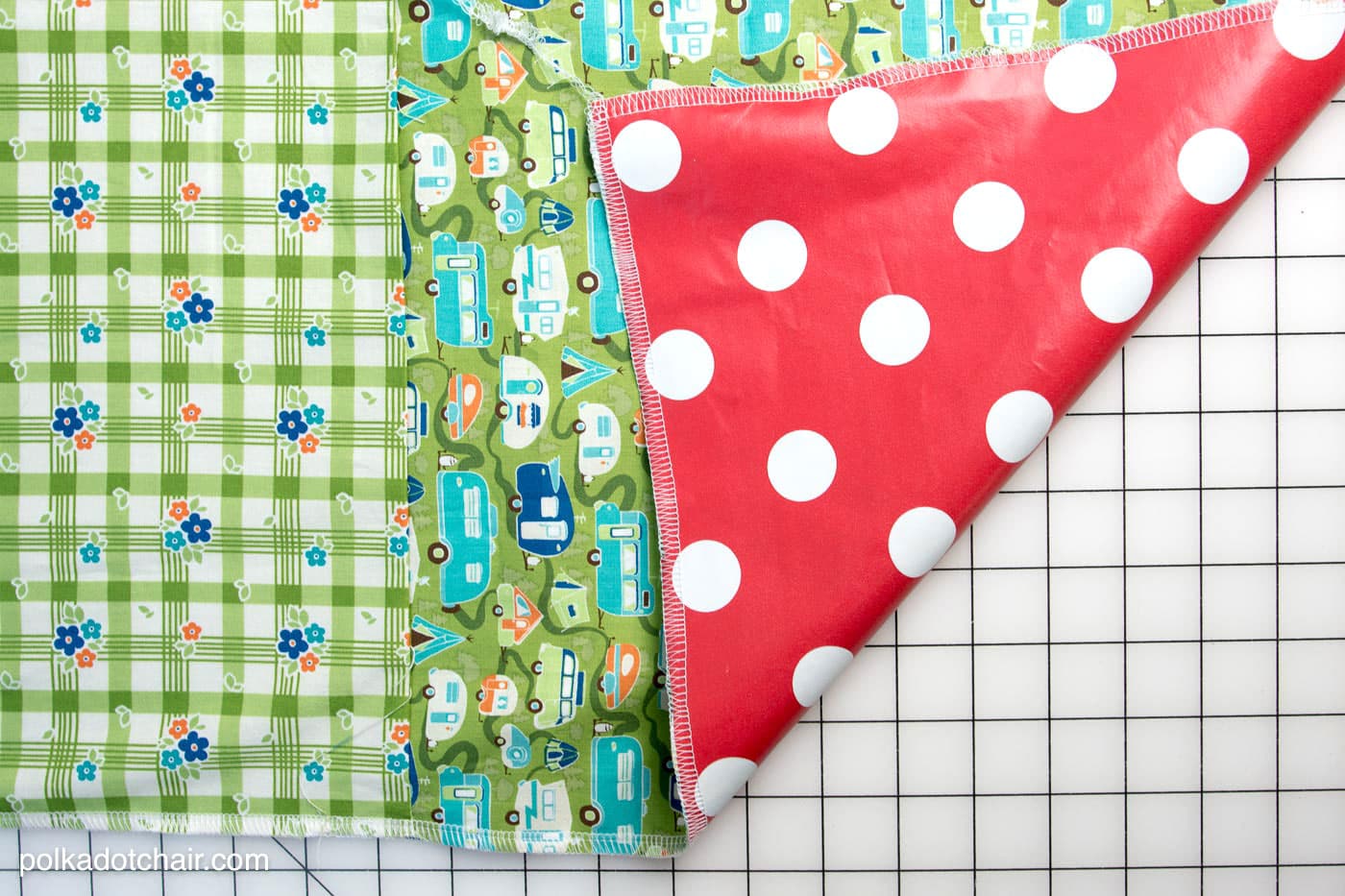 Lay the vinyl tablecloth out on a large table or the floor, wrong side up. Spray it with basting spray.  Lay the completed picnic blanket top on top of the table-cloth, wrong sides facing. Secure in place around the edges with safety pins.
The vinyl table-cloth will be larger than your sewn picnic blanket top. Trim it so that all the edges are even.
You next need to stitch the top to the table-cloth. To do this I used my serger. If you don't have a serger just stitch them together with a straight stitch about 1/2″ in from the outside edge.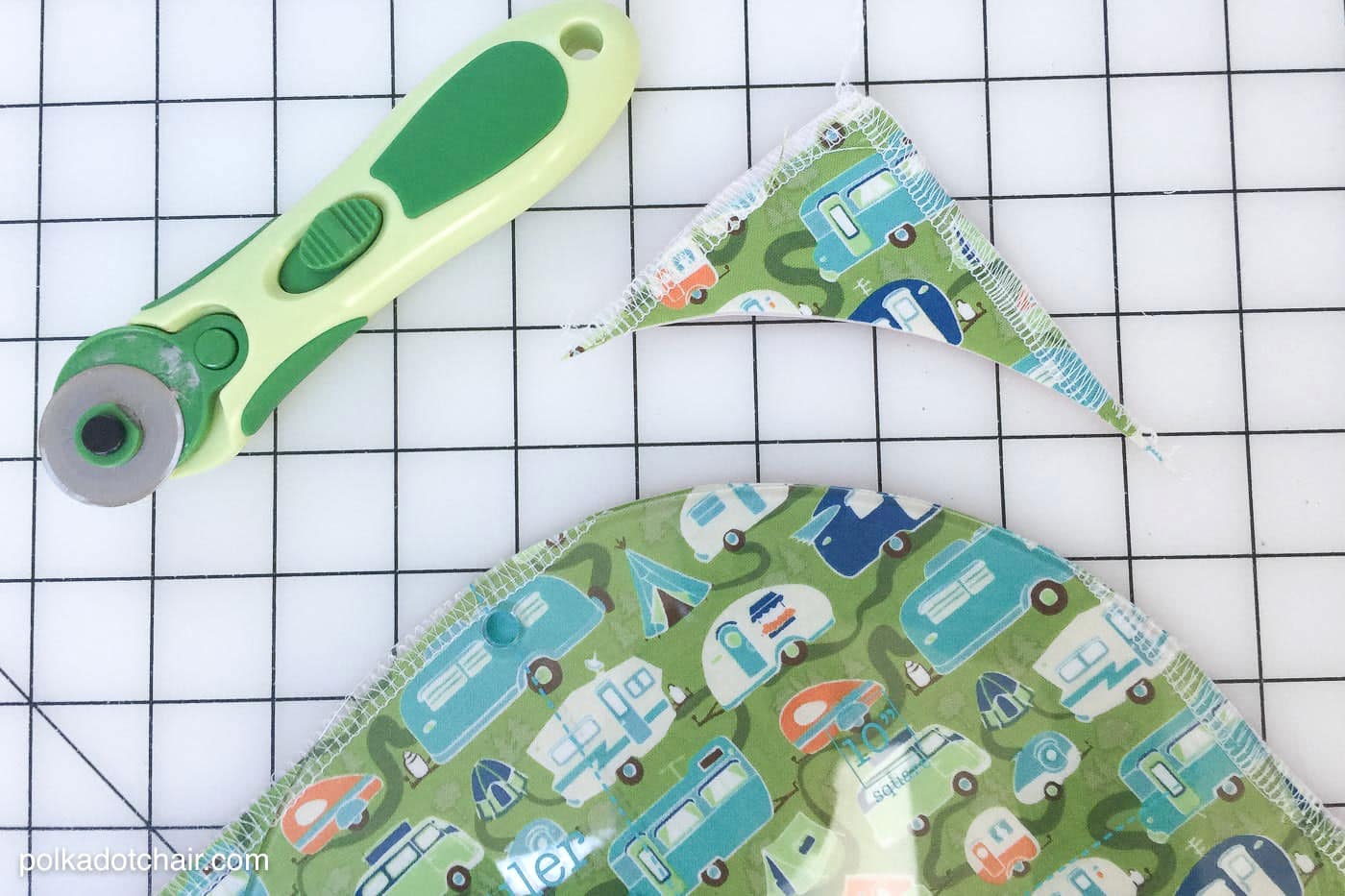 I decided that I wanted my edges to be rounded, so I used a circle quilt template and curved the corners. This step is optional.
Cut two pieces of ribbon each 60″ long. Fold in half and pin to one of the short ends of the blanket. Each one will be 7″ out from the center of the blanket.  The fold of the ribbon will be flush with the raw edge of the blanket.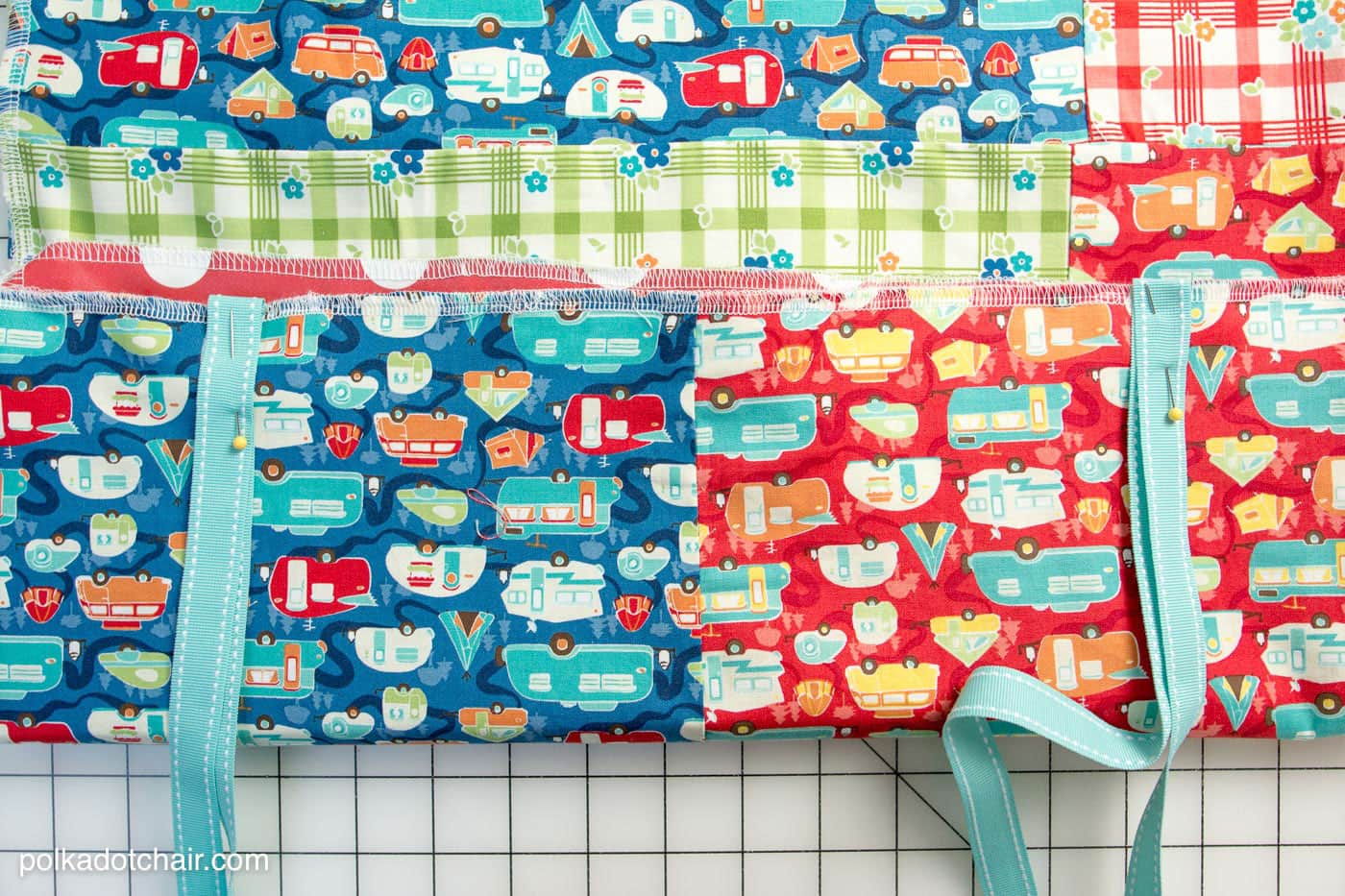 Stitch the 3 packages of double fold quilt binding together.
Open up the quilt binding and line up the raw edge of the binding with the raw edge of the blanket. Stitch the binding in place close to the 1st fold in the fabric. (if you need help with this step, CLICK HERE).
When you get back to where you started, match the binding ends and stitch closed.
Refold the quilt binding and stitch in place on the right side of the blanket, just in from the fold in the binding.
To roll up the blanket, fold the blanket into thirds lengthwise. Then roll up towards the end with the ties. Wrap the ties around the blanket and tie to secure.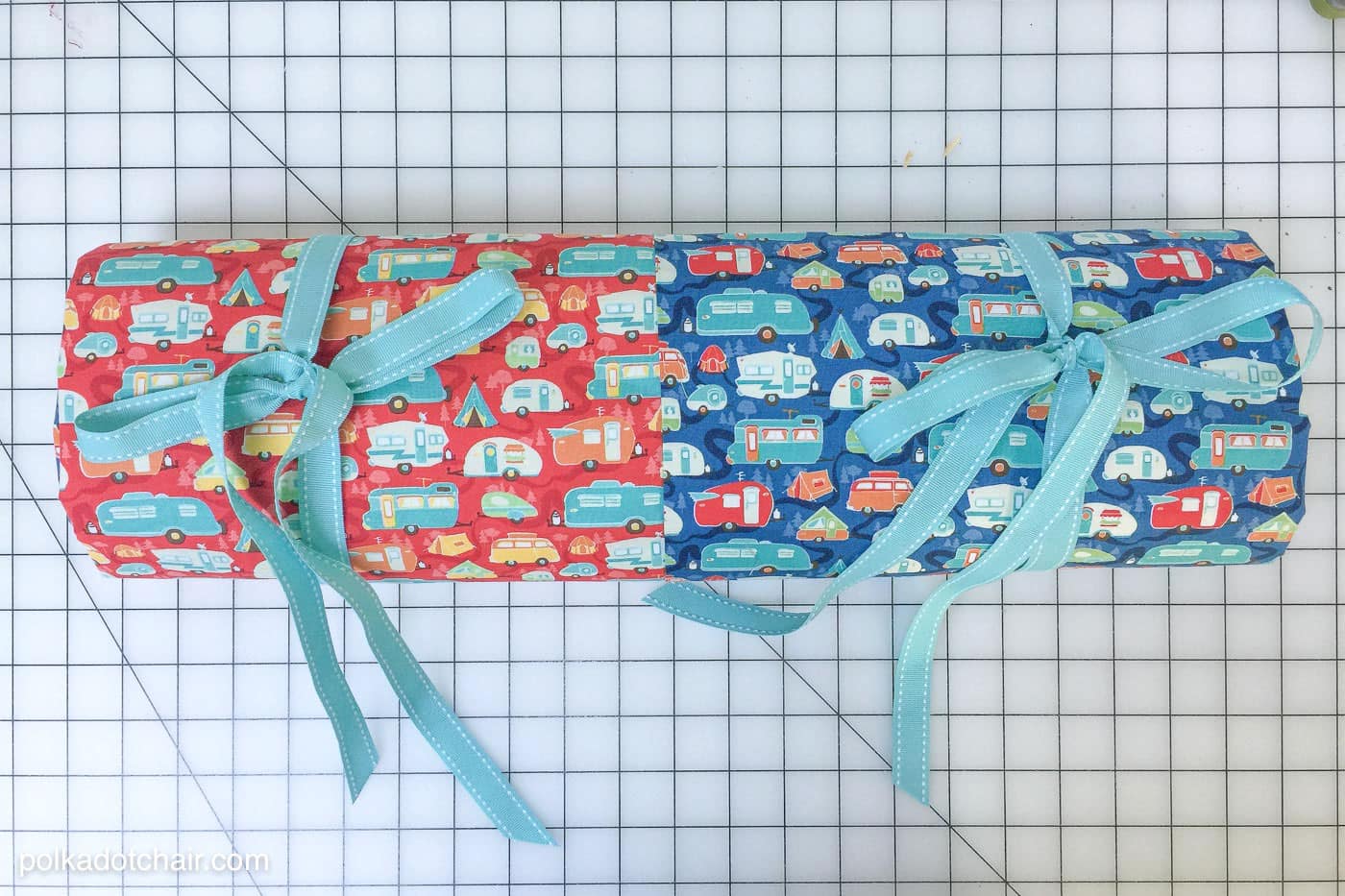 One last thing. When this is washed I do not recommend drying it on high heat. It may damage the vinyl table-cloth. Best to line dry or tumble dry on air only.
That's it you're done!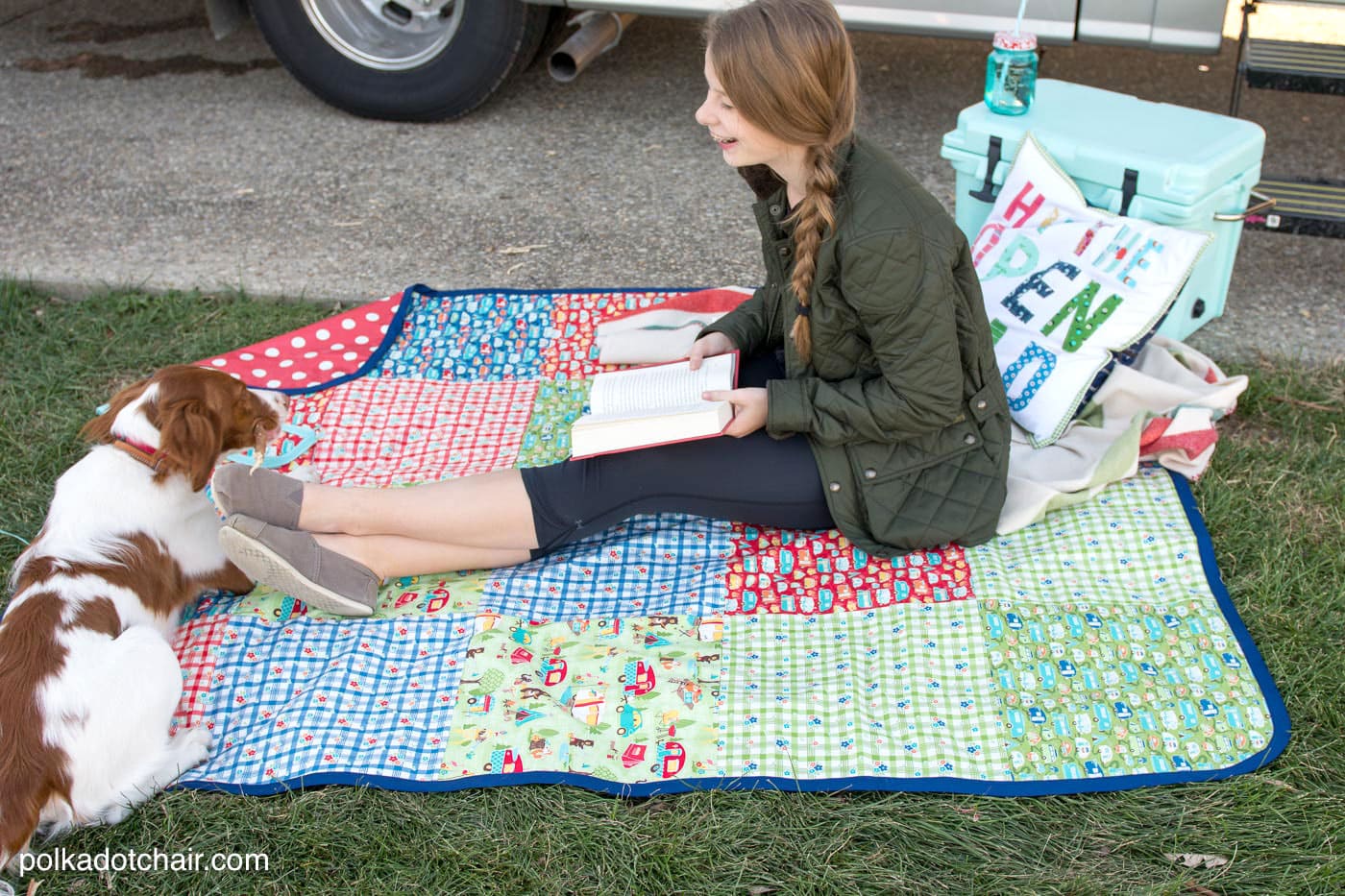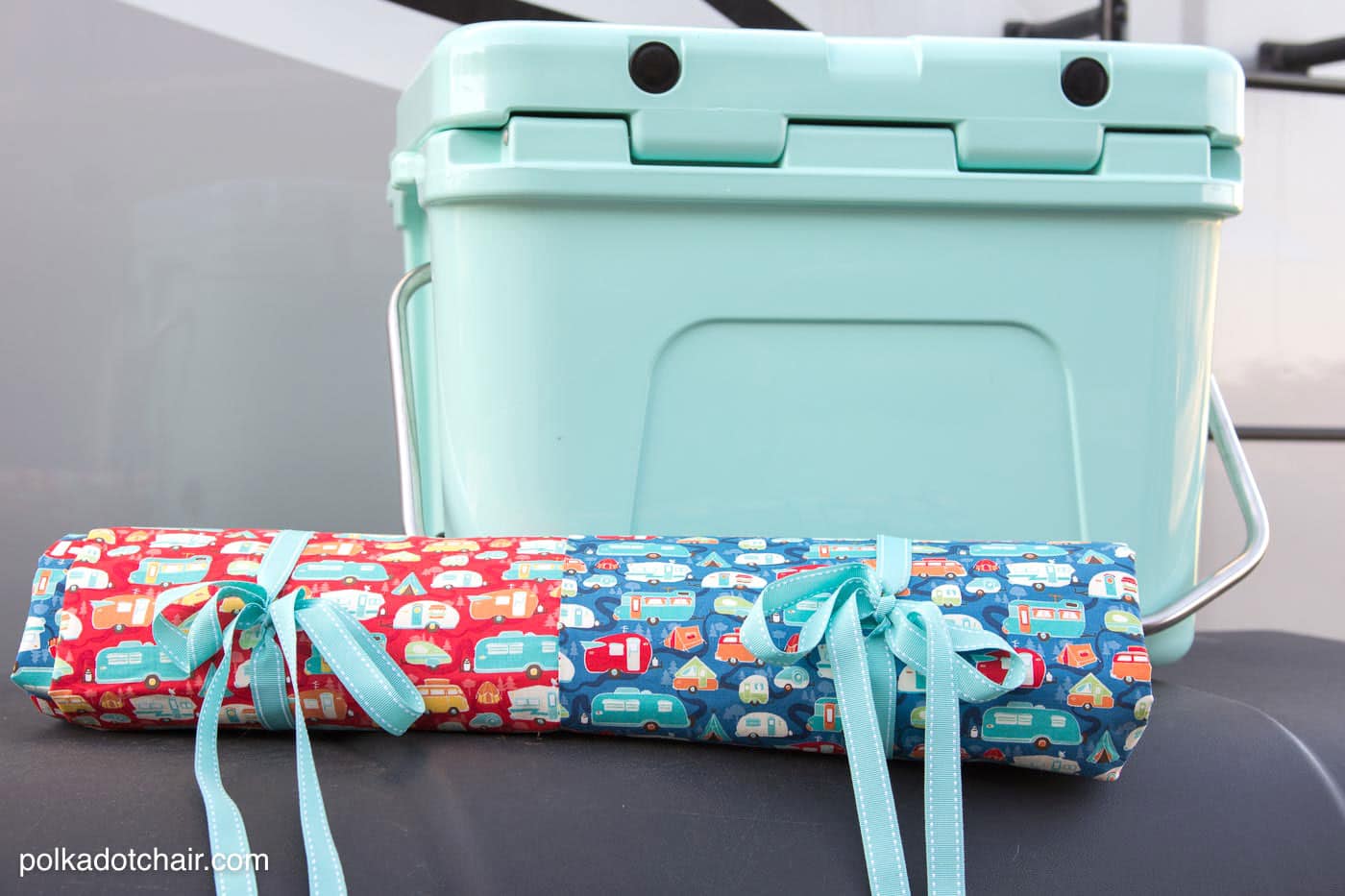 Print Friendly
71