Do you guys love to decorate for Halloween as much as I do? I'm always looking for ideas for fun ways to decorate my porch for Halloween. I've searched the web and have found more than 15 cute Outdoor Halloween Decorations perfect for your porch. Enjoy!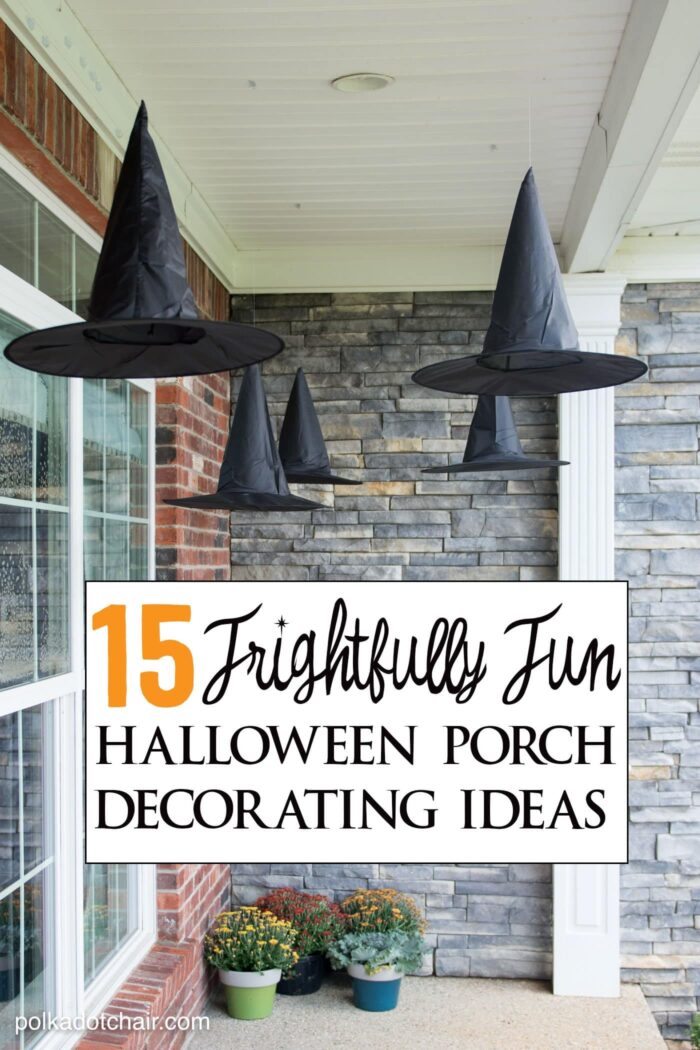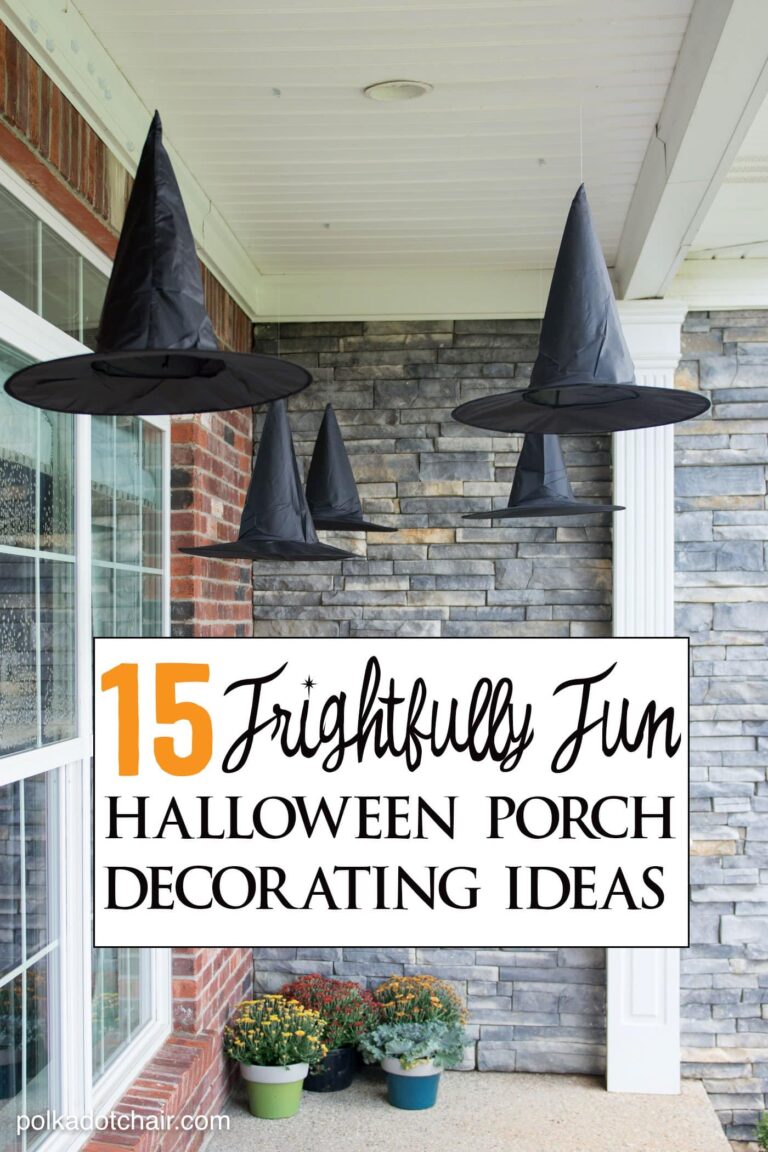 Table of Contents
How to Decorate a Porch for Halloween
Don't you always notice that ONE house in the neighborhood just goes all out and has the MOST fantastic decor on their porch and in their front yard?  You see it and you're all like "where did they find all of those awesome ideas???"  Most of the time it's something really cool and outside of the box, but not necessarily a lot of work.
I spent most of the last month scouring my Pinterest boards and Google searches to find 15 ideas that I think that you will love! I even created a few projects specifically for the post to give you lots of ideas for how to decorate your front porch for Halloween!
Outdoor Halloween Decorations that you can Make!
It's SO easy to make your own Halloween Decoration for your porch. From pumpkin topiaries to floating witch hats, there are so many clever ideas to choose from.
1- How to Make a Light-up Pumpkin Topiary. I did something similar to this several years ago. I had quite a few light-up, plug-in pumpkins. I was tired of plugging all of them in so I used gorilla glue to stack them into topiaries.
2- Floating Witch Hat Luminaries. One of my absolute favorite Halloween decorations. These witch hats are inexpensive and look sooo cool when lit up on Halloween night.
3- Jack Skellington DIY Door Decor. You can create this giant Jack on your front door with the free printable on their blog.
Fall Porch Decorating Ideas
Halloween not quite your thing? Or are you wondering what to do with your porch in that time between Halloween & Christmas? Try one of these fun Autumn Porch Decorating Ideas.
4-Spooky not your thing? Try these elegant Fall Porch Decorating Ideas
5- You can't go wrong with pumpkins! Love this Fall Porch Idea from Midwest Living
6- For something more elegant, try these Silhouette Pumpkins from Country Living
7- Yarn Wreath. This wreath is created by wrapping yarn around a simple styrofoam circle. Choose whatever colors match or porch decor the best.
Halloween Porch Decorating Ideas
Looking for some super clever ways to decorate your house for Halloween? Why not turn your front door into a giant monster? Or add some ghosts to welcome visitors?
8- These "31" pillows are an adorable addition to your Halloween Porch Decor.  You will need a Cricut or other "e cutting machine to create them.
9- Turn simple boards into Mummies with this cute DIY. Every year I say I'm going to make these cute mummies. I want to make two of them one for each side of my front door this season.
10- How to make Outdoor Hanging Ghosts. Use fabric, glue & paper lanterns to create these ghoulish floating spirits.
11- A fun Halloween way to display your house numbers!  Add a set of house numbers to a stack of faux pumpkins.
12- Turn your front door into a Monster with this fun tutorial. You'll have the "funnest" Halloween house on the street with your door decorated like this.
Halloween Wreaths to Make
Dress up your front door with a fun Halloween Wreath. Each year I love to create a new wreath for my front door. I'm always on the hunt for new ideas. Here are a few DIY Halloween wreaths that I love.
13- Make a cute Witch Hat Wreath for your Front Door. Use a simple store-bought feather wreath and a paper mache hat to create this not-so-spooky wreath.
14- This Googley Eye Halloween Wreath is an adorable way to decorate your door.  It's created using GeoMesh, ribbon, and ball ornaments.
15- Make your front door extra fancy with this Halloween Ruffle Wreath tutorial. Another Geomesh wreath. You'll need a mesh in several colors and a work wreath to create this fun Halloween decoration.