Today I'm going to show you how to make a Vintage Hankie Quilt, and tell you the story of who I gave one to. Last summer my sister had a baby, this little angel who I have yet to meet.  At her baby shower last summer I had wanted to give her something handmade but ran out of time before we left to visit her to make anything.
I wanted to make something unique for her, but was stumped for a while. I remembered that I saw this project in the Martha Stewart Sewing Book a year ago and knew I wanted to make one.
Last month I posted about this pile of vintage hankies that I picked up at the Country Living fair, and boy did I get alot of emails about them! I guess I really peaked your curiosity about what I did with them.
So to end the suspense, here's the project, a vintage hankies baby quilt. It's incredibly soft, totally one of a kind and perfect for little ones to snuggle up in! Especially since I backed it in super soft chenille (which I should have washed before I quilted it, live and learn).
I'm very happy with how it turned out. It's 12 9″x9″ blocks. I'll share with you a little about how I made it.
Here you can see some of the vintage hankies up close. I fell in love with so many of them. Such cute colors and prints.
When I bought them (they were $1.50 a piece) I went though a big "pile" of hankies, I looked for ones that were red or turquoise, to hopefully tie the colors of the quilt together.
I love this one! (the center turquoise one) Such a pretty floral, someone please make a fabric like that! Then send me a sample for giving you the idea HA!
Okay to make the quilt…
You need to get all of your hankies the same size. To do this you either need to trim them down OR sew them on top of  another fabric.
Most of my hankies were about 9″ -10″ square. I knew that I needed to trim off the hem on the edge (it would get too bulky), but I could not figure out what to do with the 3  6″ hankies that I had.  Then I realized that I had some Anna Maria Voile in my stash. It was perfect, it is close to the same weight as the hankies so it would not give the quilt an uneven feel.
So I cut the voile to 9″ square then sewed the smaller hankie to the top to make the block. The smaller hankie I left the hem ON. I didn't want it to fray, I just sewed right on top of the existing stitching line.
To finish it, I just sewed 3 across by 4 rows. Each with a 1/4″ seam and pressed the seams to one side.
It had Quilters Dream cotton as the batting and a white chenille for the backing (which was NOT hard to quilt on at all)
I just did a simple "stitch in the ditch" to quilt it together. I didn't want any stitching lines to detract from the hankies.
It's bound with white jelly roll strips.
Before I gave it to her I washed it (I like to wash most of the baby gifts, I think it makes them softer), and the chenille frayed off an stuck to the front of the quilt. After a washing or two this will stop, but in hindsight I would have pre-washed the chenille first.
That's it! Isn't she a beauty??? I can't wait til I get to meet her.
If you like this project, you may also like the projects in my book!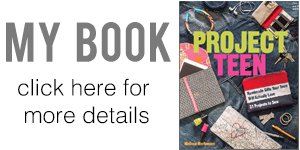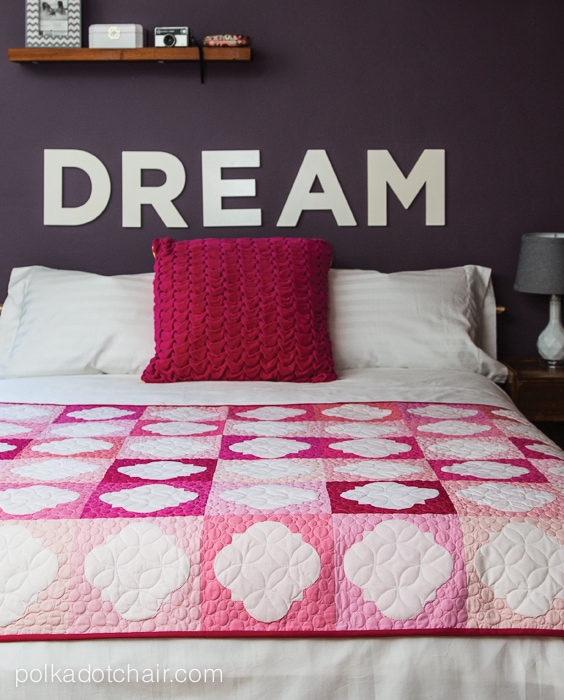 Connect with me:


63