Use your Cricut machine to create fun t-shirts, mugs, and tote bags using this set of Cat Themed SVG files!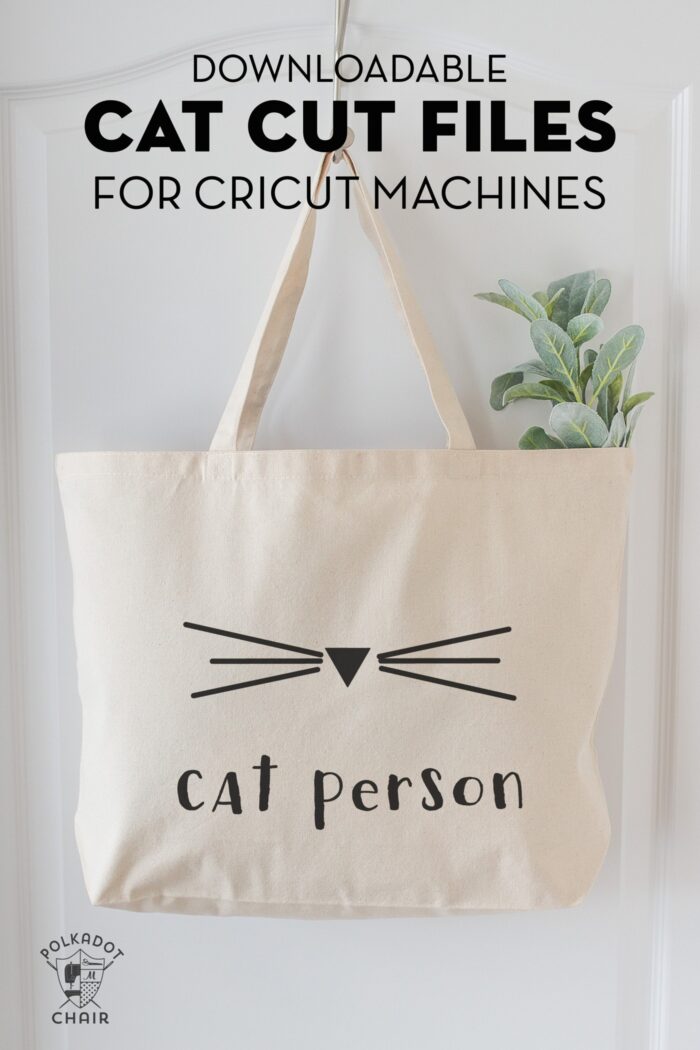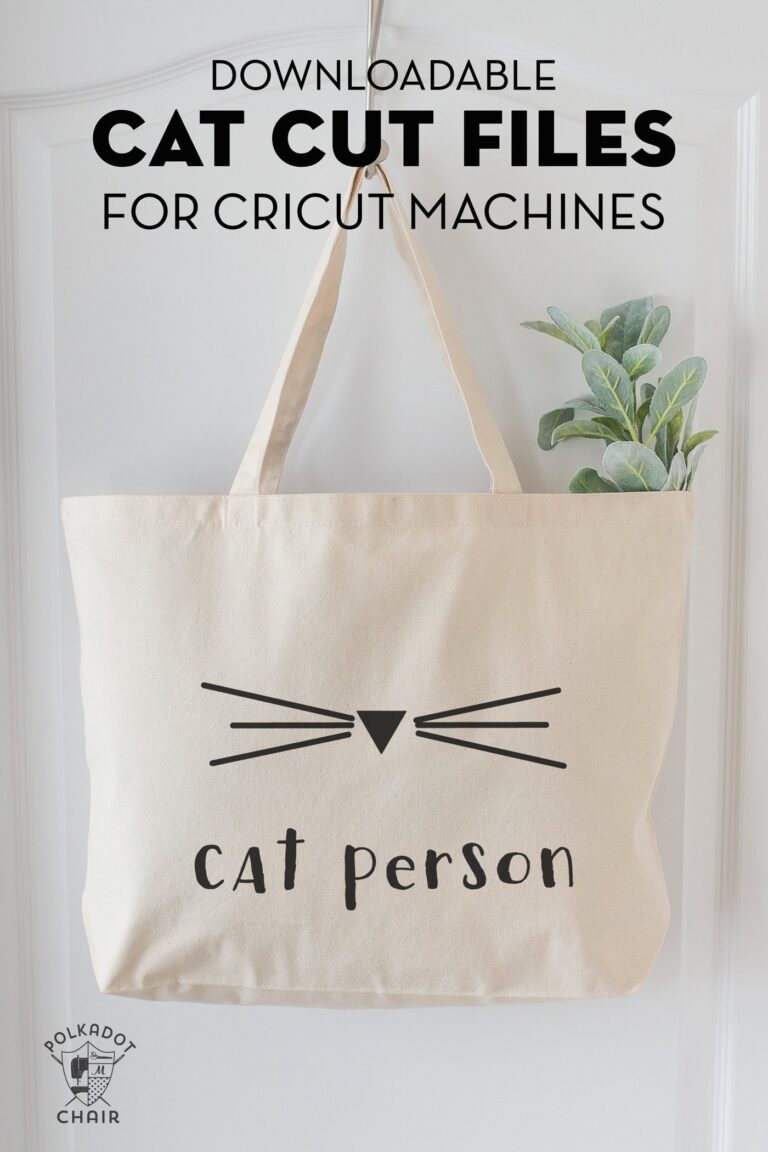 I'm excited to be adding another set of free Cricut SVG files to our Cricut Library! For this month's files, I thought it would be fun to design a line of Cat themed SVG files to coordinate with my new fabric line Chloe & Friends.
Table of Contents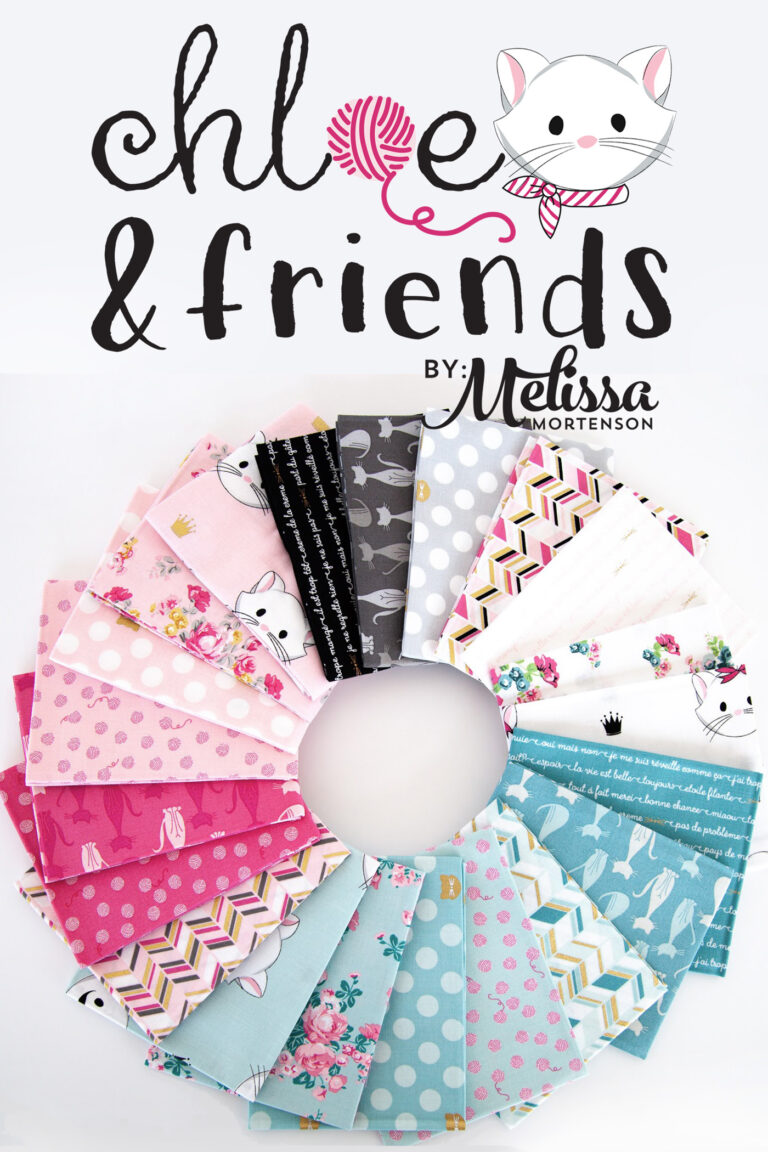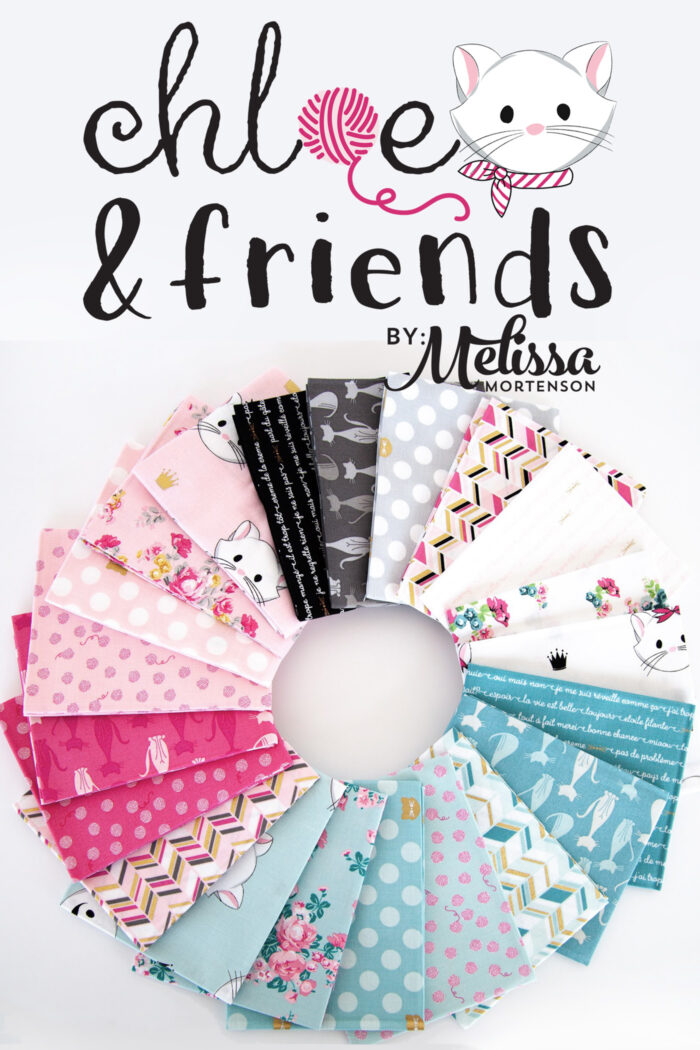 Chloe & Friends is my newest fabric line that I designed for Riley Blake Designs. The cat, my daughter, had when she was 3 named was named Chloe. She named the cat after Madeline's (the literary characters) friend, so I gave the line a bit of a "French flair."
Cat Themed SVG Files & Project Ideas
There are four Cat SVG files in the library. Please keep reading to find out how to get them. First, let's chat a bit about the files.
Recommended Cricut Supplies:
SVG Files in the Bundle
You can get the "Cat Person" file for free by filling out the form on this page. The others are available in our Pet's SVG Bundle.
1."Cat Person" SVG File
The first file is shown above on a canvas tote bag. Just a simple sentiment "cat person". Along with the whiskers from the cats in the fabric line. It's shown on a tote bag above but would also be super cute on a t-shirt.
2. "You had me at Meow" Cricut SVG File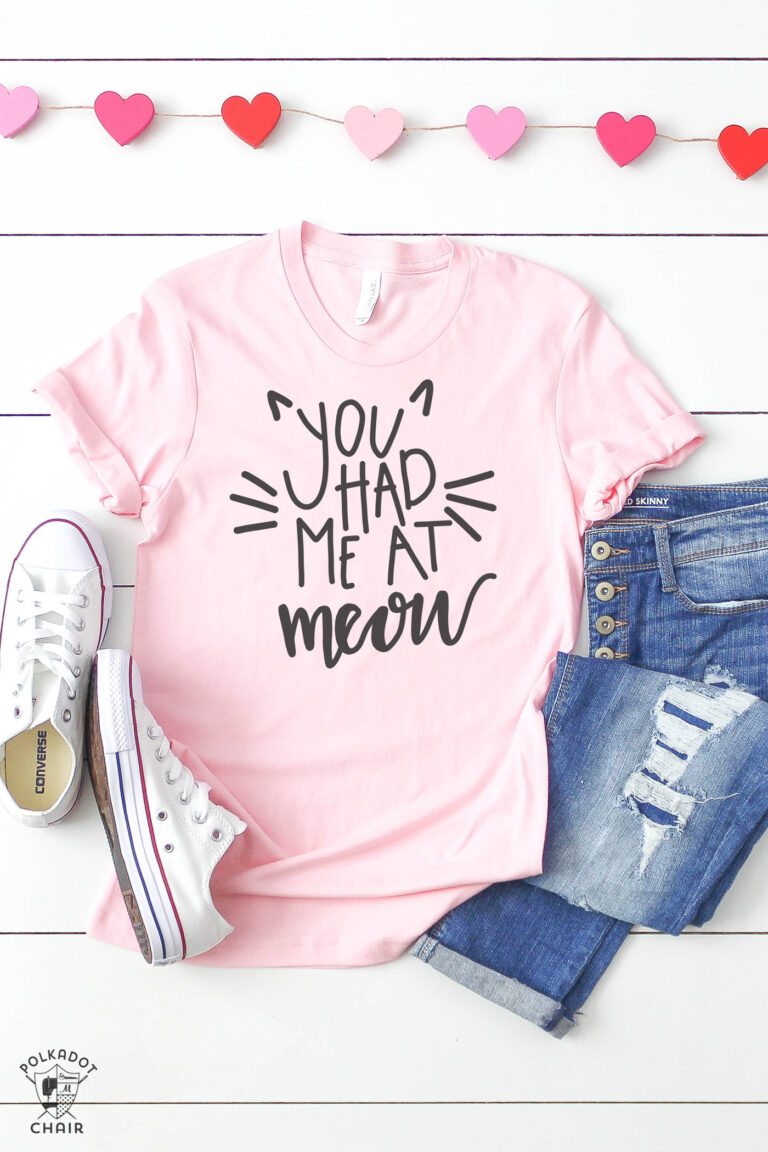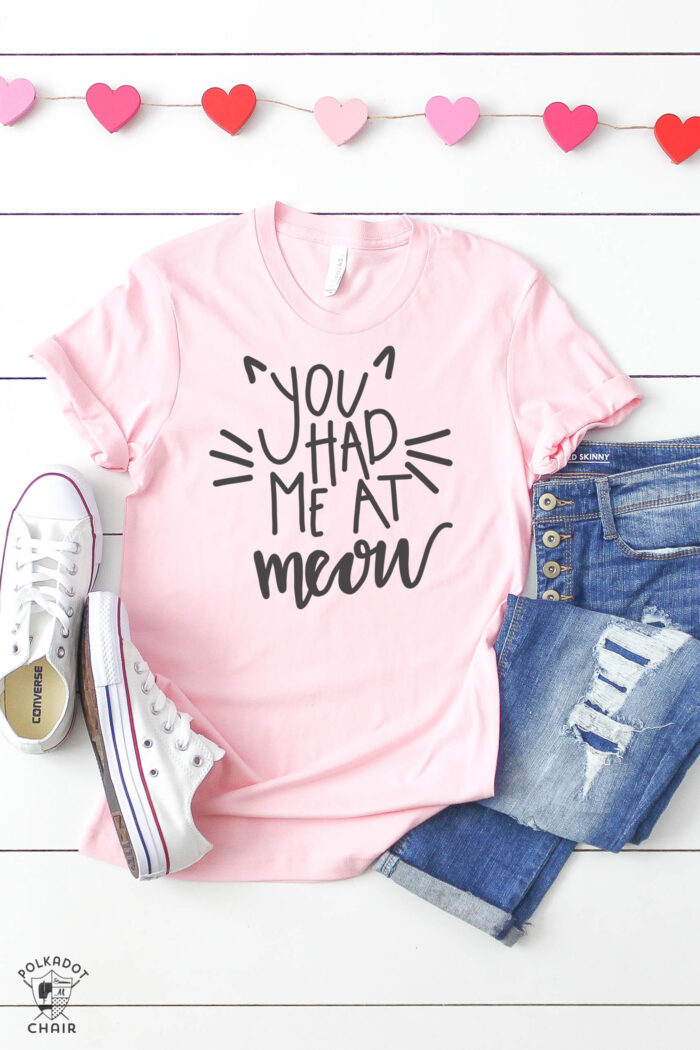 This design was hand-lettered by my newest "assistant" (aka my college-age daughter who has a talent for this kind of thing, she also designed a lot of our Disney themed SVG files).
3. Meow Cat SVG File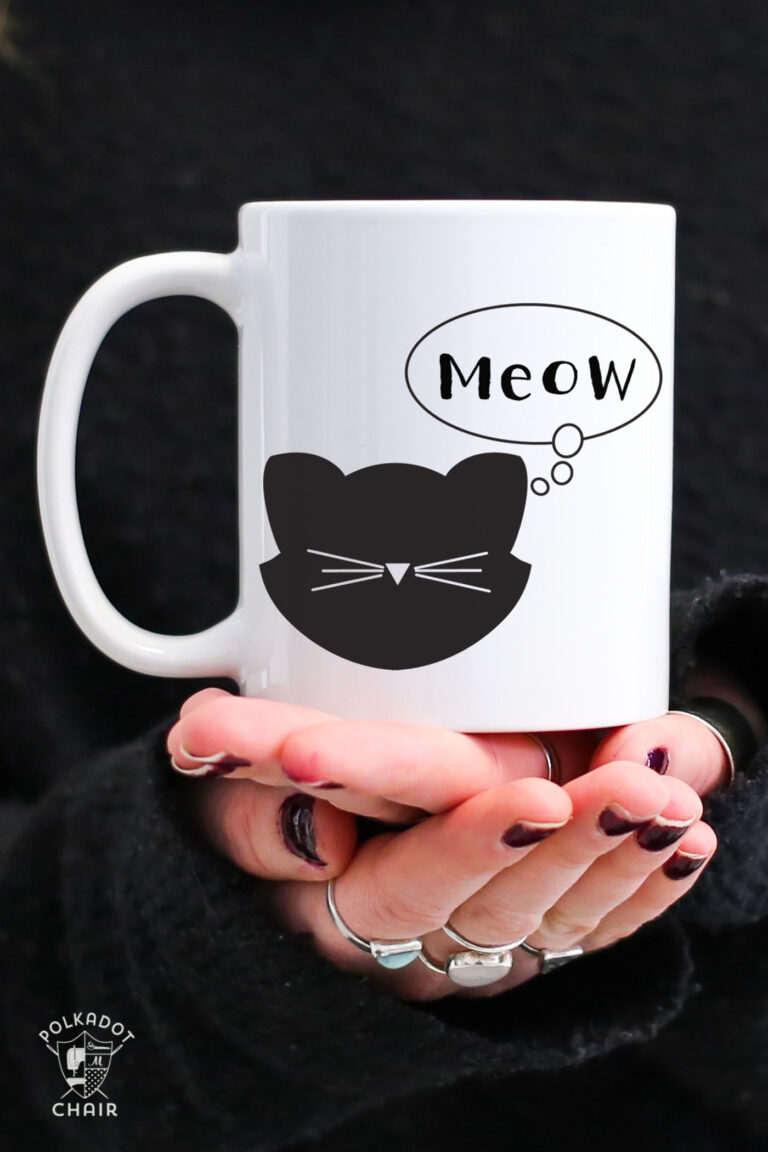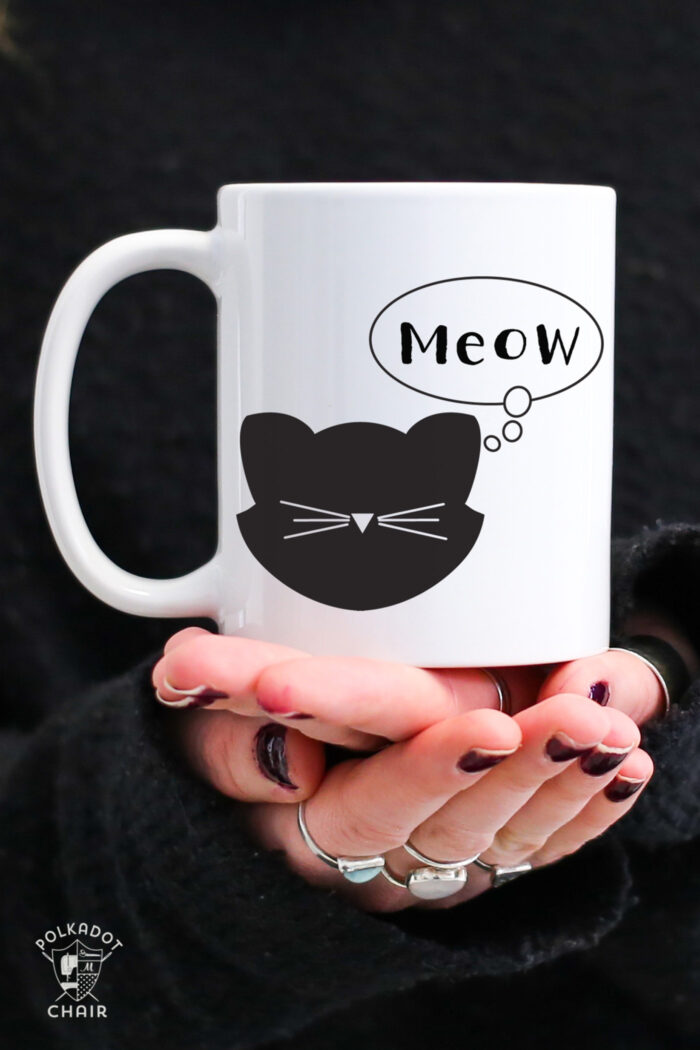 This simple design features the cat from our "cat a dot" polka dot fabric in the line. This design is shown here on a mug but would also be cute for a kid's t-shirt or even added to a pair of tennis shoes. If you choose to make a mug with your Cricut I think it is best to use the Cricut permanent vinyl. It's better formulated to hold up for items with frequent use, like a mug.
4. "I like Cats & Maybe 3 People" Shirt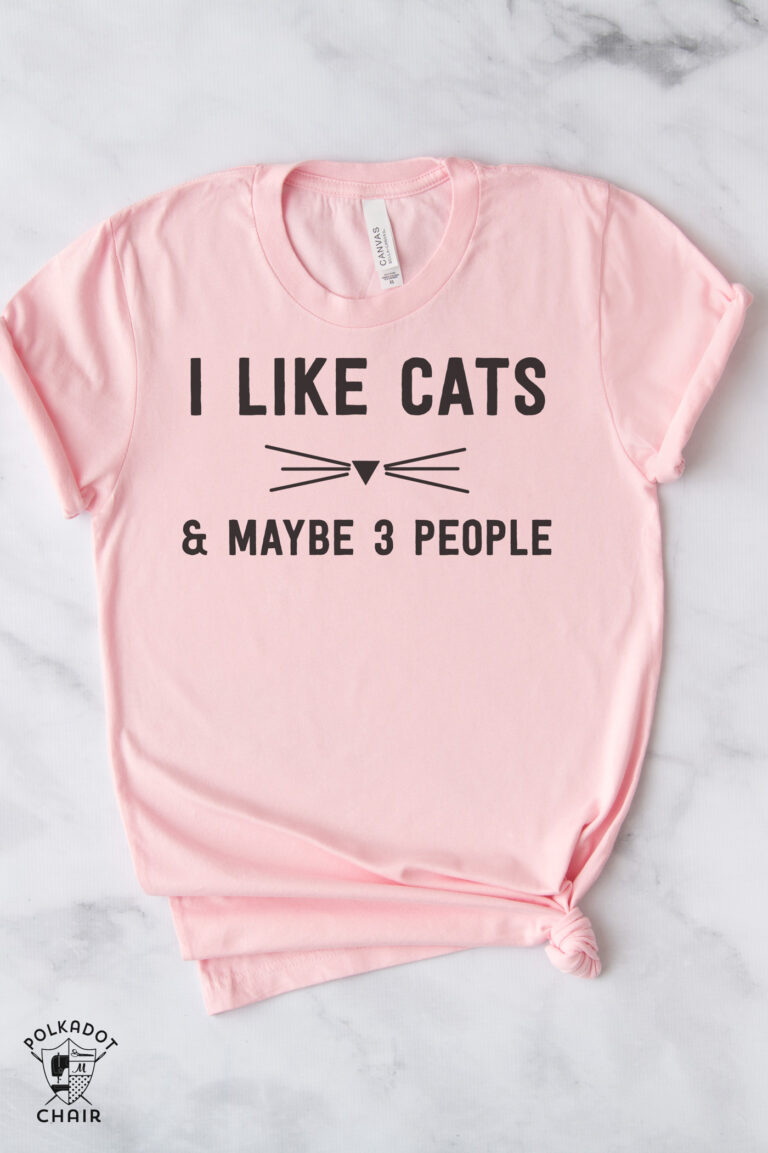 I added this design at the last minute to add a bit of humor to the collection of SVG files. If you prefer to create the shirt without the nose and whiskers you can just "hide" that layer in Cricut Design space before you cut out your iron-on vinyl.
Since I know you're thinking it, we do have plans for a set of Dog Themed SVG files as well! Watch for those in the coming months.
How to Get the Cat SVG Files
You can get the "Cat Person" SVG in our Cricut Library
You can get the rest of the files in our Pet's SVG Bundle.
How to Make a T-Shirt Using Cricut Iron-on Vinyl
I've written an entire blog post with instructions to create a t-shirt using your Cricut machine. To briefly sum up. Upload the file to Cricut Design Space. Select "attach" to ensure that all of the layers are cut simultaneously in the same spot as the design. Resize the image if necessary. Select "send to the machine." Select "mirror image for iron-on." Then on the next screen, select the type of iron-on you are using. Load the iron-on onto the mat (shiny side down). Load the mat into the machine and then select cut. Cut out the design and remove the excess vinyl (referred to as weeding). Place the cutout iron-on onto the shirt (or another item). Adhere using a Cricut EasyPress. You'll need to check the specific settings for your EasyPress, depending on what type of material you are using.
More Fun Cricut Projects & Ideas:
How to Add Iron On to a Backpack
How to Cut Leather with a Cricut Maker
Personalized Wood Sign Made using a Cricut Maker