I love finding new ways to sew with things I already have. Vintage Sheets and Handkerchiefs are two of my favorite items to repurpose. I'm lucky enough to live in an area where you can find them pretty easily! If you love to sew with Vintage Linens too; I thought I'd share with you some of my very favorite Vintage Sheet Sewing Projects from around the web!
I've looked high and low for project ideas for you. A few years ago a friend made me some PJ bottoms from a Vintage Sheet. They were oh so comfy and cute. I started thinking about those PJ's a few days ago and hunting Pinterest for tutorials; which led me to the idea to create a collection of cute Vintage Linen Sewing Projects to share with you!!
Table of Contents
Just click the photo or the text to take you to the original tutorial!
If you've not sewn with Vintage Sheets before make sure you take a minute and read this post which is full of tips and tricks for sewing with vintage linens.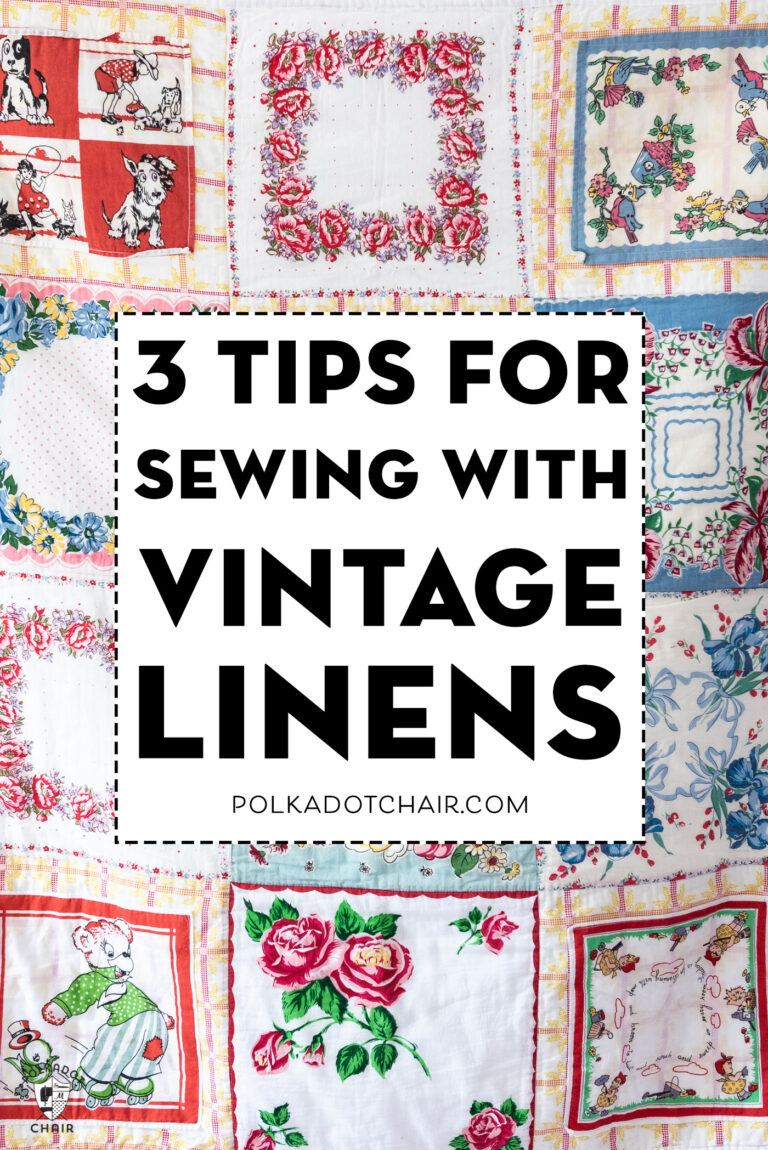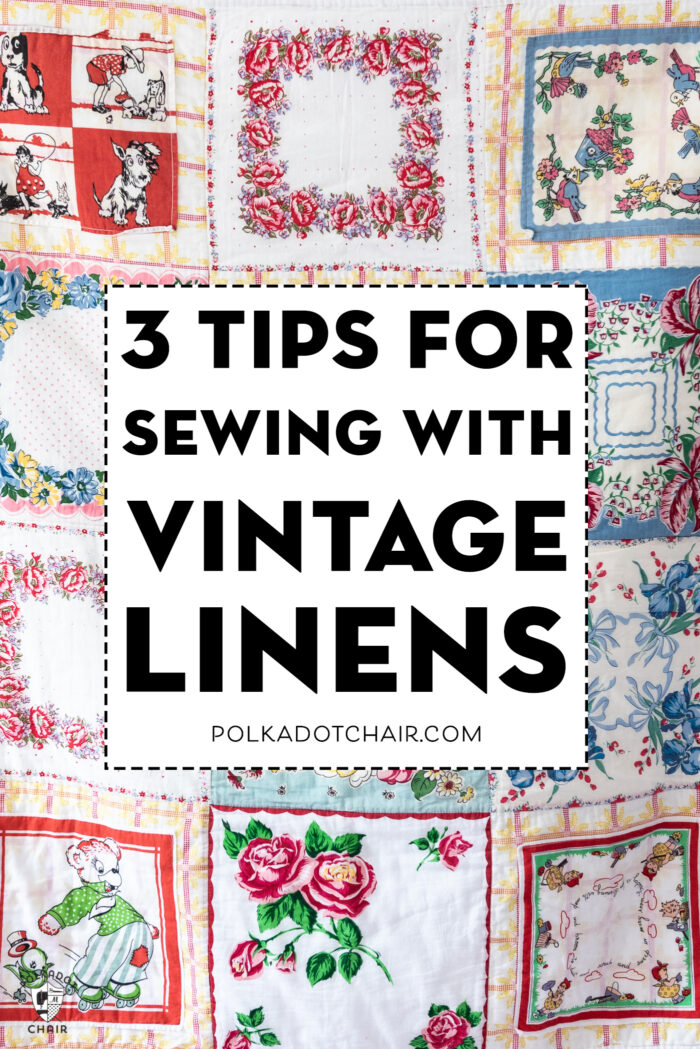 Cute Things to Make with Vintage Sheets, Handkerchiefs and Table Linens
Quilt Projects Made From Vintage Linens
So Into Vintage Quilt @ So Into Vintage
Dresden Pillow @ In Color Order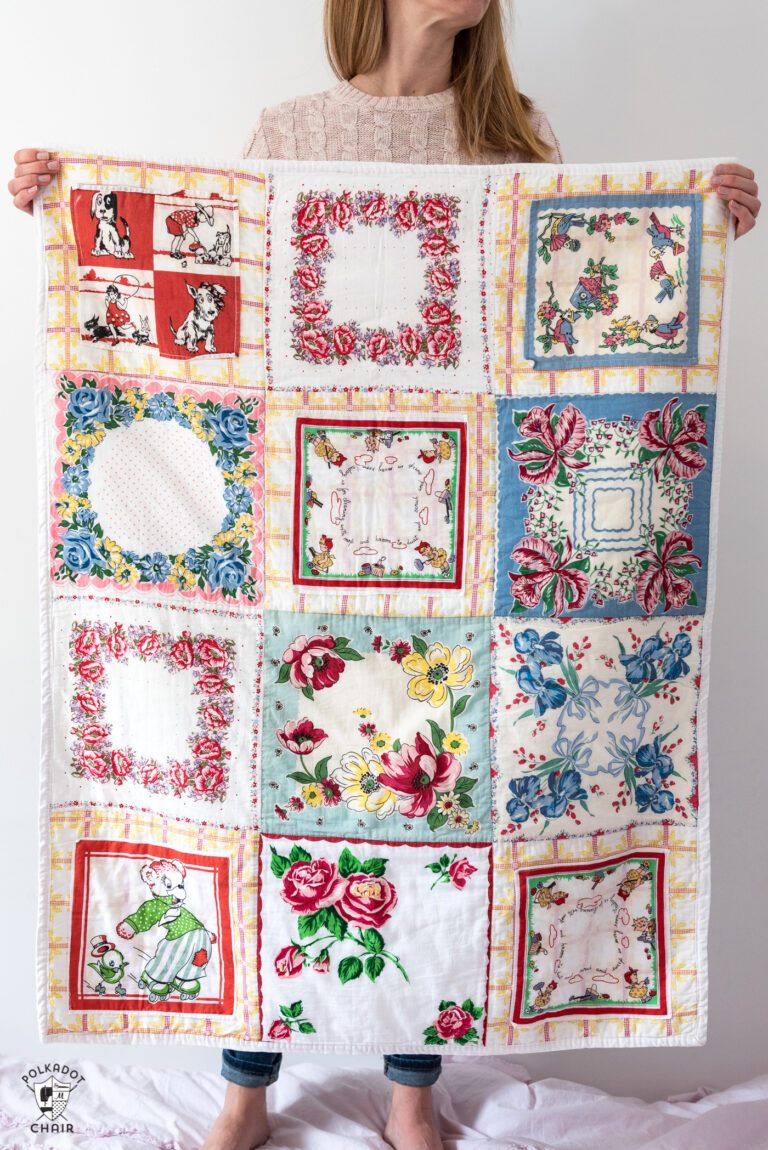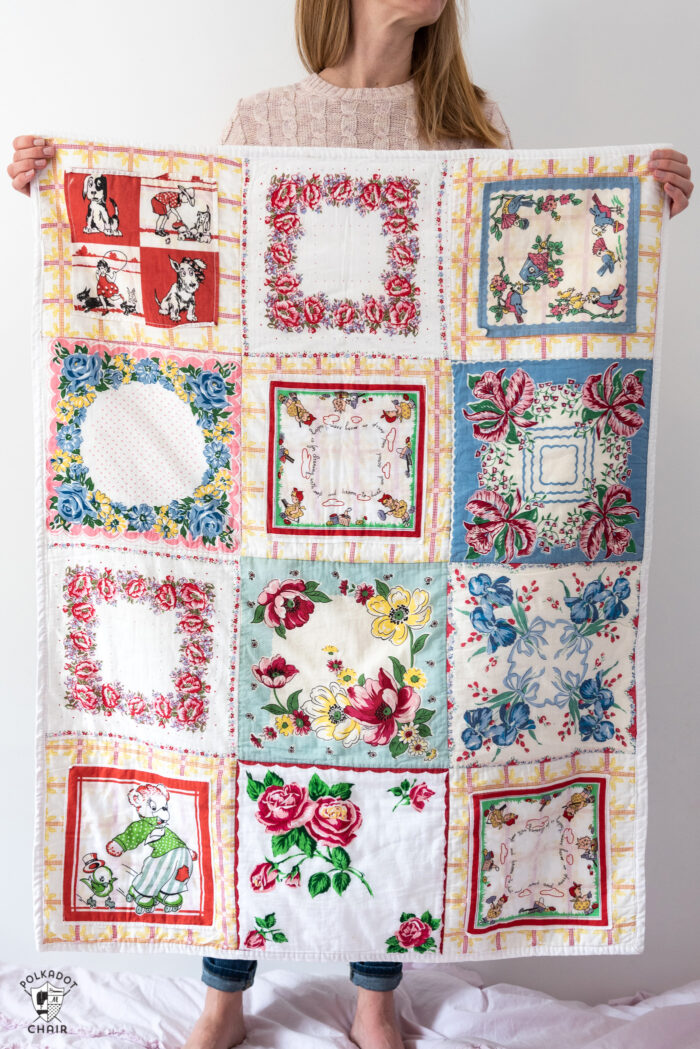 How to Make a Quilt out of Vintage Handkerchiefs
Soft Baby Blanket @ Lovely Nest Designs
How to Make a Duvet Cover from Vintage Sheets @ My Moppet
Giant Log Cabin Vintage Sheet Quilt @ Wonky Patchwork
Fun and Colorful Quilt @ Katie's Kitchen Blog
Home Projects to Make Vintage Linens
Cute Vintage Sheet Bunting @ Raising Up Rubies
How to Make a Handmade Vintage Table Runner @ So Into Vintage
Handkerchief Valance @ Flamingo Toes – Includes tips and a tutorial.
Gifts to Make with Vintage Linens
Vintage Sheet Wrapped Hangers @ Sugar Beans
Vintage Linen Banner @ OhDeeDoh (OhDeeDoh is now a part of Apartment Therapy) you can find a tutorial to make a similar scallop banner HERE.
Baby Burp Cloths from Vintage Linens
Vintage Sheet Shopping Cart Liner @ Retro Revival
A Line Dress & Pantaloons @ Craftsy
Adorable Vintage Sheet Summer Jammies @ mmmCrafts
Tops from Vintage Sheets Polka Dot Cottage
Covered Buttons @ Isa Creative Musings
Cocktail Napkins @ Design Sponge
Women's Robe Made from a Vintage Sheet @Melly Sews
PJ Bottoms @ Vintage Sheet Blog – Since the time of the original blog posting the Vintage Sheet Blog has been deleted. I have left the image on this post so that those of you coming in from Pinterest are not confused. You can find a similar tutorial to make PJ's on 5 Marigolds Site.
Vintage Linen Dresses (this is not a tutorial, rather a Maker who creates dresses from sheets. More info here)
For more Tips for Sewing with Vintage Linens, see this post.
This post was originally published in 2016 and has been updated and improved in 2020.