These DIY Star Hanging Lanterns resulted from a "compromise" between my husband and me when decorating the outside of our home for Christmas. He didn't want to hang lights, but I did. The compromise was to hang giant stars from the front porch ceiling instead. For more info just keep reading, if you like this project you may also like to see how we hung a few Witch Hats from our porch at Halloween.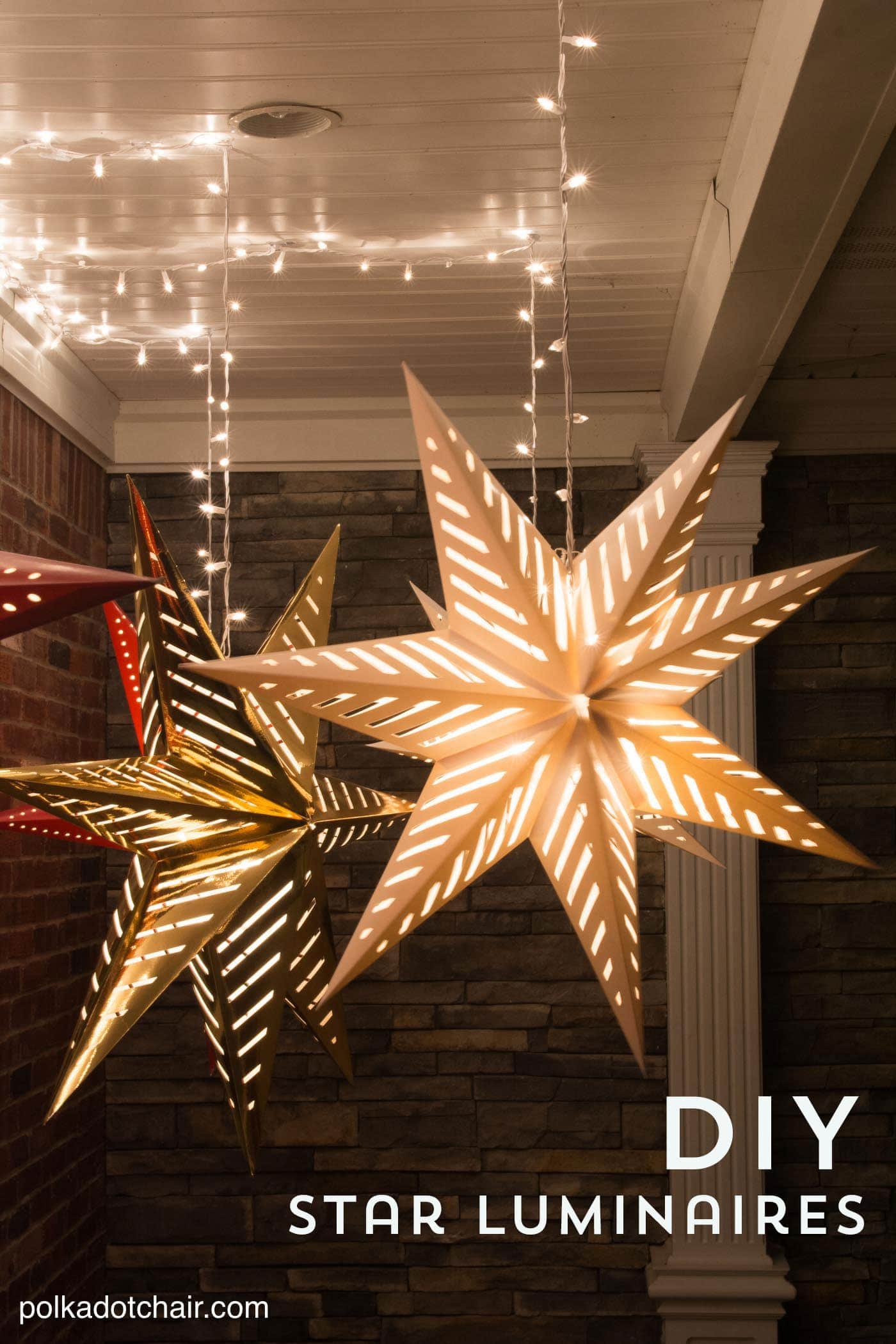 Last Christmas, as we were getting ready to put the lights on the house, I could tell by the look on my husband's face that he was soooo not in the mood to do it that year. He didn't want to fight with the ladder, the lights, and the weather. I didn't want to leave the house not lit up for the Holiday but I also didn't want to make a big deal out of hanging lights.
Table of Contents
A few weeks later, we were at the store, and I spotted these GIANT stars. They were paper but had a wax coating, and I thought that they "might" hold up outside on our porch. I brought them home, and we hung them on the porch, and I LOVED IT!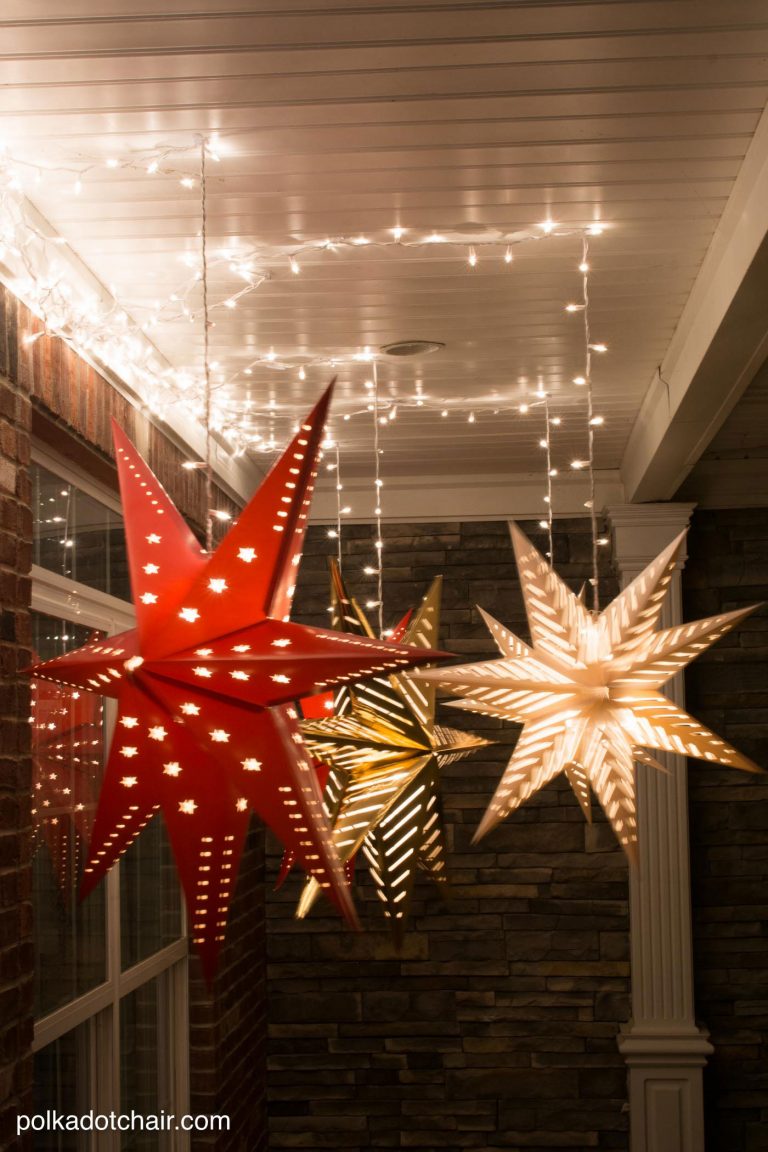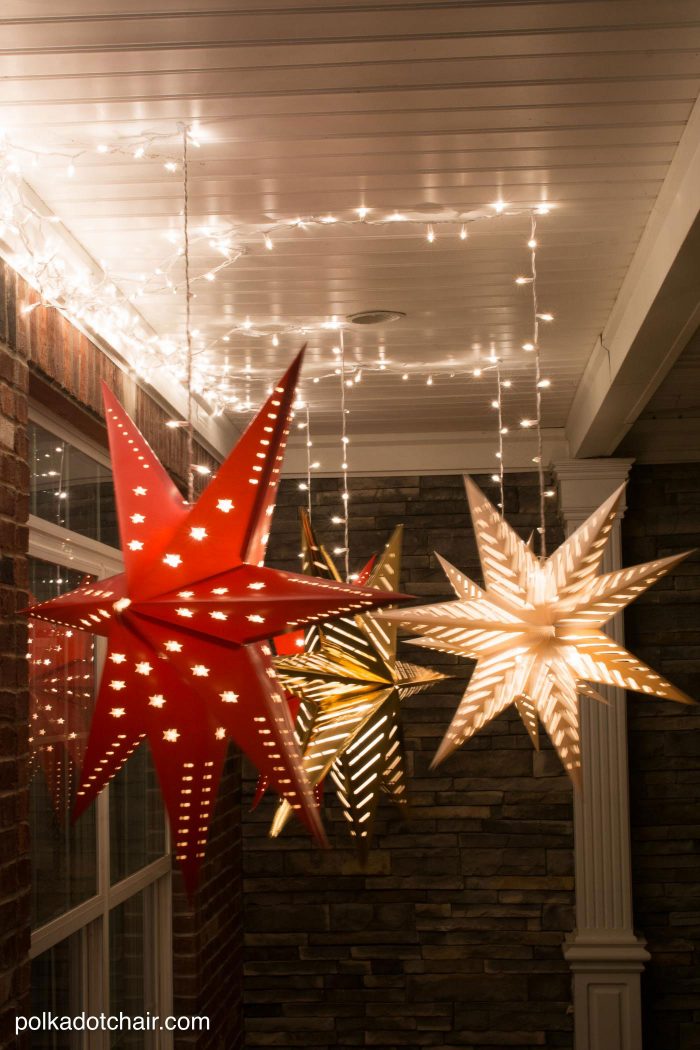 You might be asking, "Melissa, why are you posting a Christmas Front Porch Decorating Idea two days BEFORE Christmas?" Well, it's pretty simple; I just got bogged down this month.
Christmas Porch Decorating Ideas
Normally I try to stay pretty ahead of the game when it comes to blogging, but sometimes I have to tell you that I do NOT want to decorate my front porch for Christmas in October. I can't seem to get myself to work that way. So I'm posting this today, hoping that you'll "file the idea away" (or pin it) to remember "to do" next year! (I also think these would look really cool for New Year).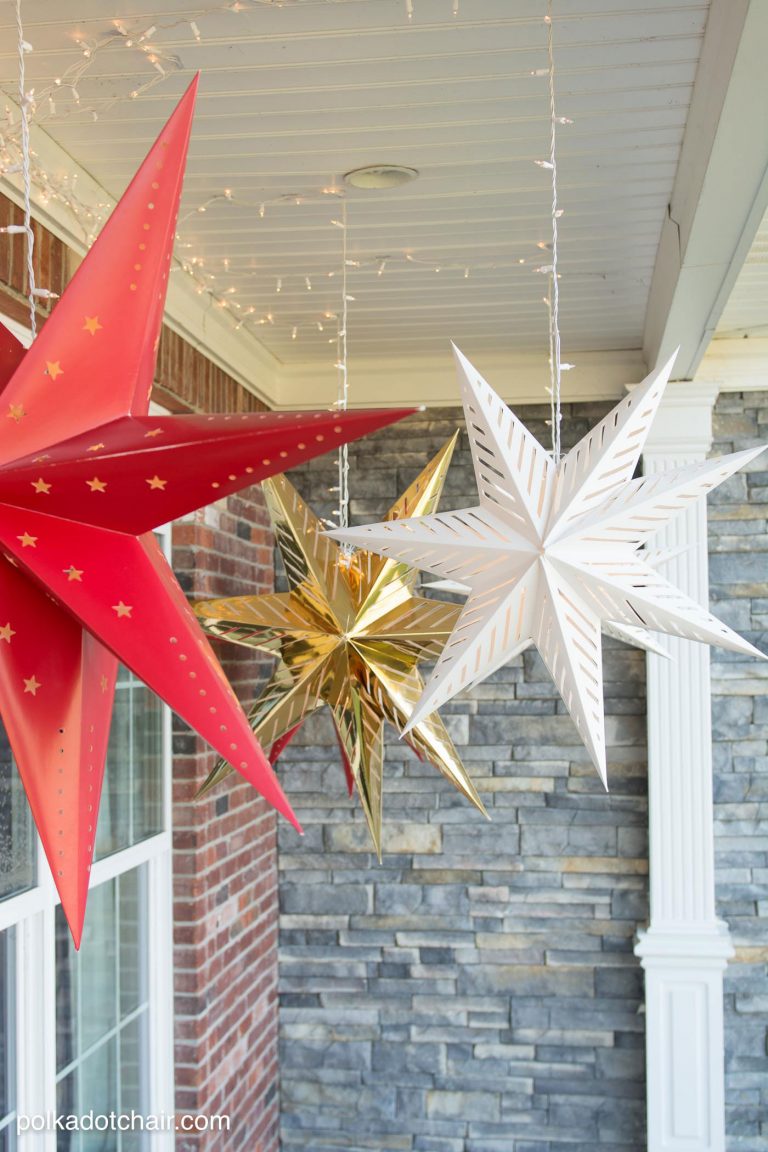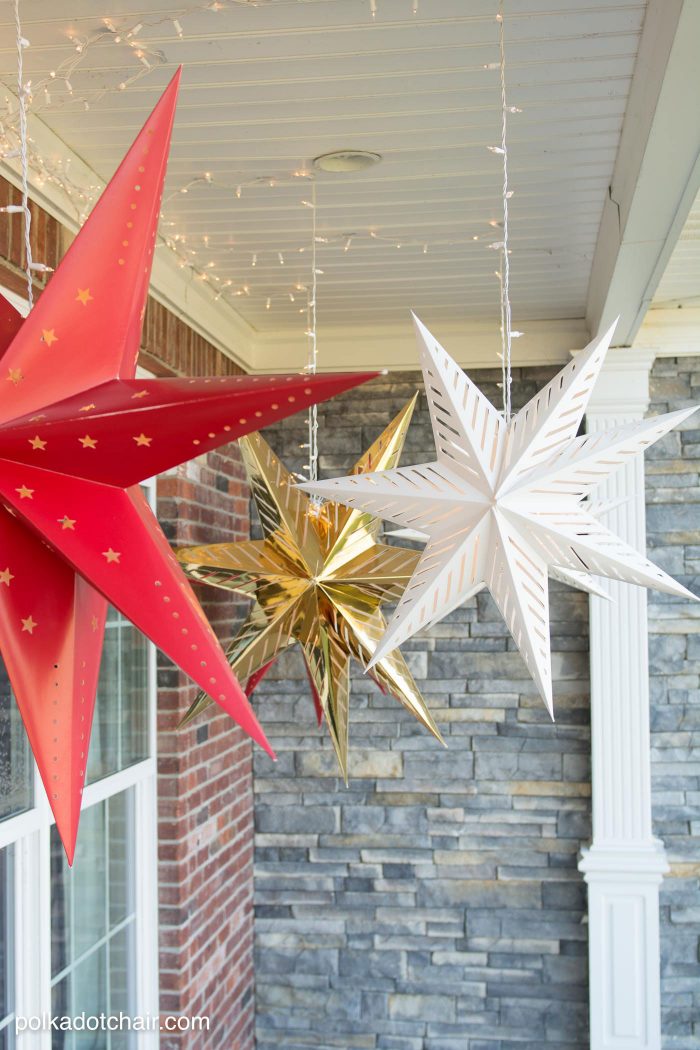 About the Floating Witch's Hats:
In October after I shared my idea for Witch's Hat Luminaries, the post went totally viral, much to my surprise. In that post, I stated that we hung the Witch's Hats on the front porch using the same hooks that we used to hang the Stars for Christmas. Inevitably I got a bunch of emails asking me HOW I hung the stars… So today, I'll share with you how I did it.
How to Hang Paper Star Lanterns on a Porch for Christmas
The stars were purchased at IKEA two years ago, but I've seen them on AMAZON and TARGET. They are paper stars, but they have a waxy coating to help them stand up to the elements.
Our porch does not get much rain/snow and is well-covered. The stars held up very well last year; this year I think we might lose one of them. The stars were not crazy expensive, so I don't mind replacing a few. That being said if your porch gets lots of rain/snow/wind, this might not work for you.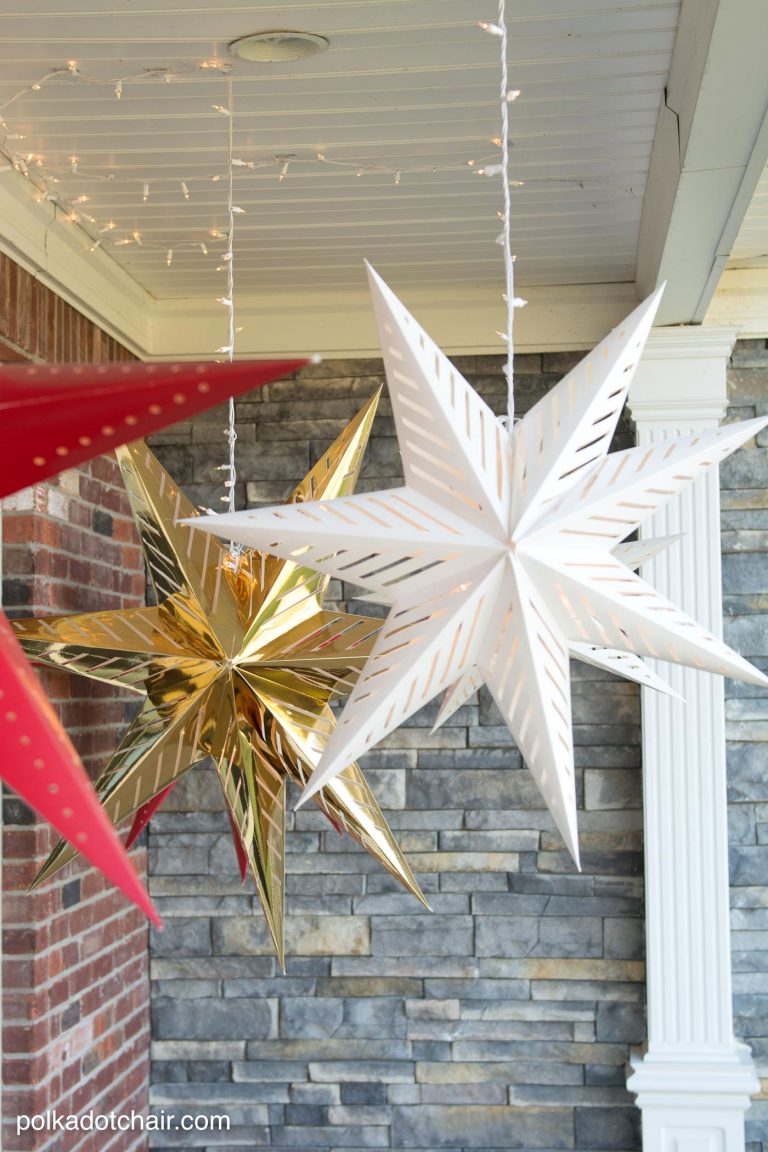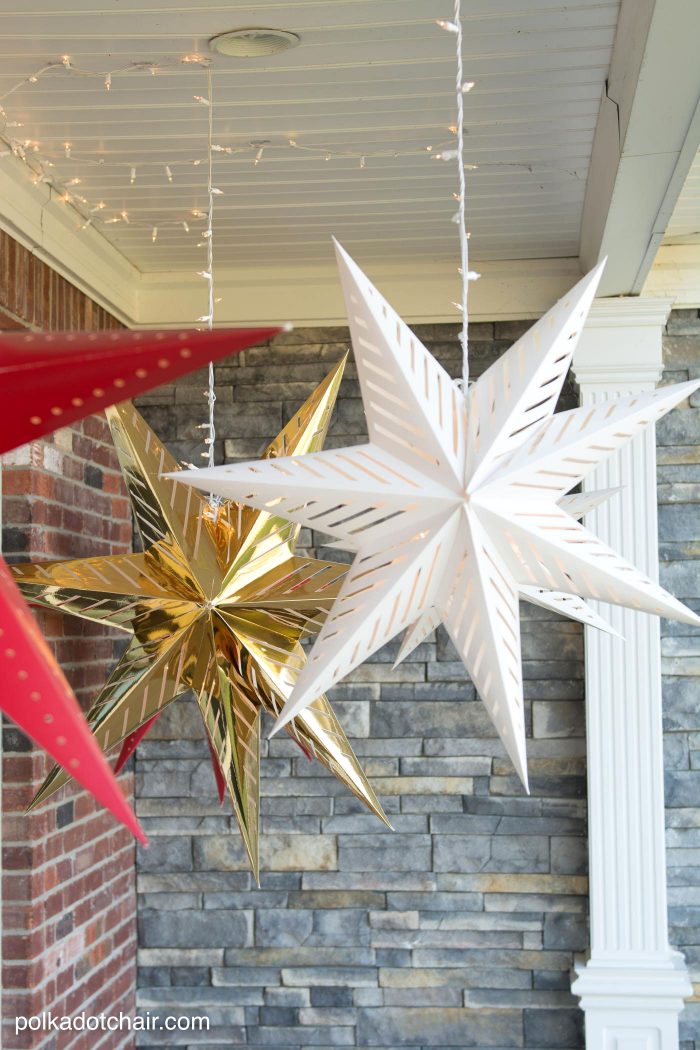 Front Porch Hanging Stars Supplies
To hang the stars, you're going to need:
Step One: Assemble the Stars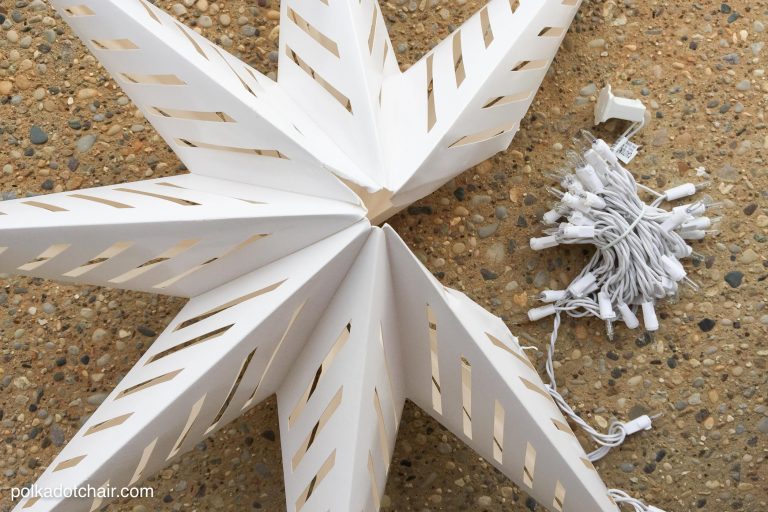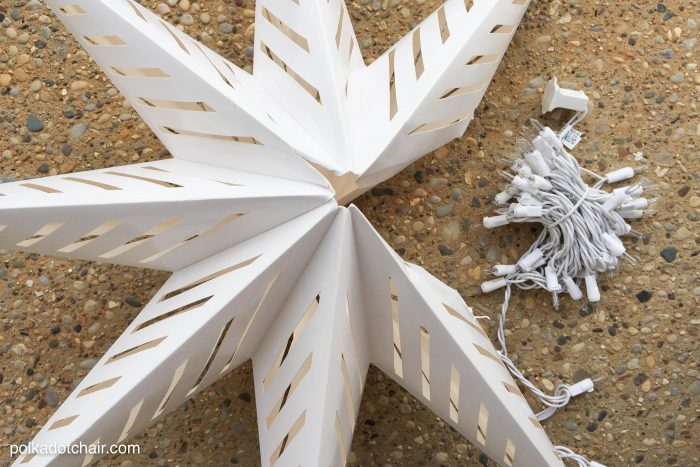 Most of the stars are hinged; you fold OPEN the star. What you are going to do is insert a bunch of lights into that hinge.
Step Two: Insert the Light Bundle
Depending on how far down you want the stars to hang from the ceiling, bundle the end of the lights into a ball (I just left mine bundled the way they came in the box, at the halfway point).
Insert the bundle into the star and close it.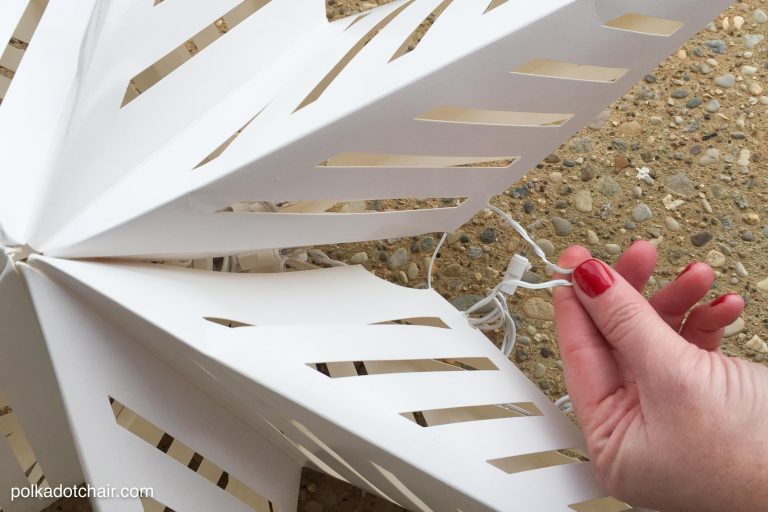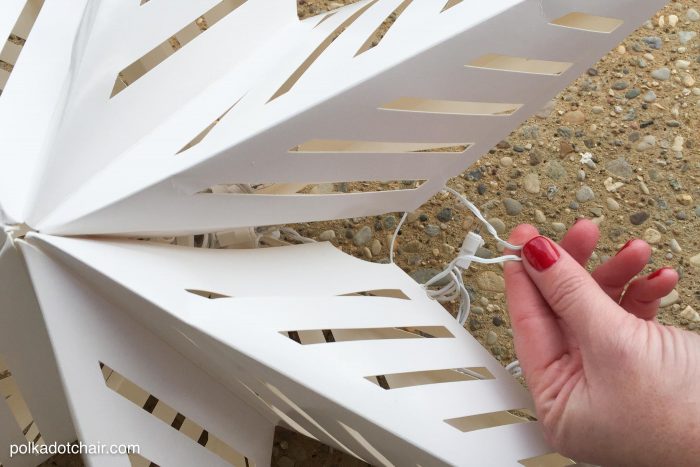 Step Three: Secure the Lights with a Twist Tie or Cable Tie
Use the white twist tie or cable tie to keep the star closed and the lights inside. It has been my experience that the lights don't stay together well with the manufacturer-provided closure. I prefer to use my own to make sure they are secure.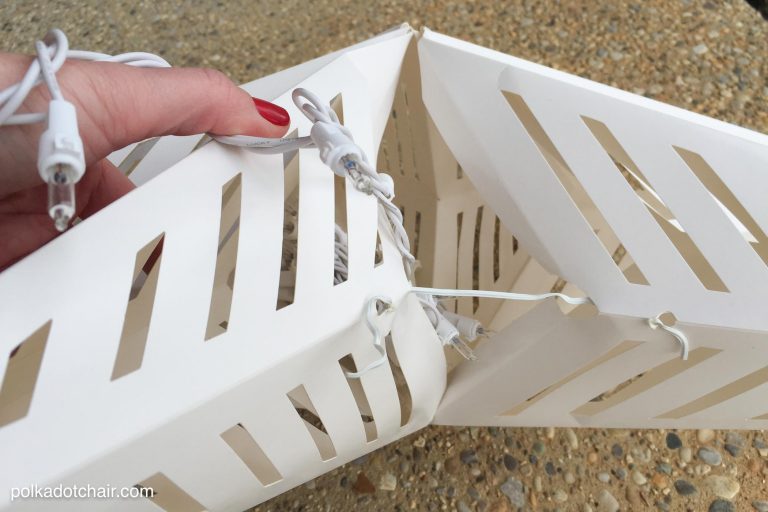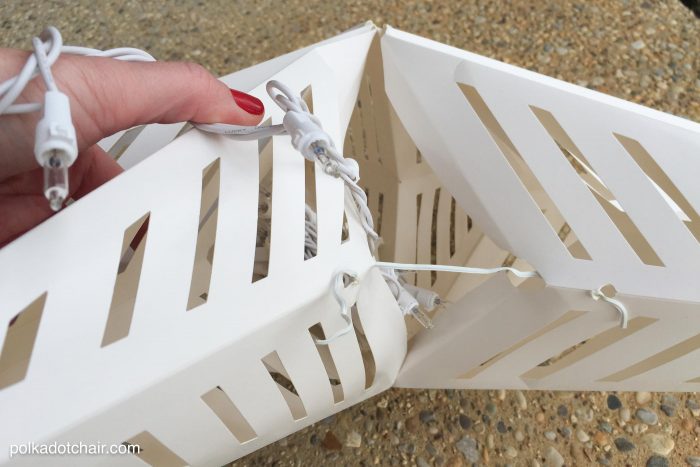 Step Four: Hang the Lights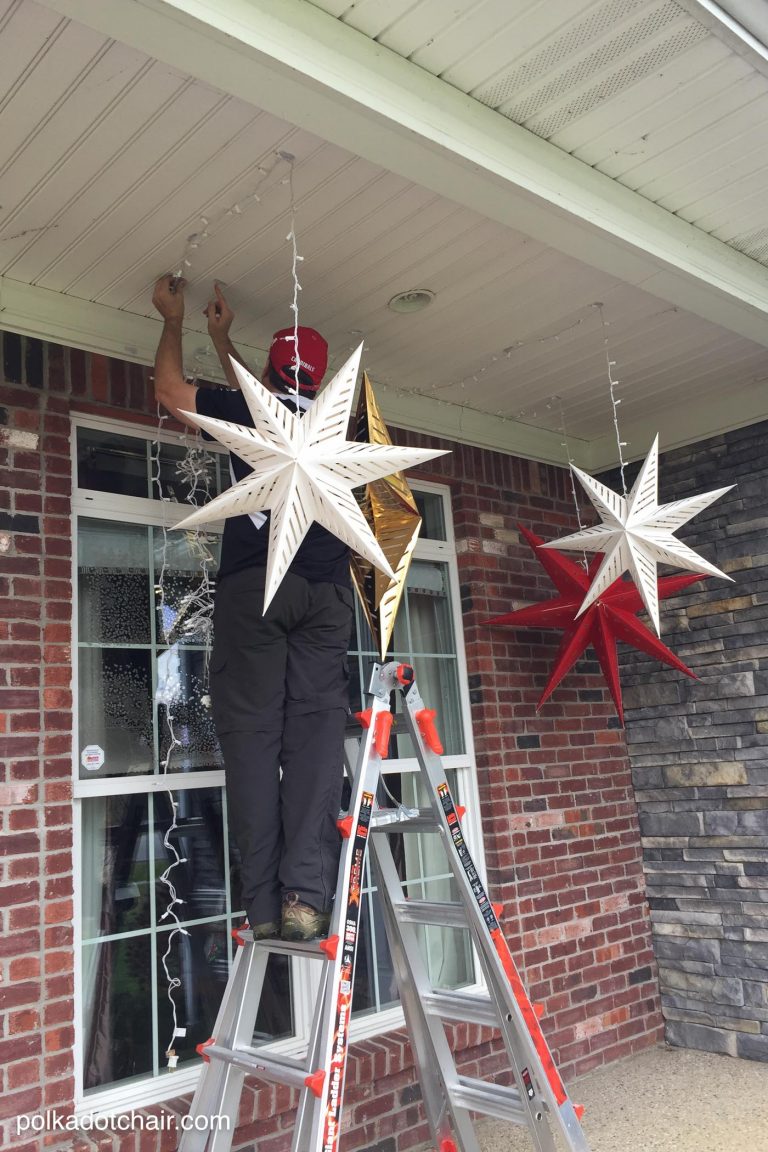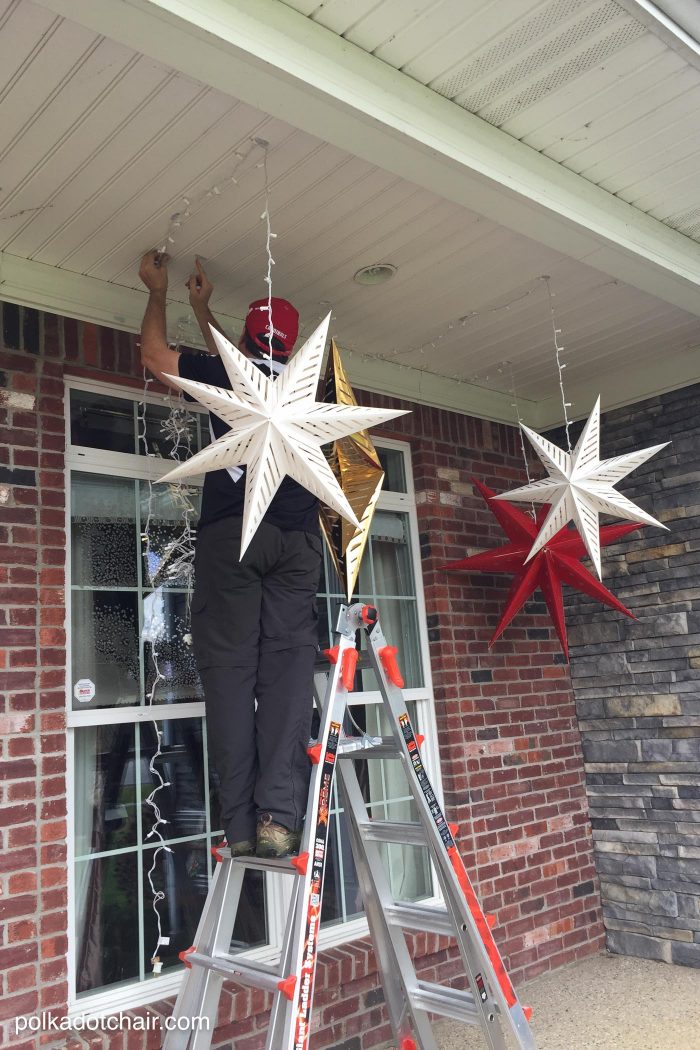 Hang the command hooks on the porch in the locations that you want the stars. You'll also want to run a few hooks feeding back to the porch so that the light cords are not hanging down.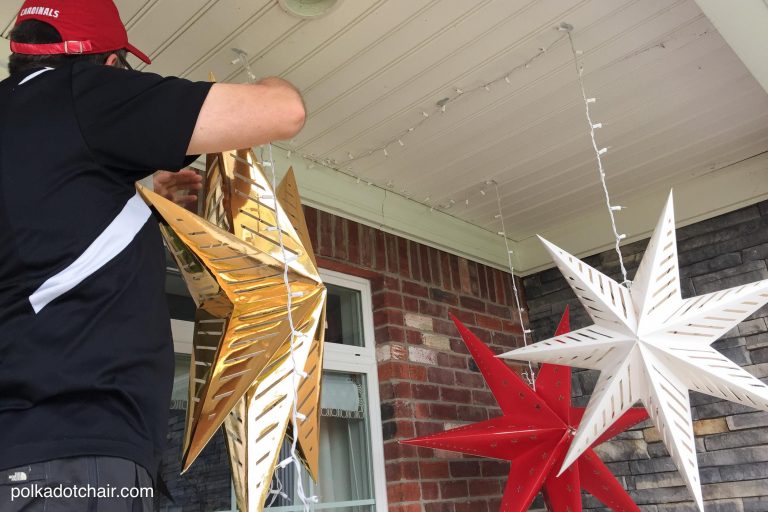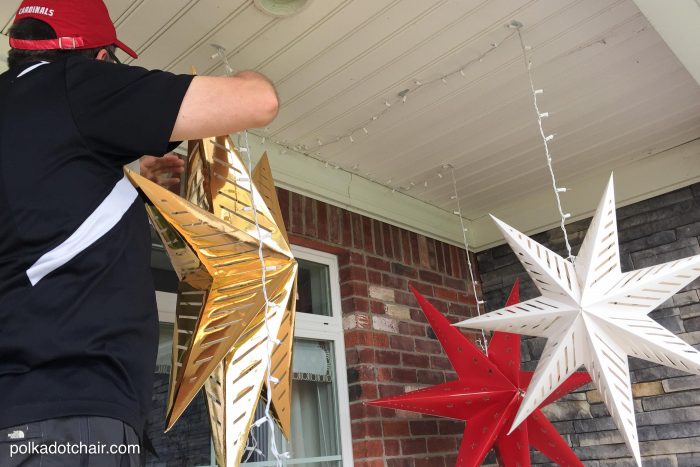 TIPS
Make sure you plan where your cords are going before you assemble your lights. You need them to plug into each other in order and terminate at the same point. Pay attention to the location you are going to plug in your stars.
Also, some lights have limits for how many strings you can connect to each other. Make sure you read the manufacturer's instructions for your particular lights before you start.
Finishing:
After all of the stars are hung, plug the lights into each other and run an extension cord down the porch to wherever your plug is. I'm sure that someone can think of a more "genius" way to run the cords, but we just plugged them all into each other, and it worked.
That's it!! Super simple and easier than hanging TONS of lights on your front porch…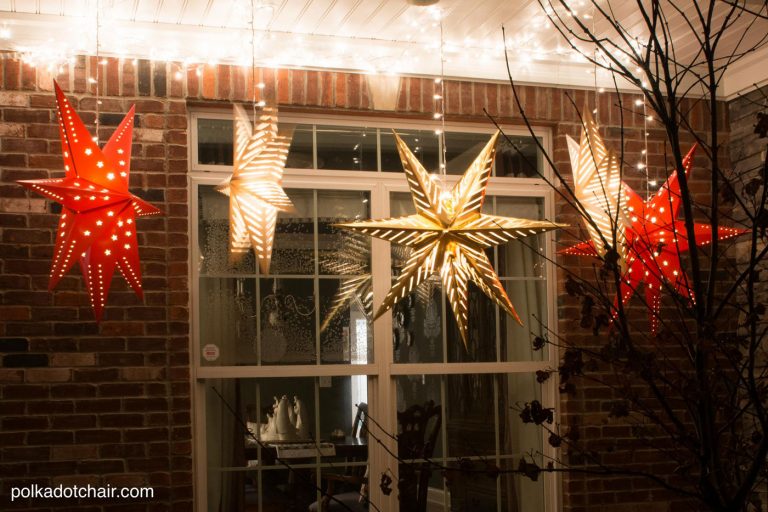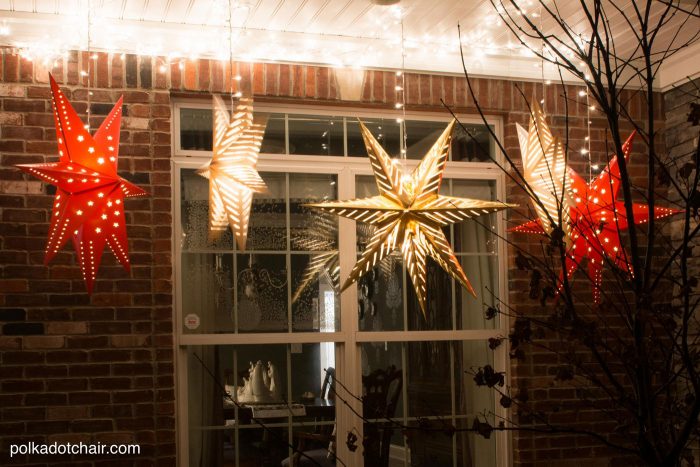 A Few More Christmas Decorating Ideas
DIY Gnome Christmas Pillow Pattern
25+ Cute Things to Sew for Christmas
DIY Candy Cane Marquee Letters