Today I'm excited to be introducing 3 new Quilt Patterns!  They are all ones that I've been working on for a few months and am so glad to finally be able to share them with you. It's been hard keeping them under wraps for so long! Keep reading to find out more about the patterns, and see how to snag a copy at a special discount.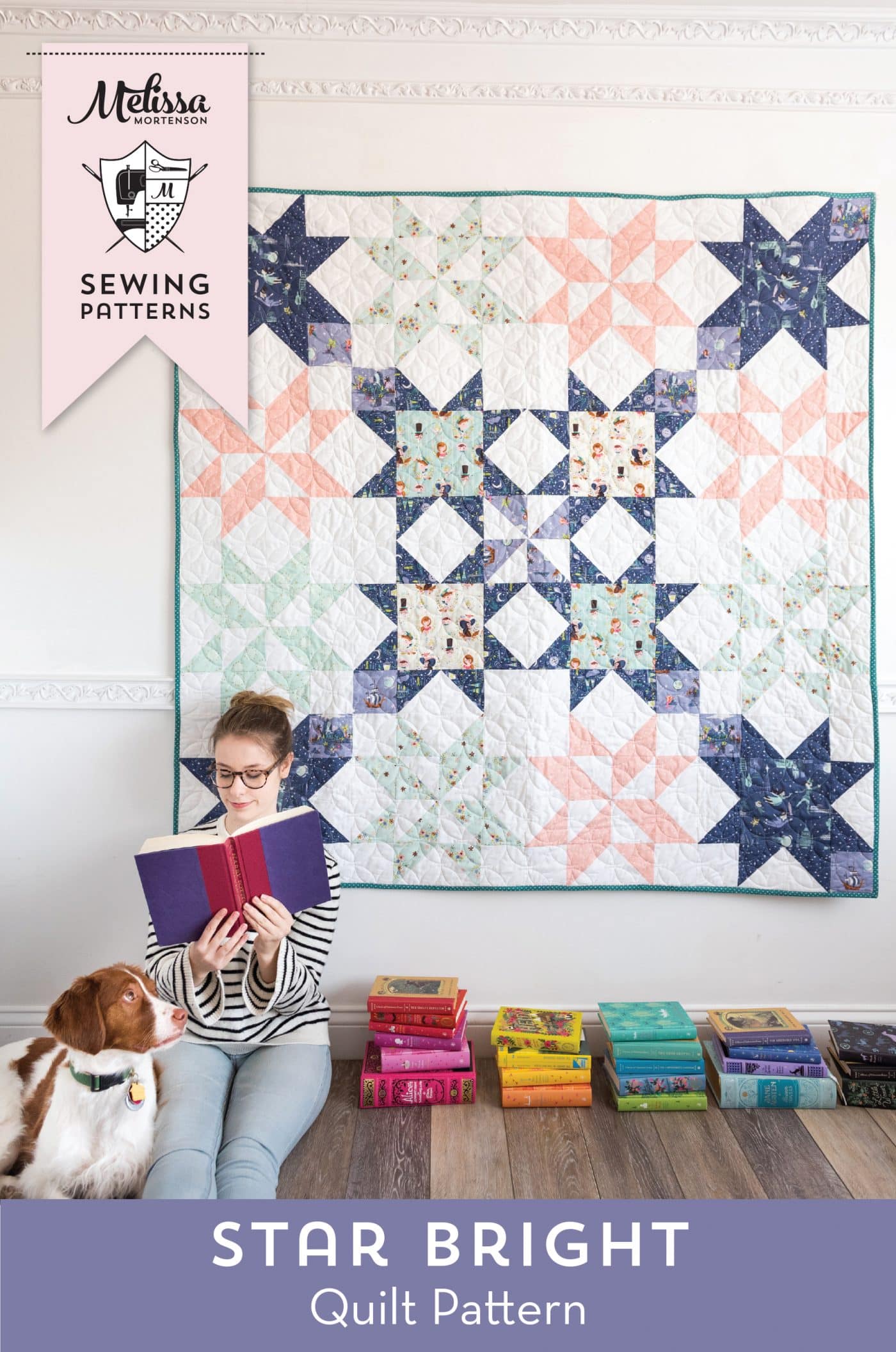 The Star Bright Quilt Pattern:
Have you ever bought fabric that you thought was so cute that you HATED to cut it up?  I feel that way a lot especially if the fabric has large-scale illustrations, the last thing I want to do is cut it into tiny pieces!  I just want to keep it all in one piece and admire it!  A few months ago I was working on designing new patterns and thought it would be fun to create a pattern made just for those type of large scale prints.  I'm also a big fan of fussy cutting and thought that I would also design a quilt with a few spots that you could throw in a cleverly fussy cut square.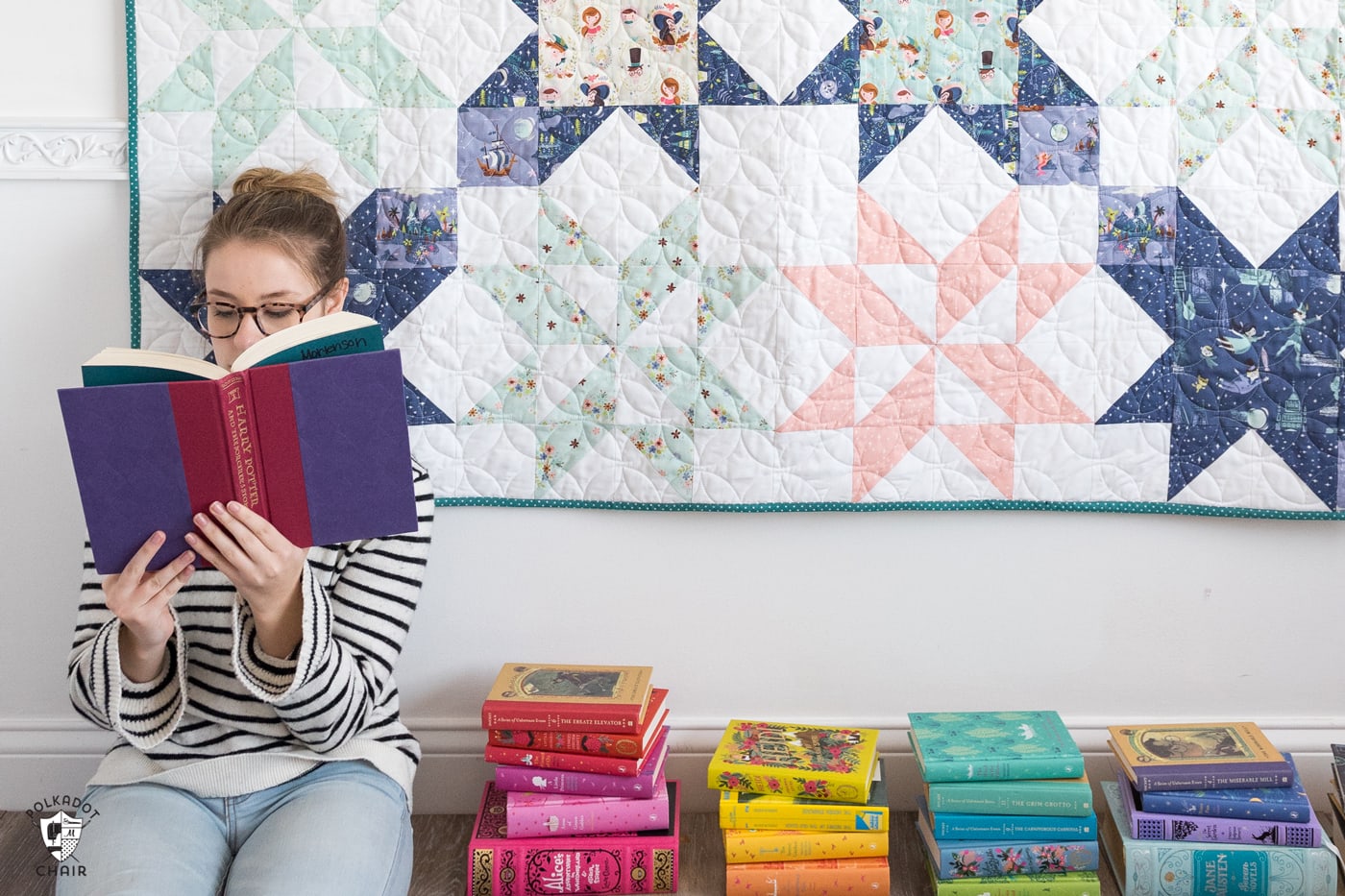 Personally, I love star quilts and ended up designing a quilt with a combination of Sawtooth Star and Pinwheel Star blocks. I left the center of the Sawtooth Star blocks large so that you could insert your favorite fabric and show off all of the fun print! The inside of the Sawtooth Star block is 8″ finished.  Which is plenty big for a panel print, an illustration or a geometric print. You could even throw a monogram in there!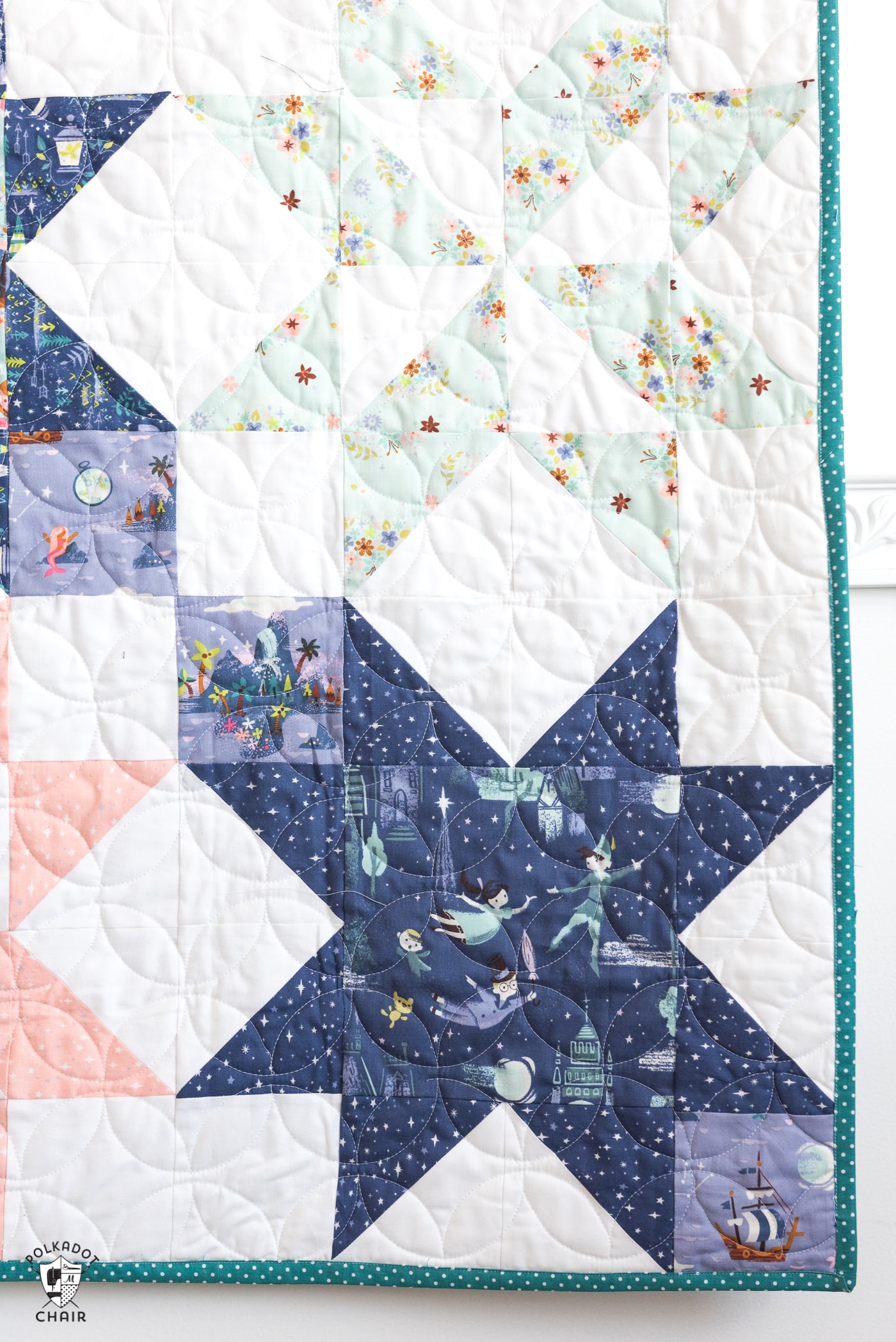 The Star Bright Quilt measures 63″ x 63″ and is traditionally pieced. It would be a good one for an advanced beginner all the way up to expert quilter.  The sample is stitched up in the new Neverland Fabric from Riley Blake Designs.  I'm so in LOVE with this fabric.  The illustrations and colors are just stunning!
You can find the Star Bright Quilt Pattern in the shop by clicking HERE. It will be available in PRINT in the next 2 weeks and carried by distributors if you'd like copies for your shop.
The next new quilt pattern is the,
Patchwork Paddock Quilt: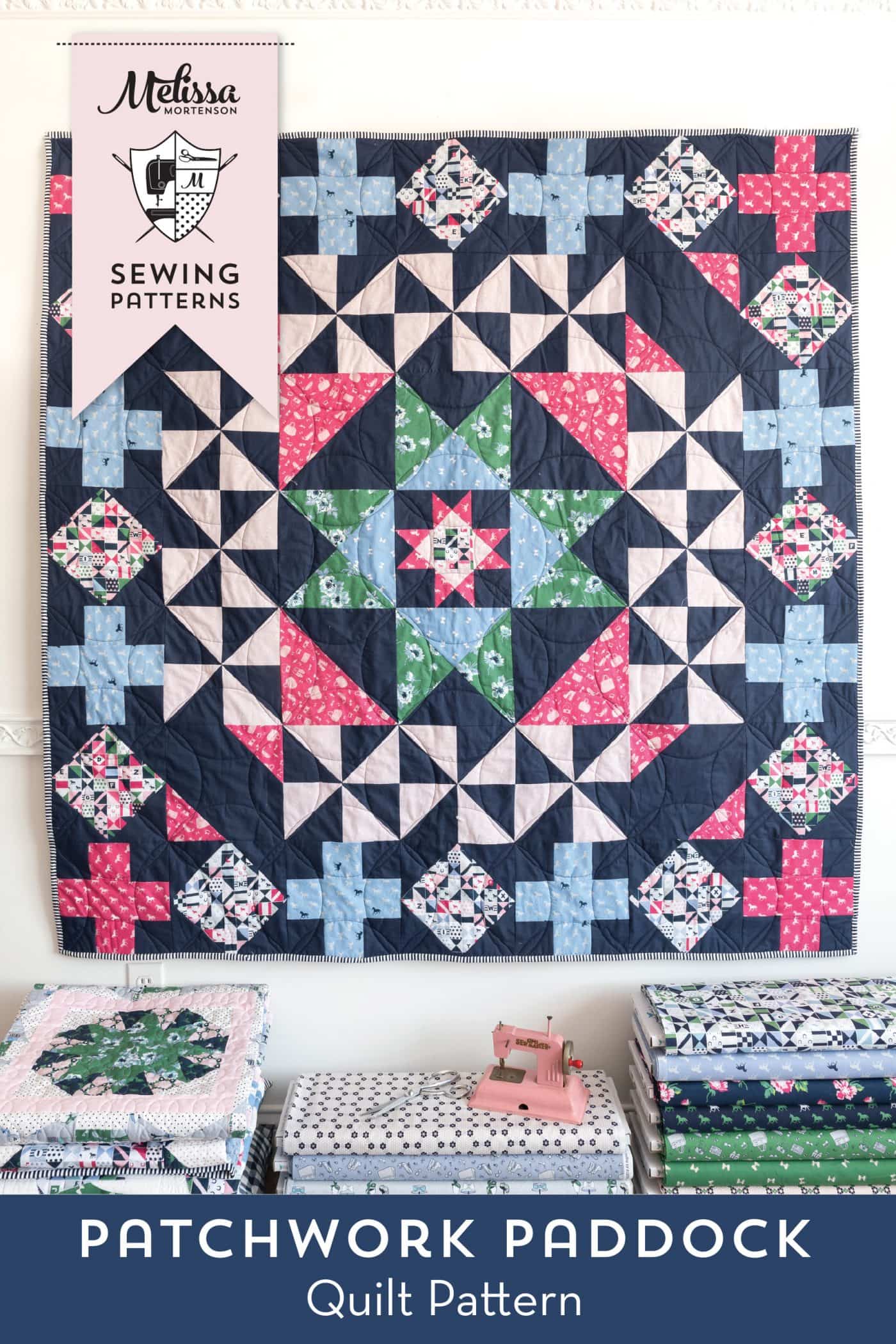 The Patchwork Paddock Quilt was designed specifically to go with my Derby Day Fabric line. I was inspired by the geometric jockey silks print in the line. I thought it would be clever to make a quilt that mimiced the grapic prints you find in jockey silks. Obviously, you can use the pattern for other fabrics that are not Derby inspired.
The layout is inspired by Medallion quilts, although I'm not sure I'd call it a true medallion quilt since it does not contain any borders and all of the blocks are the same size.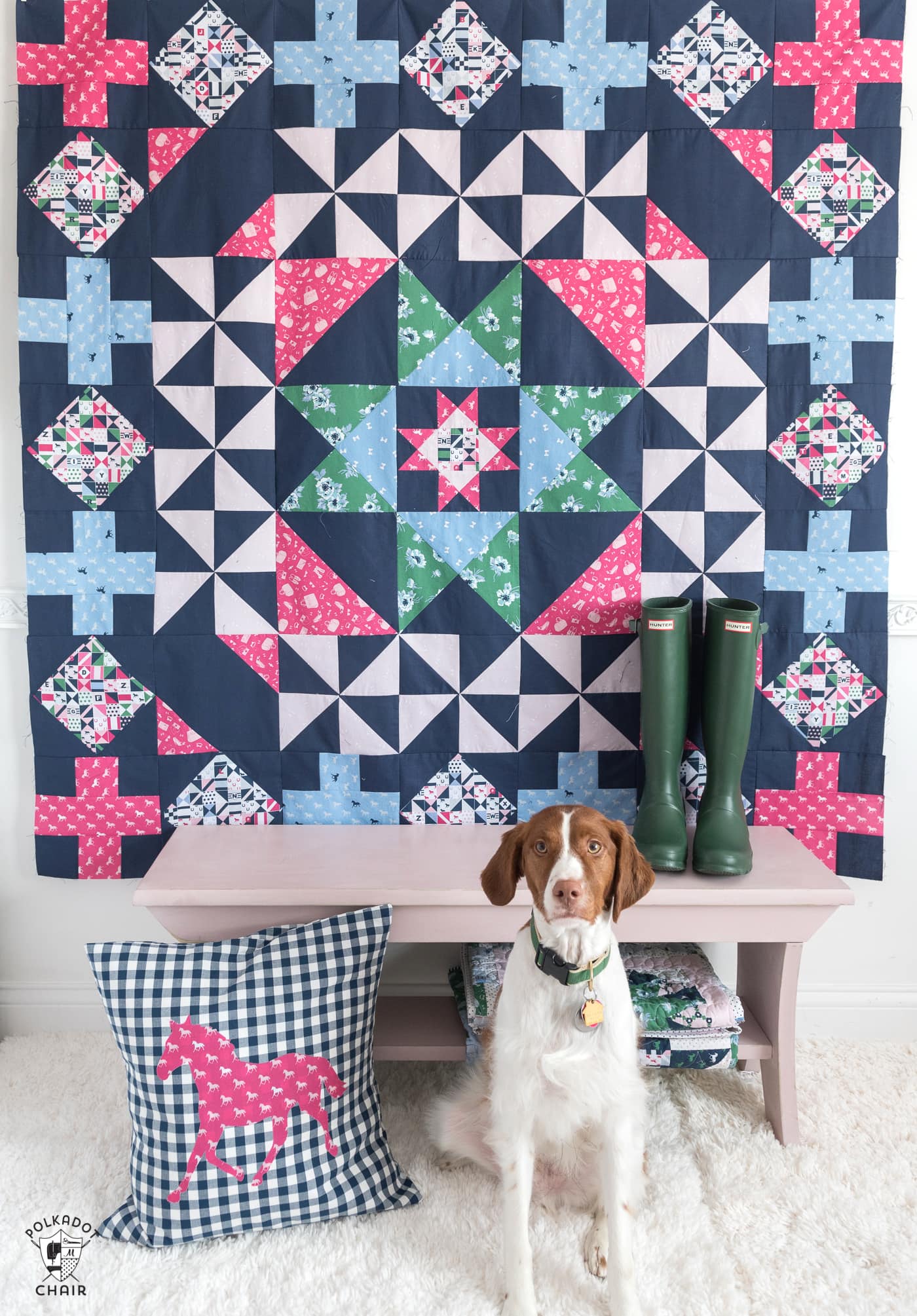 While making this quilt, you will learn how to make 7 different quilt blocks!  There are full-color illustrations to help you every step of the way.
It measures approx 64″ x 64″ when finished.
You can find a PDF version of the Patchwork Paddock Pattern by clicking HERE.  It is also coming out in print format in the next 2 weeks.
The 3rd new quilt pattern is the,
Derby Sampler Quilt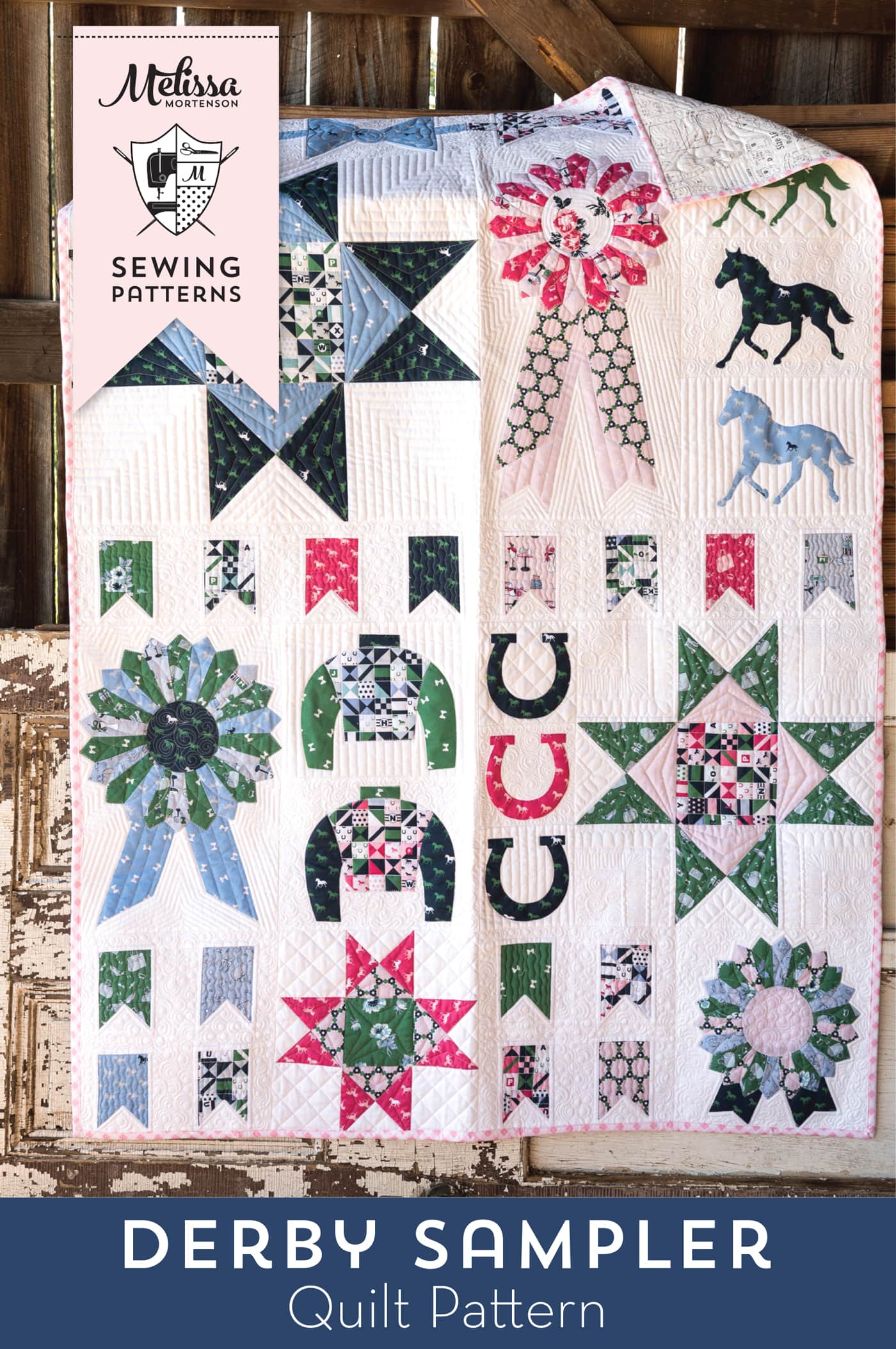 Honestly, I think this might be one of my favorite quilts ever.  I designed it for my booth at Quilt Market and really love how it turned out. It is a sampler quilt which means that it contains a variety of quilt blocks in varying sizes.  The quilt is constructed using traditional piecing methods, raw edge applique and more traditional applique (on the Dresden blocks). This quilt was custom machine quilted by Natalia Bonner of Piece N Quilt. I am in awe of her talent. She really brought the pattern to life.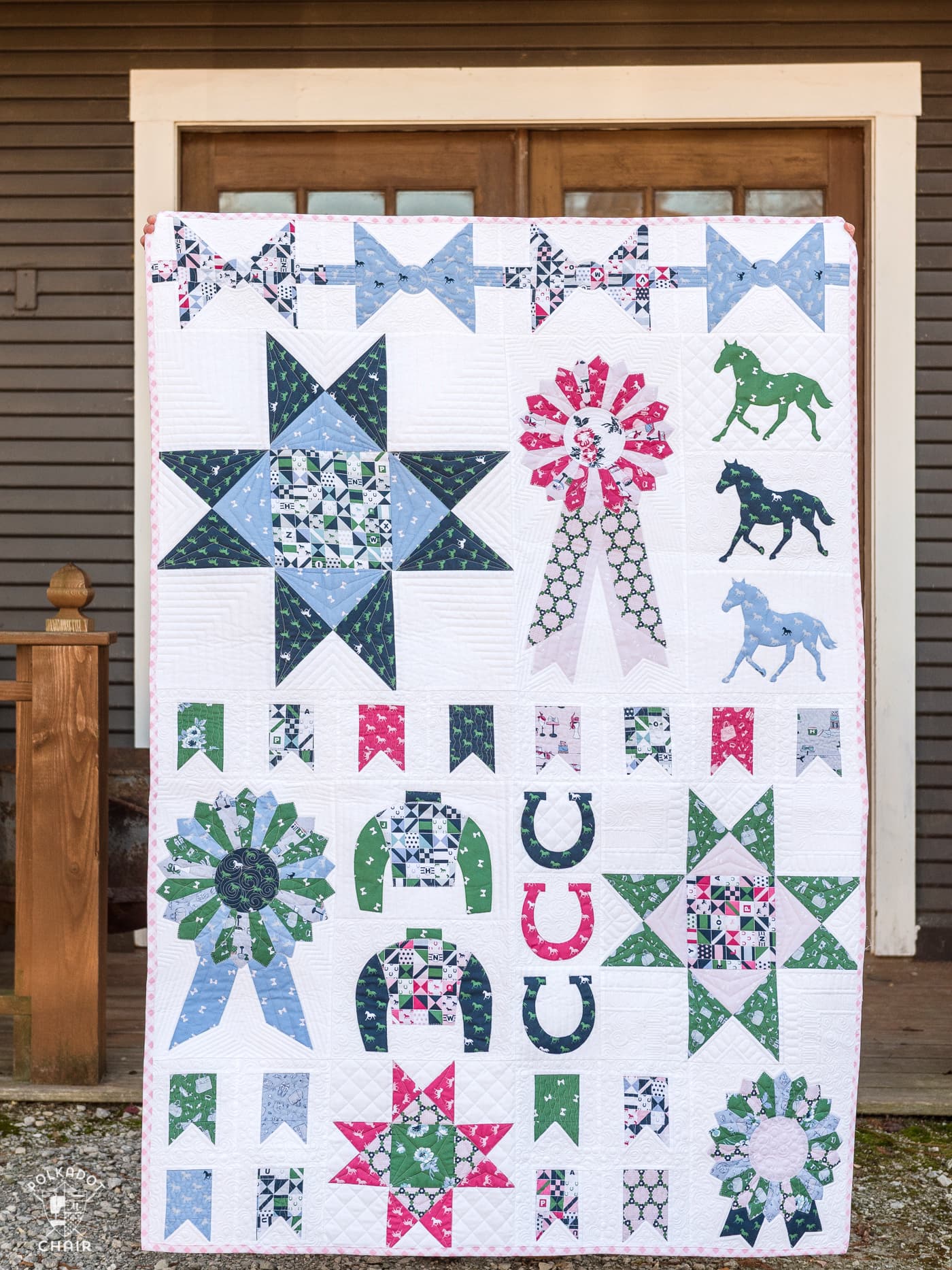 The quilt measures approx 48″ x 68″ when finished. If you want it larger you could easily add some borders to it and it would fit a twin sized bed.  (Most twin quilts are 70×90, so you'd need to add two borders a smaller 2 ½″ border and an 8 ½″ border all the way around). It also makes a great lap quilt and I plan on using it in my living room on our sofa all during Derby season this year!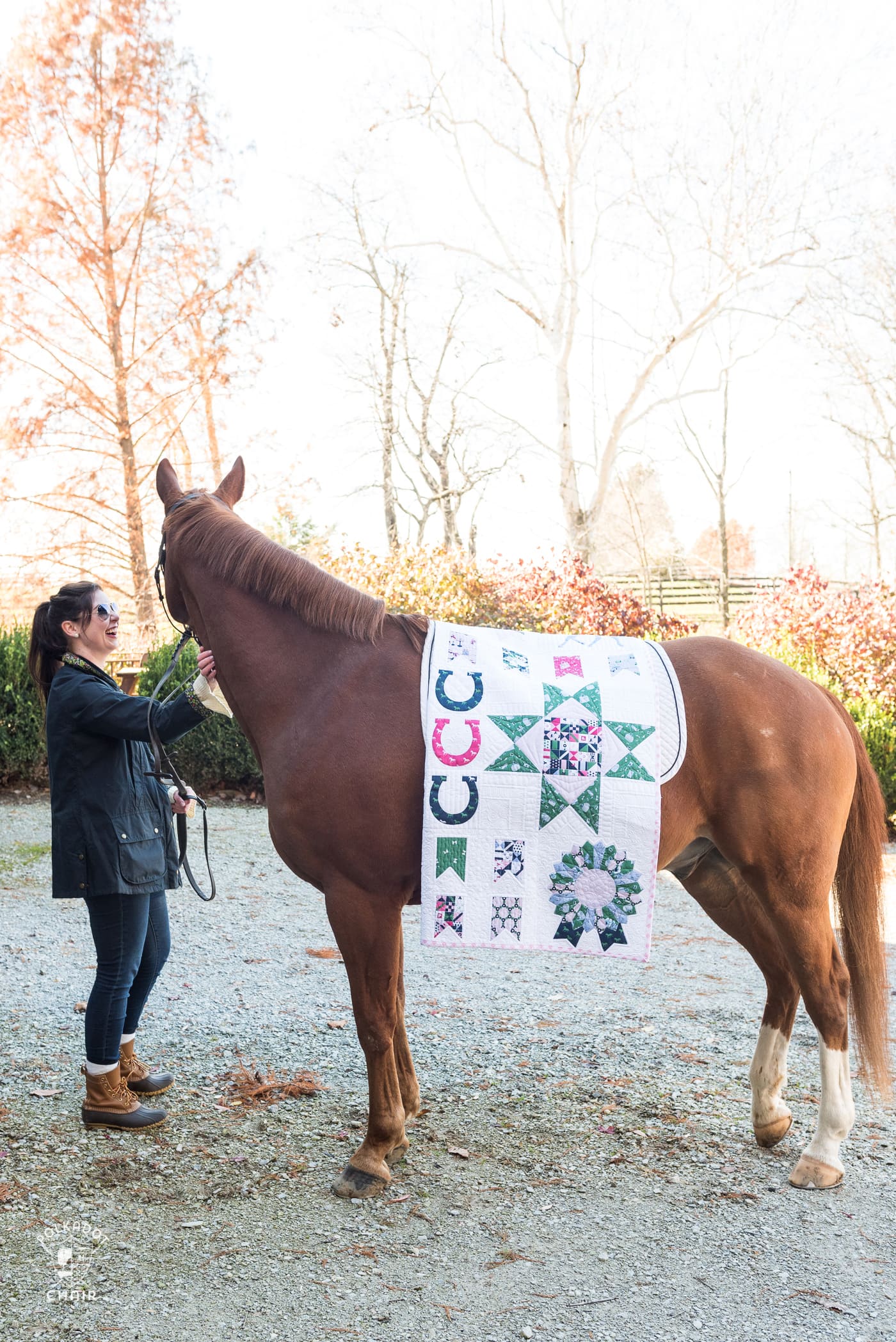 It would also be a great quilt to make for the equestrian in your life.  I know that a lot of kids here in Kentucky love horses and dressage. It would be such a cute gift for someone like that!
To get a PDF copy of the Derby Sampler quilt you can just CLICK HERE. It will only be offered in PDF format.
While we are on the subject of Derby, I thought I'd remind you of a few other Derby "type" patterns that are in the shop. They were designed for my first Derby fabric line but I think work really well for this line as well!
There is the Prize Ribbons Quilt, which was inspired by the prize ribbons that they give to horses during competitions.  Its a great lap sized quilt and is made using a glue applique method that I talk about in the pattern.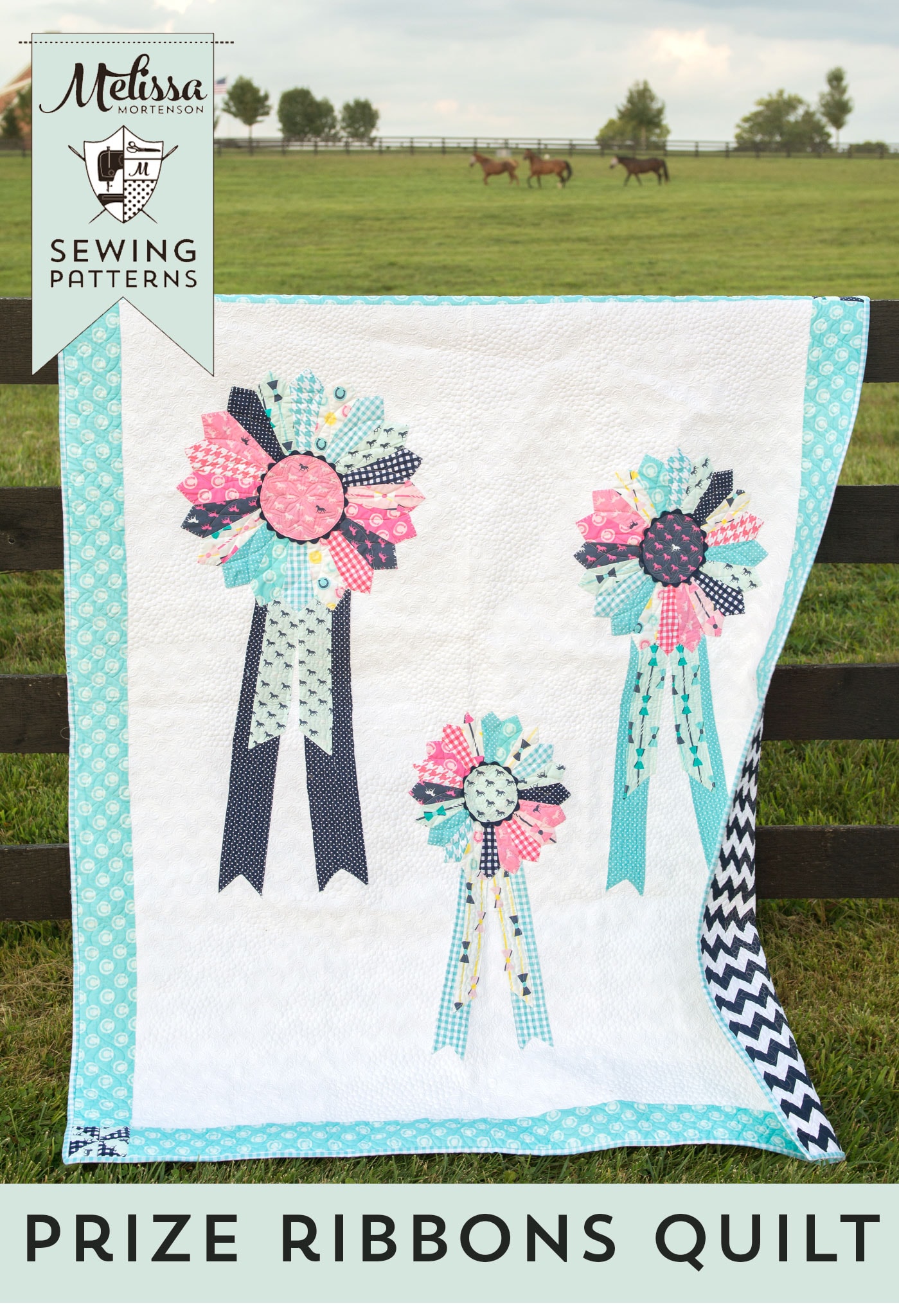 and the Derby Tote Bag, which is an excellent beginner tote bag pattern. It's a great one to tackle if you've never made a tote bag before. The pattern offers 3 different front pocket styles.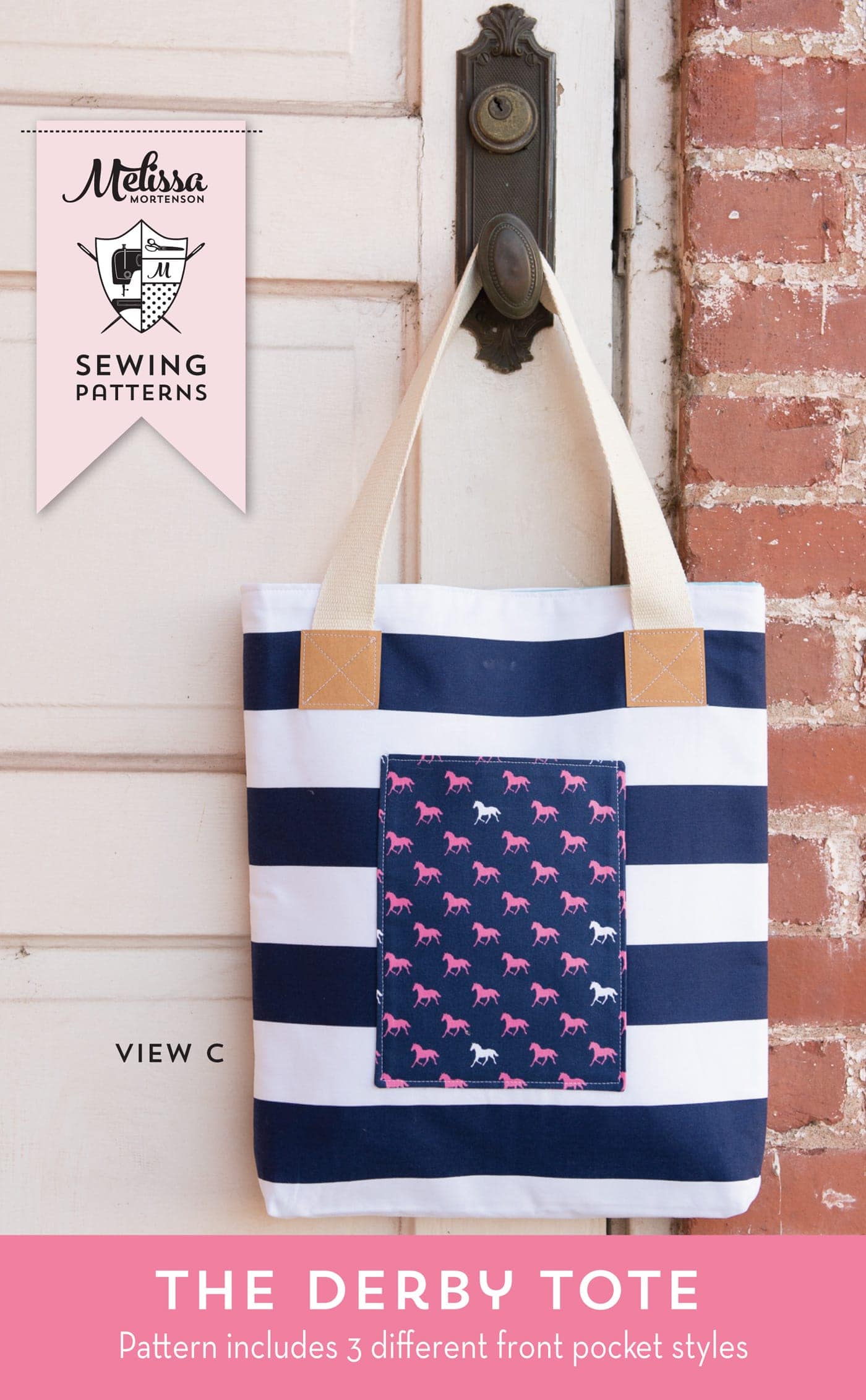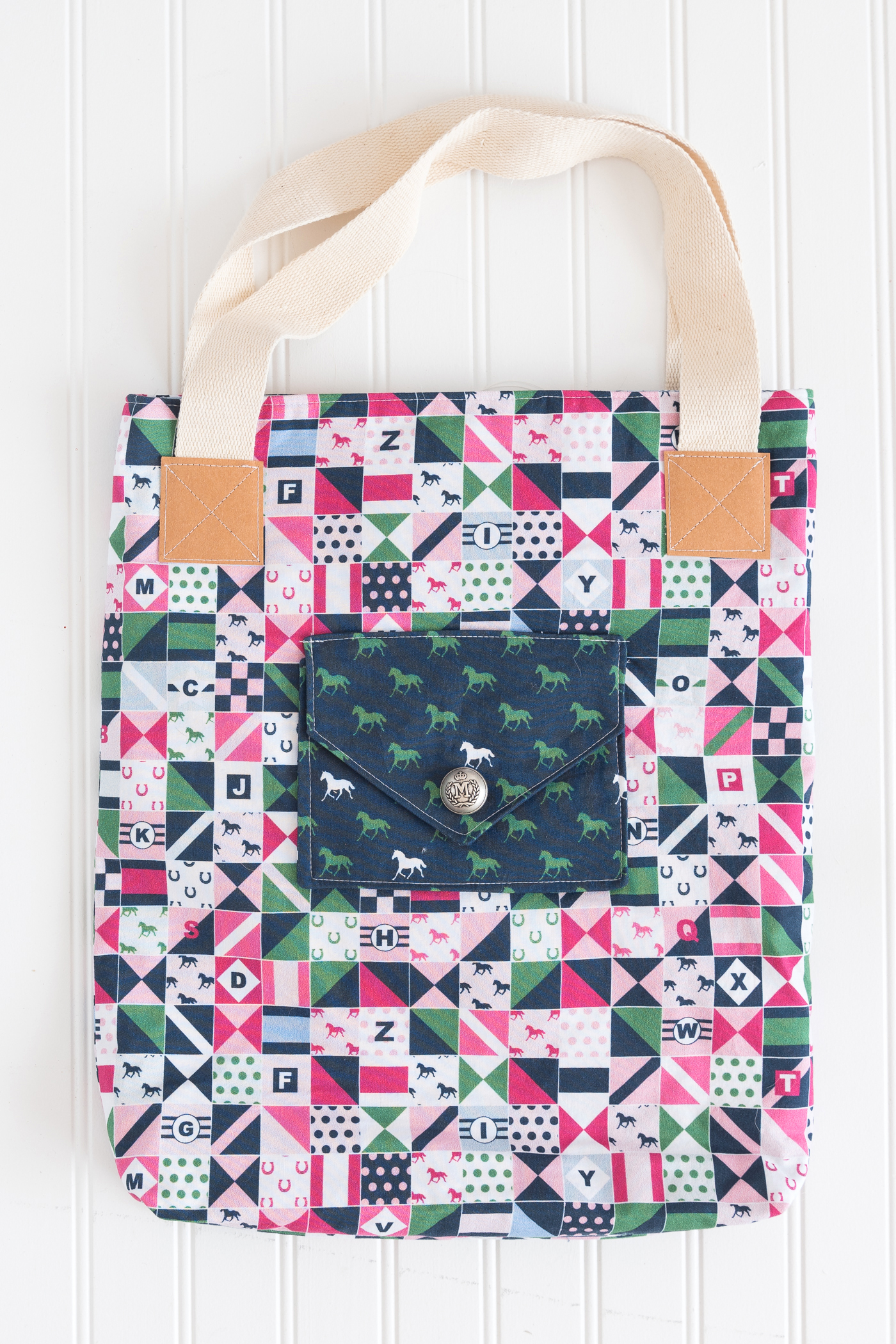 To celebrate the release of the new Quilt Patterns, I'm offering 25% off in the shop for one week only on your TOTAL purchase over $5.
Just use the code: NEWPATTERNS – sale lasts through 2/21/18.