If you love to make handmade gifts for the Holidays but find yourself at times overwhelmed with all that you have to do, you're not alone. We can all use a little bit of extra help during the Holidays, and today I thought I'd do my part to help you all out a bit!   
I've designed some Free Christmas Planner printables specifically for handmade gifts! I've also included a free printable Christmas Gift checklist for you!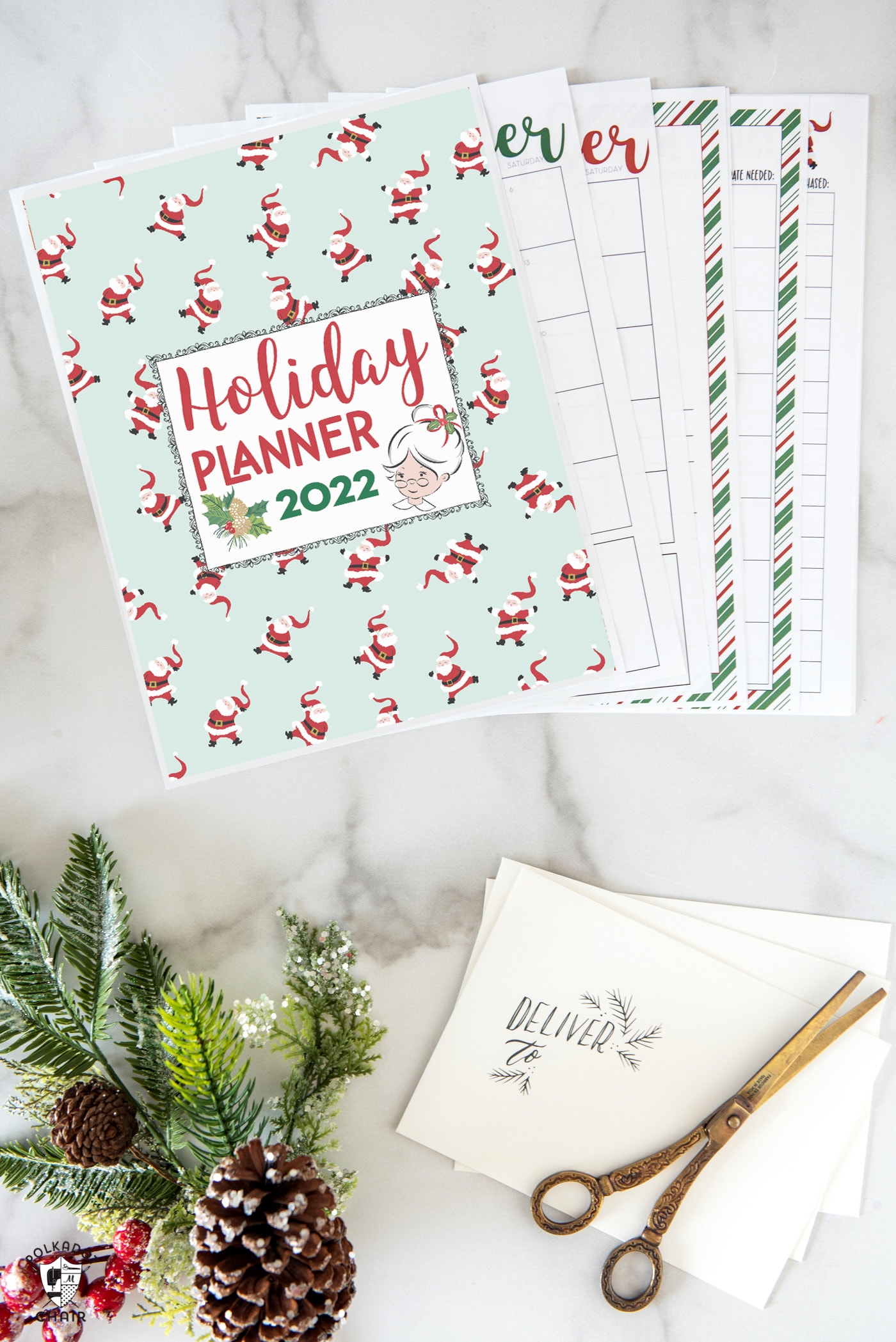 Every year I attempt to pull off an Organized Christmas. Each year I get a little bit closer to that goal; one day, I'll get there LOL! I first shared this post last year, and you guys loved it so much that I thought I should share it again!
This year I've updated the planner to include a 2022 November & December calendar printable.
Table of Contents
Due to my job as a blogger and a fabric designer, I often need to complete many projects in a short amount of time. Over the years, I've developed a few routines that have helped me finish things on a deadline. (They aren't perfect, I still find myself scrambling occasionally, but mostly they help a TON). 
I get asked a lot about how I juggle it all, and I'll just say that juggling is a great word; I think I've become accustomed to multi-tasking over the years. 
I don't worry about balance, just juggling. It actually helps me to think of it that way.  Balance just seems like such an impossibility, yet juggling implies action, and to me, it is totally doable.
Free Christmas Project Planner Printables
Today I want to share with you these free Handmade Holiday project planner pages. I sat down and thought I'd share with you my process for getting things done.
Since many of us during the Holidays are faced with completing many projects within a short period of time, I thought that the knowledge I've gained from years of prepping for quilt markets and blog posts might come in handy for you!
Two Christmas Planner Versions are Available!
There are two versions of our 2022 Christmas Planner available. Pick the one that best suits your needs! Both versions include illustrations from my Santa Claus Lane Fabric Collection!
Option One: Free Version
The free version is designed with the Maker in mind. It gives you a master "to make" list and project planning sheets to keep track of your supply purchases, cutting steps and finishing goals. Included in the free version:
November & December Calendar
To Make List
To Buy List
Project Worksheet
Cutting Guide & Notes Printable
To get the free version, fill out the form at the bottom of the page.
Option Two: Complete Christmas Planner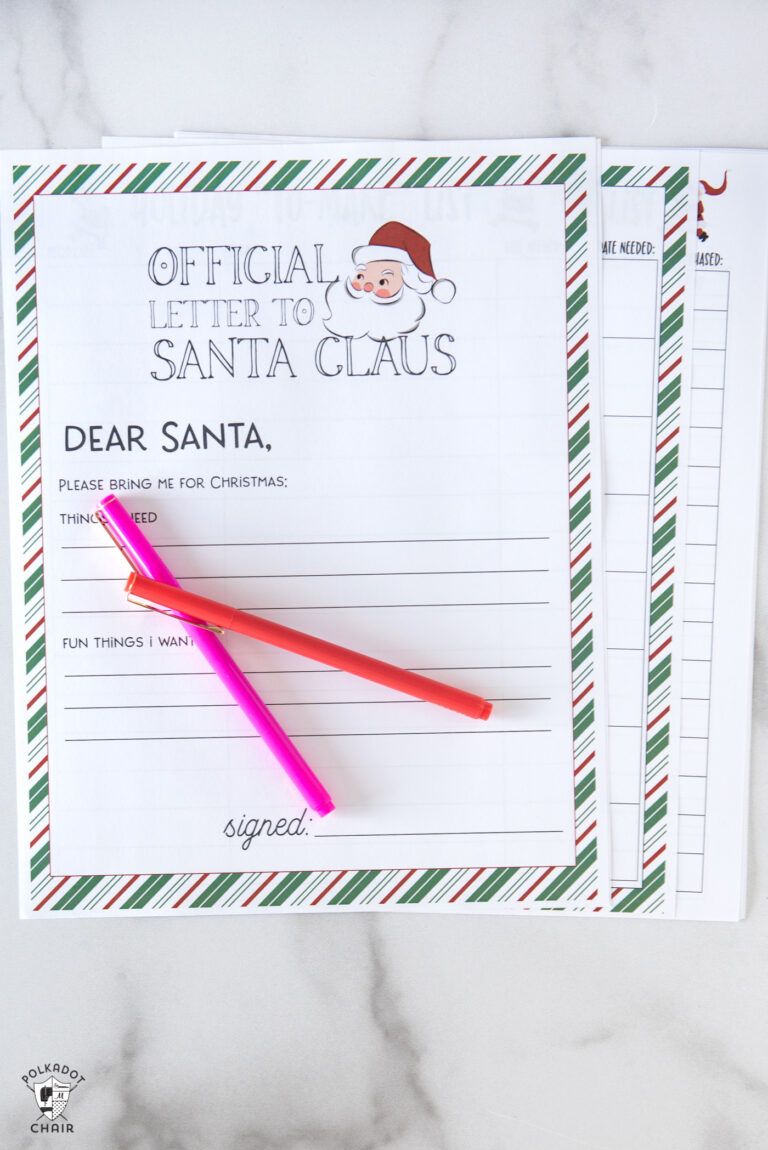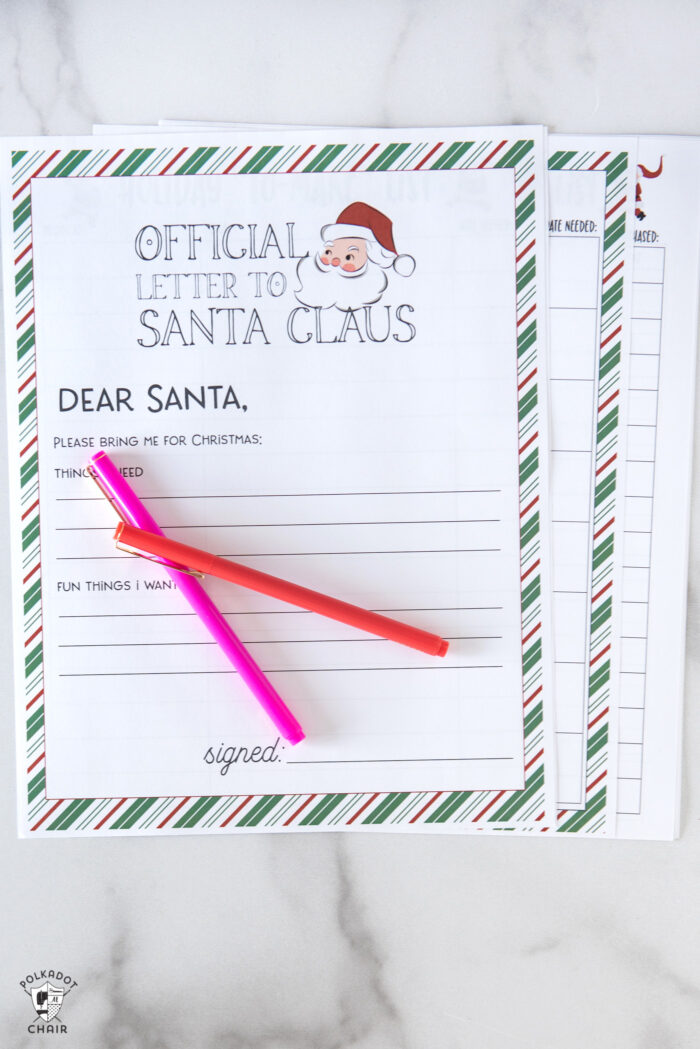 The Complete Planner includes all of the above and adds:
Holiday To-Do List
Menu Planner
Letter to Santa (3 colorways)
Budget Tracker
Stocking Stuffer Shopping List
Chores List
Note: If you bought the planner last year, you could just get the freebies from us. The only things that have changed are the cover & calendar pages.
You can find the complete planner in our shop!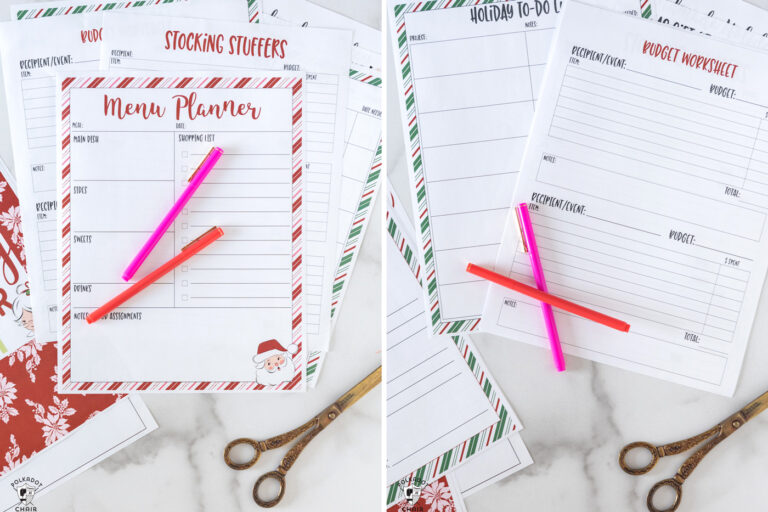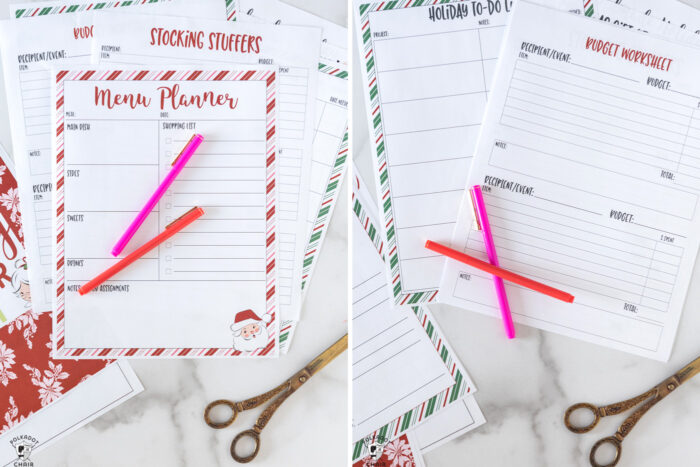 My Holiday Productivity Process
1- Make a Master To-Do List
When I'm faced with completing a lot of projects in a specific amount of time, I make a master list of all the projects I need to complete, then note the date they need to be completed.
2- Break Each Project Down into Smaller Steps
I then break each project down by steps and slowly work through the steps.
3- Set Date Goals to complete each of the smaller steps
I set myself a goal to have each step completed. That way if I have to send a quilt off to be quilted or need time for supplies to arrive I'm prepared.
4- Work in 3 to 4 Hour Time Blocks
I was told by a Pinterest employee once that they had training at work and were told that people are the most productive in 3-4 hour time blocks. It takes you 1 hour to get into the "rhythm" of what you're doing then you have 1 hour of high productivity.
After that, you will get 1-2 more hours of good productive time before you begin to burn out. At that point, TAKE A BREAK, as your work will just get sloppy after that. I implemented that strategy a couple of years ago, and it works!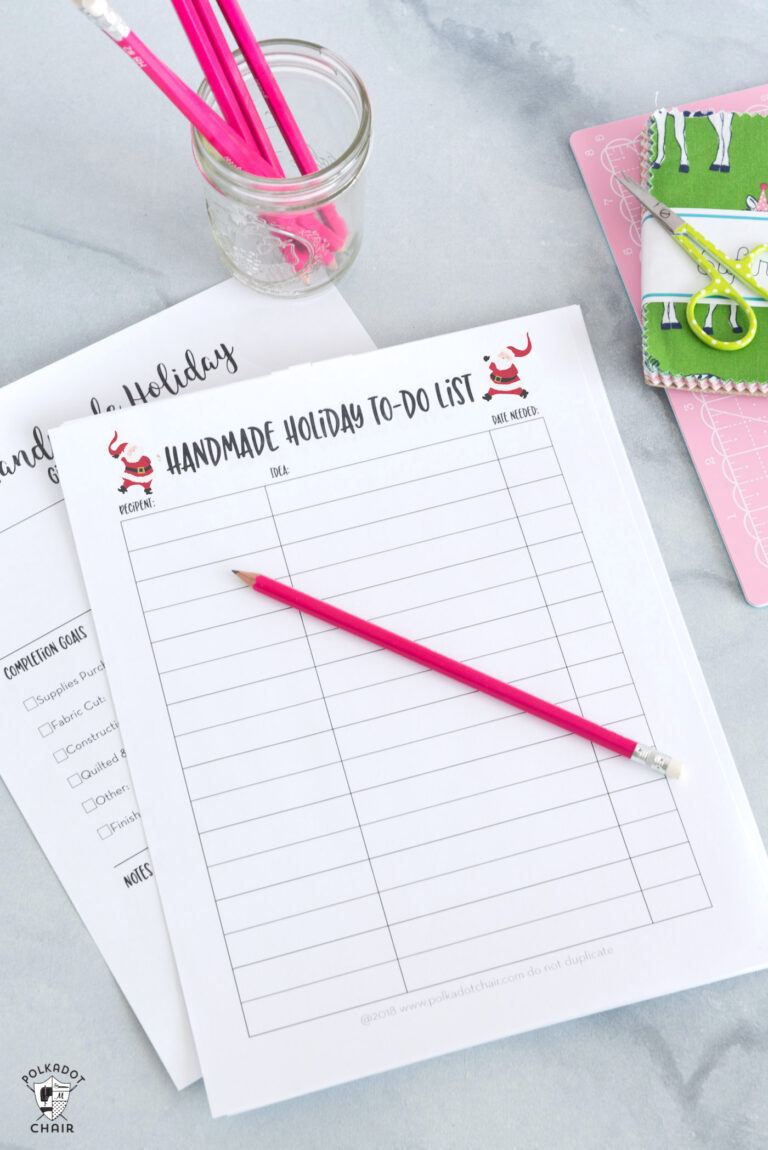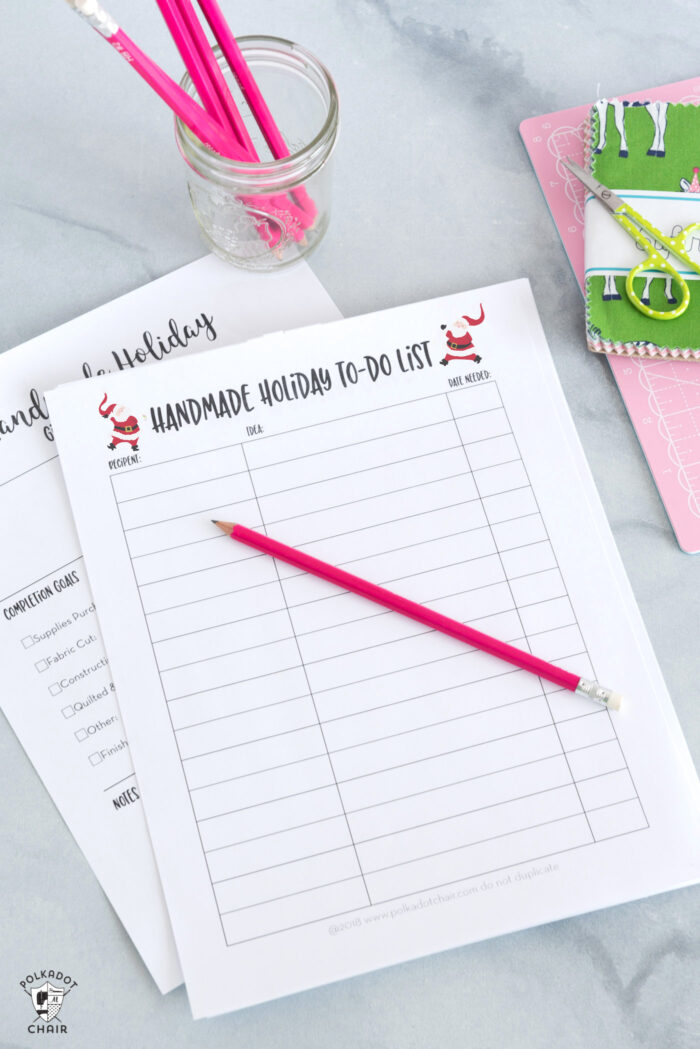 I've taken my "system" and created some free printable project sheets for you based on the system. If you need to complete a lot of projects in a short amount of time during the Holidays, I hope these project planner sheets help you out!
How to use the Free Printable Christmas Planner Sheets
I like to make my own perfect planners using notebooks. You can see how I do it HERE and HERE.  You could also use a binder or add these printable sheets to an existing project planner.
I also like to keep my projects organized in clear plastic folders.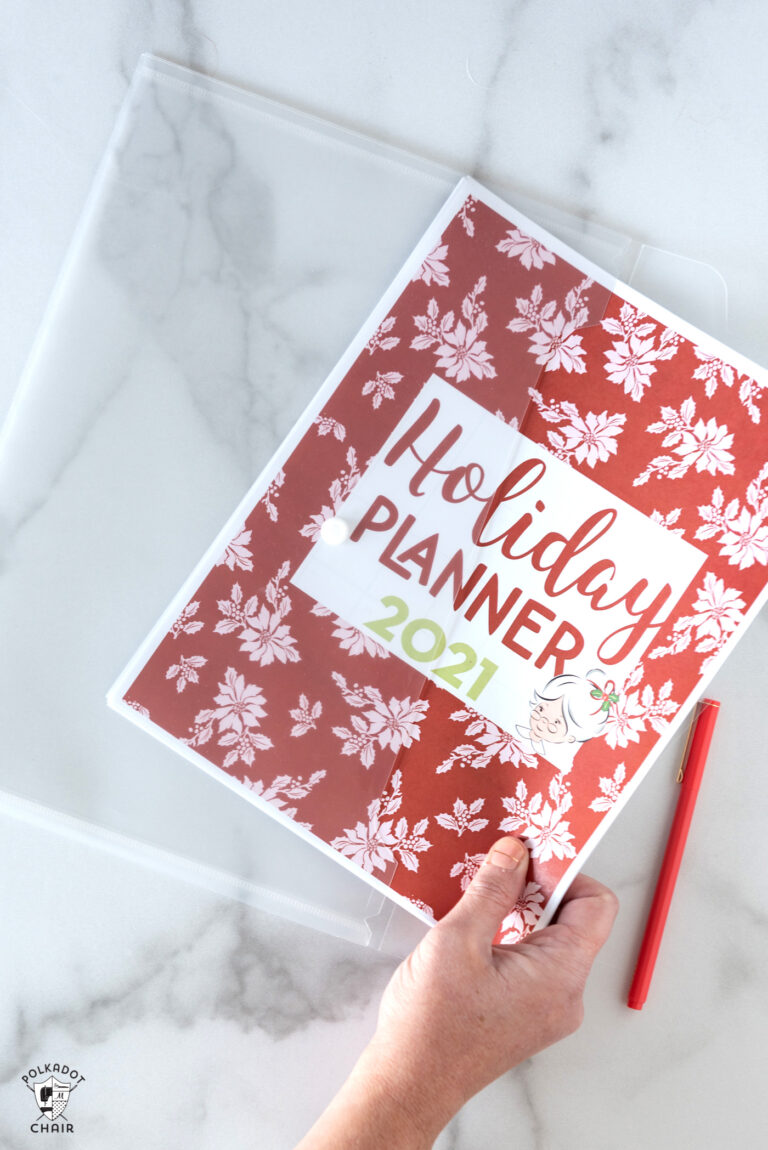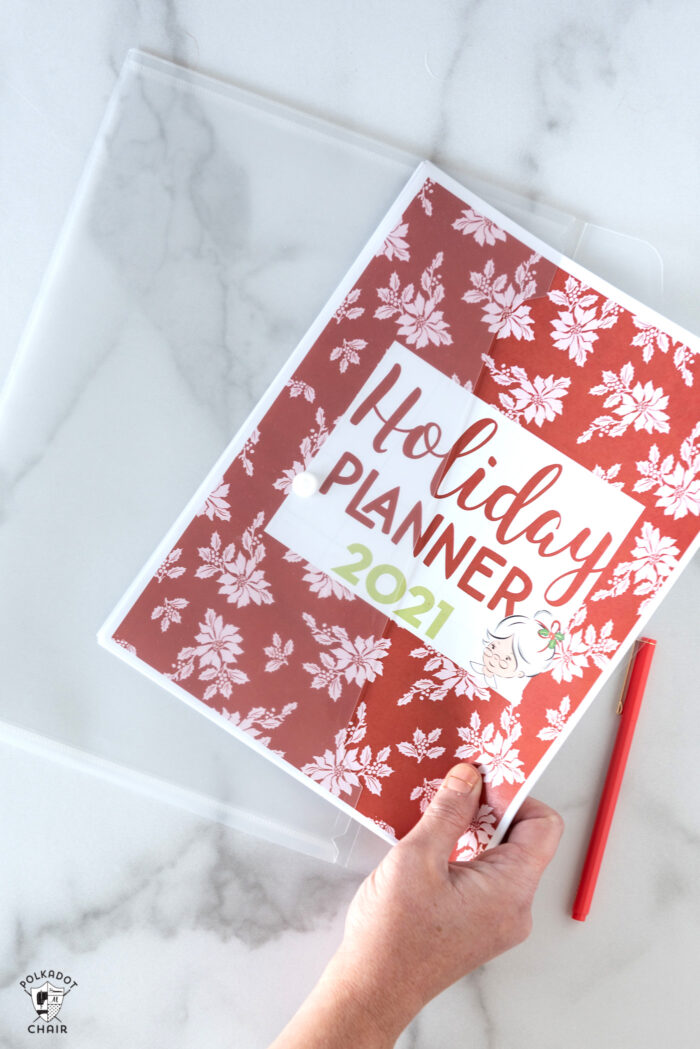 (the 2021 Cover, it has been updated for 2022)
Christmas Planner Sewing Pattern
If you're in the mood to make a cute planner, then you should check out this  Christmas Planner tutorial.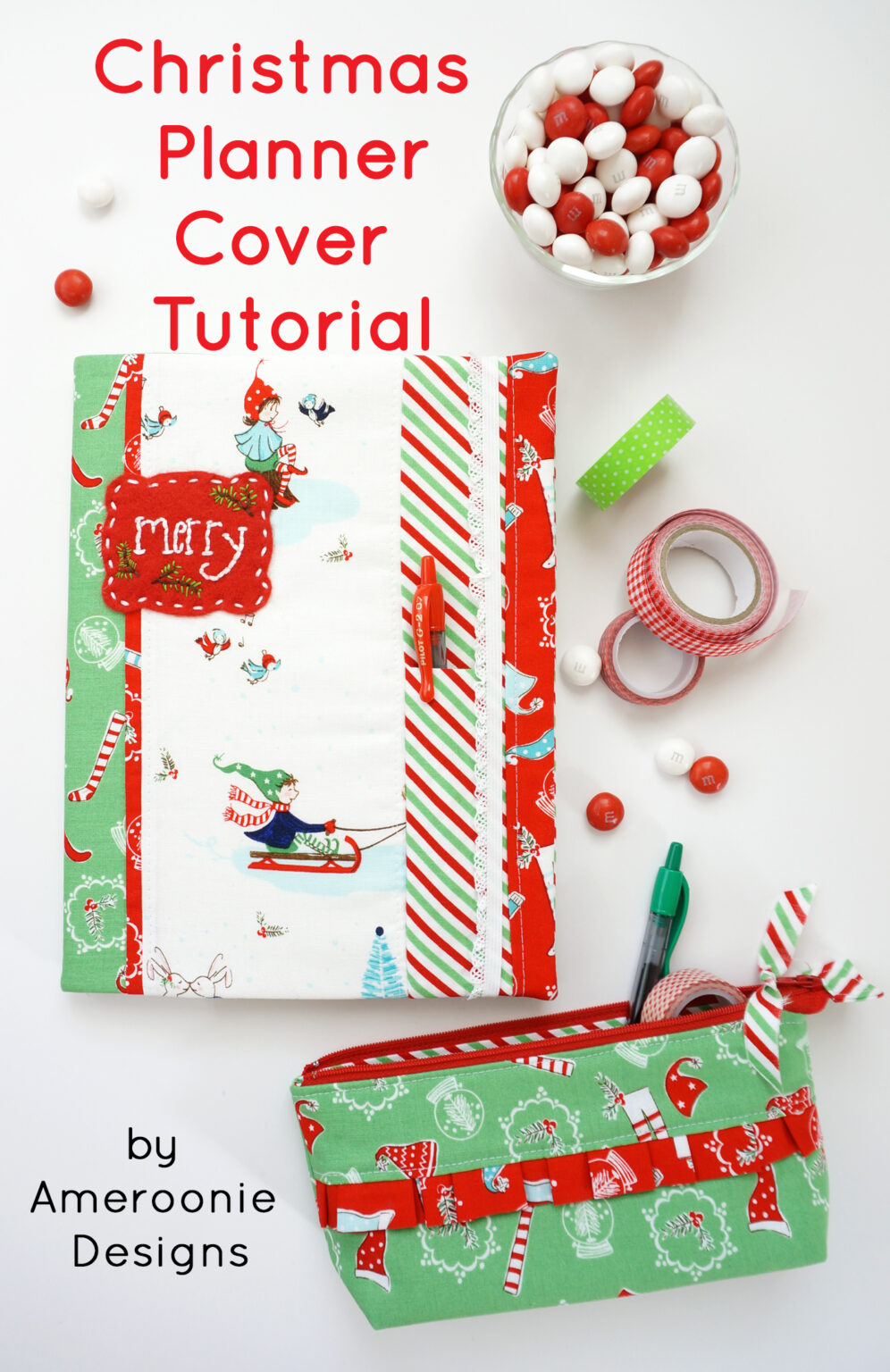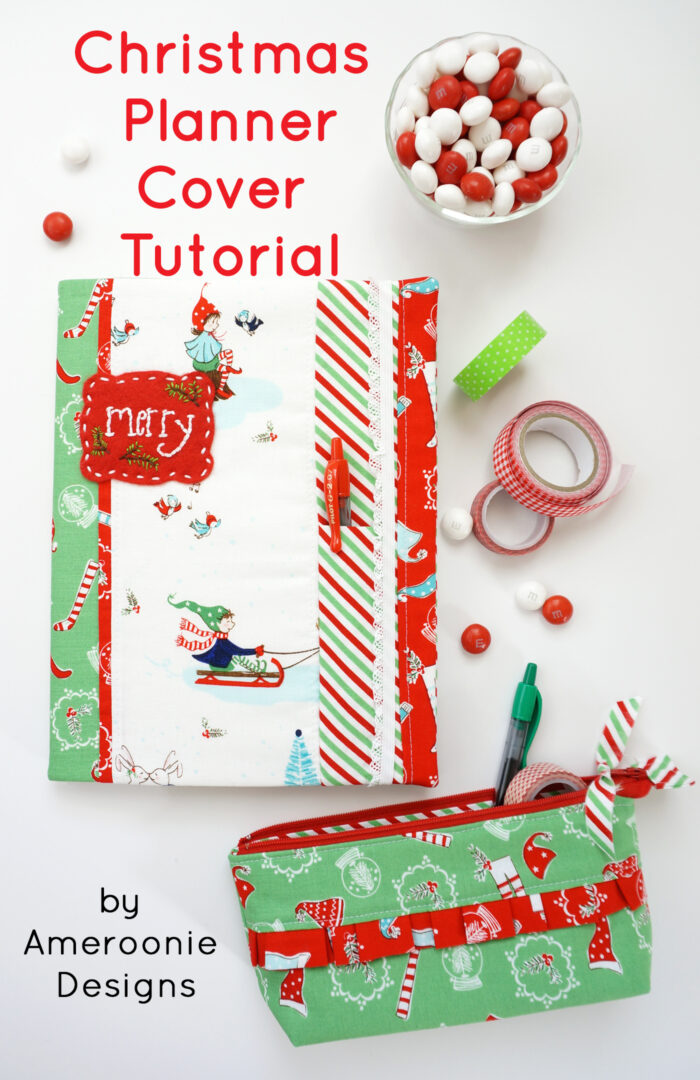 If you decide to do this, just print out your planner sheets the same size as your composition notebook pages and staple them into the notebook.
This planner is great for the Holidays, but if you're looking for a more comprehensive project planner to use all year, then I recommend the Quilters Planner.
Included in the Free Holiday Project Planner
1- A December & November Calendar & Cover
I've included designs from my Santa Claus Lane fabric collection to this year's planner pages!
NOTE: This planner has been updated for 2022!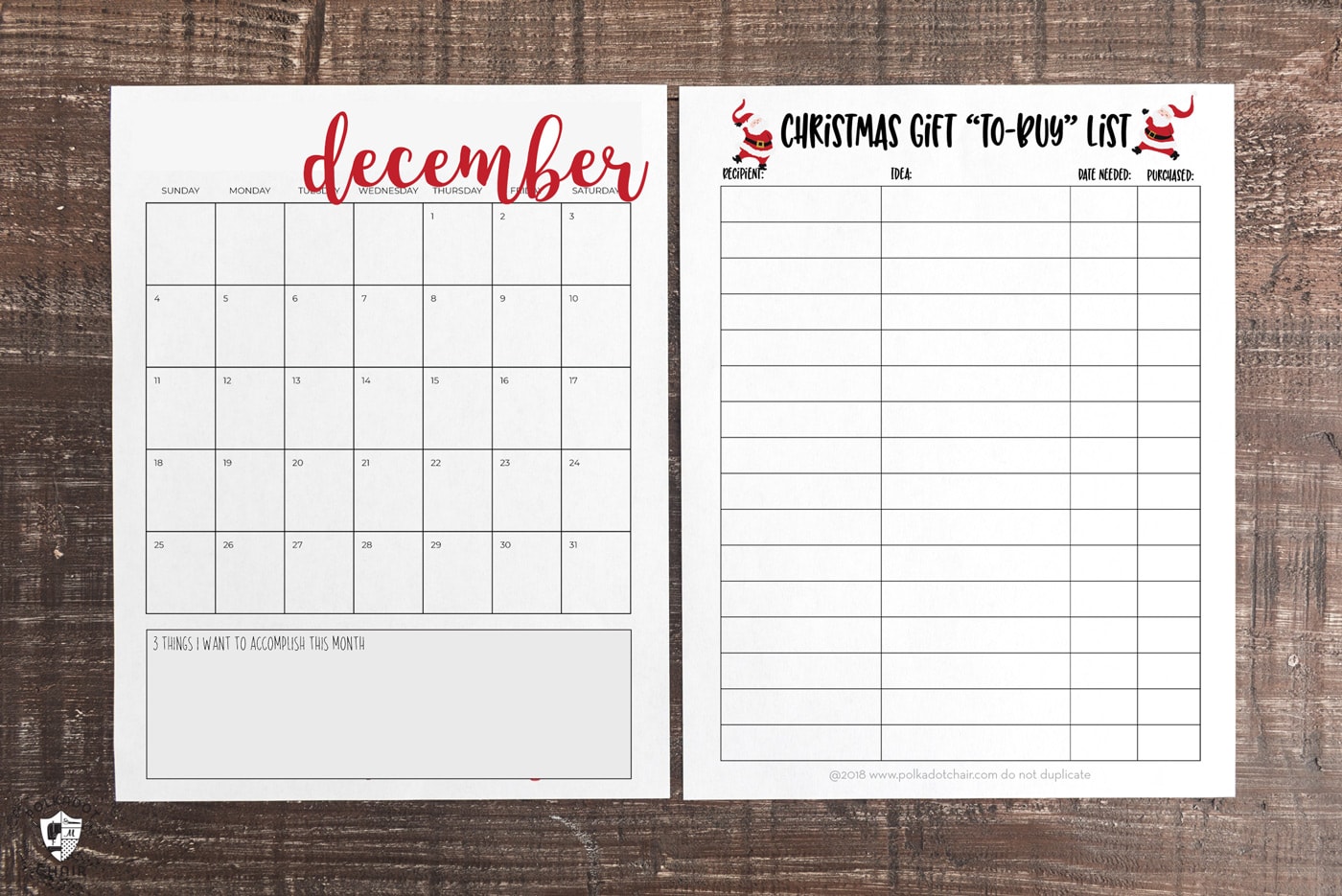 2- A Project Sheet & Master To-Do List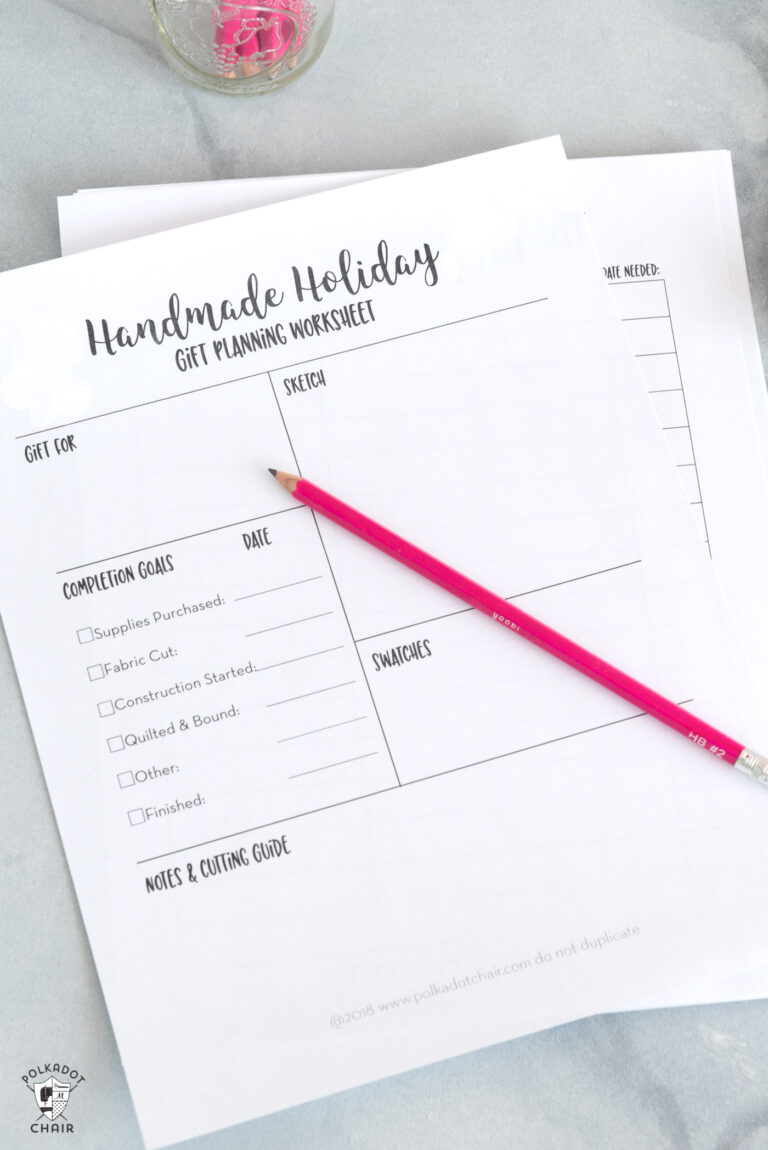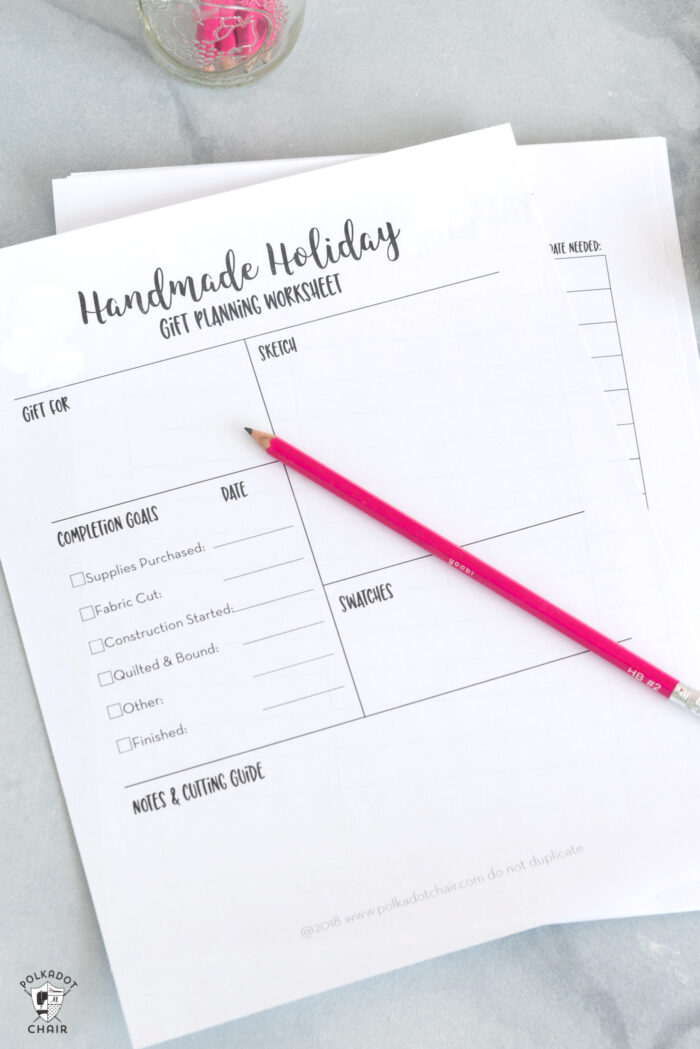 You can use this to brainstorm out all of the gifts you want to make and for who. I also added a due date column. I know in our family, we have multiple Christmas parties, and things are always due at different times, all during the month of December.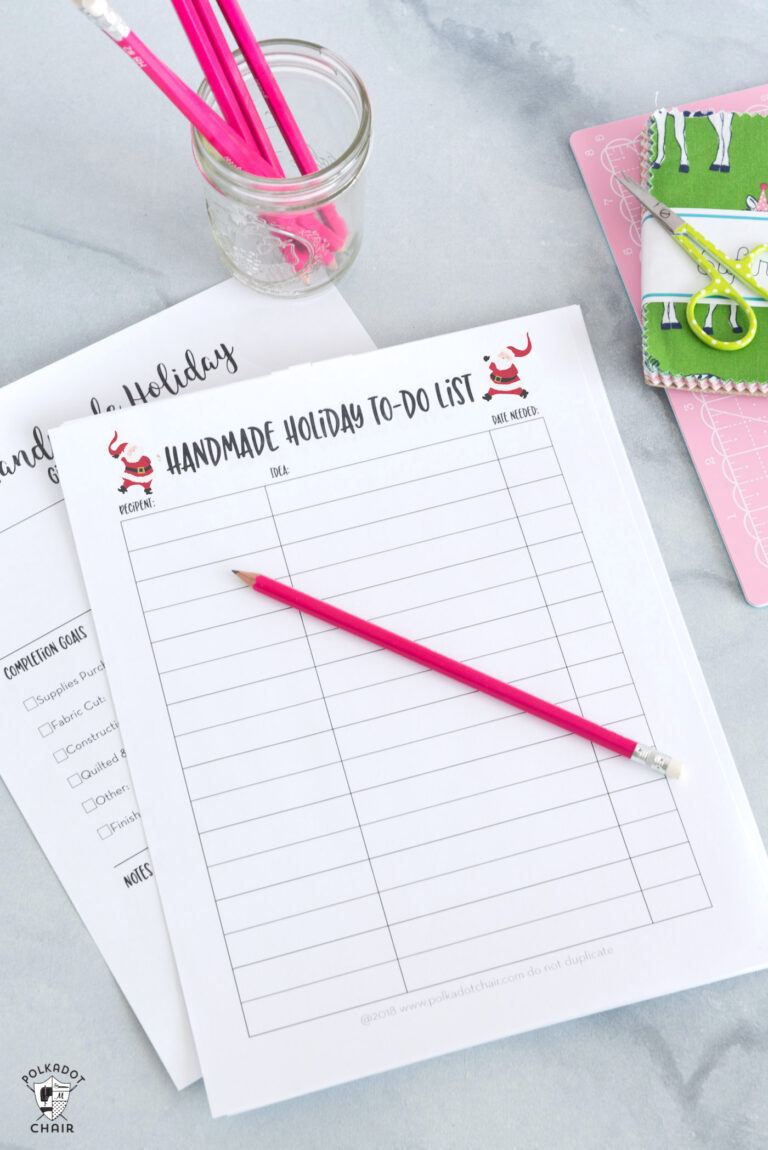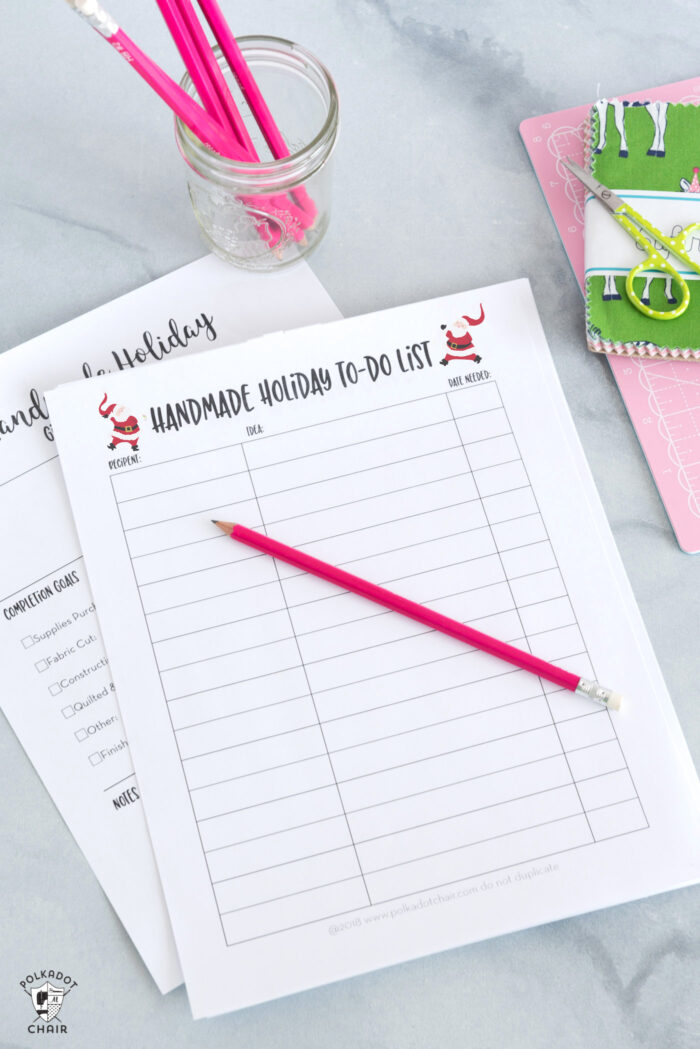 3- Planner Project Detail Sheet
This is pretty much what I use when I plan out a project. I note the dates I need things to be done in order for the project to be done on time. Also, I have included a small sketch; you can also note the cost of your project to help with your holiday budget. You'll also see that I've included a handy checklist to help you keep track of your progress.
4- Project Supply List & Notes
I've also added to this list a second NOTES page and a MASTER SUPPLY list page.  You can print the ones that you want to use and print as many copies as you need for your specific project.
4- A Christmas Gift Checklist
Since I know that we are also busy buying gifts during the holidays, I thought I'd include one more printable sheet for you, a "to buy" list. Just so you can keep all your gift "to-do's" together.
How To Get the Free Printable
Simply fill out the form below, and we will email you a copy of the planner.
More Organized Christmas Ideas:
Free Printable Tags for Handmade Gifts
Christmas Mason Jar Gift Ideas
If you're Looking for Handmade Gift Ideas, Check Out:
Merry Go Round Pot Holder Pattern
30 of My Favorite Bag Sewing Patterns