Give the gift of chocolate this Christmas with these cute Peppermint Bark Christmas Gift Ideas and Free Printable Christmas Gift Tags.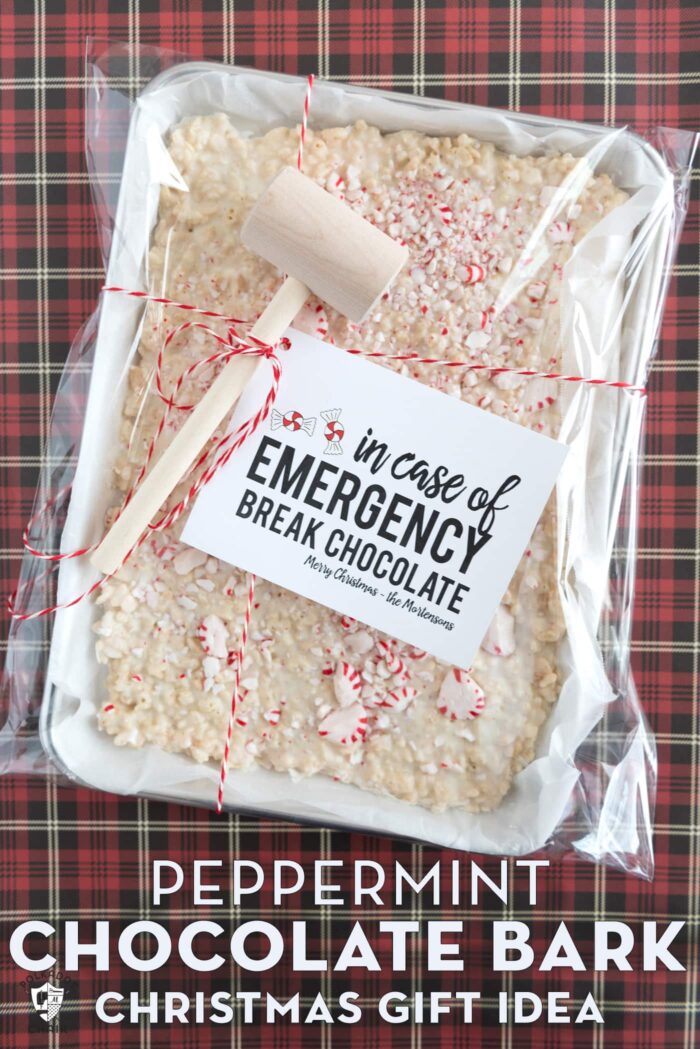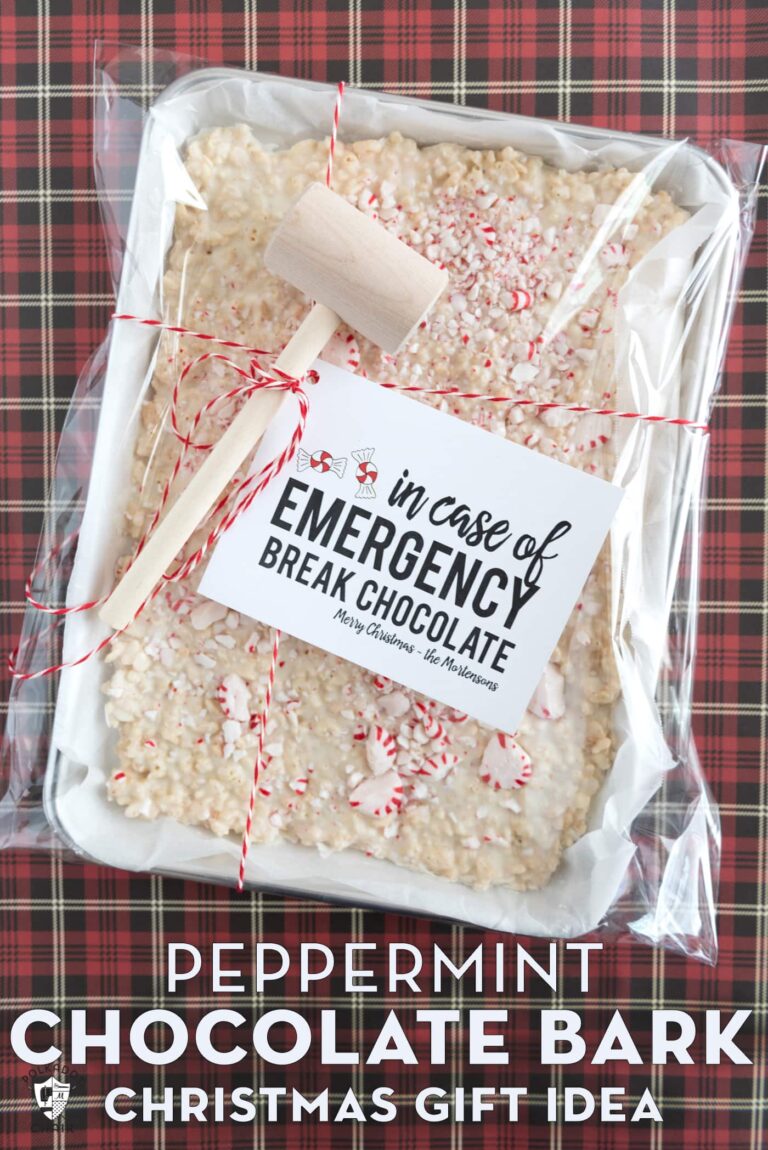 I was joking with a friend one Christmas that I needed to keep "emergency chocolate" in my bag since I was getting a bit stressed out over all of the Holiday prep. Later that day I realized that the idea of "emergency chocolate" might make a fun Christmas gift. (I know I'm not the first one to coin that phrase).
Table of Contents
Several years ago I started the tradition of making peppermint bark each Christmas. Some years I would make it just for our family and other years I would give it as a gift to friends and neighbors.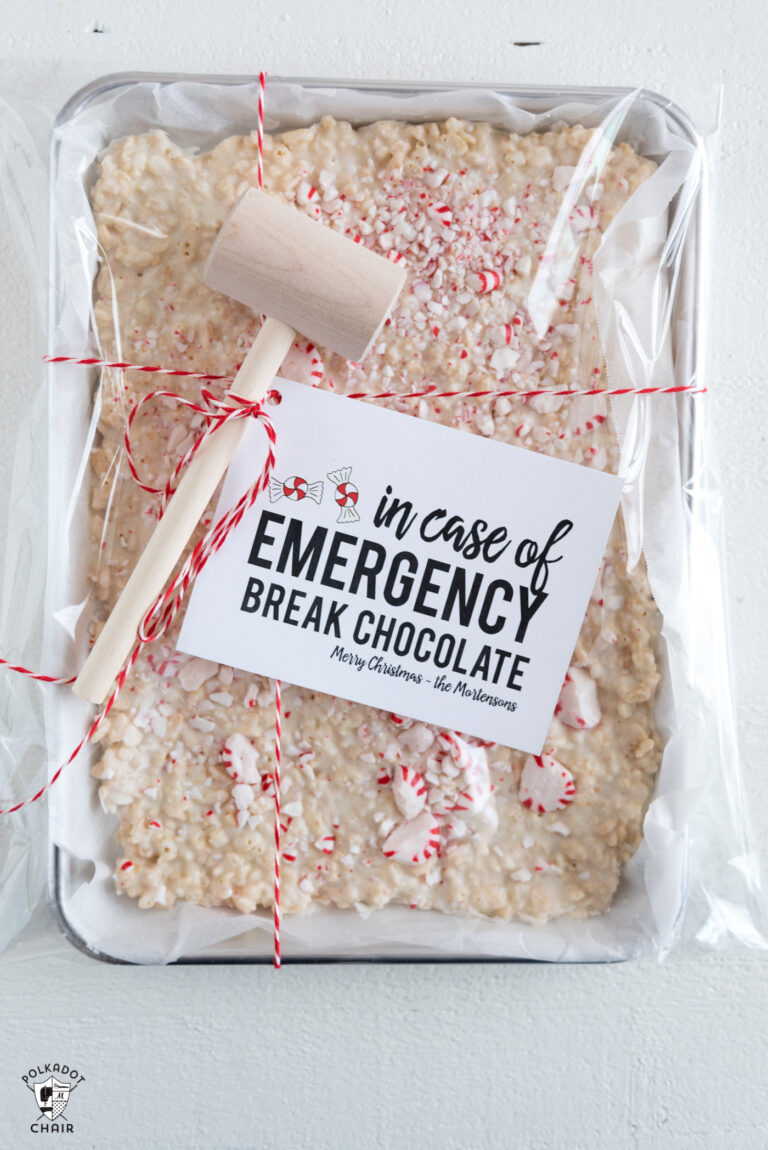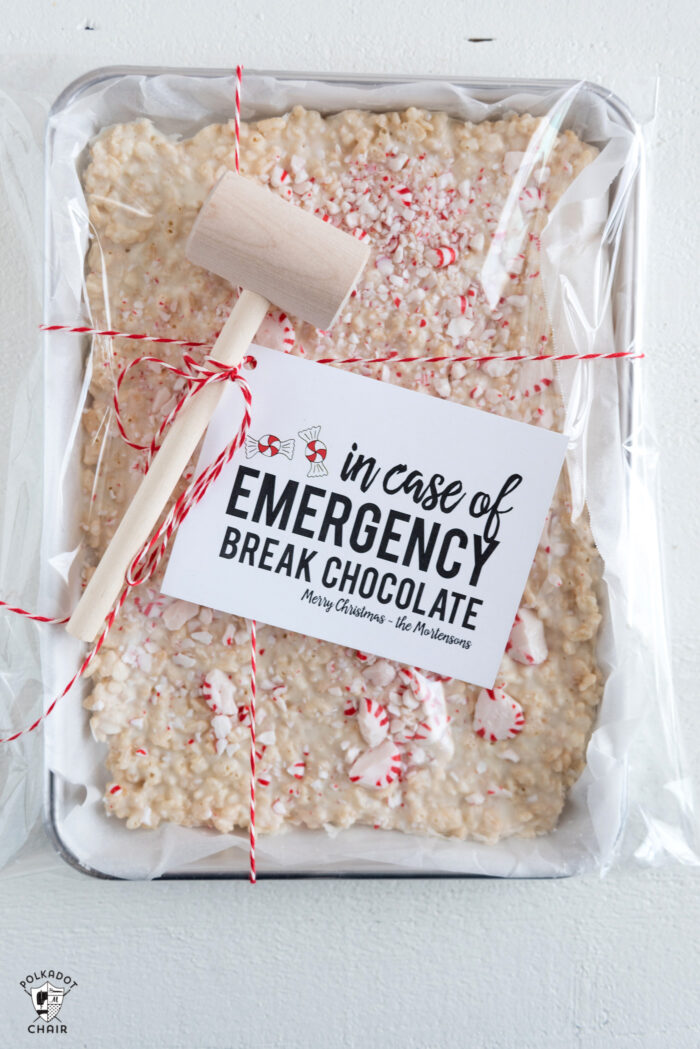 As our life has changed and our children have grown up and left the house I have found myself with a smaller Christmas gift list. Gone are the days of giving gifts to teachers, coaches, and instructors. Life changes and marches on and we have also found that many of our close family friends have moved away.
In the last few years (given our smaller list) I've begun giving friends and neighbors larger bags of our homemade peppermint bark. Last year I figured, "hey let's just give them the entire tray!". After doing a bit of research and checking prices online, I realized that gifting an entire tray of Peppermint bark was actually a reasonable idea.
Peppermint Bark Christmas Gift Idea & Recipe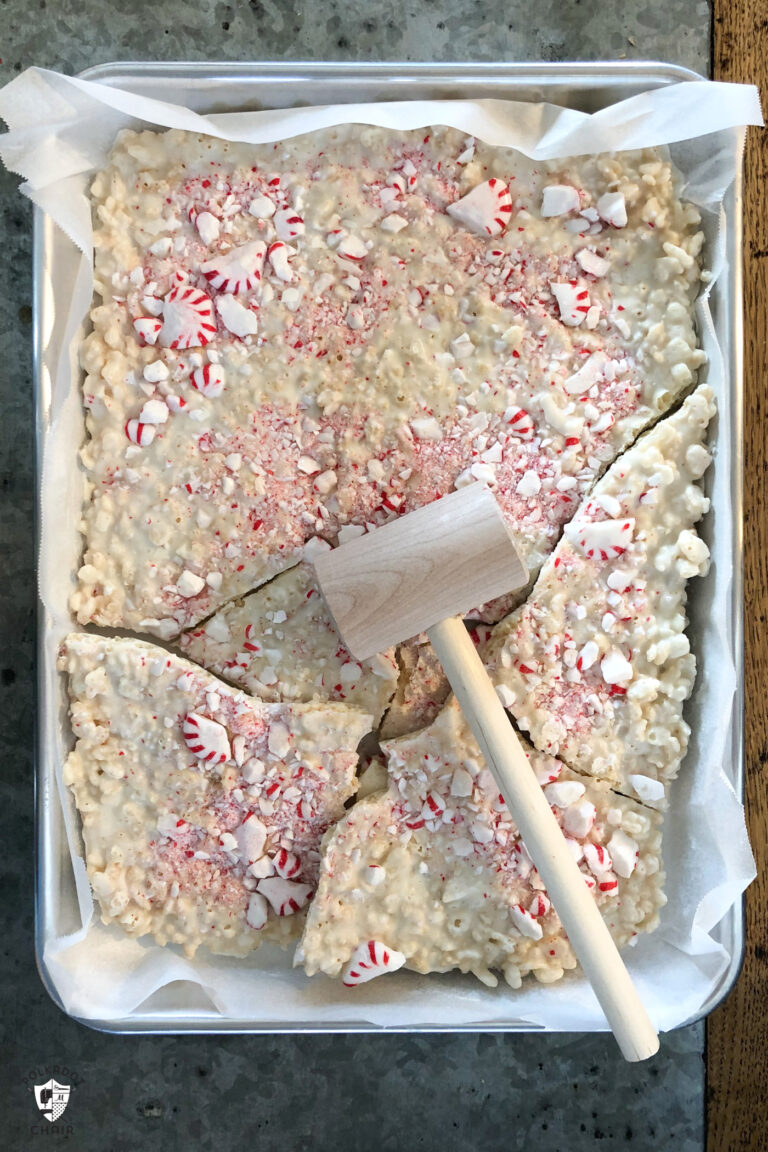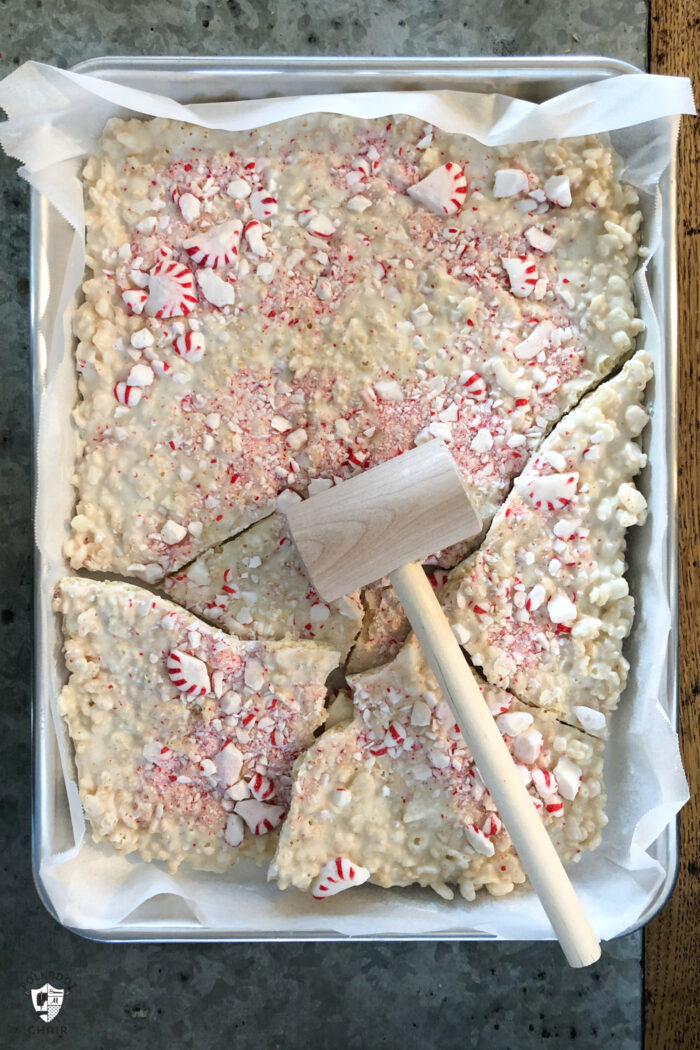 Also, I discovered I could buy an inexpensive set of wooden mallets and got even more excited about the idea. I mean who wouldn't love to get out a few frustrations and take a hammer to a block of chocolate?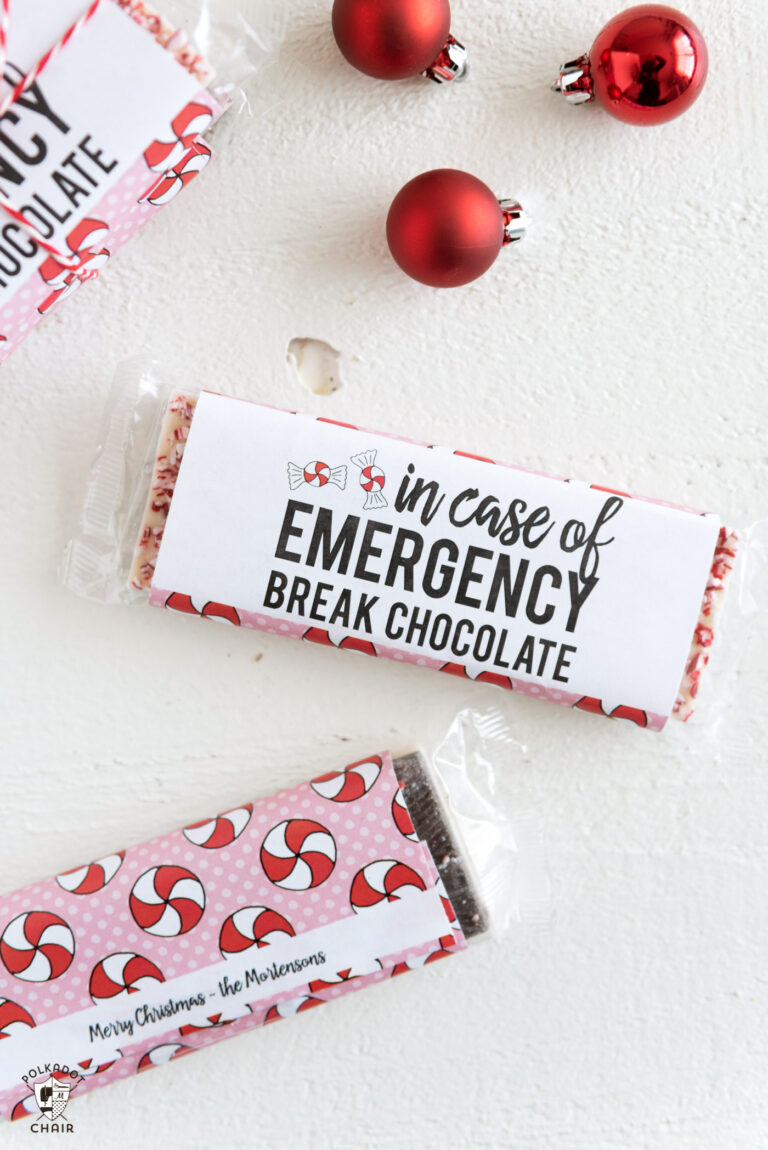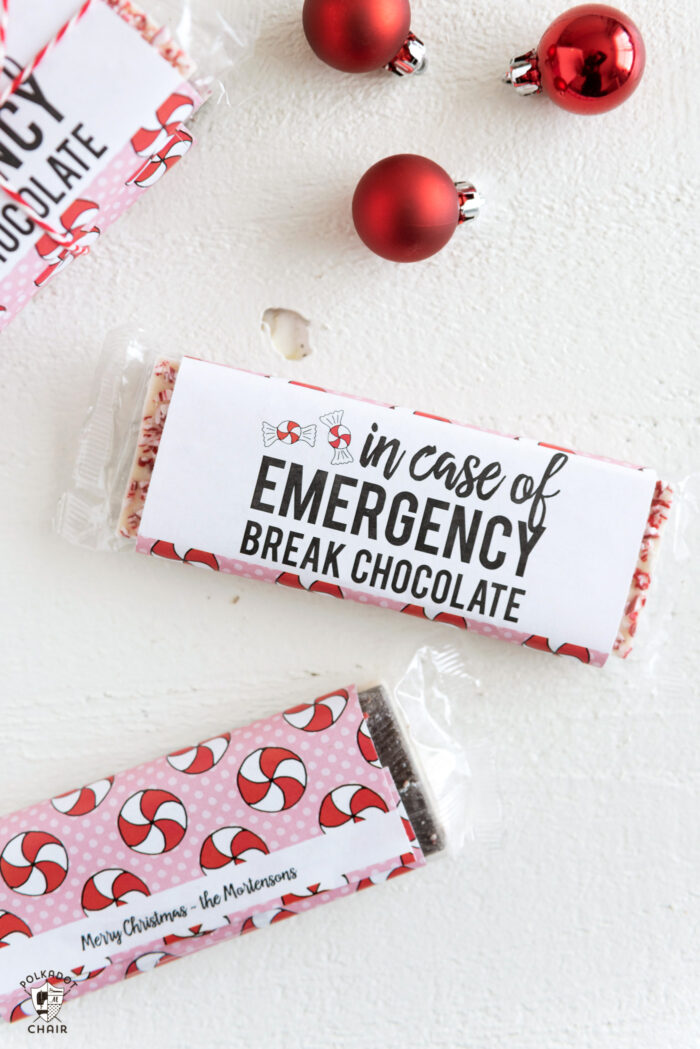 I have two different simple Christmas neighbor gift ideas to share with you. One of them involves a tray of peppermint bark and the other idea uses candy bars.
Option 1: Peppermint Bark Tray Christmas Gift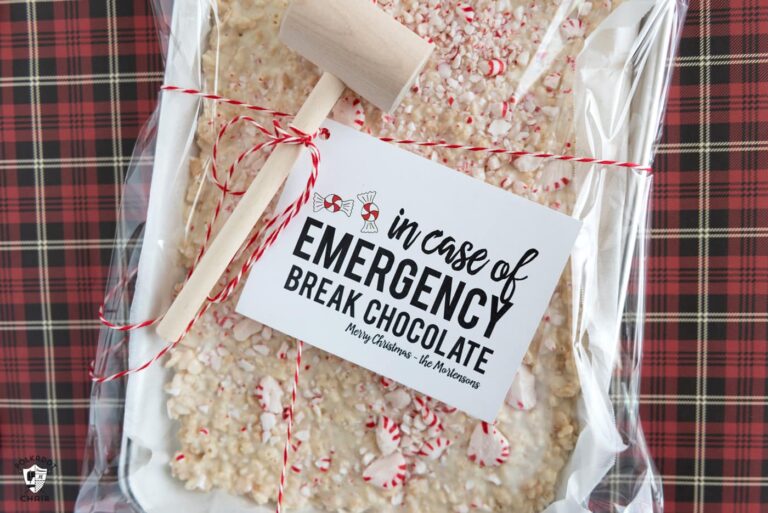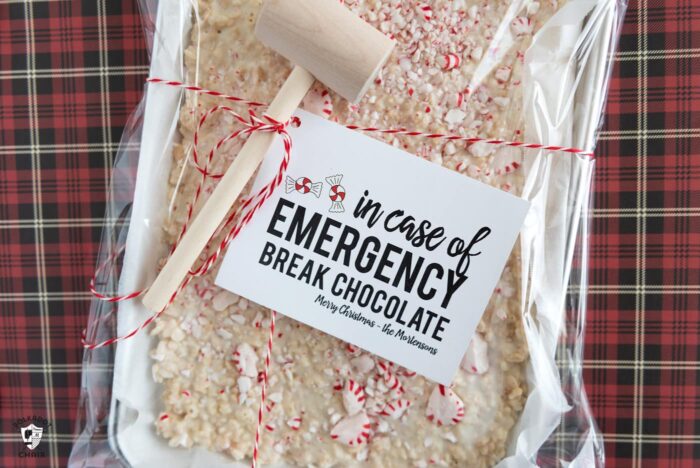 These Peppermint Bark trays make great gifts for teachers, friends, and neighbors for Christmas!
This gift works best if you are making a set of them as most of the supplies are sold in multipacks. When purchased together the items are a better value. The approximate cost comes out to $8-$10 per gift not including recipe supplies.
To make the Peppermint Bark Gift You'll Need
Instructions:
Cut a piece of parchment so that it is approximately 2″ larger than your baking sheet. Place the parchment paper on the baking sheet.
Prepare one batch of Peppermint bark according to the recipe. For my gift, I left off the dark chocolate layer (to save time and money on supplies).
I found that one batch fit the baking sheet well, but 1 ½ batches were better. If you are making a bunch I'd triple the recipe and then divide between two baking sheets. It's up to you how you'd like to do it.
Spread the prepared peppermint bark on the parchment-lined tray and refrigerate until hard.
Remove from the fridge and wrap the tray in the clear bag.
Using the baker's twine, tie the hammer to the baking sheet. Add the tag with a bit of twine as well.
Option 2: Peppermint Bark Candy Bar Wrappers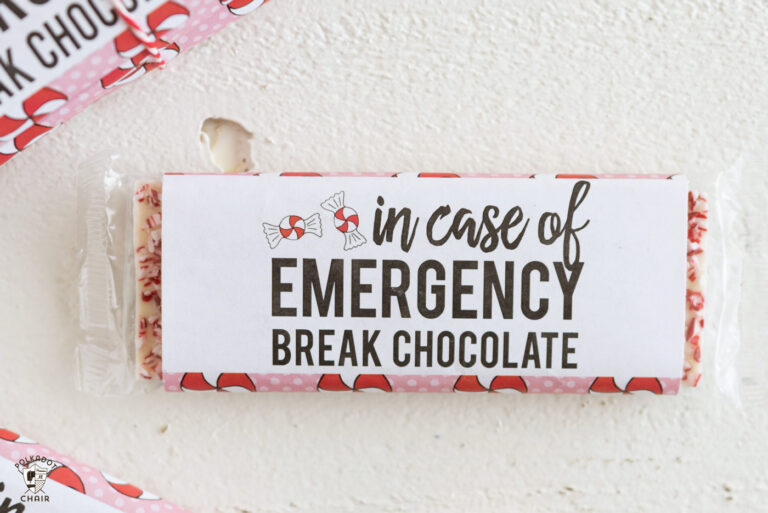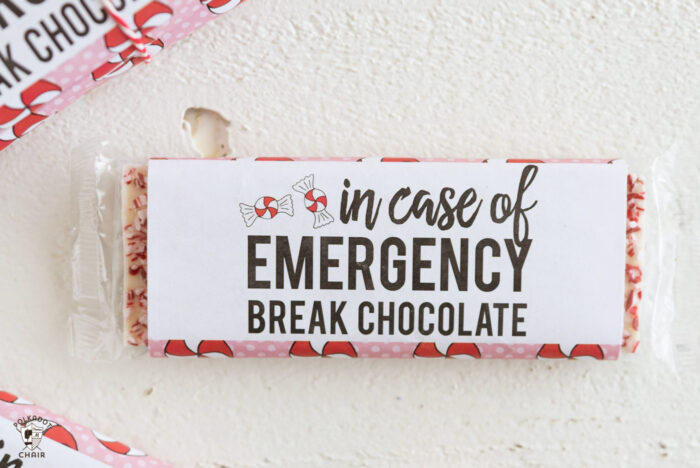 Supplies:
Chocolate bars. You can use Hershey Bars, or any chocolate bars close to 3″ x 6″ in size. I used Trader Joe's Peppermint Bark Bars.
Clear or Double Stick Tape
Printable Candy Bar Wrappers – (fill out the form at the bottom of the page to have the printable sent to you).
Directions:
Remove the existing wrapper from your chocolate candy bar.
Print out the Candy Bar wrappers on printer paper. You just want to use the kind you normally would for printing, not anything heavier.
Cut the Candy Bar wrapper in ½ along the dotted line.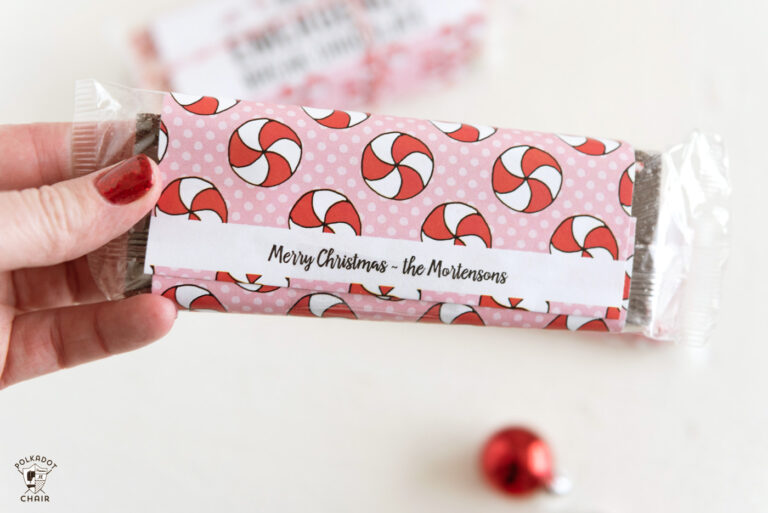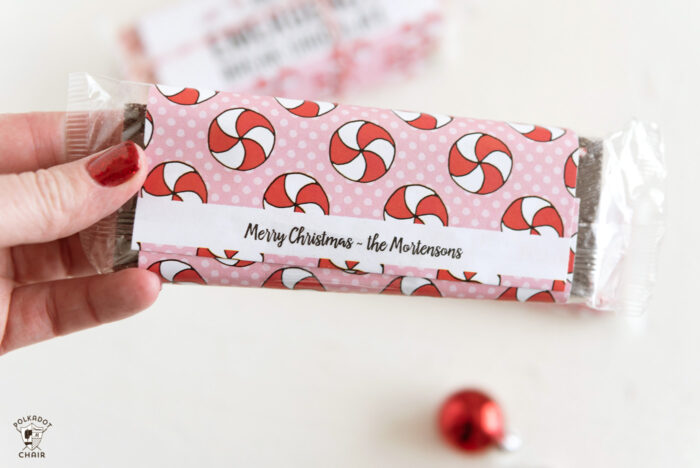 Sign your name in the white box on the back of the printable.
Wrap around the Candy Bar and secure in place with clear or double-stick tape.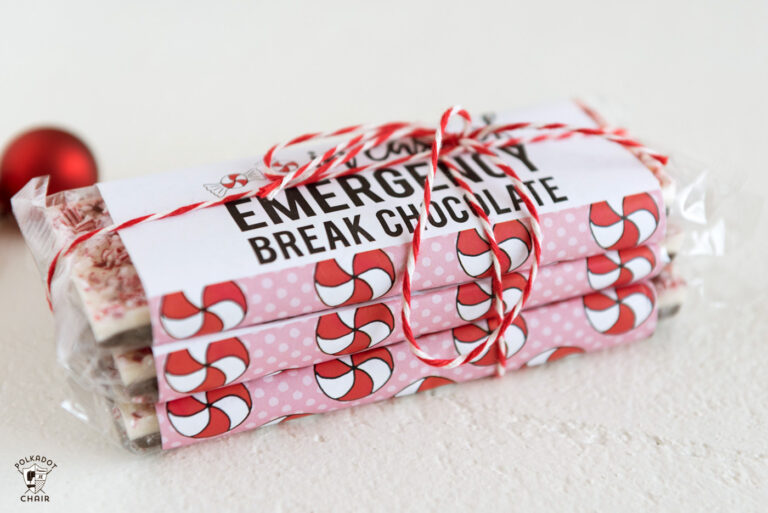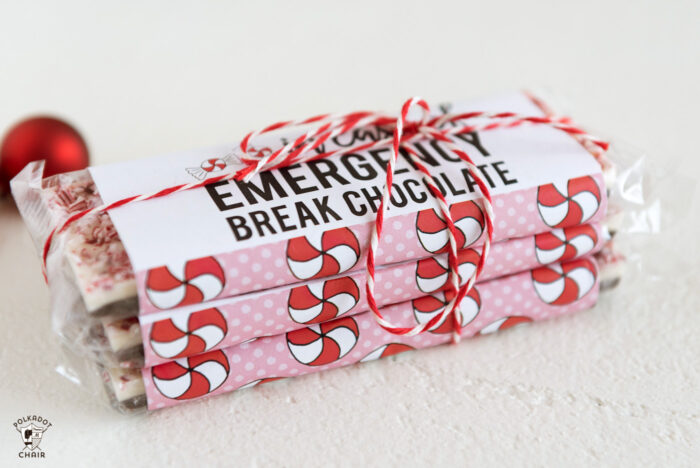 That's it! If you'd like the gift to feel more substantial you can tie a stack of the bars together or gift them with a gift card.
How to Get the Printable
Simply fill out this form and we will send you the printable.
More Simple Christmas Gift Ideas
Elf Mason Jar Christmas Gift Idea – we also have Snowman, Angel, Santa & Reindeer Mason Jar Gift ideas on this site.
"Hold it all Together" Neighbor Gift Idea
Poinsettia Gift Idea & Free Printable Gift Tag