Spruce up your Halloween decorations this year by adding floating candles to your front porch! These LED candles flicker at night, giving off a spooky vibe to welcome your guests and trick or treaters. Learn how to hang floating candles from your ceiling with our free tutorial.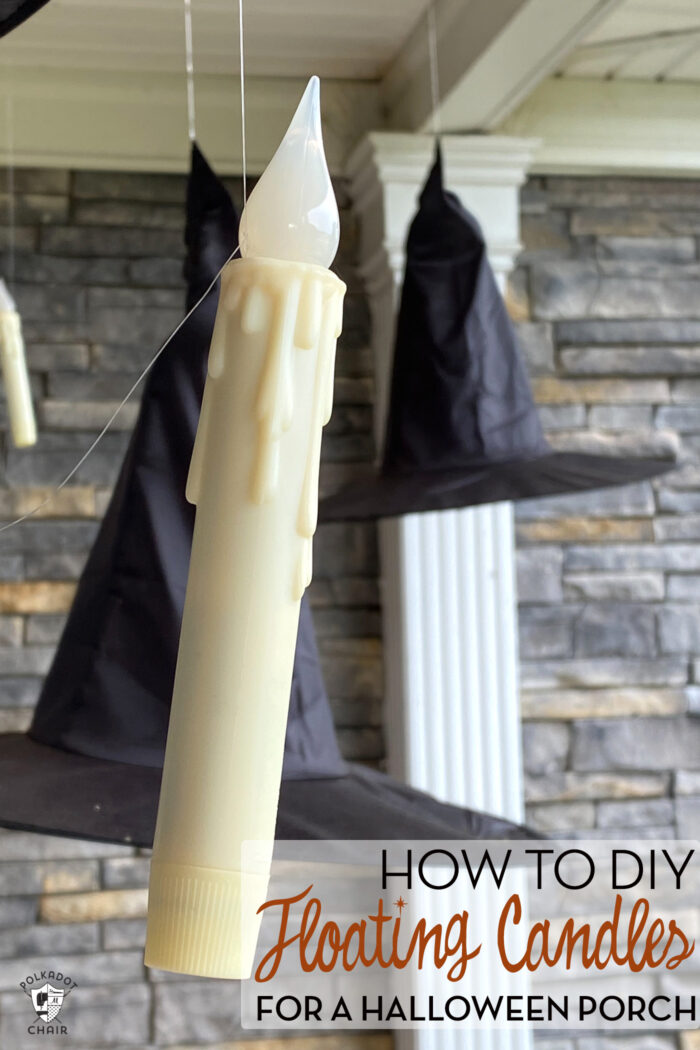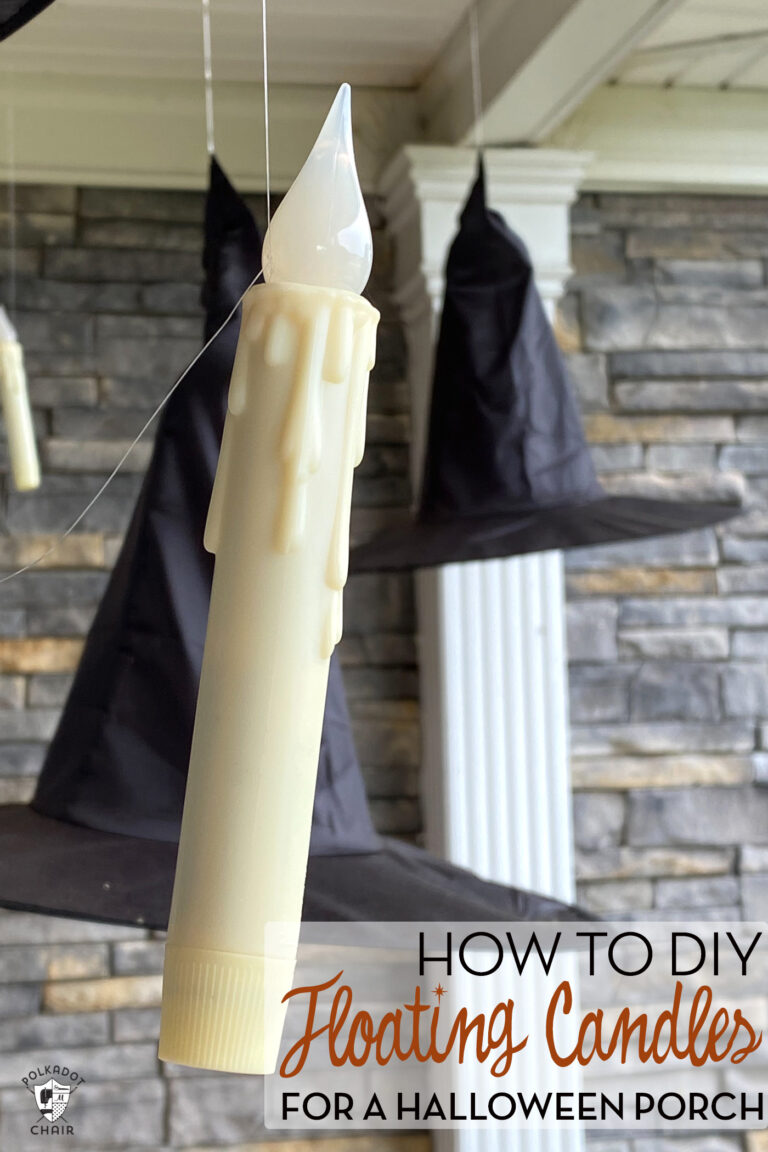 Several years ago, I got the idea to hang inexpensive witch hats from my front porch on Halloween. I thought it would be cool if I found a way to light up too and figured it out.
I can not honestly believe how popular that post has become. When I posted it, I had no idea that you guys would like it so much. I love decorating my porch for Halloween each year and am always on the lookout for clever and unique Halloween porch decorating ideas.
Table of Contents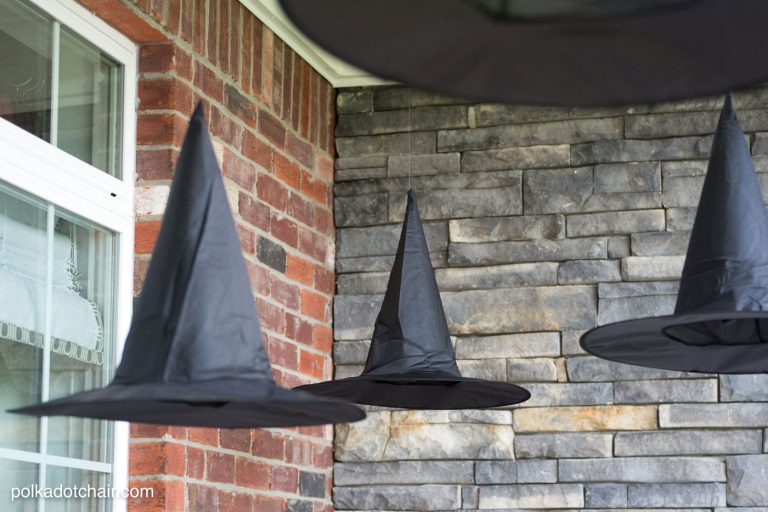 This year, as I was prepping to hang the witch hats from my porch, I thought I should "mix it up" a little bit and add a few floating candles to the hats.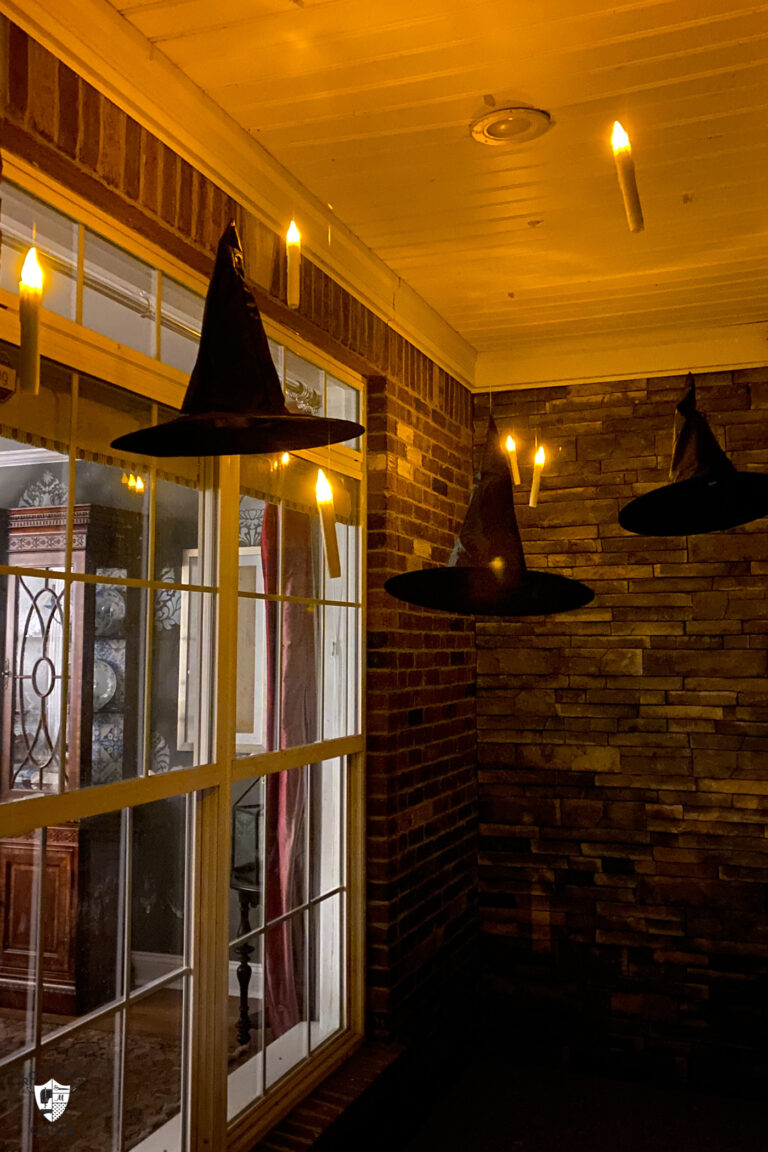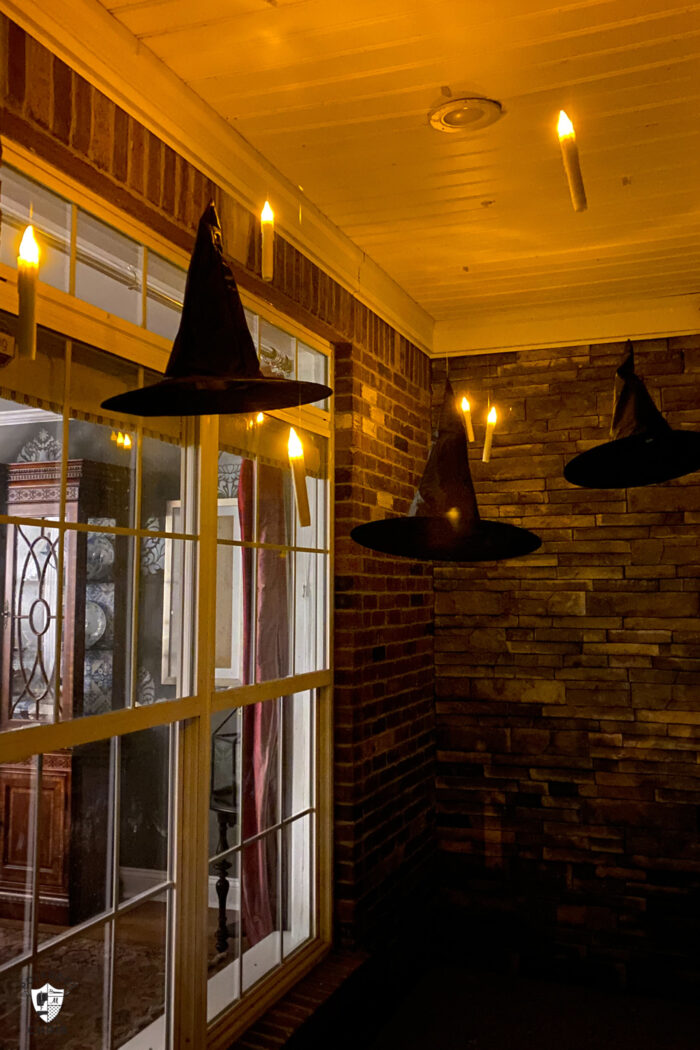 These floating candles compliment the floating witch hats nicely and are great to use if you have a small front porch or need some filler for the witch hats.
You could also hang these floating candles inside. I might try to hang some in my dining room this year; they'd look great with my eyeball china cabinet.
How to Hang Floating Candles on a Porch for Halloween
The candles I used in this project are LED candles that I purchased online (you should OBVIOUSLY NOT do this with real candles). I picked these because they have a remote and a timer. That way, I don't have to remember to turn them on and off this year for Halloween. The candles also have faux wax drips, which adds to the Harry Potter Halloween vibe.
Since they work on a remote, I don't need to climb up on my porch to turn them on and off.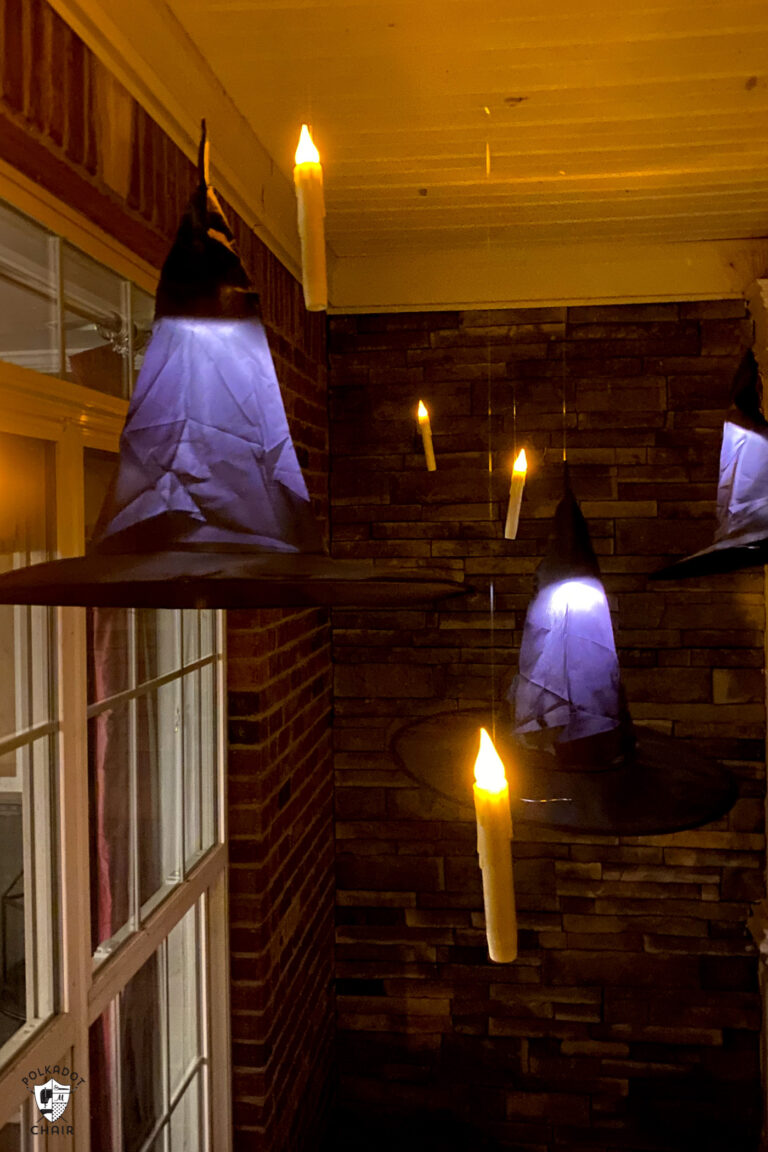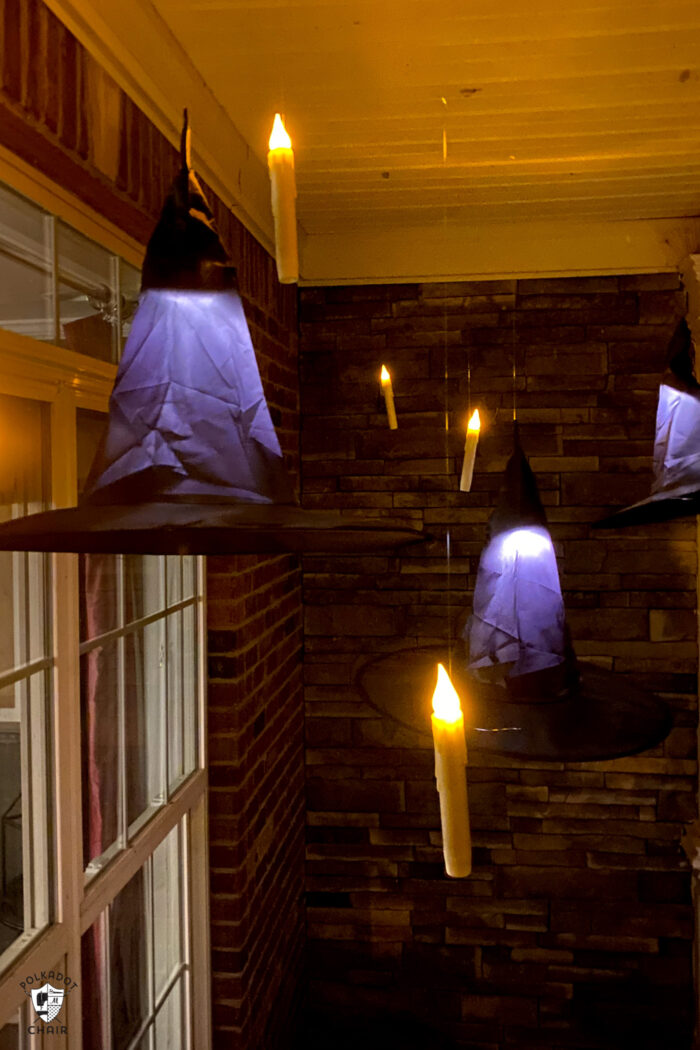 I've created a short video walking you through the steps; let me tell you how to do it.
Video Instructions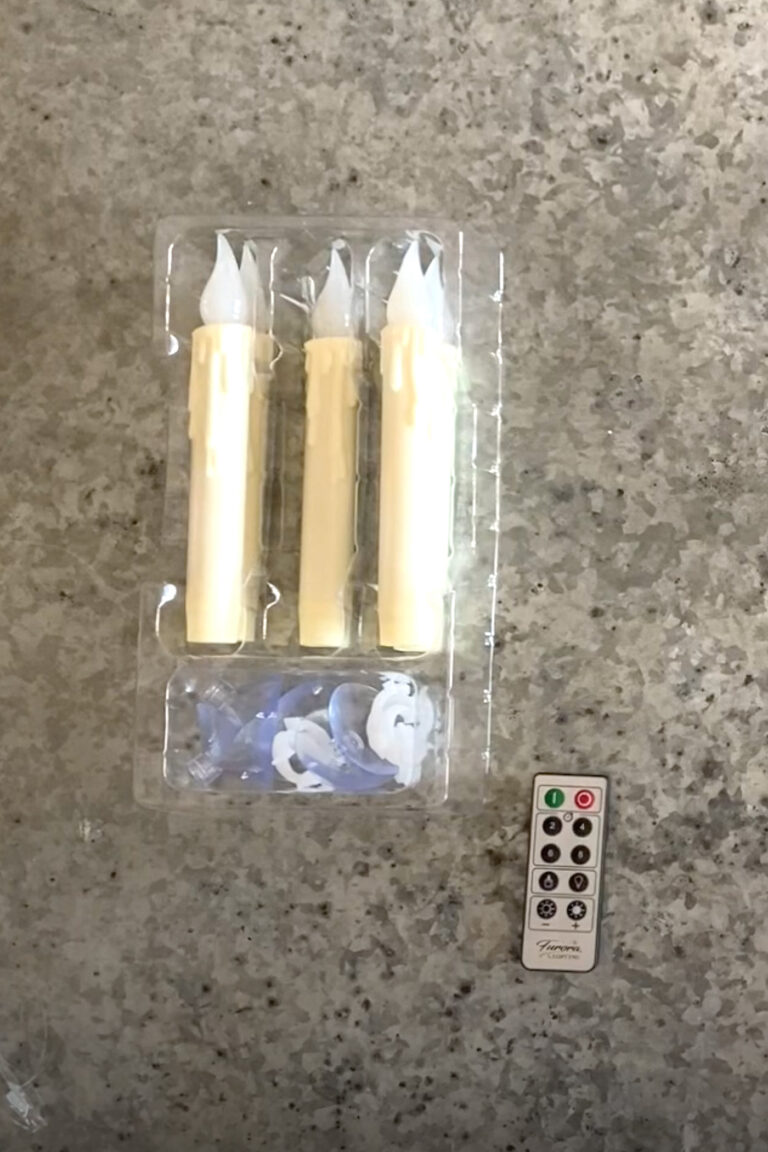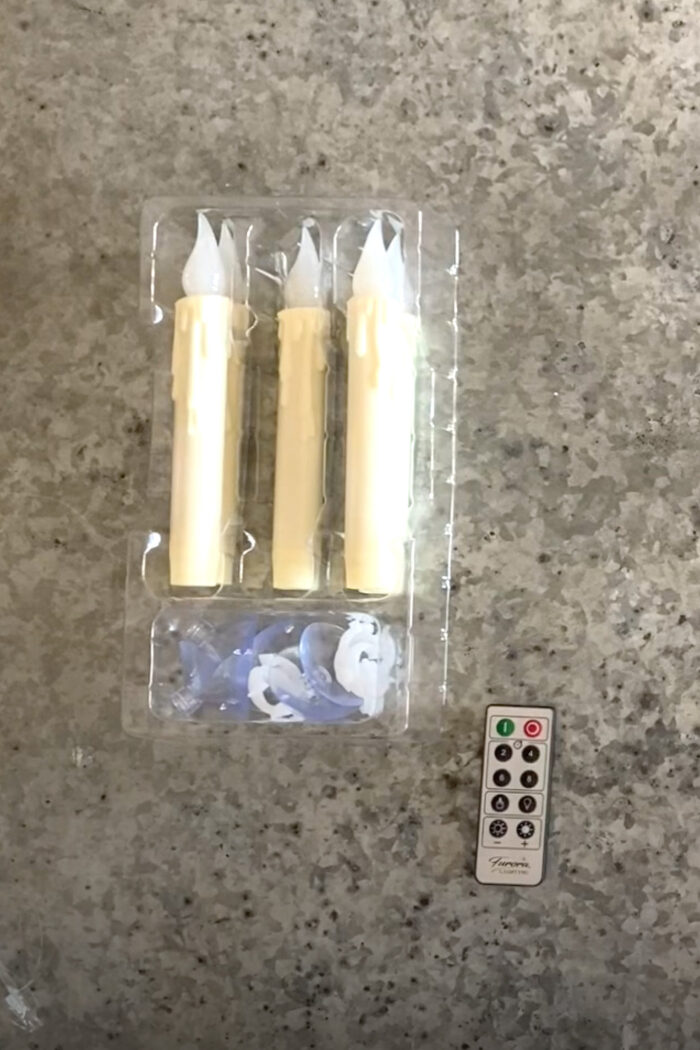 Supplies
How to Add the Fishing Line
Cut a piece of fishing line about 40″ long (longer if you have a very tall porch ceiling). Tie the fishing line to the candle at the base of the plastic "flame."
TIP: Test that the lights work before you go to the trouble of hanging them on your porch ceiling!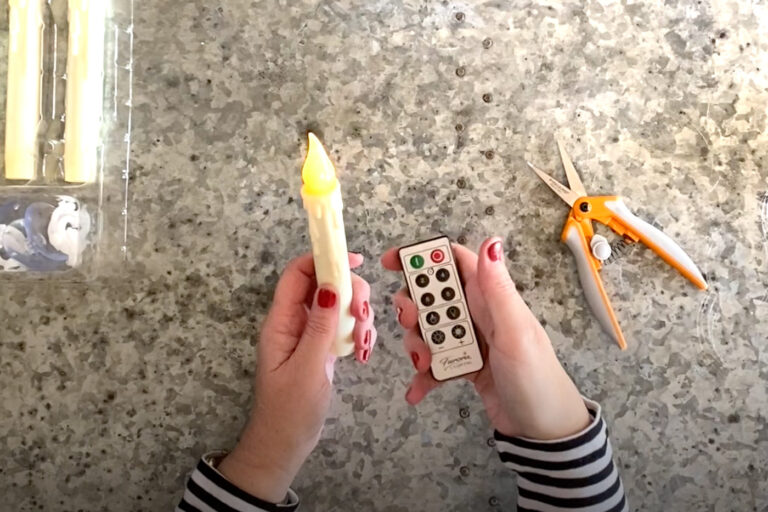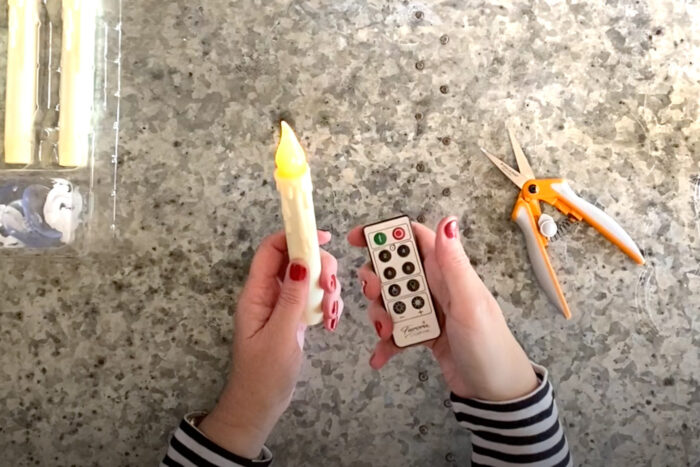 Make sure you tie a double knot and that the knot is in the center of the long piece of line. (i.e., you have an equal amount of fishing line on both sides of the candle).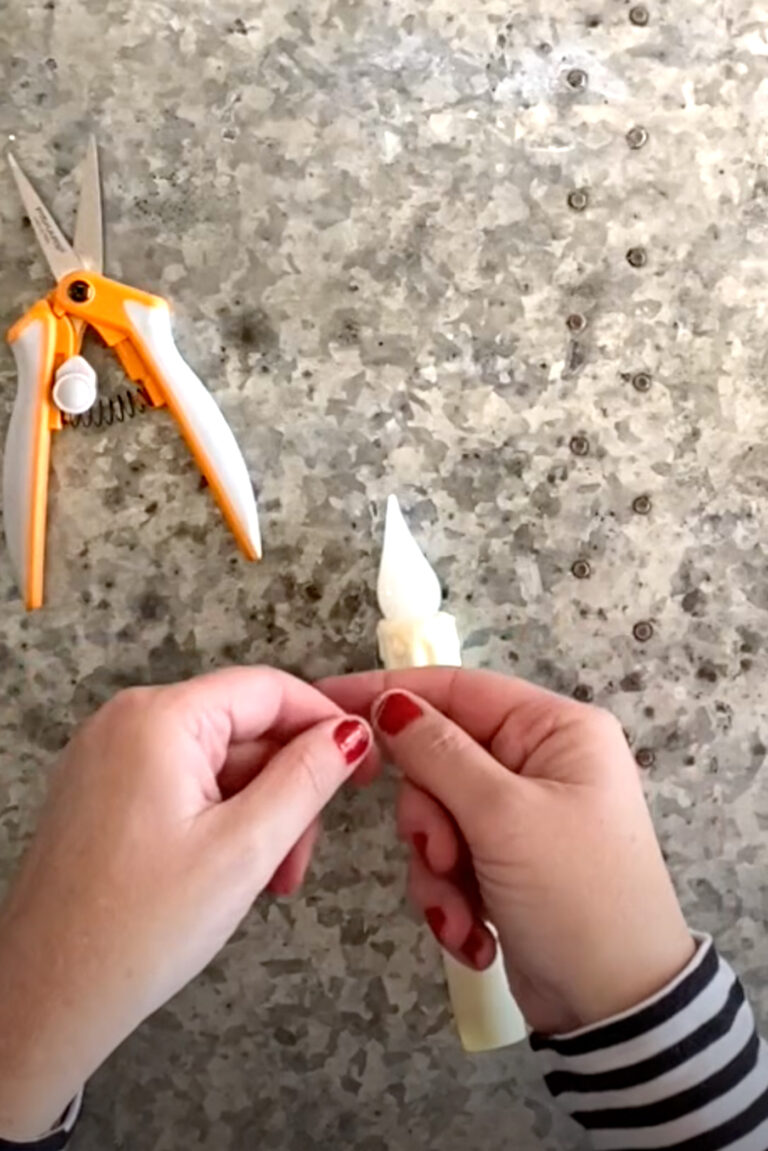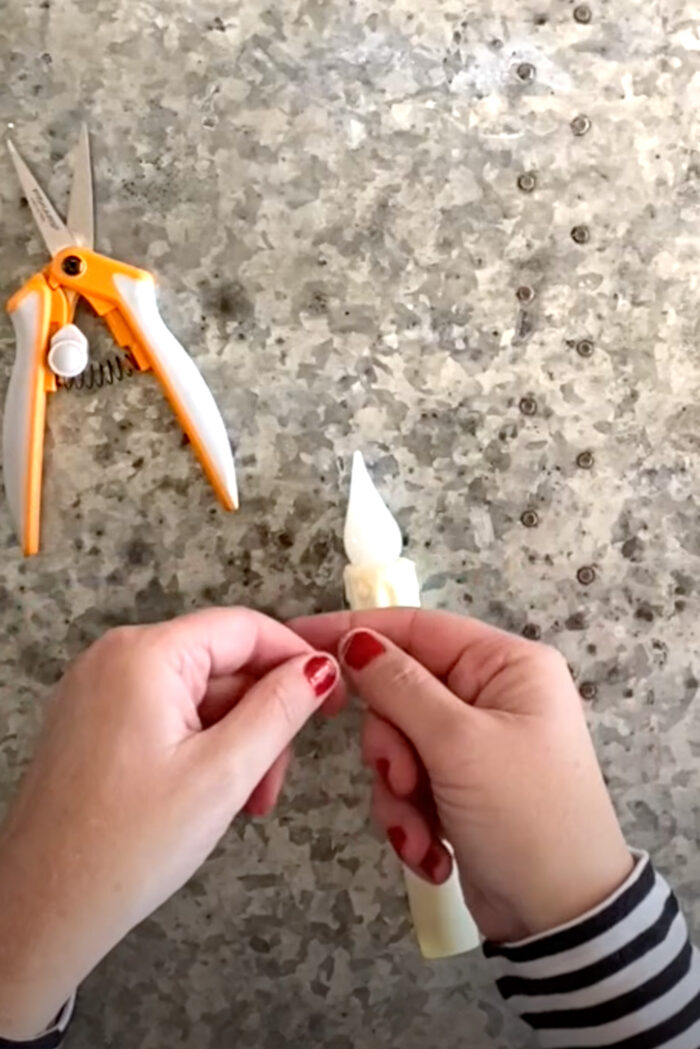 Decide where you'd like the candles to hang on your porch, and place an outdoor command hook at each spot. Let the hooks sit for a few minutes to allow the adhesive to work.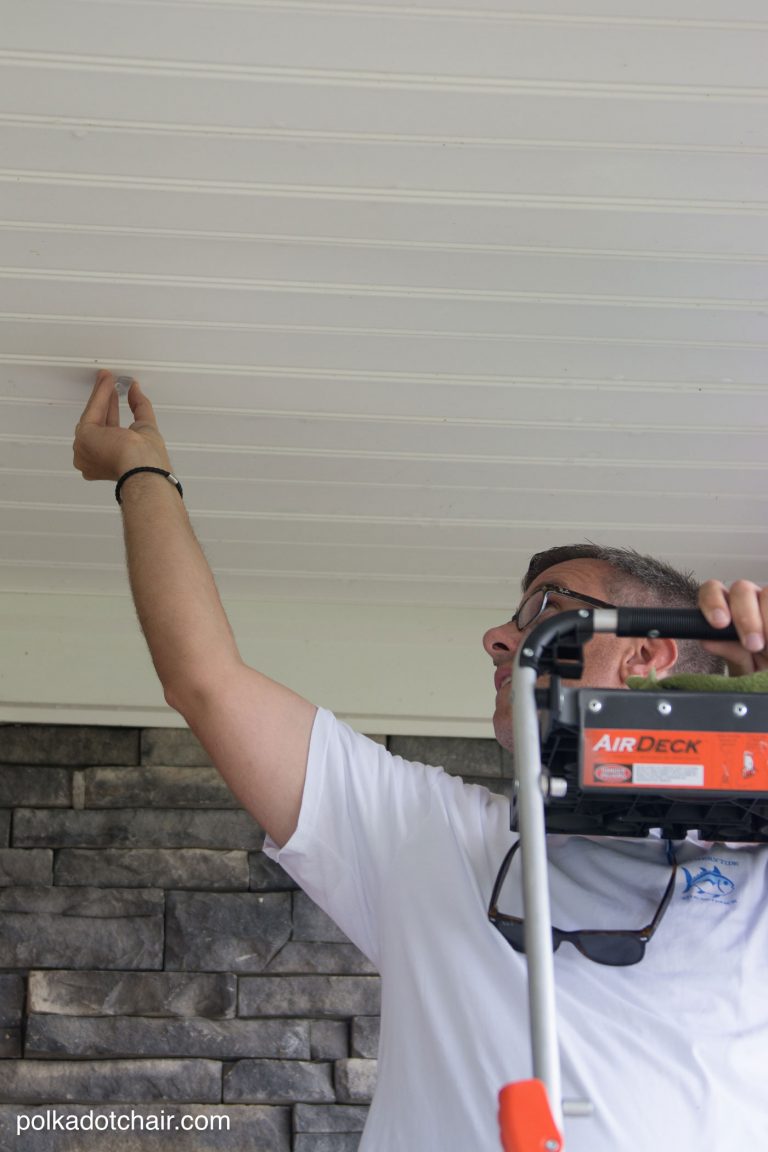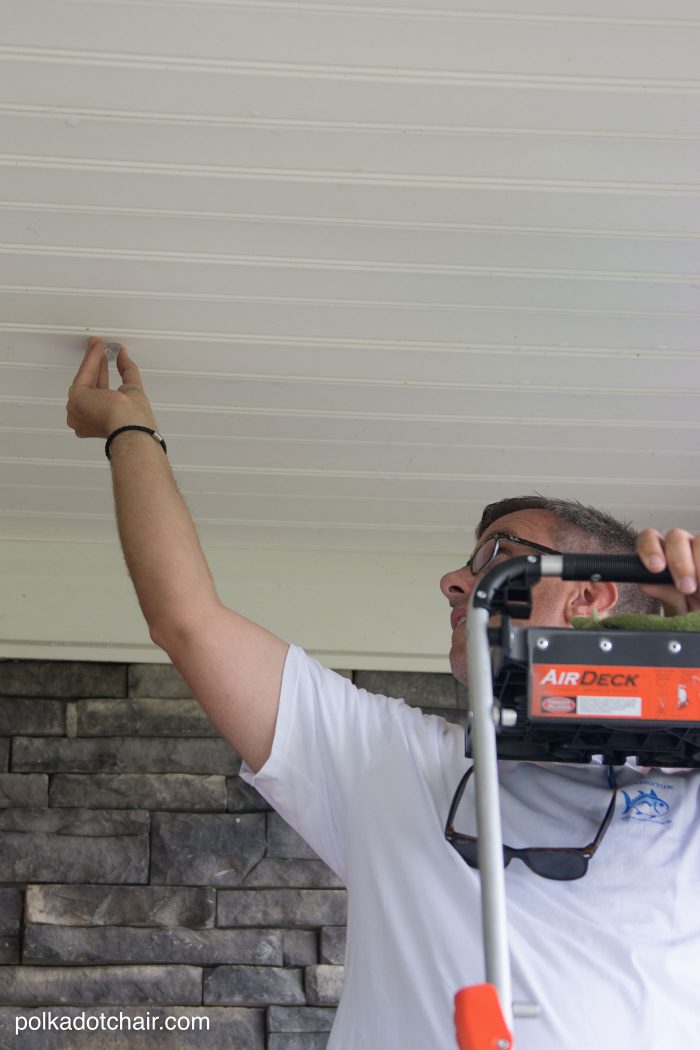 (My porch roof is PVC, and the hooks have stuck well to my ceiling for many years, we leave them up all year).
Tie the ends of the fishing line together.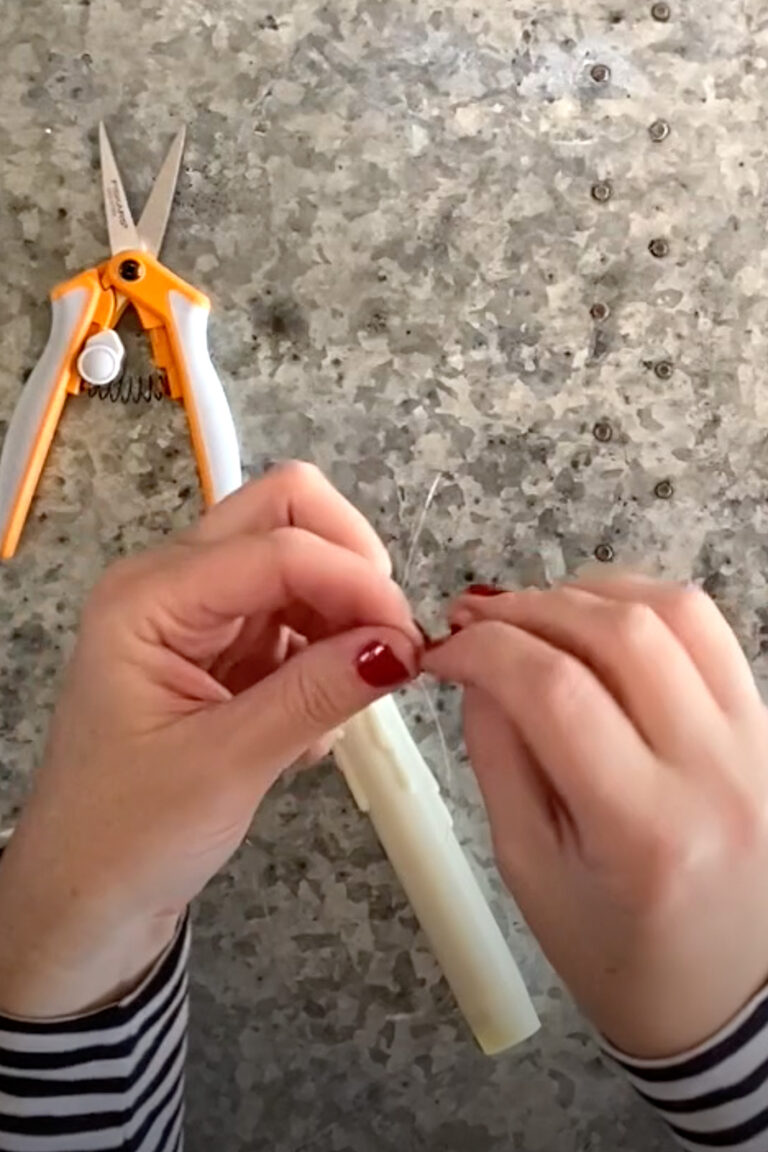 Hang the line from the knot on the command hook.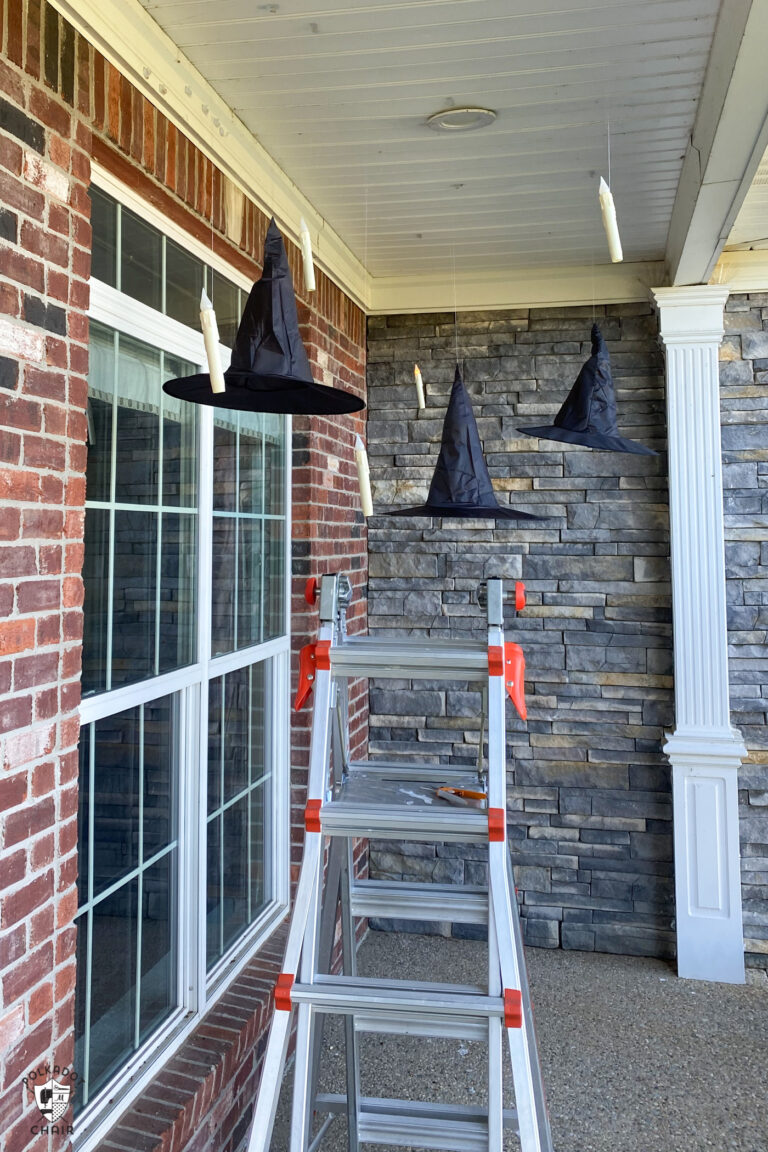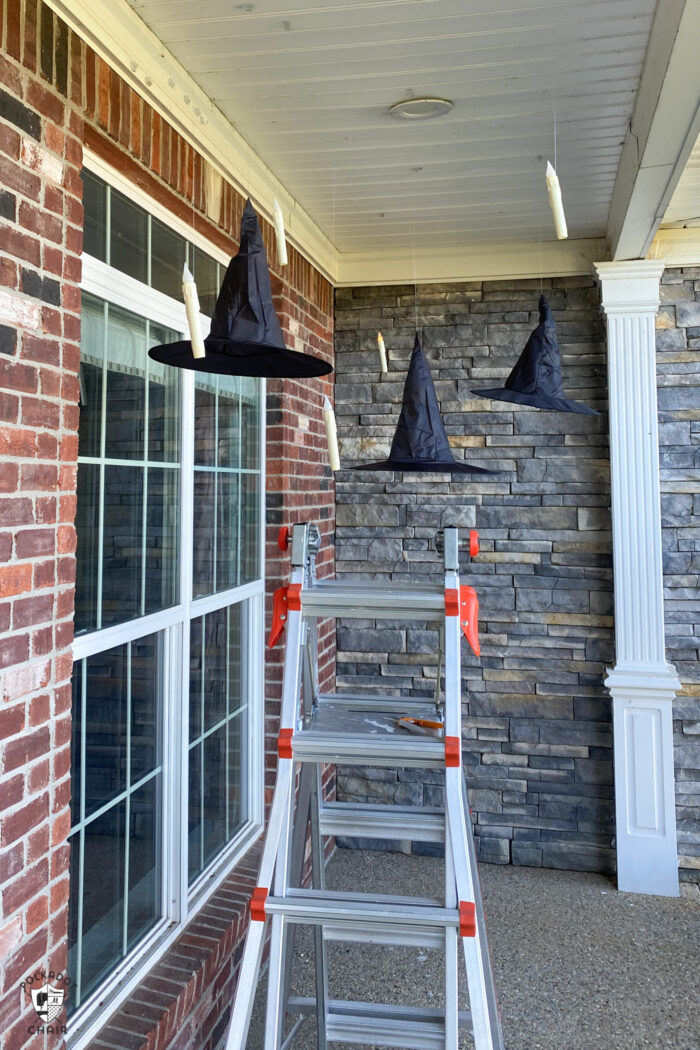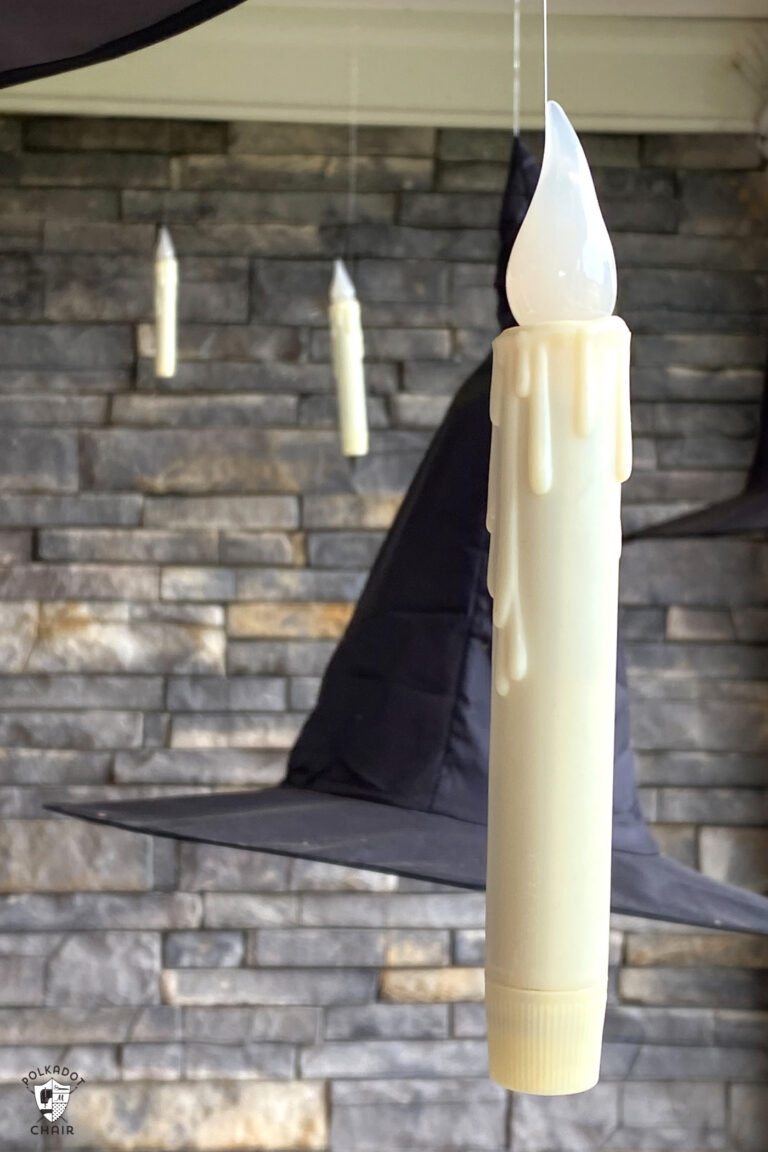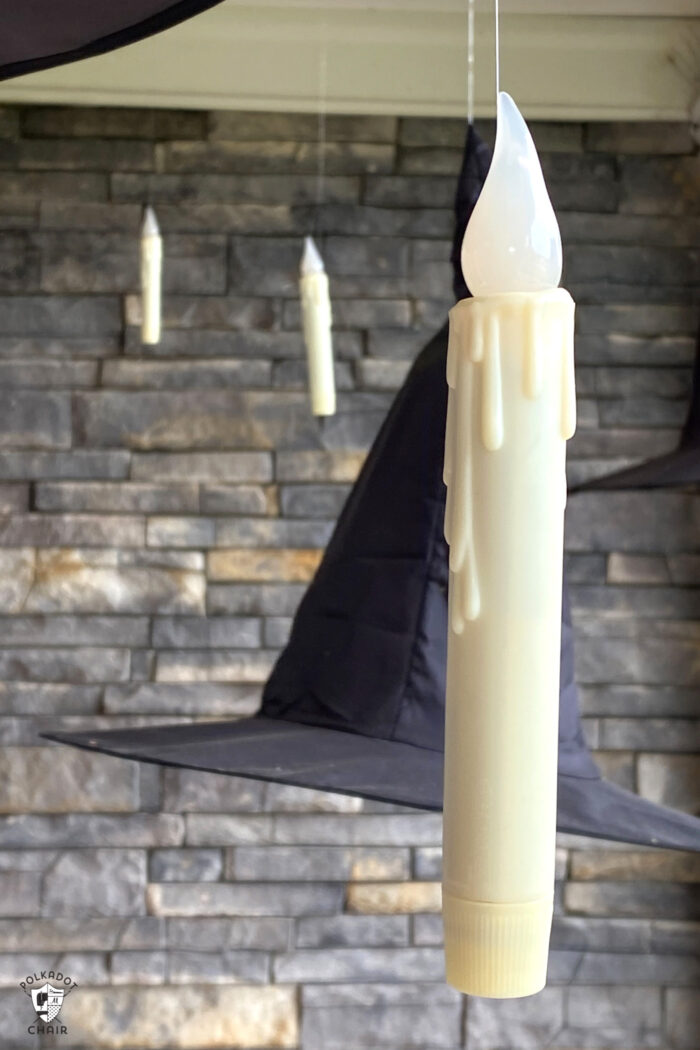 That's it! All you have left to do is enjoy watching the lights flicker on Halloween night!
How do I turn the lights on and off?
I purposely picked LED candles with a remote. That way, I can turn them on and off using the remote. The batteries will wear out quickly if they don't have an on-and-off switch.
Do you leave the lights on all month?
The lights I have come with a remote timer that lets the lights turn on and off at intervals. So on for 12 hours, off for 12 etc. I hung them mid-October, set the timer, and stayed lit until Halloween.
How well do they hold up to the elements?
I have a covered porch but live in a very humid climate. We also get a lot of wind. The lights held up well for me all month. I would not recommend hanging them if your porch is more exposed.
Do you remove the command hooks on the ceiling?
I leave them up all year. They are clear and not very noticeable. I use them to hang stars and lights at Christmas as well.
You May Also Like: