I love making Christmas cookies especially gingerbread cookies. As much as I love baking, I'm always on the look out for clever shortcuts to make holiday baking a bit easier. Today I'm going to share with you one of my recent discoveries and give you some fun Gingerbread Cookie Decorating ideas.  This post is sponsored by Airheads but all opinions, words and crazy ideas are 100% mine.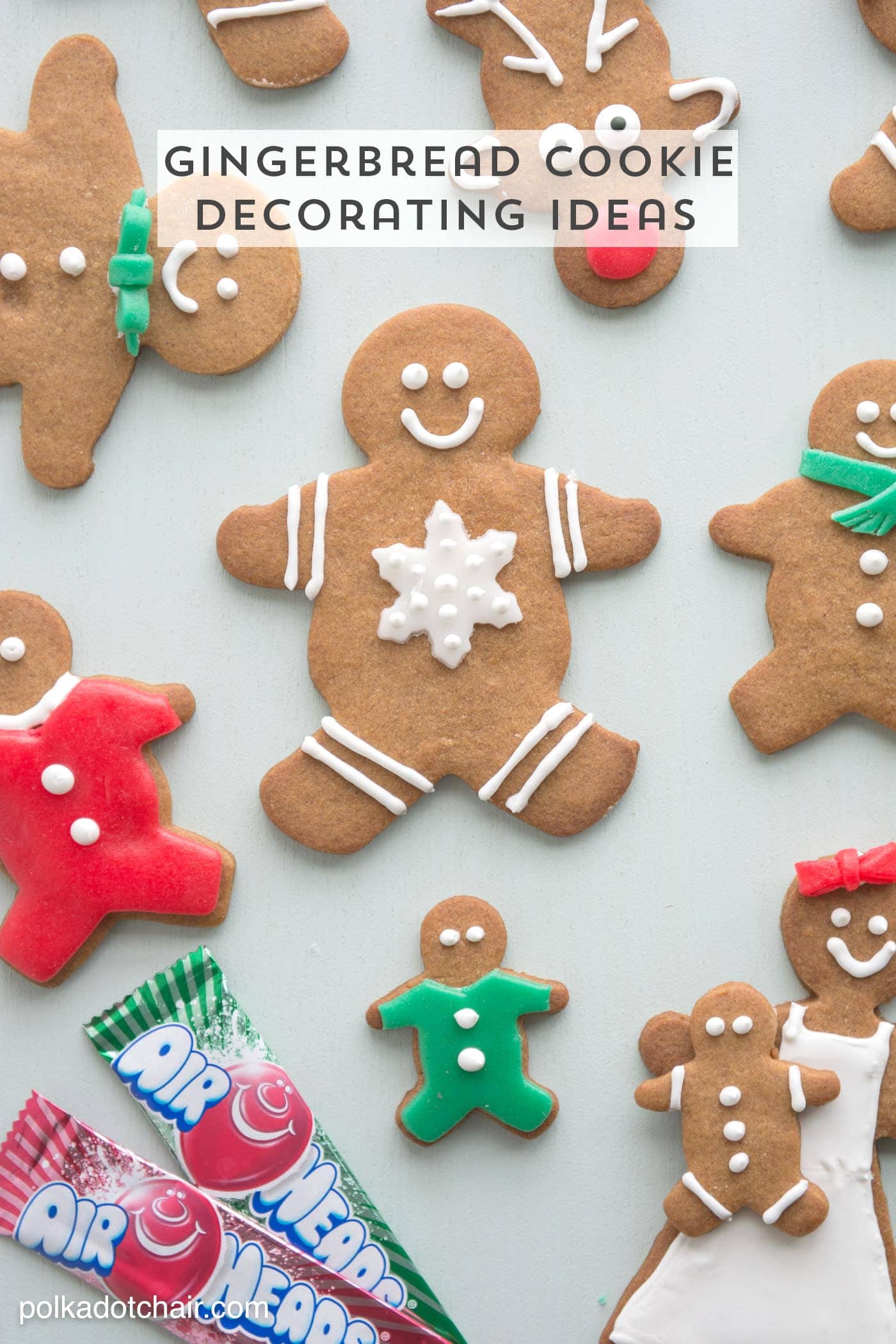 Decorating gingerbread cookies was not a part of our Christmas traditions until about 5 years ago.  One year on a whim, I decided to make gingerbread cookies. I think I was more excited about the prospect of decorating the cookies than actually eating them. I'm not sure at the time that I had ever even bitten into a gingerbread cookie.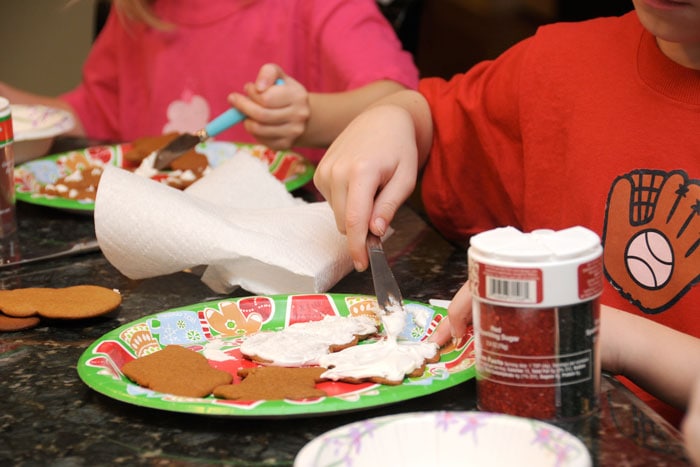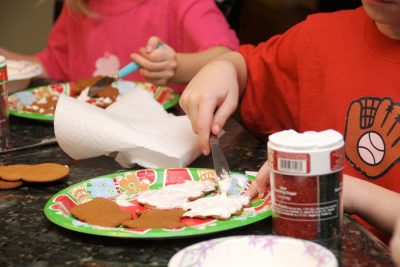 That year I made a big batch of gingerbread cookies. I put the cookies, cups of royal icing and a million different kids of sprinkles on the kitchen table and let the kids "go to town" decorating the cookies.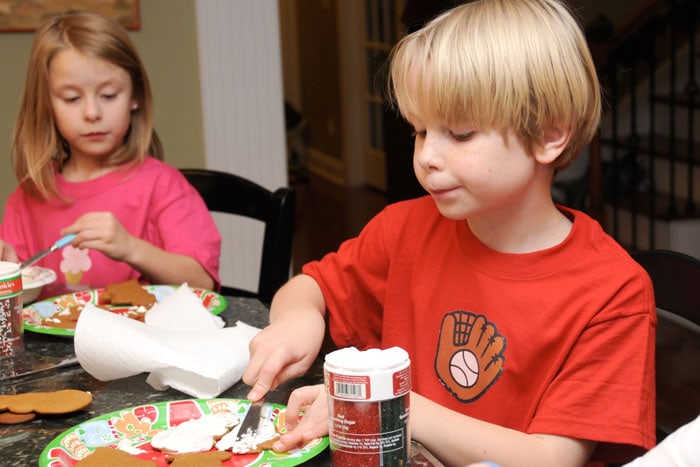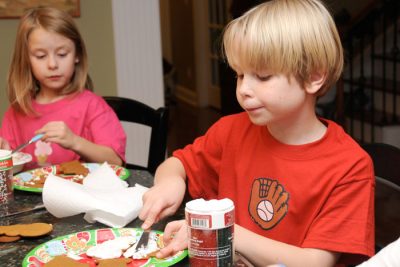 The kids were still pretty little and were more interested in the sprinkles than anything so you can imagine what the finished cookies looked like.  The kitchen table was a giant mess of royal icing, gingerbread crumbs and sprinkles and at the end of the night the kids absolutely loved it.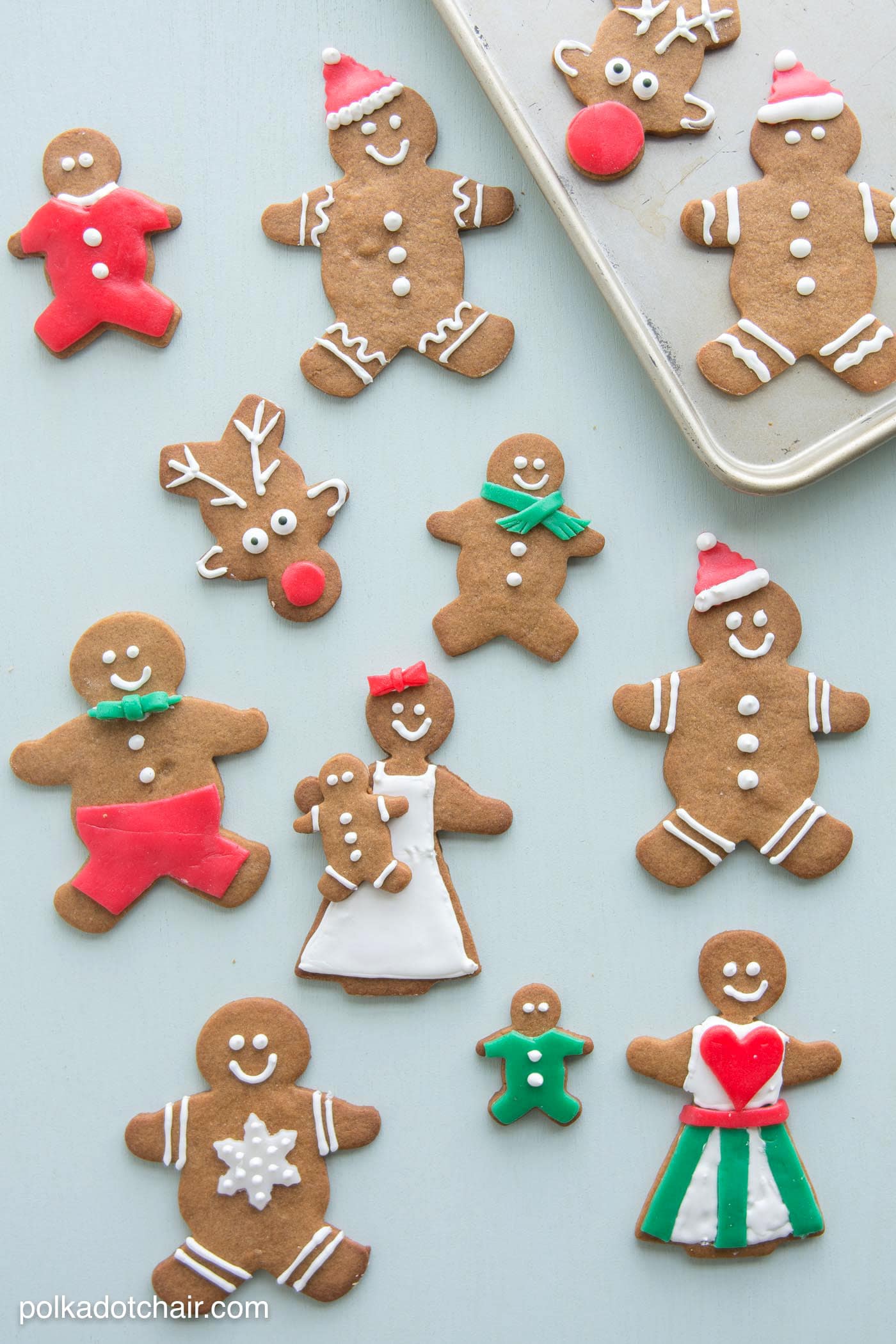 We set those cookies out for Santa, and I admit to nibbling on one before Santa got to it… To my surprise I loved the cookies.  Ever since then it has been a tradition in our family to decorate gingerbread cookies for Santa.
As the kids got a bit older we "upped" our decorating accordingly. We moved from only white royal icing to multiple colors of icing and figured out how to "flood" a cookie with icing (it's what gives iced cookies that smooth appearance).  One year we got really into it and I think I ended up mixing about 6 different bowls of icing into various colors and consistencies. As much as I loved how the cookies looked when they were done, I did not like mixing up all of the different colors of icing.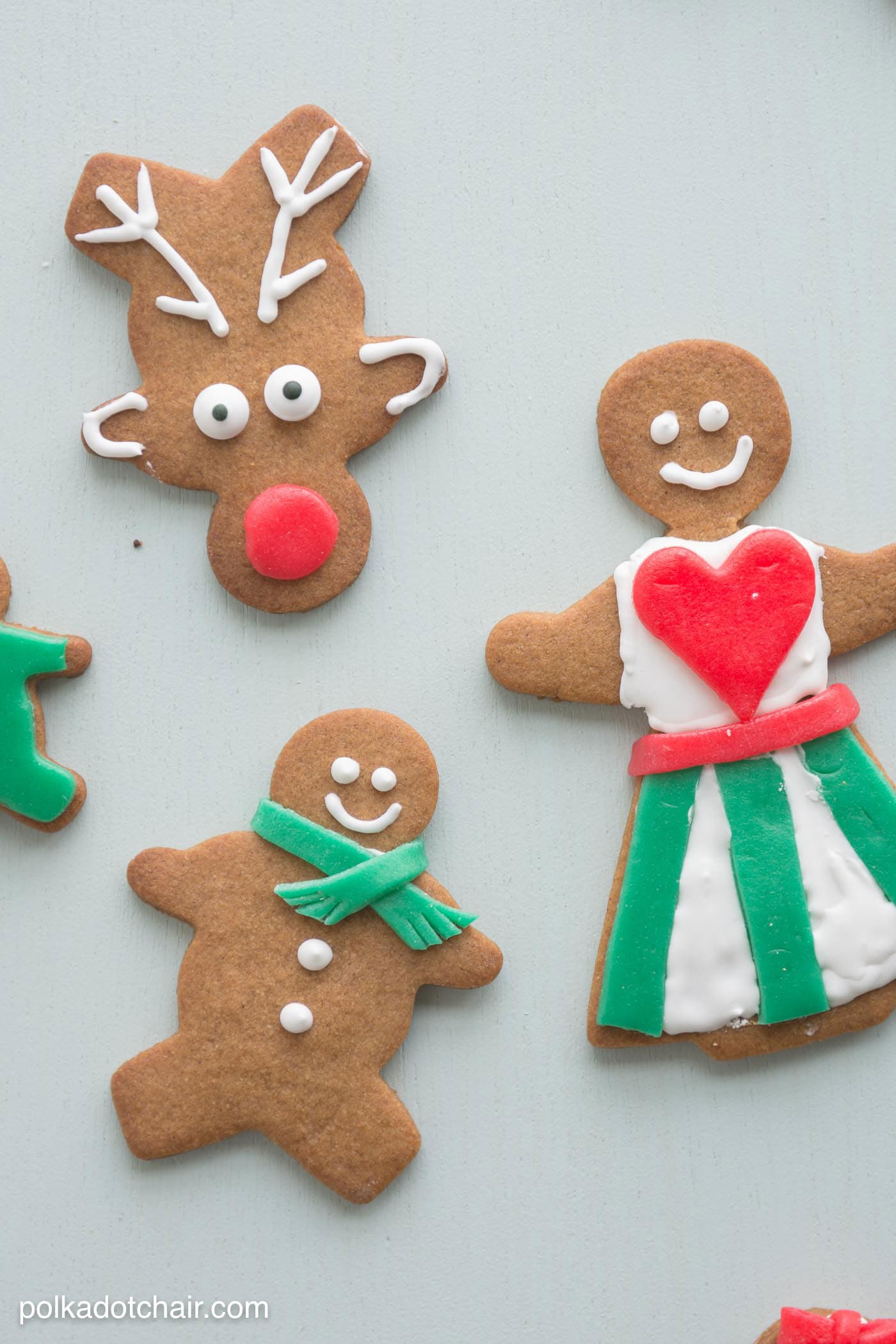 This year for our Christmas cookie decorating I'm trying something new.  Instead of mixing up several different colors of icing, I'm using Airheads candy to add a pop of color to our ginger bread cookies.
The kids and I started playing around decorating with the Airheads candy and learned a lot of really cool tricks.  We figured out that you can mold the candy into a lot of shapes, you can even combine several pieces to make a big sheet that you can cut out with a cookie cutter.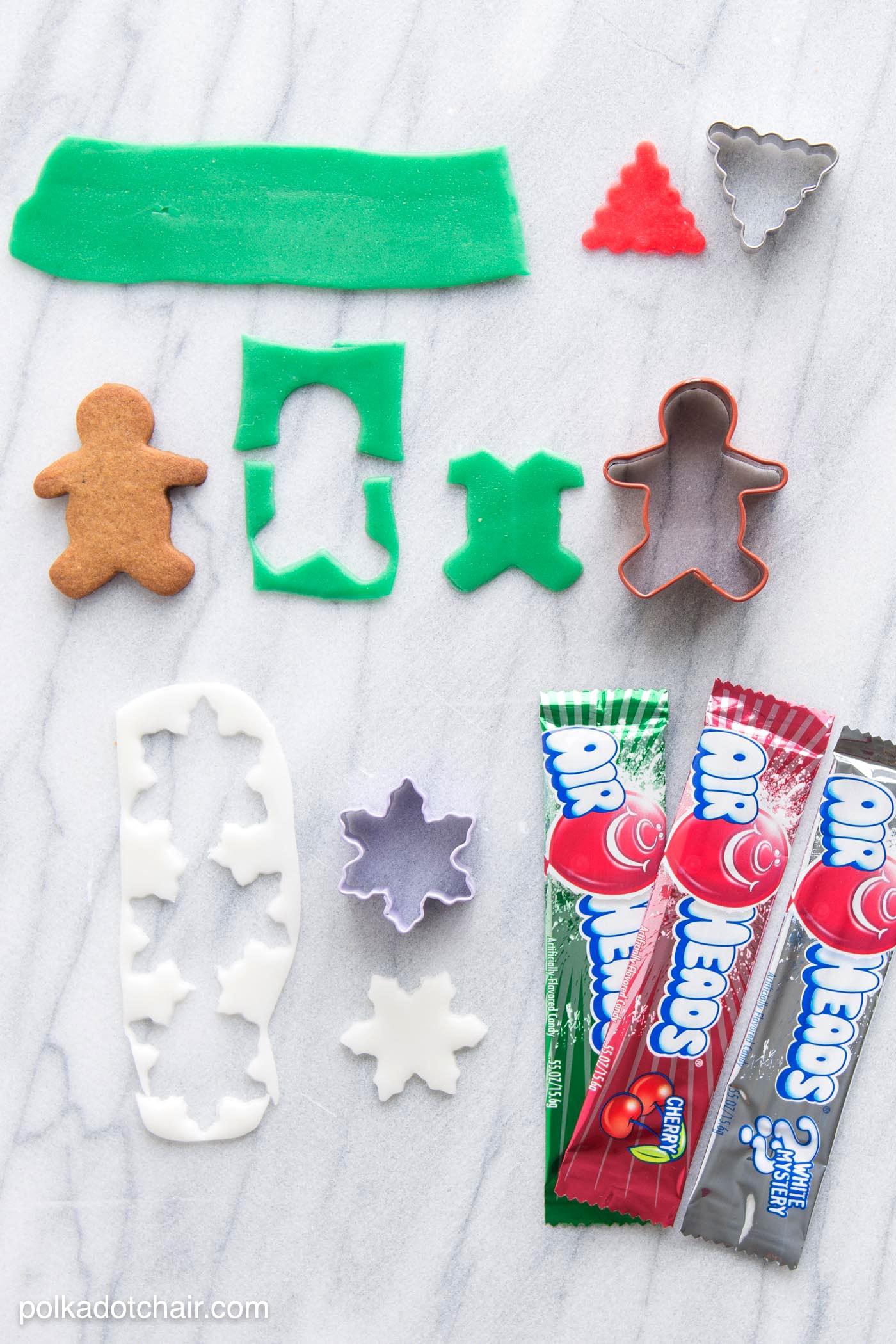 It didn't take us long to realize that it would be a SUPER fast way to decorate a cookie. Just cut out the candy with the same cookie cutter you used on the cookie and voila! It's a perfect fit!
Want to give it a try yourself? Here's how to make a few of the cookies.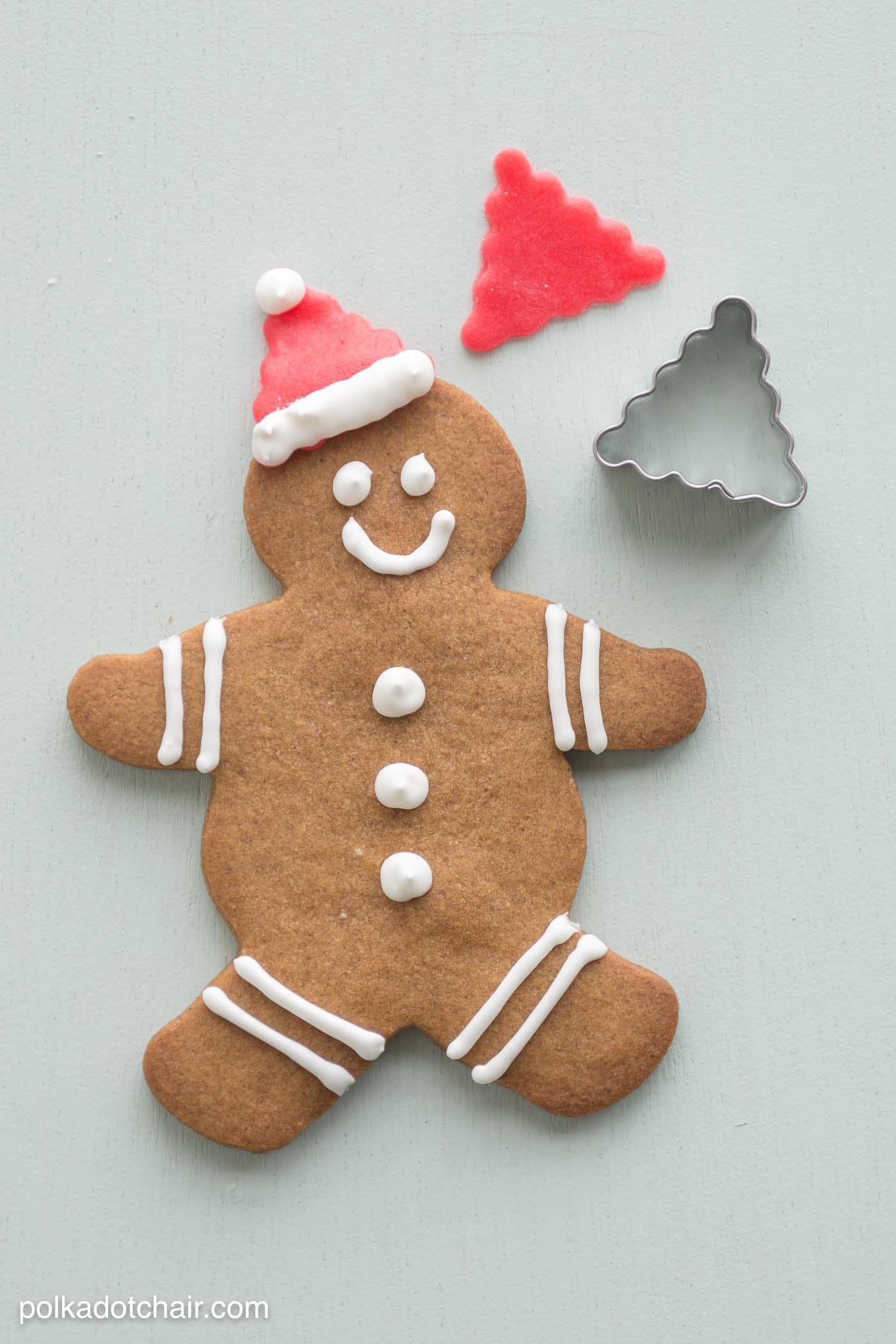 To make the Santa Gingerbread Man you need a triangle cookie cutter (triangles are pretty easy you could eyeball this one if you don't have the exact same cookie cutter).
Place a piece of red Airheads candy in the microwave for 4-7 seconds (it will depend on your microwave how long). You want the candy to be soft but not to melt.
Use a rolling-pin and roll out the candy while it's still warm.  Then just use the cookie cutter to cut out the shape and attach it to the gingerbread man with a bit of royal icing.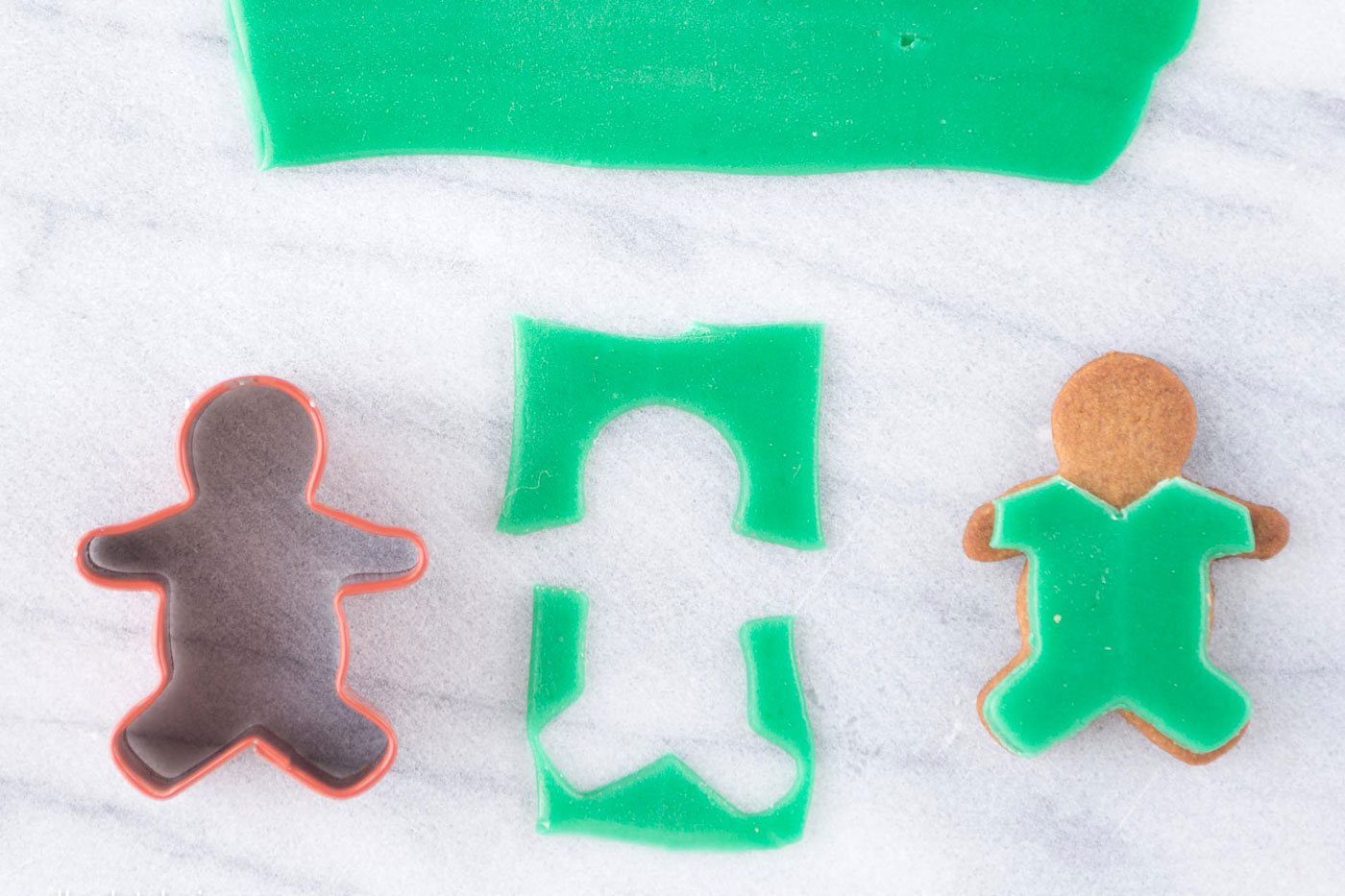 You can also make "pajamas" for one of your gingerbread guys.  Heat up the candy in the microwave as instructed above and cut out with the same cookie cutter you used for the cookie.
Then using a small sharp knife, cut off a small part of the candy for the hands, and cut a neckline into the shape. Use royal icing to attach it to the cookie then decorate with a bit more icing.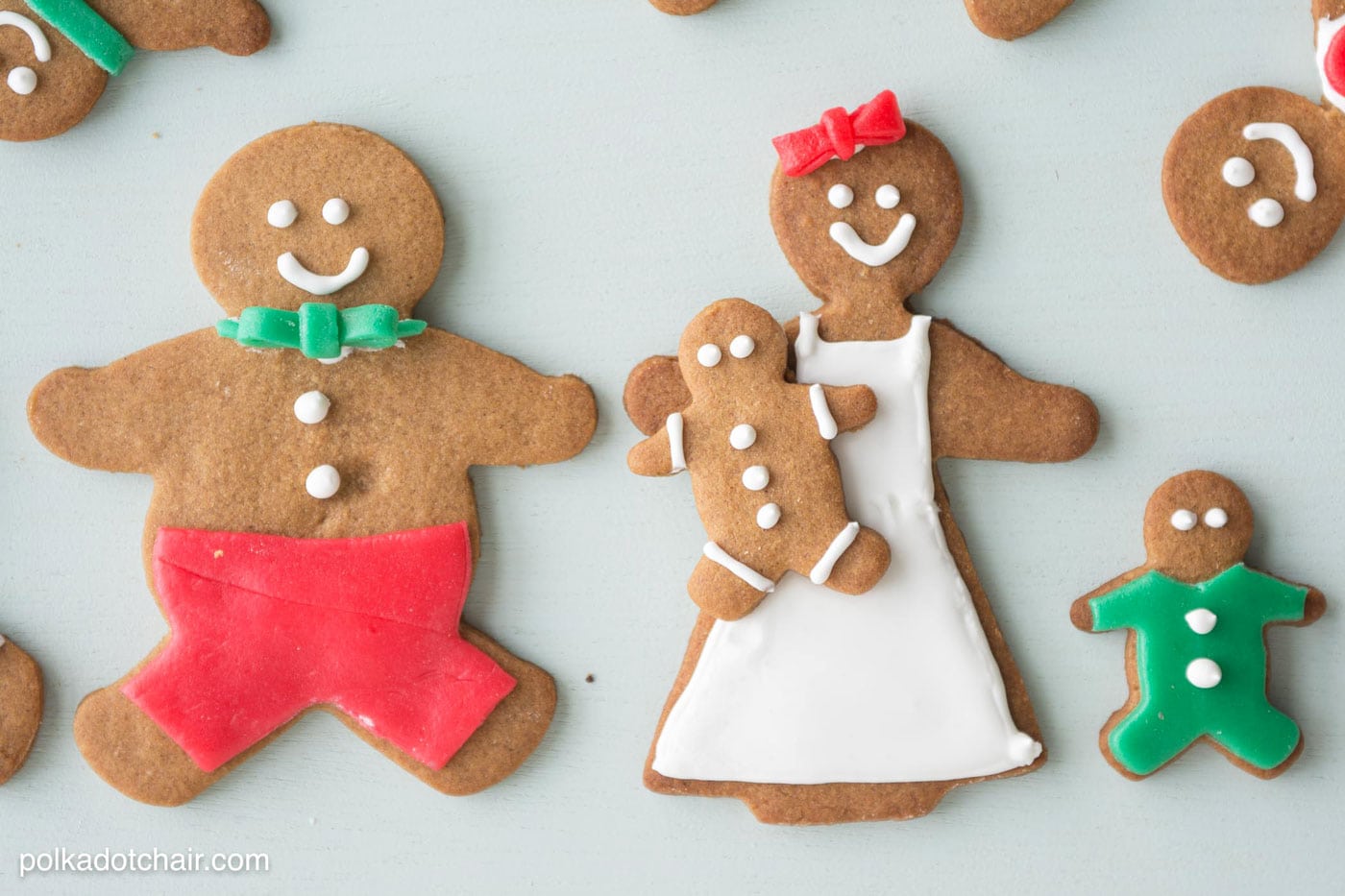 The pants on the gingerbread were made the same way.  For that cookie I needed a larger piece of candy, so I heated two pieces of candy in the microwave for 8 seconds. I then smooshed (a very technical term) them together and rolled them out while still warm.  I did notice that the candy will harden up a tad after it's been warmed, so you'll want to do as much cutting as you can before the candy cools. If it cools too much just zap it again for another few seconds.
The bows on the gingerbread man and woman were just made with thin strips of candy that I cut using a pizza cutter.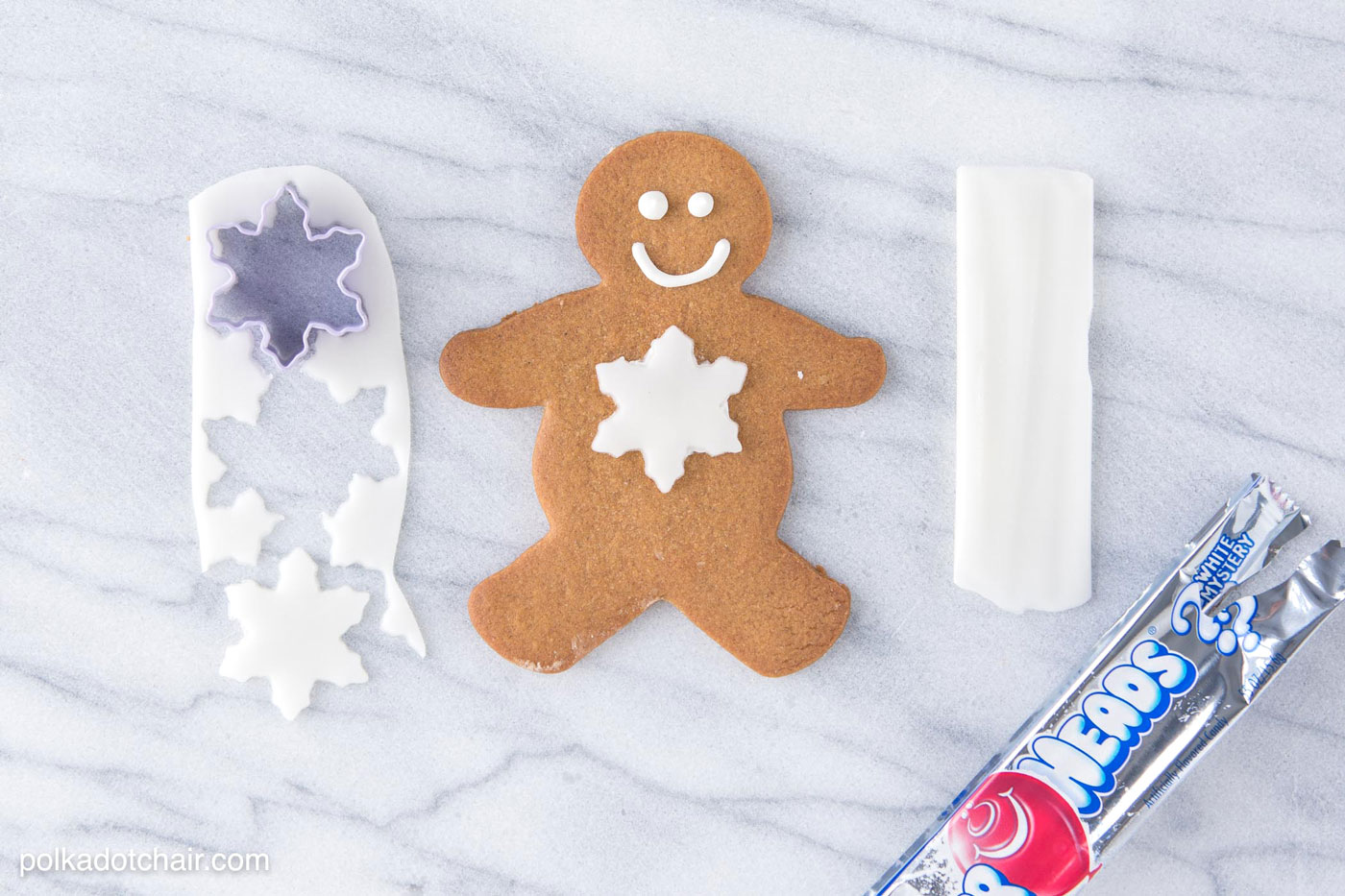 Here are few tips that we picked up while decorating our candy:
-The Airheads candy is easier to work with when it's slightly warm. About 4 seconds in the microwave was all that we needed.
-Get your kids involved! If you have smaller kids try using plastic cookie cutters, they are easier on their hands.  You'll also want to leave any steps with sharp knives to the adults.
-We worked on a marble surface which made it a breeze to roll out the candy. If you have a granite or marble cutting board that would be great. If not you can buy a non stick mat in the cake decorating section of the store (over near the fondant). You can also use a piece of wax paper.
-Use a rolling-pin.  I had a wood rolling-pin. I would recommend a small stone or plastic rolling pin.
-Use wax paper to keep the candy from sticking to surfaces.
-Use a weight when cutting out the candy.  Place the cookie cutter on the rolled out candy. Use the rolling-pin or a can on top of the cookie cutter to apply even pressure to cut out the shape.
-You can use the candy to completely cover the cookie but don't limit yourself to that. You can make, bows, scarves, hats, shirts, pants, shoes, etc. The candy is completely moldable so you're only limited by your imagination.
-According to my 14 year old son, the blue ones are the best *wink*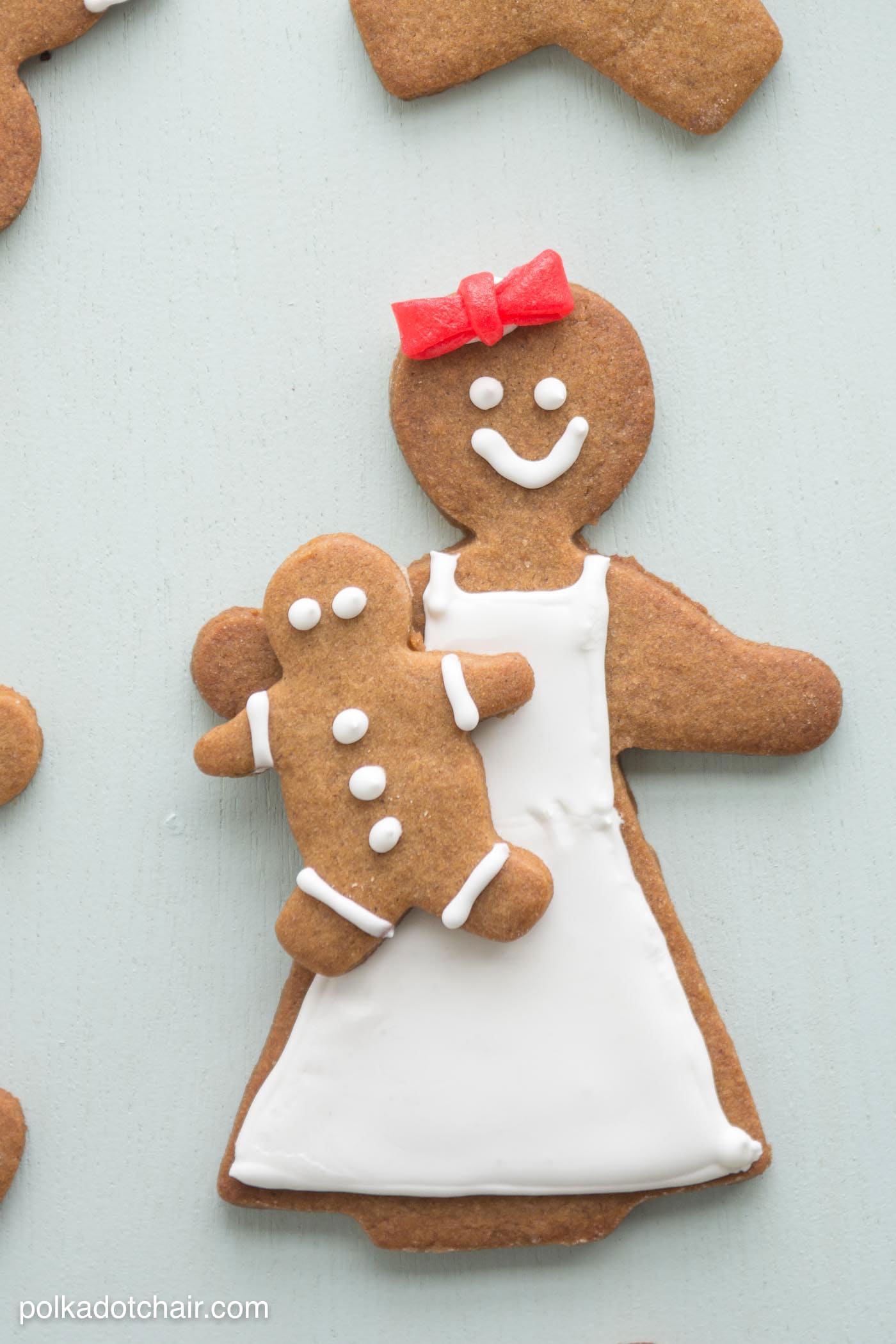 We had a great time playing around with different shape and color combinations. I think my favorite one is the mama and baby gingerbread. It was my daughters idea to put a bow in her hair. After we finished that one she insisted that we needed a gingerbread man with a bow tie, I mean we do live in the South afterall. 🙂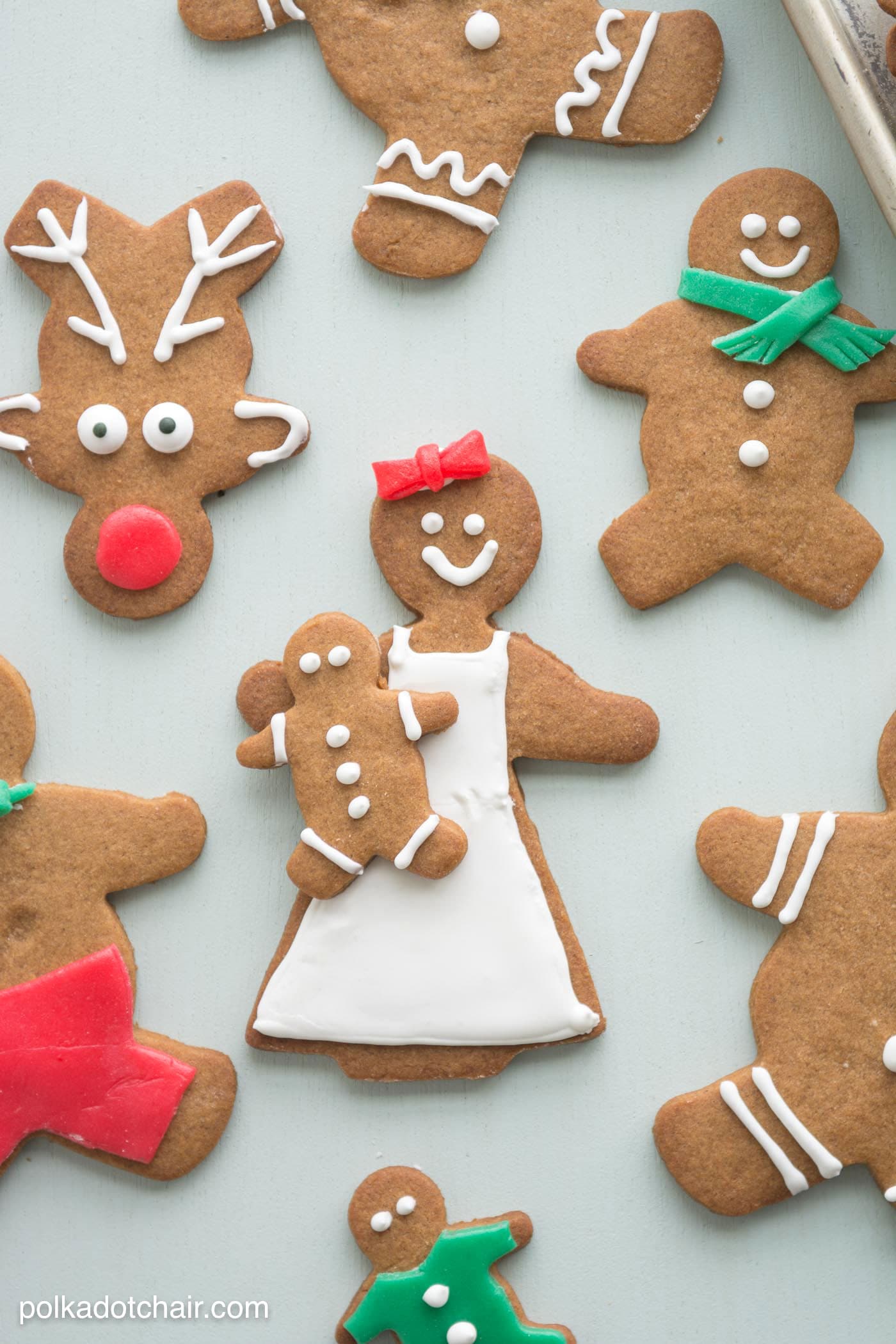 For more fun ideas on how to craft with Airheads visit and follow them on Pinterest. To learn more about Airheads candy visit their website and follow them on Facebook, Twitter, Instagram, and YouTube!