Turn simple half-square triangle quilt blocks into 10 different baby quilts using our free baby quilt pattern and half square triangle quilt layout printable!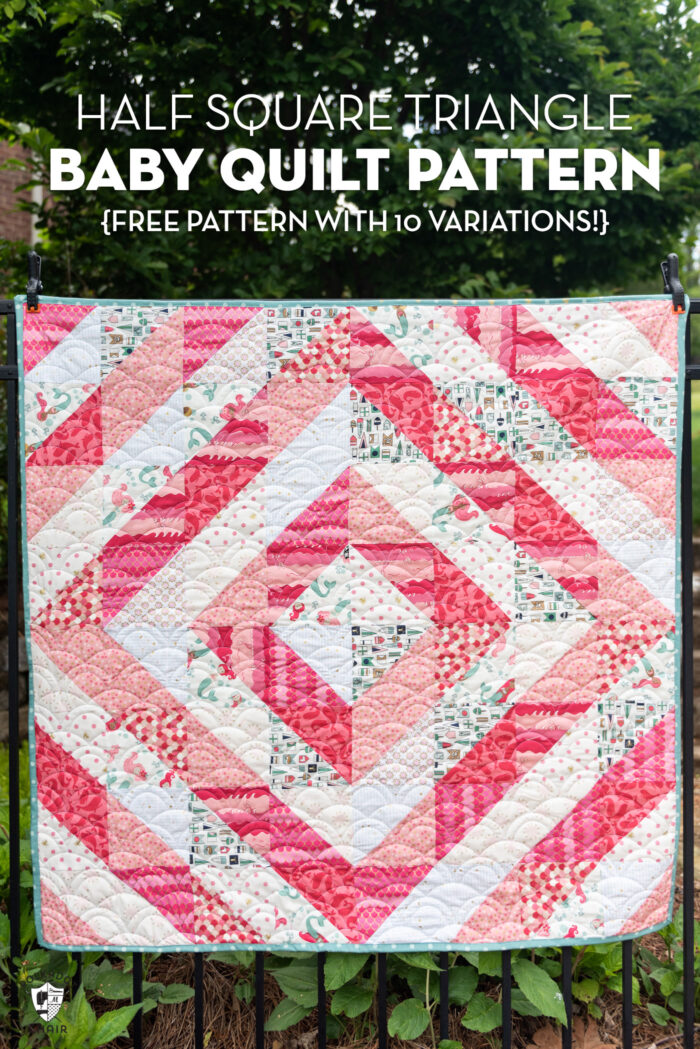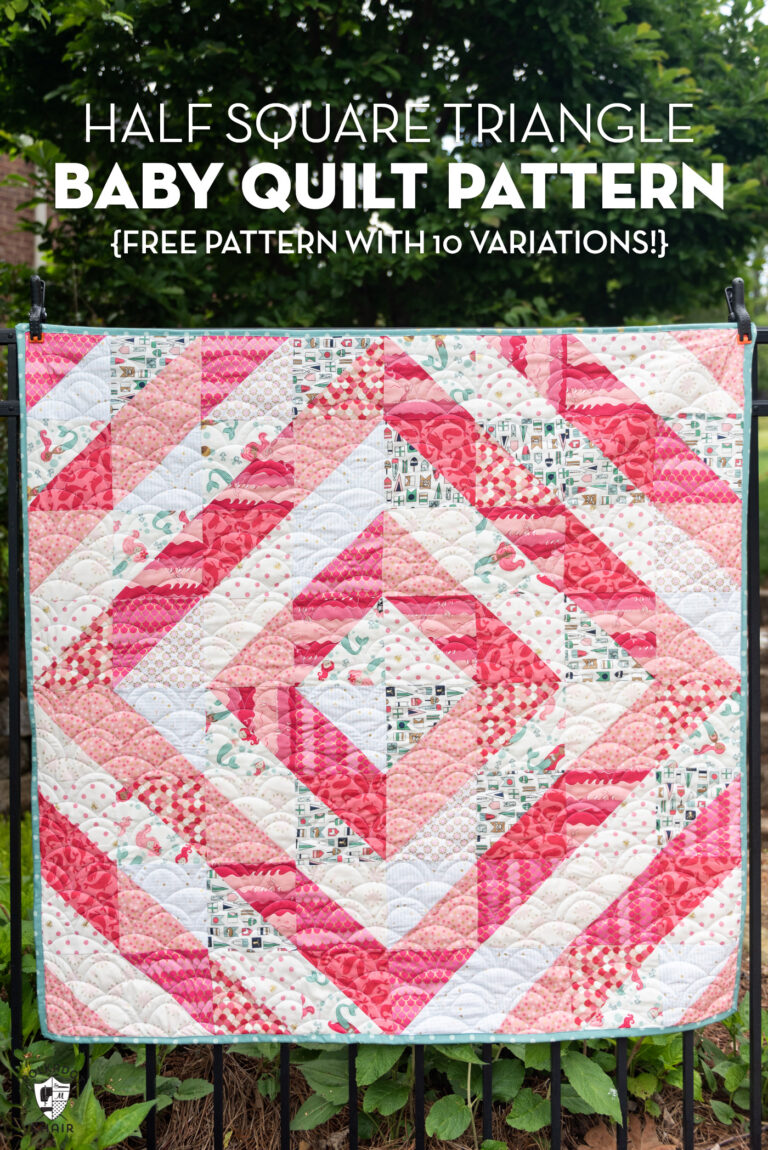 Earlier this year, I played around with some quilt layout ideas and snapped a few photos to share on my Instagram stories. I was surprised at how many people messaged me asking for more information about the quilt layouts I was considering.
Table of Contents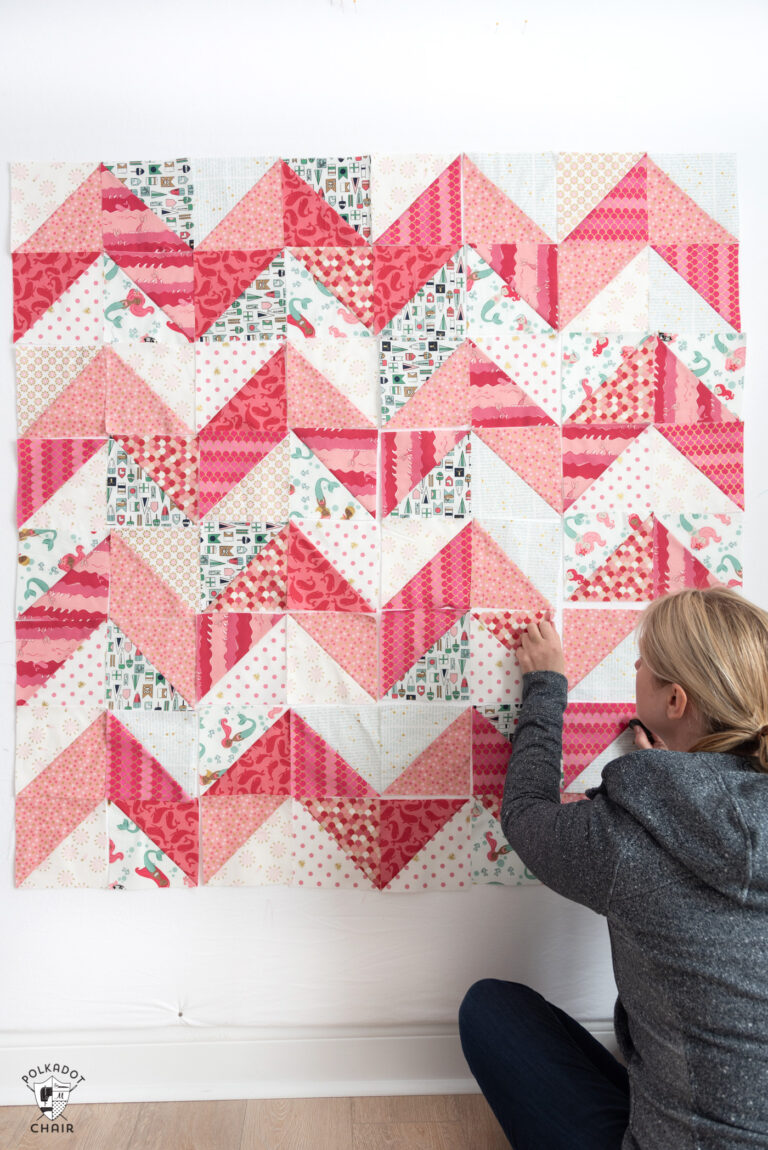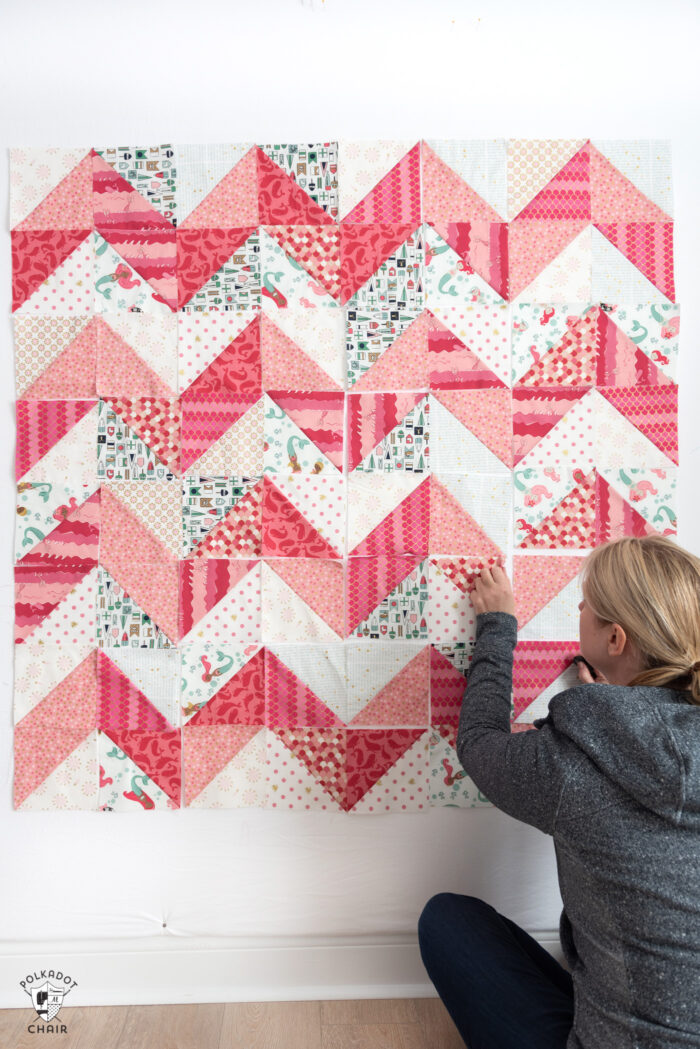 I created 64 half square triangle quilt blocks, arranged them into 8 rows with 8 blocks in each row, and then began rotating the blocks to create different layouts. It was fun to share the process on my IG stories, and I ended up answering quite a few DM's regarding the layout ideas I was contemplating.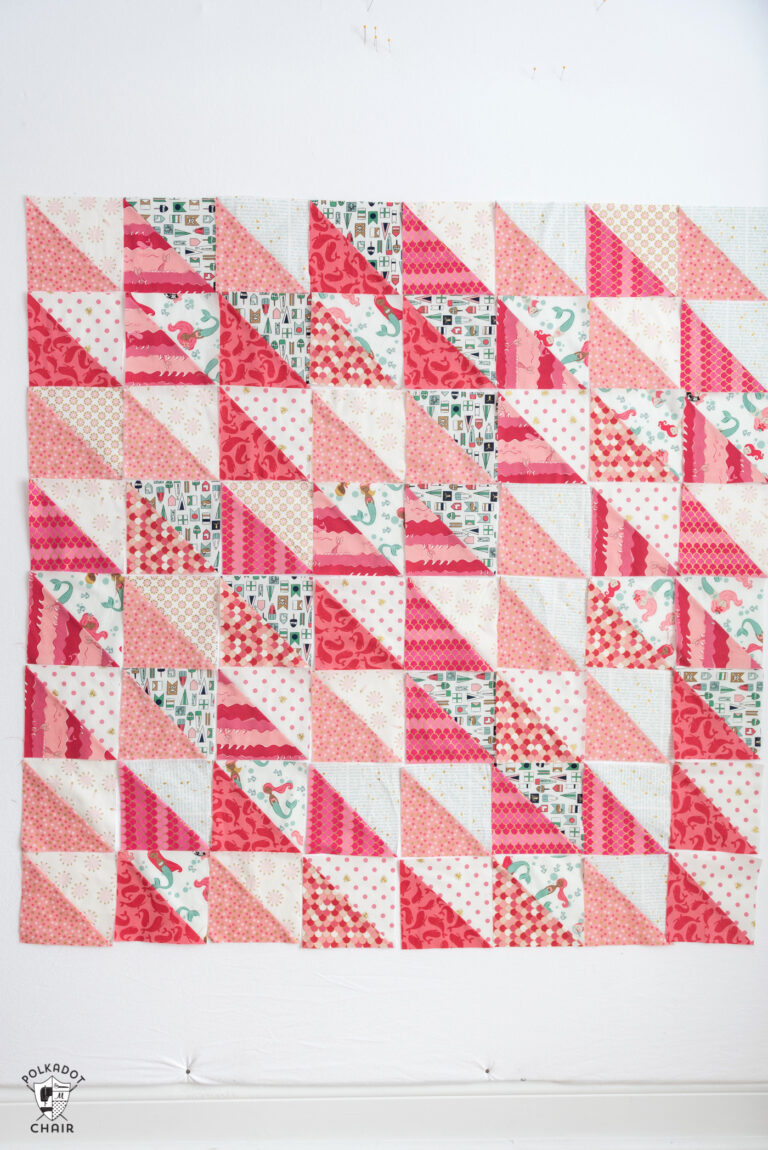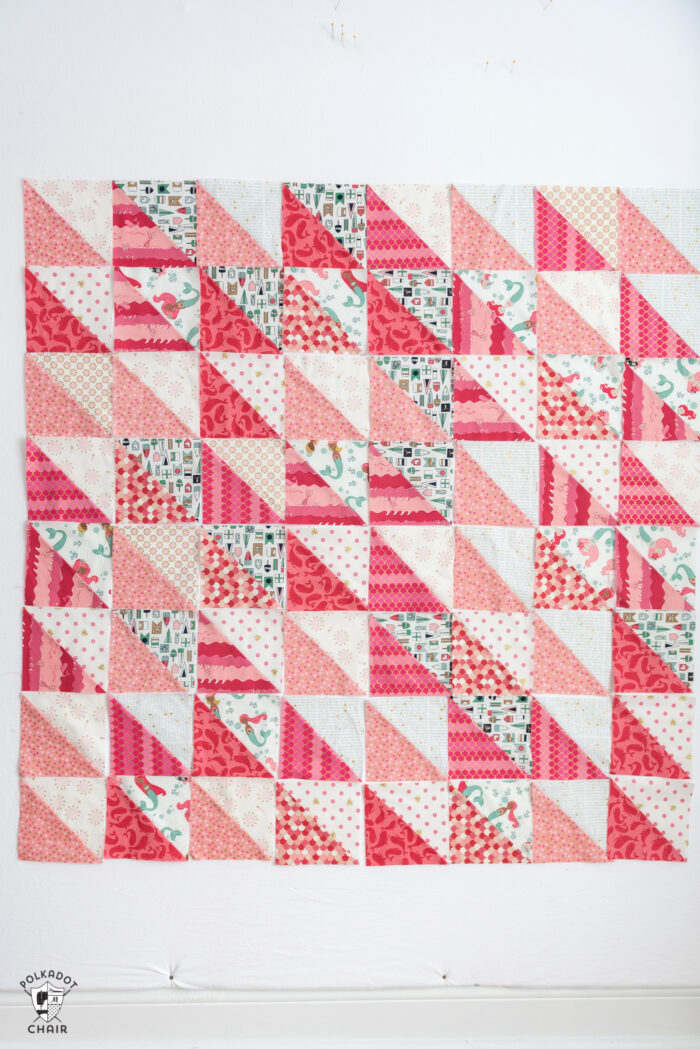 Did you know that simply rotating the direction of the seam of a half square triangle quilt block yields a totally different quilt pattern?
I thought today I'd share with you 10 SIMPLE Half Square triangle quilt layouts, along with a basic quilt pattern to create a 48″ square baby quilt.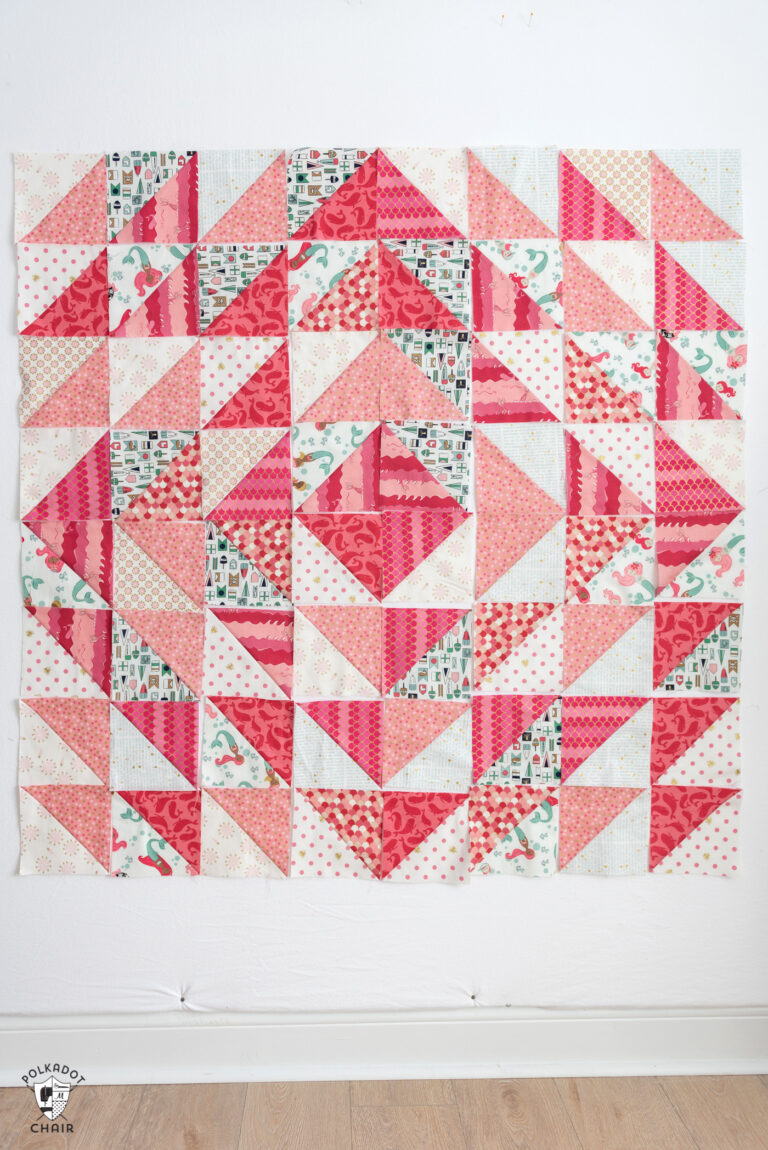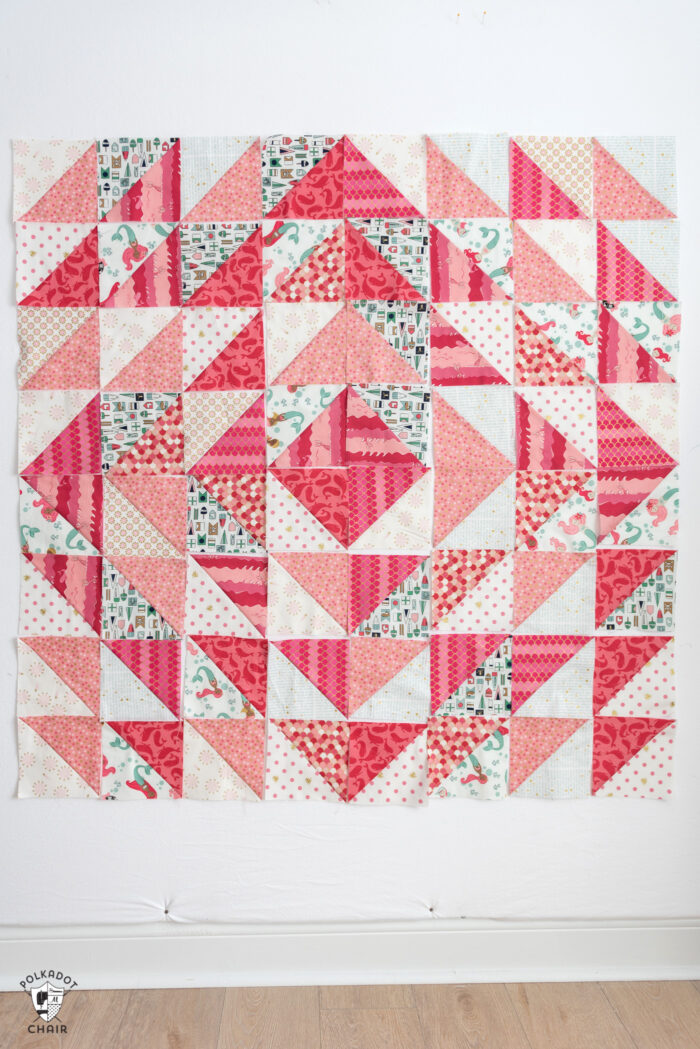 All of the layouts are created with the SAME 64 blocks. The only thing that changes in each layout is the direction of the angles on the triangles.
First up a few basics.
What is a Half Square Triangle Quilt Block?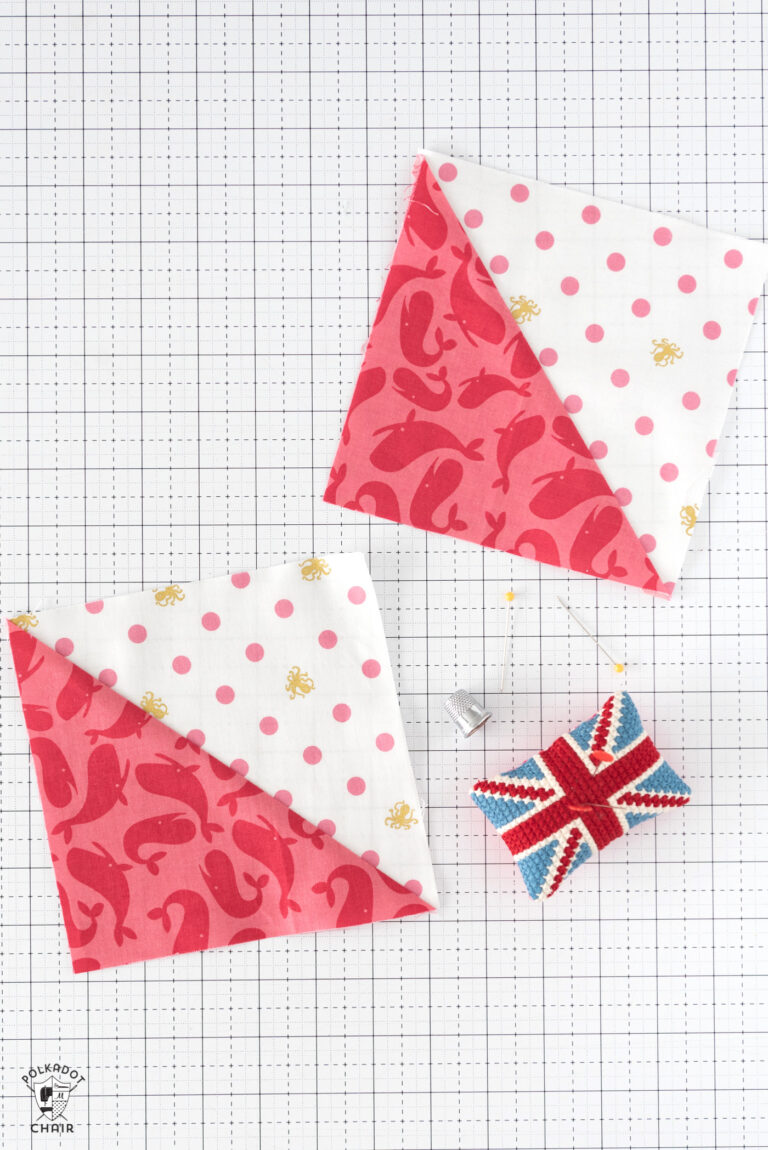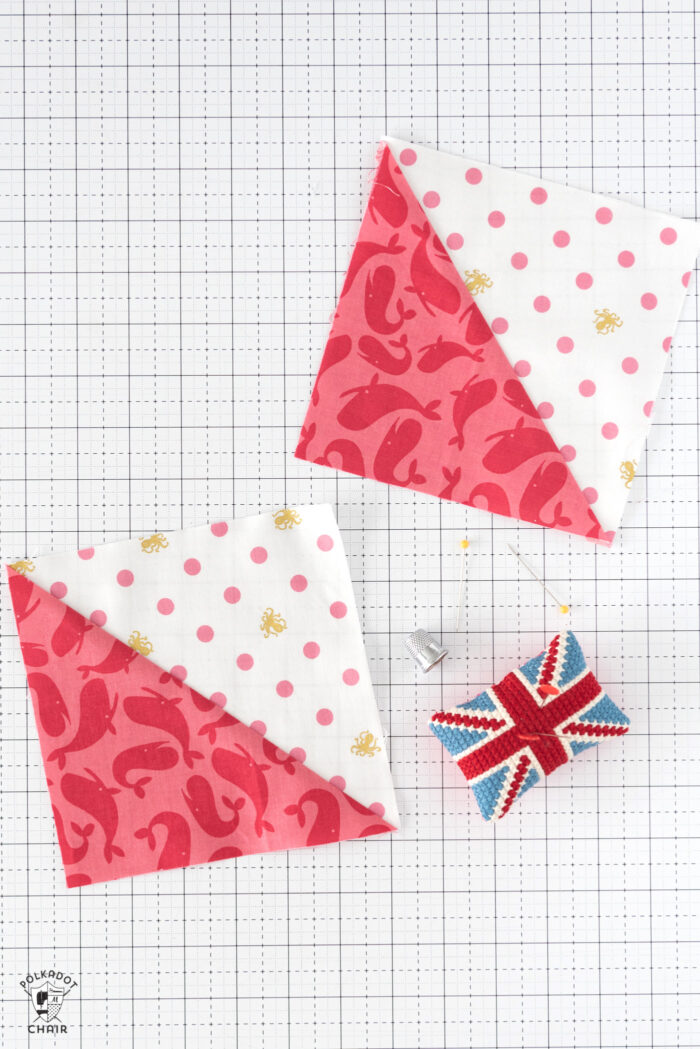 (fabrics in the quilt are from the Ahoy! Mermaids collection)
A Half Square Triangle quilt block is commonly referred to as an HST block (just a simple abbreviation). It comprises two right triangle fabric pieces that are sewn together along the hypotenuse (the long side). They are widely considered to be a building block for many other quilt blocks.
How to do Make an HST Block?
There are a hundred different ways to make a half-square triangle block. Each quilter you talk to probably has their own method. I've outlined my method step by step for you guys. I prefer this method because it allows you to make an HST block in ANY size that you'd like. It also allows a bit of "wiggle room" when trimming your blocks if your piecing wasn't perfect (and mine rarely is!)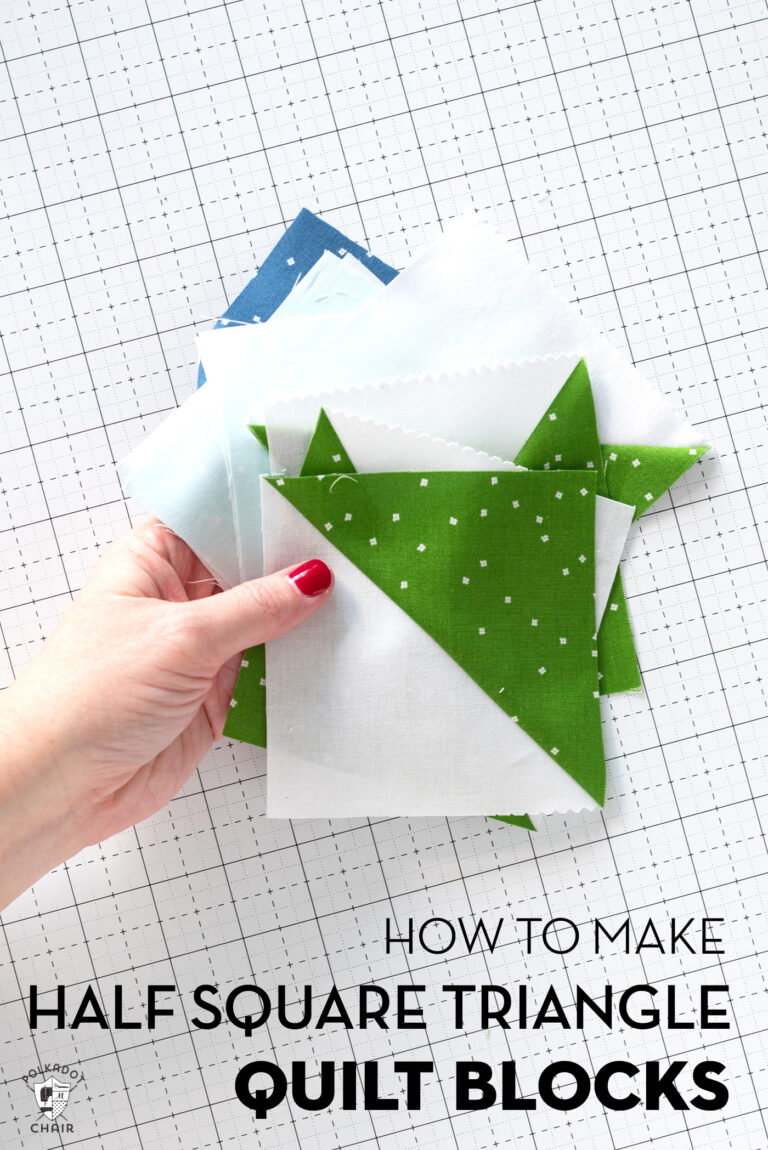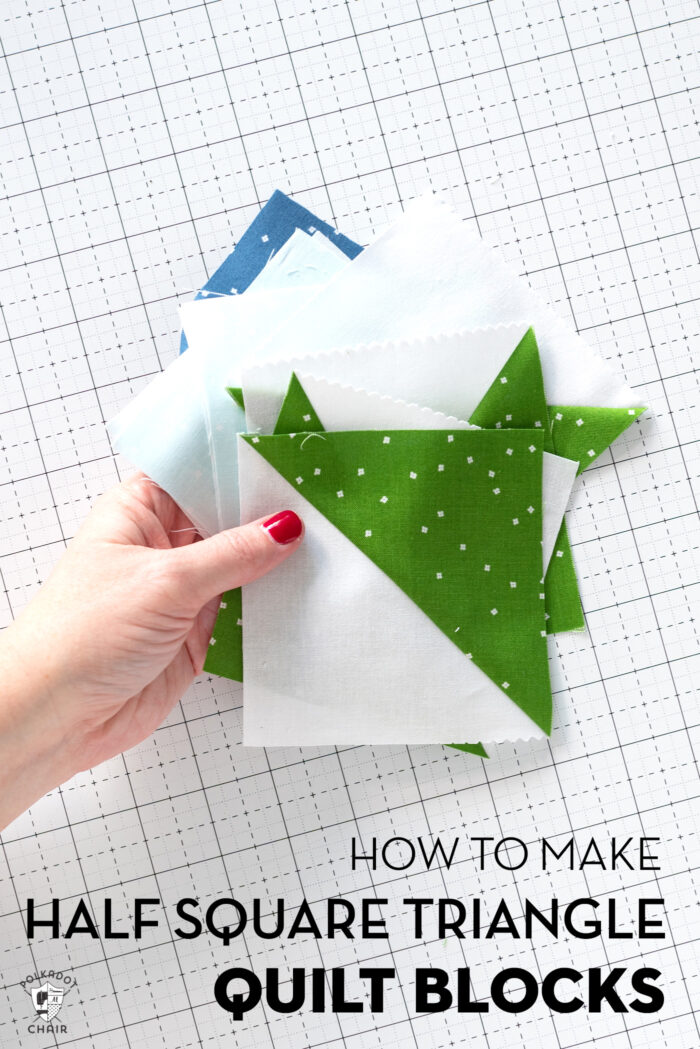 I like to create my hst blocks from 2 squares of fabric. I sew two seams, each ¼″ out from the diagonal center, then cut the squares apart and square them up. If you'd like more details, hop on over to the blog post.
What Size is the Finished Baby Quilt?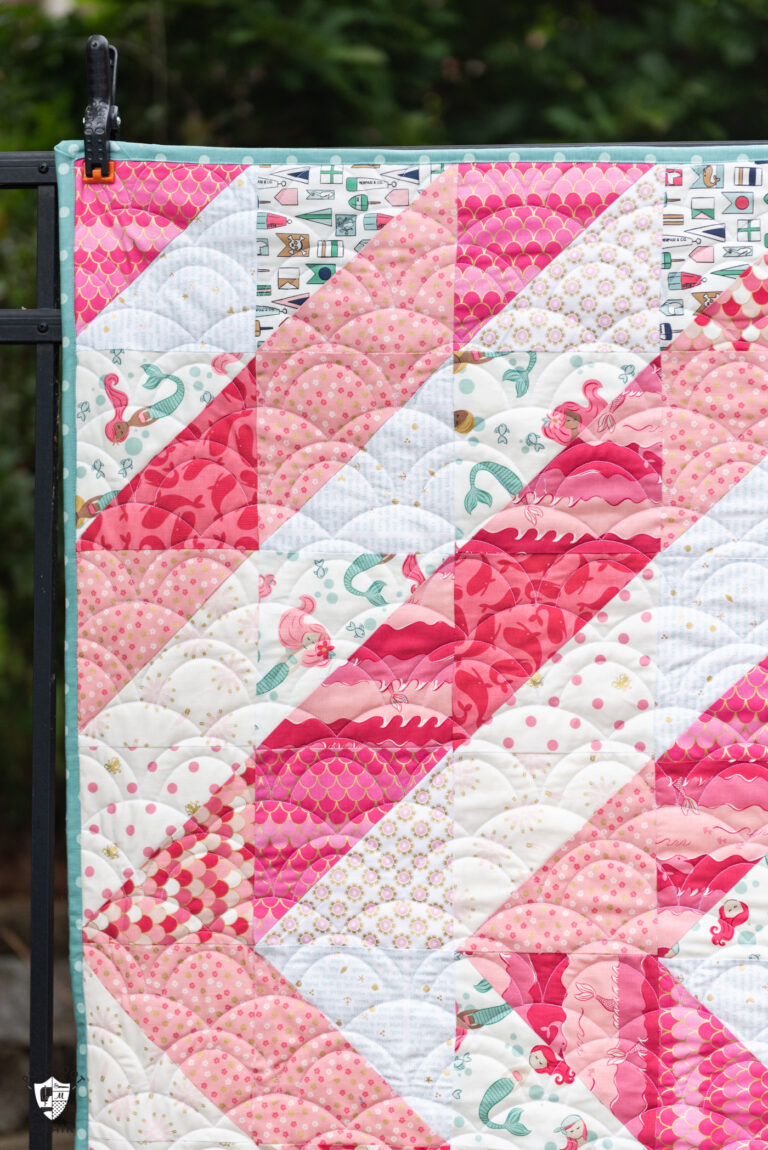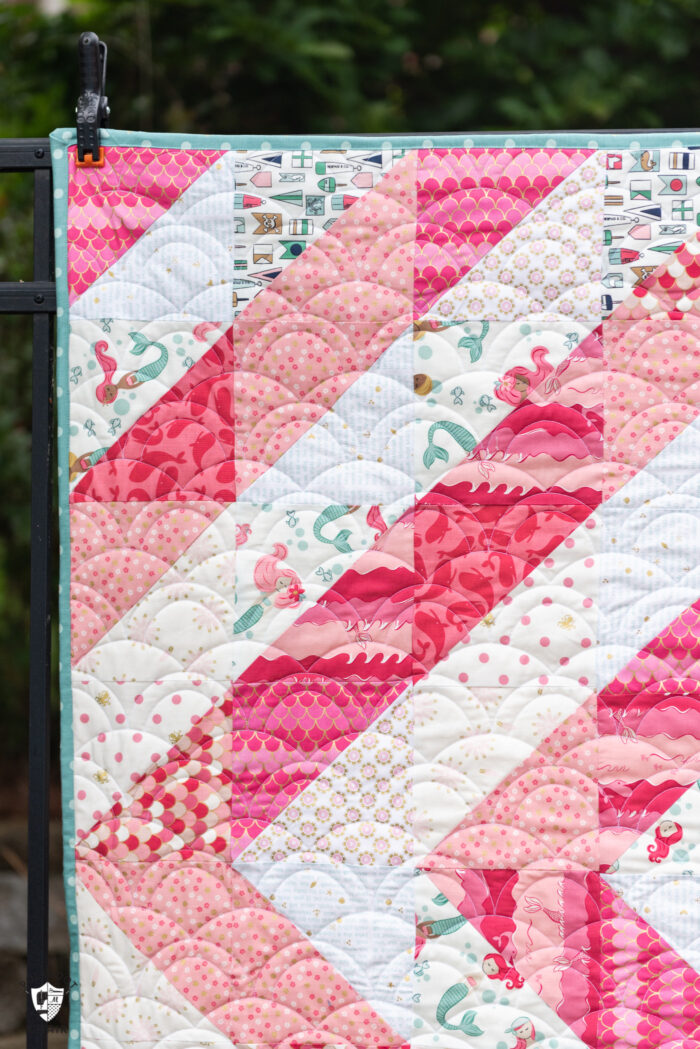 The baby quilt pattern I'm sharing with you today is 48″ x 48″. It comprises 8 blocks across and 8 down that are 6″ when finished (6 x 8 = 48). If you want your quilt larger or smaller, increase the size of the triangles or increase the number of the blocks!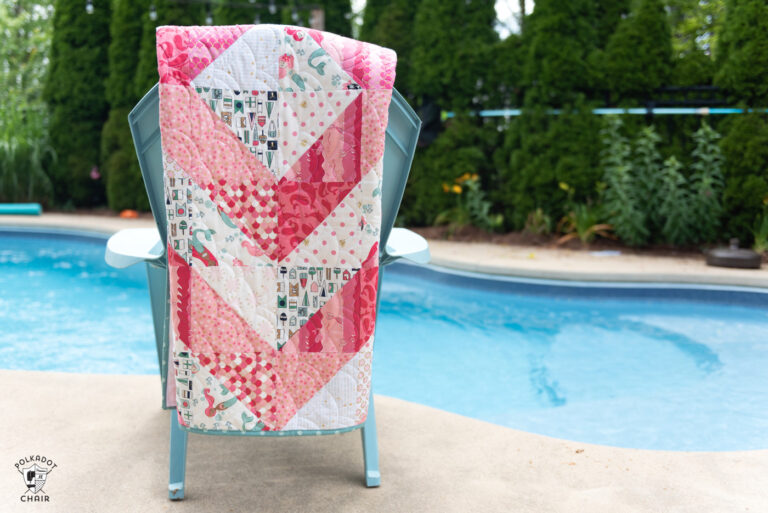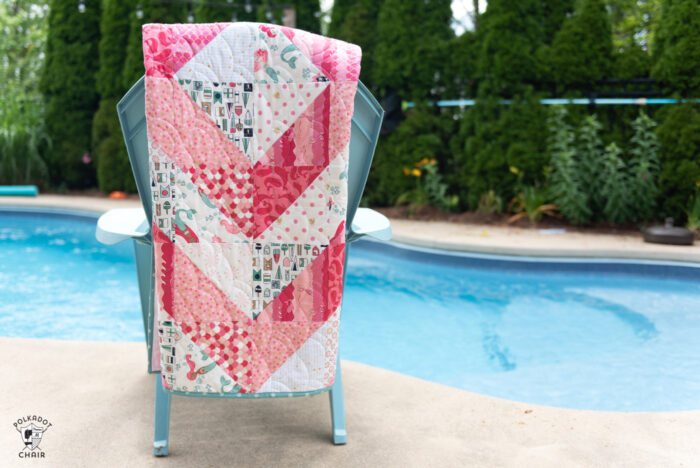 Quilting Terminology Tip!
When quilt patterns refer to the size of a quilt block, they are usually referring to the FINISHED size of the block. The finished size of the block is the size the block is AFTER it is sewn into the final quilt.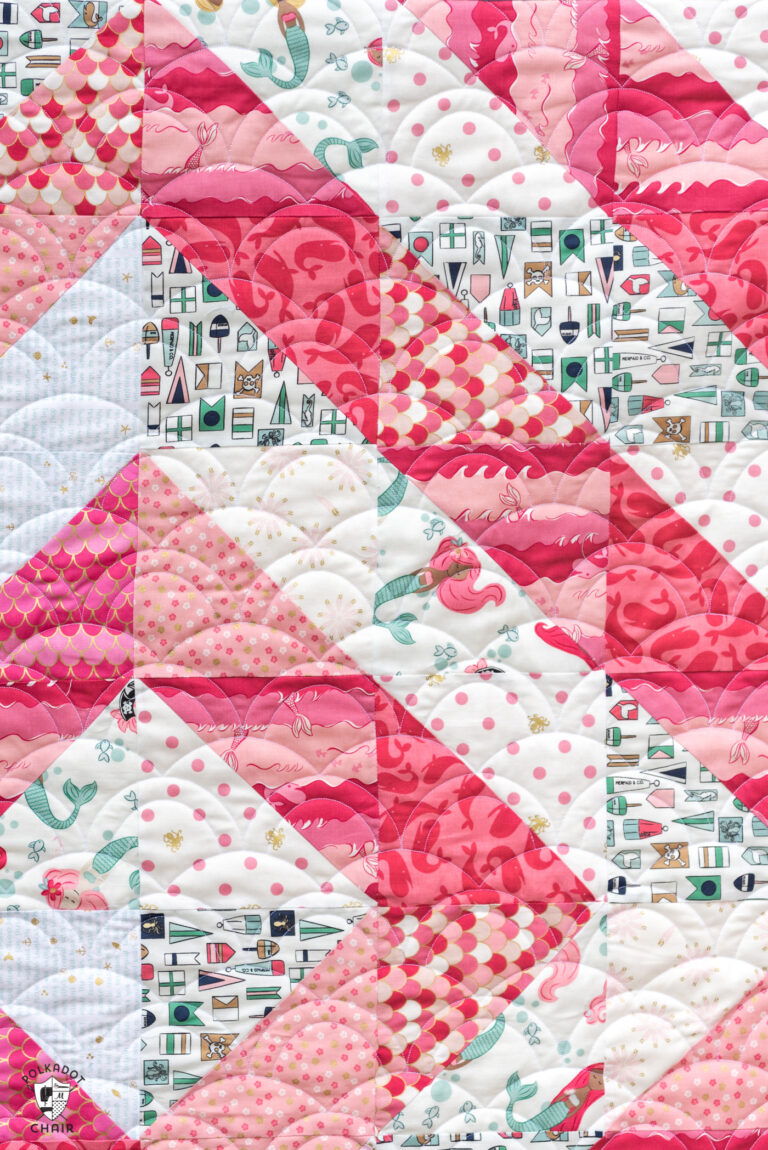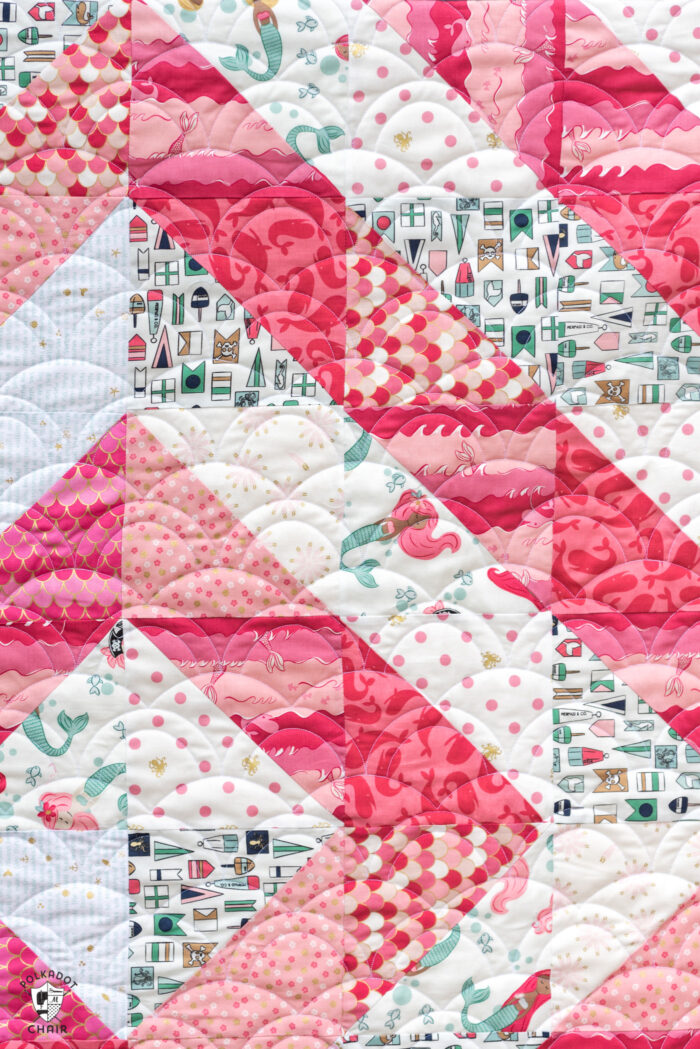 So a 6 ½″ quilt block, sewn into a quilt becomes 6″ square (you lose ¼″ on each side when the block is sewn into the quilt). The blocks in today's quilt are 6 ½″ square after you create them but are referred to as 6″ blocks since that is the size they are in the FINISHED quilt.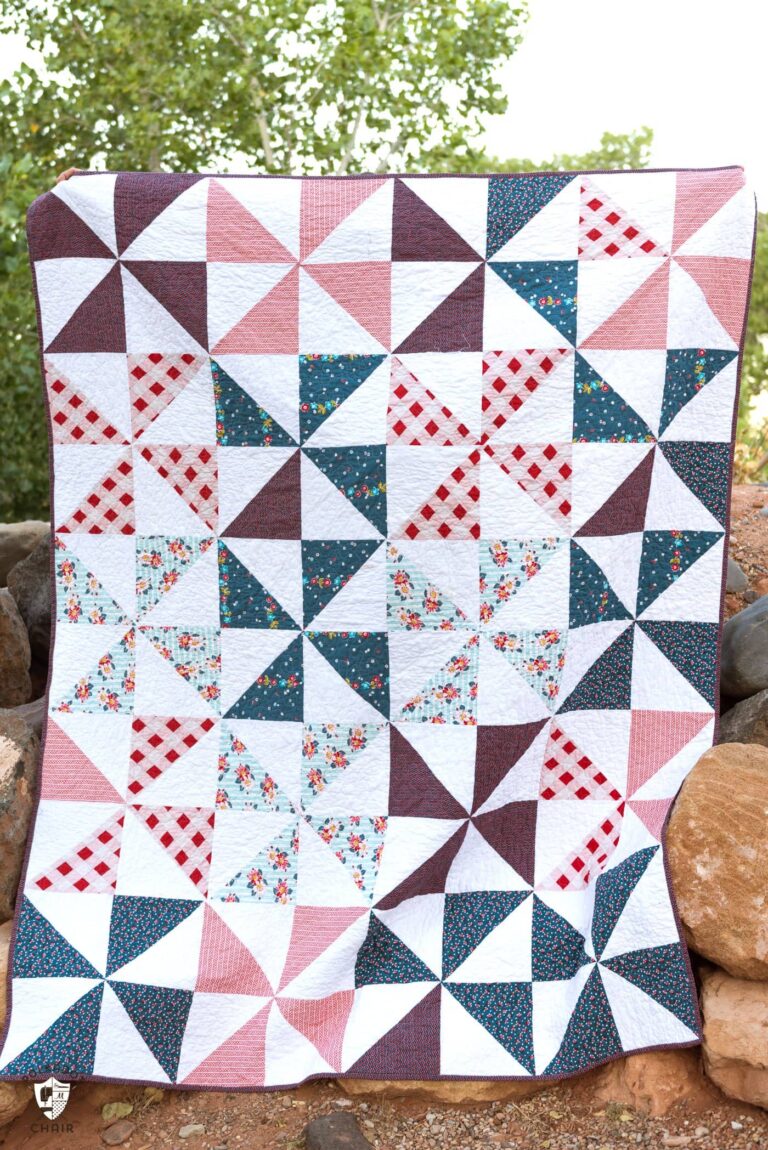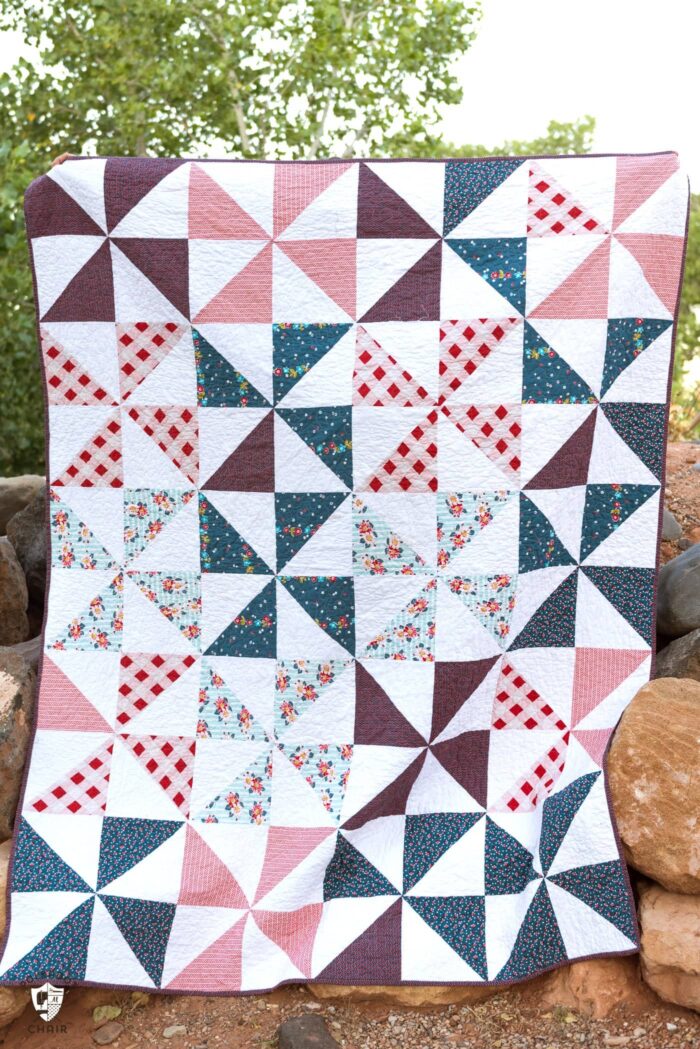 This summer quilt was also created using only half-square triangle blocks. It's much larger than the baby quilt in today's post. The blocks are 9″ when finished, and there are 8 blocks across and 10 blocks down in the quilt. See how that works? Pretty cool, huh!?
Half Square Triangle Quilt Layouts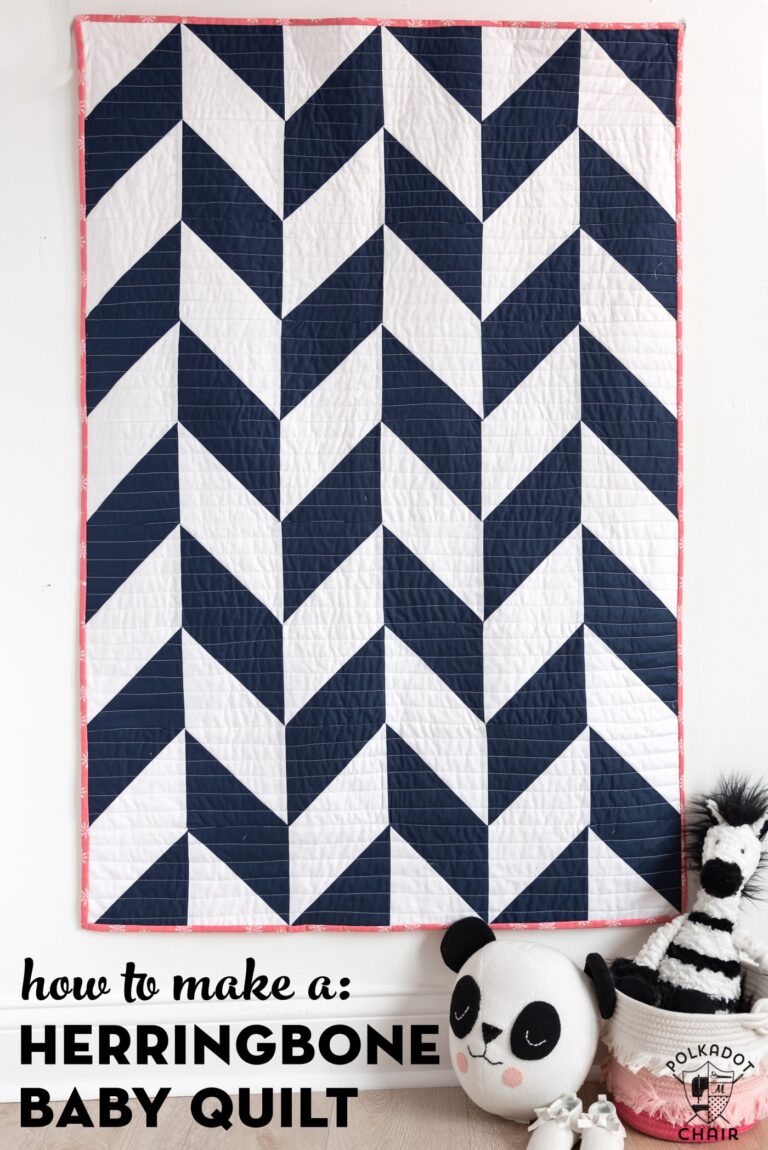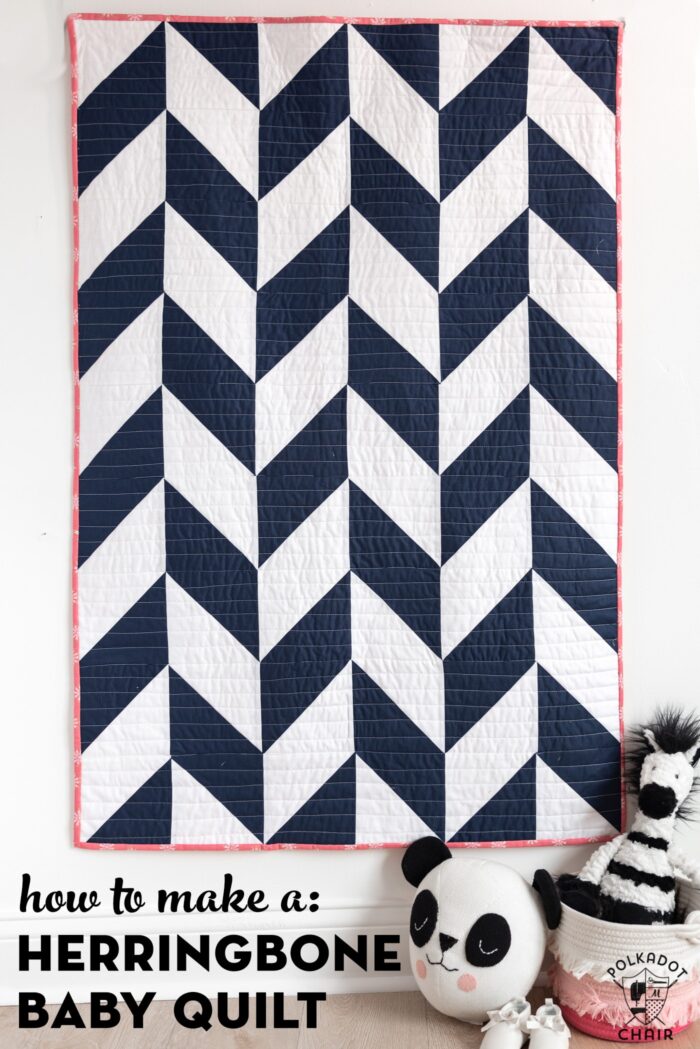 Another example is this herringbone baby quilt. It is comprised of 9 rows with 6 blocks in each row. Each block is 6″ finished. All of the blocks are just simple half-square triangles!
I've taken the time to mock up 10 different quilt layouts using 64 half-square triangle blocks. This is just a small sampling of the arrangements you can make. I could keep going and think of at least another 10 layouts. But these are 10 that I love and think you will too.
Free Printable Layout Guide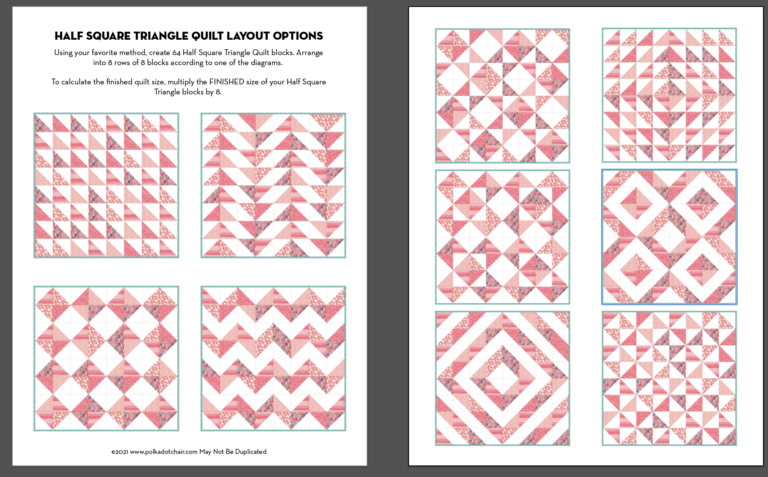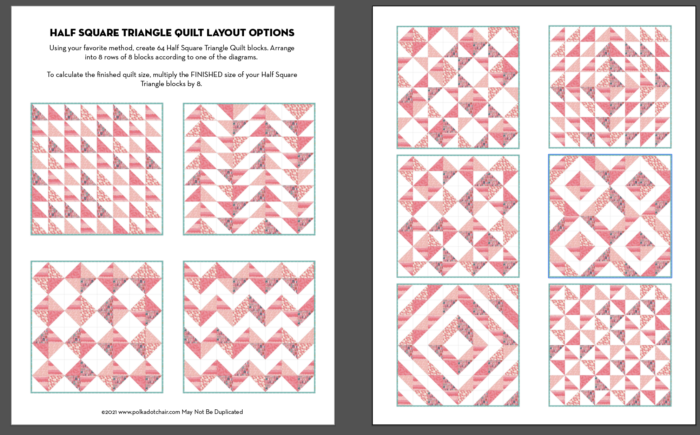 I've created a printable with all ten layouts. Print it off at home and use it as a reference as you create your quilt. Note: all of these layouts work with eight across layouts.
If you fill out the form below, we will send you the printable.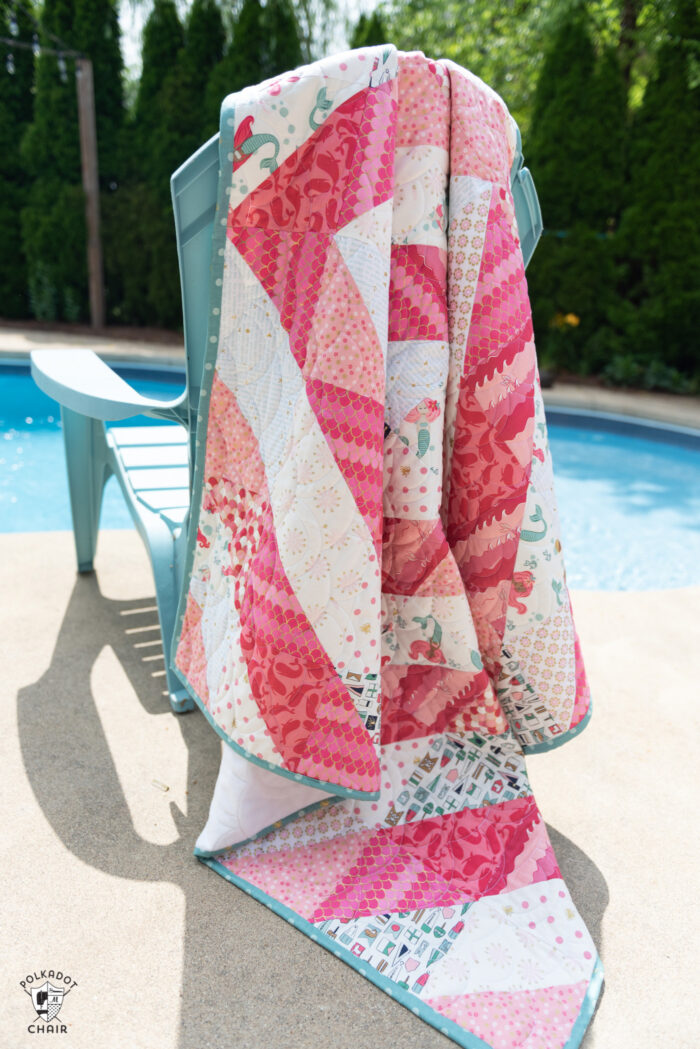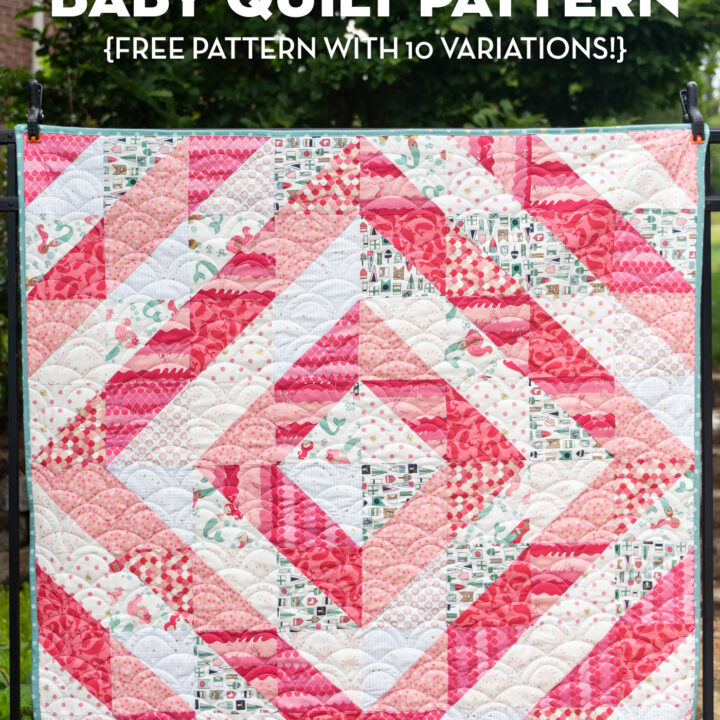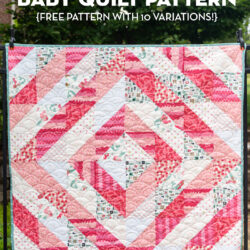 Half Square Triangle Baby Quilt Pattern
Create a graphic, modern baby quilt using our free half square triangle quilt pattern!
supplies
7

7" x WOF*

Strips of fabric in various prints.

They do not all need to be the same print but should be the same color.

7

7" x WOF*

Strips of fabric in various prints.

They do not all need to be the same print but should be significantly different from the other strips of fabric- either lighter or darker.

1 ½

Yards

60" wide backing fabric

OR

3

yards

42" wide backing fabric

⅜

yard

Binding fabric

1

piece

Batting at least 50" x 50"
Instructions
Cutting
Cut your 7" wide strips of fabric into 7" squares. Cut 32 squares from your first color of fabric and 32 squares from the second color of fabric.
Create the Half Square Triangles
Draw a diagonal line on the wrong side of the 32 squares cut from lighter fabric.

Layer one darker and one lighter square, right sides facing and stitch ¼" on each side of the line you drew.

Cut apart along the line, and trim up to 6 ½" square. Repeat for all squares.
Assemble Quilt
Arrange the 64 sewn blocks into 8 rows with 8 blocks in each row. Refer to the printable for layout suggestions and ideas.

Quilt and bind as desired.
Notes
*WOF = Width Of Fabric. Even though most quilting fabrics are 42″ wide, it is rare that you can use all 42″.  The calculations in this pattern assume you can get five 7″ squares from one 7″ x WOF strip. If your fabric is slightly larger or has a very small selvage, you may be able to get six squares. 
Fabrics used in the example quilt are from the Ahoy! Mermaid's fabric collection by Melissa Mortenson for Riley Blake Designs. 
PRINT
You May Also Like: