Stitch up a keepsake that you will treasure forever with one of these modern baby quilt patterns. Our list includes both free modern baby quilt patterns and patterns that are available for purchase.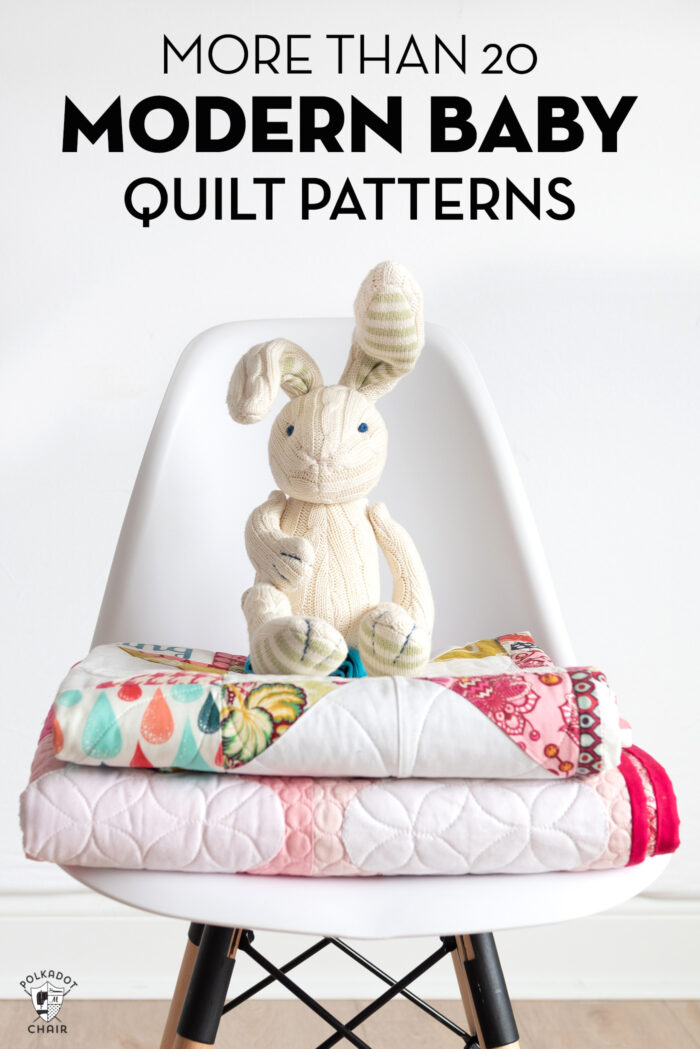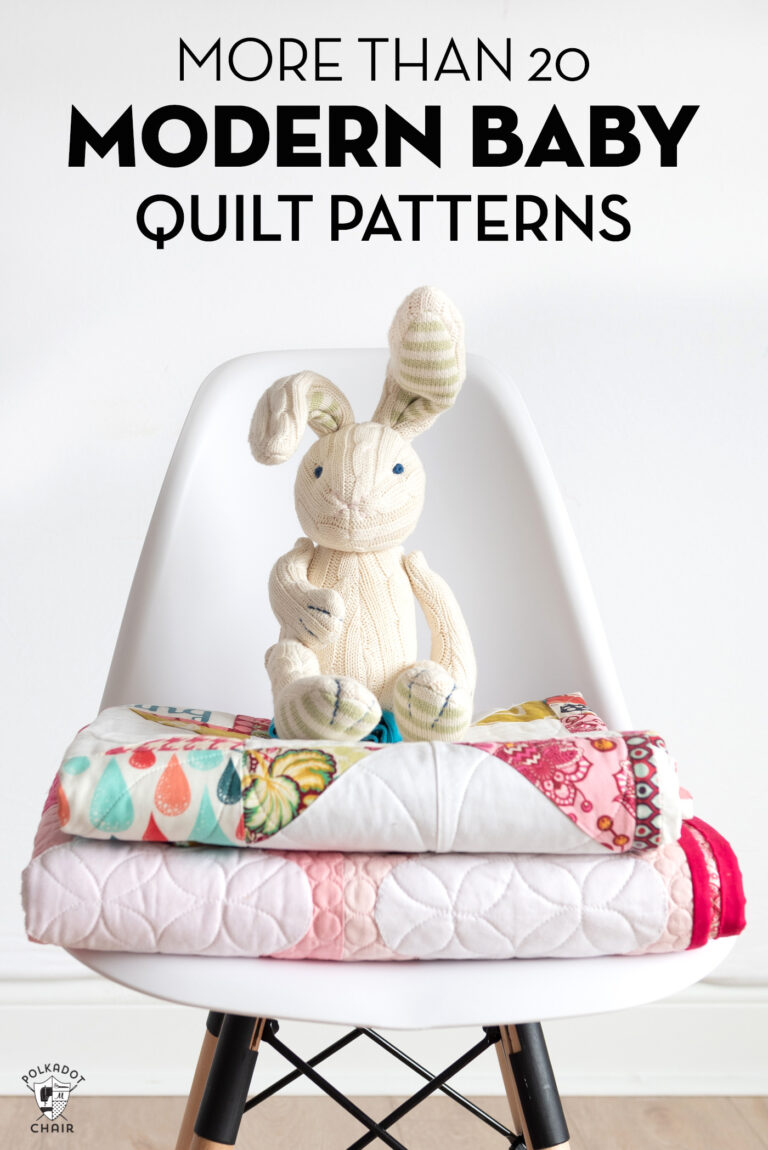 Table of Contents
What is a Modern Quilt?
Ok so first up, let's chat about what someone means when they say they want to create a "modern quilt".
The Modern Quilt Guild defines a "Modern Quilt" as:
Modern quilts are primarily functional and inspired by modern design. Modern quilters work in different styles and define modern quilting in different ways, but several characteristics often appear which may help identify a modern quilt. These include, but are not limited to: the use of bold colors and prints, high contrast and graphic areas of solid color, improvisational piecing, minimalism, expansive negative space, and alternate grid work. "Modern traditionalism" or the updating of classic quilt designs is also often seen in modern quilting.

Modern Quilt Guild
Taking that definition into consideration, all of the quilt patterns I've linked below contain some sort of "modern" element. Some are made from all solid fabrics, some feature high contrast and others explore "non-traditional" methods of piecing.
I will say, if someone tells you they want you to make them a "modern baby quilt" they are most likely asking for something that is graphic, simple, and created using a "current" color scheme. Something that would be sold in a home decor shop.
What is the Best Baby Quilt Size?
Okay, now for the next most popular question. What size should I make my baby quilt?
Well, baby quilts are pretty forgiving as far as sizing goes. Most are designed to be comfortable for a baby to lie on or be wrapped up in. A quilt that is too large may be cumbersome to carry around with the baby. A crib-sized quilt is meant to fit into a standard size crib mattress (however, it is now not advised to place a baby to sleep with a quilt). Here are the most "common" baby quilt sizes.
Square: Sizes typically range from 36″ square up to 54″ square
Crib: This size is typically 36″ x 52″, but can be as small as 30″ x 46″
How Many 5″ Squares does it Take to Make a Baby Quilt?
Another common question I get when asked about creating a baby quilt is, how many 5″ pre-cut squares do I need to make the quilt?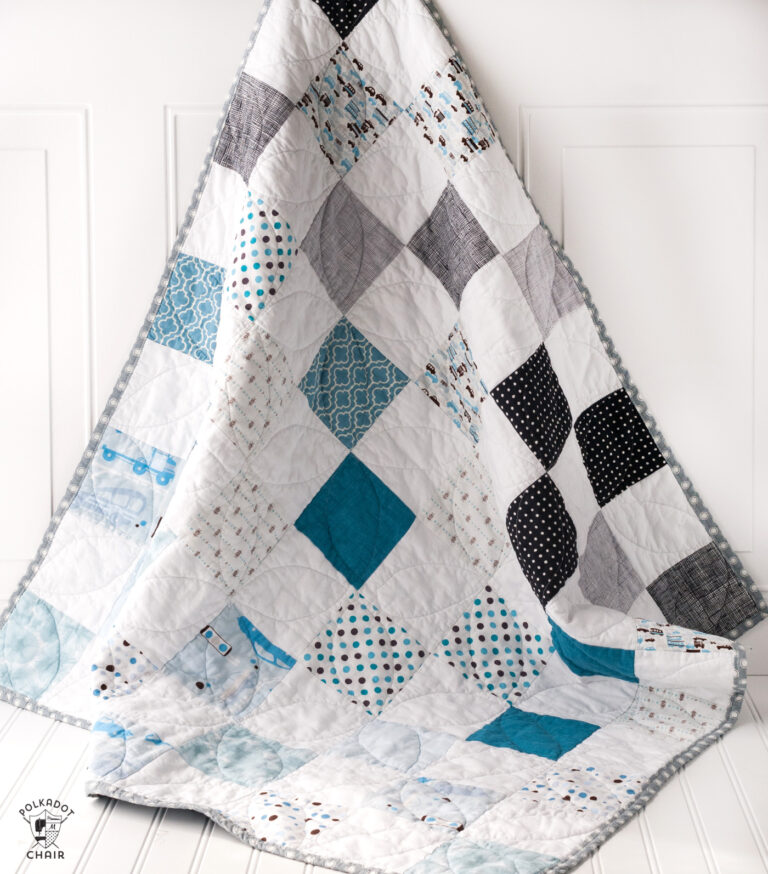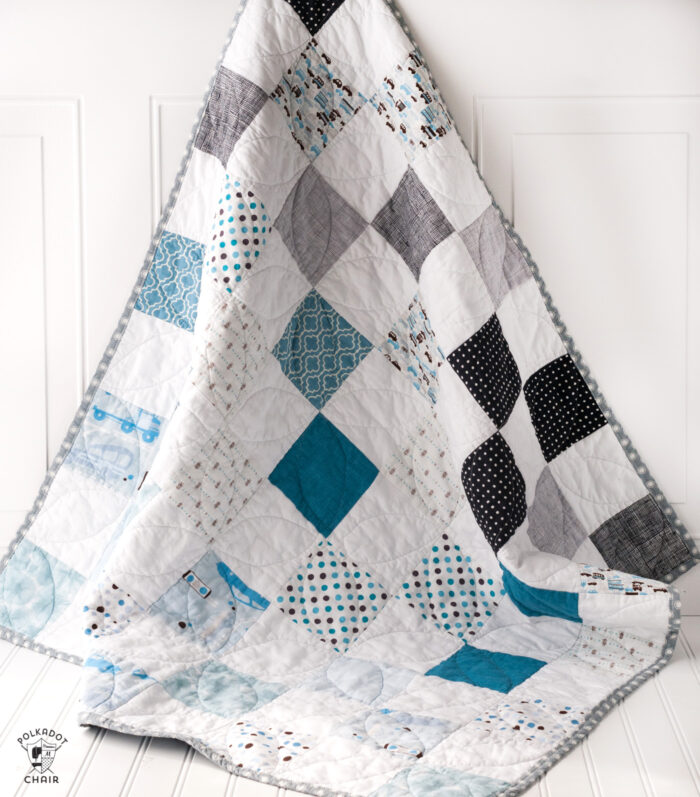 This Color-Blocked Baby quilt that I created contains 64 5″ x 5″ squares set into 8 rows of 8. Most 5″ pre-cut stacks come with 40 squares. So you will need 2 packs of 5″ squares to create a baby quilt.
Baby Quilt Patterns