Today I'm excited to introduce you to my newest fabric collection, Santa Claus Lane. It's a bright, fun vintage-inspired Christmas Fabric line and I hope that you will love it.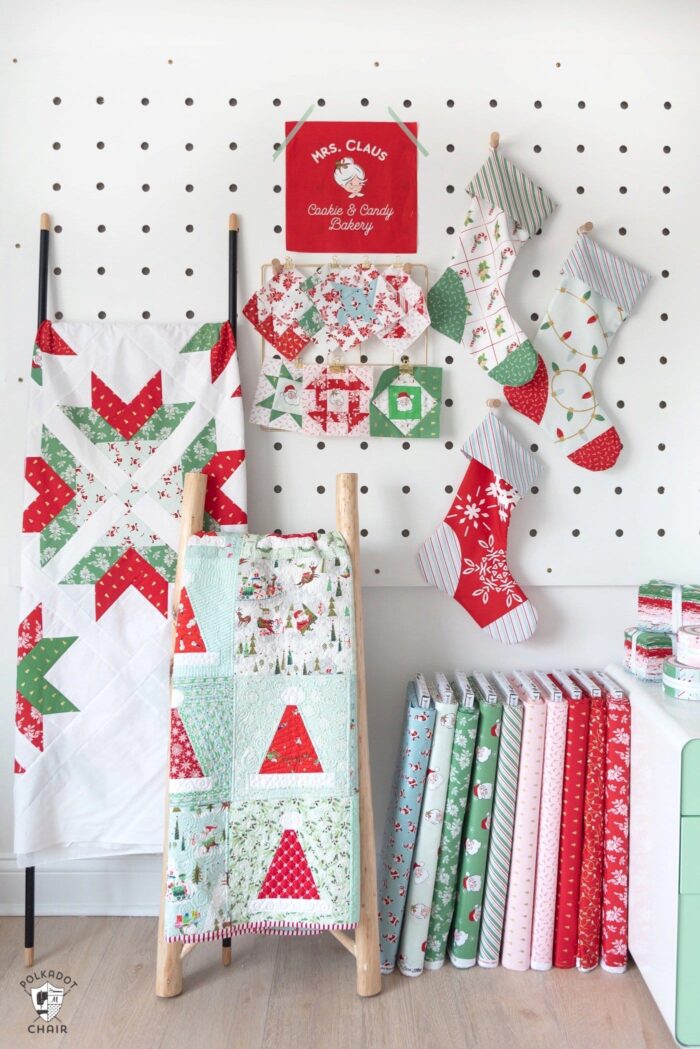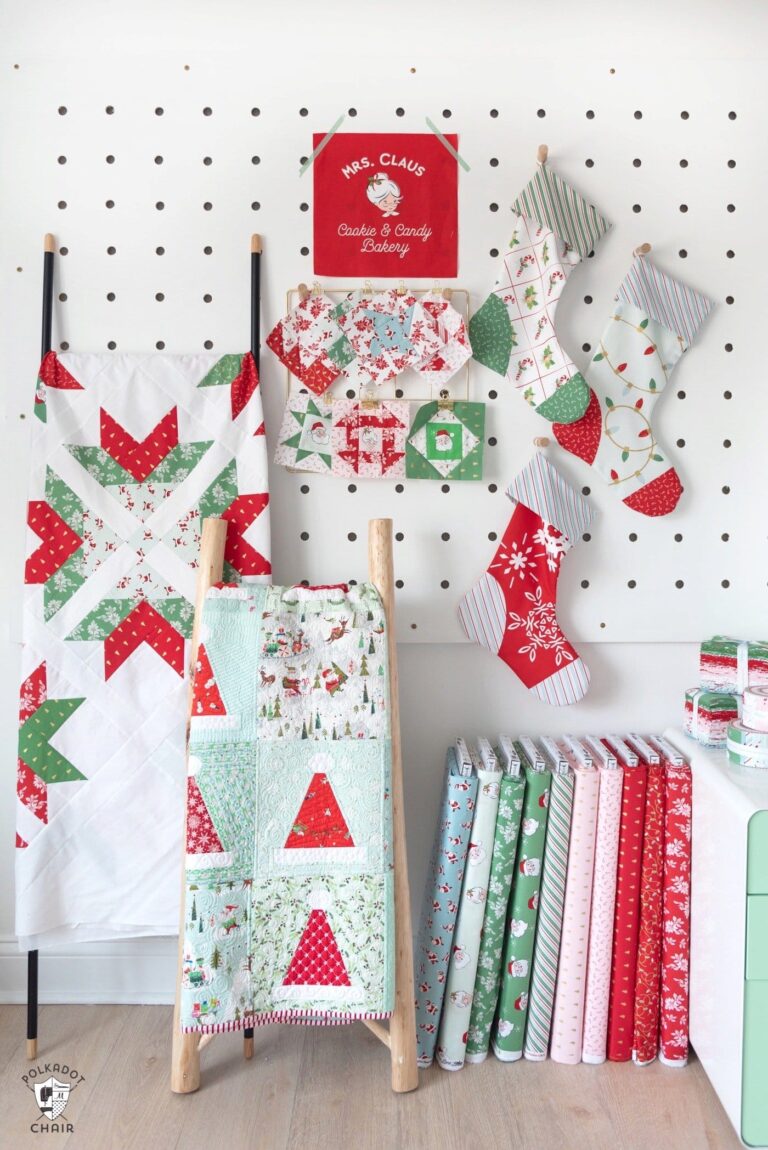 Note: the large star quilt in the photo is one of our Fall release patterns. It was just not quite ready for release with the fabric in June. We plan to have it ready for you in September. We also need a name, if you have a suggestion leave it in the comments section!
Table of Contents
About Santa Claus Lane Fabric
Ever since I started designing fabric, I've wanted to design a Christmas themed fabric line. I love the Christmas aesthetic from the '40s and '50s and thought it would be fun to have a modern version of Christmas fabrics from that era.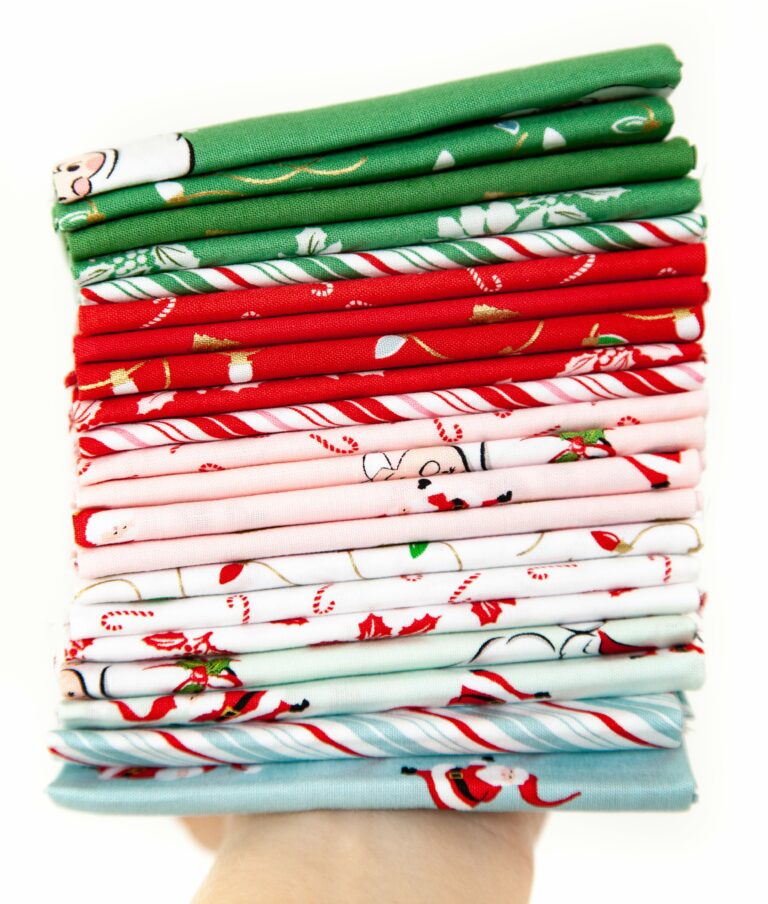 I actually started designing this line 5 years ago and worked on it a little bit at a time until I managed to design a few prints that I liked. Once I had a couple of prints that I liked the process started picking up speed and I was able to submit it to Riley Blake a few years ago.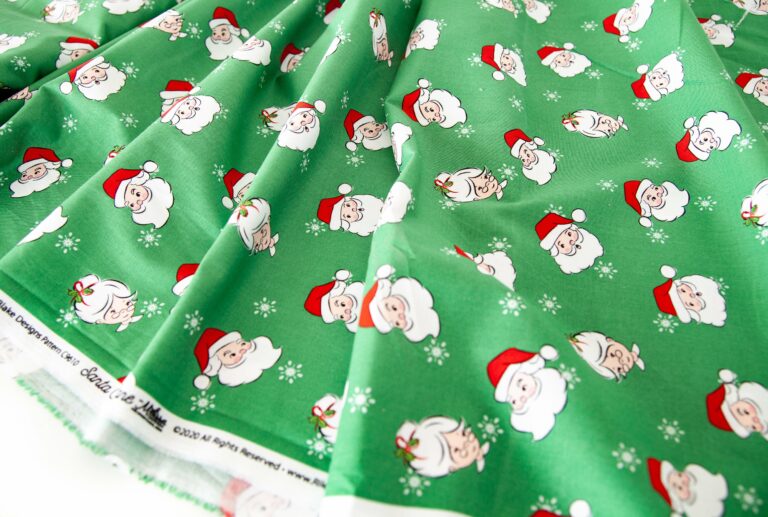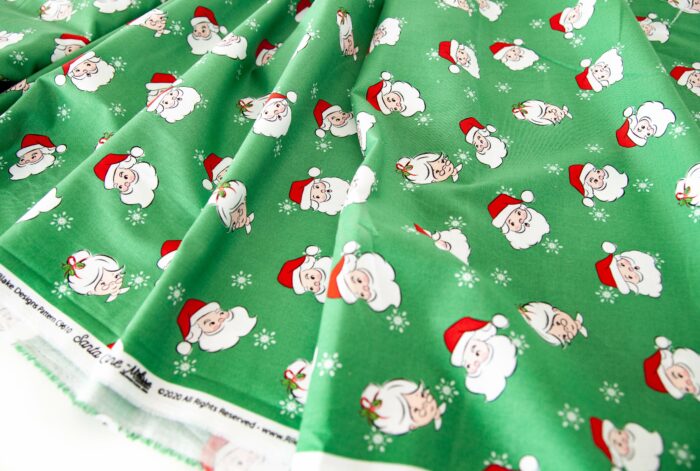 The line hit stores in June & July of this year and is manufactured by Riley Blake Designs. You can find it in specialty quilt & sewing shops around the world.
There are 7 prints in 3 colorways for a total of 21 prints in the line. There are also 2 Christmas Stocking panels and 2 pillow panels available for the line.
Christmas Quilt Patterns Designed for Santa Claus Lane Fabric
Here are 3 quilt patterns designed to work with the fabric collection. All of the patterns are currently available in both print and PDF formats in the shop. You may also be able to find them at your local quilt shop.
Santa's Hat Shop Quilt Pattern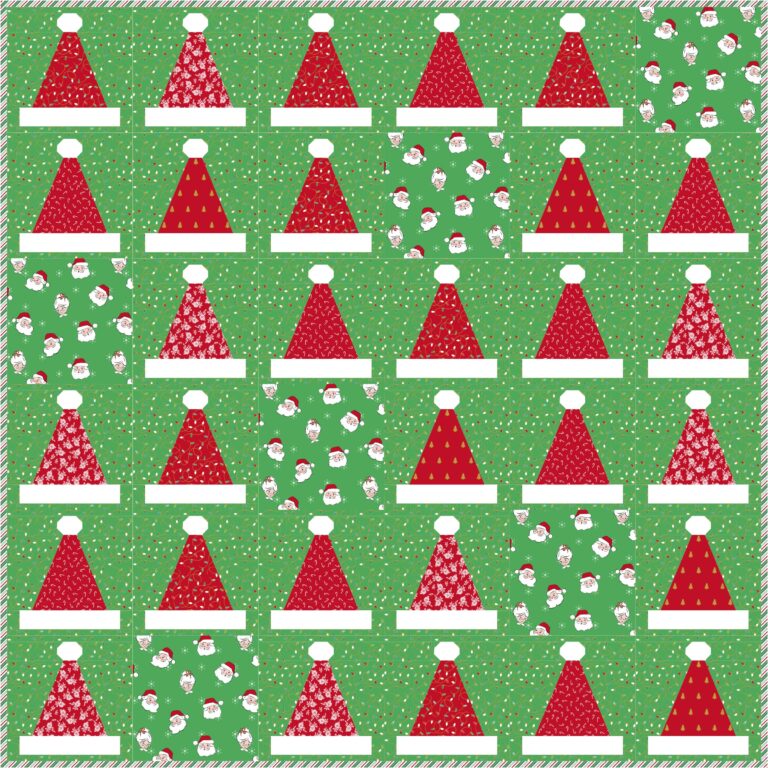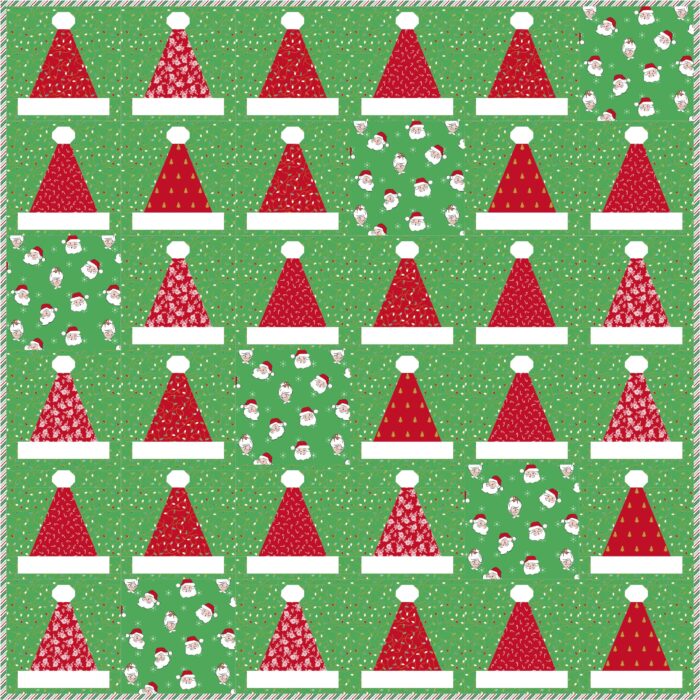 The first is my Santa's Hat Shop pattern. Here it's shown with a green sparkle background. We will be making this quilt as a part of a quilt along starting in September! I'll even be filming a few videos to help you out as you construct your quilt. Keep an eye out here for the announcement and quilt along schedule.
Letterboard Quilt Pattern
Spell almost anything you'd like with our Letterboard Quilt Pattern. This version of the pattern is made with 10″ precut stacks of fabric. The pattern comes with the entire alphabet, so you can spell whatever you'd like on your quilt. Here are a couple of suggestions.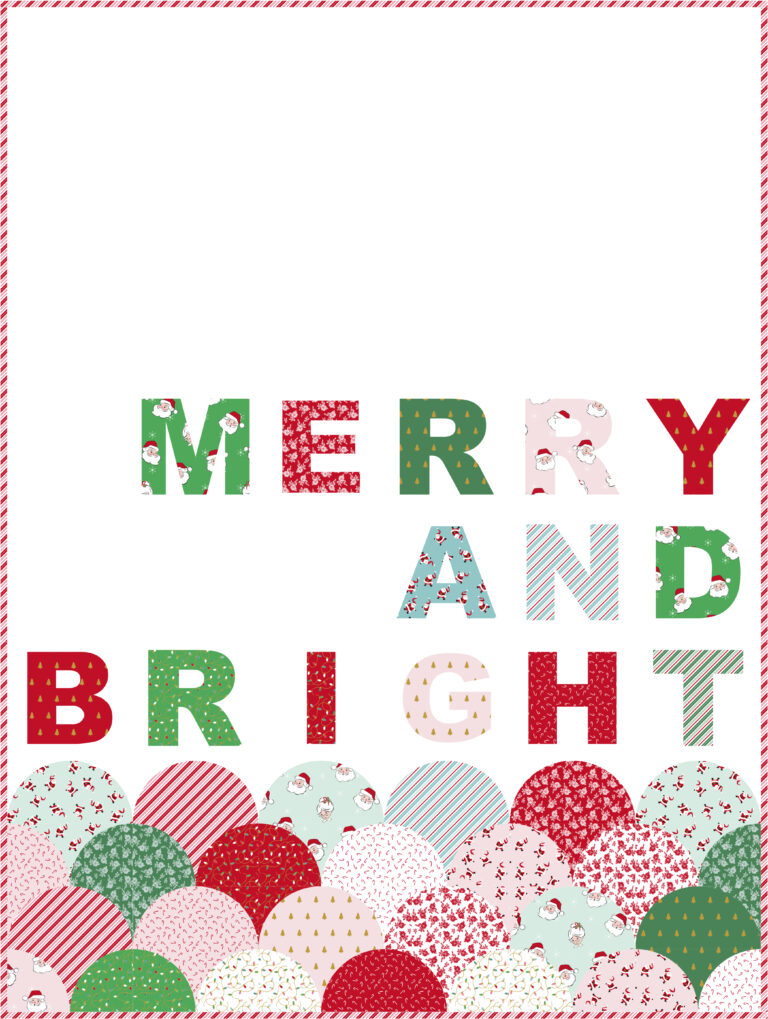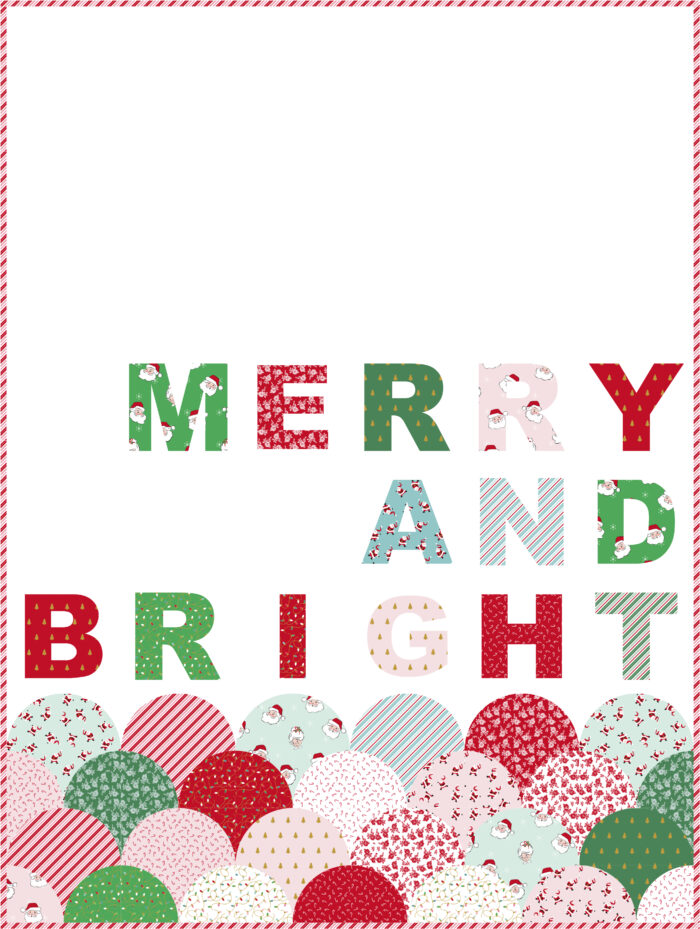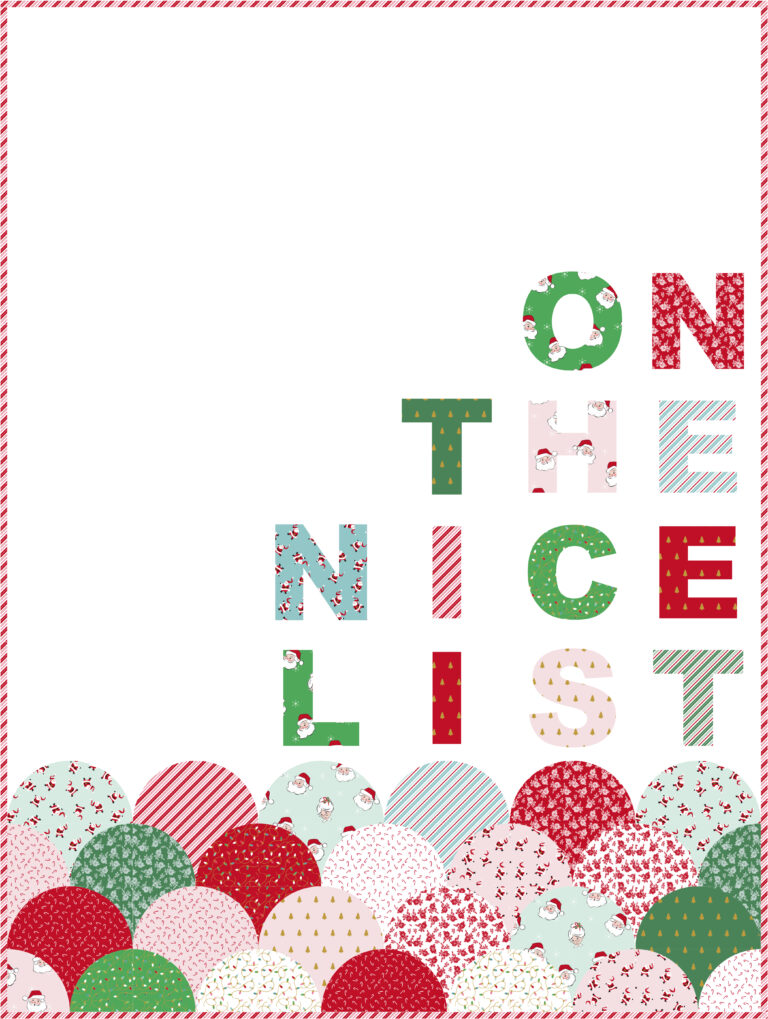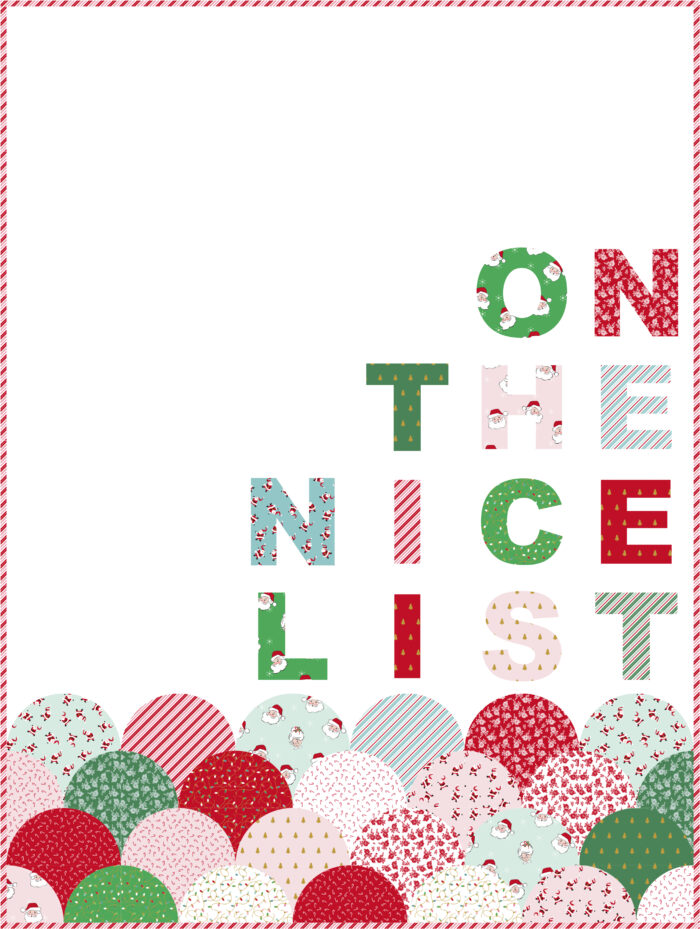 Let's Stay Home Quilt Pattern
Our Let's Stay Home Quilt pattern was part of our Summer 2019 quilt along. It features rows of house and star quilt blocks. It's really fun to construct and there is even a series of videos to help you out!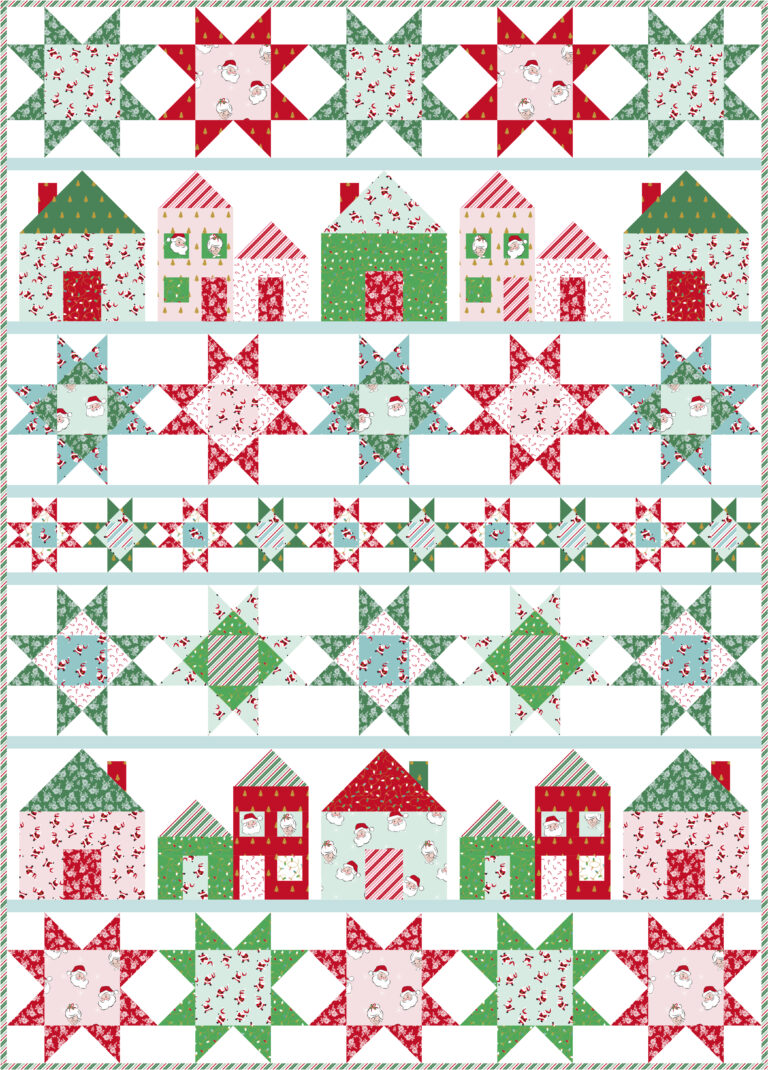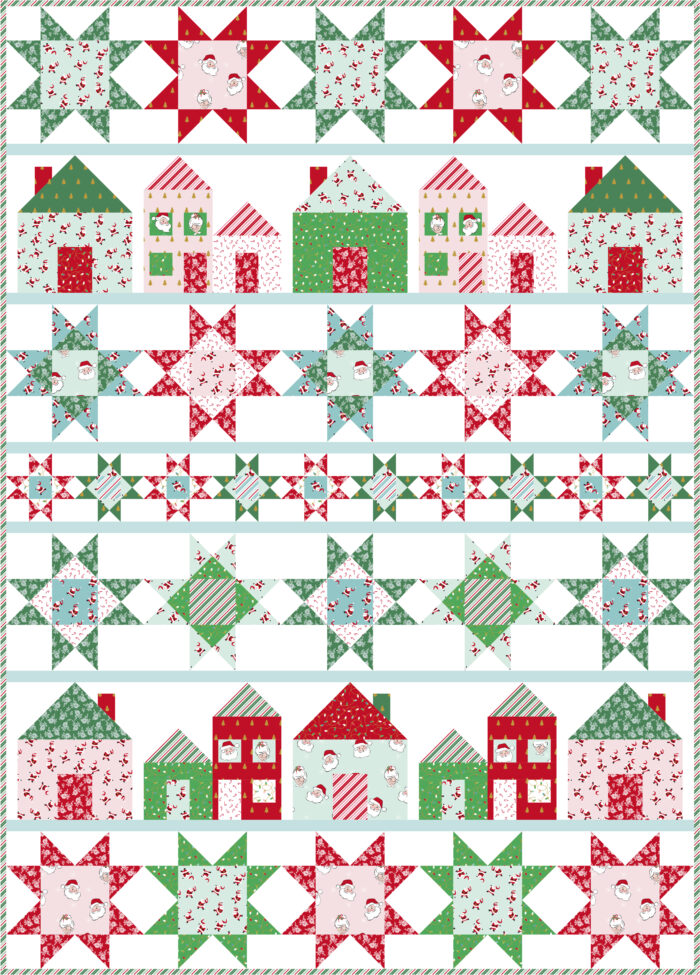 Projects Made with Santa Claus Lane Fabric
There have been a lot of adorable sewing & quilting projects popping up with the fabric. I wanted to share a few of those with you.
One. Striped Quilt & Candy Cane Pillow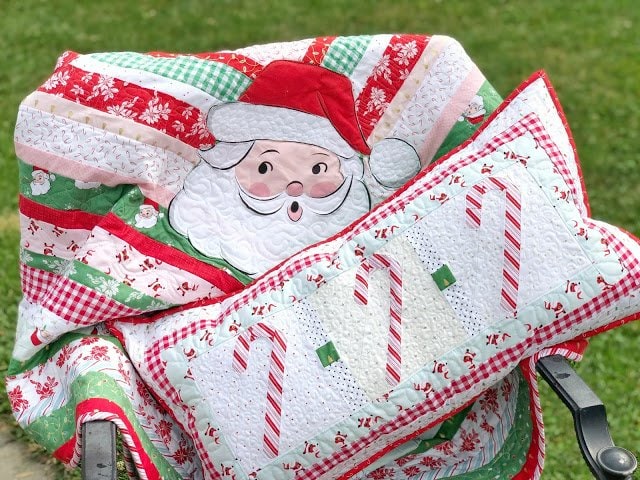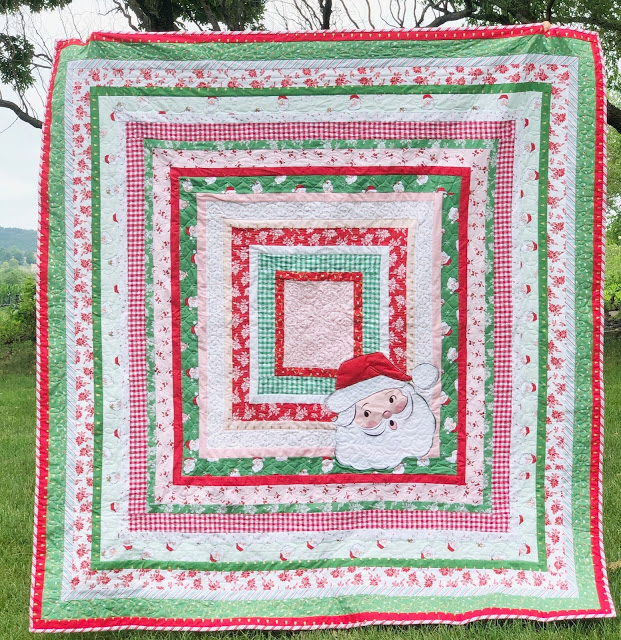 Santa Claus Quilt & Pillow by Jessica Dayon
Jessica created two projects with the fabric. The first one is this amazing quilt. She shares how she made it on her blog. It is just made up of a center rectangle and alternating size borders! It's so genius. I love how she added the Santa from the fabric panel to the quilt as well.
The pillow is made from a FPP pattern that she links to on her blog.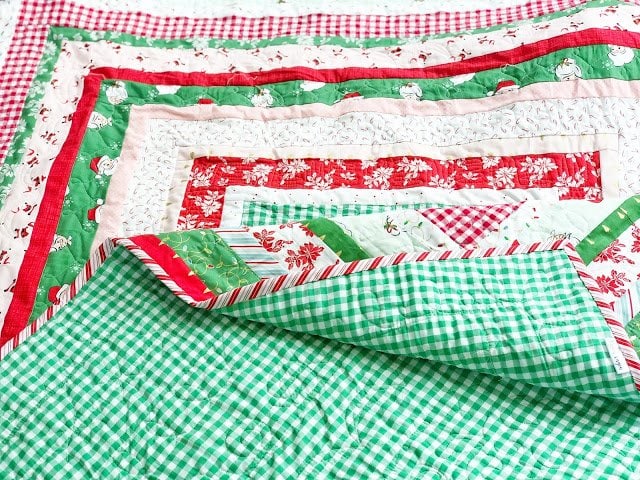 That gingham backing is perfect for the back of the quilt!
Two. Midnight Ride Quilt Pattern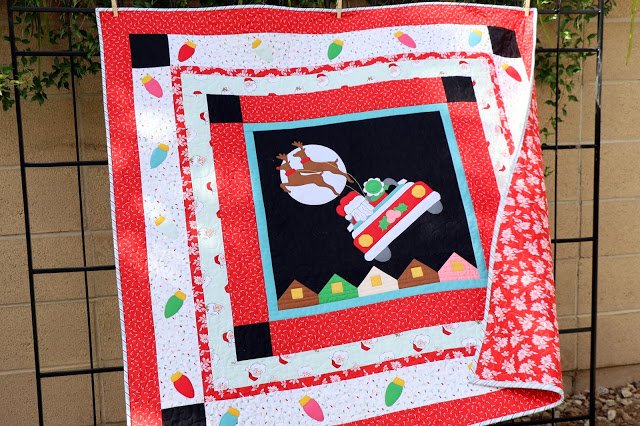 Midnight Ride with Mrs. Claus by Just Let Me Quilt
Carol at Just Let Me Quilt designed the Midnight Ride with Mrs. Claus Quilt pattern and used Santa Claus Lane fabric and Riley Blake Confetti Cottons to create the quilt. You can find the pattern for the quilt on her blog.
Three. Potholder Sewing Pattern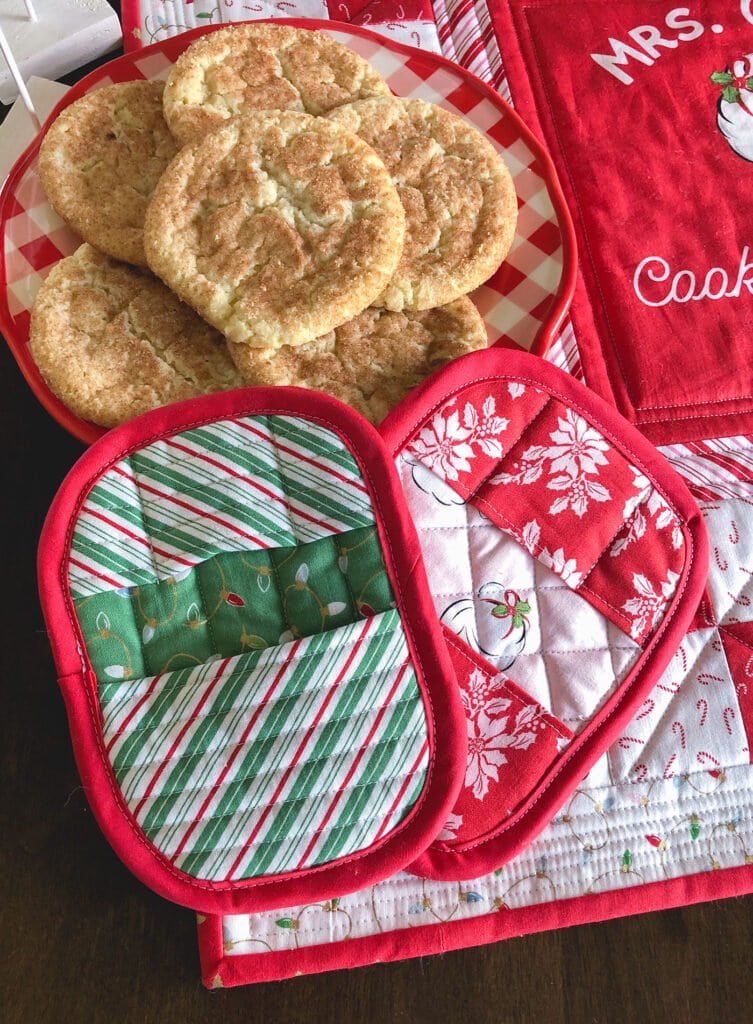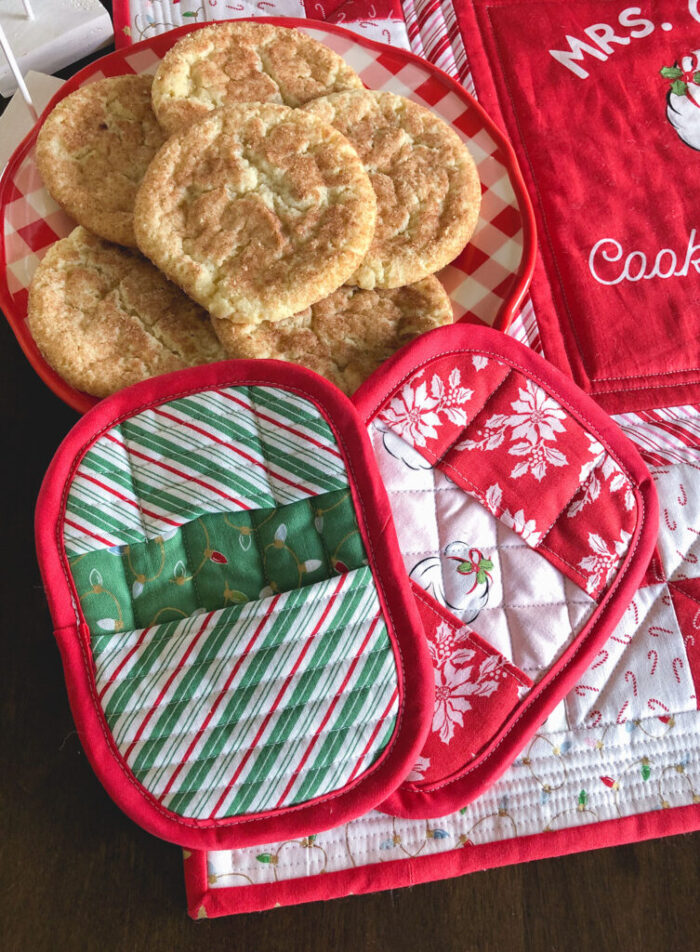 Holiday Hot Pad Tutorial by Ameroonie Designs
Amy from Ameroonie Designs created a set of potholders to go with her Mrs. Claus Table topper. She is sharing a free tutorial for the hot pads on her blog. Wouldn't they be the perfect neighbor or teacher gift for the Holidays?
Four. Christmas Irish Chain Quilt & Pillow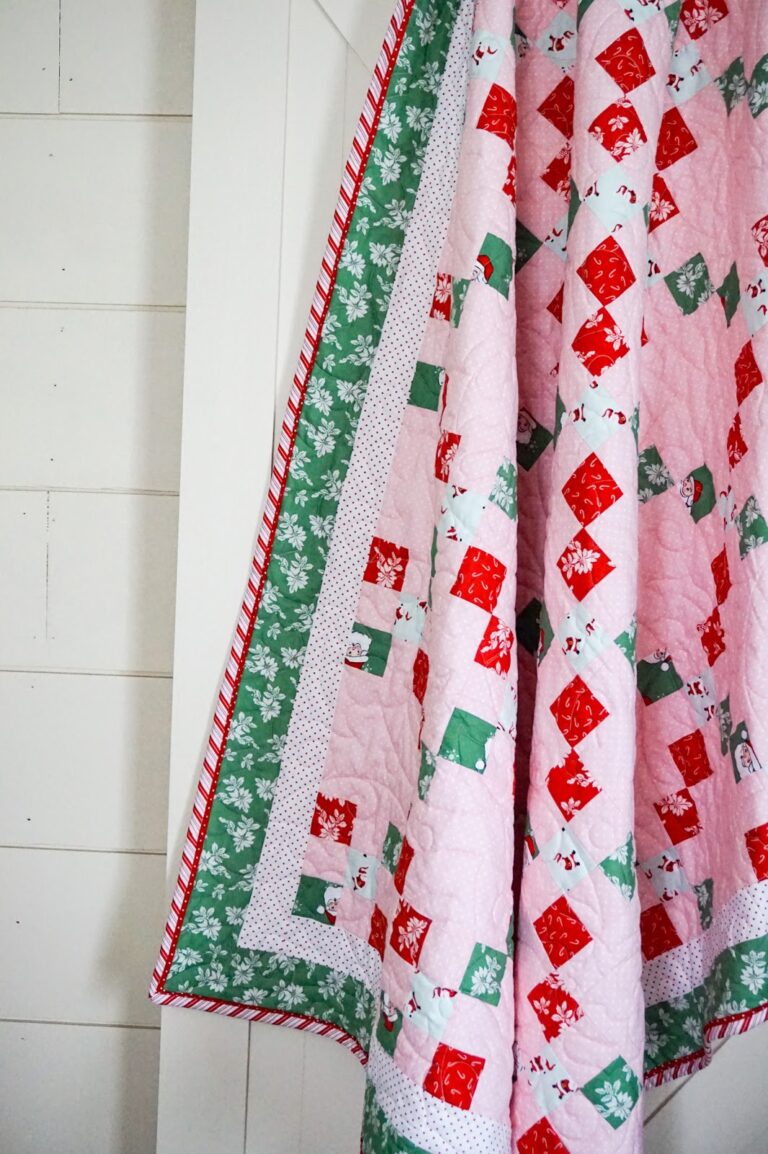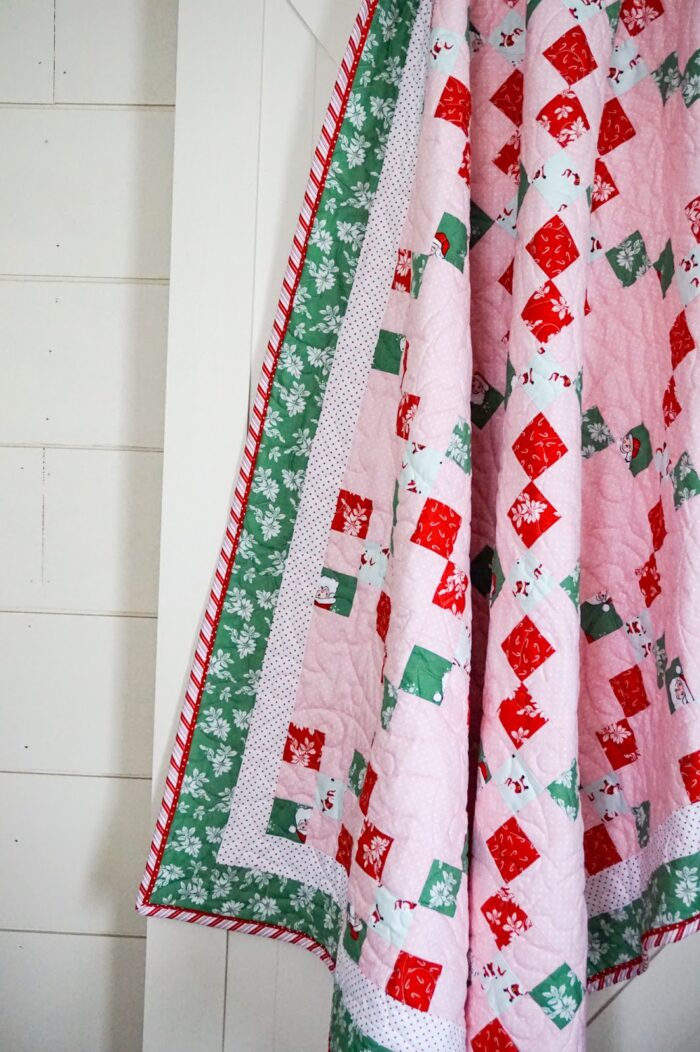 Irish Chain Quilt & Cathedral Windows Pillow at Sissy Belle Sews
Stephanie from Sissy Belle Sews also created two projects with the line. She stitched up this yummy Christmas quilt with a pink background. I ADORE the pink she chose, it gives the quilt such a fun vintage vibe.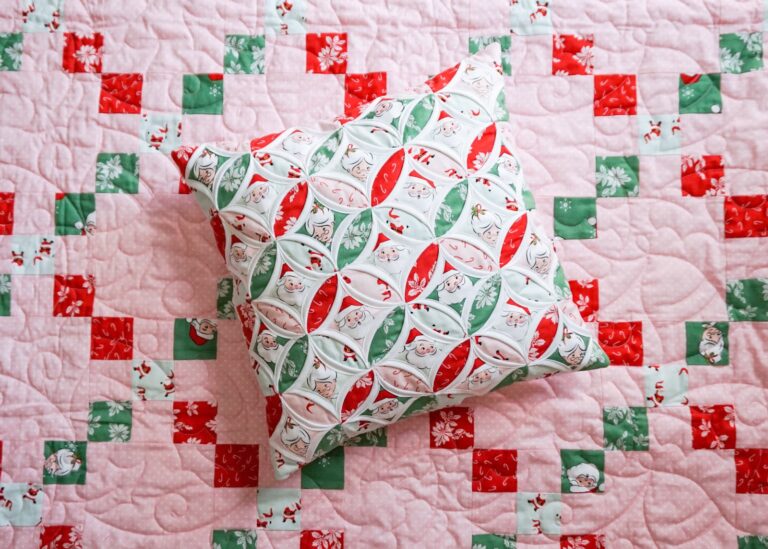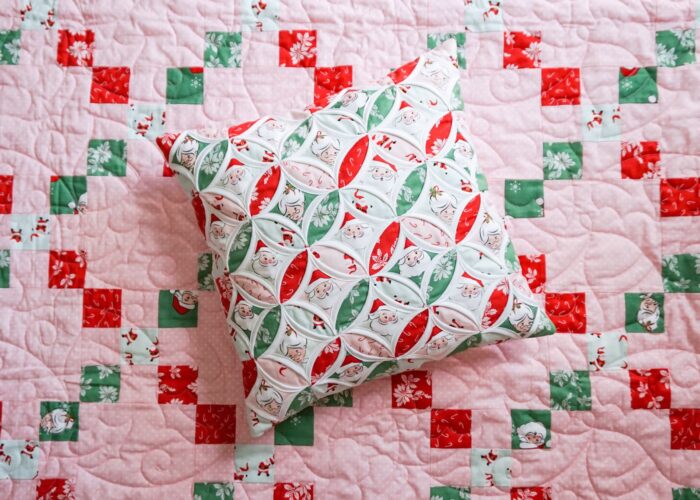 She also created a pillow with Cathedral Window quilt blocks. She is sharing both projects on her blog, along with a tutorial to create the special layered binding she added to the quilt.
Five. Countdown Chain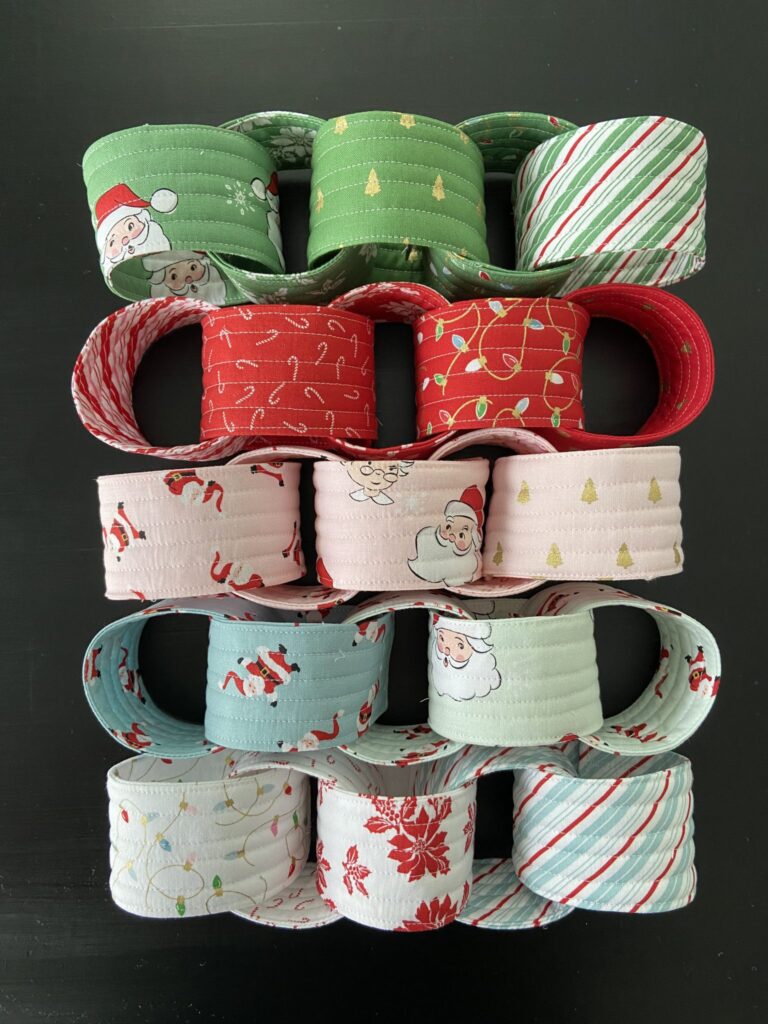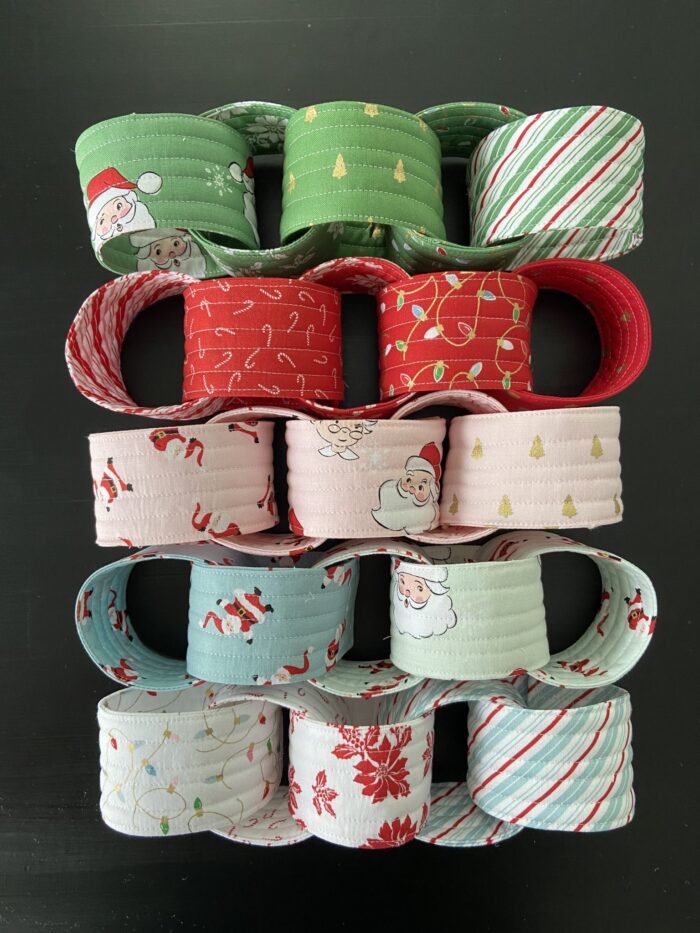 Christmas Countdown Chain & Heritage Threads
Jen at Heritage threads created a countdown chain with the line. She used a pattern by Maker Valley. The chain contains 25 "links" which are secured with Velcro. Just remove a link a day beginning in December until Christmas!
Where to Buy the Fabric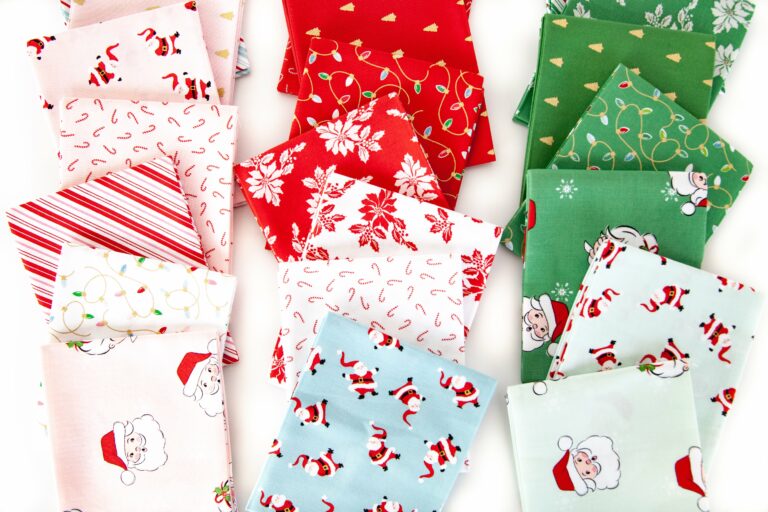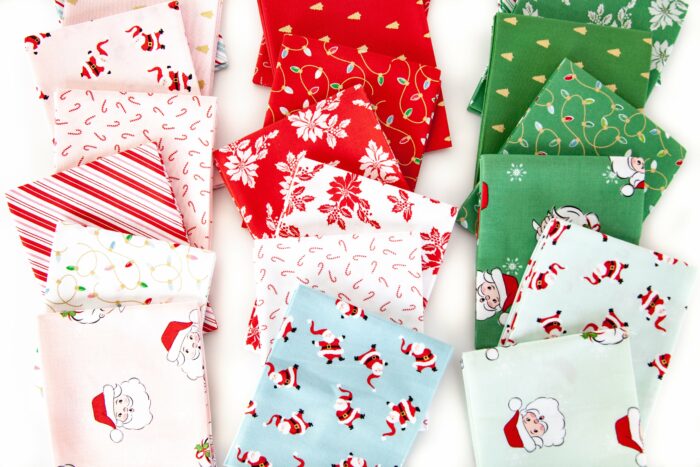 The fabric can be found in brick and mortar and online quilt shops in the US and around the world. For stockists, you can check out Riley Blake store locator on their website, or check out the My Fabric page here on the site.