Turn some of your collection of Halloween fabrics into a cozy Halloween quilt! The Great Granny Square quilt pattern is perfect for colorful Halloween fabrics. Make this ghoulishly delightful quilt and bring a bit of warmth and festive spirit to your Halloween décor.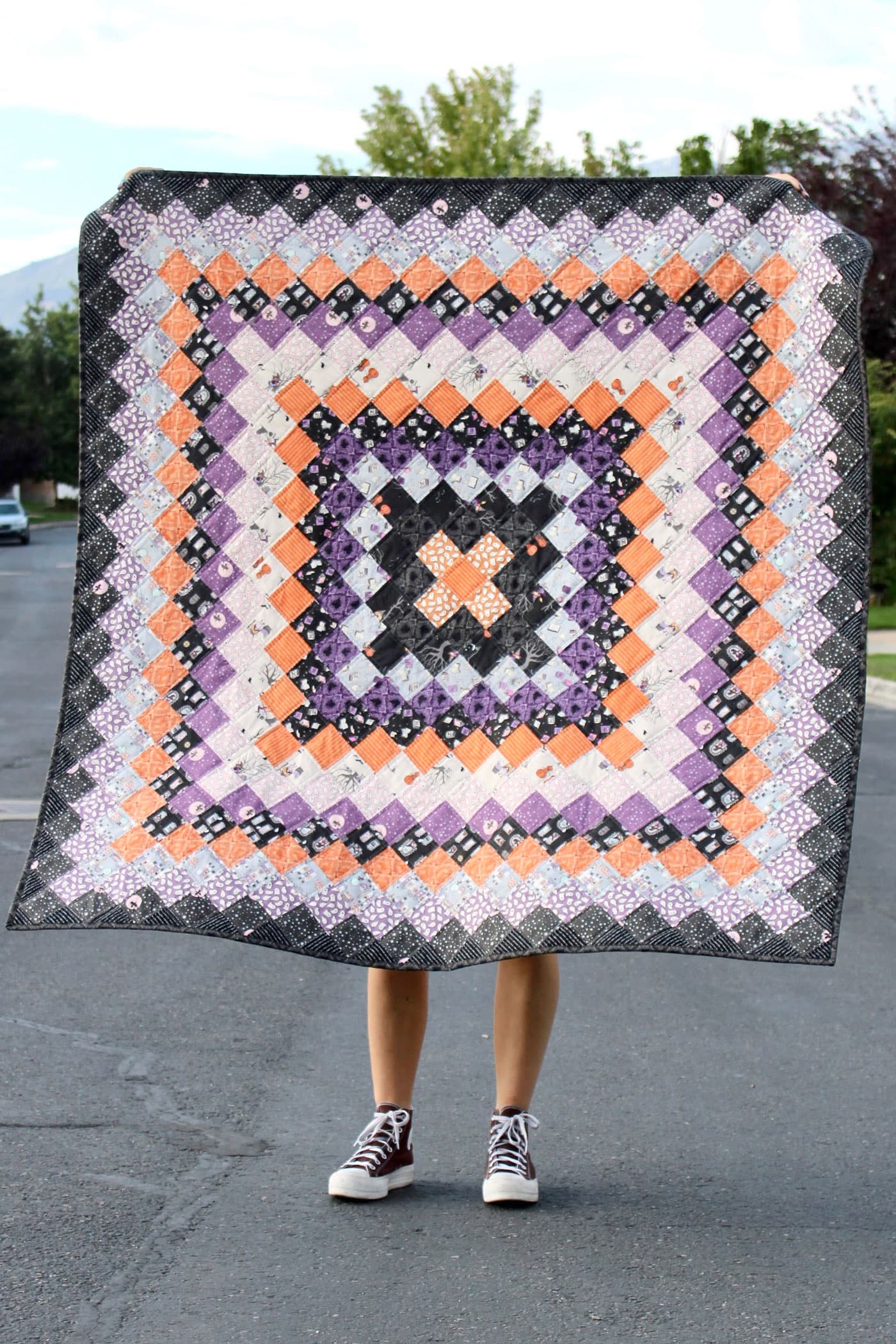 Hello, friends! It's Julia from Bayhill Studio! It might be August, but I've got Halloween on my mind with this seriously cute and really not-so-spooky version of the Great Granny Square quilt!
Table of Contents
Finished Quilt Details
For this Halloween quilt, I used fabric from the brand new Spooky Schoolhouse collection designed by Melissa Mortenson for Riley Blake Designs. Melissa mixes classic Halloween colors like black, purple, and orange with fun pops of pink and even silver sparkle.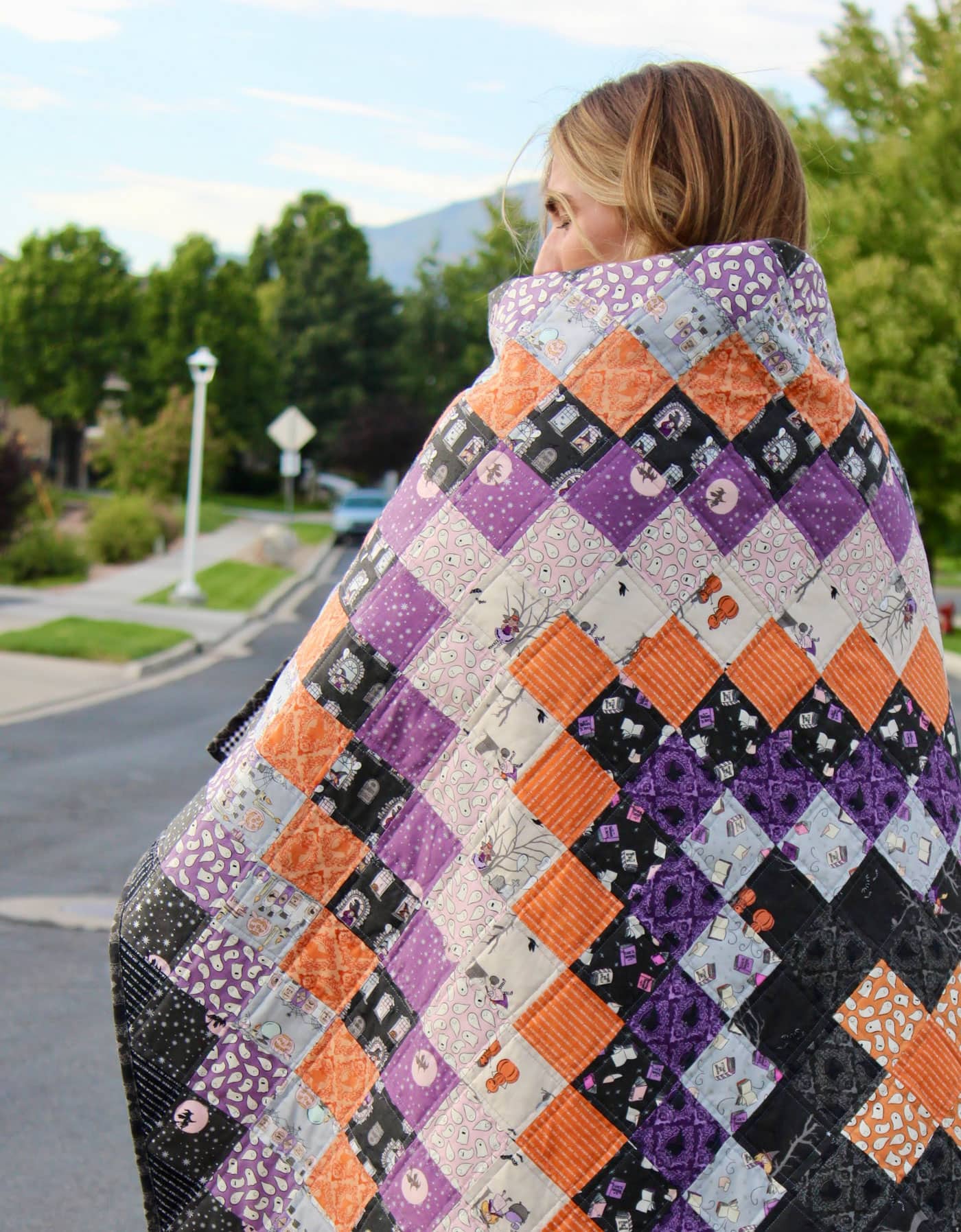 The Spooky Schoolhouse collection features adorable ghosts, school books, a classic witch silhouette, pumpkins, and an awesome text print — I always love a text print!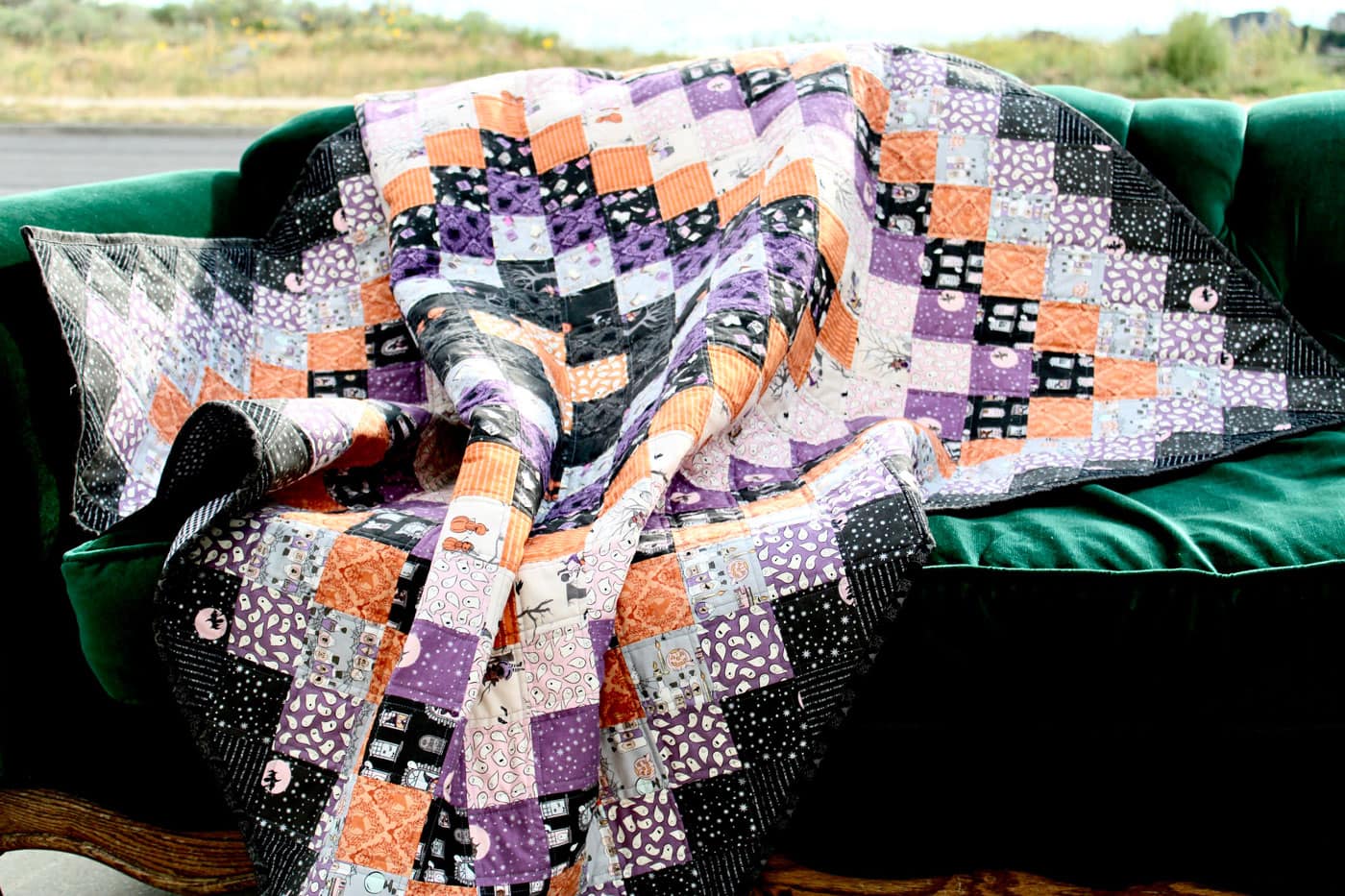 Here's a closeup look at some of the cute prints in this collection.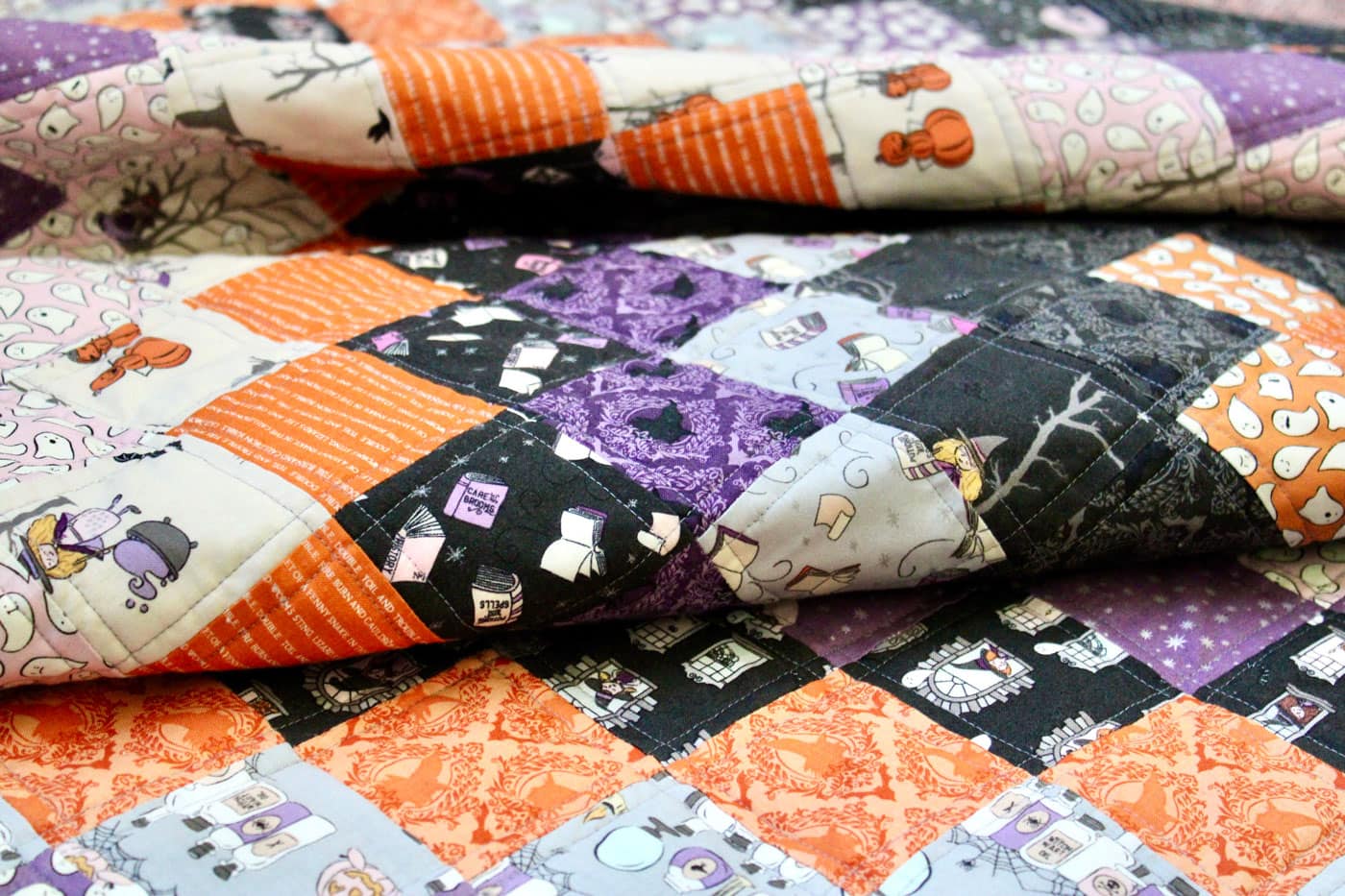 Machine Quilting Details
I opted for simple straight-line quilting here. I used the edges of my walking foot to line up with the seams for a guide, so getting the straight lines was very "straightforward." This is a great technique for beginner quilters, as it's impossible to go wrong.
The open quilting design also gives the finished quilt a nice drape, making it soft and cuddly!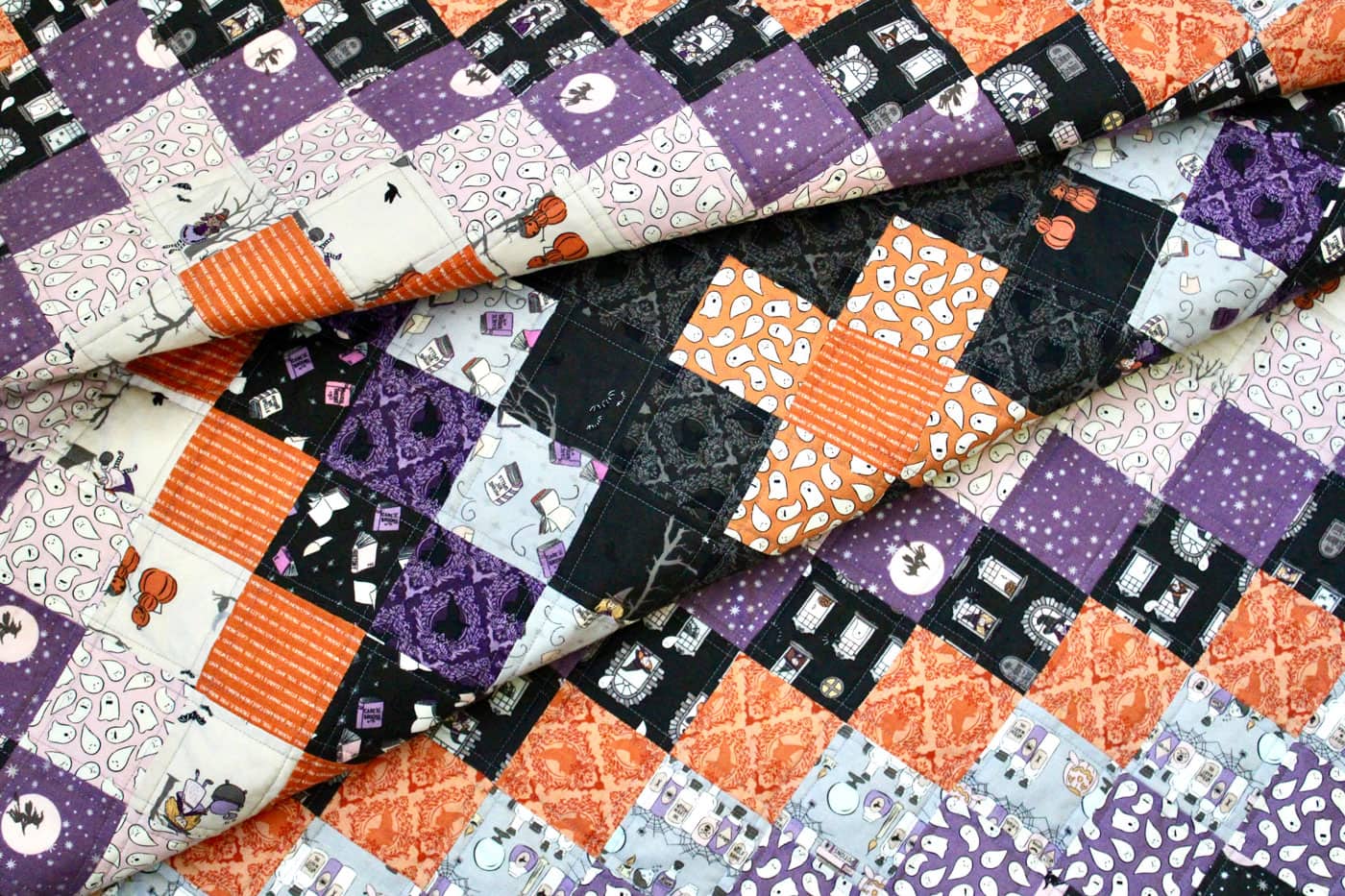 I can't wait to bring this out at Halloween and cuddle up in front of the fireplace with a cup of hot apple cider!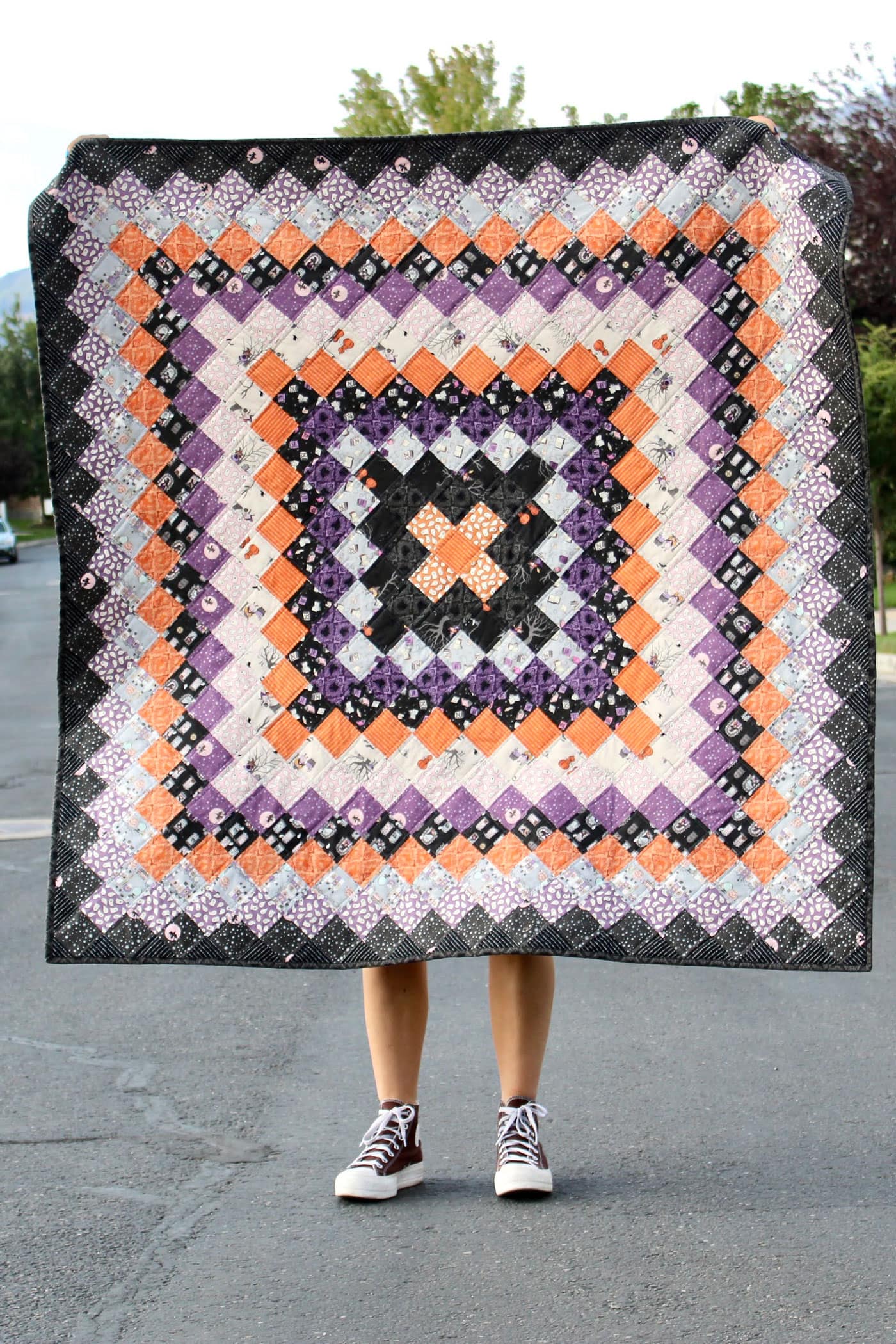 Supplies Required
The Spooky Schoolhouse collection is available now at your local and online quilt shops (many Etsy shops have full stock of the line right now!). The Great Granny Square quilt pattern is available in Julia's SHOP. Get both and make your own adorable Halloween quilt today!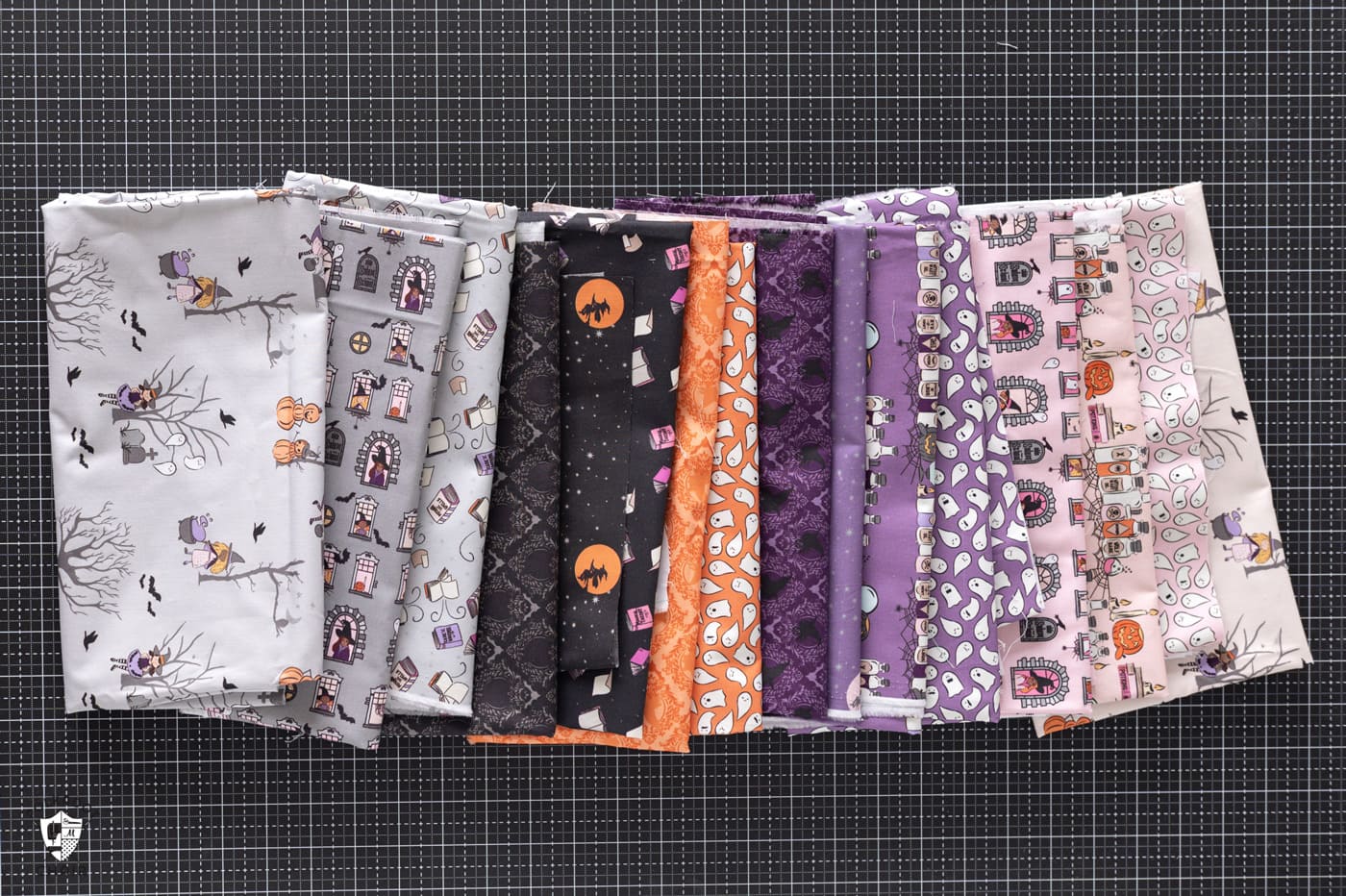 Fabrics Required
¾y Damask Print-Charcoal (binding and quilt fabric)
½y Spooky Text Print; Black
½y Starry Night Print; Charcoal
½y Ghosts Print; Lilac
⅜y Potions Class Print; Silver
⅜y Damask Print; Orange
⅜y Starry Night Print; Lilac
⅜y Spooky Schoolhouse; Charcoal
¼y Ghosts Print; Pink
¼y Main Print; Latte
¼y Spooky Text; Orange
¼y Spellbooks; Charcoal
¼y Damask Print; Purple
¼y Spellbooks; Silver
⅛y Ghosts Print; Orange
⅛y Main Print; Charcoal
Pattern Required
Great Granny Square Quilt Pattern by Bayhill Studio – Finished Quilt measures 57″ x 57″.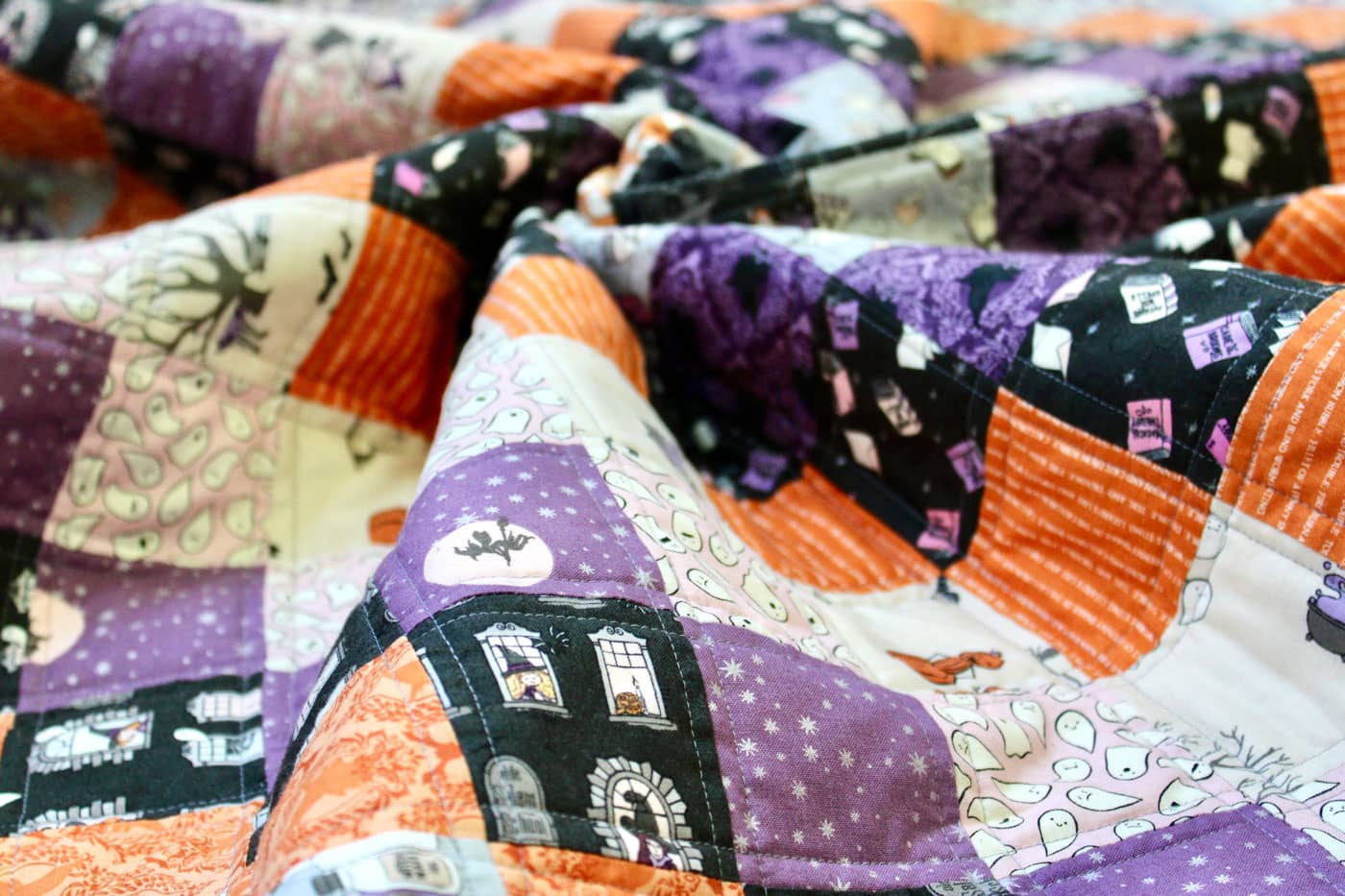 Quilt Making Tips
Here are five tips for making this quilt:
Small-scale prints work best. Not all of the prints need to be small scale, but as you can see in the photo above, the tiny stars, ghosts, text, windows, and books all show up nicely within the 2 ½" finished squares.
Play around with contrast. I like to contrast colors, but I also like to group similar colors in adjacent rows. I have found the key to this is to keep it visually interesting by doing both. Pair 2-3 similarly colored rows next to each other, then alternate with some contrasting rows.
Get creative with size! This pattern forms a perfect square, so it is great for a throw-size quilt. However, you could easily remove rows to create a smaller baby or toddler-size quilt. 
Make it modern! Use a variety of solid colors to create a fun, modern twist on this classic design.
And finally, get scrappy! Pull out your stash of mismatched scraps and whip up a totally whimsical, scrappy quilt. The options are limitless!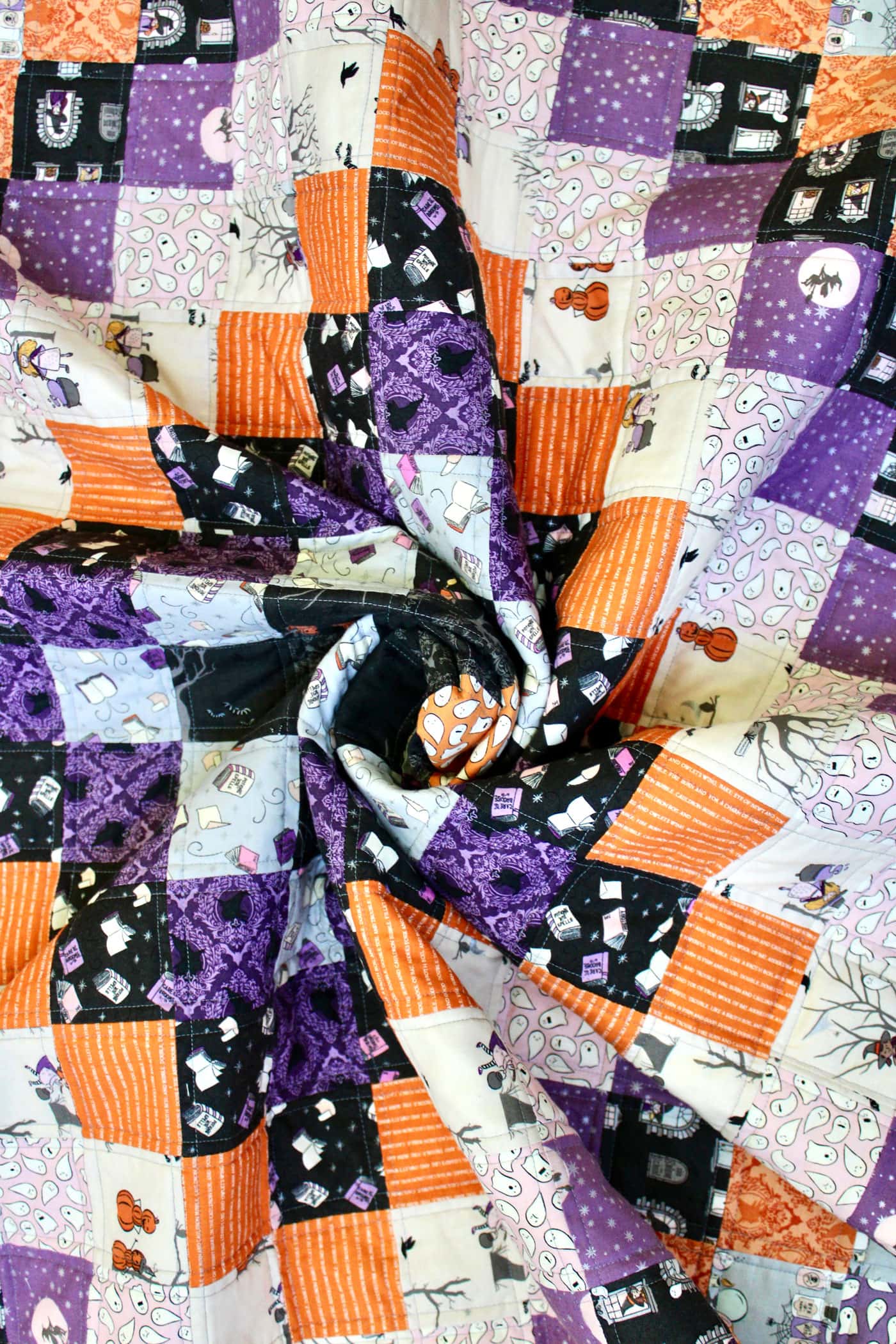 Be sure to follow me on Instagram and subscribe to my YouTube Channel for more creative content and inspiration. Have a blessed day!
About the Maker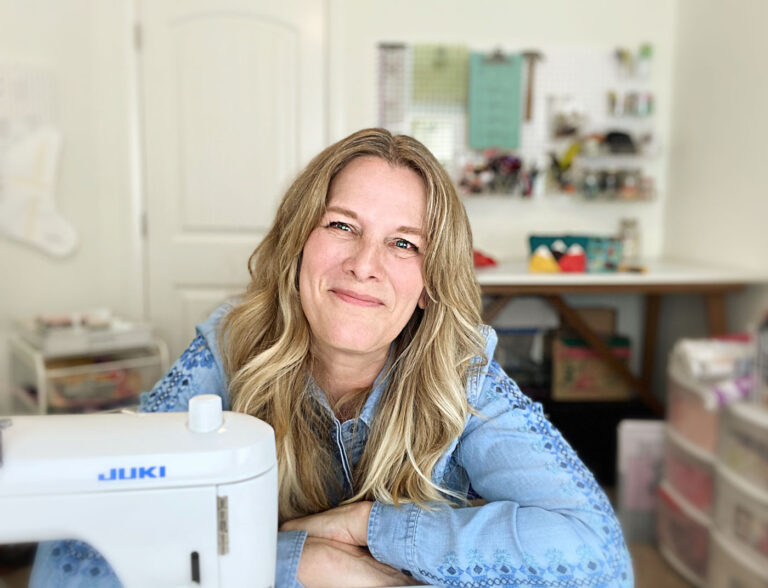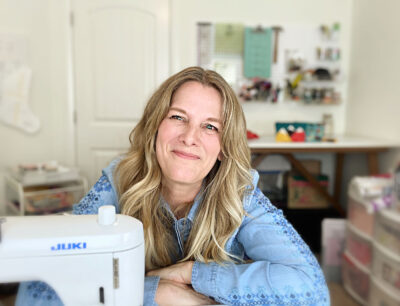 Julia Frazier is the founder of Bayhill Studio. Julia designs quilts and projects geared toward beginner quilters and crafters. You'll usually find her at her sewing machine or hiking in the nearby mountains. Follow Julia on Instagram @bayhillstudio, and subscribe to her YouTube channel for new and exciting projects and tutorials. Be sure to check out her Bayhill Studio website for a growing list of tutorials and patterns.
Also from Julia