Add a little "sparkle" to your year by participating in the 2022 Polka Dot Chair Block of the Month program. Sew along with us as we create the Sparkle More Quilt!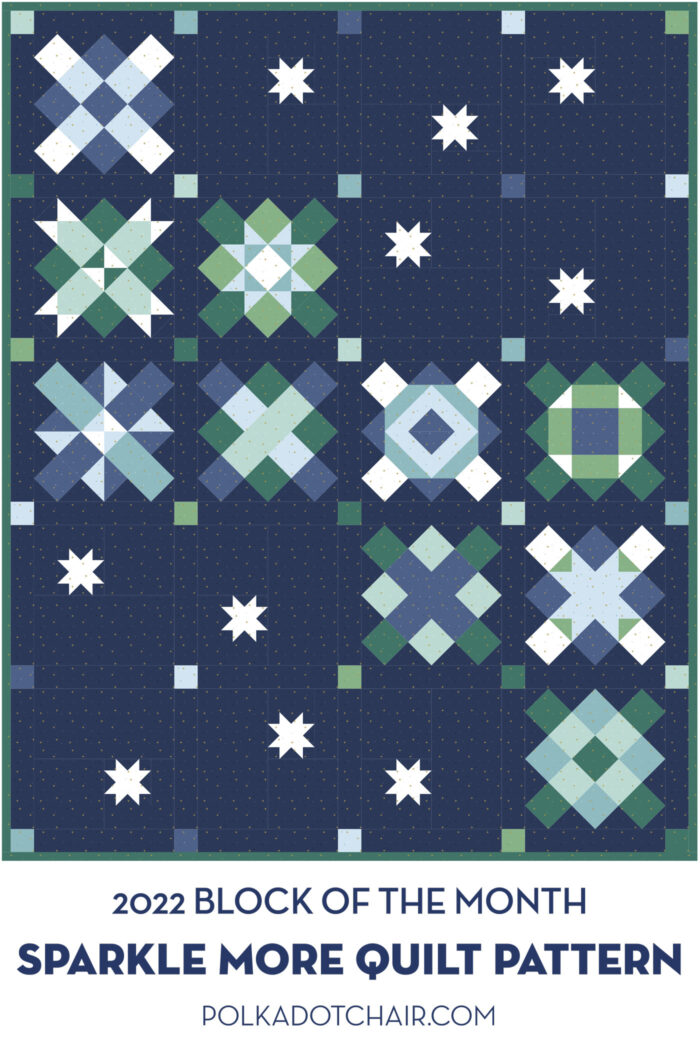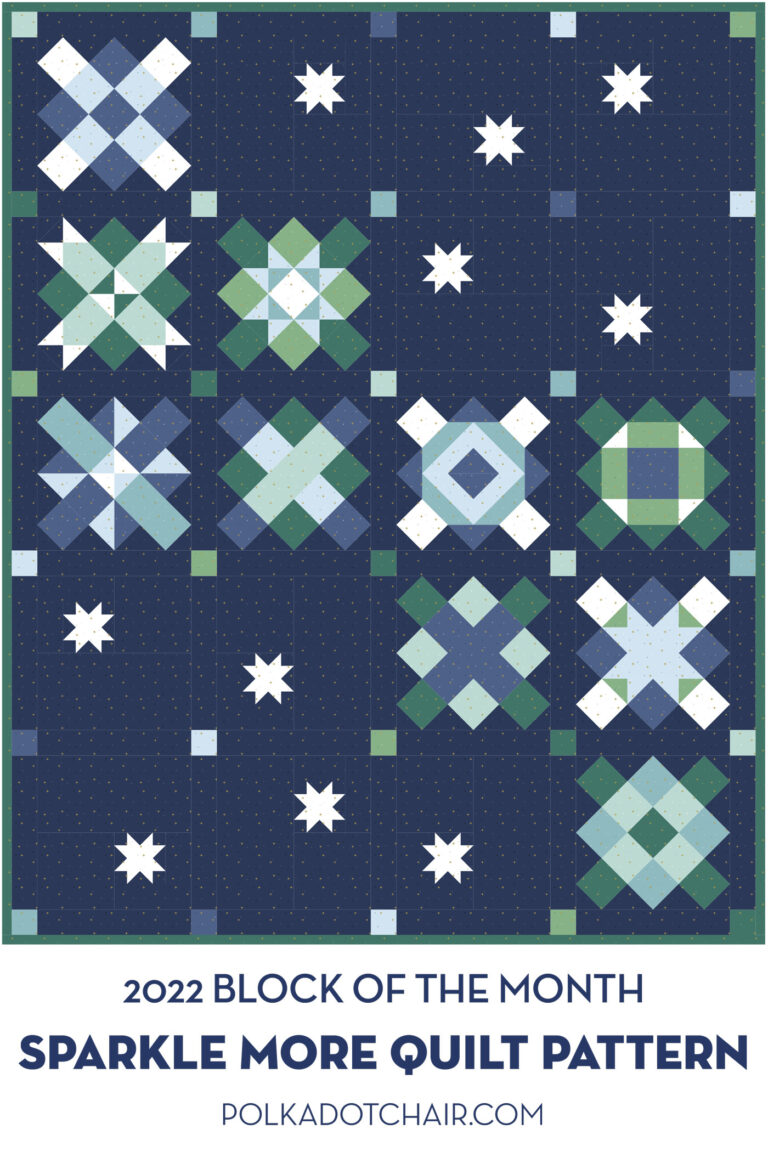 This is the 4th year that we've offered a Block of the Month quilt! This year's theme is "Sparkle" because I think we all could use a bit of sparkly fun this upcoming year!
Table of Contents
Several years ago, I thought it would be fun to create a block of the month program on the blog. Since you guys are used to visiting me regularly, it made sense to have some "organization" for the year.
Since then, we've hosted three other blocks of the month quilt patterns here on the blog. Each year I work hard to find a unique design and something fun to make along with you guys!
Why name it Sparkle More?
I don't usually pick a "word of the year" but have tried to focus on the specific qualities or traits I want to work on during the year. A few years ago, I thought that combining my "word of the year" and block of the month quilt might be kinda fun!
The first one was called "Just for Fun" to remind me not to take things too seriously.
Just for fun was followed by Choose Happiness & then All the Hearts.
This year, I chose Sparkle More for the name mainly because I am ready to get out and have some fun like many of you. To *hopefully* be able to add some "sparkle" to my year and shake off some of the weight of years past. That's the idea, at least. I'm old enough to know that things change and you have a roll with it, LOL!
Why a Block of the Month Quilt?
1- Make a Quilt One Step at a Time
Create a quilt slowly throughout the year. It's a great way to tackle a big project without becoming overwhelmed. Set aside time for yourself each month to construct your block.
2- Build your Quilting Skills as you Go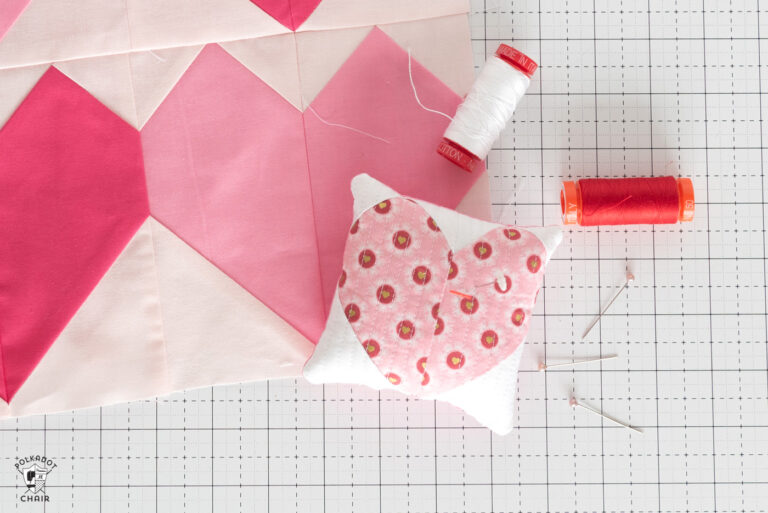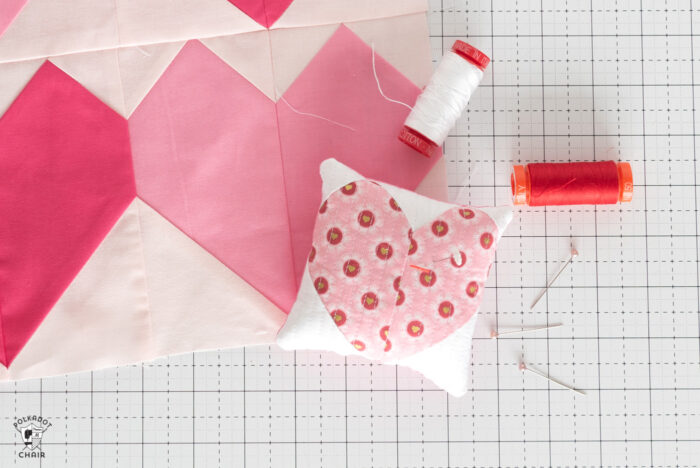 The blocks start very simple and grow in detail as the year goes on. That way, as your piecing skills improve, you can more confidently tackle the blocks with more details or smaller pieces.
3- Get Help Along the Way
Beginning with block one, a few videos will walk you through piecing the blocks. Since many of the blocks use similar construction techniques, there will not be a video each month, but a new technique is introduced each time.
Be sure to follow us on Instagram (@polkadotchair), as we will be sharing tips for the blocks throughout the year as well.
Please Read Carefully!
Quilter Skill Level
This quilt along is great for a confident beginner. Most of the blocks are simple grids and we will start with the simplest blocks first to help you build your skills!
How it Works
Each month you will receive a PDF via email with ONE block pattern. Except for block 1 (which will be emailed on January 21st), Patterns will be emailed on the 5th of the month before midnight Eastern time.
Create one block a month from the pattern for ten months. On the 11th month, you will receive the pattern for the alternate blocks and finishing instructions.
Fabric Requirements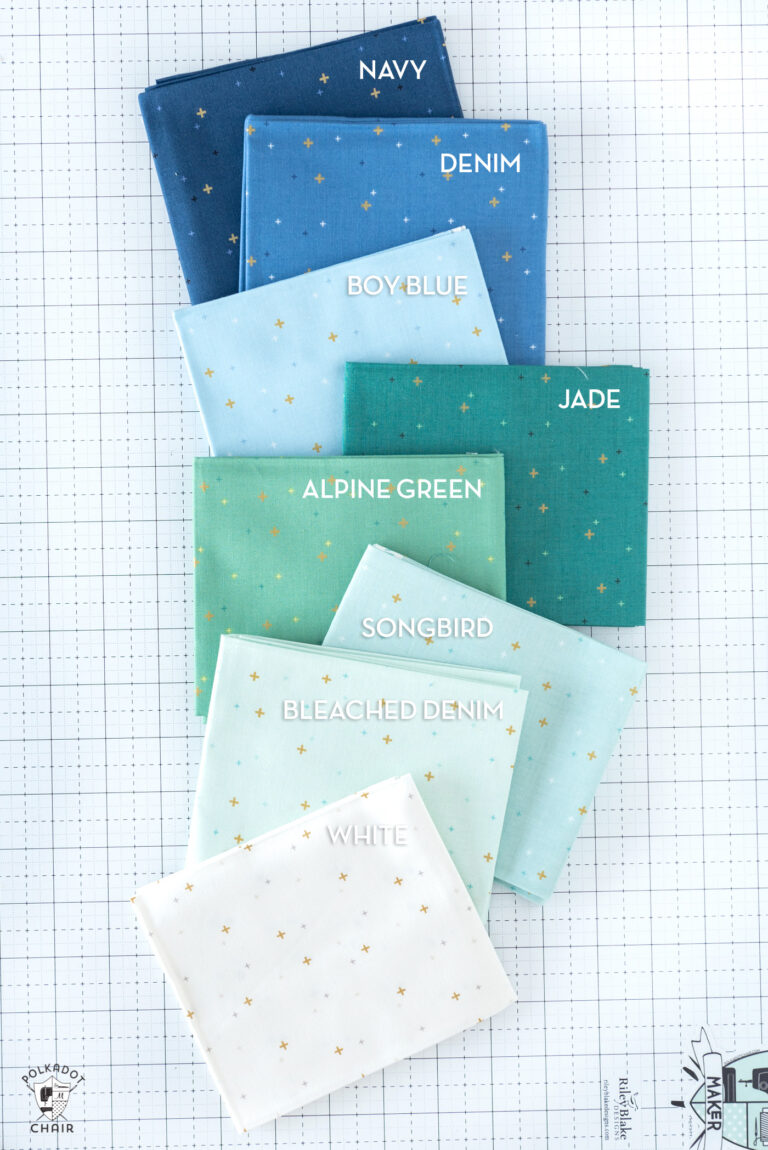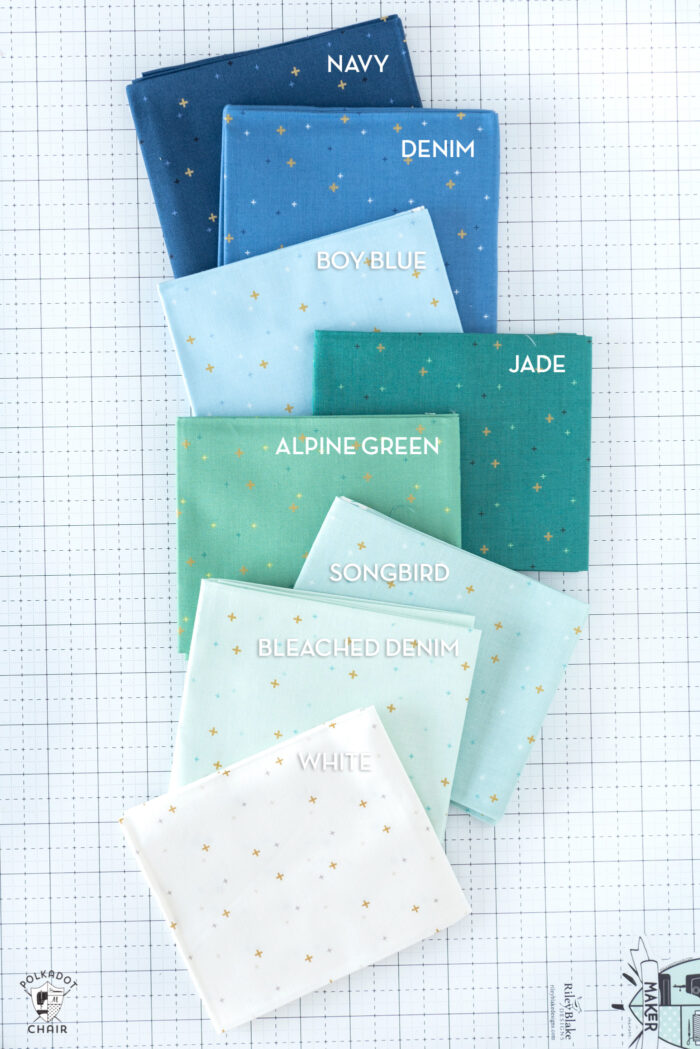 All fabrics are from the Sparkler Line by Riley Blake Designs
Background Fabric:
Navy Sparkler; 4 yards
Block Fabrics:
White Sparkler; ½ yard
Dark Denim Sparkler; ½ yard
Boy Blue Sparkler; ½ yard
Jade Sparkler; ½ yard
Songbird Sparkler; ¼ yard
Alpine Sparkler; ¼ yard
Bear Lake Sparkler; ¼ yard
Binding: ½ yard
Backing: 5 yards
How to Buy the Pattern
You can buy the pattern in our shop. Use this link or order it with the button below.
Free Planner Pages!
If you purchase the Sparkle More quilt AND our 2022 Planner pages, you can get the planner pages for FREE! Just add both to your cart; no coupon code is necessary!
Finshed Quilt Size
The quilt measures approximately 58″ x 72″ when finished.
Frequently Asked Questions
Q: Is this a one time fee or all year?
A: It's a ONE-time fee. There are no other fees throughout the year.
Q: Can I get the blocks early?
A: No, we do not offer the blocks early. There are no exceptions. We are sewing this quilt alongside you and need adequate time to test the blocks before they are sent to you each month.
Q: What fabric did you use for the example quilt?
A: Sparkler by Melissa Mortenson for Riley Blake Designs. The exact colors are listed in the fabric requirements.
Q: Do I have to use Sparkler Fabric?
A: Nope! Use whatever you'd like. All the block instructions will refer to the colors in the example quilt. I suggest making a "key" with fabric swaps if you sew it with other fabrics.
You can buy Sparkler fabric on Etsy and Fat Quarter Shop online. As well as many brick-and-mortar stores.
Q: If I'm outside of the USA how can I purchase?
A: Please use our Etsy shop (etsy.com/shop/polkadotchair) to purchase; they handle all of the international tax stuff for us. After your purchase, we will add you to our website's "block delivery" system.
Q: Can I still get the previous years block of the month quilts?
A: Yes, the completed patterns are for sale in our shop.
BLOCK RELEASE SCHEDULE:
January 13th: Pattern available for purchase; download PDF with fabric requirements.
January 21st: Block 1
February 5th: Block 2
March 5th: Block 3
April 5th: Block 4
May 5th: Block 5
June 5th: Block 6
July 5th: Block 7
August 5th: Block 8
September 5th: Block 9
October 5th: Block 10
November 5th: Alternate Blocks & Finishing Instructions