Create a quilt one week at a time with the free quilt block patterns in the 2022 Riley Blake Quilt Block Challenge! We kick things off this week with a Daisy Chain Quilt Block Pattern.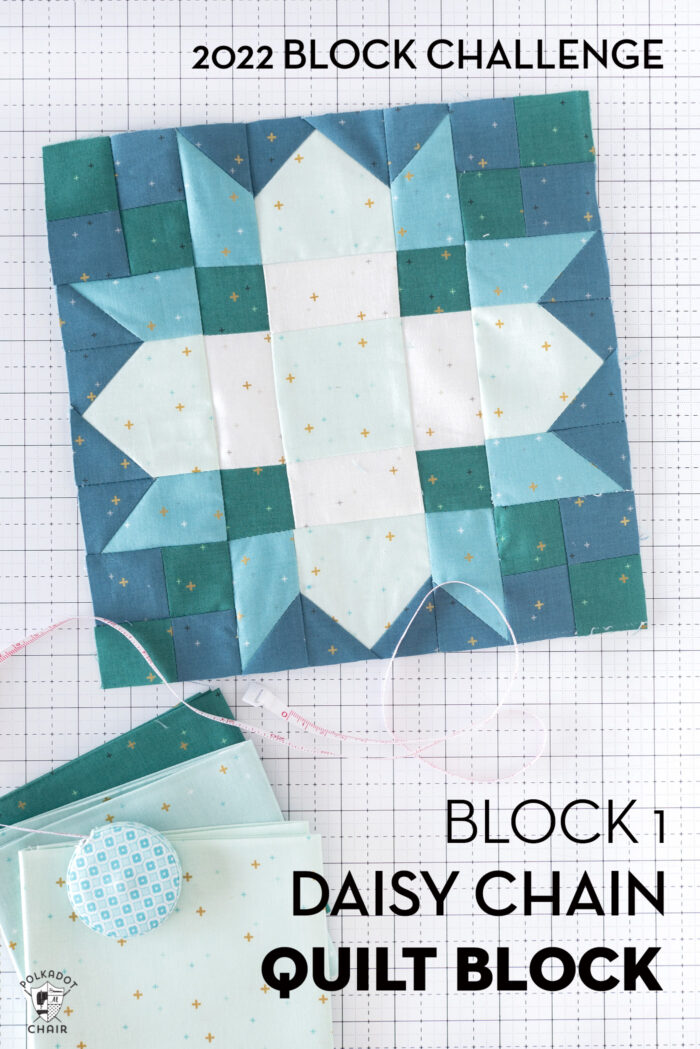 Welcome to year three of the Riley Blake Designs Quilt Block Challenge! The challenge started in 2020 when a number of Riley Blake Designers decided to quickly create a "block of the week" program to help give you guys something to work on while you were at home.
Table of Contents
What is the 2002 Riley Blake Quilt Block Challenge?
The block challenge was a big hit and was brought back in 2021, but this time more intentional and organized (we had time to plan)!
Riley Blake has done most of the work by organizing and writing the patterns for the block challenge again for 2022, and I think you guys are really going to like this quilt!
Fifteen other designers and I have each designed a quilt block. Each block is unique and finishes at 10″.
The block challenge will run until June of this year.
From the pattern, I'd say this is an intermediate quilt pattern. There are some blocks with smaller pieces that can be harder to piece. (For help with working with small fabric pieces, be sure to check out our article with tips to help you out).
Block Schedule & Patterns
How Do I Get the Blocks?
You can get the blocks directly from Riley Blake, or you can also get them from me! You choose what you like best. I will be sharing my blocks on Fridays here on the blog.
To get them from me, simply fill out the form, and we will email you each week's block pattern.
(to get all the patterns, you'll need to ask for them to be sent to you each week, I don't have a method to auto deliver them).
This week's email also comes with the fabric requirements for the block.
What are the Fabric Requirements?
Riley Blake has designed the quilt to be made using their Confetti Cottons fabric. The fabric requirements are in the PDF that we will email you, but they are listed below to help you as well.
Bleached Denim (color, not a fabric type): ⅞ yard
Cadet: 1 ¼ Yards
Cornflower: 1 ½ Yards
Oxford Blue: 1 ½ Yards
Pebble: 2 Yards (includes binding)
Cloud: 6 ¼ Yards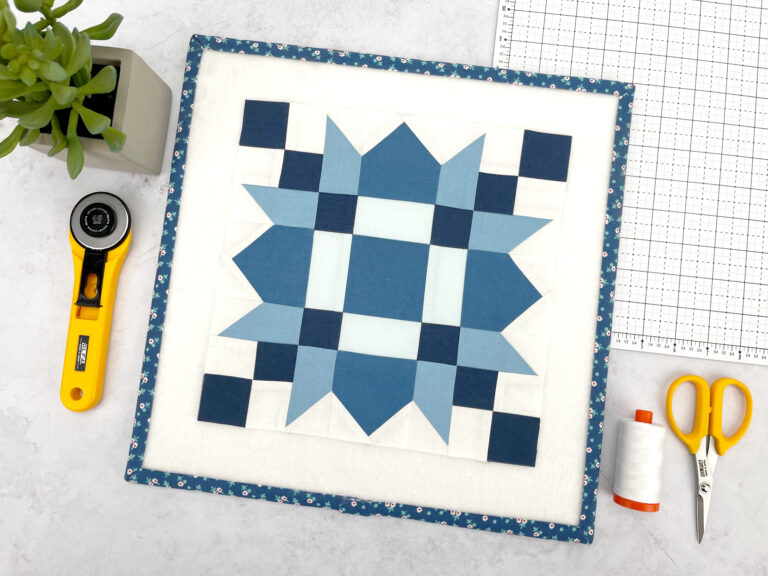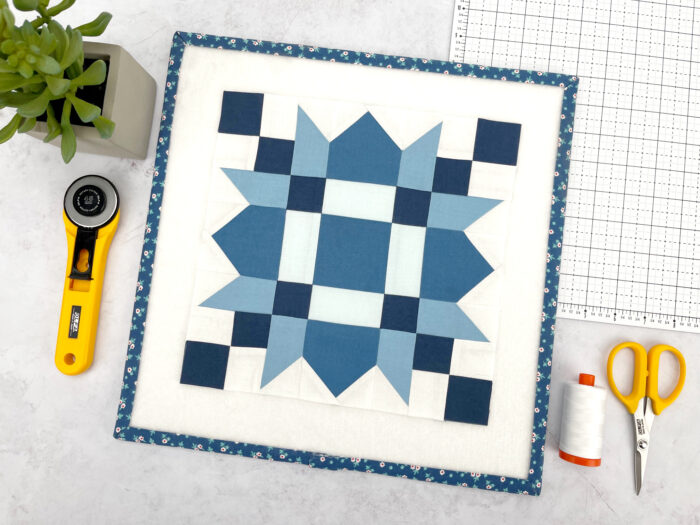 What Does the Final Quilt Look Like?
It's a mystery and a surprise. I will give you a tiny hint. The pebble fabric on the requirements list is for an accent fabric; you won't use it in the blocks. Also, the layout is NOT what you would expect. You guys are going to love it!
The Fabrics I'm Using
For my quilt, I'm going to be using Sparkler Fabrics. I've been enjoying making quilts with dark backgrounds lately and have decided to make this one with Mediterranean blue as the background.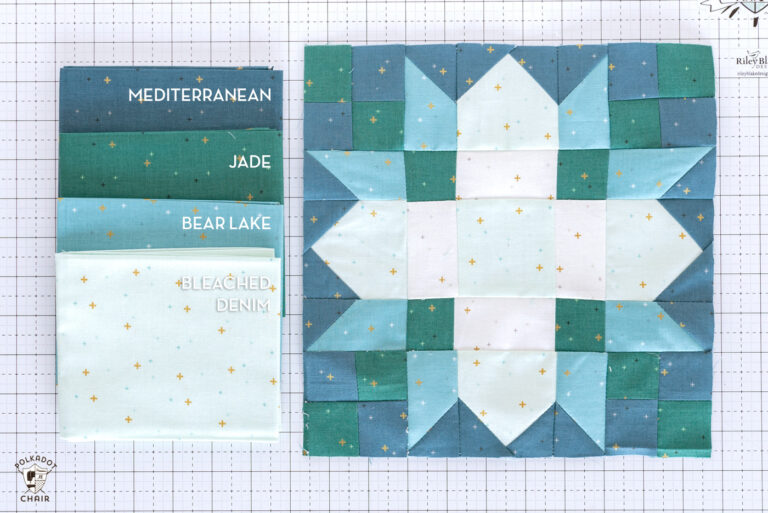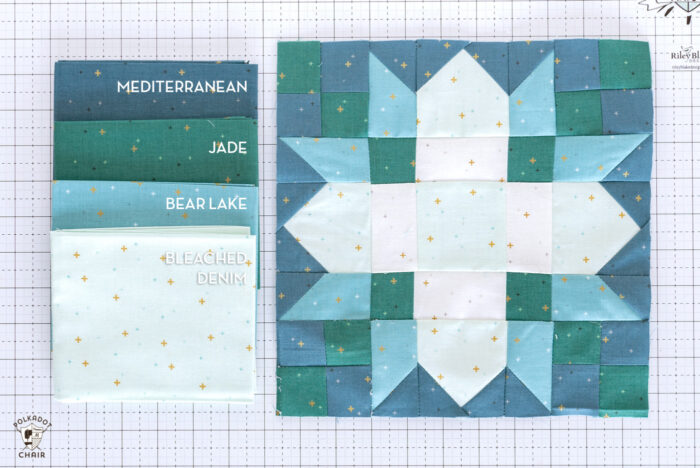 If you'd like to make your quilt like mine, here are the color swaps:
Daisy Chain Quilt Block Pattern
The block this week was designed by Lori Holt of Bee in My Bonnet. You can read about it on the Riley Blake Blog.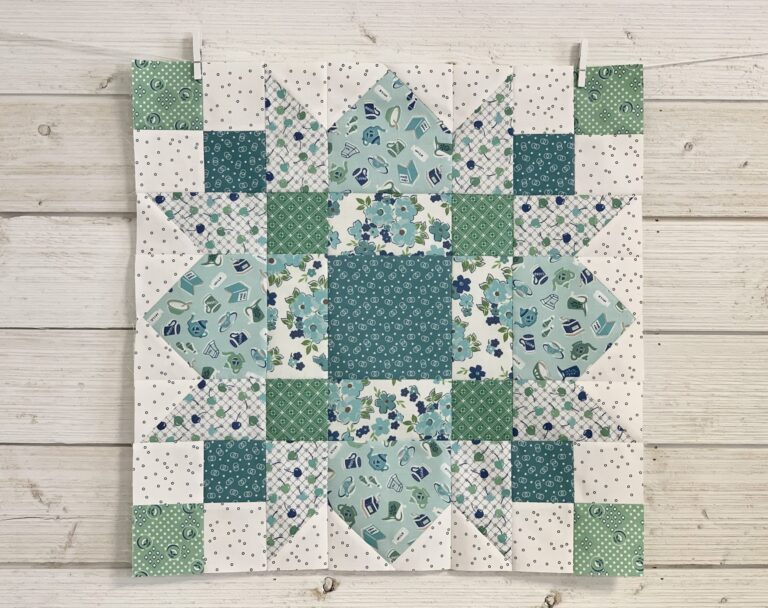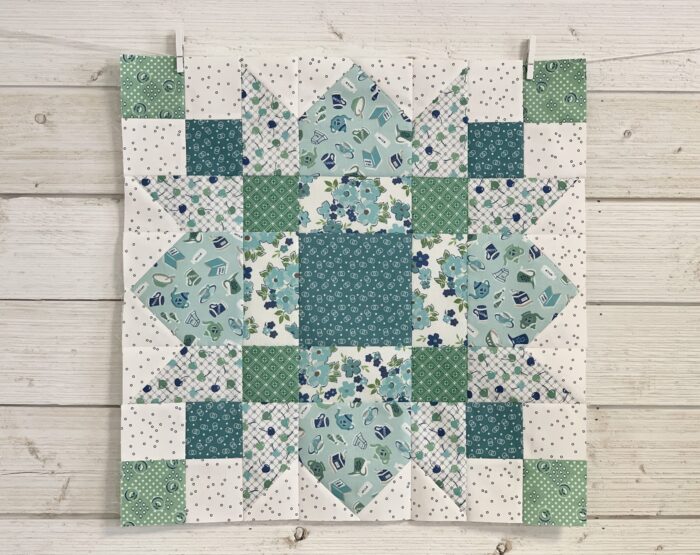 Lori says, "I designed this block to be a great "stand-alone block" and also a block that would go well within a sampler quilt. What makes it play nicely with others are the squares in the corners that create a chain so that your eye moves to the surrounding blocks within a sampler quilt. I hope you enjoy making Daisy Chain!"
More Block Design Ideas
Bev from Flamingo Toes is also sewing along with the challenge this year. You can see her block below and read all about her fabric choices on her blog.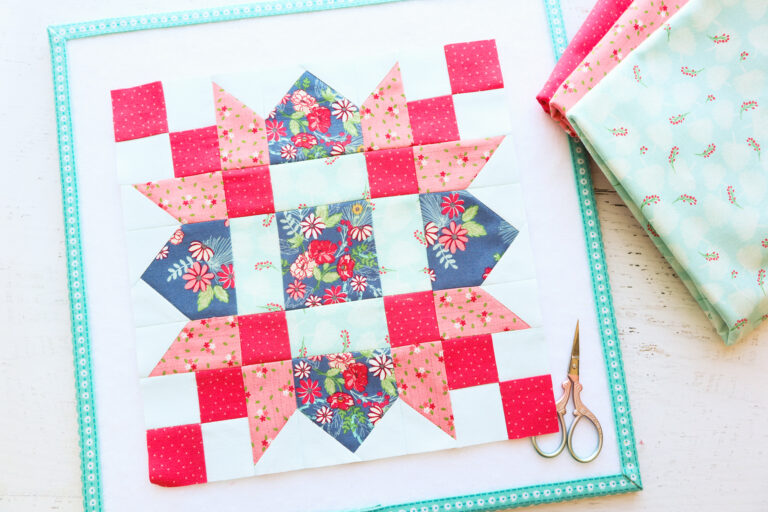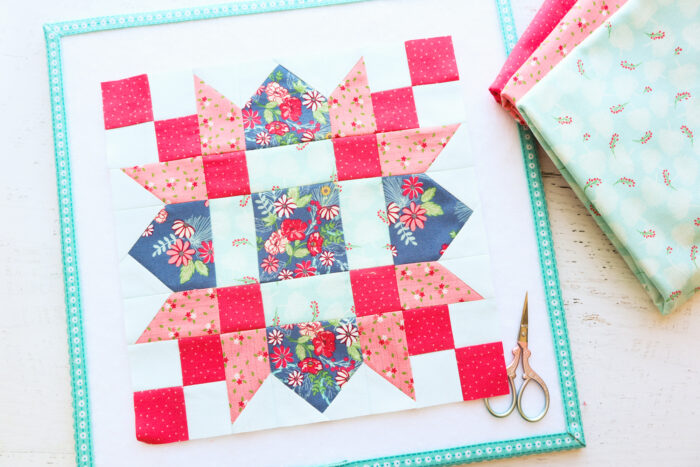 To see even more block ideas, follow the #RBDBlockChallege hashtag on Instagram.
Can I Still Get Previous Years Blocks?
Yes, you can. The easiest way to find them is to look in our Quilt Block Pattern archive. All of them are linked in there.
You May Also Like: