Join us in 2021 as we "quilt our heart out" while constructing the All the Hearts Quilt. This fresh traditional quilt pattern will be sent to you one block and month at a time so you can work at your own pace.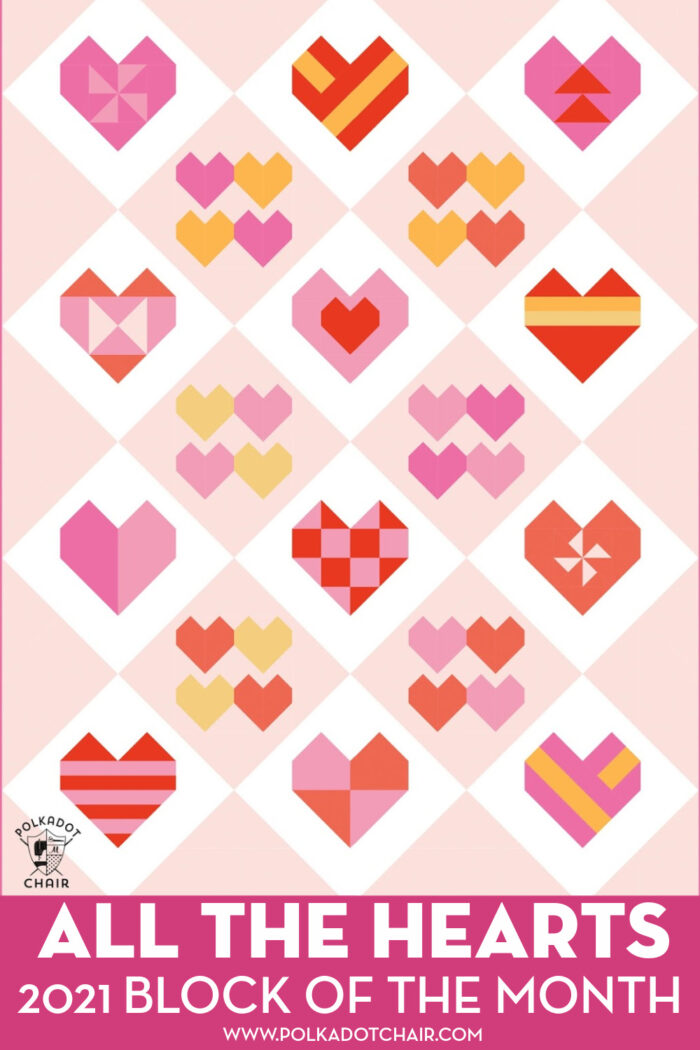 Table of Contents
Today I'm so excited to be introducing our 2021 Quilt Block of the Month to all of you. This is our 4th block of the month program and it might be my favorite quilt to date (but I do say that about all my quilts LOL!)
Each year I pick a "theme" for my quilt that reflects something I want to concentrate on that year. Two years ago it was "Just for Fun". I felt that I was missing sewing "for fun" and designed the project to be an easy, every other month quilt that I could just make "for fun".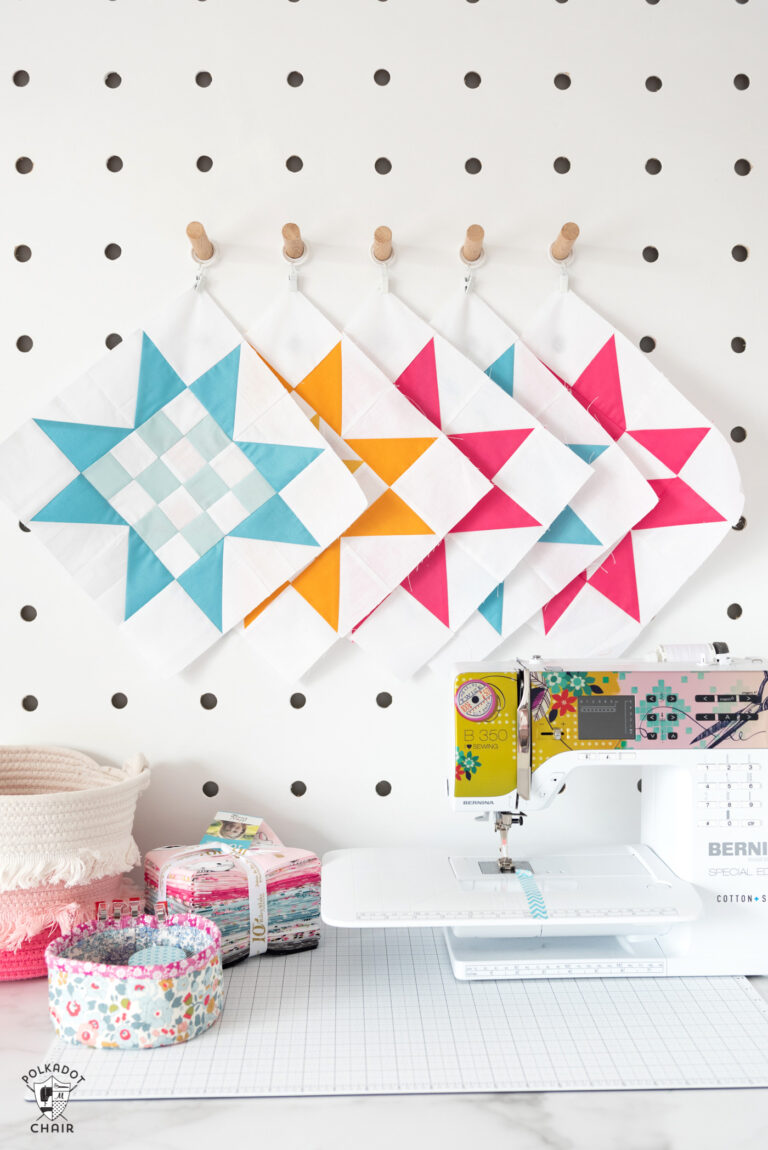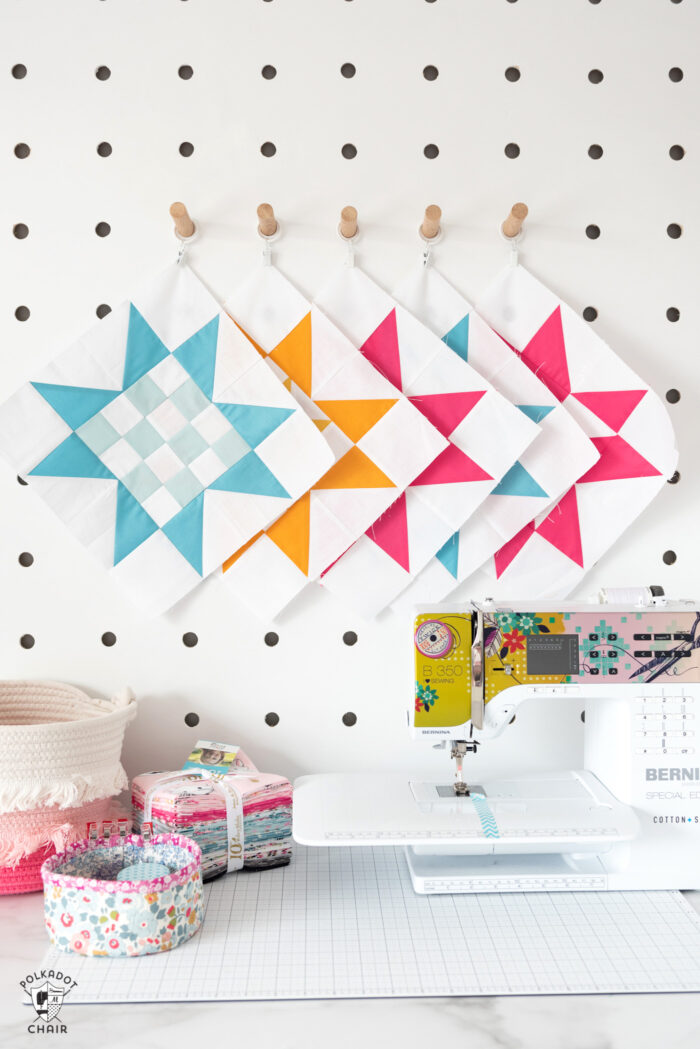 In 2020, I called the pattern "Choose Happiness" to remind myself that I can choose how I react to situations. Each month along with the quilt block pattern I also sent the participants an inspirational quote that they could frame and put up in their home that month.
About the 2021 Block of the Month Quilt
I've been thinking about what I wanted my 2021 quilt theme to be. I've had SO many ideas, but could never settle on one.
Then a few weeks before Christmas, the idea of "heart" started rolling around in my head. Having a "grateful heart", giving your "whole heart" or "healing" your heart. I feel like we all could use a little extra heart right now!
This year's quilt pattern is a bit more involved. But it is NOT more difficult to sew. It just contains a set of "setting" blocks in addition to the 12 heart quilt blocks.
I will send instructions for the "setting" blocks as we go during the year so you can work on those with your blocks and not get stuck with a lot more work to do at the end of the year to finish your quilt. This is a one time purchase for the pattern. You do not pay monthly.
The Quilt Block Release Schedule
February 19th: Sweet Heart
March 19th: Heartfelt
April 16th: Tender Heart
May 14th: Joyful Heart
June 18th: Light-Hearted
July 16th: True Heart
August 13th: Kind Heart
September 17th: Heartstrings
October 15th: Friendly Heart
November 12th: Grateful Heart
December 10th: Warm Heart
The Fabrics I'm Using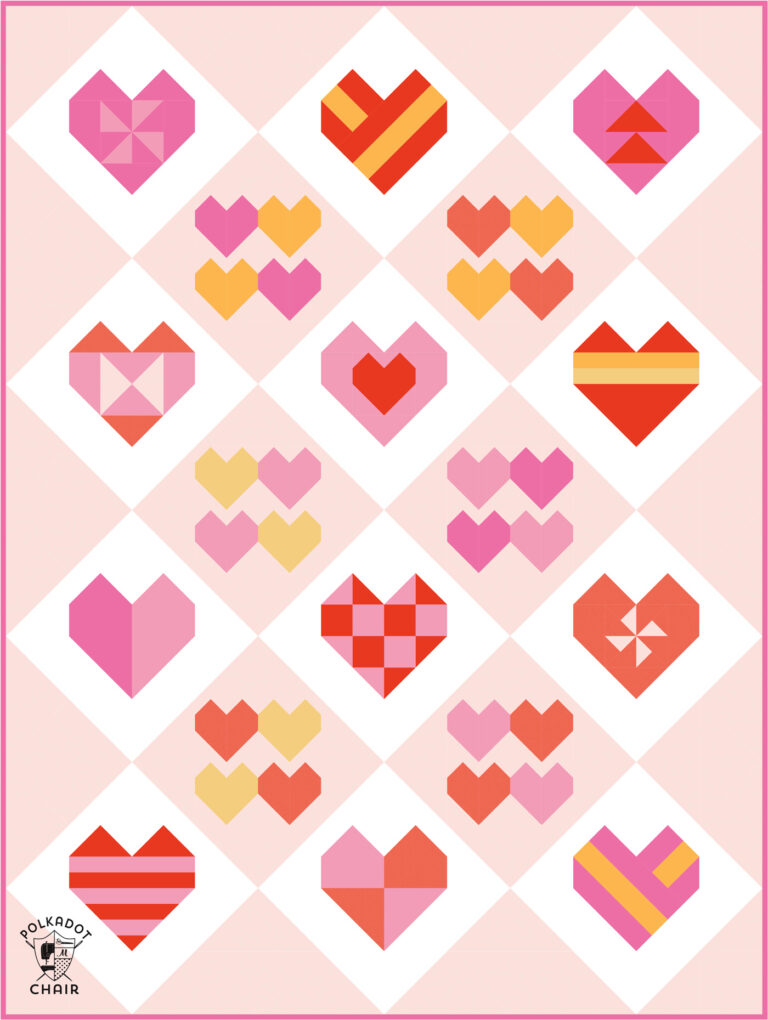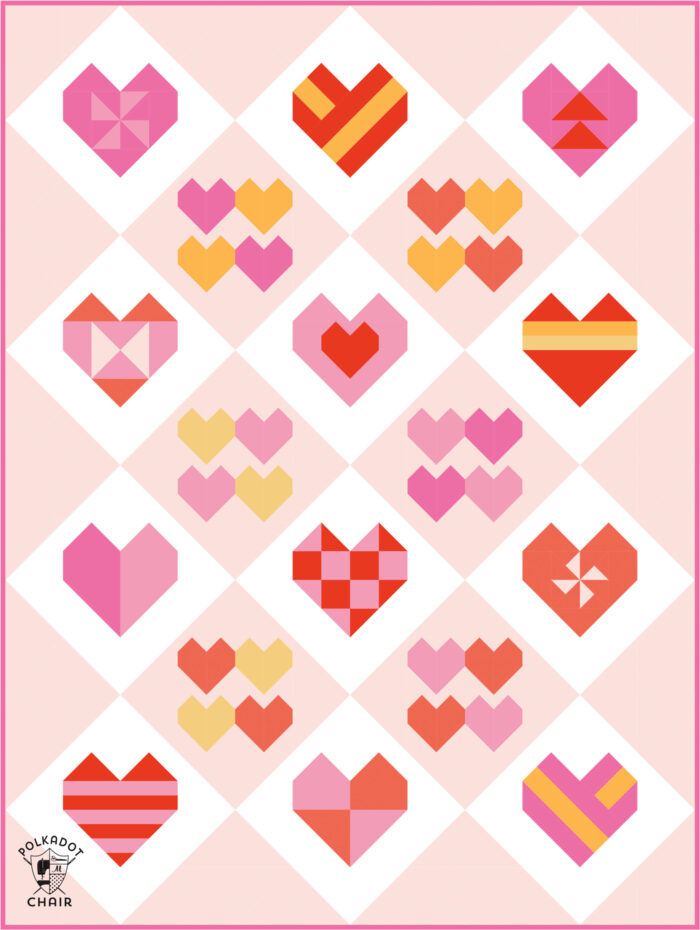 I'll be making my quilt right along with you guys ( I love to do it this way since i get to sew right along with you!).
I'll be making my quilt out of pinks, oranges, and yellows. The colors I'm using are all Riley Blake Designs Confetti Cottons. If you sewed along with us last year, you'll be excited to see a few colors used again so you can keep sewing your stash.
Super Pink
Rose
Ballerina
Honey
Daisy
Geranium
Rouge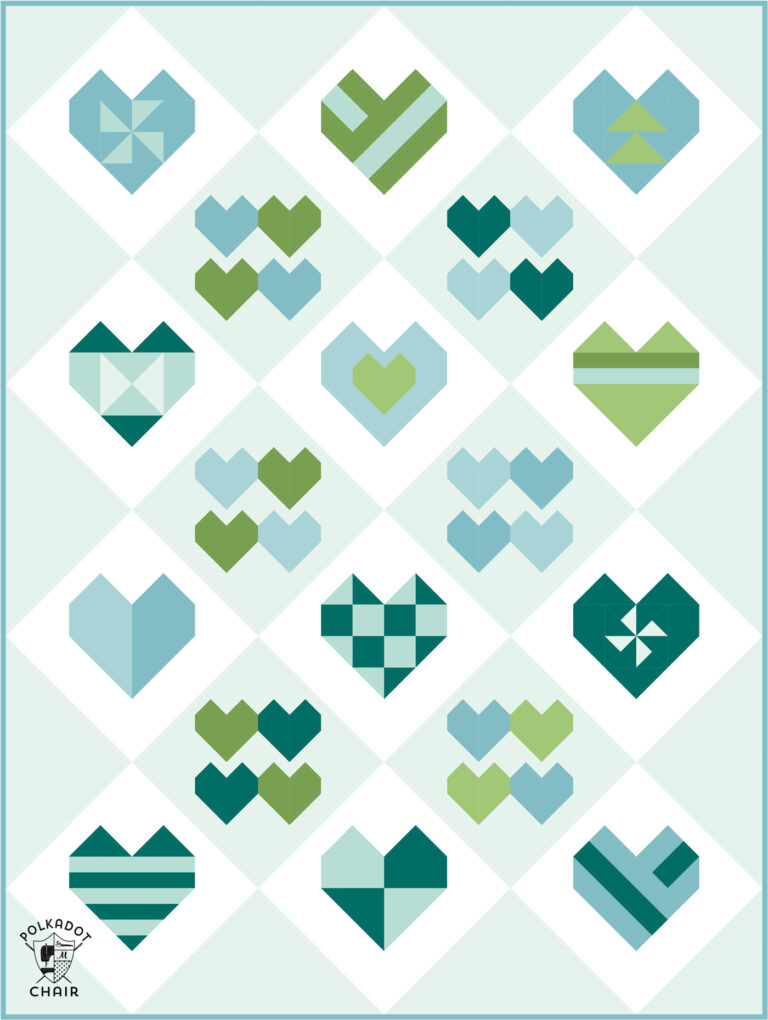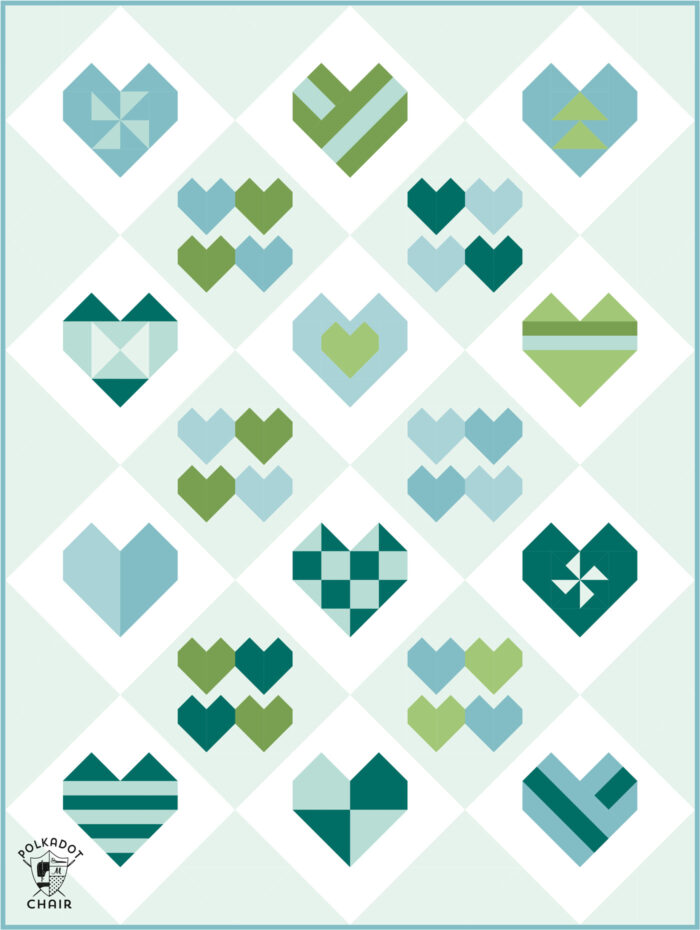 If you prefer to make your quilt out of "blues/greens" I've mocked it up for you as well. The colors in that quilt are as follows.
Bear Lake
Songbird
Bleached Denim
Clover
Spring Green
Jade
Riley Aqua
This quilt would also be great made from a rainbow color scheme as well!
How to Get the Pattern
The pattern is emailed to you each month. It is a PDF that comes to your inbox that you can easily print at home. You don't need to come to the blog for the directions.
You can purchase via our shop.
If you're outside the US then you'll need to use Etsy (due to VAT issues).
If you participated in our 2020 block of the month, or are a newsletter subscriber, you'll be receiving a coupon code that you can use on the pattern. Be sure to keep an eye on your inbox!
Quilt Fun Facebook Group
We do have a Quilt Fun Facebook group. I was not the best at keeping it up in 2020 (trying to limit my social media time), but I would like to get it more active this year. I'll be sharing information about the quilt pattern as we go this year in the group too!
Love to Quilt? Please join us in our Quilt Fun Facebook Group!
I hope that you will join me!