Today I'm excited to introduce you to our newest quilt pattern, "Choose Happiness". It is our 2020 quilt block of the month. I hope that you will join us as we quilt along this year.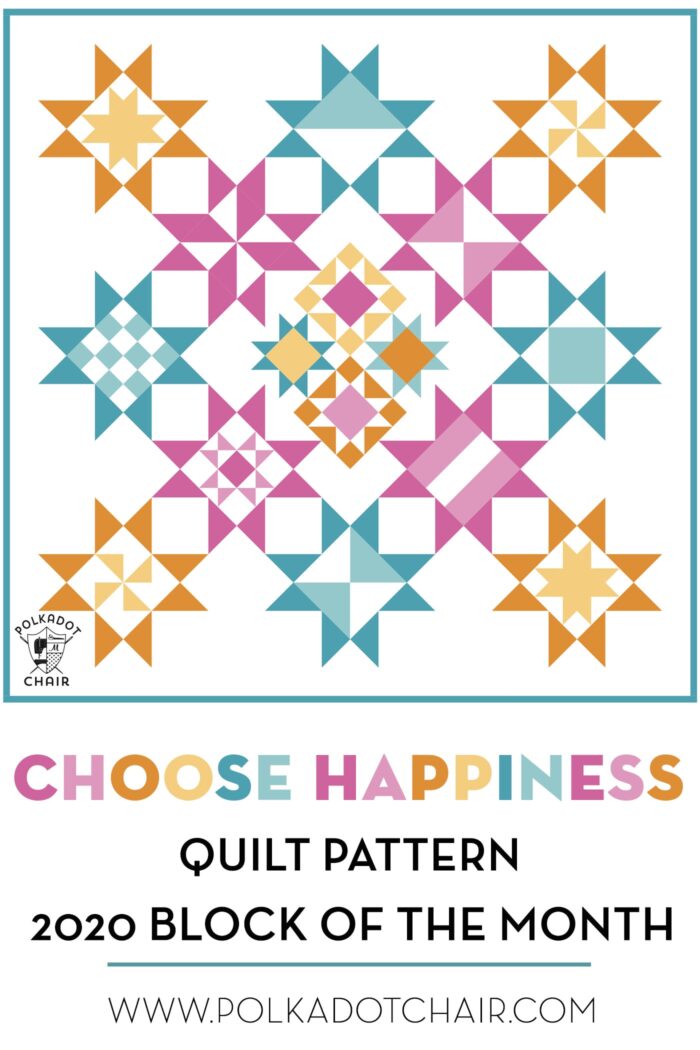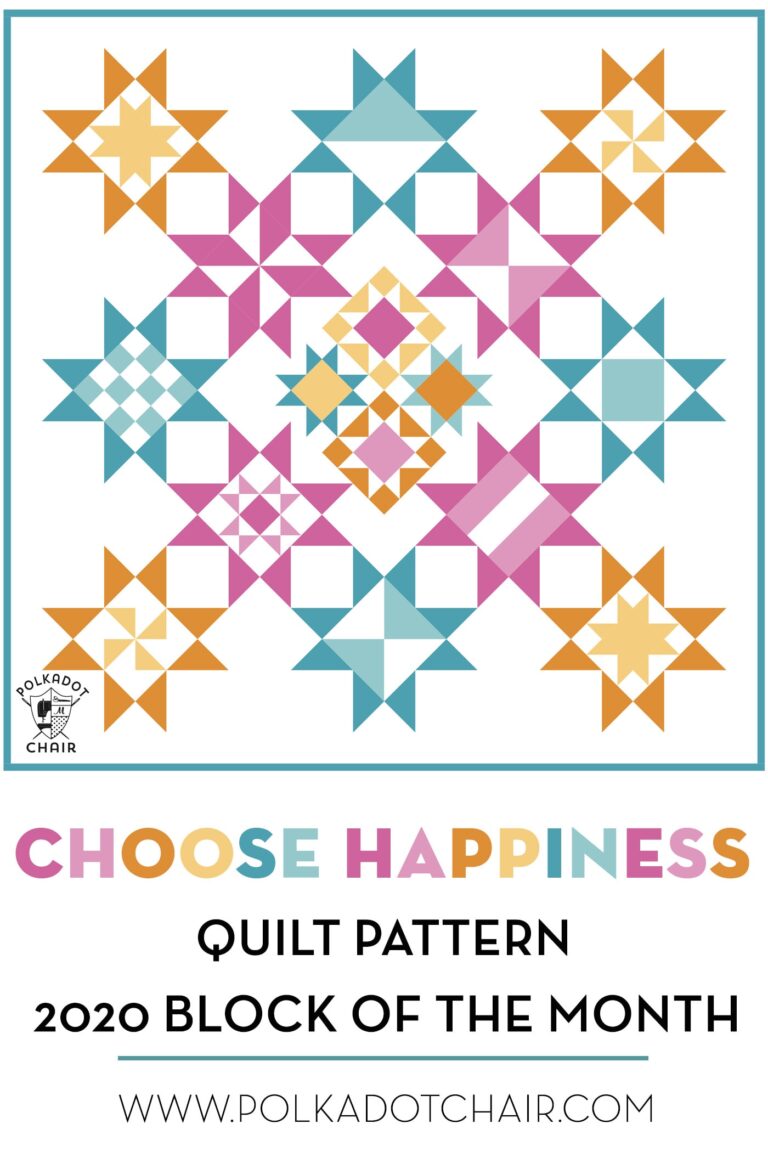 Who's ready to start a new project in the new year? I know that I am. The last few months have been a bit crazy around here and a fresh project with bright colors is just what I need.
Table of Contents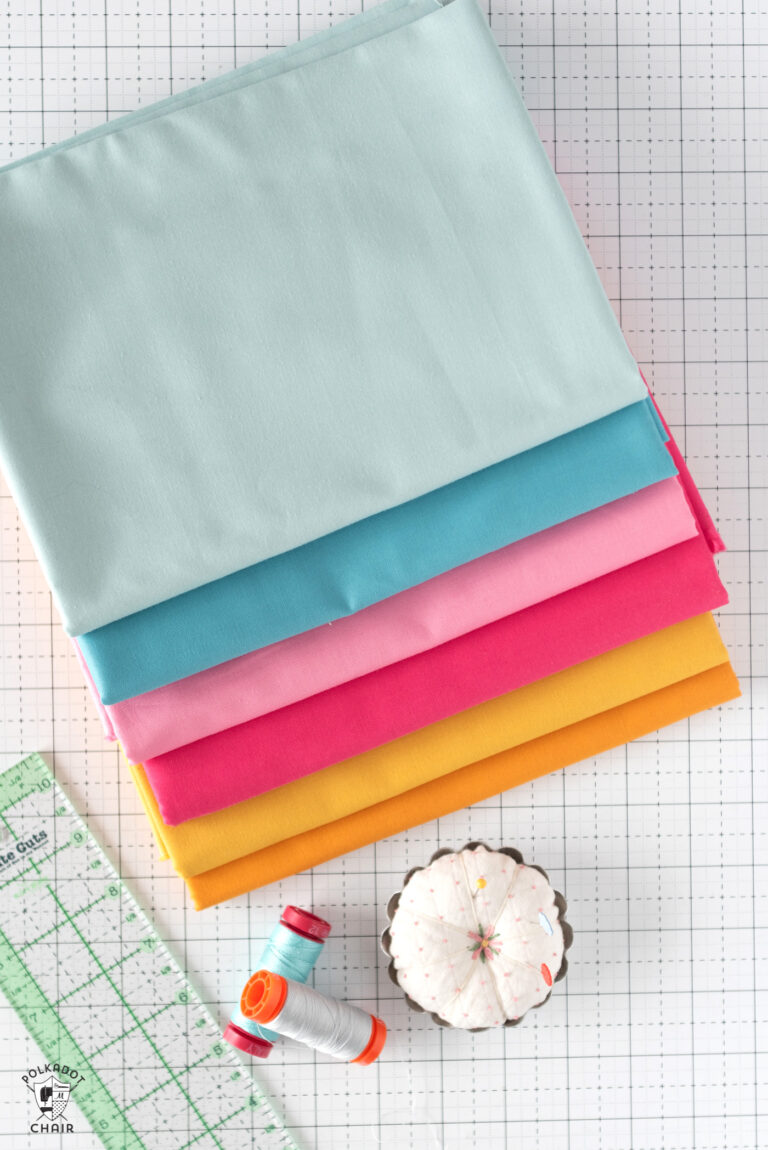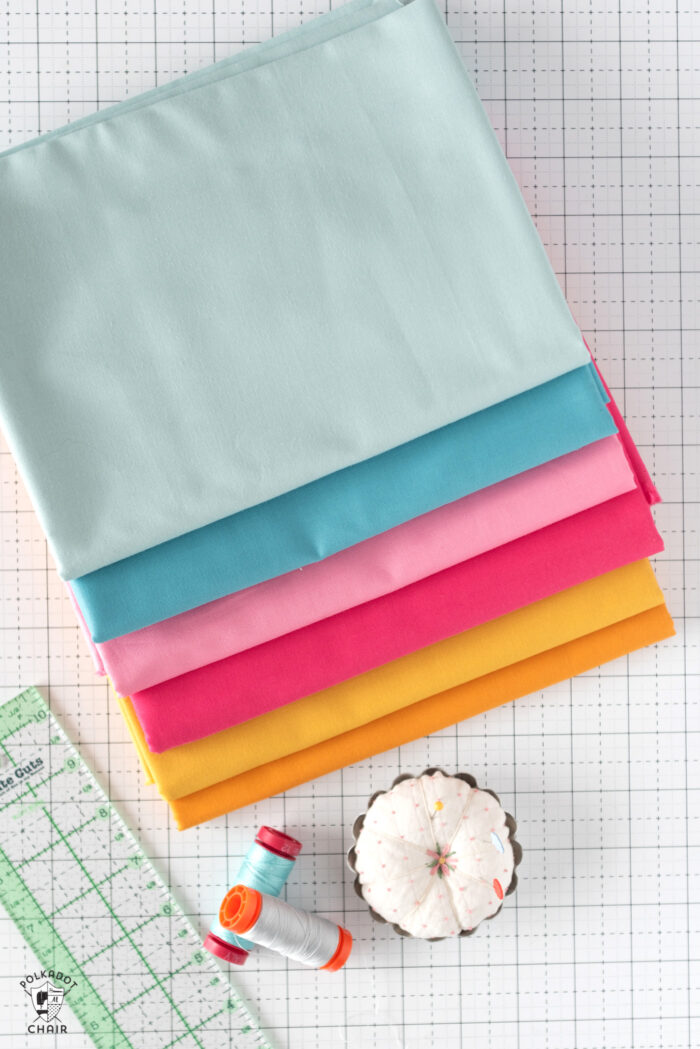 I've hosted quite a few quilt alongs (and a couple of block of the month programs) here and I think I might be the MOST excited about this one. My oldest daughter just moved into a new apartment and wanted a quilt with a colorful, graphic vibe. I designed this quilt for her in mine (we will see if I actually give it to her when I'm done *wink*).
I pulled some color inspiration from my blog logo (you can see it above). Then got to work shuffling through a million (not really a million, but it felt like it) fabric swatch cards before I landed on the 6 that I'm using in the quilt.
About the Quilt Along:
Last year we hosted the Just for Fun Quilt Block of the Month program. It was MUCH more popular than I imagined it would be and I've tried to take some of the lessons learned last year and use them in this year's quilt along.
Previously, we posted the quilt blocks on the blog. You would just visit the site, and follow the directions on the page to make the block. However, we found that an overwhelming number of people wanted to "SIGN UP" for the quilt along. Given the restraints of working within a blog framework, we did the best we could last year. I'm happy that so many of you joined us last year!
The Choose Happiness Quilt Block of the Month Pattern:
This year, we are offering the Block of the Month as a month by month email deliverable PDF. Each month you will get a link in your email inbox to download the block for that month's pattern.
About the Quilt Pattern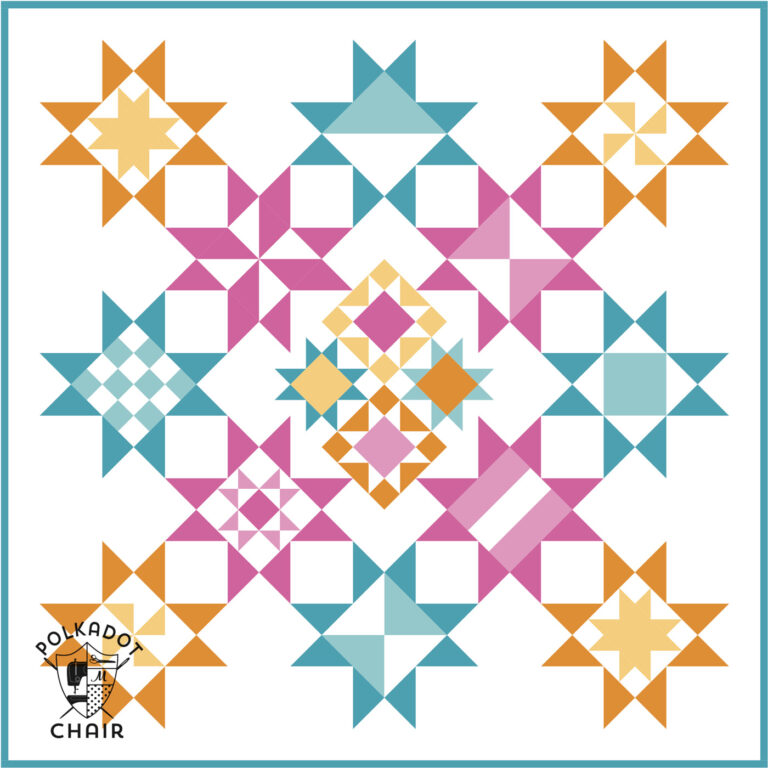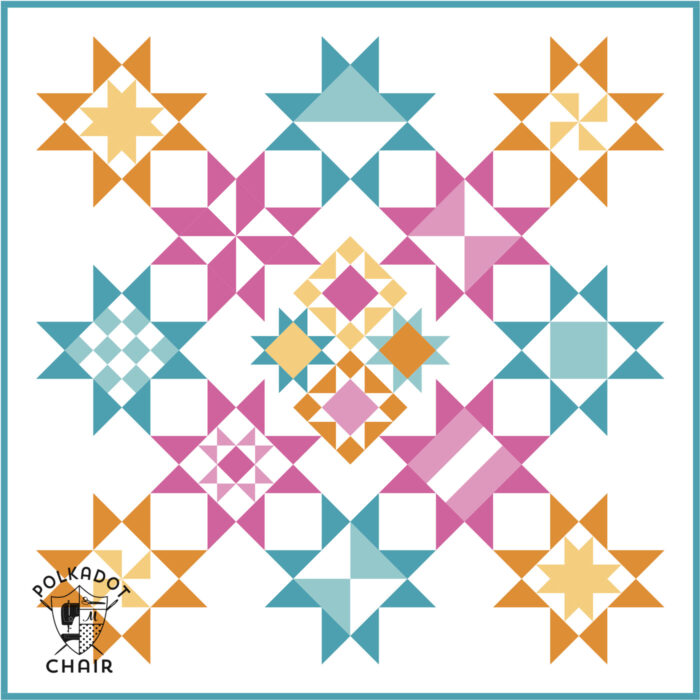 The Choose Happiness quilt features 11 different quilt blocks. Each is a variation of a Sawtooth Star quilt block. The blocks will be set "on point" (which means at a 45-degree angle) when the quilt is done.
Making this deceptively simple quilt pattern seem much more complicated than it actually is! I will also include instructions to set the blocks traditionally if you prefer that layout to the "on point" layout.
FAQ's About the Quilt Along:
How do I Sign up for the Choose Happiness Quilt Along?
You need to sign up and purchase a pattern to participate. It's the best way to deliver you the best content in the easiest way for you to use it! The cost is only $12 which works out to just $1 a month! (it is all paid upfront, however, since the PayPal fees on a $1 purchase eat up almost the entire amount). You will get 1 quilt block a month for 11 months.
Note: Due to VAT issues, if you are in the EU you need to purchase the pattern via our Etsy Shop.
If you're new here and are hesitant about joining. I will just say that I've been blogging for 11+ years and have been selling sewing patterns for 8+ years. I've learned a lot in those years and am prepared to provide you with a great pattern!
What Fabrics are Featured on the Quilt?
This I decided to mix things up a bit and play with my stash of solid color fabrics to create a vibrant quilt! I'm really so excited about the color palette on this one!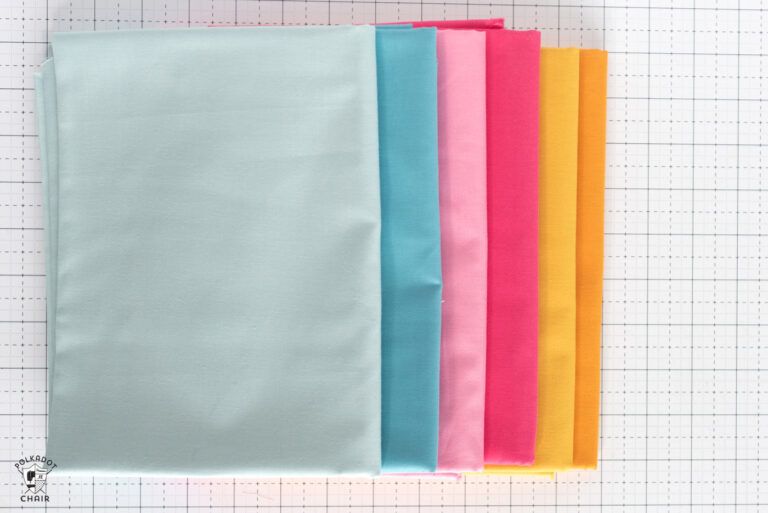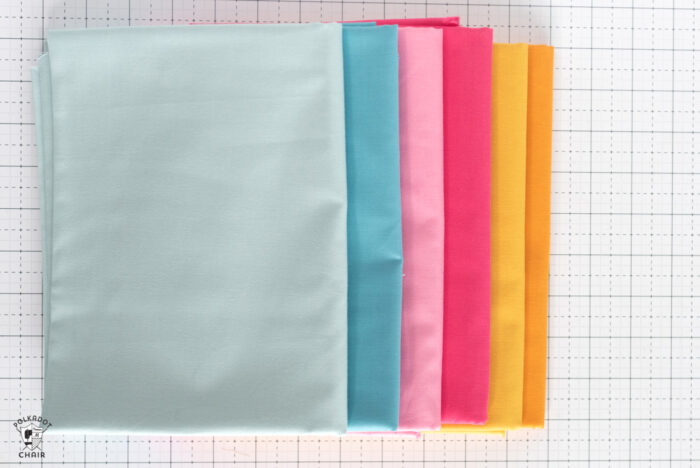 The fabrics featured are all Solids from Riley Blake Designs. The color names are:
Bear Lake
Song Bird
Super Pink
Rose
Cheddar
Honey
Riley White (background fabric)
Is there a Facebook Group for the Quilt Along?
Yes! We invite you to join our Quilt Fun Facebook group to share your creations! It's not exclusive to this quilt along, but everyone in it loves quilting and is enthusiastic and friendly!
Link to Facebook Group:
Love to Quilt? Please join us in our Quilt Fun Facebook Group!
What Do I Get with the Pattern?
You will receive 13 PDF's. One intro PDF with the dates for the block releases and the fabric yardage requirements.
After that, you will get an email each month (sent to the email address you used to purchase the Quilt Along) with a link to download the block.
In that email, there will also be a link to the blog post with details and a few more photos of that month's block. The last PDF will contain finishing instructions.
The Block Release Schedule is:
January 17th
February 14th
March 13th
April 10th
May 15th
June 12th
July 10th
August 14th
September 11th
October 16th
November 13th
December 11th (finishing instructions)
How Big is the Quilt?
The Quilt measures approx 51″ x 51″ when finished.
Why did you name it "Choose Happiness"?
I know that everyone has different challenges in their life. What may seem challenging to one person may seem frivolous to another. But to EACH OF us, our challenges are REAL for us! The last few months have been a bit hard on me and when I thought about moving forward in 2020, I just kept thinking "choose happy". So personally, I'm going to try my best to "choose to be happy", regardless of what happens. We will see how that goes LOL!
Can I get the Quilt Blocks Early?
No, we will not release the blocks early. There will not be any exceptions.
Is it Suitable for Beginning Quilters?
Yes, I think it is. I would not recommend it as your very first quilt. If you feel reasonably confident with quilting I encourage you to give it a try! You only have to learn to make one block a month. So it takes the big project and breaks it down into smaller manageable chunks.
What Order are the Blocks Released?
Well, that will be a surprise! Do you spot all 11 of the blocks in the quilt? Which one is your favorite? I know I have mine!
Is it a One-Time Purchase or Billed Monthly?
It is a One-time purchase of $12. There are no other charges throughout the year.
Where Do I buy the Fabric?
Check with your local quilt shop. Tell them you're looking for Riley Blake Confetti Cottons and give them the color names.
If that will not work for you, you can buy them online at many retailers. I know that Fat Quarter Shop carries all of the colors listed above.
You can also make it with fabrics from your stash or any other fabrics that you like.
If you do that I recommend picking 3 main colors and working from that. Then within those 3 colors choose a dark and a light version of that color.
I hope that you will join us!
Just For Fun Quilt Update:
I also wanted to let you know that a Printable version of the Just For Fun Quilt is now available. The blocks are not going anywhere but if you want all the instructions in one place in a print-friendly format you can now get it in the shop.
More Fun Quilt Projects that you May Like:
Cupid's Arrow Valentine Quilt Pattern
Patchwork Paddock Quilt Pattern
More than 25 Baby Quilt Patterns (most are free)