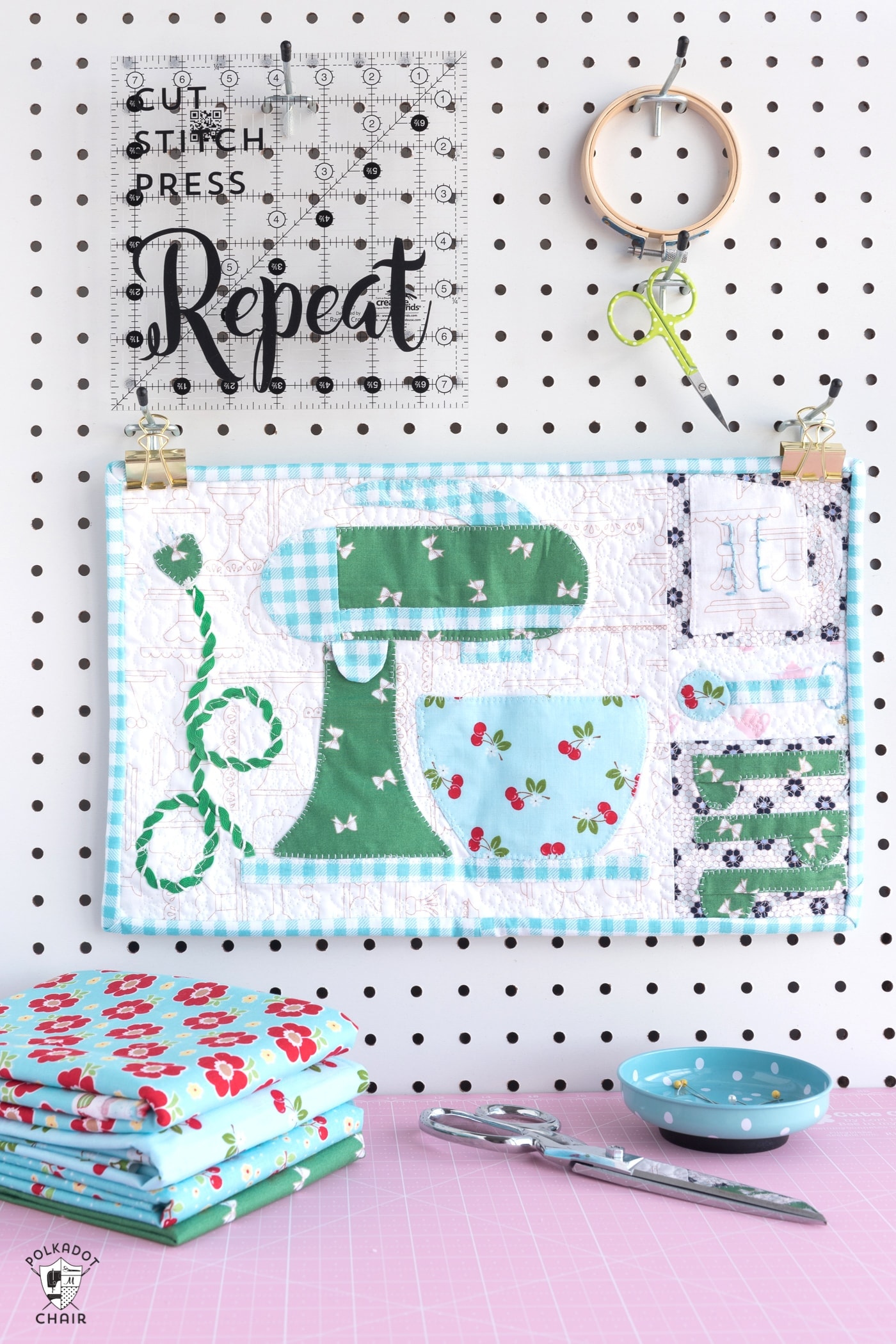 This past month I had the opportunity to try out a "new to me" quilting technique while joining in on the Lori Holt Let's Bake Quilt Along.  If you don't know Lori Holt, she is the force behind the Bee in My Bonnet blog and a fabric designer for Riley Blake Designs. She's designed many quilts and fabric lines for them, most notably her Farm Girl Vintage Series.  She's holding a quilt along to celebrate her newest fabric line, Bake Sale, and I was so flattered to be asked to "quilt along" with her.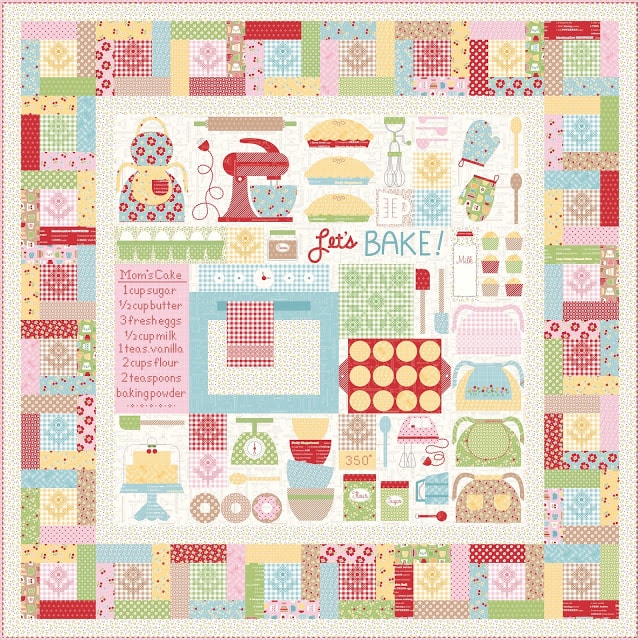 About the Let's Sew Bake Along:
If you've not participated in a Lori Holt Quilt Along before I thought I'd tell you a little bit about how the whole process works. She posts the free tutorial for each block on her blog each week. Some weeks she posts more than 1 block.  The pattern for the quilt is free, but you do need to purchase a set of "shapes" to use as templates when making your quilt.
Every block in the quilt is made from this series of shapes! How cool is that? I'm still trying to figure out how she managed to get so many different quilt blocks from just a few shapes….
I was asked to stitch up the Mixer, Measuring Cup, and Measuring Spoons blocks for my stop on the quilt along tour.  That stop was in January. You'll notice that I'm just now posting the block. You can find the instructions to make the blocks on Lori's blog by clicking here.
My Vintage Mixer Quilt Block:
Have you ever had a project that you felt was "cursed" from the beginning? Well, that's how this one has felt for me. NOT because it's hard, it seriously not, but because I had a series of "bad luck" things happen while I was stitching up my blocks.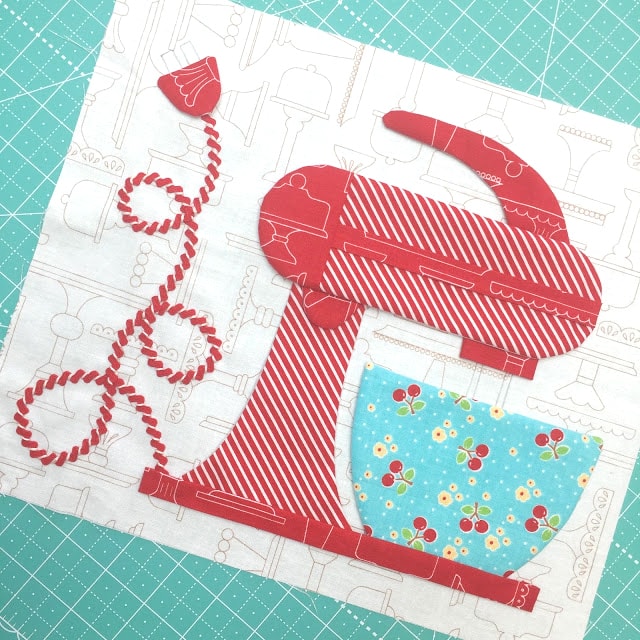 First, I gathered all my supplies and was quite sure that I had everything I needed. until I realized that I bought the wrong size bias tape maker.  My local shop was out of them so I order one online and waited for it.  One weekend sewing "lost".
I finally got my bias tape maker, then my sewing machine broke. Like seriously broke.  I managed to get it fixed, but it took a week, and thus, another weekend sewing "lost".
Sewing machine fixed, supplies in hand I went to start the blocks and somehow kept managing to cut things the wrong size, trace them backward or other really silly things. I mentioned that this technique is new to me and I seemed to struggle with it more than I was expecting. I'm sure mostly because I was convinced that I was cursed at this point in the project LOL!
After a weekend of "this is taking much longer than it should". I was ready to finish up my block. All I had to do was stitch the ric rack onto the mixer. I went to my GIANT stash of ric rack and realized I had NO green or aqua ric rack in the small size.  I grabbed my keys, headed to Walmart, then to JoAnn, and Michaels, no green or aqua small ric rack.  At this point, I was not even surprised.
I managed to get some ric rack finally and fished the blocks. In the end, I decided that the blocks I made would be a really cute mini quilt, so I quilted it, bound it and am ready to give it as a gift!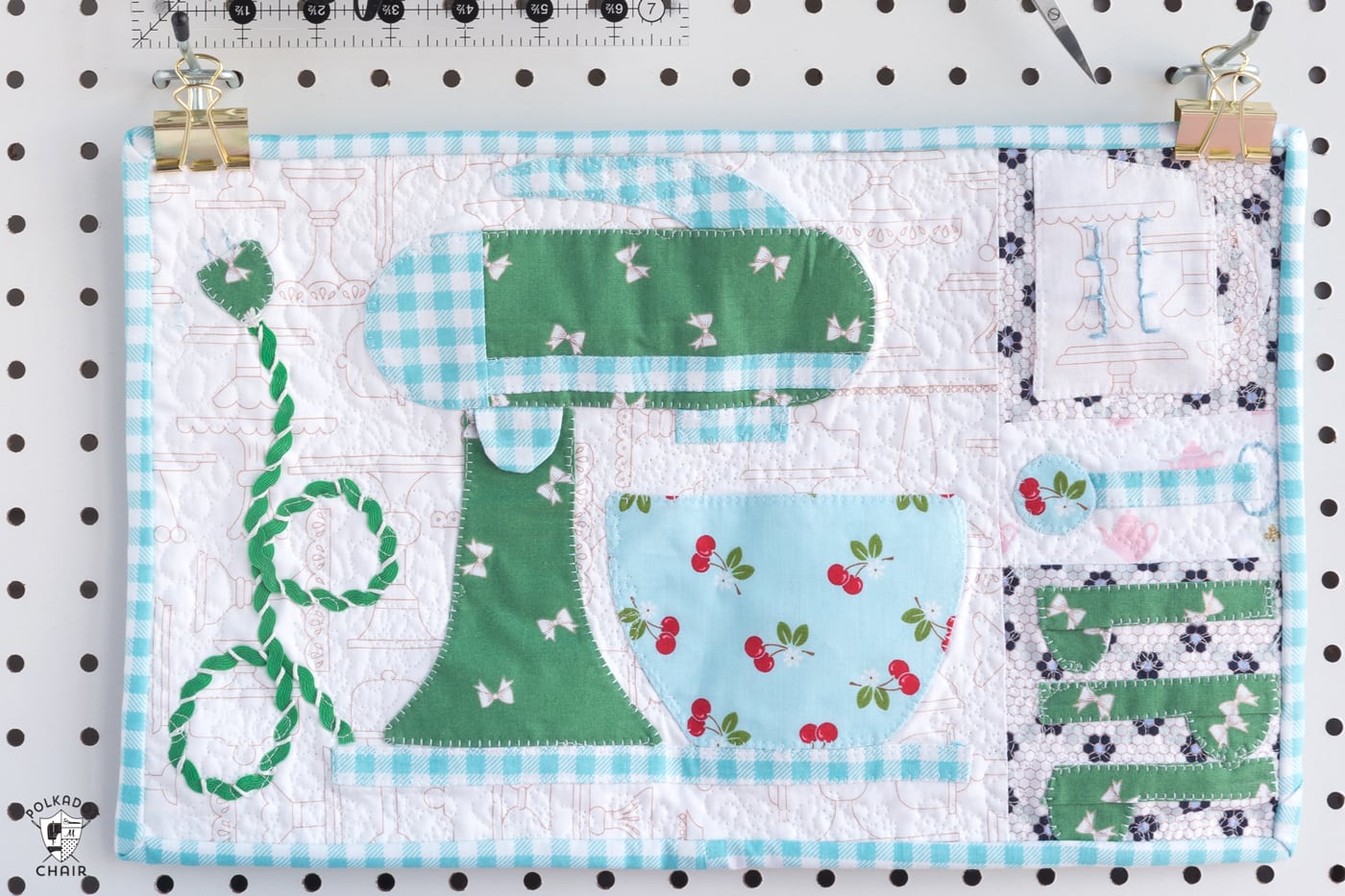 About the Supplies:
I ended up using some of the sweet prints from Lori's Bake Sale line and combined it with the green bow print from my Derby Day line. I also threw in some hexagon prints from the Derby Day line since they reminded me of vintage floor tiles. Looking back, I swear my mom had a green mixer growing up. I could be remembering it wrong, but I'm pretty sure someone in our family had one.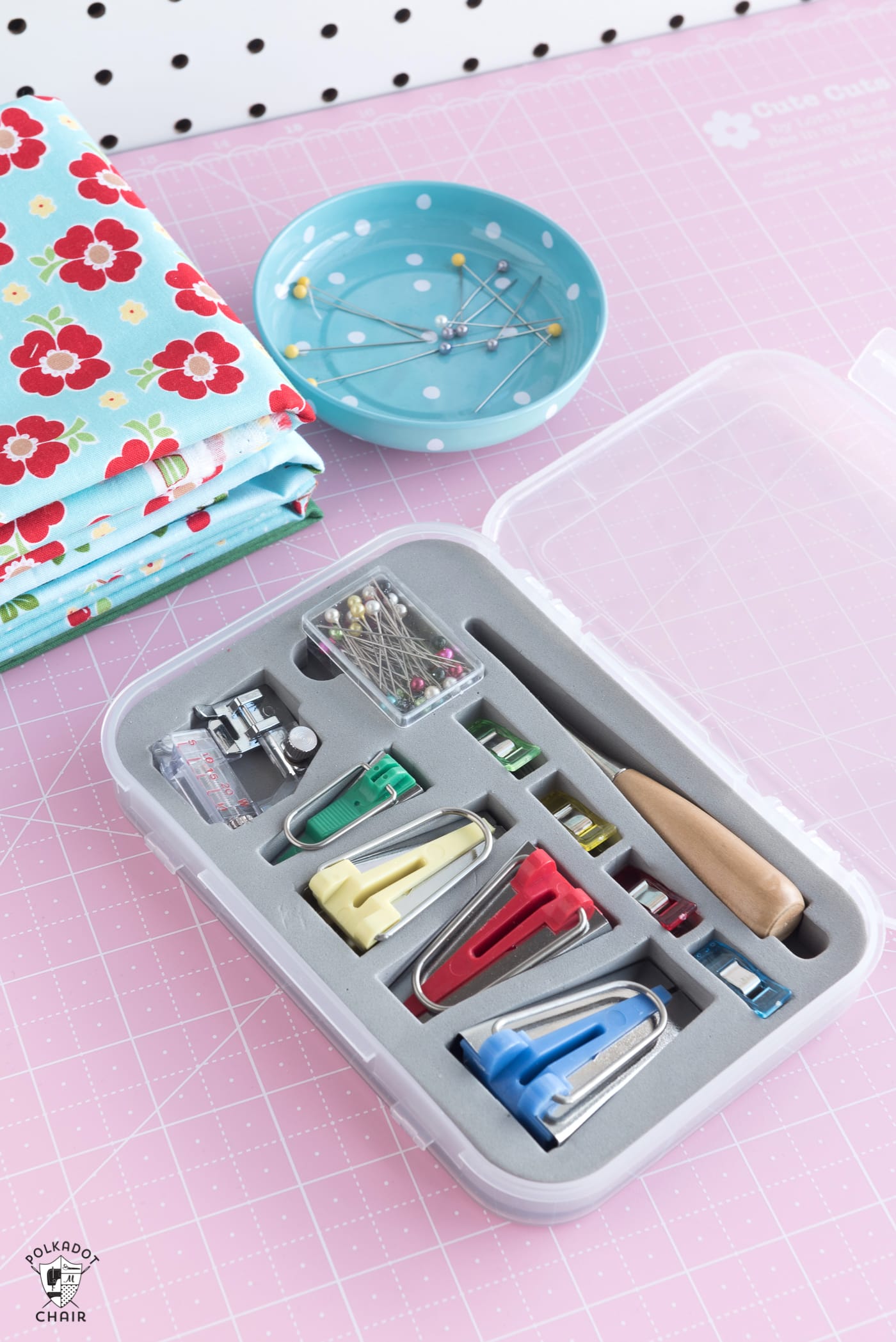 After I realized that I bought the wrong size bias tape maker, I decided to go ahead and order a whole set on Amazon.   I was really happy with it, and am glad to have all the tools in one place.  The one I purchased can be found HERE (affiliate link).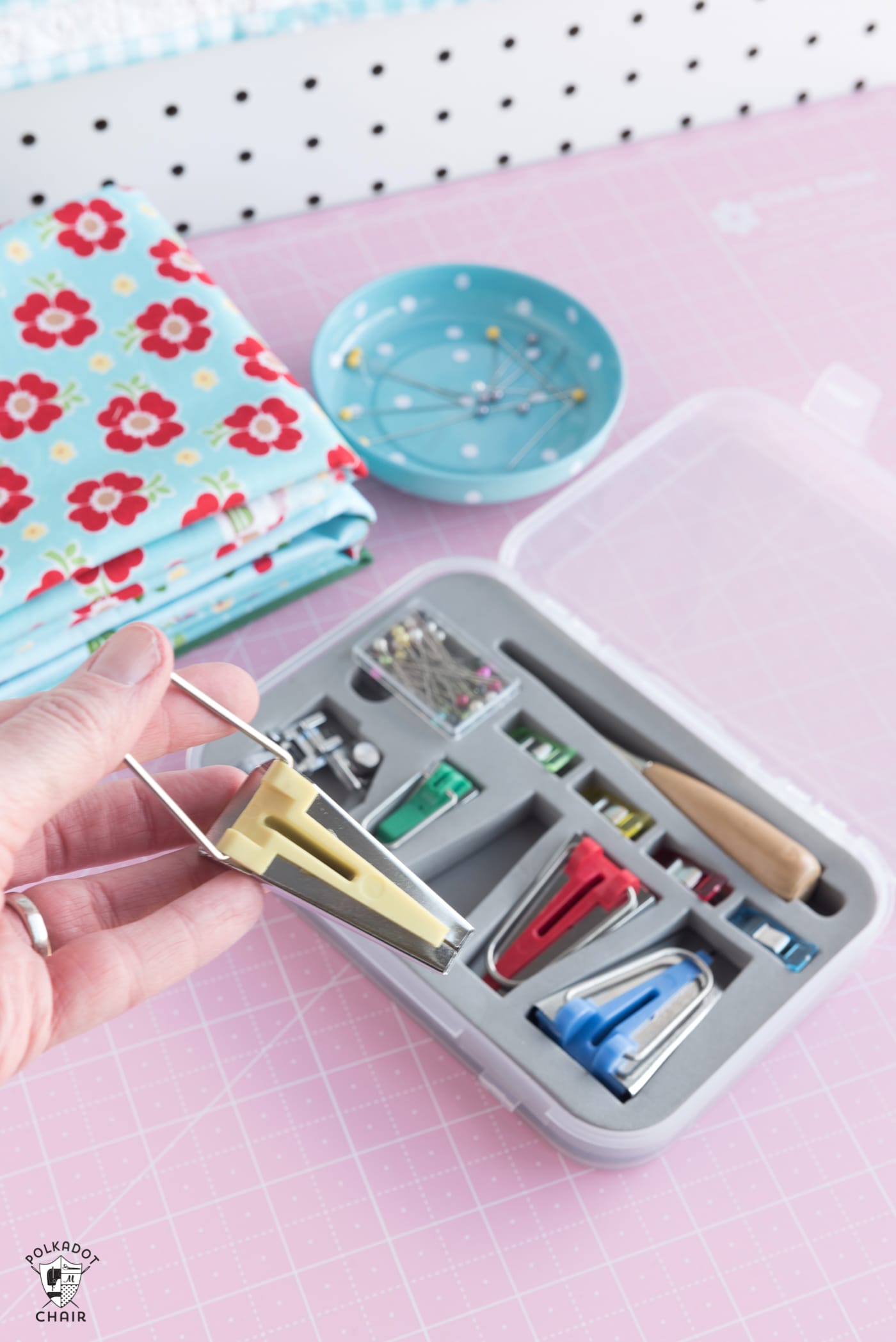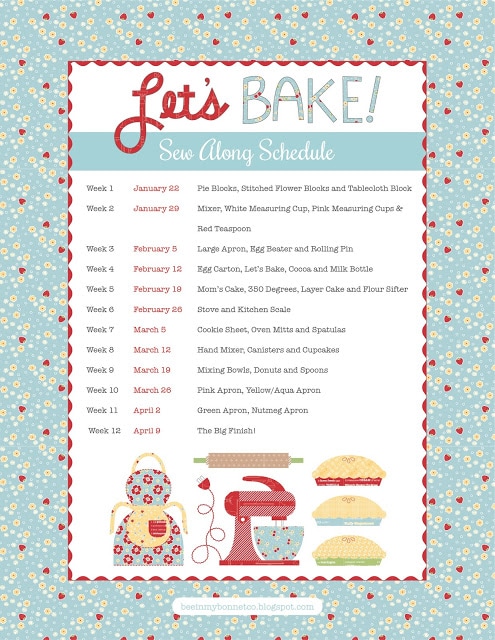 If you'd like to join in on the Let's Bake Sew Along, here is the schedule! Like I said the blocks are really cute and fun to make! I actually think I need to make a few of those pies and attach them to dish towels for gifts!!
You can find the Simple Shapes at your local quilt shop. You can also get them online HERE.  You can also find the magnetic pin bowl and pink cutting mat where Riley Blake products are sold.