Amy from Ameroonie Designs is back with us today sharing another adorable sewing project! This Ruffle Edge Doll Quilt Tutorial is easy to follow and would be a great sewing project for a beginning quilter (or even a fun project for kids to try to sew themselves).  It would also make a great gift.  Every baby doll deserves their own quilt or blanket right??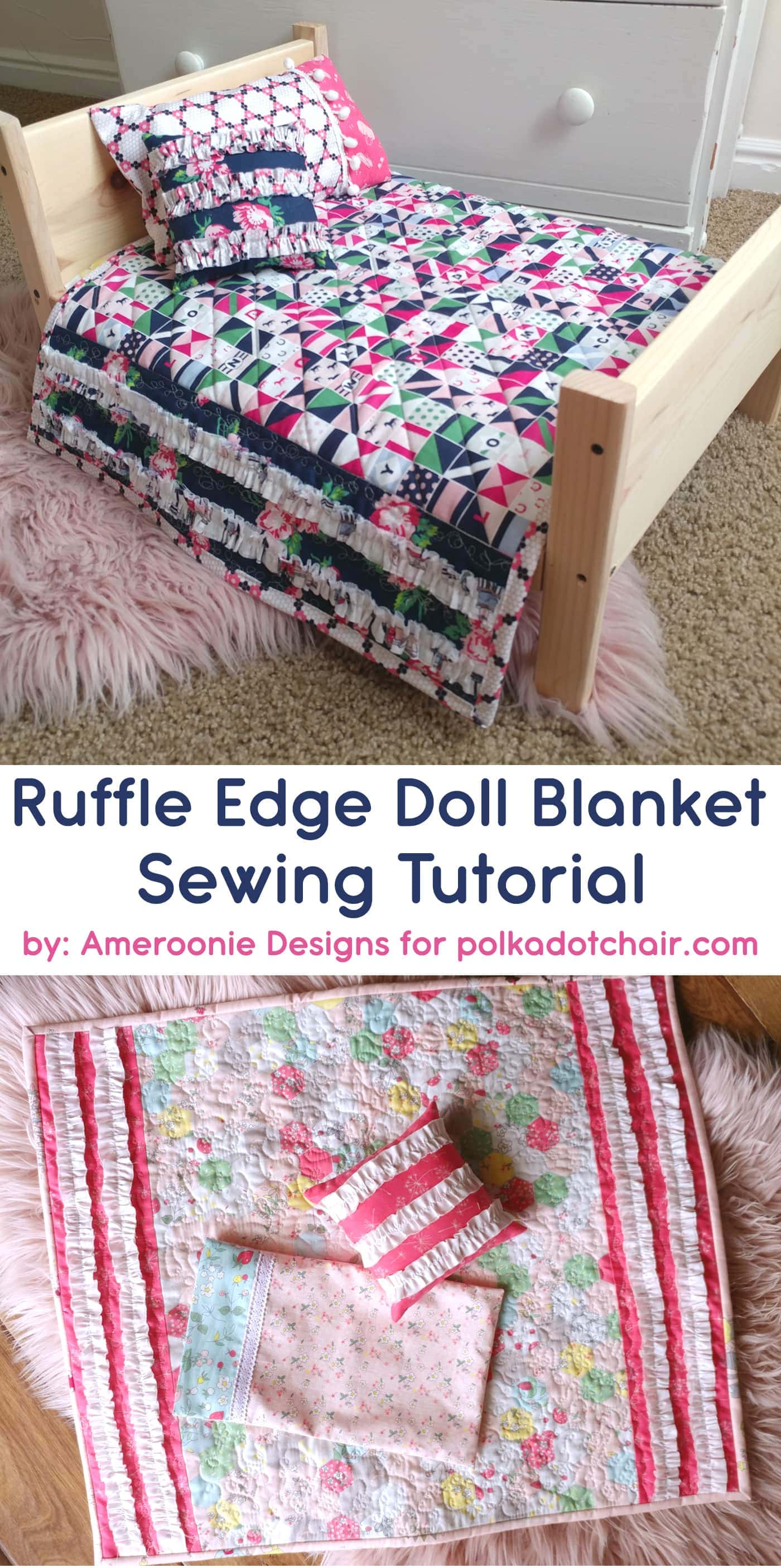 This quick project is a great way to show off favorite fabrics, practice your quilting techniques and make a little girl in your life happy- all at the same time! The ruffle edge trim sets this sweet quilt apart and makes it playful and fun. The measurements I am including fit this bed (which I will share the directions for over on my blog) which has similar measurements to the doll beds at Ikea. But, it would be simple to customize to the size of whatever doll bed you have.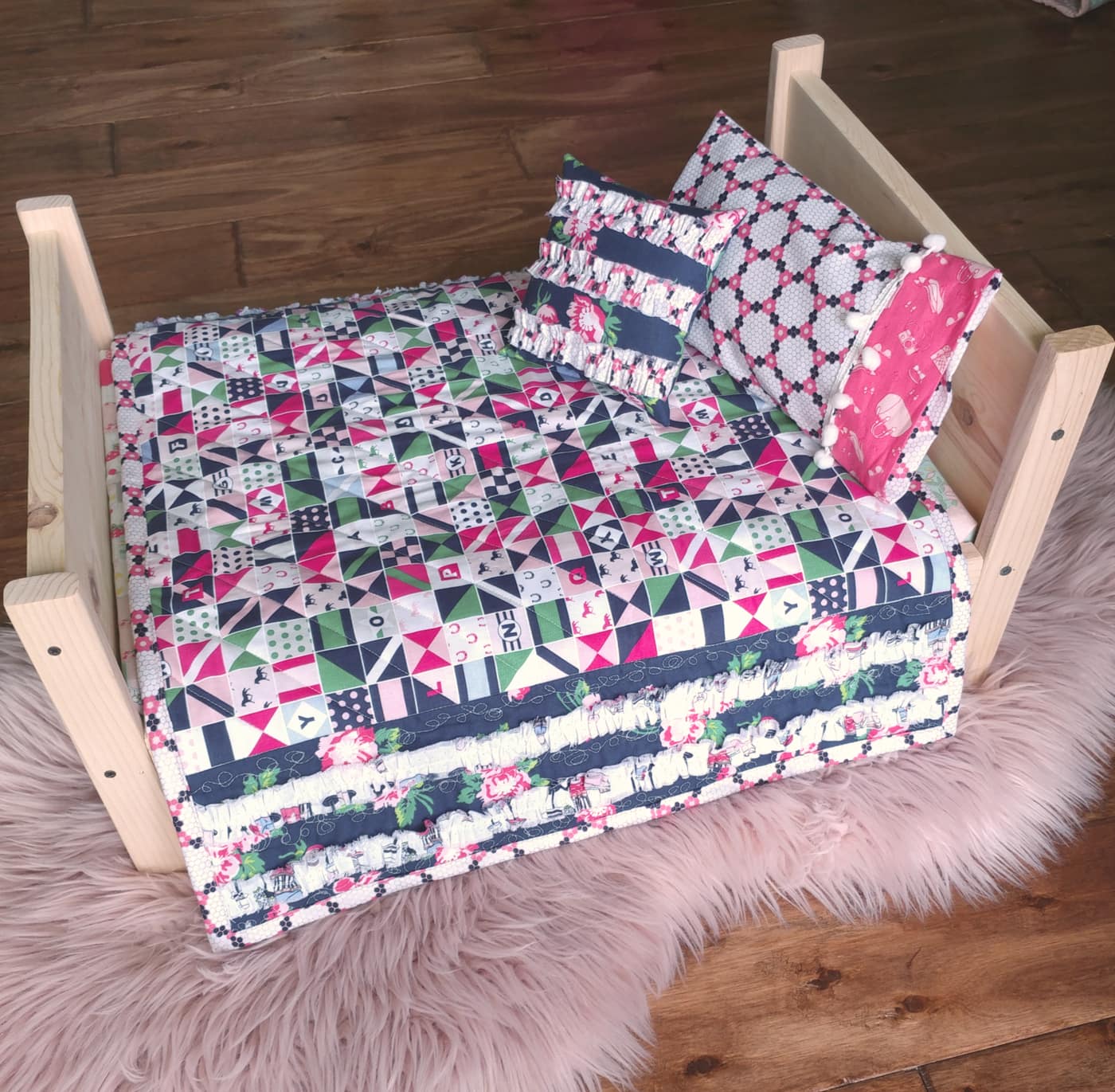 Ruffle Edge Doll Quilt Tutorial
Supplies for Doll Quilt:
½ yard main print (if the print is directional, get ⅔ yard) I used Serendipity by Minki Kim and Derby Day by Melissa Mortenson
fat quarter for side accents
⅔ yard backing
¼ yard binding
⅛ yard ruffle fabric
batting (I used sew-in fleece by Thermoweb)
sewing machine and tools
Cutting Instructions: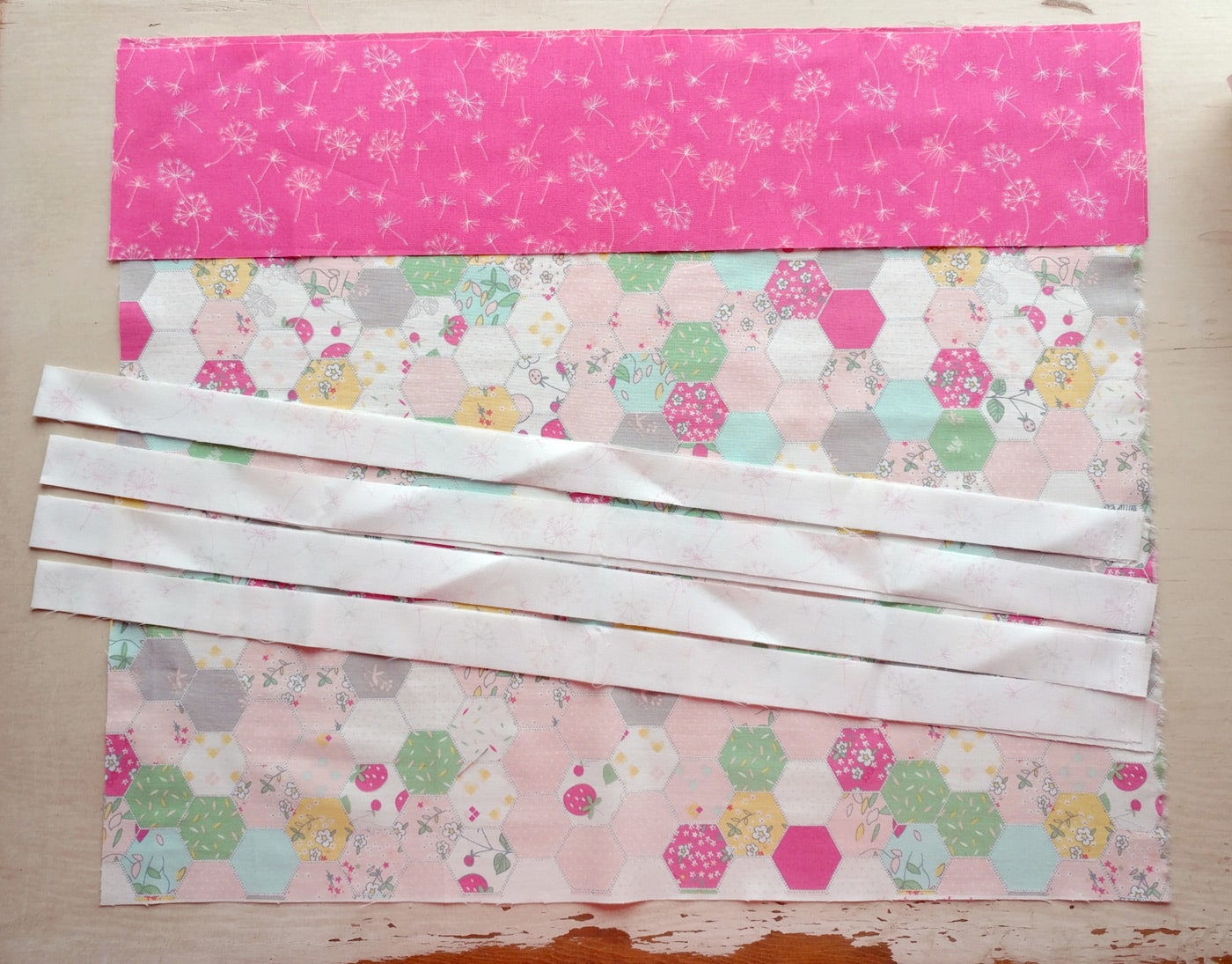 *if your doll bed is a different size, measure how wide it is across the top and cut your main print that width + ½″, if your bed is taller than 4 ½″ from top of mattress to the floor, you can add that difference to either the main print, or adjust the side panels, but you may need to place your ruffles differently.
from main print: 20″ X 17″
from side accent fabric: 2- 5″ X 21″
from ruffle fabric: 4- 1″ X WOF (width of fabric)
from backing: 20″ X 26″
Instructions to make Doll Blanket: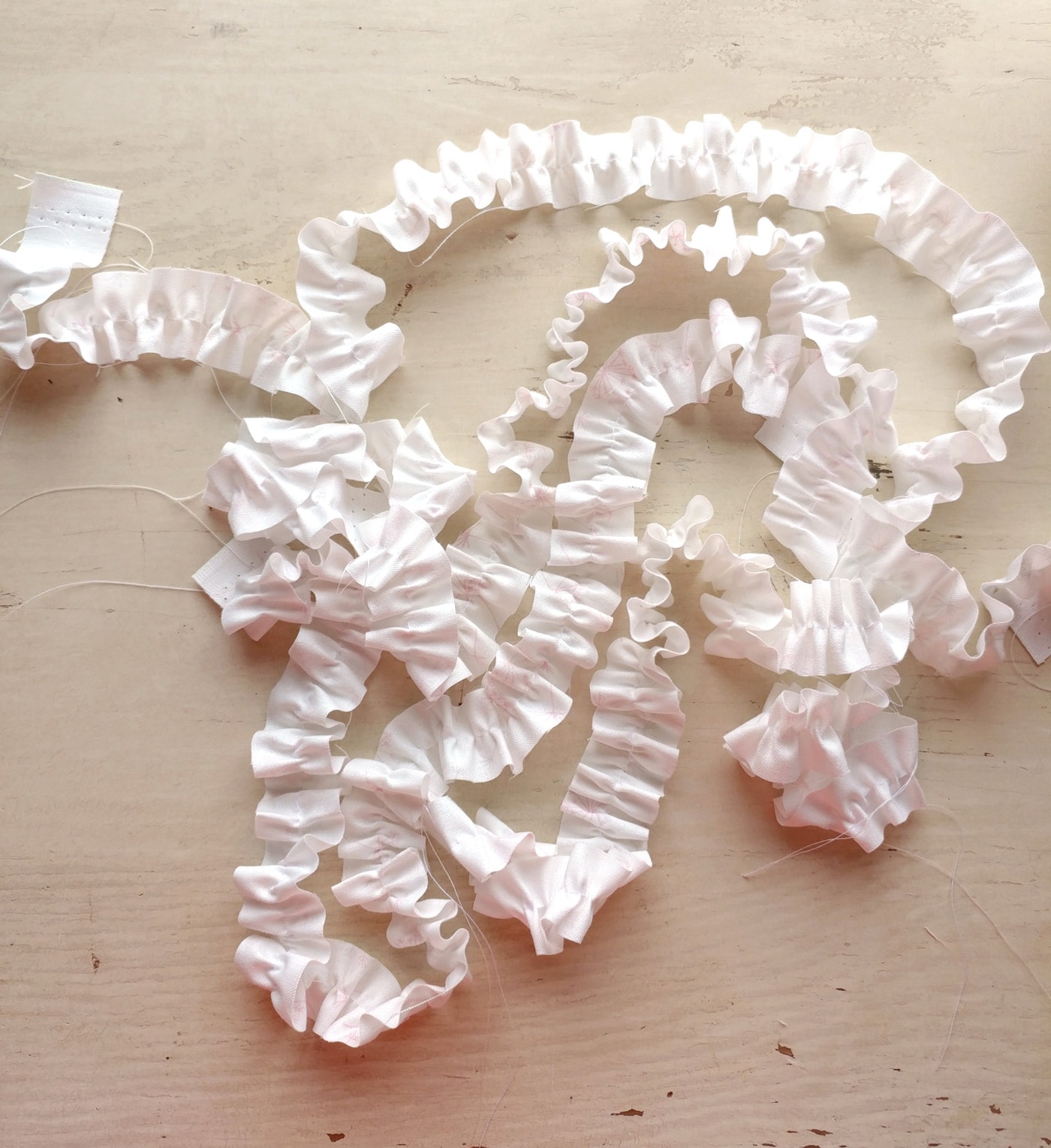 Use your favorite method to gather your 4 ruffle strips down the center.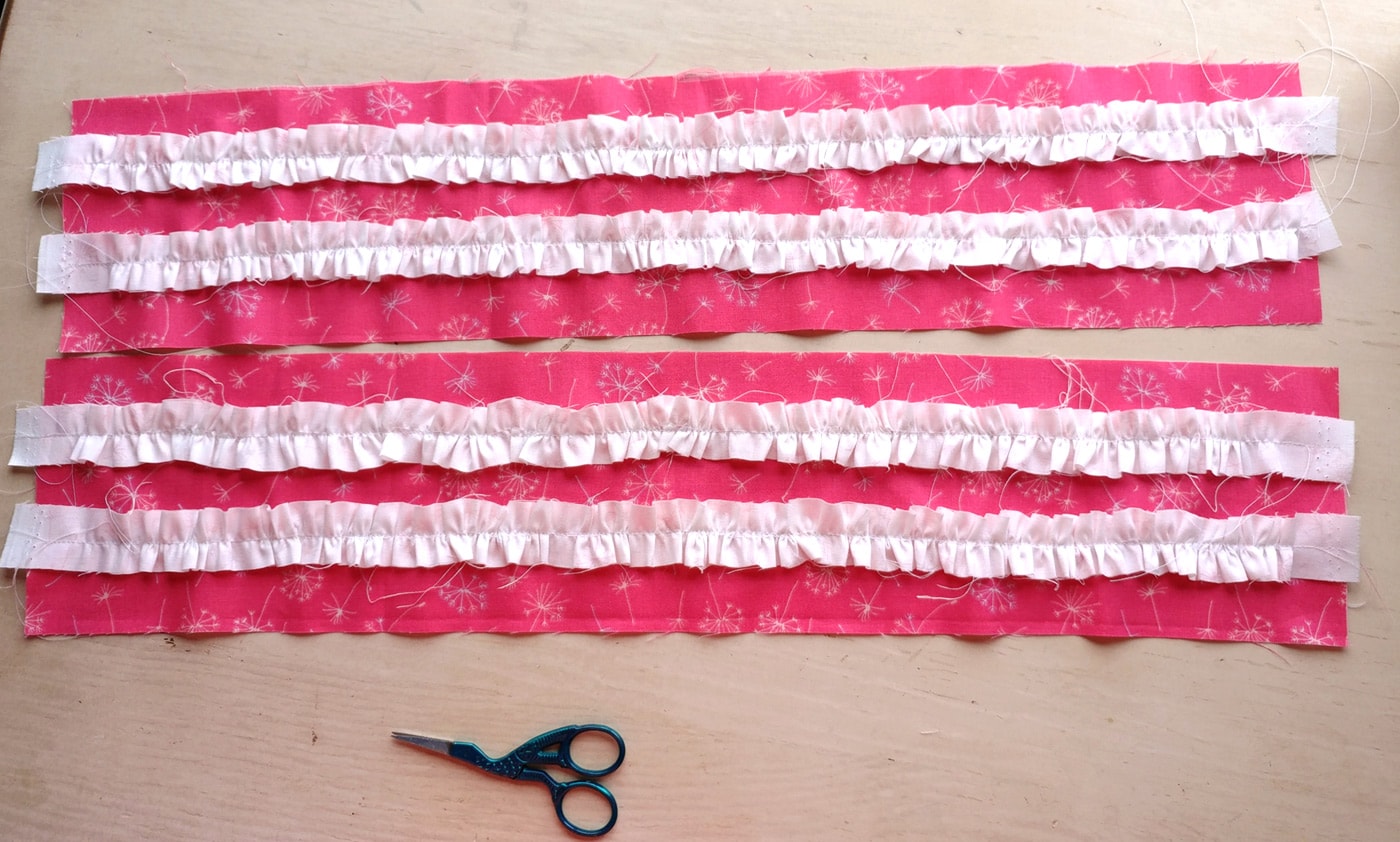 Pin the ruffles 1″ in from both sides of both pieces of accent fabric, sew along gather line. Trim side accent pieces down to 20″ wide.
Sew the two accent pieces on either side of the main accent fabric.
Your quilt top is done!! Can you believe it?? This would be a fantastic project for beginning sewists, replace the ruffles (which can be a bit tricky to pin and sew) with glue on the ribbon, ricrac or pom pom trim and have them piece the top.
Finish your mini quilt as desired.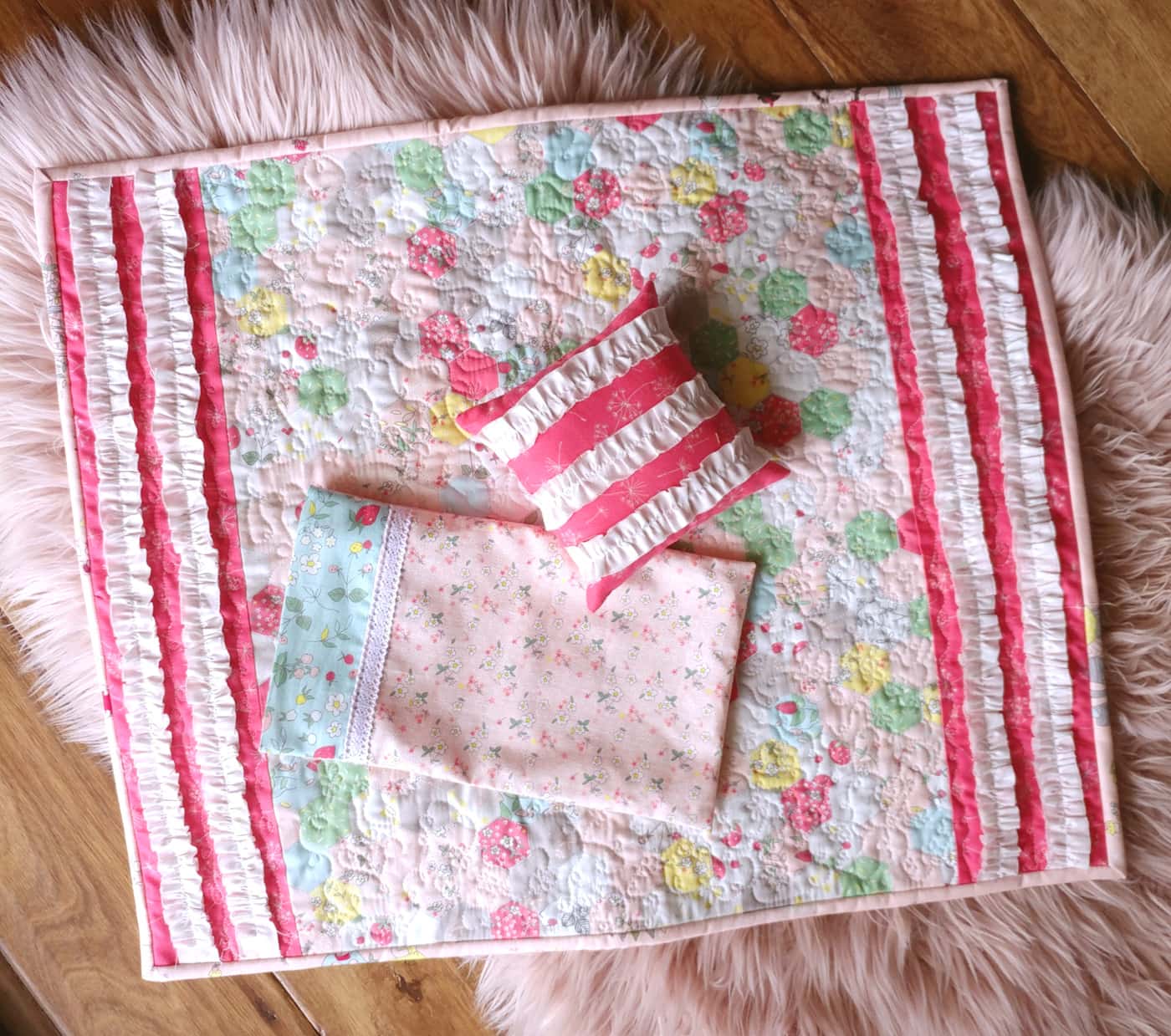 To Make the Doll Pillow:
To make the pillow and pillowcase, I followed this tutorial by My Childhood treasures– it's a clever and quick project- another great beginner sewist project!
For the accent pillow, cut 2- 6 ½″ squares and 3- 1″ X 13″ strips. Gather the strips like you did for the quilt, and sew them on one of your squares 1″ in from each side, and centered in the middle (there should be ¾″ between the strips). Sew around all 4 sides, leaving a 2″ opening for turning. Turn right side out, fill with fiberfill and stitch shut.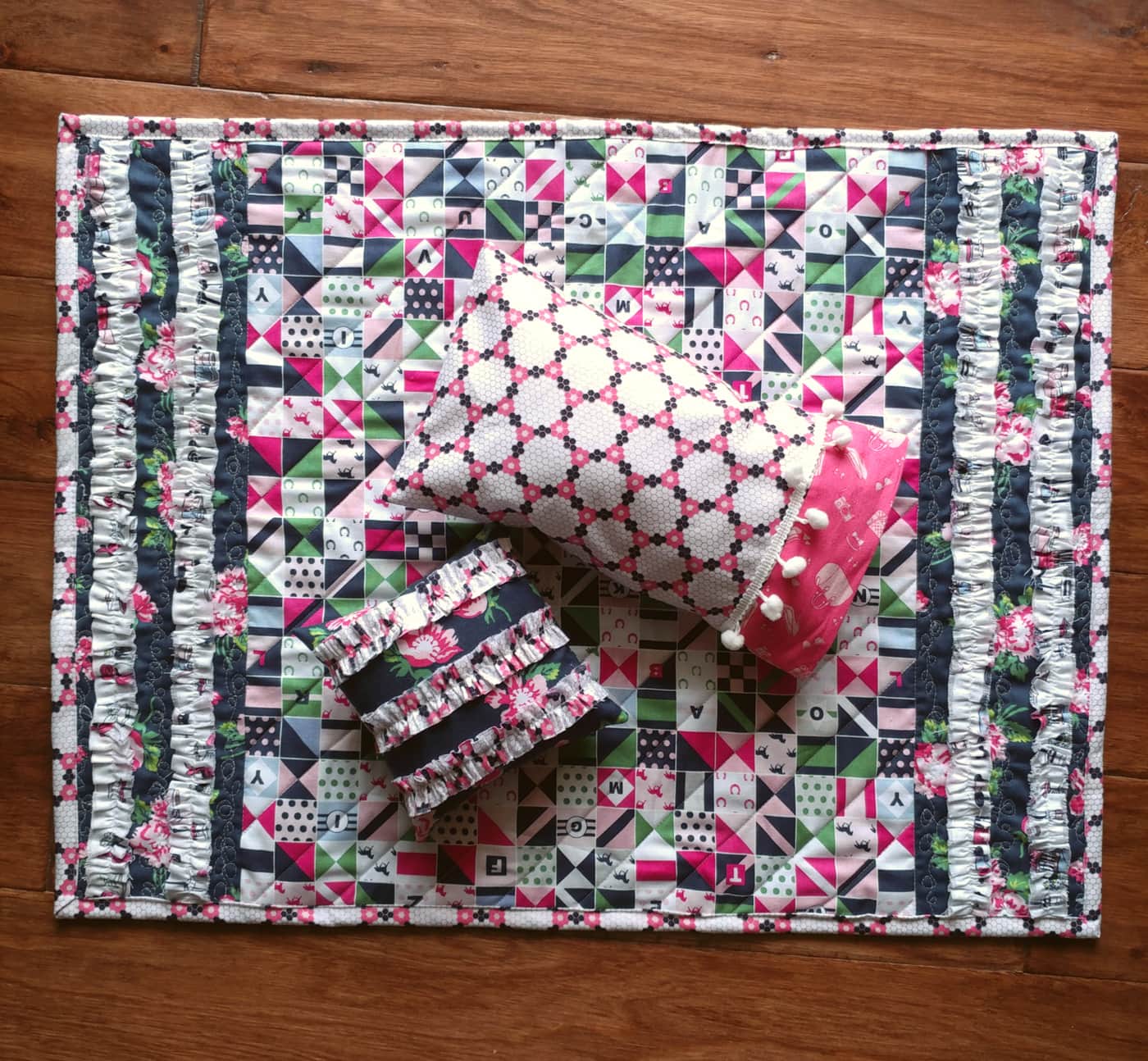 This fun quilt can be finished in an afternoon, which is always satisfying! As always, if there are any questions, please don't hesitate to ask! I hope you have fun sewing these up, and the lucky little girls who get them have fun playing!
xoxo,
Amy
About the Maker: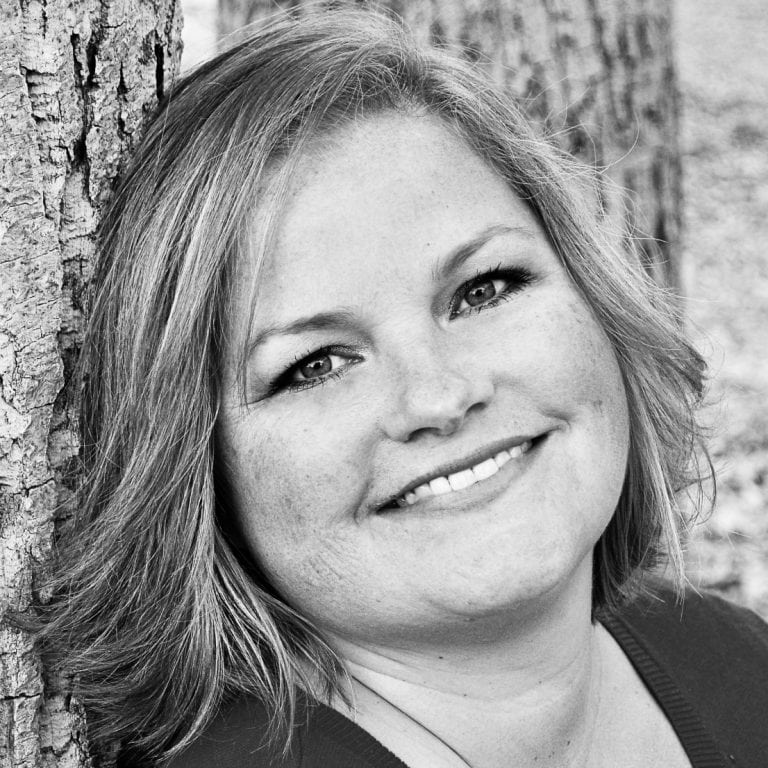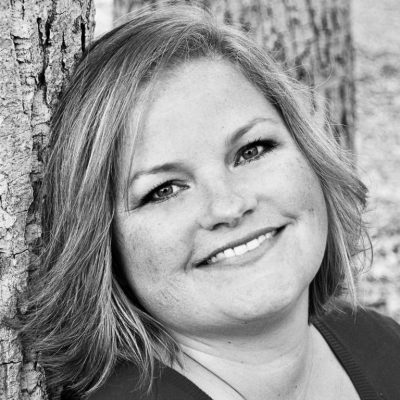 Hi! My name is Amy Chappell and I blog over at Ameroonie Designs. I currently live in Utah with my husband and 6 kids. I love being a mom but needed an outlet that would give me something to do that stayed done, enter sewing and creating. Love the satisfaction of taking fabric and ideas and making something new. I also love that blogging has given me a way to meet new people and find a community of amazing people who love fabric and sewing as much as I do.
xoxo,
Amy
Ameroonie Designs
www.amerooniedesigns.blogspot.com
Other Fun Sewing Tutorials by Ameroonie Designs: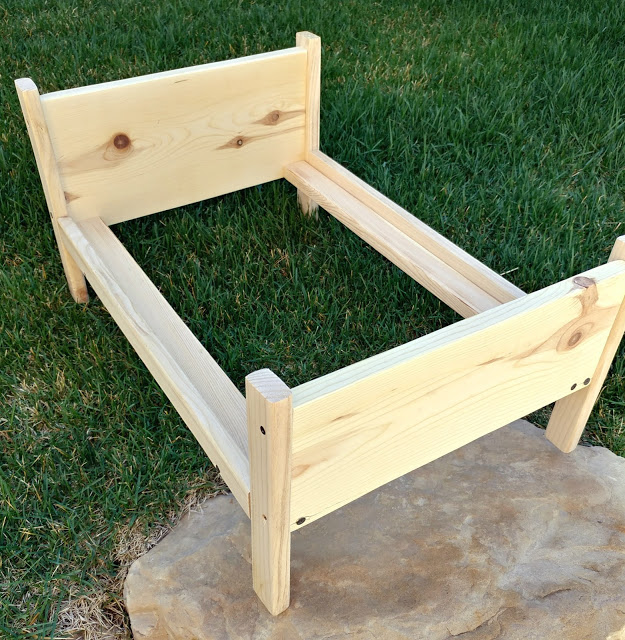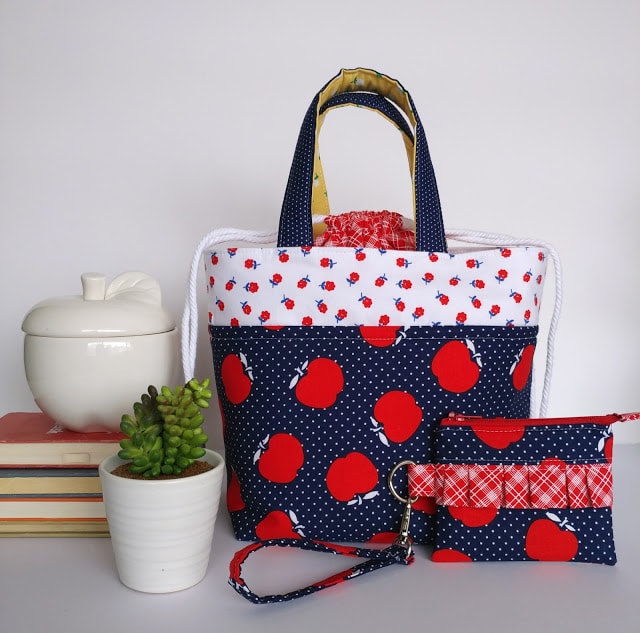 Teacher Appreciation Gift: DIY Lunch Bags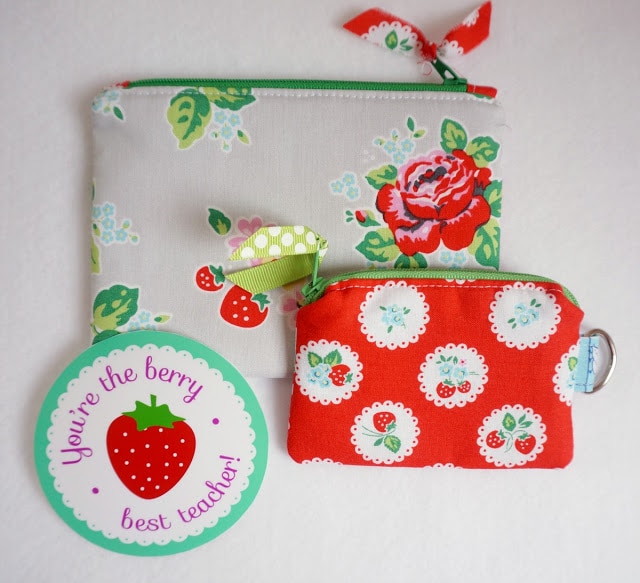 Other Tutorials you may love:
How to make a Fabric Scallop Banner
Patchwork Star Baby Quilt Tutorial