Today as a part of Riley Blake Designs Stitchin' Kitchen Christmas Blog Tour, I'm sharing a tutorial for this simple double gauze quilted blanket. Keep reading to learn how to make the blanket yourself and find out how to get my favorite gingerbread cookie recipe!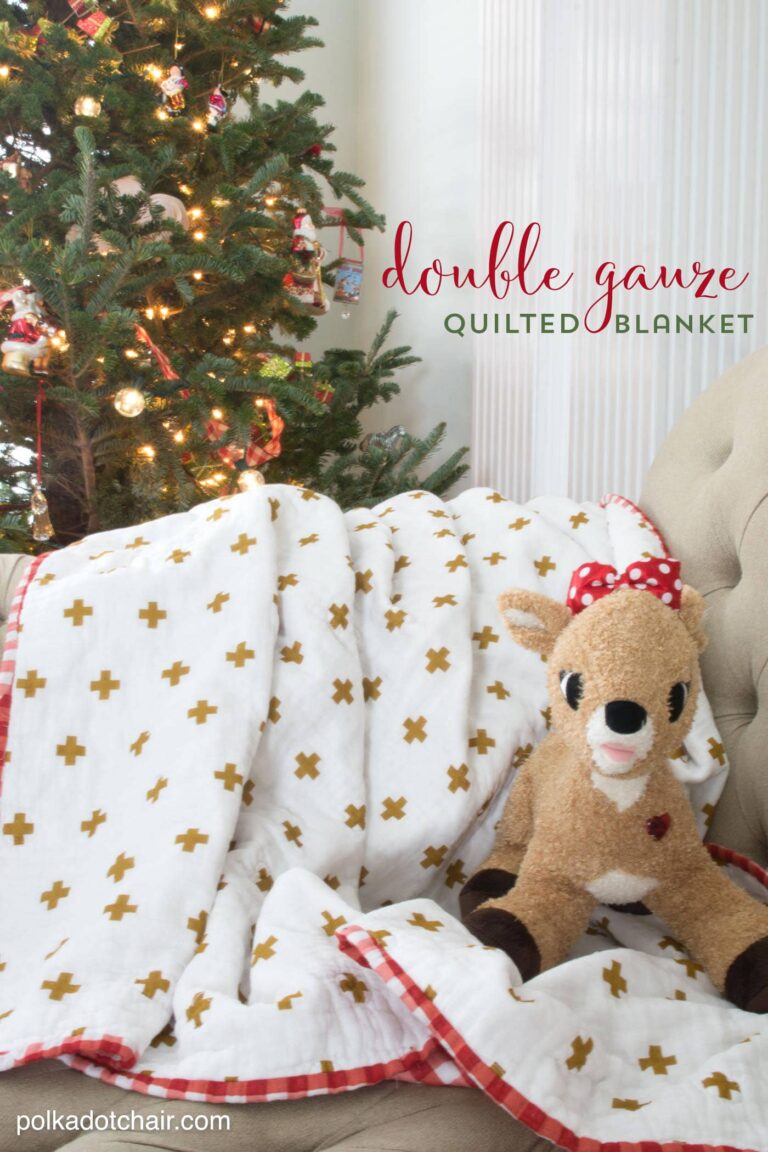 Those of you that are participating in my Block of the Month series know that I'm working on a Christmas quilt with some of the blocks that I'm making. I've had to make a Christmas quilt on my "to do" list for a few years now and thought it would be a great time to tackle it.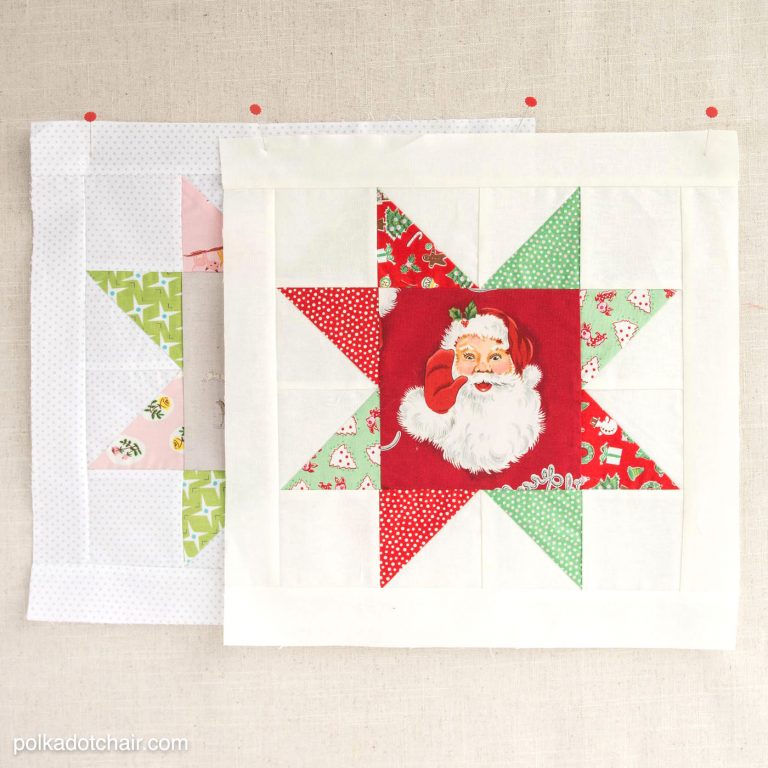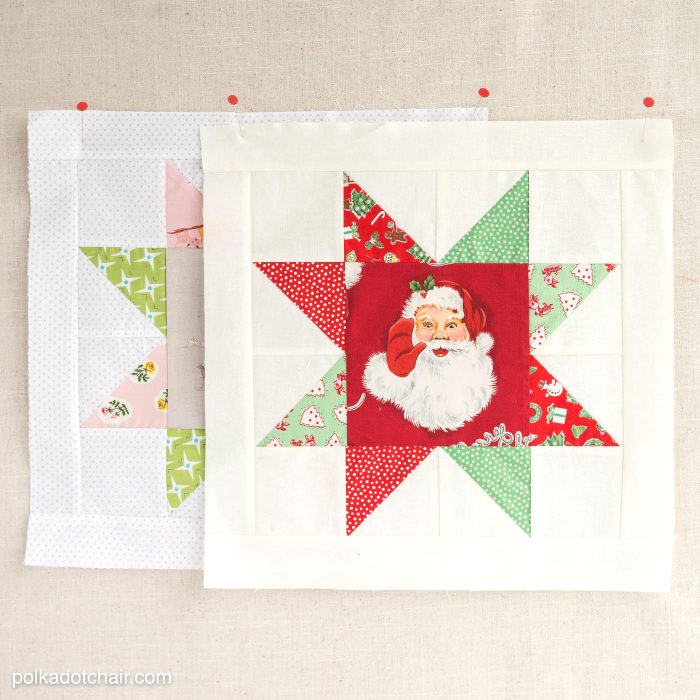 The project is going to take a year (block of the month, 12 blocks, 12 months) which is okay with me (less overwhelming that way) but I still wanted a fun Christmas blanket to put on the couch during the month of December.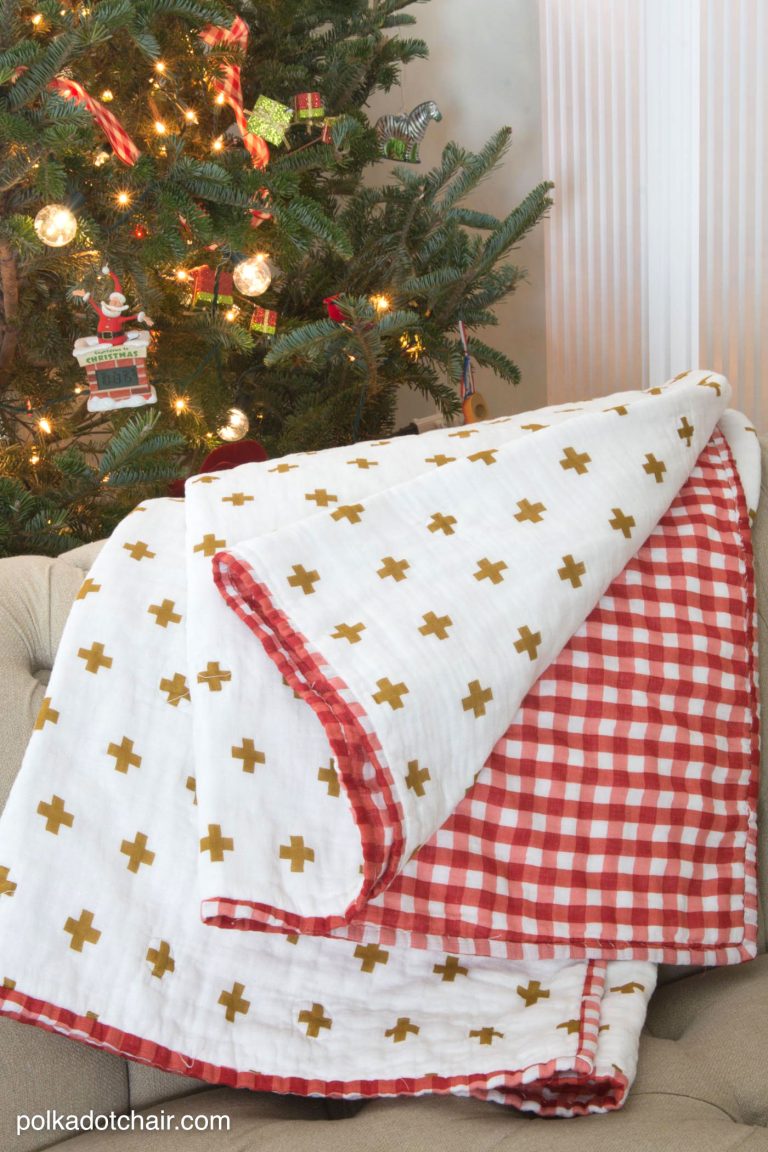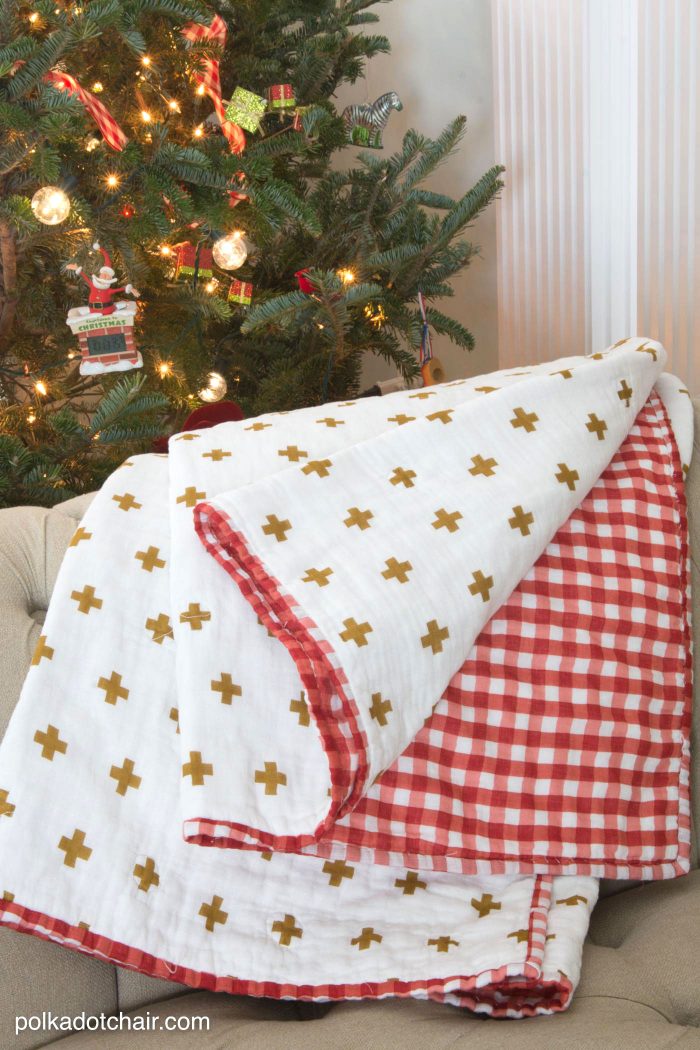 How to make a Double Gauze Quilt:
I spotted the new Riley Blake double gauze fabrics on their website a few months ago and fell in love. Especially with that red gingham! I had not sewn with double gauze a lot in the past and thought this would be a good time to tackle another project with it.
What is Double Gauze?
Double gauze is pretty much just what it sounds like. A gauzy fabric (think gauze bandages but a million times softer and nicer). It's commonly used to make baby blankets.  After washing it crinkles up and becomes super soft and light.
I thought the lightweight nature of the material would make a great throw blanket.
Before you tackle this project let me tell you, if you're particular about straight seams and precise measurements then double gauze might not be for you. It's soft and billowy and not really suited for precise piecing. It also does fray, so be prepared to snip threads off of it (I thought I got all mine off until I looked at the photos and realize that I missed a bunch ….grrr… so not perfect, Sorry!!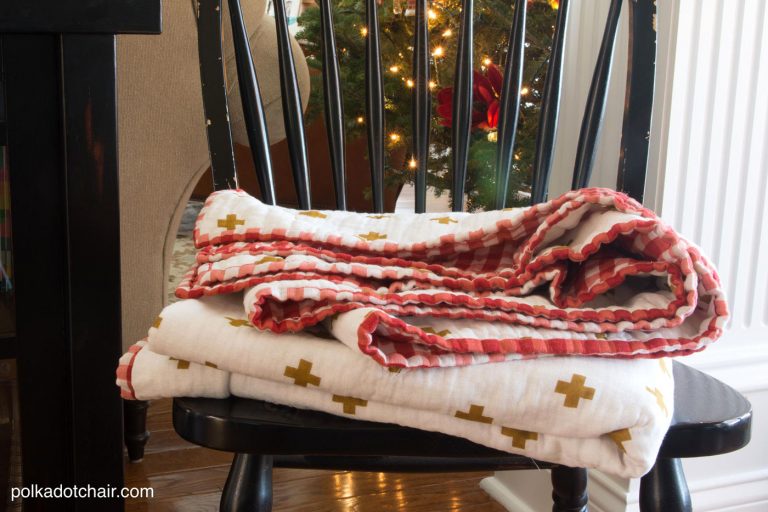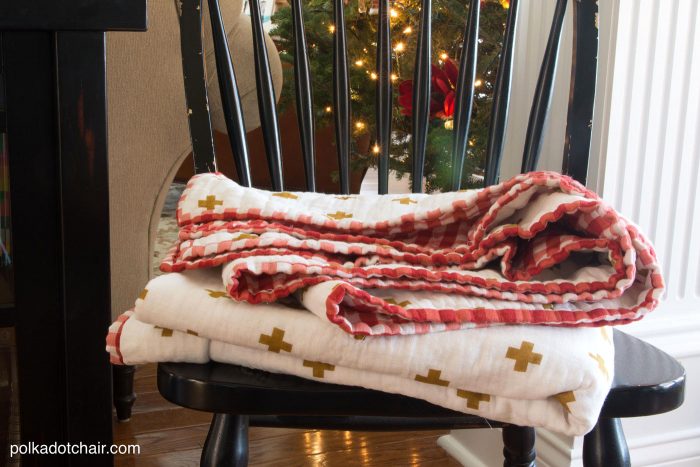 To make the double gauze blanket you'll need:
2 yards of double gauze for the front of the blanket (I used Riley Blake Sparkle Double Gauze – it has gold threads woven into it)
2 yards of double gauze for the back of blanket (I used Riley Blake Double Gauze in red gingham)
½ yard of double gauze for binding
1 piece of 100% cotton or cotton blend batting 60″ x 72″ (I used white quilters dream cotton)
Tips:
DO NOT prewash your fabrics.
Use a bit of Spray Starch on your binding pieces.
Baste the layers very well. Spray baste is recommended.
Bamboo Batting works really well with Double Gauze fabric
There are not any photos of the steps in this process because it's pretty straight forward. This is a whole cloth quilt which means that there is no piecing.
Step One: Create a Quilt Sandwich
Simply make a sandwich with your cotton batting in the center of the two fabrics. Baste it very well (I recommend spray baste and pins) then quilt as desired.
Step Two: Quilt The Blanket
My original intention with this blanket was to hand-tie it, but I lost my nerve and realized I didn't have the correct fame to do it. I still want to hand-tie it and might later.
Instead, I simply quilted a small circle around the + 's on the fabric. You do not need a free motion setting on your machine for this but if you have one it will be easier.
You can also quilt an X with just a walking foot.
I quilted every 4th +. It gave me enough quilting to hold it together but not so much that it interfered with the loft of the blanket.
Double gauze lends itself very well to hand quilting also. I would not recommend a dense quilting pattern. You want just enough to hold the layers together and keep the batting from bunching up.
Step Three: Bind
After you've quilted it, square up your edges and bind. I used 2 ½″ wide binding and just bound it the way I bind all of my other quilts (I do recommend hand stitching down the binding in the 2nd step, not machine binding). I did use a bit of spray starch to help the binding keep its shape.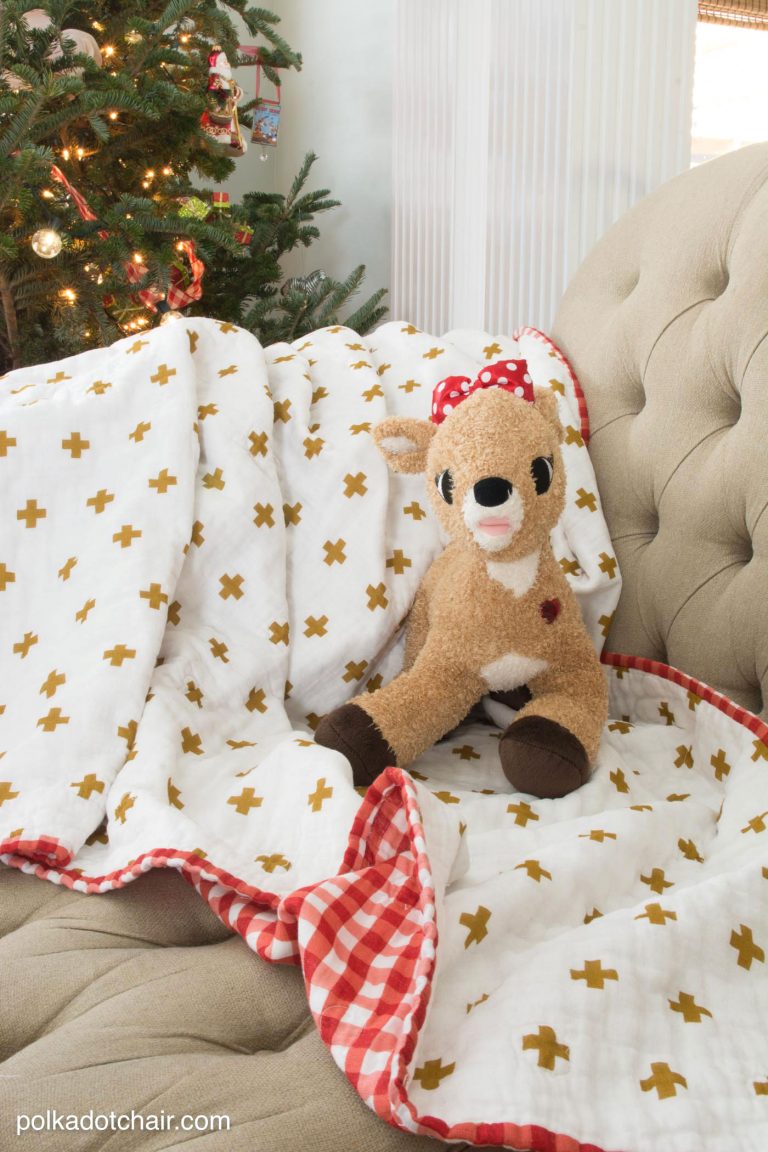 Step Four: Wash
Now just throw it in the washer and dryer and it will come out soft and fluffy!  (and yes, we have the build a bear Rudolph characters, apparently, even teenagers still love Rudolph!)
My Gingerbread Cookie Recipe:
As a part of the Riley Blake tour, we've been asked to share a favorite Christmas recipe. This gingerbread cookie recipe is one that our family makes every year. The cookies are crisp but not hard or dry, they have just the right amount of "chewy" to them. I also think that the spices are balanced just right.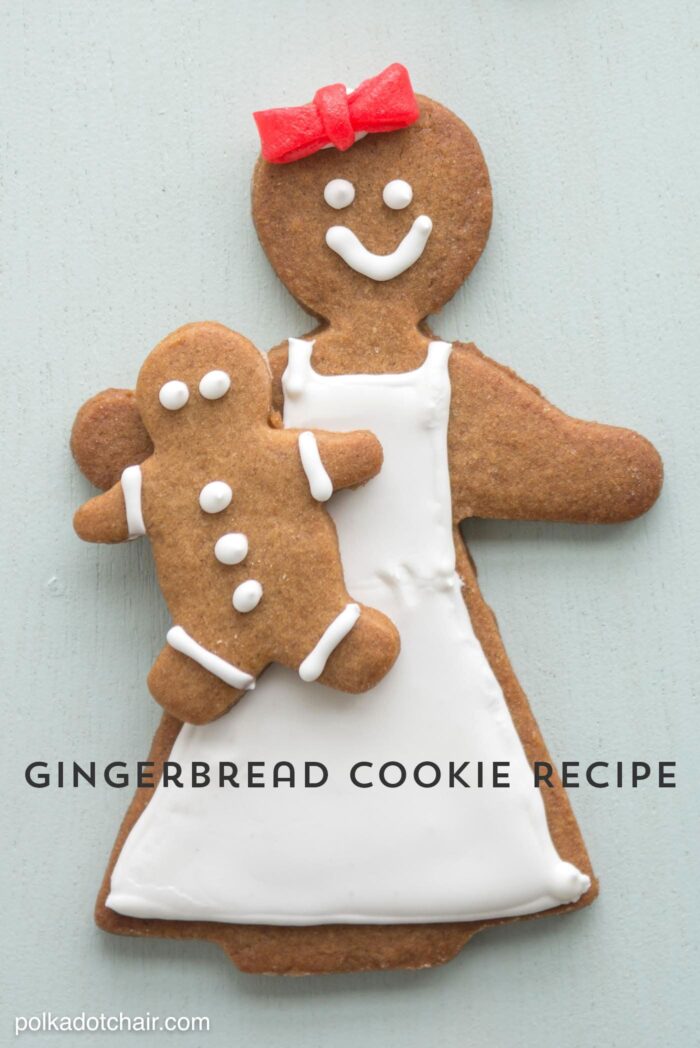 For the Gingerbread cookie recipe click HERE