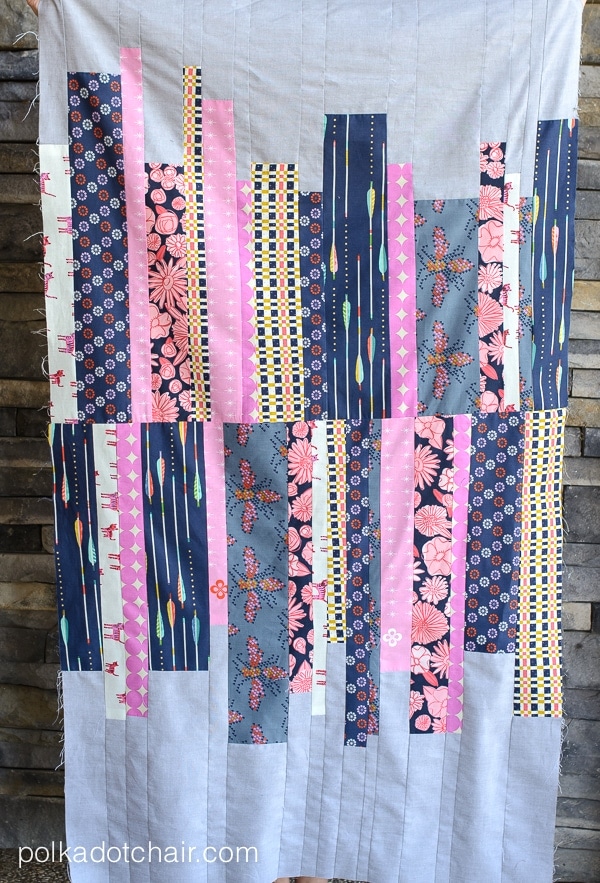 Today is my stop on the  Quick Column Quilts book blog hop, and I'm going to share with you a project that I made from the book.   I've been crazy busy running around for the last 6 weeks or so, and it was nice to just sit down and sew something for fun.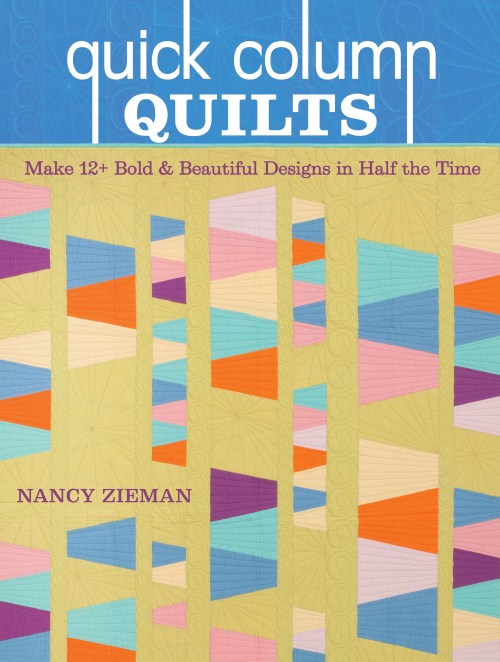 I'm sure you guys know who Nancy Zieman is, she's someone who I've always looked up to in this industry. I think she has done so much for the sewing community. When I saw that she wrote a book geared towards modern quilting I was really excited to get a hold of it and check out her take on the Modern Quilting movement.
I have to say that I really enjoyed this book. The premise is patterns for quilts that are constructed in columns so make piecing simpler and quicker, but still make a big impact.
I was drawn to many of the quilts in the book, but I was the most drawn to the Heartbeat Column quilt. I think it's such a clever design (I LOVE strip quilts) and I love the quilt in solids as shown in her book.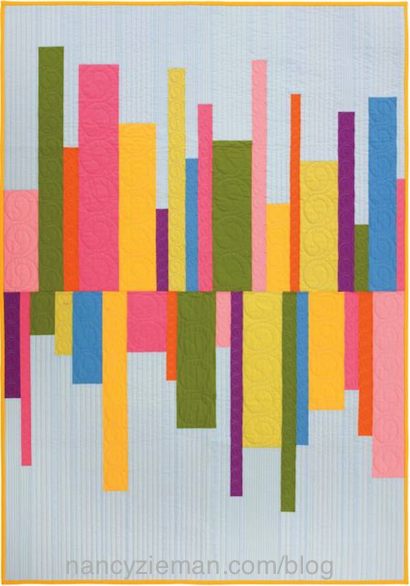 I love the design of the quilt and the piecing method that Nancy uses… When I make quilt tops I prefer to do it more improvisationaly  (code for make it up as I go) which makes it so sometimes have a hard time sitting down and following instructions. The thing I loved about this quilt pattern is that if you want to make it EXACTLY as Nancy did she has the measurements included, but she also lists a more improvisational method for making the top. Which I love…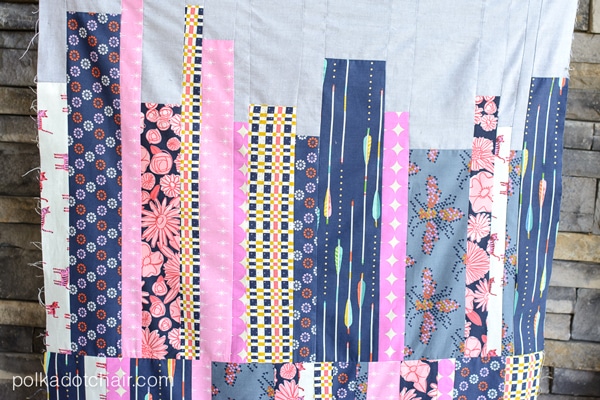 I decided it would be a good time to chop up some of my Cotton and Steel stash and sat down and made the quilt. It was super easy and I was able to complete it in just an evening. Since this pattern is for a crib sized quilt and it pieces quickly I think that it would make a great quilt to gift. I chose to use pattern fabrics instead of the solids that Nancy used and I also use a gray textured cotton for the background fabric instead of white.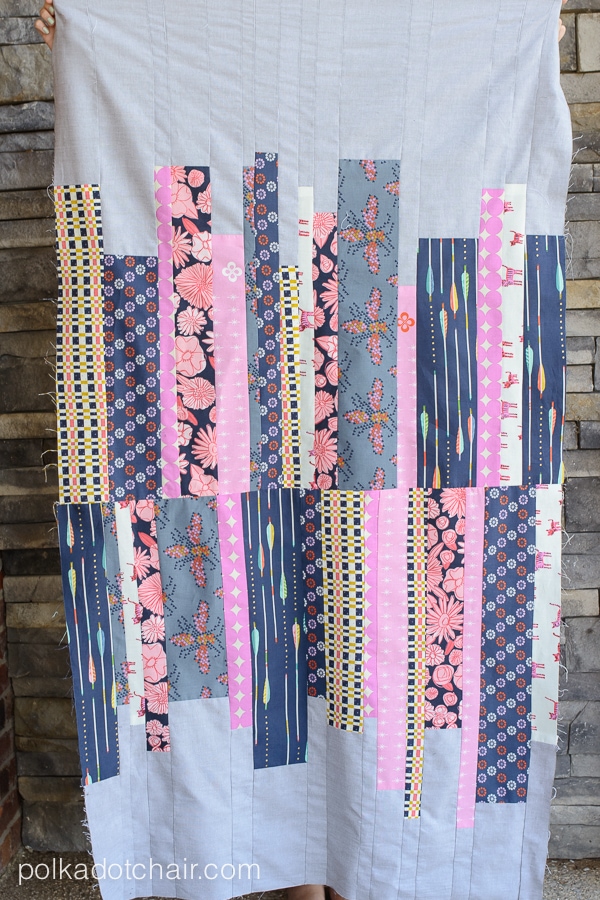 So far I just have the quilt top done. I decided against quilting it at this point because I think that it would be a fun one to play around with some free motion quilting patterns. I can see a different quilting pattern in each strip. So I'm going to take my time and play around with a few different design ideas. I'll be sure to share it with you when I finish it up.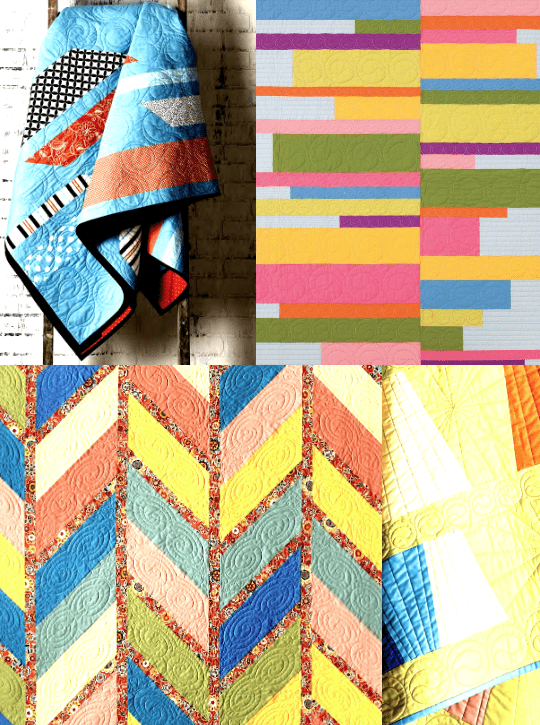 If you'd like a chance to win your OWN copy of Quick Column Quilts hop on over to Nancy's blog to enter an AMAZING giveaway that she's hosting now (there's even some fabric up for grabs).
If you like you can pick up the book on Amazon ….
and to read what other's have said about the book, take a minute and stop by some of their blogs!
09/04/14 Nancy Zieman
09/05/14 Quilt Taffy and Simple Simon & Co.
09/06/14 Diary of a Quilter and Stitchin Jenny
09/07/14 A Woman a Day
09/08/14 Jina Barney Designz, Lilac Lane Patterns, and Totally Stitchin'
09/09/14 Esch House Quilts and The Cottage Mama
09/10/14 Designs in Machine Embroidery and Pat Sloan
09/12/14 Happy Valley Primitives, Doohikey Designs, and Quilt in a Day
09/13/14 Quilt Dad and Just Arting Around
09/14/14 Lazy Girl Designs and Marie-Madeline Studio
09/15/14 Always Expect Moore and Polka Dot Chair
09/16/14 Amy Lou Who Sews and Riley Blake Designs
09/17/14 Indygo Junction and Amy's Creative Side
Connect with me: