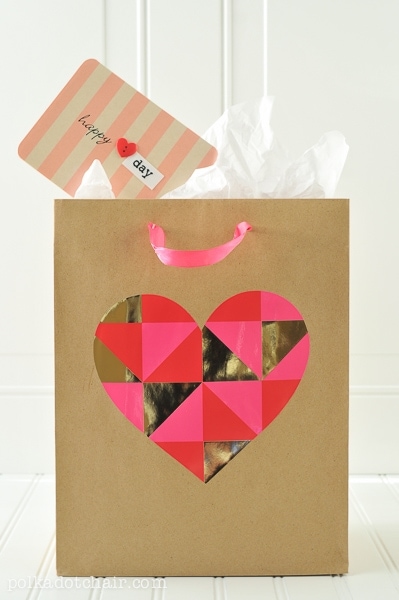 Who's ready for Valentine's Day!?!? Me for sure!! After weeks of the "polar vortex" I'm ready to dig out and find something to celebrate!
Last weekend my husband and I had a super "romantic" date… we went to Target *wink wink.* Don't laugh, but a weekend night Target run sans kids is pretty great – who's with me? Valentine's Day is coming up and I went in search of some creative inspiration. I also wanted to start gathering items to send to my college girl for a Valentine's Day care package.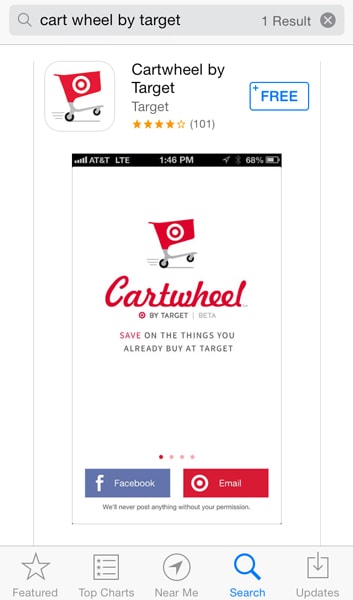 I had a very good excuse for heading to Target, last week I was asked to try out Target's Cartwheel App. I tried it and I learned something… apparently I have been living under a rock.
I've been an avid Target shopper for years and had no idea that there was a way for me to save $ on the things I was already buying. I honestly didn't think Target "did" coupons. I downloaded the app, signed in with Facebook and started to browse.
You browse by department, and in each department there are a special "coupons" for something you might buy. I stuck to things I already knew I needed (to avoid buying something just because it was on sale). With the app, I made myself a "list" of things to get then headed to the store.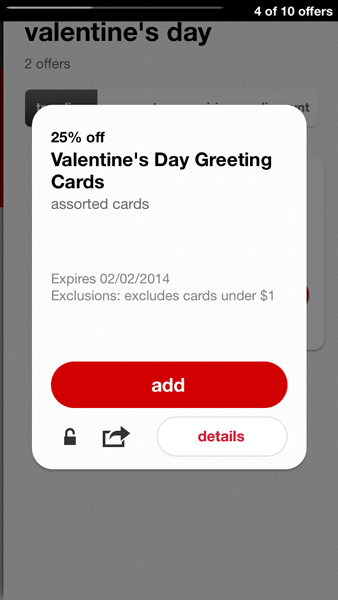 Since Valentine's Day cards were on sale, I decided it was a good time to go ahead and start that care package. I clicked "add" to add the deal to My Cartwheel app, then browsed the other sections for items for the package. I noticed Sharpie Markers, Dove Chocolates and M&M's were also Cartwheel specials that week, all things that I know my daughter loves, so I added them to my "list" on Cartwheel.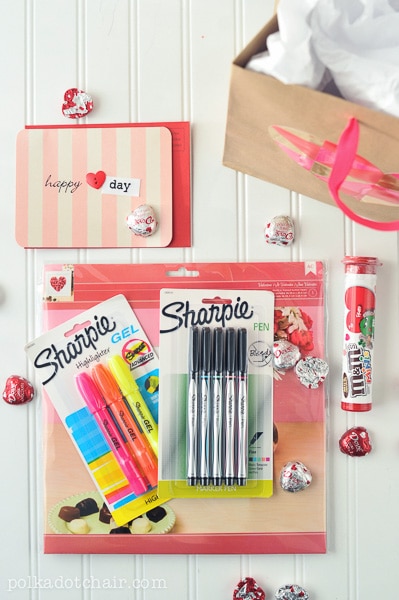 For the care package, I picked up a few other items (a craft project since she and her roommates like to make decorations for their dorm for holidays), a cute gift bag and voila care package done.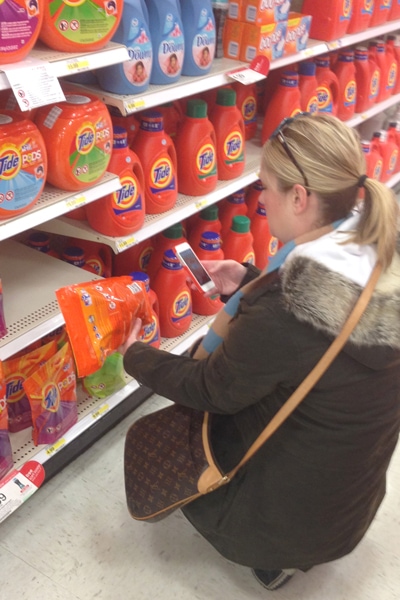 While there, I also had to pick up a few household essentials. I used the app with my phone to scan the bar code on some Laundry detergent. It immediately popped up to let me know that I could save on that particular detergent.
At the checkout I just handed my phone to the cashier, she scanned ONE bar code and all of the discounts came off of my total bill.
A few things to note:
*I don't want the app posting to Facebook everything I'm buying at Target, so when I set up my account I just clicked "skip" when it asked if it could post to my wall.
*You can also change the privacy settings in the app til you get to a point that you are comfortable with.
*The app works on your desktop, iPhone, Tablet or Droid, and can only be used for in store purchases.
*You can "stack" coupons. Meaning if you have a manufacturers coupon for a certain item you can use it WITH the cartwheel discount.
*You get 10 "spots" or deals per Cartwheel visit, but you only have to scan ONE barcode at the end.
Okay, now for the FUN part! A giveaway!!! You can enter to win a $1,000 Target GiftCard®! Just leave a comment on this post and tell me:
-What's your favorite thing to shop for at Target? Will you be shopping for Valentines Day?
Sweepstakes Rules:
No duplicate comments. You may receive (2) total entries by selecting from the following entry methods:
1. Leave a comment in response to the sweepstakes prompt on this post. 2. Tweet (public message) about this promotion; including exactly the following unique term in your tweet message: "#SweepstakesEntry"; and leave the URL to that tweet in a comment on this post. 3. Blog about this promotion, including a disclosure that you are receiving a sweepstakes entry in exchange for writing the blog post, and leave the URL to that post in a comment on this post. 4. For those with no Twitter or blog, read the official rules to learn about an alternate form of entry.
This giveaway is open to US Residents age 18 or older. Winner will be selected via random draw, and will be notified by e-mail. The notification email will come direclty from BlogHer via the sweeps@blogher email address. You will have 72 hours to respond, otherwise a new winner will be selected.
The Official Rules are available here.
This sweepstakes runs from 1/30 – 2/28.
Be sure to visit the Target Cartwheel brand page on BlogHer.com where you can read other bloggers' posts!