Today, as a part of our simple DIY Halloween costume series, I'm sharing a couple of Toy Story Costume Ideas. Learn how to make a Pizza Planet Driver Costume, Green Alien & Sid Halloween costume with our free tutorials. We've even included a set of free Toy Story Costume SVG files for you.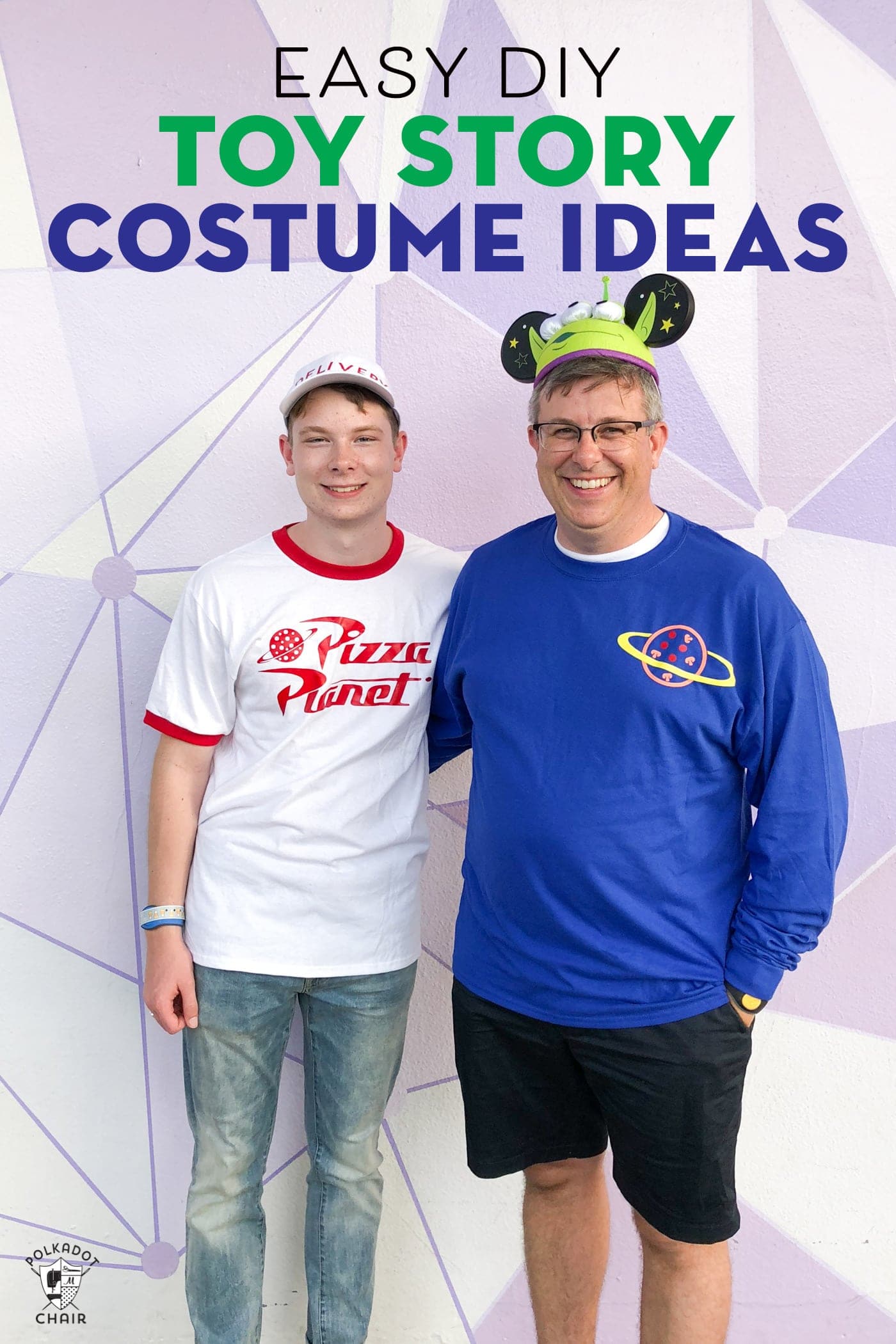 Over the past 10 years or so, we have made a family tradition of visiting Walt Disney World for Fall Break and attending Mickey's Not So Scary Halloween Party. We missed a few years, but for the most part, we were able to make the trek down to Florida for the party.
Table of Contents
Sometime along the way, I decided that our costumes for the Halloween party should match. Where else can you get away with forcing your loved ones into matching family Halloween costumes than at Disney?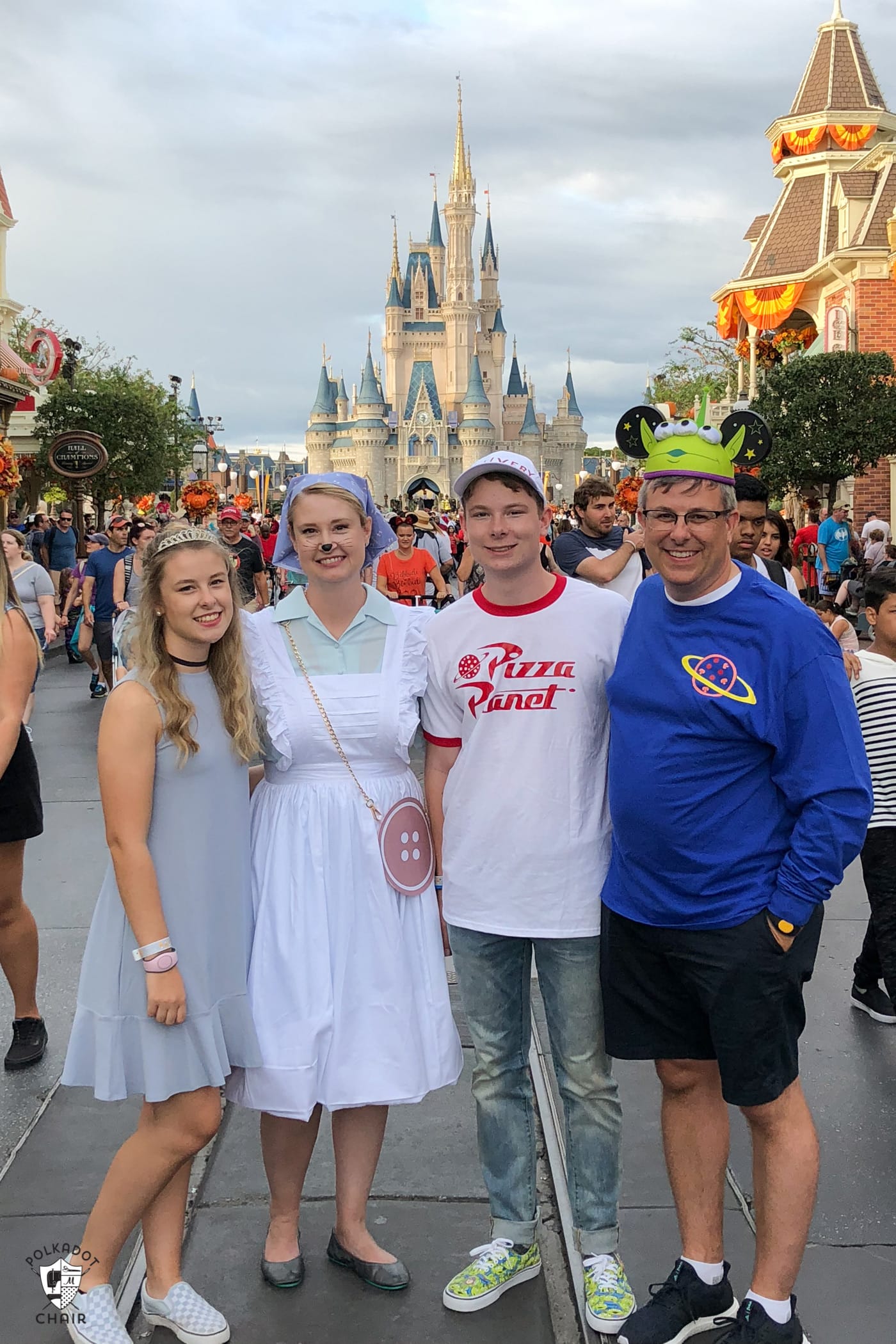 Over the years, we have had much fun coming up with group Disney costume ideas. Some years, we could get the whole gang to match, and some years we matched in smaller groups.
During my kids' Senior year of high school (they are twins), I knew would be the last time that we could attend the Halloween party with "most" of the members of our family in attendance, so in honor of this last Disney Halloween adventure, I let them pick what they wanted to be.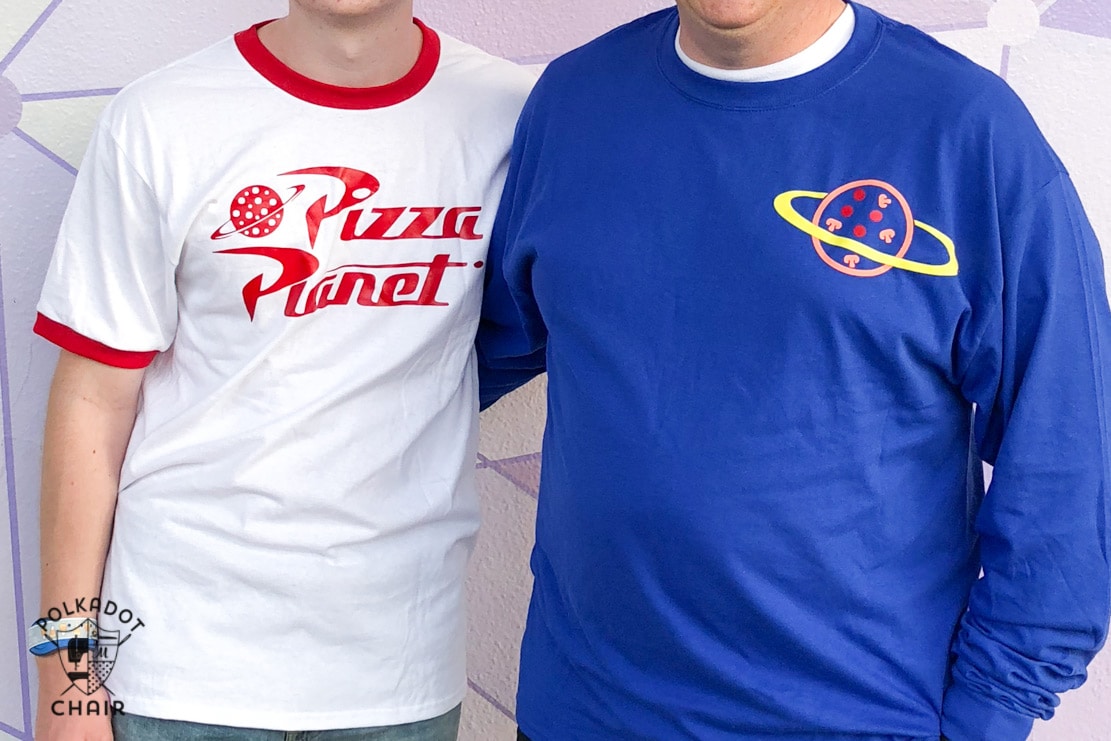 We could not all agree on one Halloween costume theme, so we broke it up into two groups. My son and husband went as Pixar Toy Story characters, and my daughter and I dressed as Cinderella characters. My daughter and I could have gone as Bo Peep or in a Jessie costume, but my daughter was not a fan of either of those options.
DIY Toy Story Costumes
Since my son was older, he did not want an "over the top" (as he called it) Halloween costume. So we opted for a Pizza Planet Delivery Driver instead of a Buzz Lightyear costume.
My husband went as one of the Toy Story Green Aliens instead of a Woody costume. Both costumes were DIY'd. I used my Cricut machine and am happy to share how to make them with you.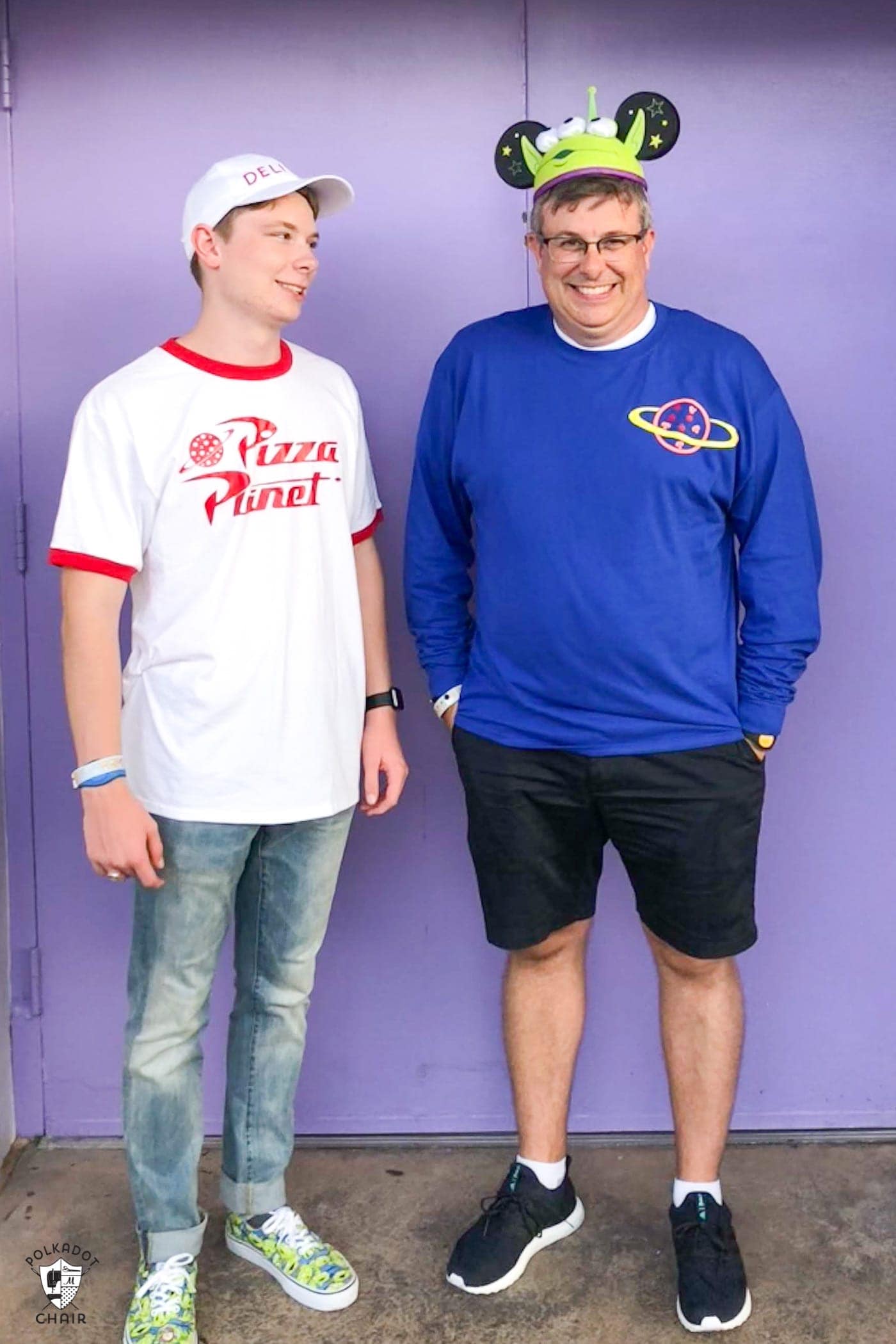 How to Make the Pizza Planet Delivery Driver Costume
To be honest, this has to be one of my favorite Halloween costumes we've created over the years. It's so simple but so obvious and funny at the same time. Perfect for a teenage boy who doesn't want to look like he's trying too hard! This is a great option to be part of a toy story group costume without actually wearing a costume if one member isn't a fan of costumes, like my son.
Supplies for Pizza Planet Delivery Driver Costume:
Pizza Planet Toy Story Costume How To:
Cut out the Pizza Planet logo with your Cricut. In addition to the Pizza Planet logo, cut the word DELIVERY out of a simple font. You can just type DELIVERY into Cricut Design Space; no special file is needed.
After you have cut out the logo and DELIVERY, apply them to your t-shirt and a baseball cap. I recommend using a Cricut EasyPress to do this. It makes applying iron-on practically dummy-proof.
How To Make the Toy Story Alien Costume
Supplies:
How to get the Free Toy Story Costume Bundle SVG Files
Fill out the form below, and we will email you ALL the files.
Green Alien Costume Directions
This costume is pretty simple, as well. Cut out the Pizza Planet logo from 3 different colors of vinyl. Cut out the large oval from yellow vinyl, the pepperoni from red vinyl, and the large circle and mushrooms from orange vinyl.
Layer and apply to the t-shirt. Pair the costume with bright green shorts or pants.
To make this Green Alien costume really POP! The accessories are key, in this case, some hat or headband. My husband wore a green alien-themed Mickey ear hat we bought in Disney World, but Amazon also has some great options that are usually less expensive.
Our "view" in the car on the way to the Halloween Party!
Sid from Toy Story Costume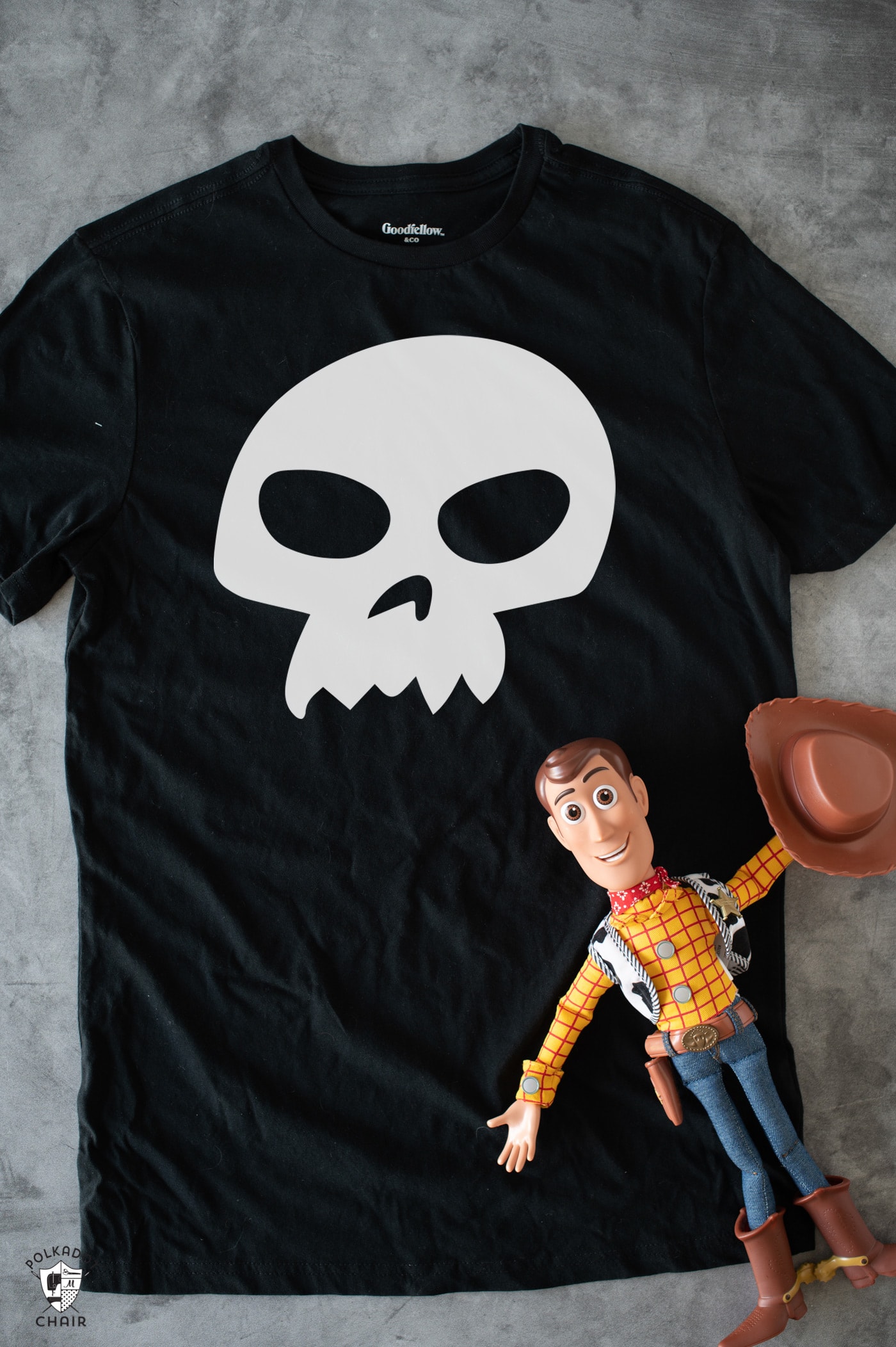 Creating a Sid from Toy Story costume is so easy! All you need is a black T-shirt with a skull and a Woody doll to carry around with you haphazardly!
If you'd like to make your own Sid t-shirt, you can use the free Cricut SVG file provided in our Toy Story Costume Bundle above (fill out the form on this page to have it emailed to you).
Mickey's Not So Scary Halloween Party
This after-hours Halloween Party takes place in Disney Worlds Magic Kindom Park and requires an extra ticket. The fun thing about this party is that it is one of the few times adult visitors are allowed to dress as their favorite Disney characters in the park.
Adults can dress up as their favorite Disney princesses or heroes for the party, keeping with the toy story theme, any of their favorite toys like Rex or Duke Caboom. There are, however, a few costume restrictions for those over the age of 14 to attend the party. You Can not wear a mask or bring in weapons (real or fake).
If someone wants to wear something with a detachable cape, that is fine as long as it does not go below the waist. If you want to dress as Buzz Lightyear, wings and all the wings can't stick out too much and can't have any pointy ends. For more information on the party and costume guidelines, visit Mickey's Not So Scary Halloween Party webpage.
Mickey's Not So Scary Halloween Party Video
If you're curious about what the Disney Halloween party is like, you can view the video on our family YouTube page here:
More Costume Ideas for Mickey's Not-So-Scary Halloween Party
Alice in Wonderland Group Costumes
25+ DIY Halloween Costume Ideas for Kids