Disclosure: This post is NOT sponsored, but I did receive a big box of goodies from Disney so that I could host my own #DisneySide @Home Celebration.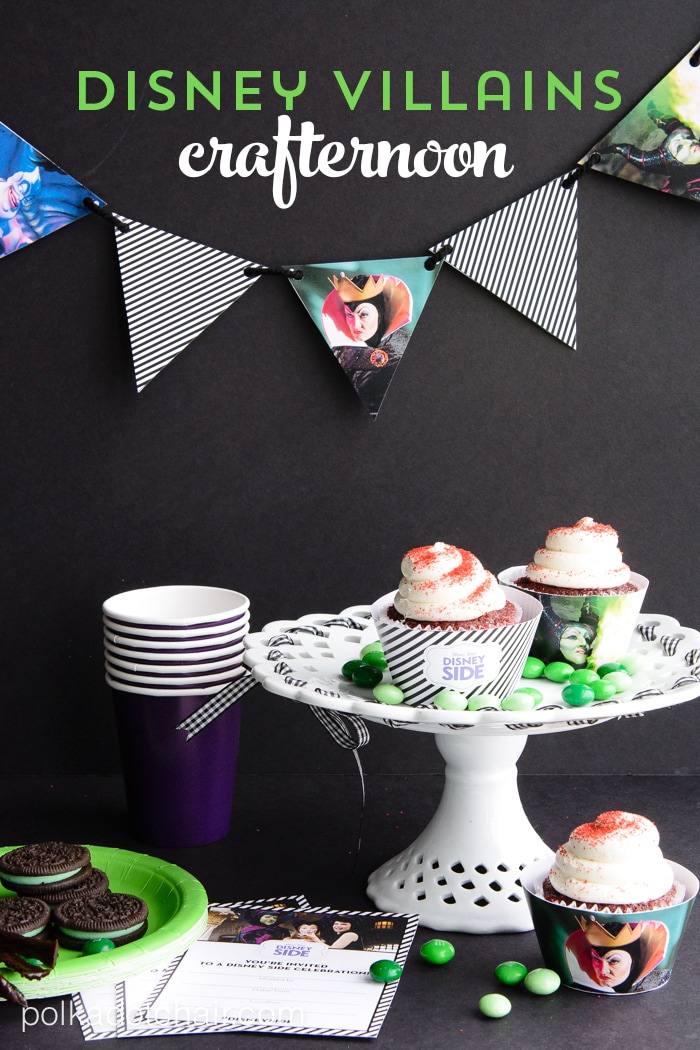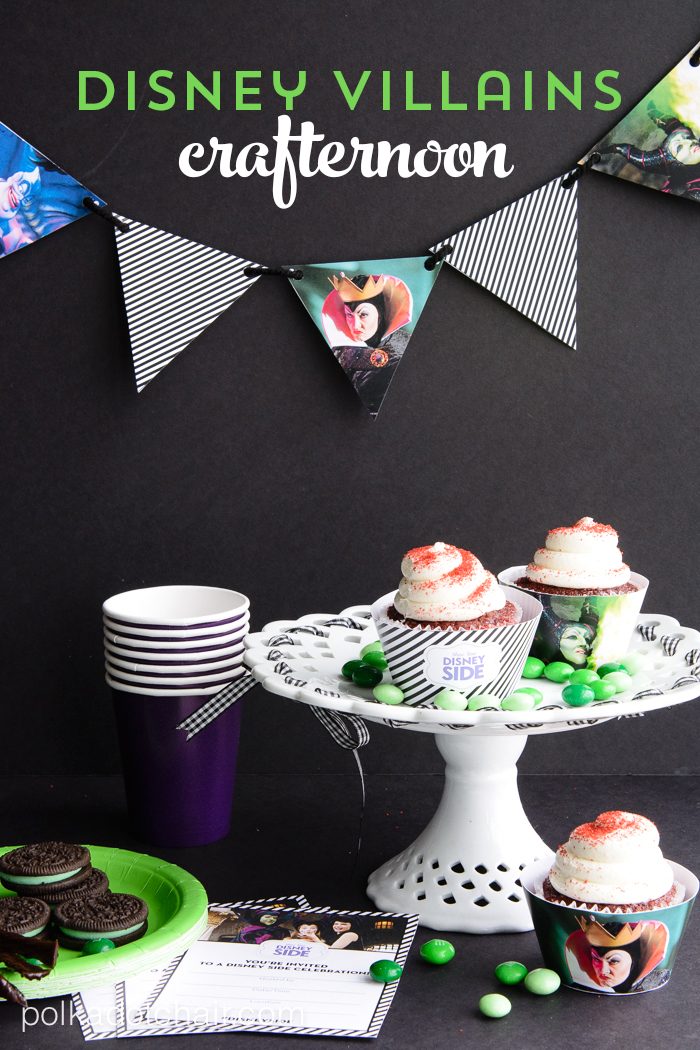 It was a long winter. I know you've heard me bellyache about that before, but it was. I'm a person that needs to go outside and get some sunshine.  Our winter had been pretty mild, mostly just rain and chilly weather, but nothing too miserable.  Then February came.  It was storm after storm after storm…. and a million snow days thrown in. My kids were going stir crazy and the most productive thing I could think to do with them all day was fold laundry or watch t.v.  We were in need of a distraction.
Disney contacted me in December asking me if I'd be willing to host a #DisneySide at home party. They would send me a big box of party supplies if I'd be willing to chat about it a bit on my blog. (keep reading: they also shared with me the links to some awesome FREE printable Disney party supplies for you guys)
If you've followed my blog for some time, I'm sure you can guess that I said… "YES".  We are big Disney fans and our trips to Disneyworld are some of my families favorite memories.
They asked me to host a party themed for tweens or teens… this was right up my alley, as I have 3 teenagers right now.  One of which has absolutely no problem showing her #DisneySide on a regular basis. Here she is dressed up as "Ariel, on the Land" for Halloween last year.
We planned the party around Valentine's day and it ended up getting rescheduled a few times because of snow and ice, but we were finally able to have it at the end of February.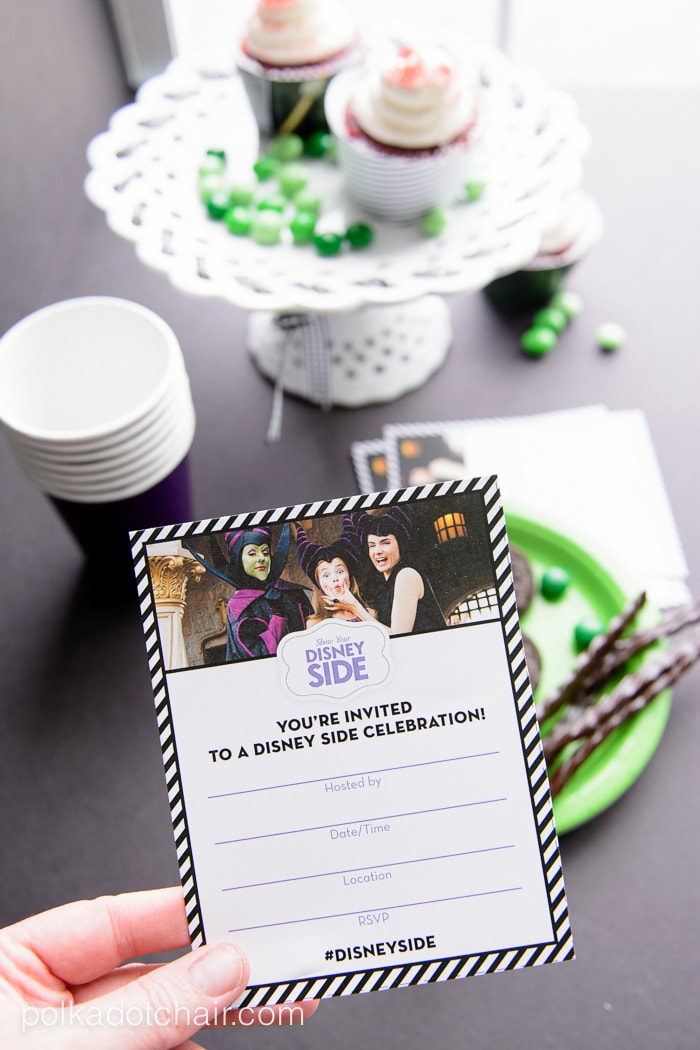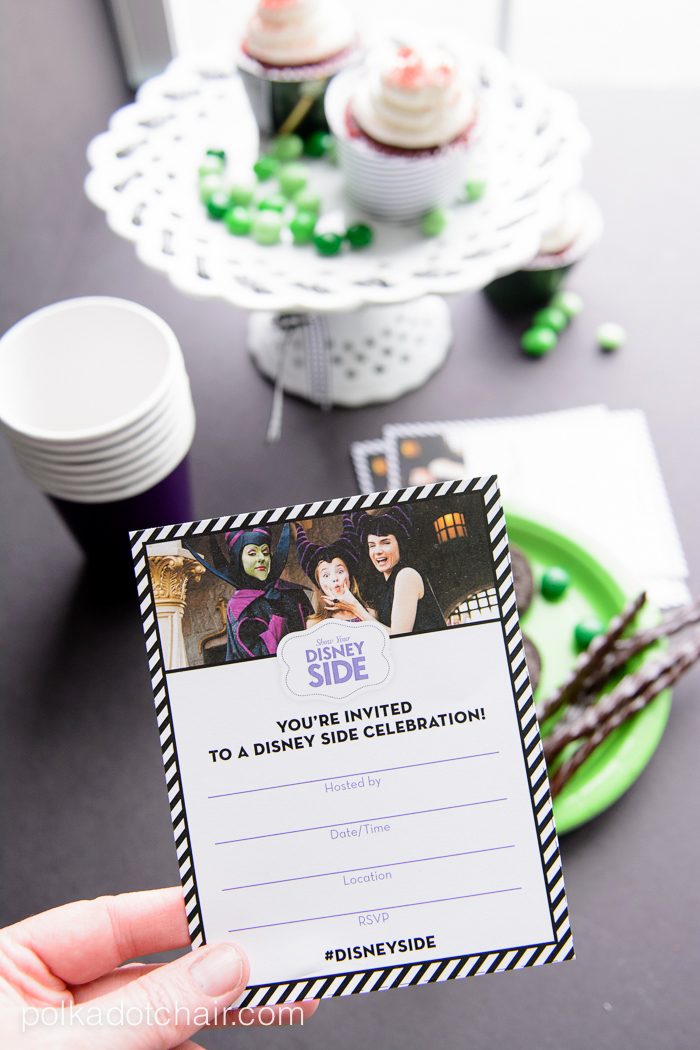 For the party we decided to host a "Villains Crafternoon" my daughter is 13 and she and most of her friends are obsessed with Pinterest right now.  We thought it would be fun to have them over and actually MAKE some of the things they were pinning.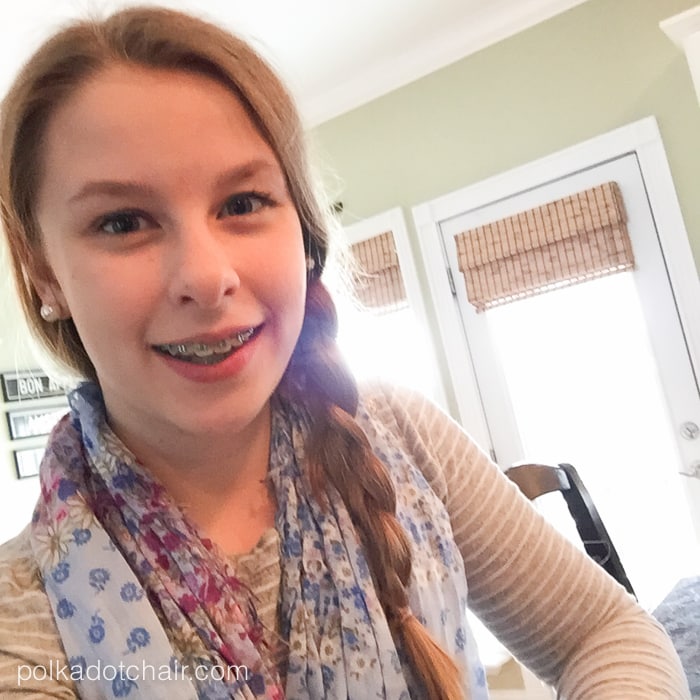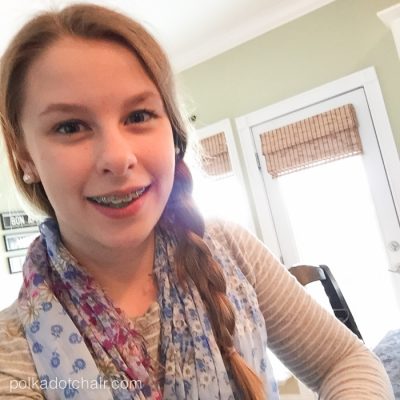 (pre-party selfie)
I've always felt a bit of a kinship with Maleficent.  I think it's because my name is Melissa and it sounds similar. When I was younger there was a group of mean kids at church that used to call me Maleficent. It didn't really bother me as I thought she was super cool.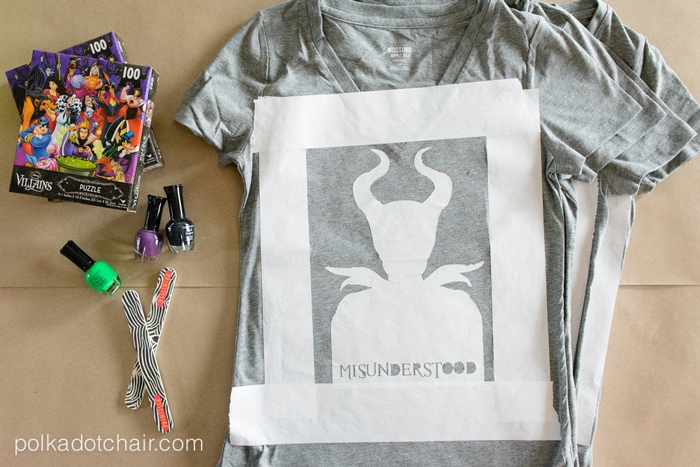 I absolutely LOVED the Maleficent movie that came out last year. It was so well done and had such an amazing message of forgiveness.  The whole time I was watching it I just kept thinking "poor Maleficent, she's so misunderstood".
That sparked an idea.   For the crafternoon the girls could make their very own "misunderstood" t-shirts.  Which, by the way, is also an apt description of teenage girls occasionally (if you have one you understand).
Before the girls arrived I prepped the t-shirts.  Here's how you do it if you've never freezer paper stenciled before.
Cut out your design from freezer paper. You can use a Cricut or an exacto knife.  I used a Cricut (they have Disney designs in their library). I placed a photo of Maleficent into Illustrator and traced her silhouette, then I overlaid the text.  Afterwards I uploaded it to my Cricut account and cut it out. When you cut out freezer paper for stencils  you want the shiny side to be down, it's the part that sticks to the fabric. (questions? check out this post)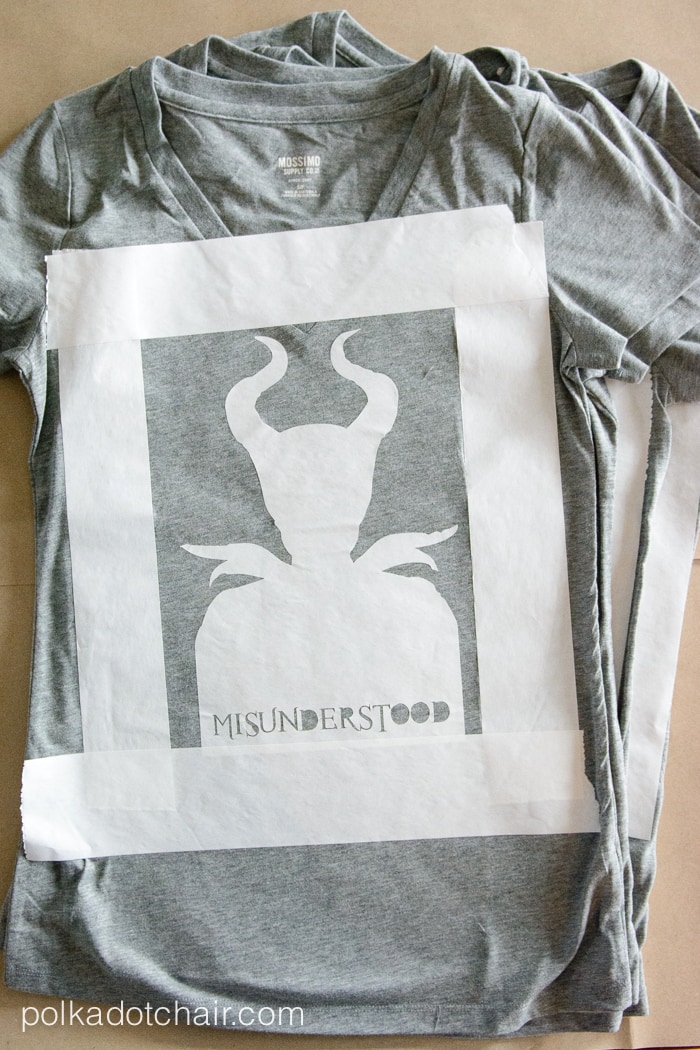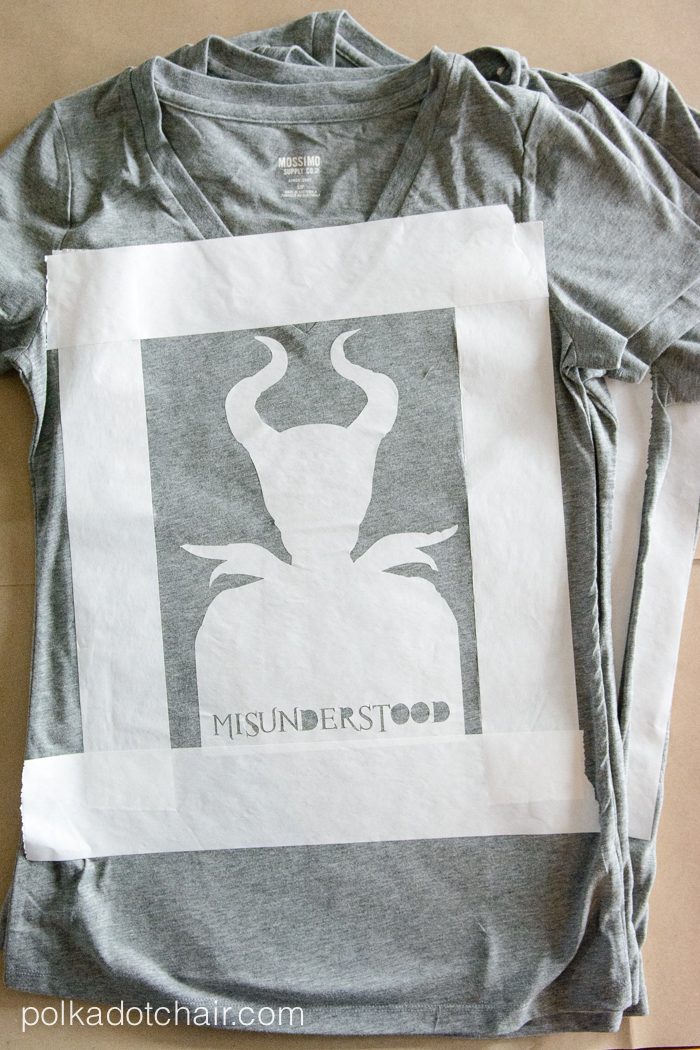 Next iron the stencil onto the t-shirt. The paper will "stick" to the fabric, but will still peel off easily when you're done.
Remember, with freezer paper stenciling you're stenciling the negative of the image.. just keep that in mind when you're designing your stencil.  I used a few strips of freezer paper around the silhouette to form a "frame" around the image.
Next, cover the wrong side of the fabric with a big rectangle of freezer paper. This will keep your ink from bleeding.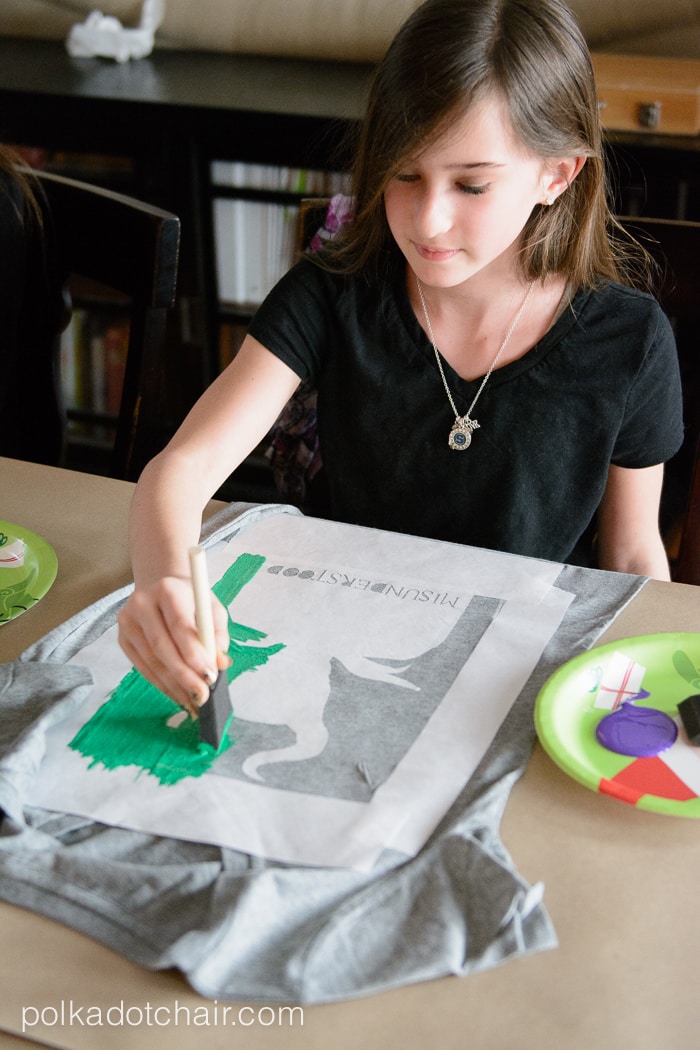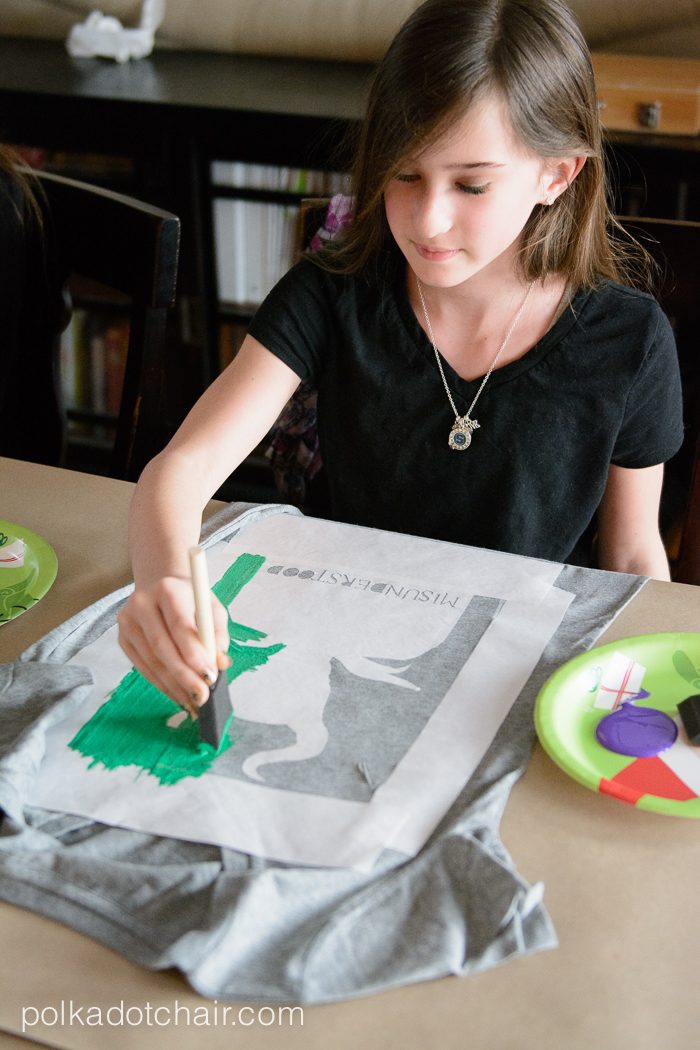 Now just paint a thin coat of fabric paint (you can get it at the craft store) over the entire stencil. Just remember, it's fabric paint.. so it will stick to your clothes too!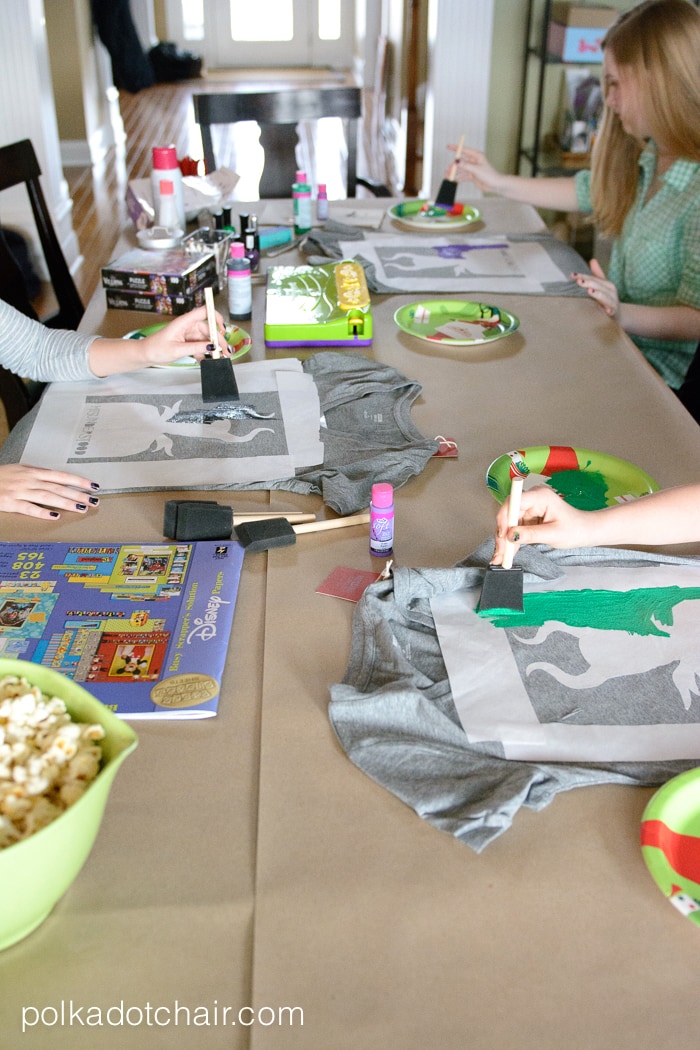 I had 3 colors of paint for the girls to pick from.  I let them decide how they wanted to mix and match it on their t-shirts.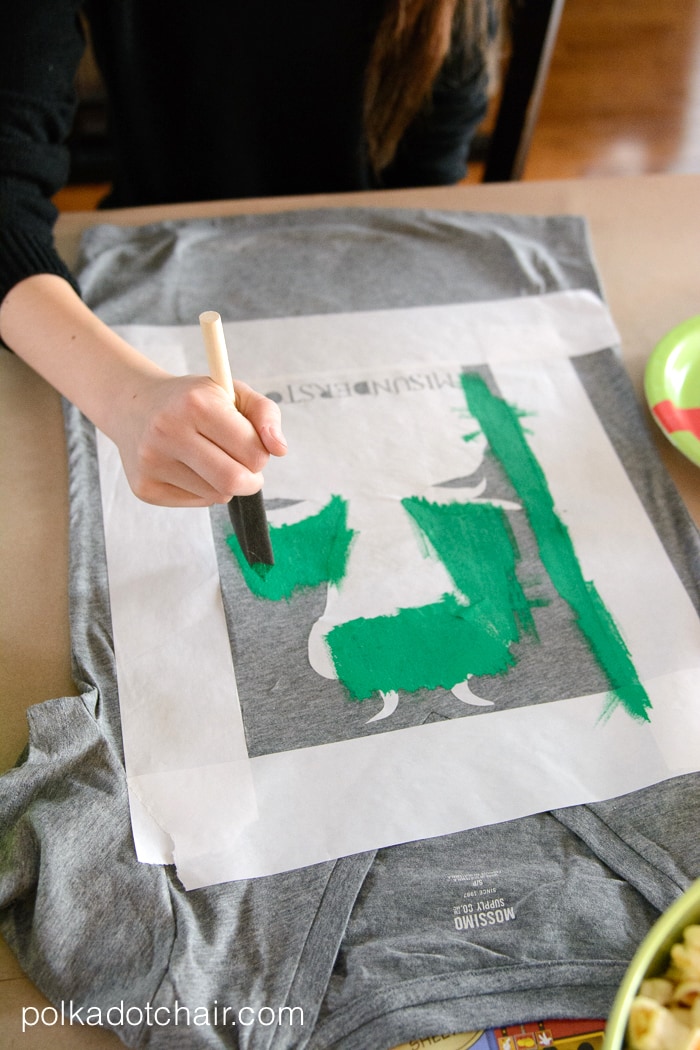 After the t-shirts were painted, I set them aside so that they would dry during the rest of the party. While the girls were watching a movie (Maleficent, of course) I peeled the paper off and used an iron to set the ink.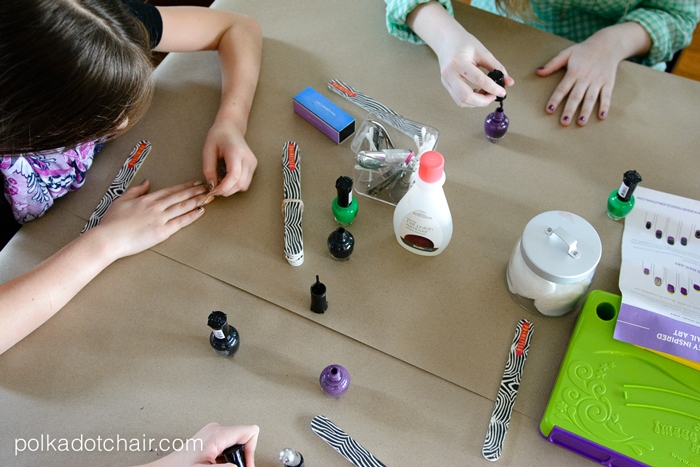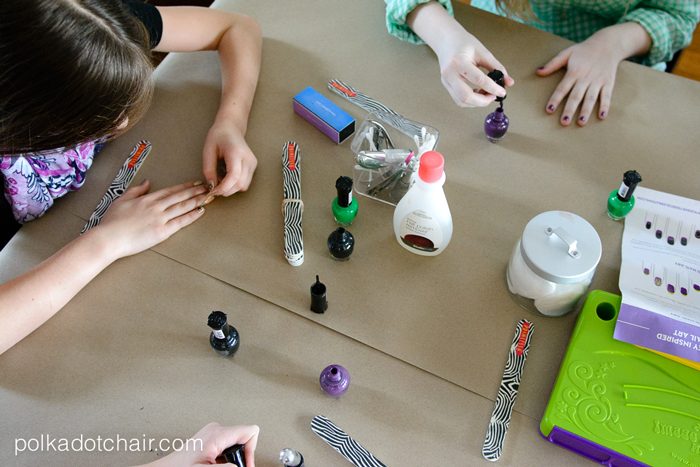 After the t-shirts were painted it was time for a little "mani" time.  Disney sent me these amazing instructions for Villains inspired nail art along with some green, purple and black nail polish.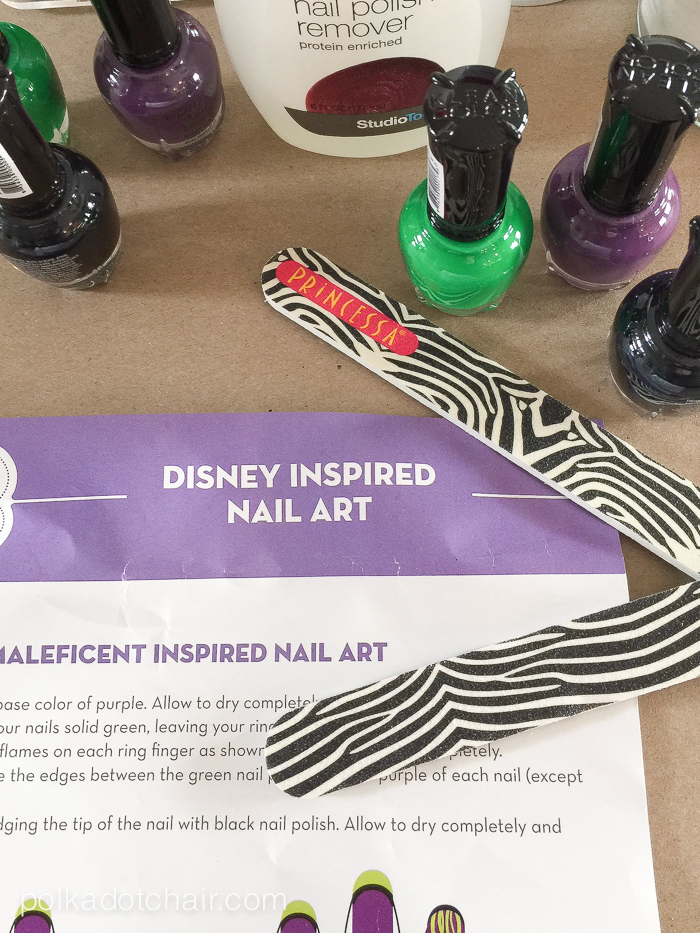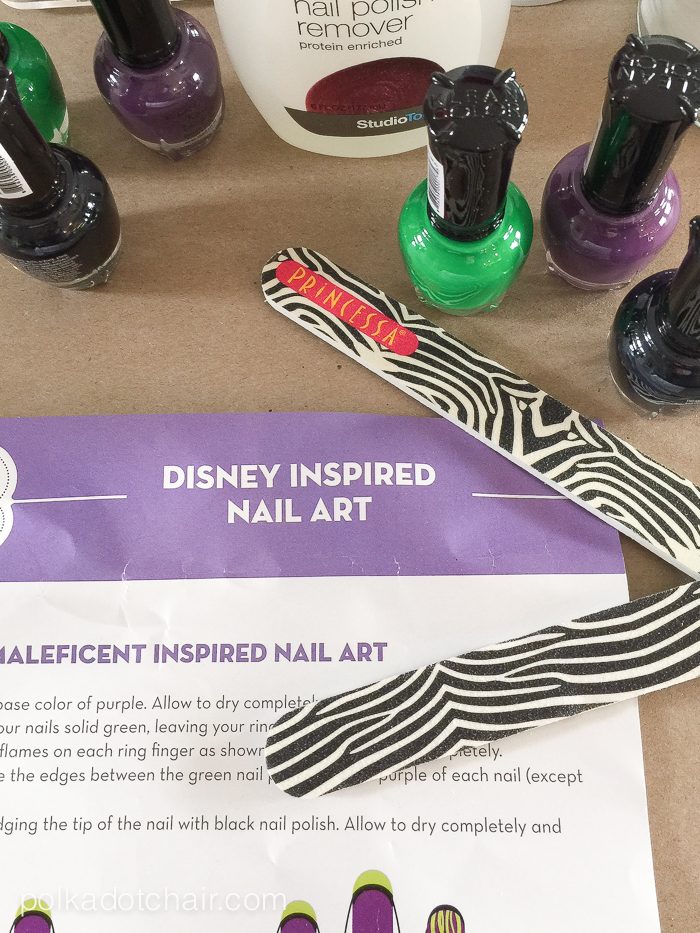 (I'll share the link where you can download the instructions yourself)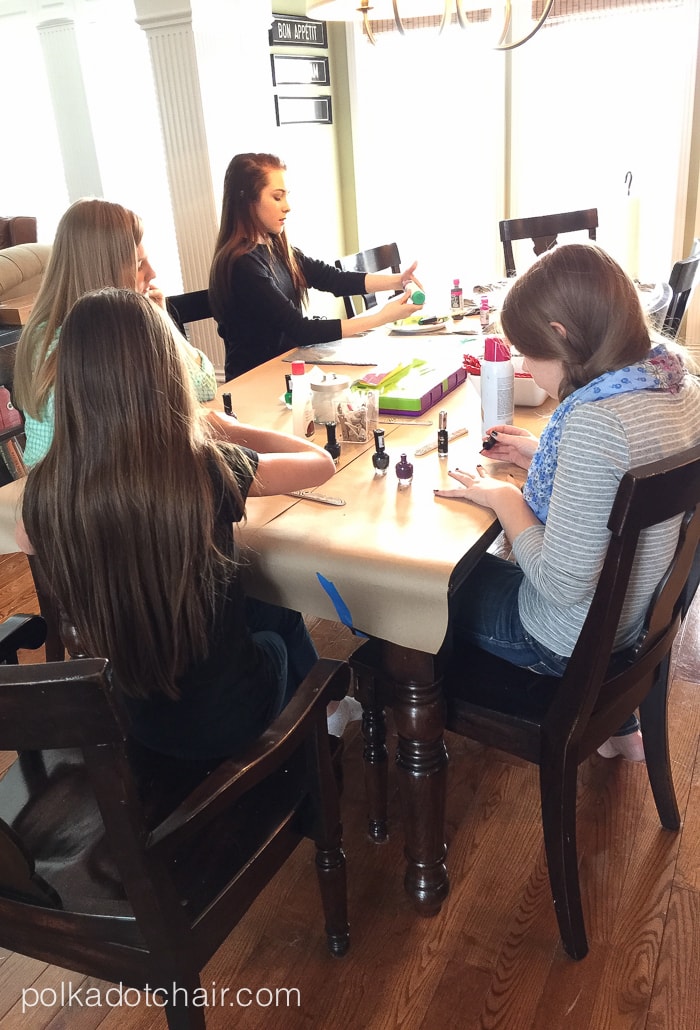 The girls all sat around the table and giggled as they tried to replicate Ursula's tentacles and Malefecients flames on their nails. It was sweet to see them all helping each other out so much, and the results were pretty impressive.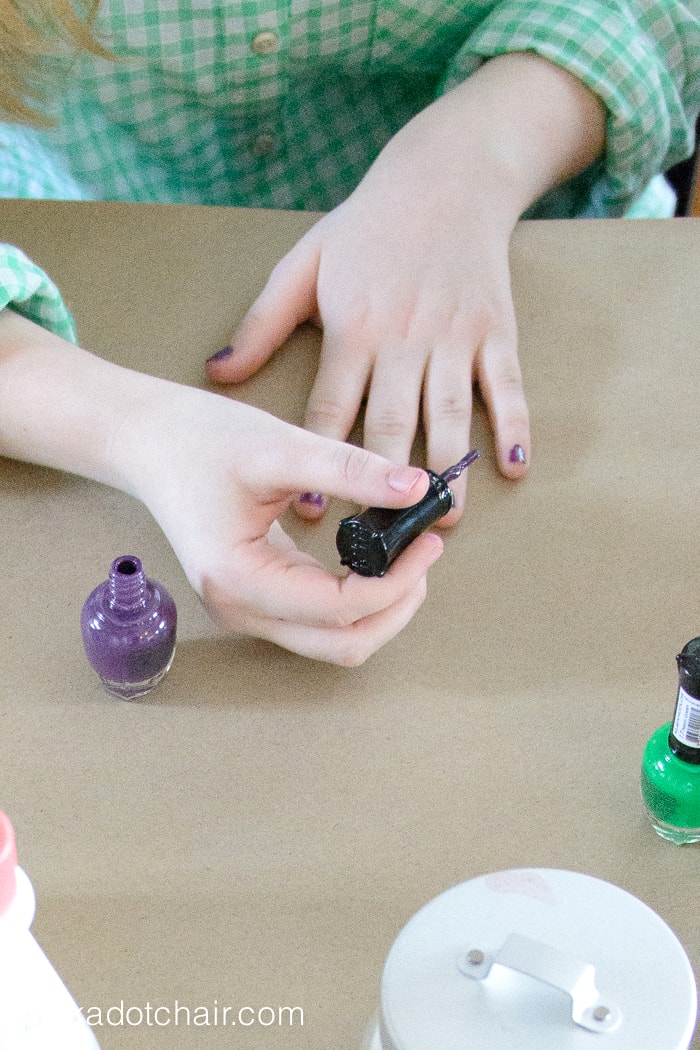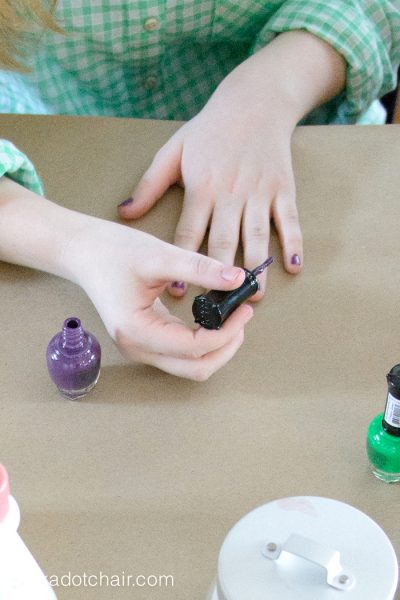 Before they started the movie, they had one more craft to do for our little "crafternoon".. make some charm braclets and bookmarks.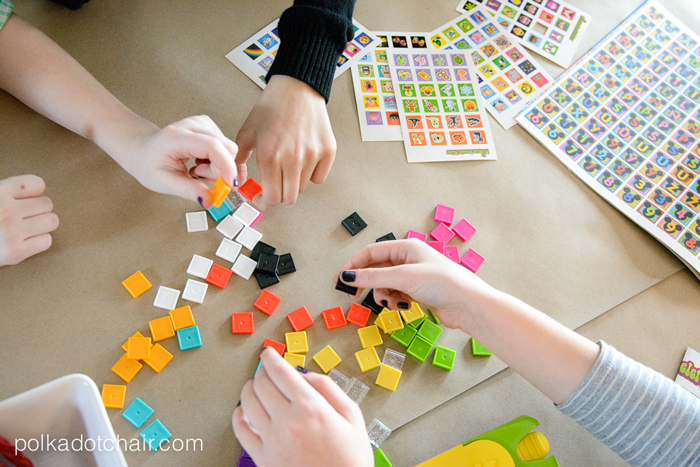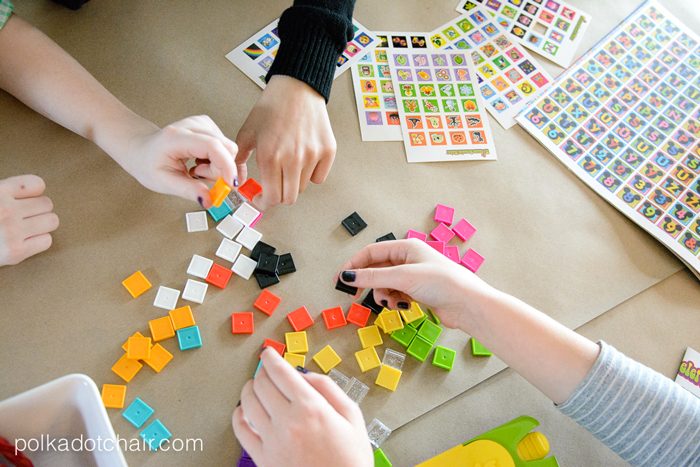 We used the "Image Bracelet Maker" and some Disney themed scrapbook paper and the girls designed their own charms and bracelets.
The machine came with all of those cute little plastic squares and punch so that their paper would fit inside the squares just right.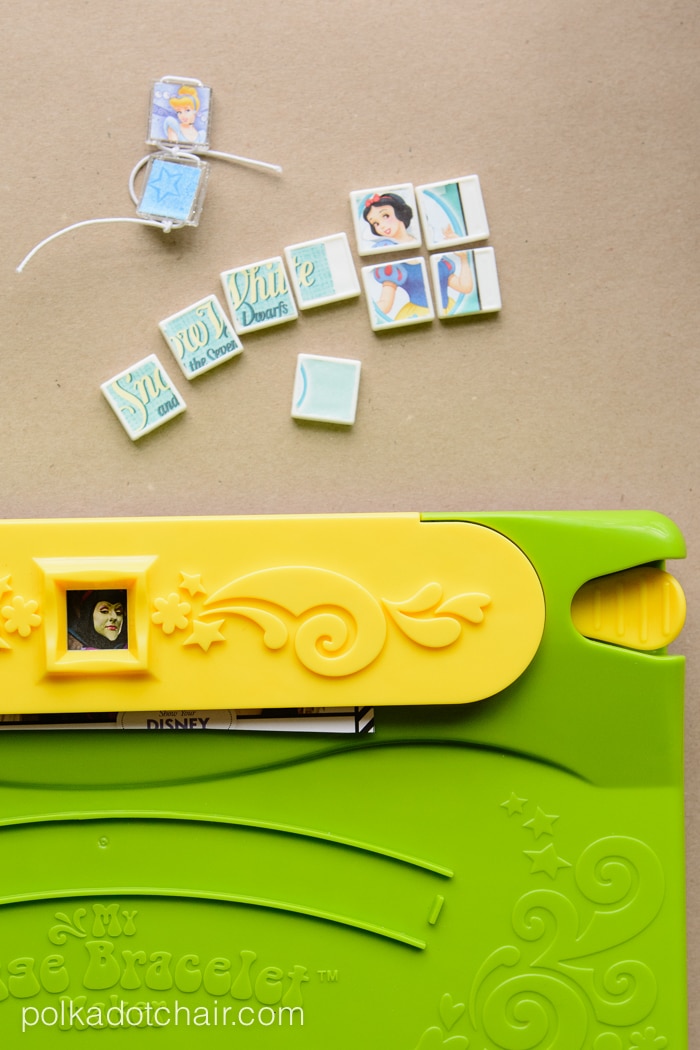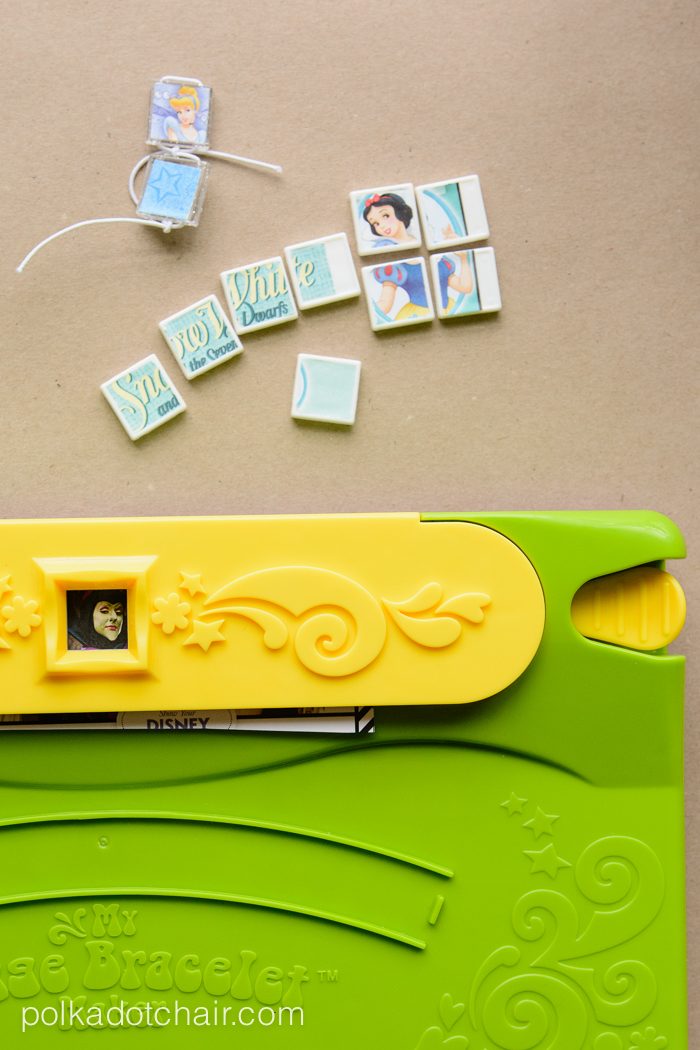 They had a great time punching out the Disney paper (the machine also came with some paper images) and gluing them onto the charm squares.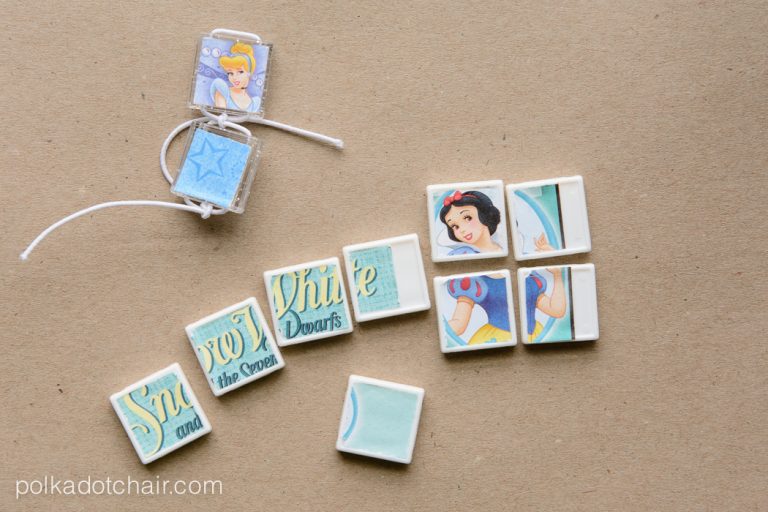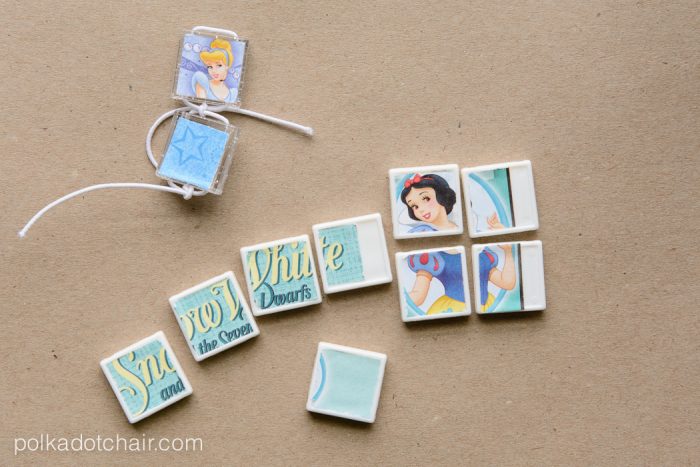 They came up with some pretty ingenious designs.
After all of the crafts (and popcorn, and licorice and cupcakes) they retreated to the basement to watch a few movies.
It was nice to do something besides just sit around and watch t.v. I think they won't admit it, but they were getting pretty bored by the 10th snow day… They all were big fans of Disney and had a nice time remembering "warmer" weather with trips to Disney World.
The t-shirts came out great.. I threw ours in the wash just to "soften" it up a bit…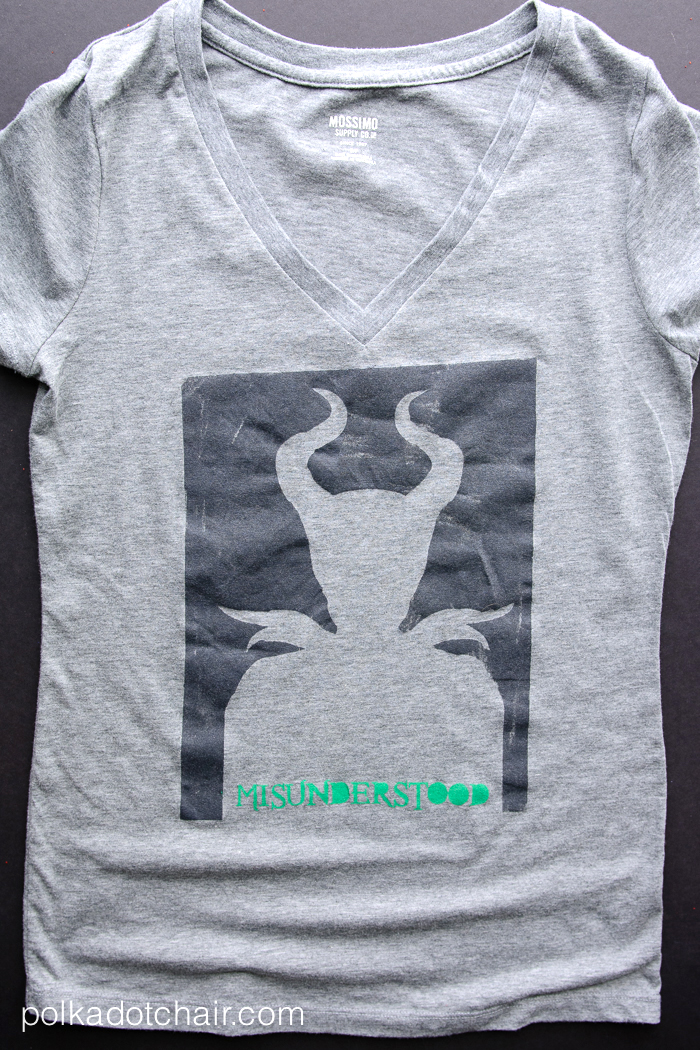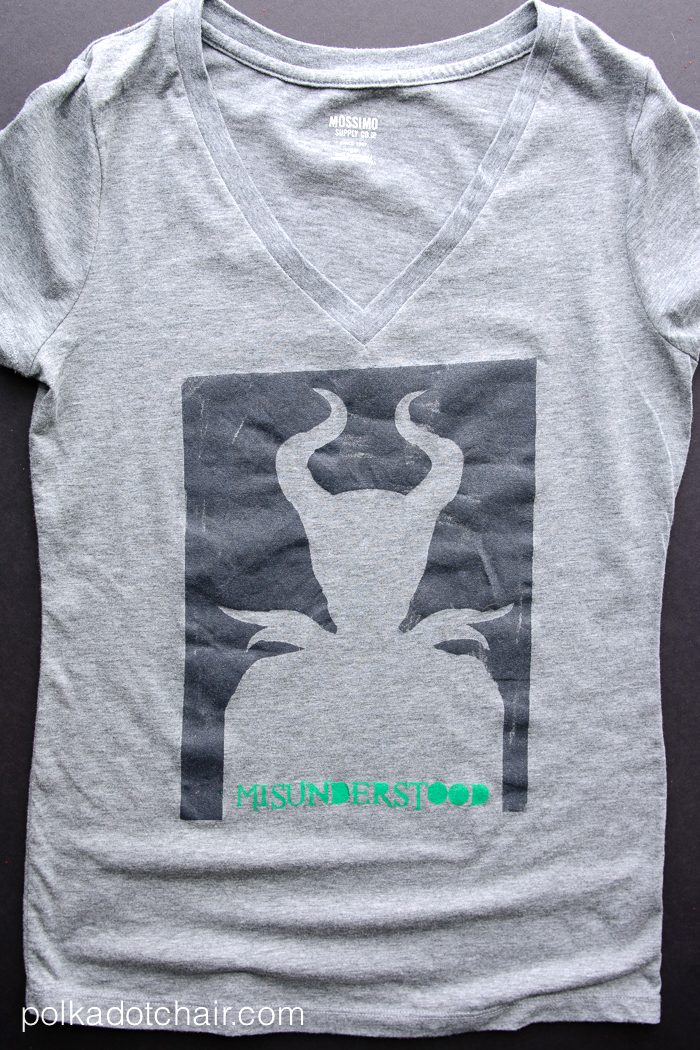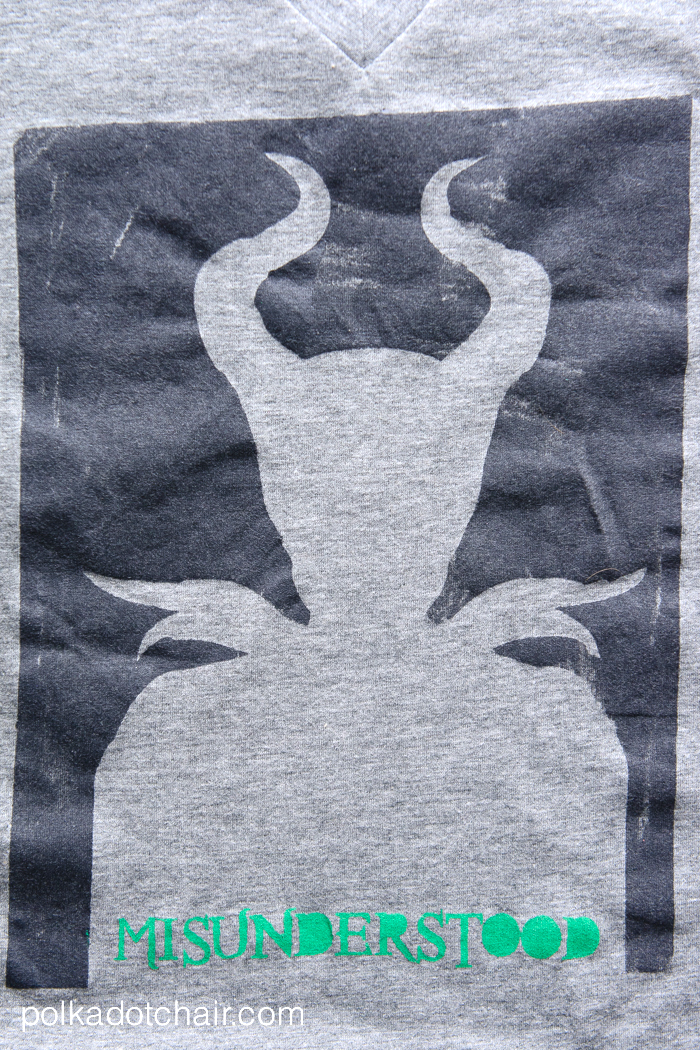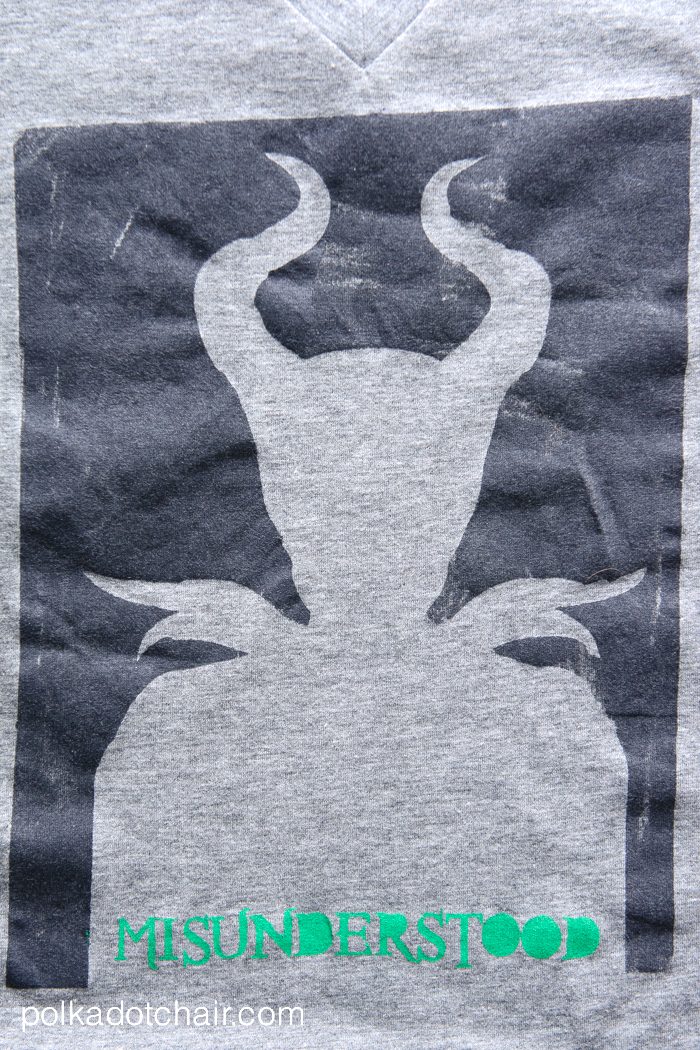 I love the distressed look of the black ink.  The purple and green color combo also came out really cute!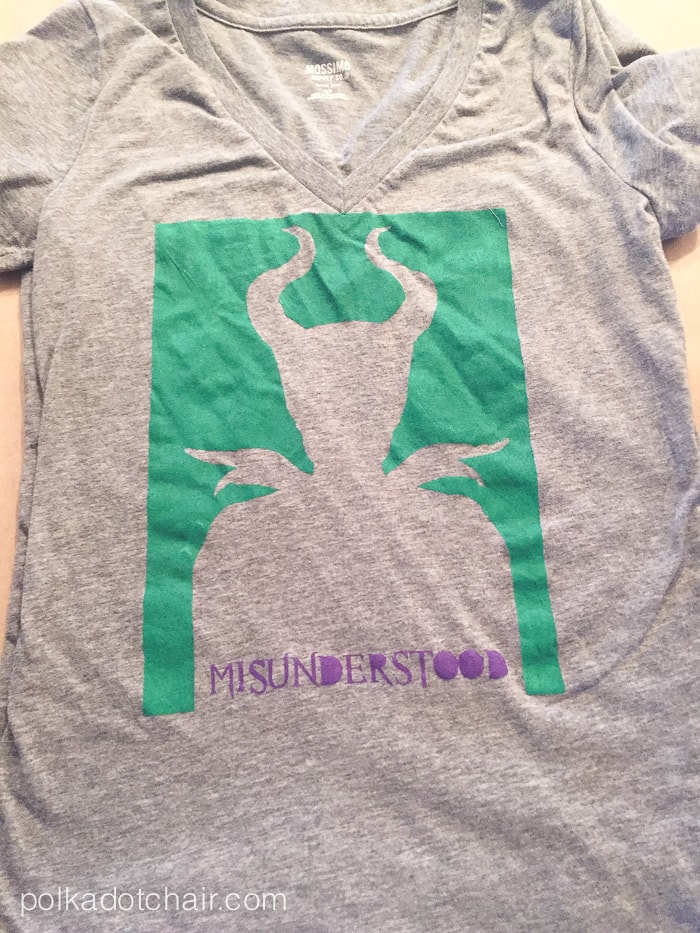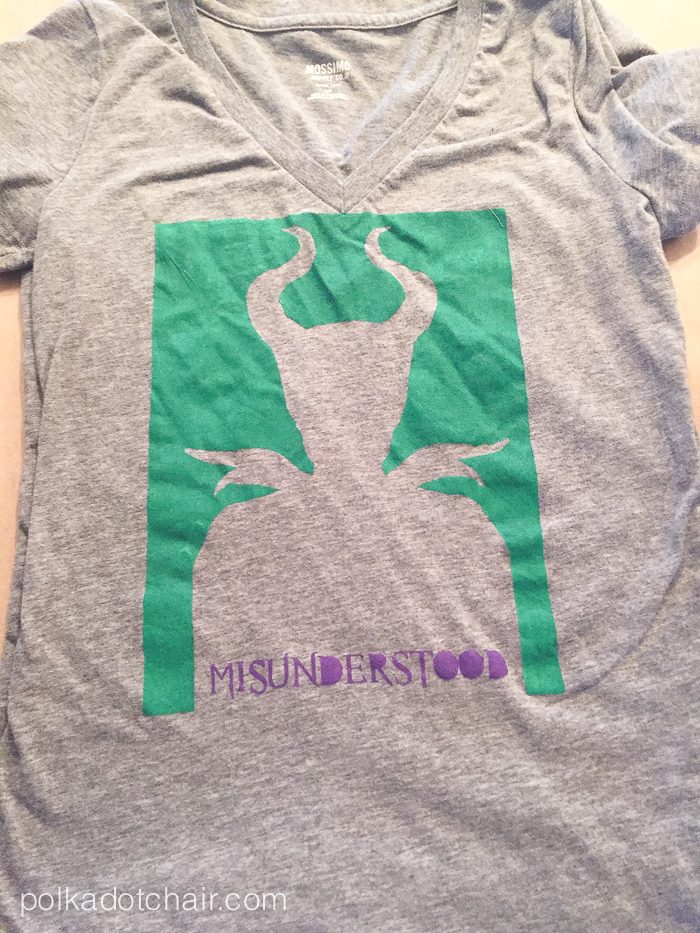 I mentioned before that Disney sent me along some links to share with you…
If you'd like to host your own #DisneySide at home party, Disney has set up an amazing website to help you out with it.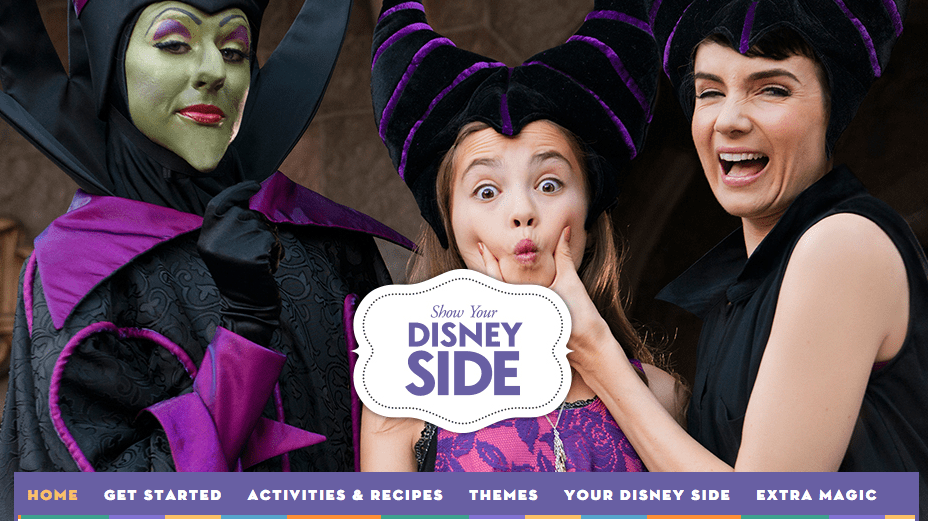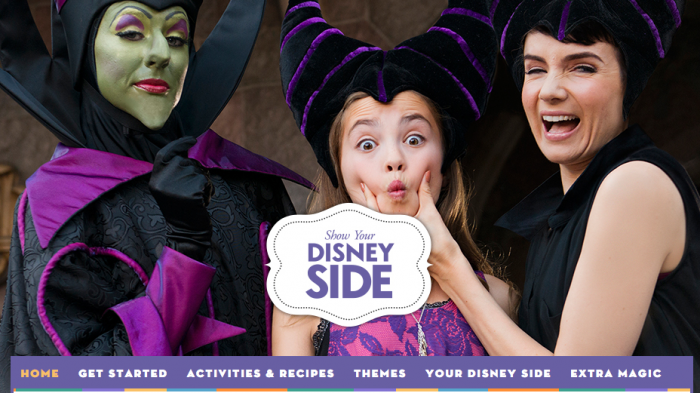 Visit Disney Side Celebrations and you'll find FREE PRINTABLES, including party banners, invitations, cupcake holders, party games etc..
They also have tons of recipes and party themes for you to pick from.  It's a great resource for birthday party idea or a "just because" party like we had. There is a lot of great information on the site.
Don't be afraid to show your #DisneySide!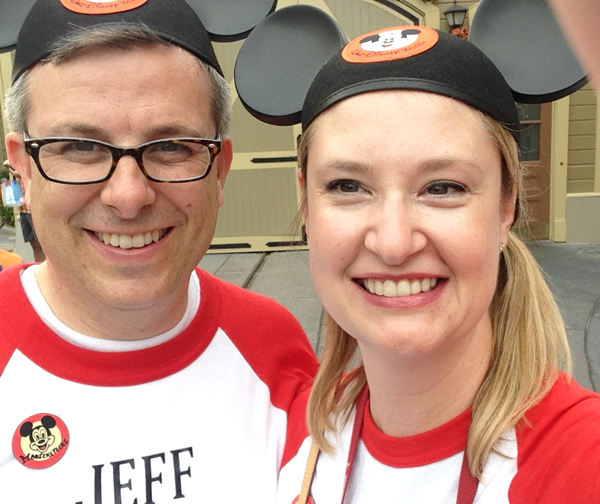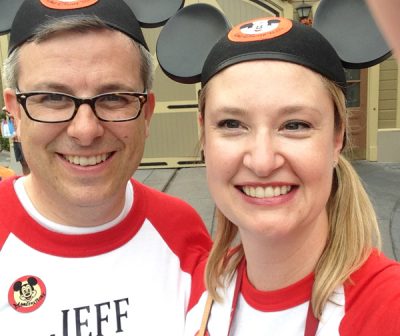 (no funny comments allowed, it was Halloween *wink*)
Other Disney Posts you may enjoy!
15 Simple Tips and Tricks to make your Disney Trip a little bit better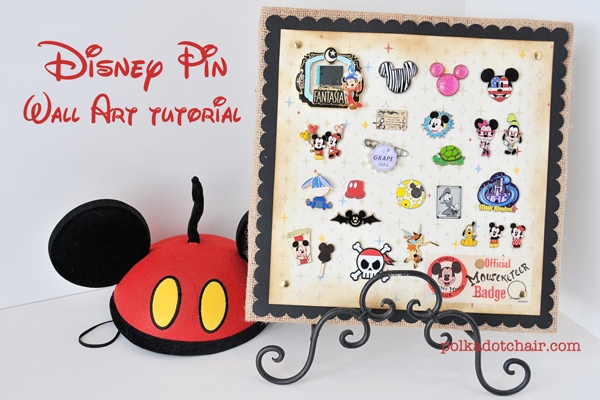 How to display your Disney Pins at home