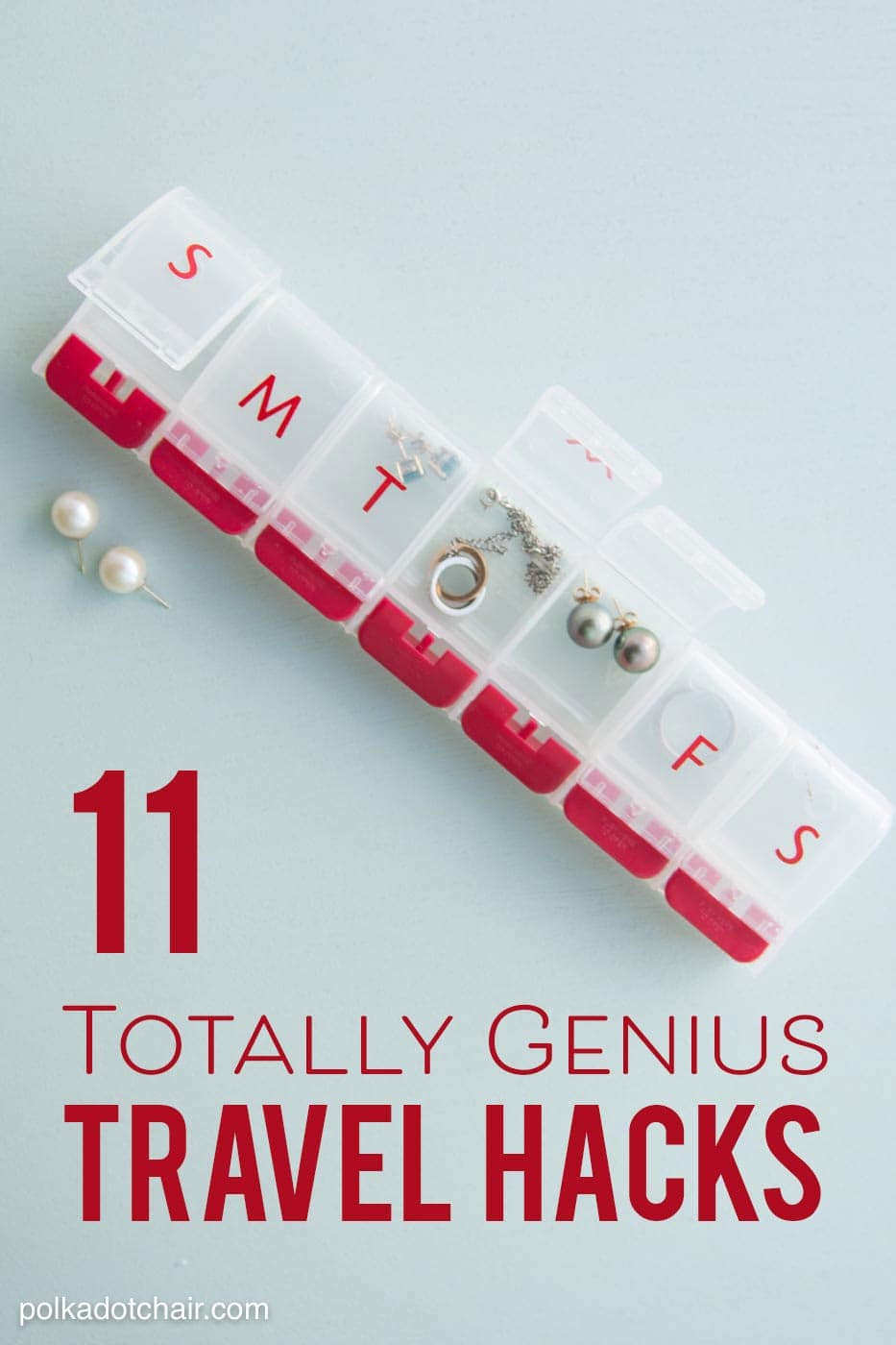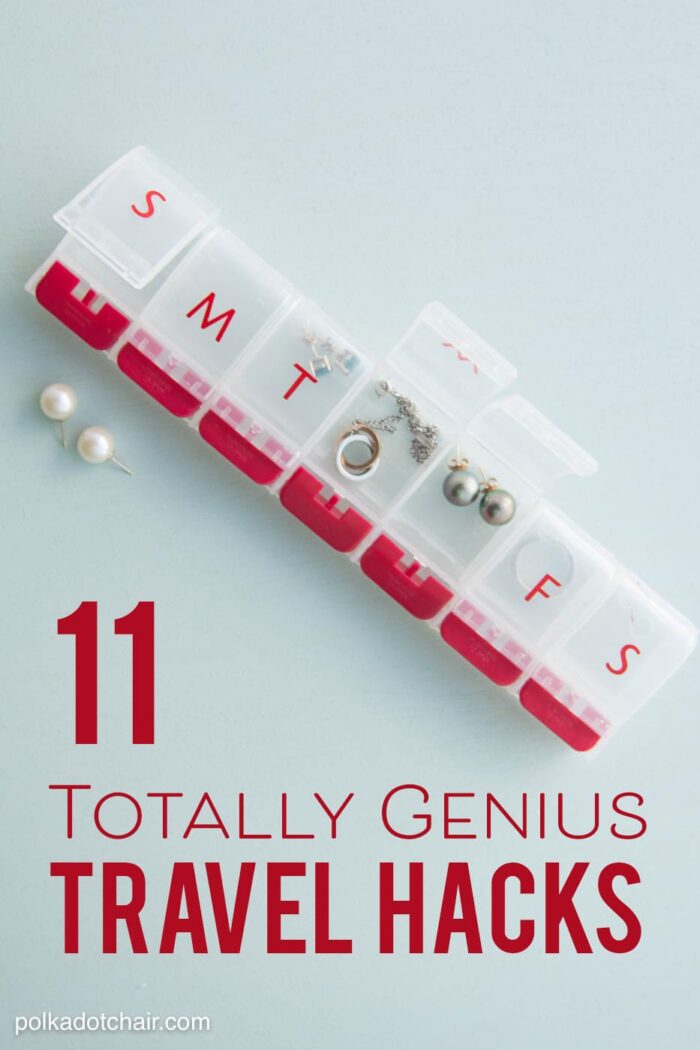 I'm not quite sure I'd consider myself a "frequent flyer",  but I did spend MANY years flying across the country with 3 kids (two of which are twins) in tow.   All of those years toting small children onto airplanes has taught me a thing or two, and I've picked up quite a few tips and tricks along the way.  
From a million ways to use Glad Press N Seal to a nifty iPhone trick, here are some of my favorite travel hacks.  This post contains affiliate links.
My Favorite Travel Hacks: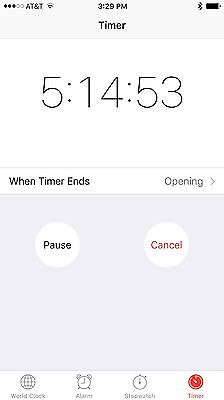 1. Set a Countdown Timer on your Phone with your Flight Travel Time
If you've ever been on a plane with kids you know that they ask you a MILLION times "how much longer"?  If they have their own device simply set a countdown timer at the beginning of your flight with your estimated flight time. That way they can check for themselves how much longer the flight will be. This tip also works great for anxious adults 🙂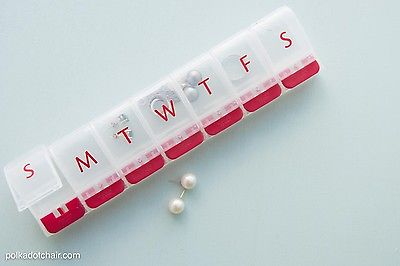 2. Pill Box Turned Jewelry Case
I don't know about you but I'm always so afraid I'm going to lose my small jewelry pieces when I travel. I've purchased travel jewelry cases before but my favorite thing to use by far is a pill box.  It's the perfect size for earrings, rings, and small necklaces.  The top snaps closed keeping your items secure and it's small enough to fit in your carry on bag.
3. Cord Ties
Re-useable wired rubber cord ties are your best friend when you travel. You can use them to corral cords, hold headphones and even make an impromptu stand for your phone.  
4. Carry a Headphone Splitter
Our kids are older now and each have their own device to bring on a plane, but sometimes they still love watching a movie together.  I always keep a headphone splitter in my travel bag, and it always seems to come in handy, especially if one kids iPad batteries are low. 
5. Toothbrush Cases are not Just for Toothbrushes!
Toothbrush cases are so inexpensive that you can afford to pick up a few of them. Aside from holding toothbrushes when you travel, you can also use them to store makeup brushes, necklaces, extra batteries, pens, and pencils. 
6. Use Glad Press N Seal
I could think of a hundred uses for Glad Press N Seal when traveling. Some of my favorites are: 
– Using it to pack necklaces flat so they don't tangle. 
-Keeping bottles from leaking. Simply unscrew the top of the bottle and place a bit of press and seal over the opening. Then simply put the lids back on.  
-Place it over airplane tray tables to make  a clean surface for kids to eat/play on
7. Shower Cap for your Shoes
Shower caps are super cheap.   Next time you travel slip your shoes into them before you pack your suitcase. They will help keep the other items in your bag from becoming dirty from the bottom of your shoes. An absolute must if you're planning an outdoor adventure. 
8. Charge your Phone with your Hotel Room TV
Forgot your charger but have a USB cord?  Most TV's in hotel rooms now have a USB outlet in the back.  Simply plug your cord into the port to charge your phone. (It's also easier than hunting for a spare power outlet, especially if you're traveling overseas). 
9. Carabiners are your Best Friend
Keeping your hands free is a must when you travel. I always keep a few carabiners with me in my carry on bag. I use them to attach pillows, blankets, headphone cases etc, to my rolling carry on bag. It keeps my hands free and I can find my items when I need them quickly. 
10. New Use for Old Sunglass Cases
Have an extra sunglass case lying around. Repurpose it by using it to store chargers and cords when you travel. 
11. Carry a Mini Power Strip
Throw a mini power strip in your carry on bag and you'll be everyone's best friend at the airport.  It also comes in handy
You may also like: