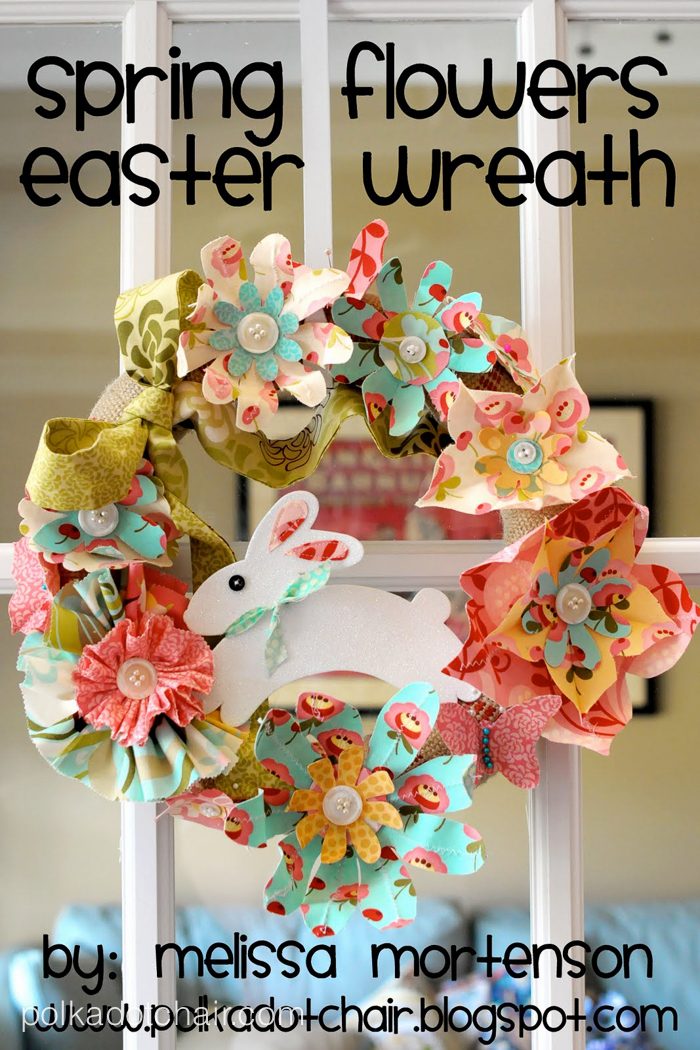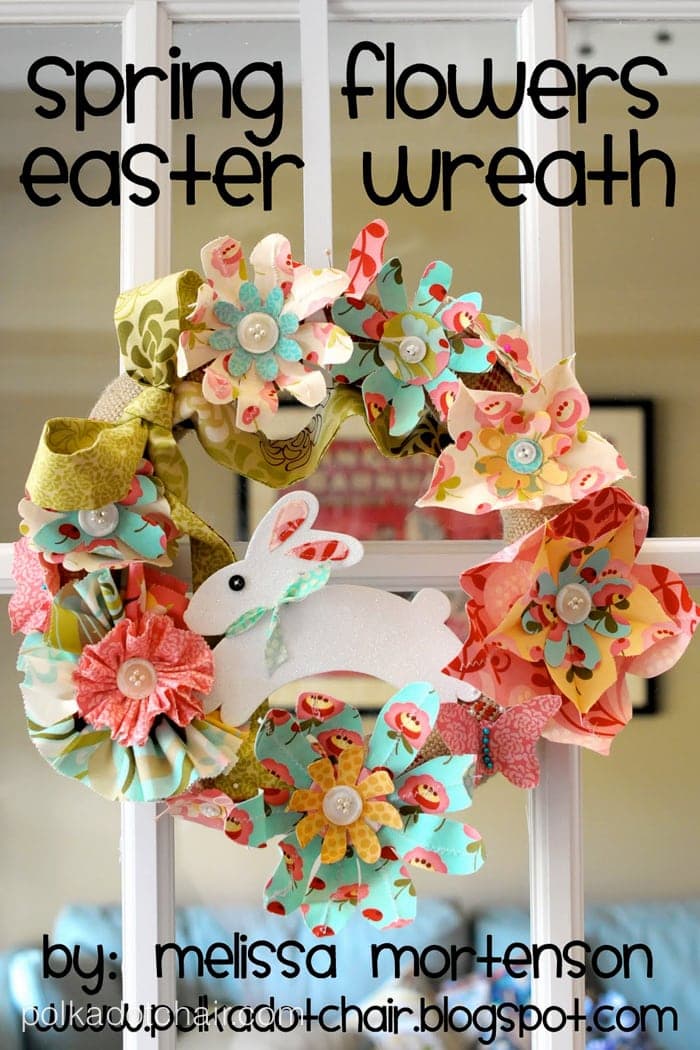 Spring has finally sprung at my end of the world, and I can not tell you how excited I am! It seems like it's been a very long winter.  I can't wait until all of the beautiful flowers are in bloom.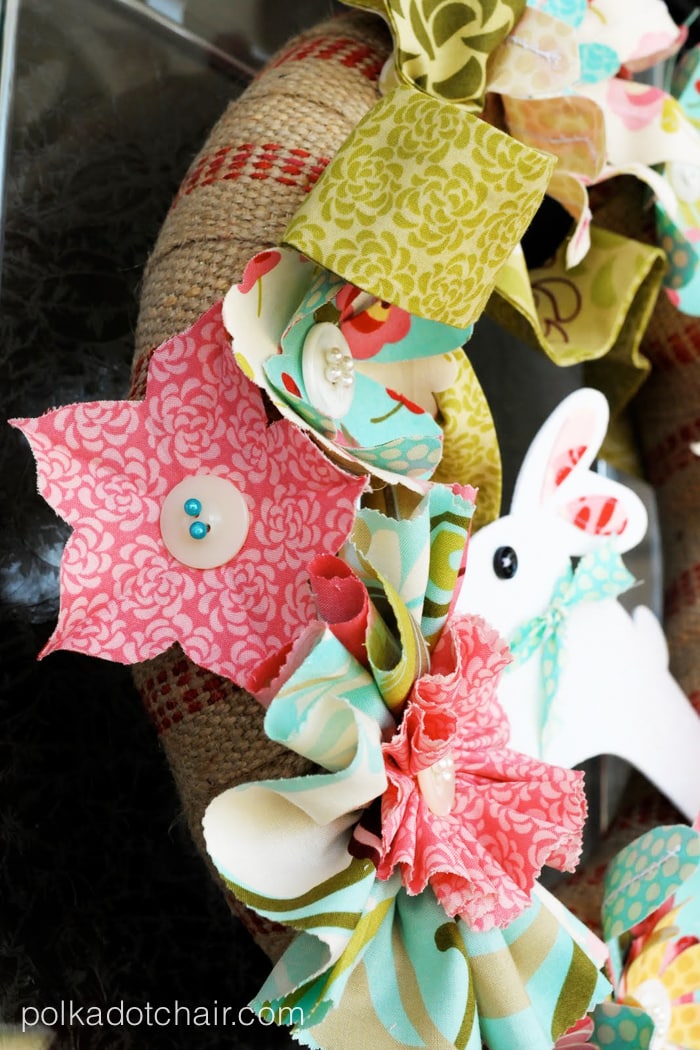 Inspired by spring, I created this fun and easy spring flowers wreath. I used the gorgeous Hunky Dory  line of fabric and fell in LOVE with all of the wonderful colors and patterns. I added a little bunny made out of fun foam to make it perfect for Easter!
Supplies Required
1 Layer Cake
1 Charm Pack
1 Jelly Roll *note you will not use all of your fabric from each. You'll have plenty of fabric left over for other projects*
Styrofoam Wreath
Wonder Under
Pearl Head Pins, white and colored
White covered floral wire
Buttons
5 yards Burlap Upholstery Tape (buy it next to the upholstery tacks at your fabric store)
White Glitter Fun Foam (yep,  You read that right!)
Other pins, shapes, colored buttons or pins… it's up to you!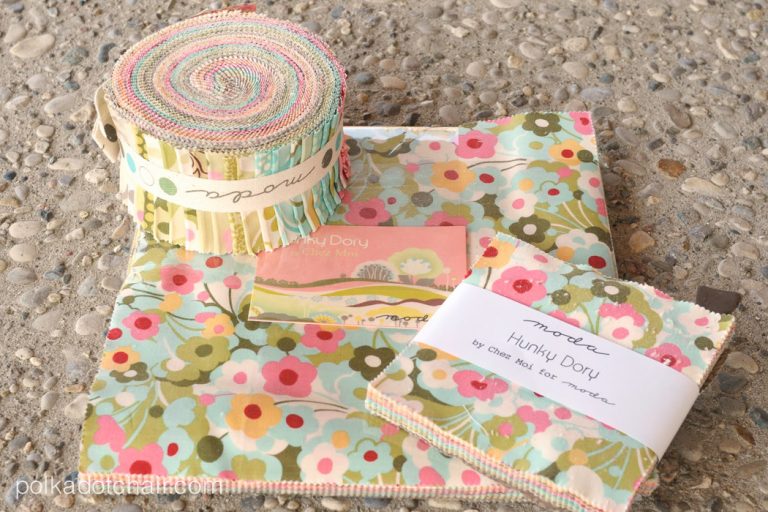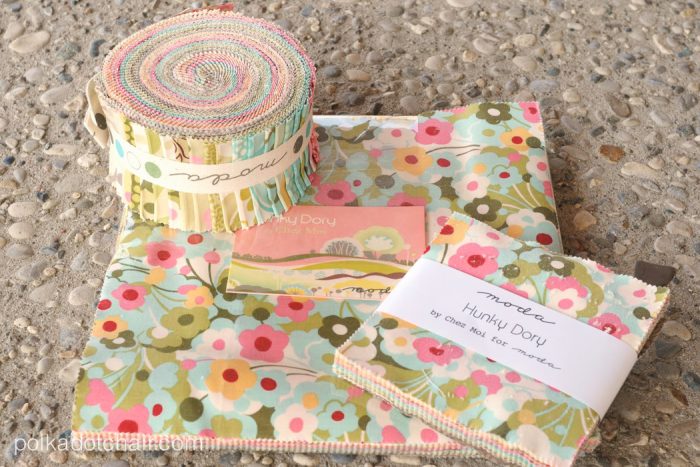 Instructions
To begin, you want to wrap your styrofoam wreath completely with burlap tape.  I used small pins every few inches to make sure it stayed flat. It won't be perfectly flat .. do your best.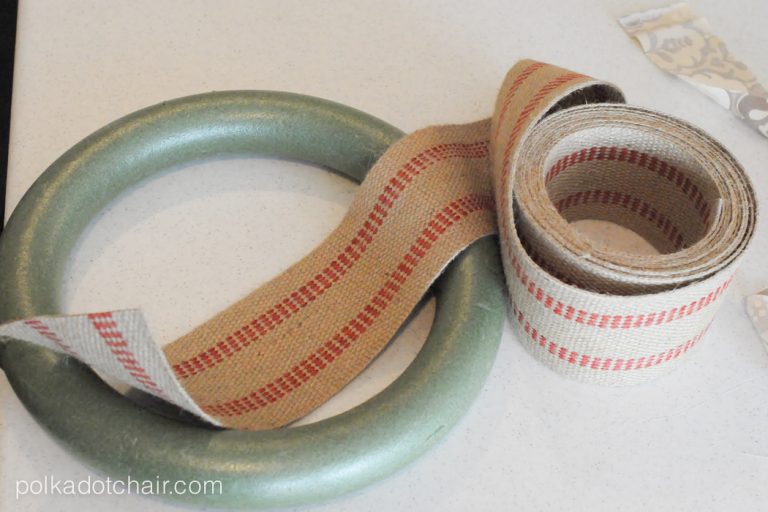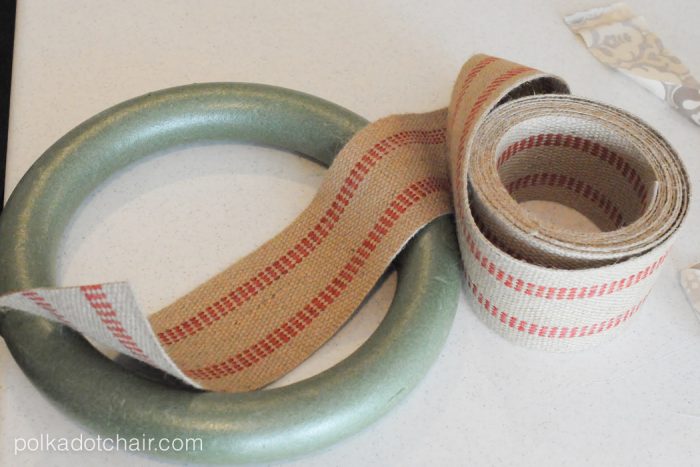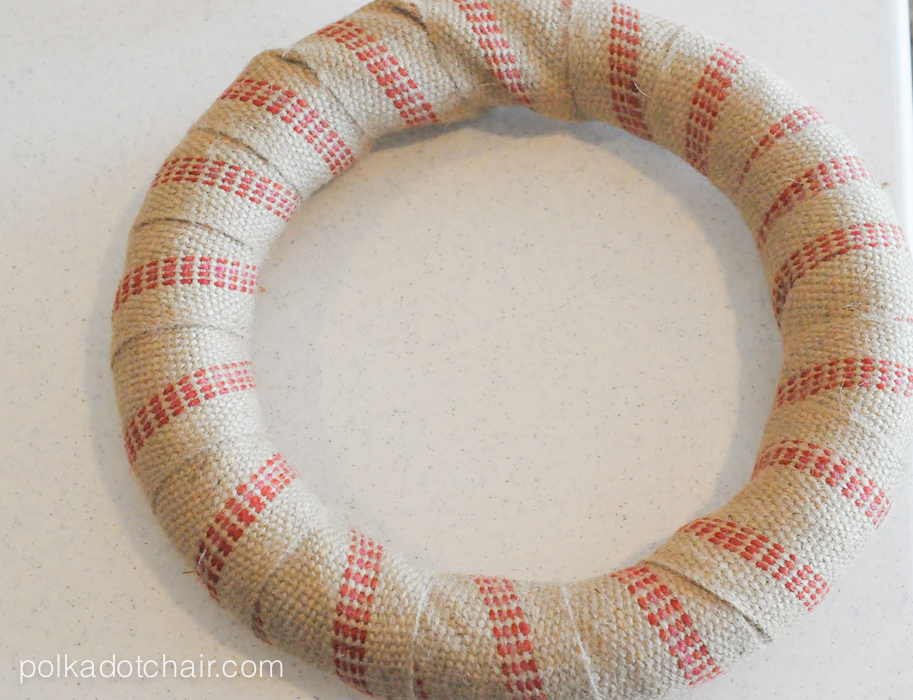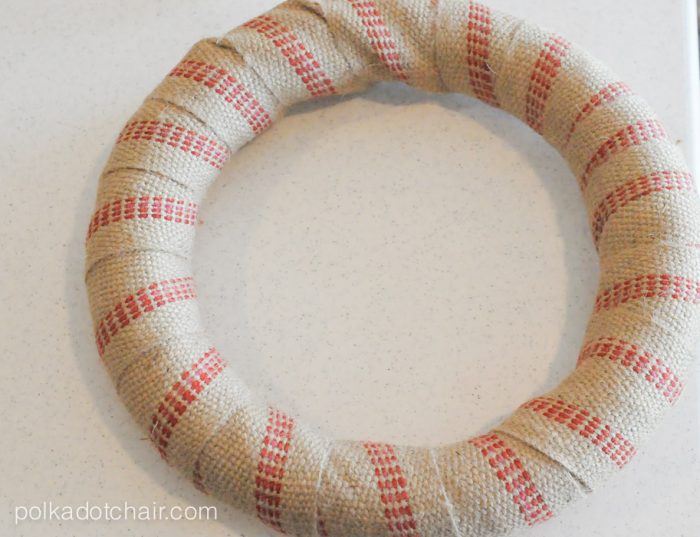 After you have wrapped your wreath set it aside.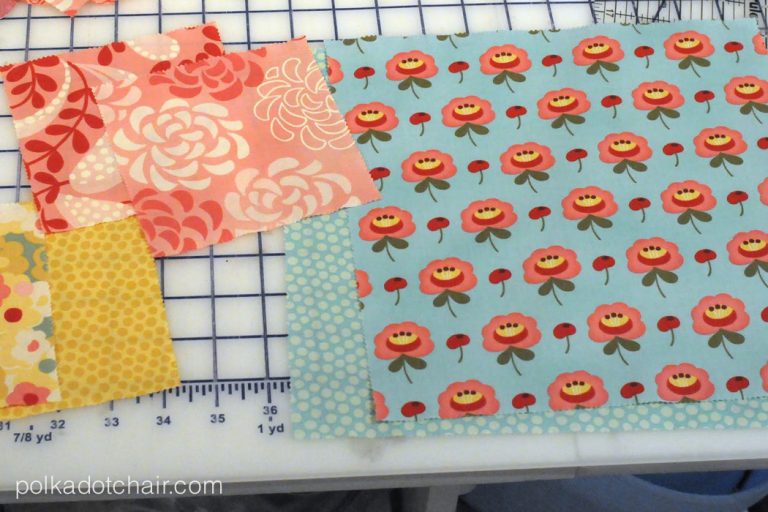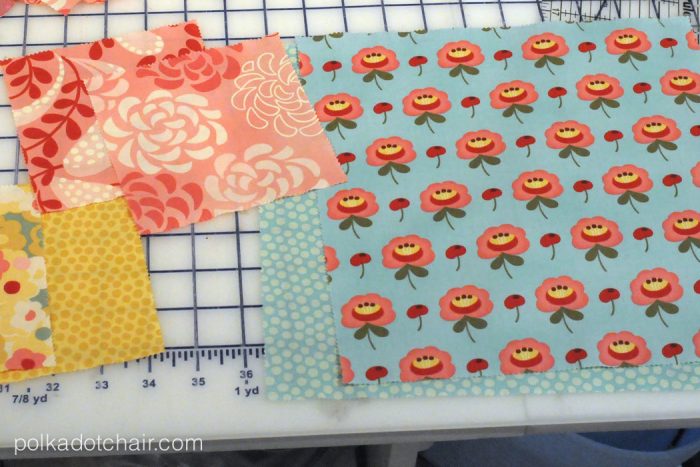 Pick out some charm pack and layer cake pieces that you like.  I used 6 layer cake pieces and 8 charm pack pieces for my flowers. I put them in a stack of 2 based on color (i.e., 2 blue ones, 2 yellow ones)
Cover the back half of the pieces (you will cut your wonder under to 10×10 or 5×5) of them entirely with wonder under.  Peel off the backing and press the other fabric piece to its wrong sides together. This will give you double-sided fabric.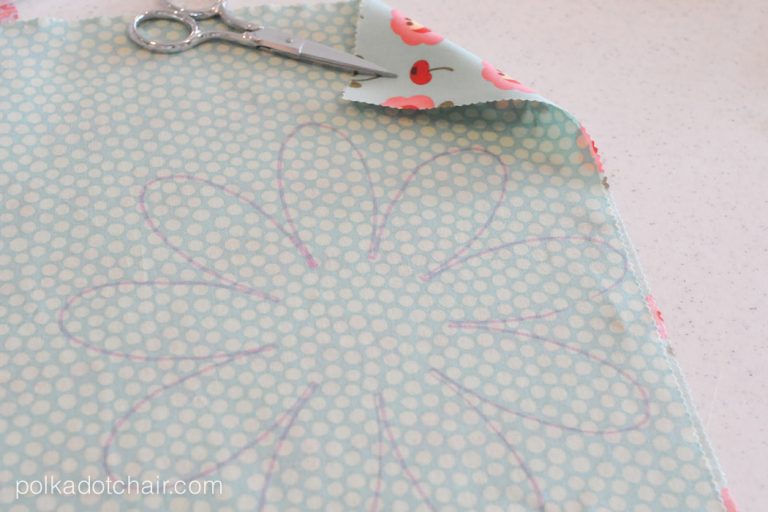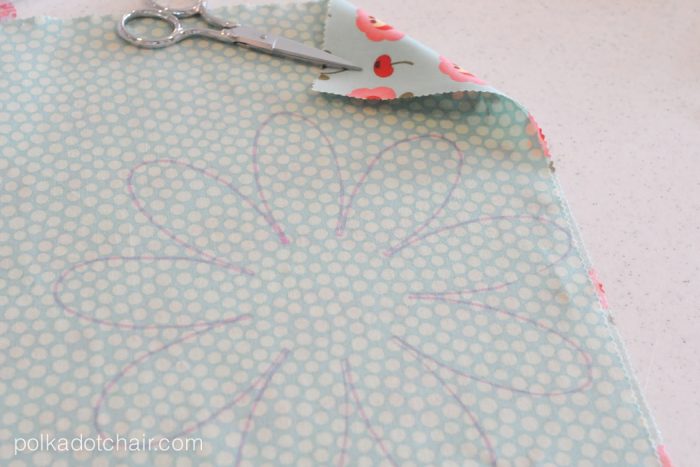 Using a "fade away" fabric pen, Start tracing your flowers.  I have uploaded some templates for you to use here on the TEMPLATES page. (please note these templates are not for commercial use).  Fit the large flowers on first, then start tracing your smaller flowers.  Cut them out.   You will want to trace flowers on all 3 of your layer cake pieces and all 4 of your charm pieces.  I also used 2 butterflies on my wreath; if you want them to trace them on your fabric and cut them out.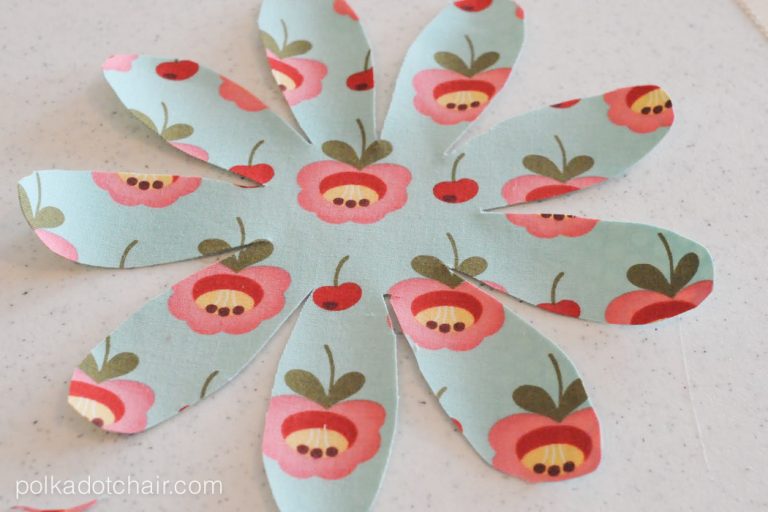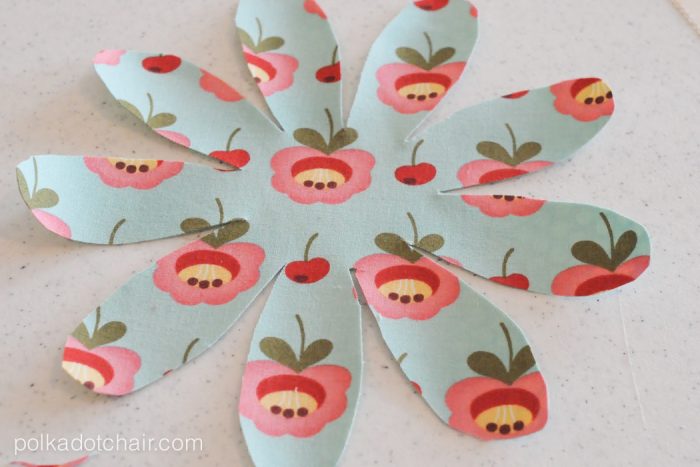 I had 3 large flowers on my wreath. The large flower pieces will not hold their shape by themselves. You will need to add wire to the back of them to help form them. Take a piece of your white floral wire and center it on the back of one of your flower petals. Using a zig zag stitch, stitch down the center of the petal over the top of the wire.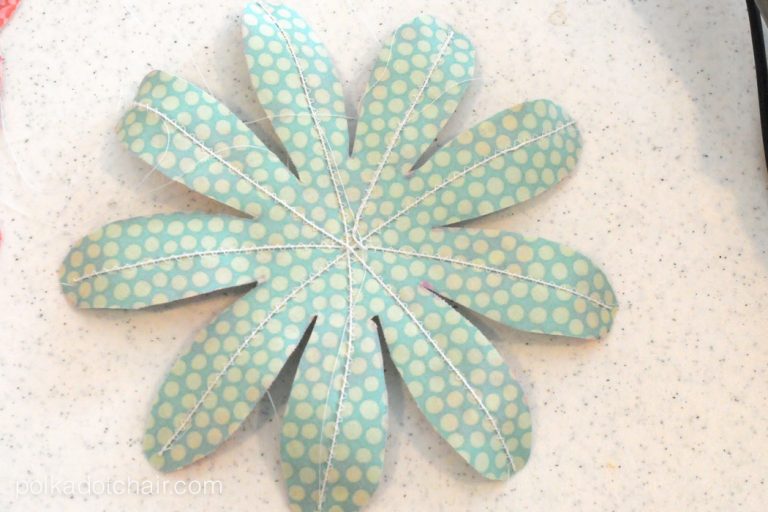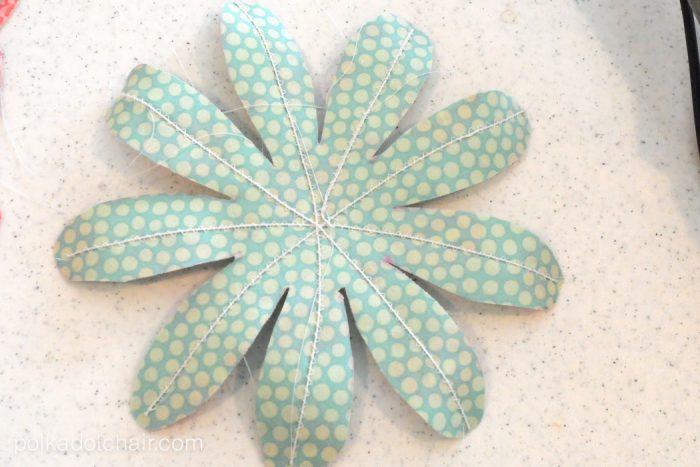 When you are done it should look like this on the back. Do this with all the flowers that are large (over 6″).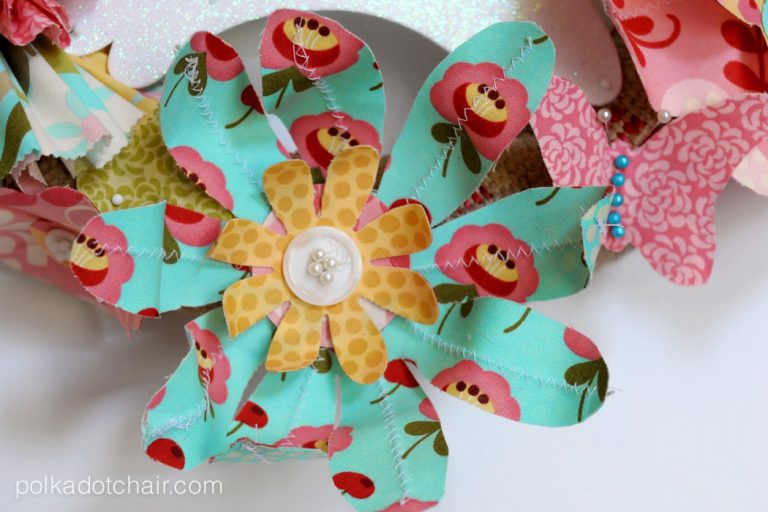 Generously starch and press all remaining smaller flower pieces. The ones that you can, press the petals in half (with your iron). This will help to make them stand out more (as will the starch)
Take some of your flowers and using a curling iron, curl the edges up (make sure you starch them first).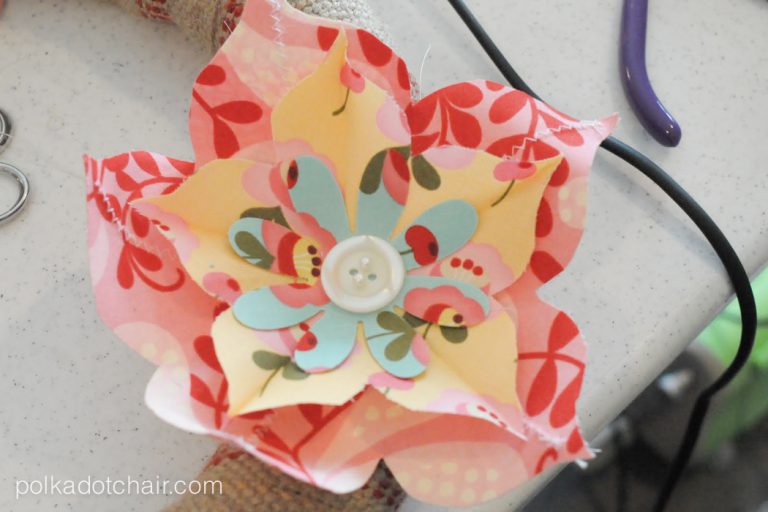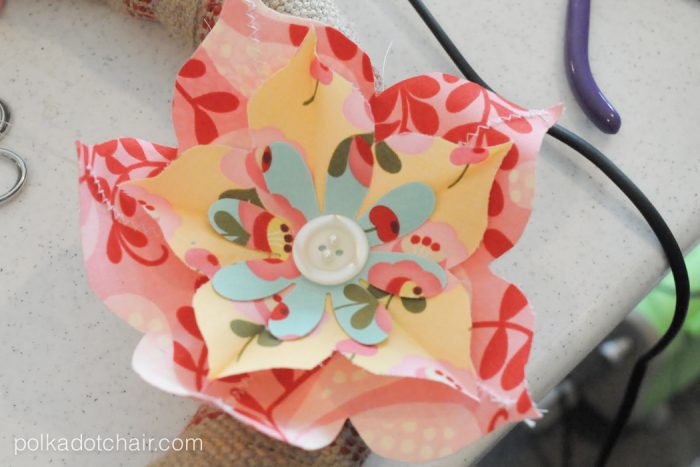 Now just start layering your flower pieces. Just layer them as you like, try to get a variety of shapes and colors on each flower. On the wired pieces bend the petals into a pleasing shape.
Lay the flower on top of your wreath where you like and place a button in the center of the flower. Using pearl head pins, attach the flower to the wreath through the button holes.
Just fill up your wreath with flowers. I recommend placing the largest flowers on first, then filling the empty spaces with the smaller ones.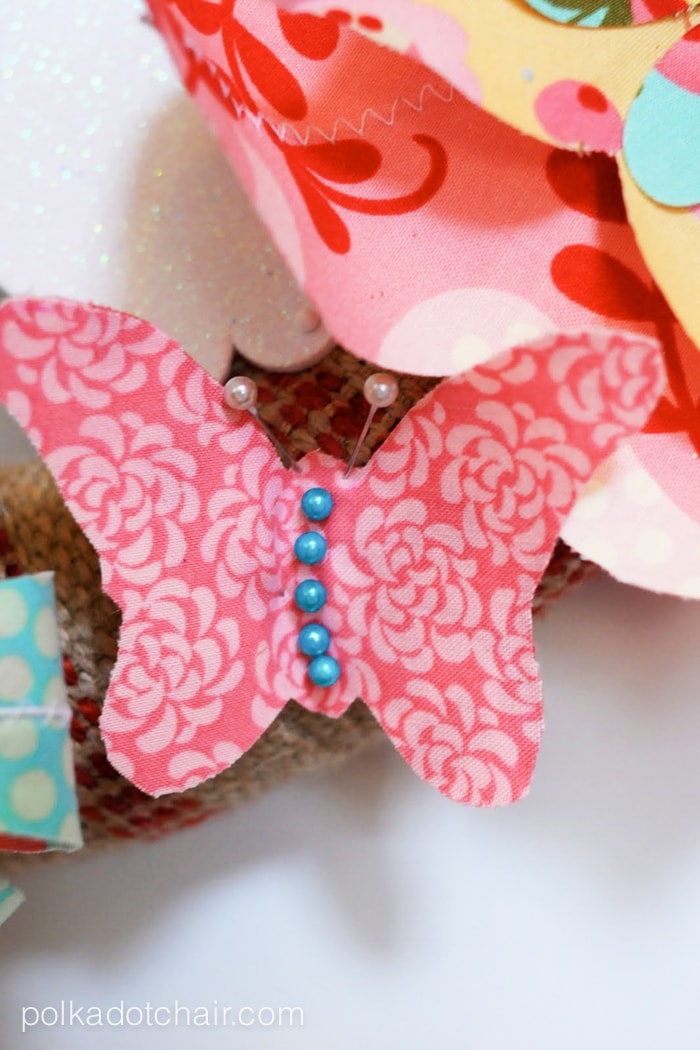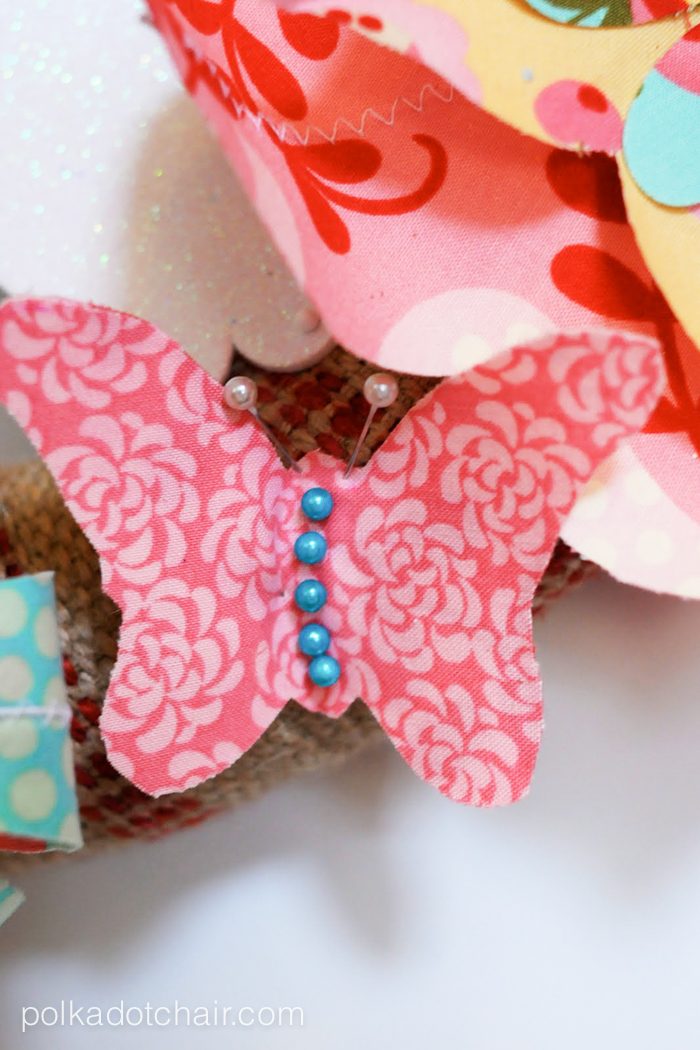 Fold your butterfly in half and press. Open it up and attach to the wreath also. I used colored pearl head pins down the middle and 2 white pins for it's antennae.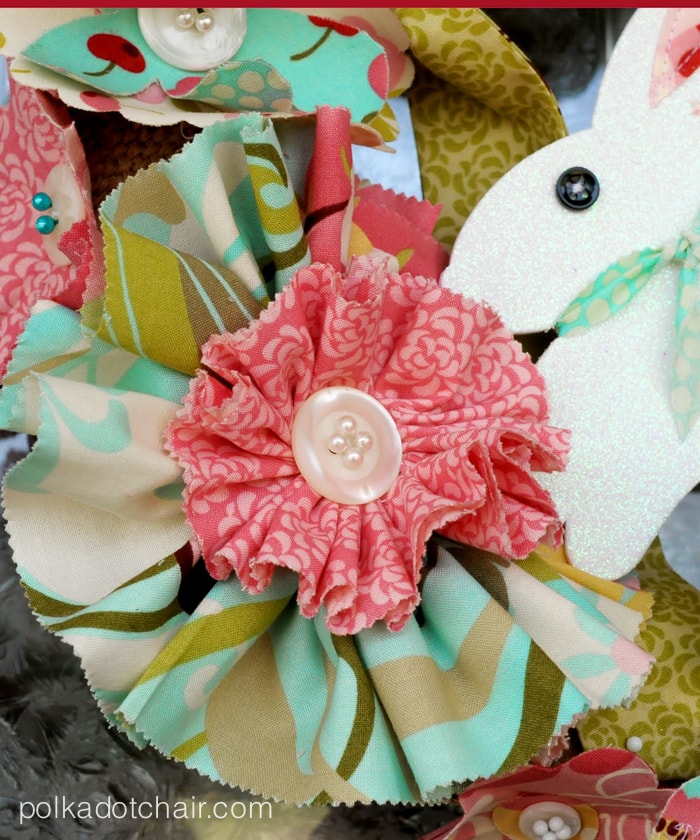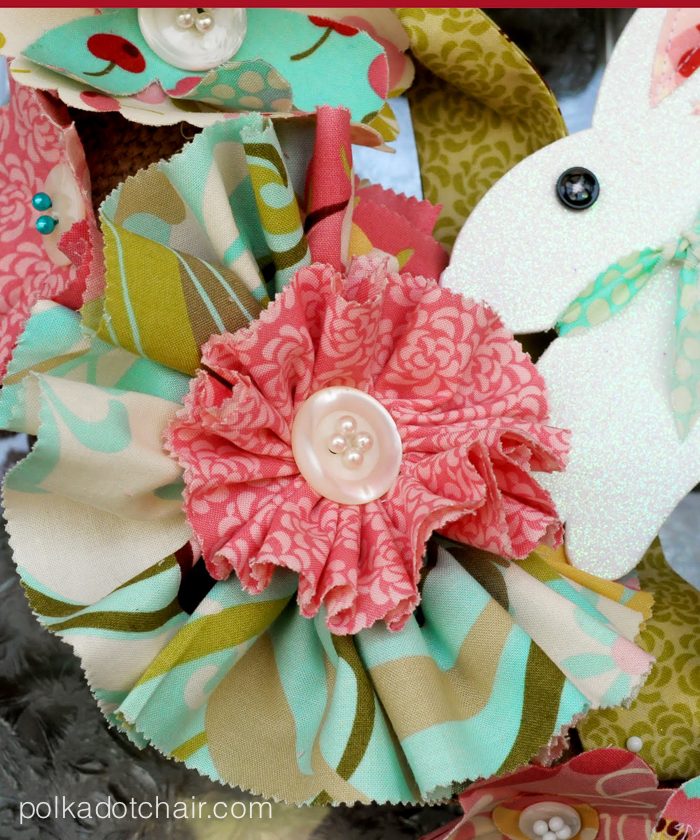 To make the large posy flower on the wreath, you just need 2 jelly roll strips. Jelly roll strips make PERFECT flowers since they are long, skinny, and have pinked edges. If you want, you could make the whole wreath out of these strips if you don't want to cut out flowers.
To make them, take one jelly roll strip, and with a needle and thread, run a basting stitch ALL the way down the long side. Gather the fabric up as you go, and it will naturally form into a circle. To make the smaller posy in the middle, take a jelly roll strip, cut it in half then fold it in half lengthwise.  Then run a gathering stitch (by hand) down the folded side of the strip.  Place over the larger posy and sew them together.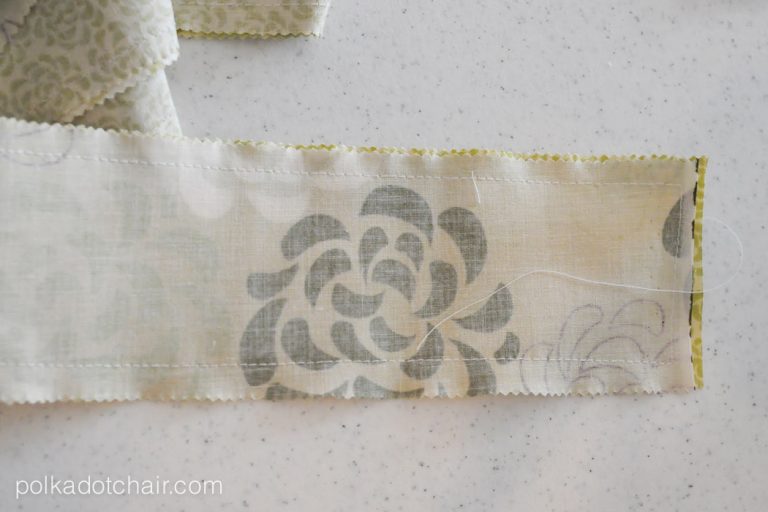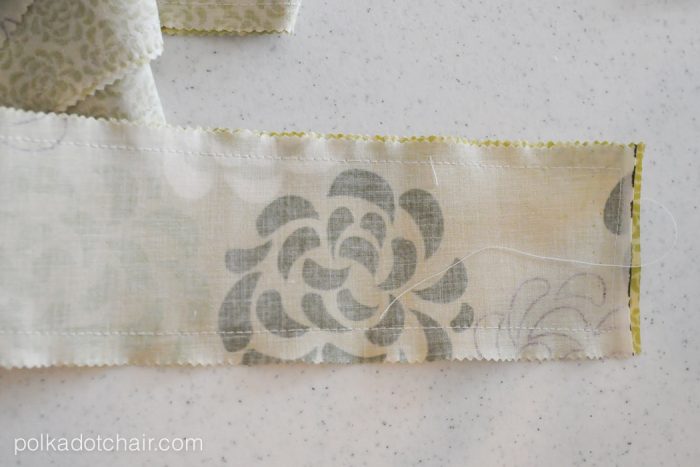 To make the bow, take two jelly roll strips and place them right sides together. Sew around 3 sides, leaving one short side open. Turn right side out and press.
Tie into a bowl and place on the wreath. Use pins to put the ribbon tails where you like and to help "poof" out the bow.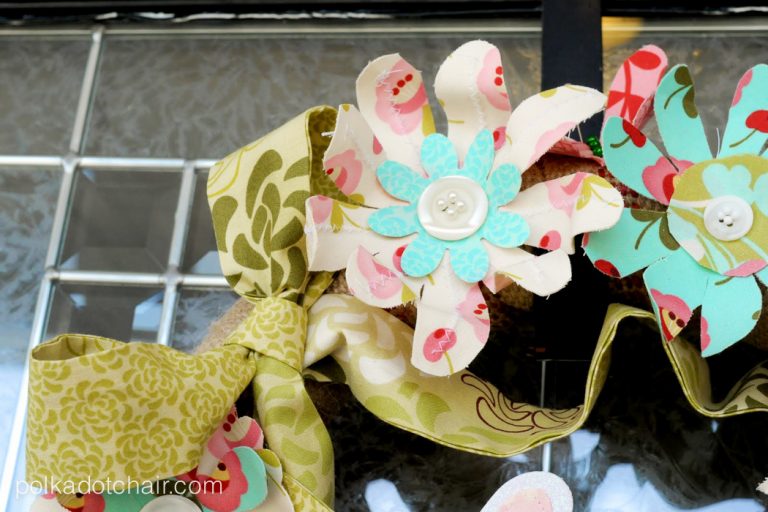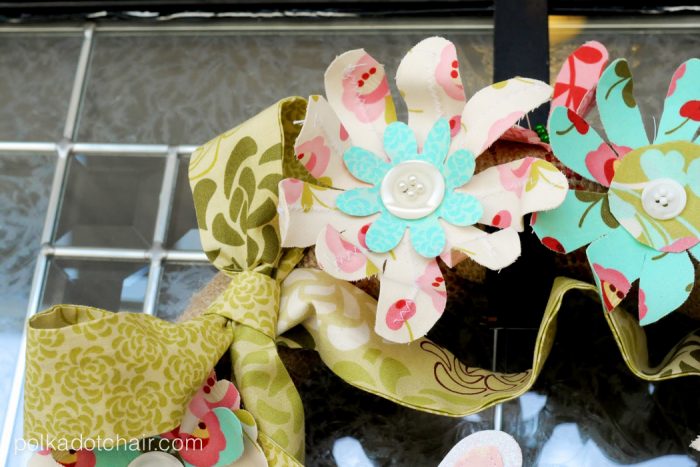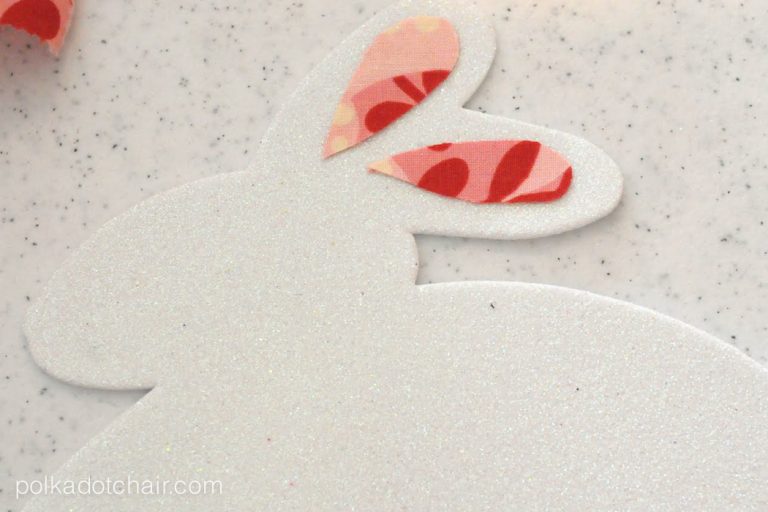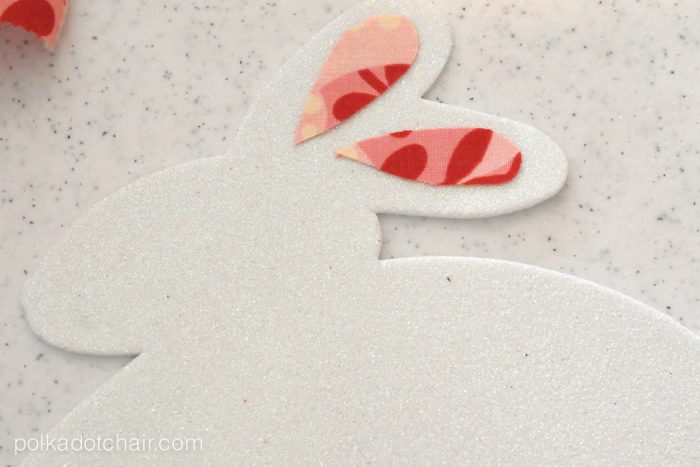 Cut your bunny out of fun foam.  Cut 2 small scraps of fabric for the inside of the "ears," and spray adhesive, place on top of the foam.  Slowly stitch around the fabric to attach it. (yep, you can sew through the fun foam; it was pretty easy 🙂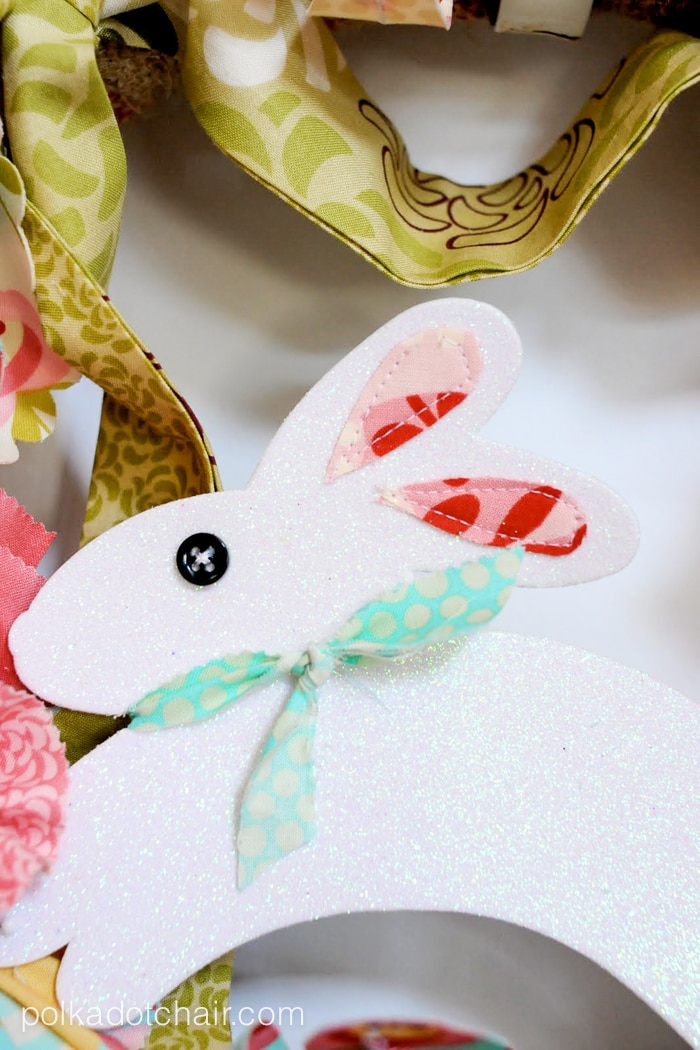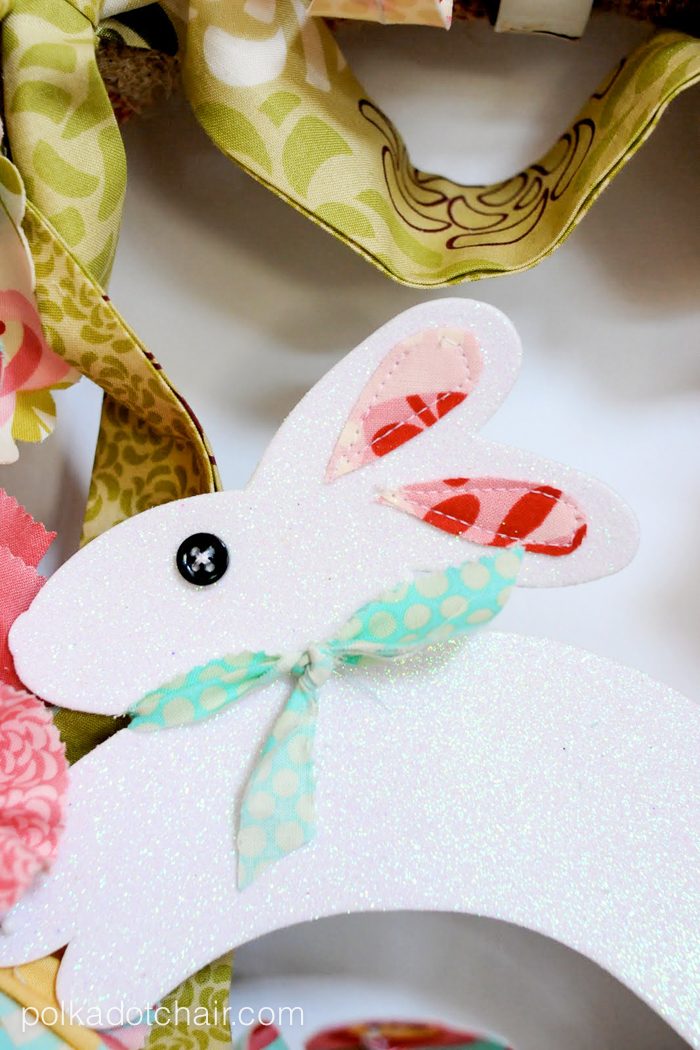 Take another scrap of fabric and tie it around the bunny's neck for a bow. Sew a small black button on for an eye. Using pins attach to the center of the wreath.
Note: If you don't like the idea of using fun foam, you can also make the bunny out of white felt, using the technique I used to make the bird here.