Sarah Ashford is back sharing another adorable, colorful and fun small sewing project with us today! She's teaching us how to make this fun and colorful rainbow flag bunting. She has even included a free bunting template for you to download!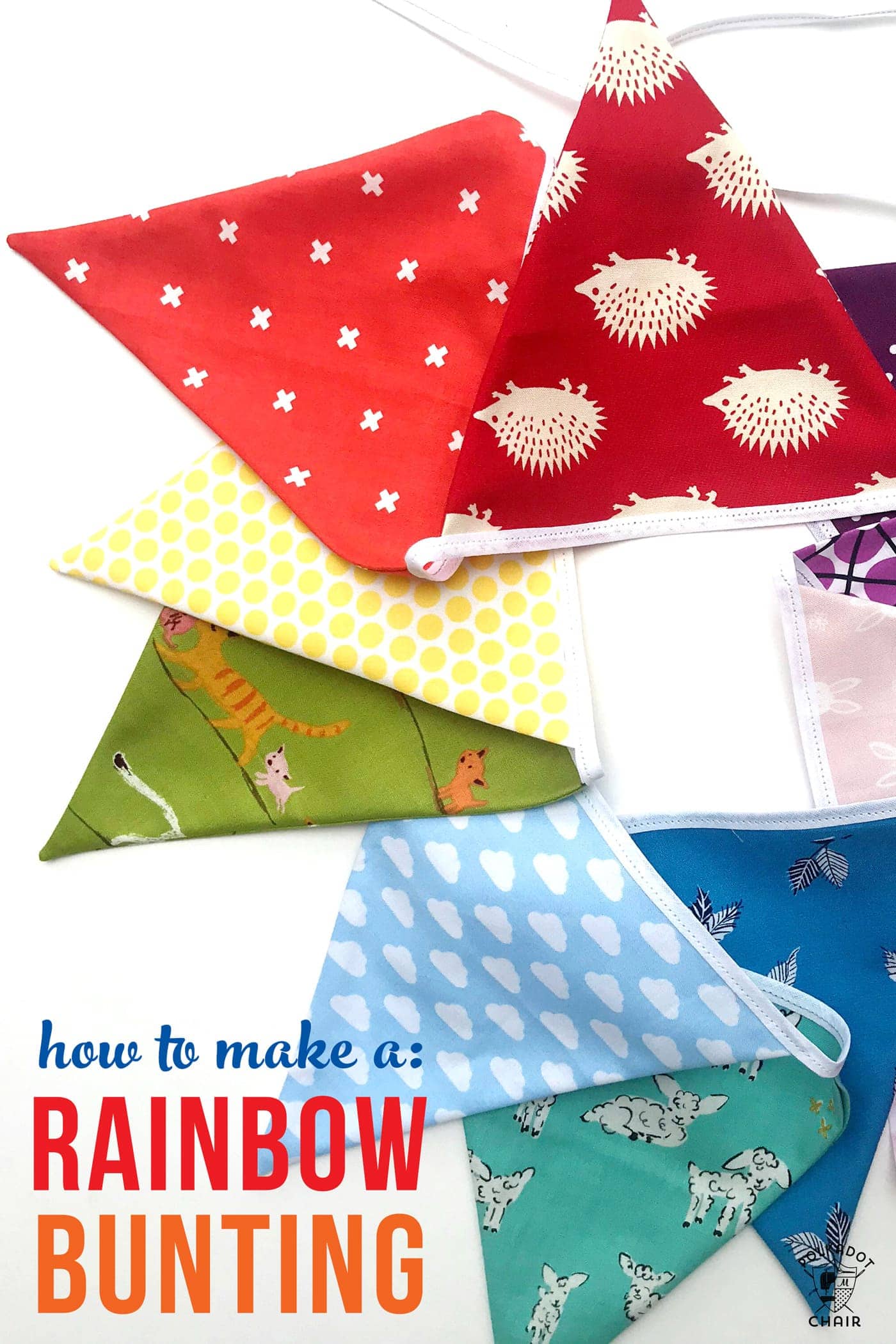 Here in the UK we've had a glorious summer so far. Blue skies for days, even weeks on end, glorious sunshine and fun-filled days out and about or in the garden. We're all feeling really summery, and what better way to celebrate than with some traditional English flag bunting.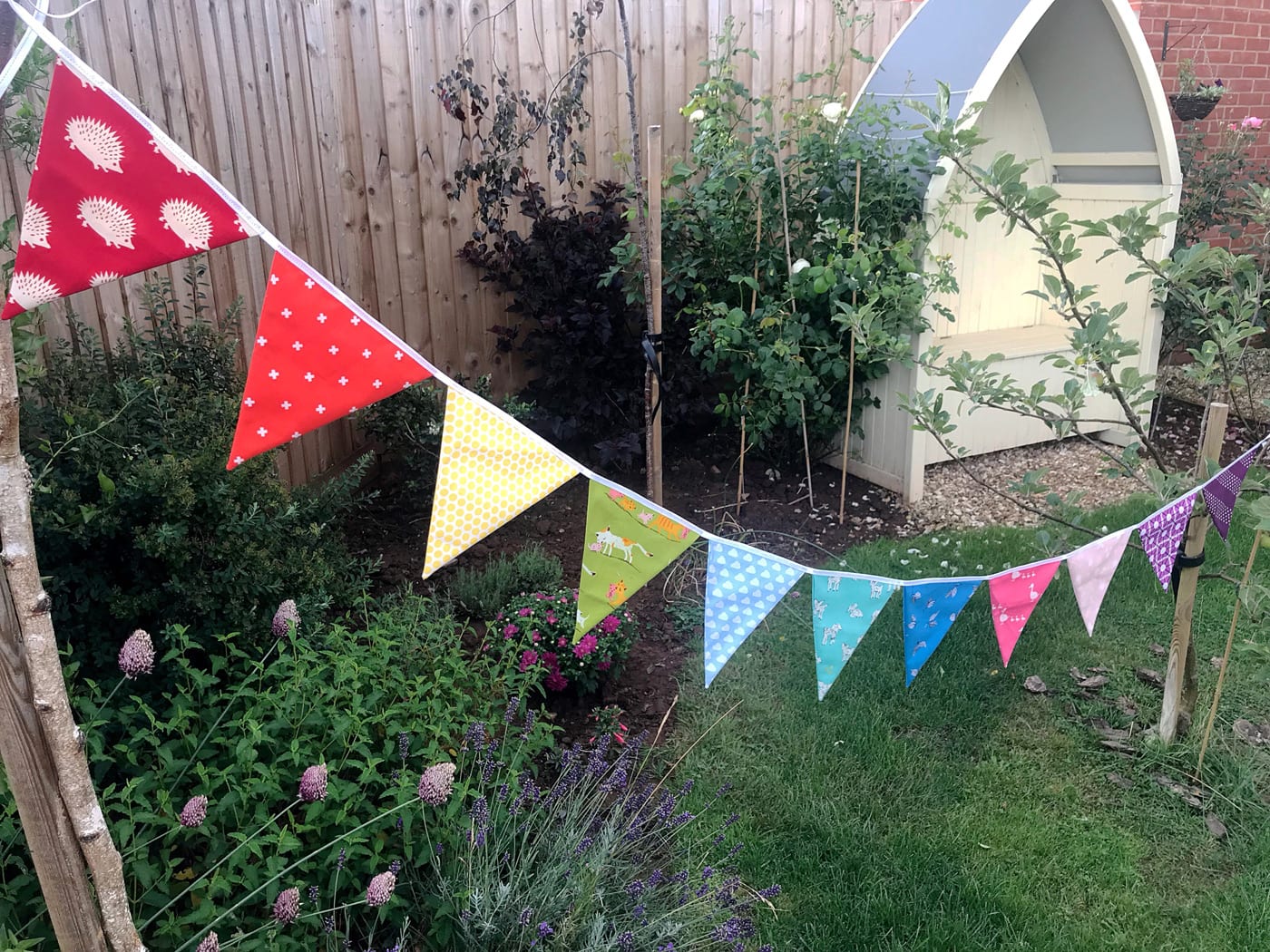 I have lots of cute animal fabrics in my stash that are just so adorable, and I thought what better way to show them off than by making some rainbow flag bunting to celebrate our fabulous summer.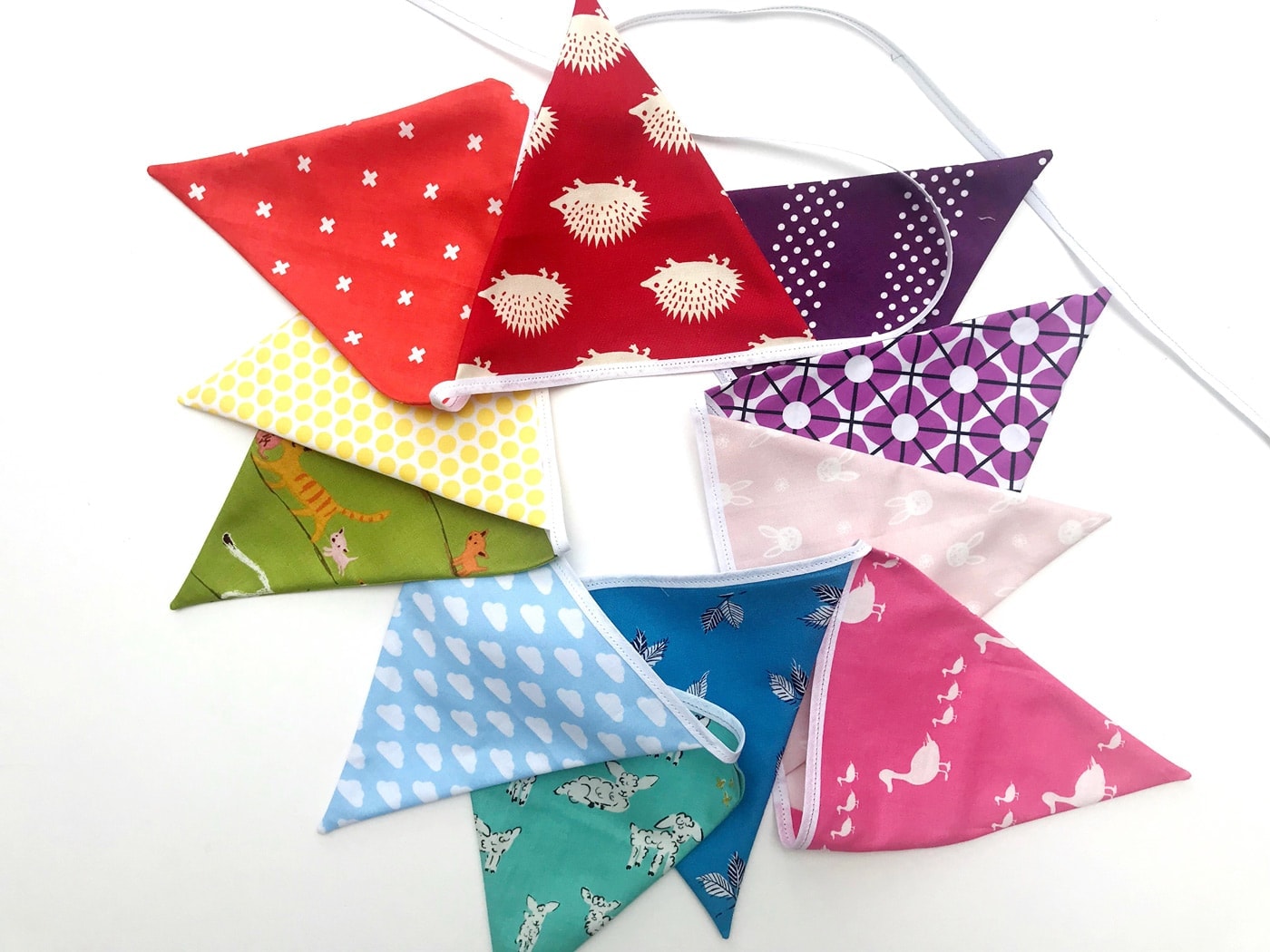 You might think making bunting is easy, but believe me, not all bunting is made equal! I'm going to share with you some tips and tricks to get perfect points and tip-top triangles so that you can make your beautiful rainbow bunting in no time.
Flag Bunting Tutorial: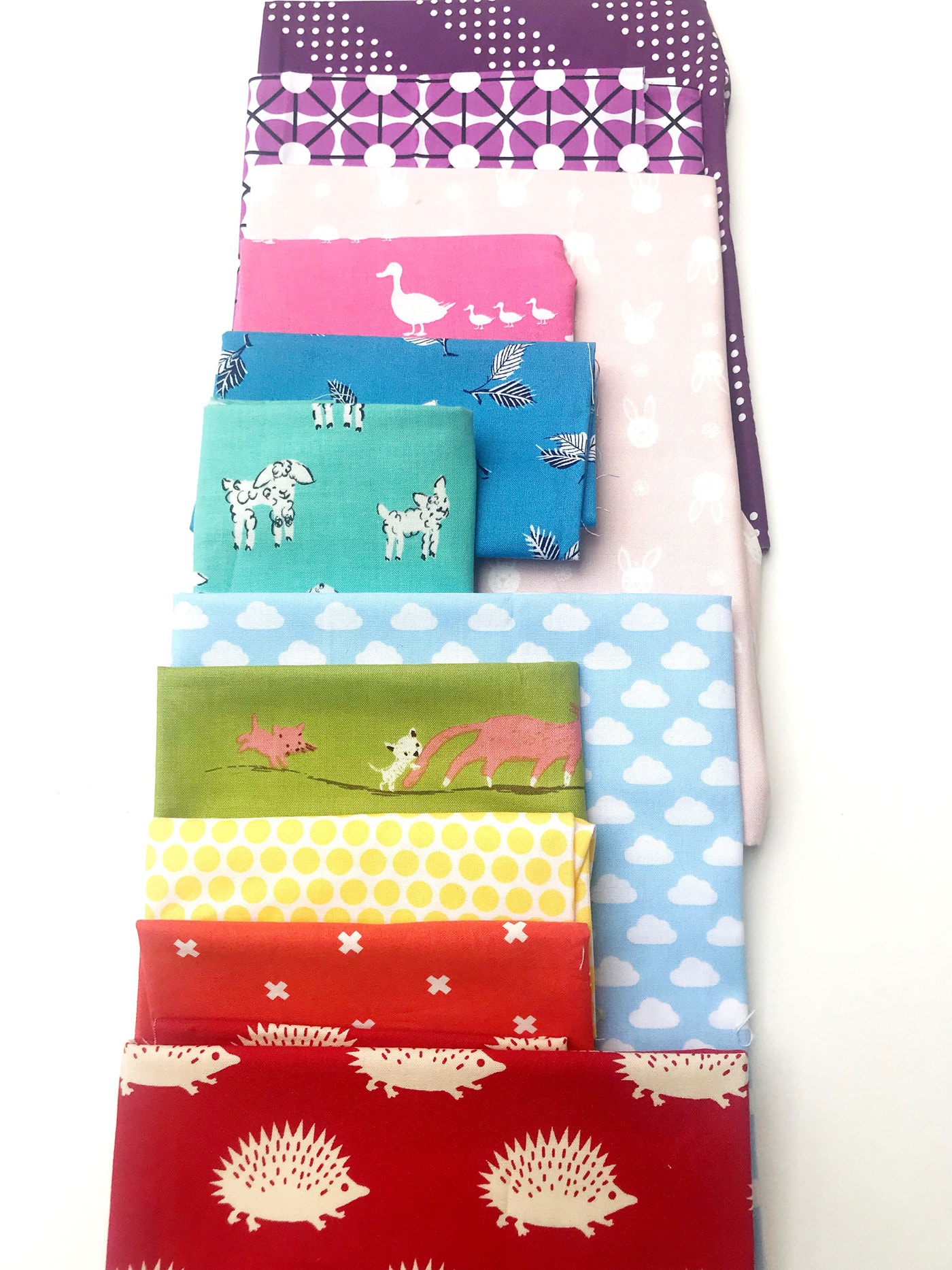 You will need:
Approx. Fat 8th of 11 different fabrics (this may be more if you are fussy cutting)
Template plastic (or cardboard)
3m Bias binding
Fabric Pen
Usual sewing supplies (sewing machine, ruler, rotary cutter, mat, pins etc.)
Cutting Directions:
First of all print out the bunting template and draw onto either cardboard or template plastic and cut out. Draw 2 triangles on the reverse side of each fabric, taking care with the orientation of the triangle as you will most likely be using directional prints. You may want to fussy cut some of the prints to make sure they are included on the flag. Cut out the triangles, adding a ¼" seam allowance all around. You may find using a rotary cutter and ruler is the best way to do this.
NOTE: If you are going to be hanging your bunting against a wall, you may not want to use your best animal fabrics for the back of each flag. In which case, just cut one of each animal/print fabric and use a solid colour for the back, as this will be cheaper, and you can keep your remaining animal prints for another project!
You will have cut out 22 flags in total.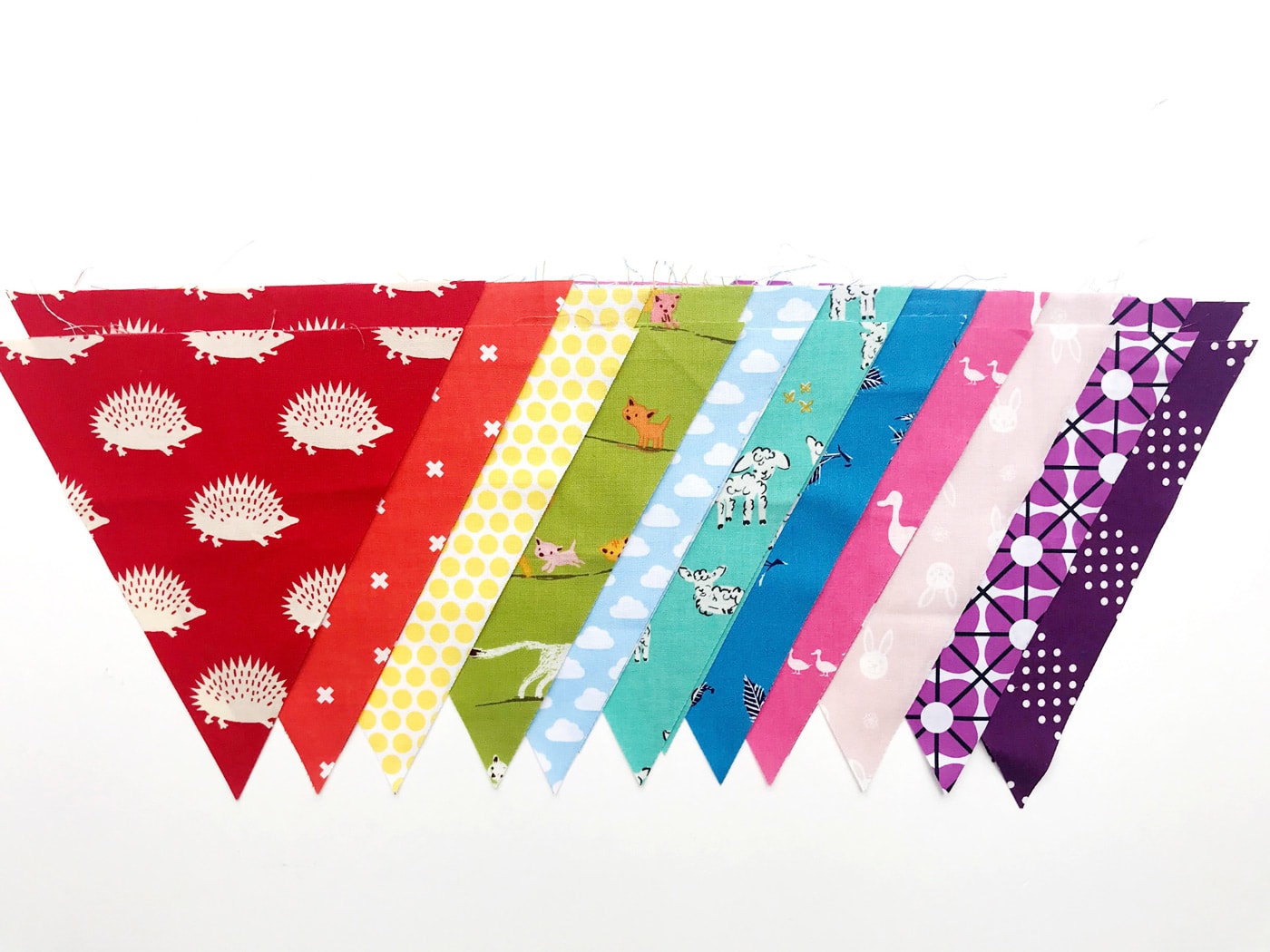 Step One:
Next, you need to pin each front piece and back piece together for each flag. Place right sides together and pin down each side, but look at the direction of the pins…refer to the photograph and the same. This is very important as the correct orientation of the pins will allow you to take the pins out as you stitch and makes life a lot easier! Pin approximately ½" away from the edge.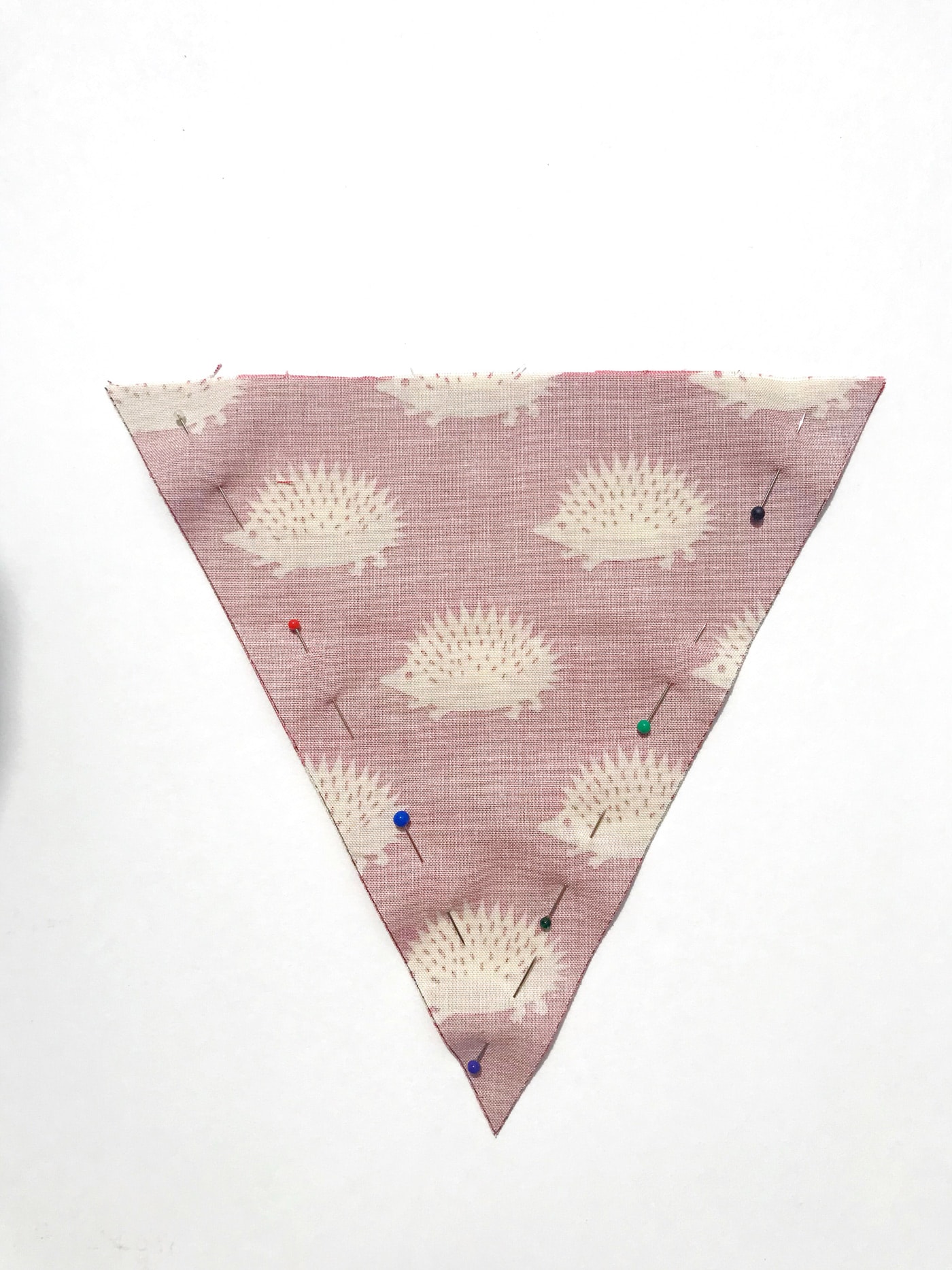 Step Two:
Starting in the top right-hand corner, stitch using a ¼" seam. When you get a ¼" from the point, stop, pivot and then continue up to the top left-hand corner.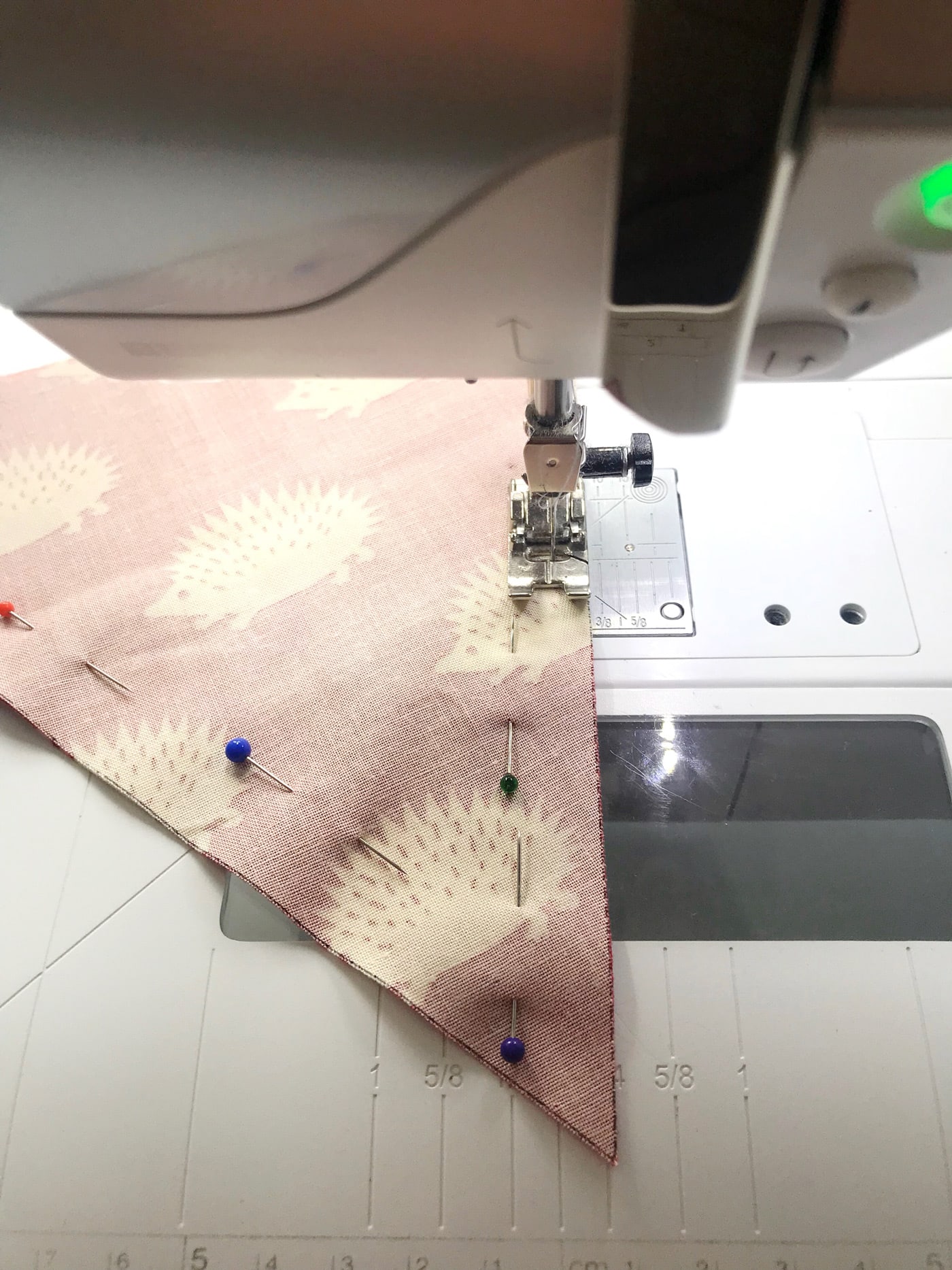 Do this for all 11 flags. You can chain piece the flags to save time and thread. Remember, you can take out the pins as you approach them.
Next, you need to trim the seam allowance at the point of each flag to remove bulk and to help create a perfect point. Using a sharp pair of embroidery scissors, snip across the bottom and then about an inch upwards diagonally either side of the 'V' for all 11 flags.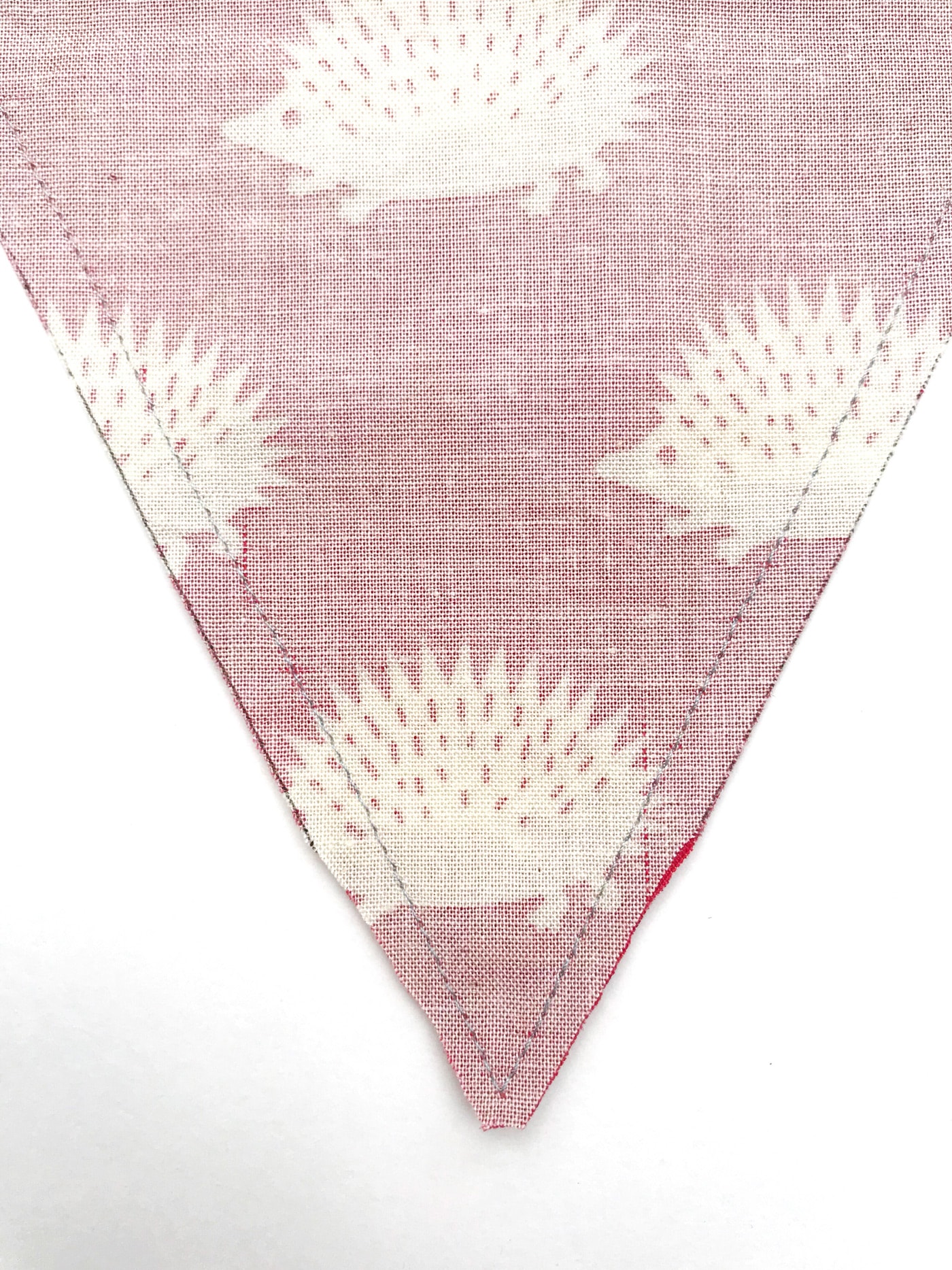 Step Three:
Now turn the flags right side out. To get a lovely point, take something sharp such as a knitting needle or kebab stick and gently push out the point, taking care not to put a hole in the fabric! Take your time to slowly ease it out.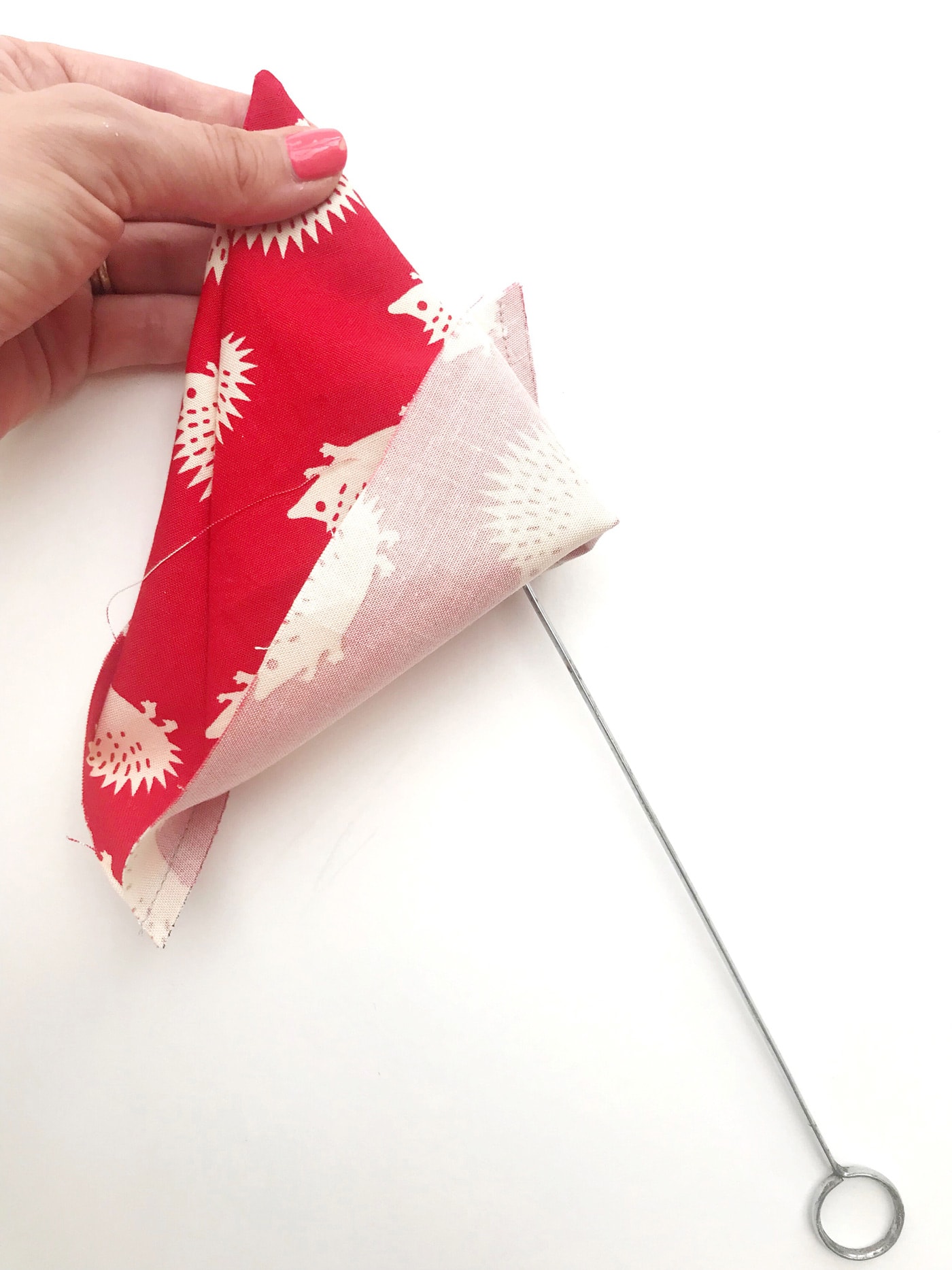 Once all 11 flags have been turned right side out, take a hot iron and carefully put it inside each flag, pressing the seam to one side on either side. Then press flat.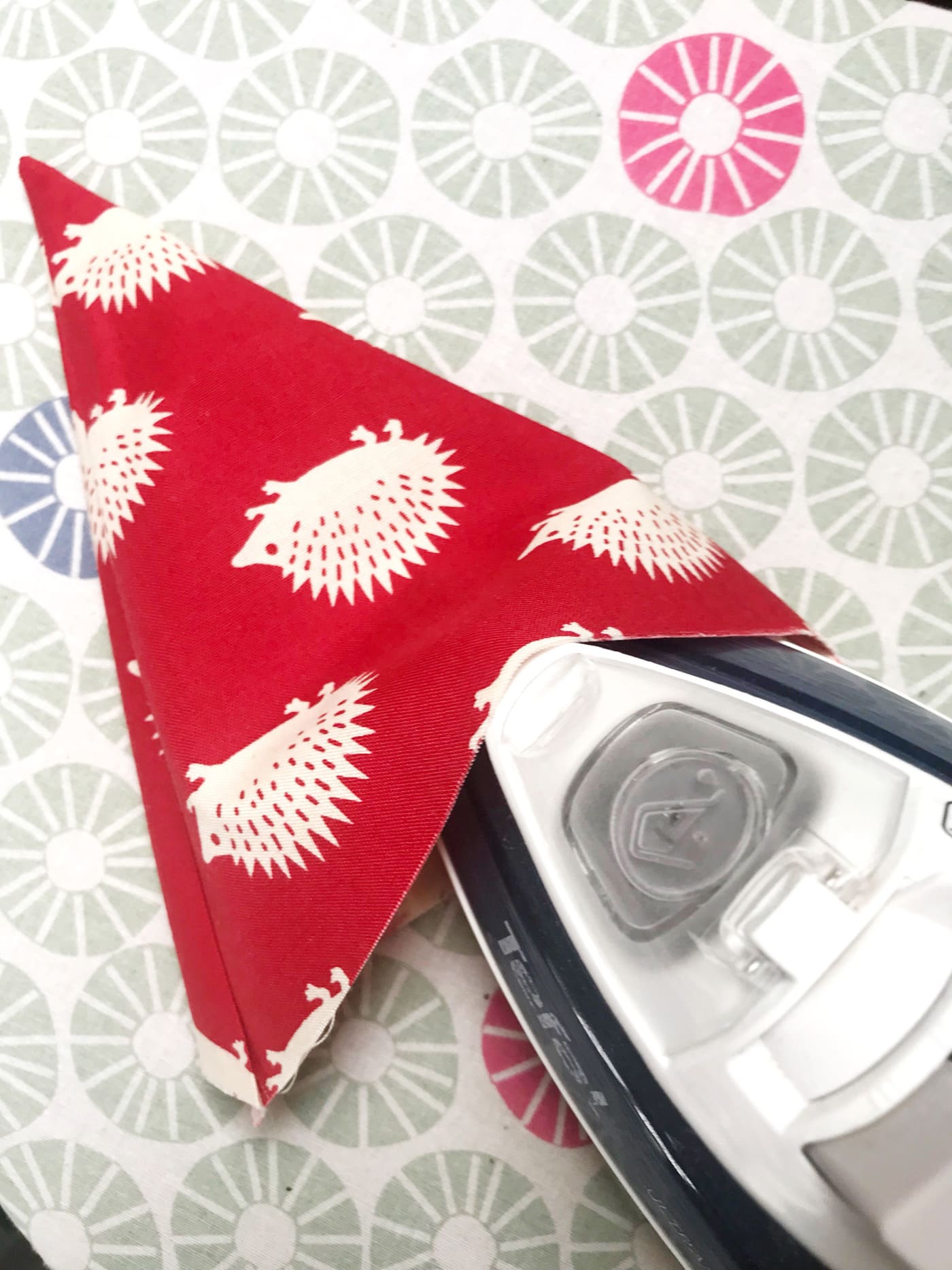 Do this for all the flags.
Step Four:
You will now notice that there are two little 'ears' at the top of each flag. Using a pair of embroidery scissors, snip them off.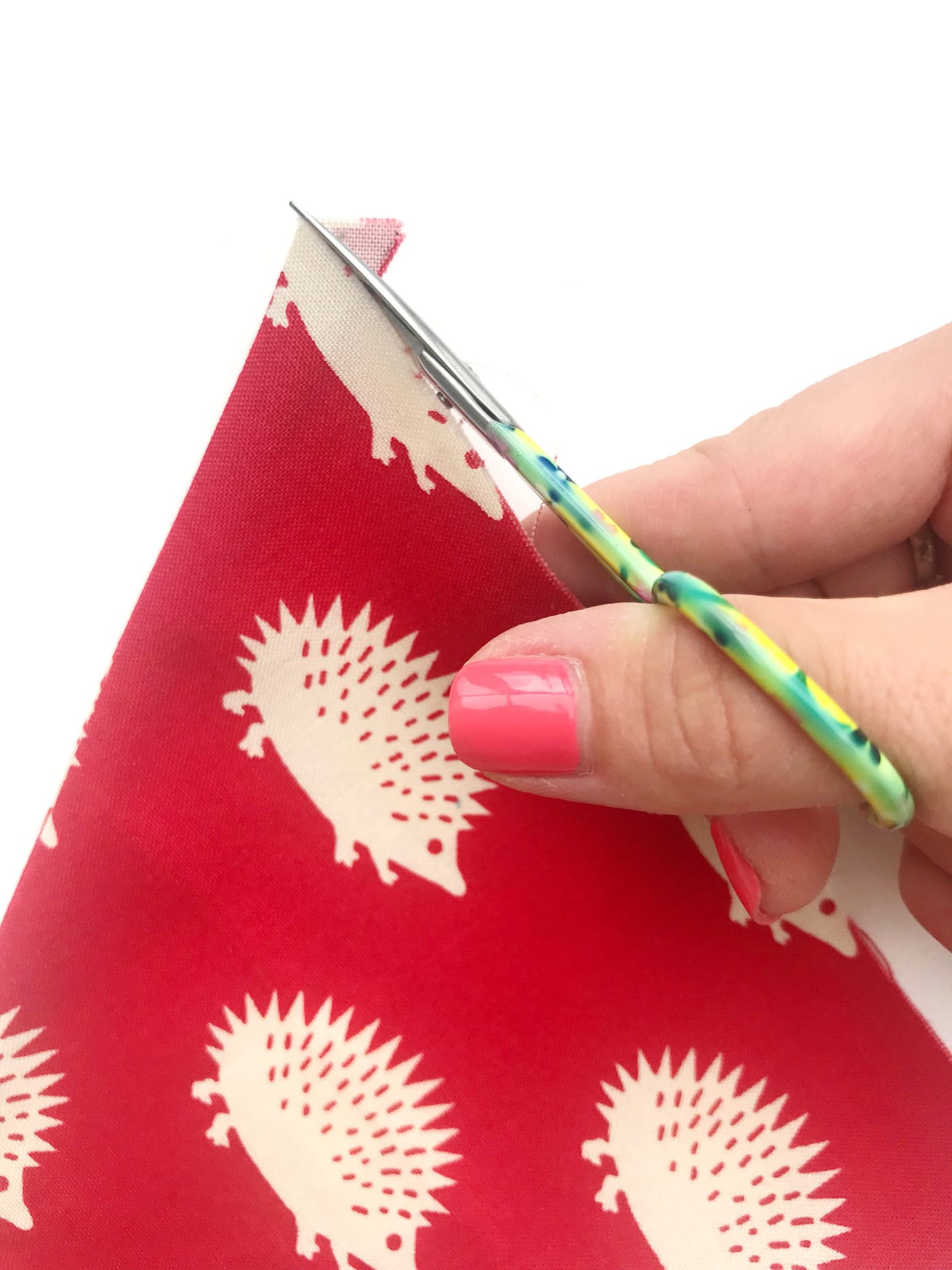 Step Five:
Now you are ready to put the flags onto the bias binding. Take the binding and iron it in half.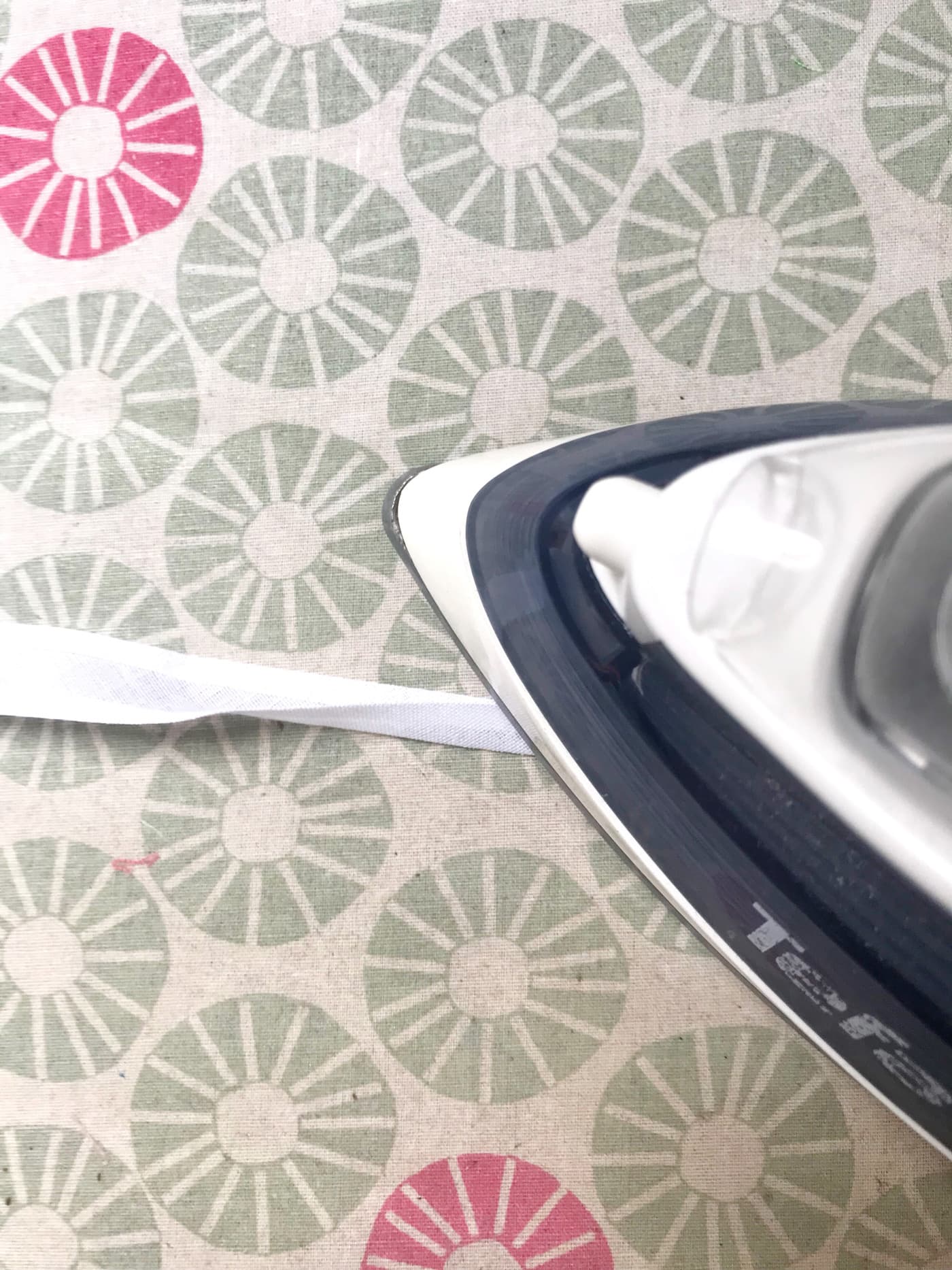 Lay out your flags out in the order that you're happy with. I have gone for a rainbow formation!
Fold the binding in half to get your mid-way point. As there are 11 flags, you need to put one flag exactly in the middle of this crease, and then 5 flags either side. Take the central flag, fold in half to get a crease and match the creases up.
Step Six:
Insert the flag between the binding, making sure it's fully inserted. (My binding is quite narrow so it's a little tricky. You may choose to use a slightly wider binding.) Secure in place with binding clips, or pins if you prefer.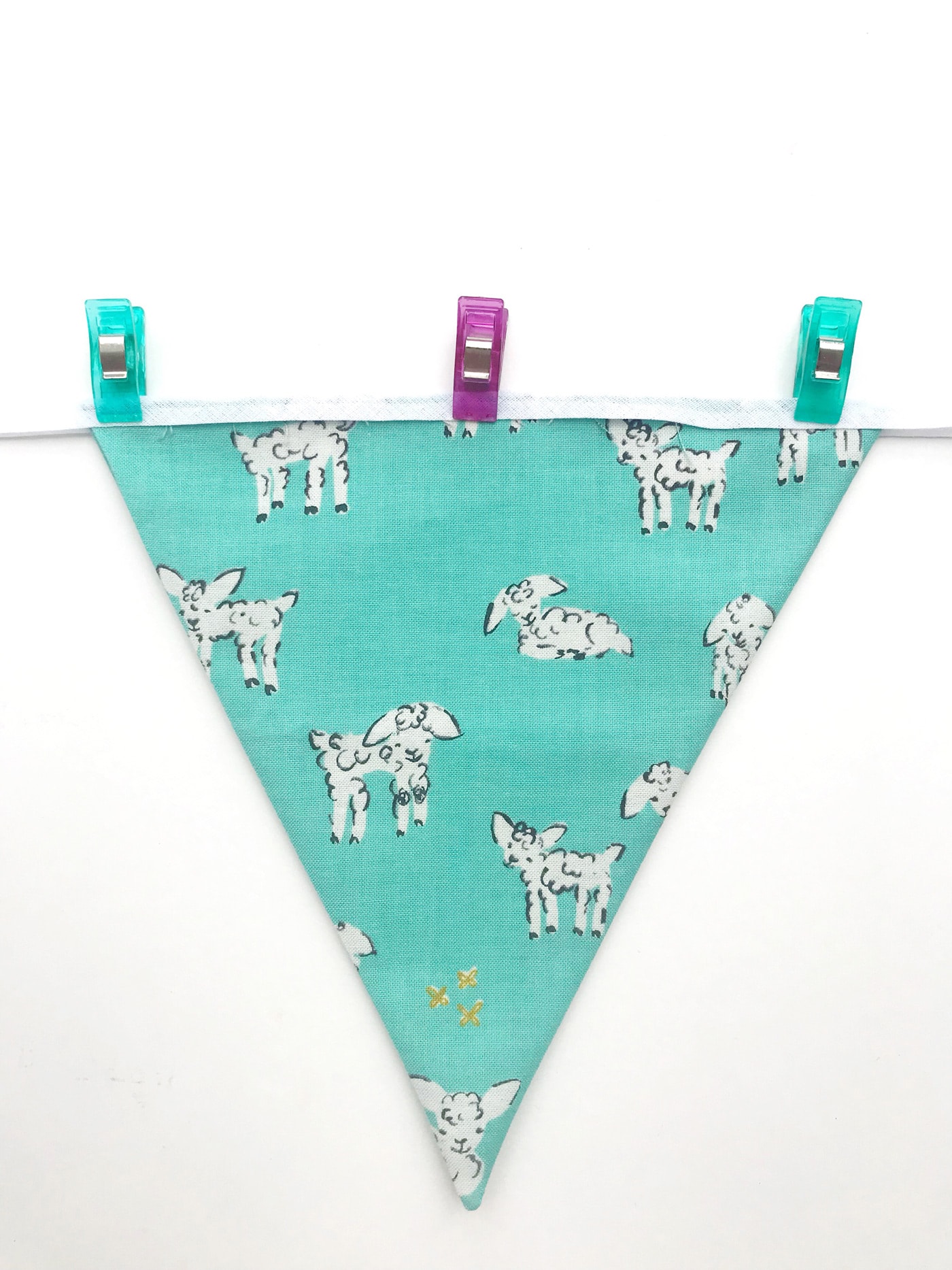 Repeat for the remaining 10 flags. It is up to you whether the flags touch or whether you have a gap between them. If you do decide to have a gap, you will need to make sure it is even between each flag.
Step Seven:
Using a neutral coloured thread, start stitching from one end of the binding, all the way to the end, removing the binding clips as you go. Make sure that the flag is encased and keep your stitching towards the bottom part of the binding. Slow and steady is the key for this part, particularly at the beginning end of each flag. At the beginning and end of the binding, fold it in on itself so that you don't have a raw edge.
Tie off the ends and give all the flags a press. And you are done! Find a wall or garden to hang your bunting and admire!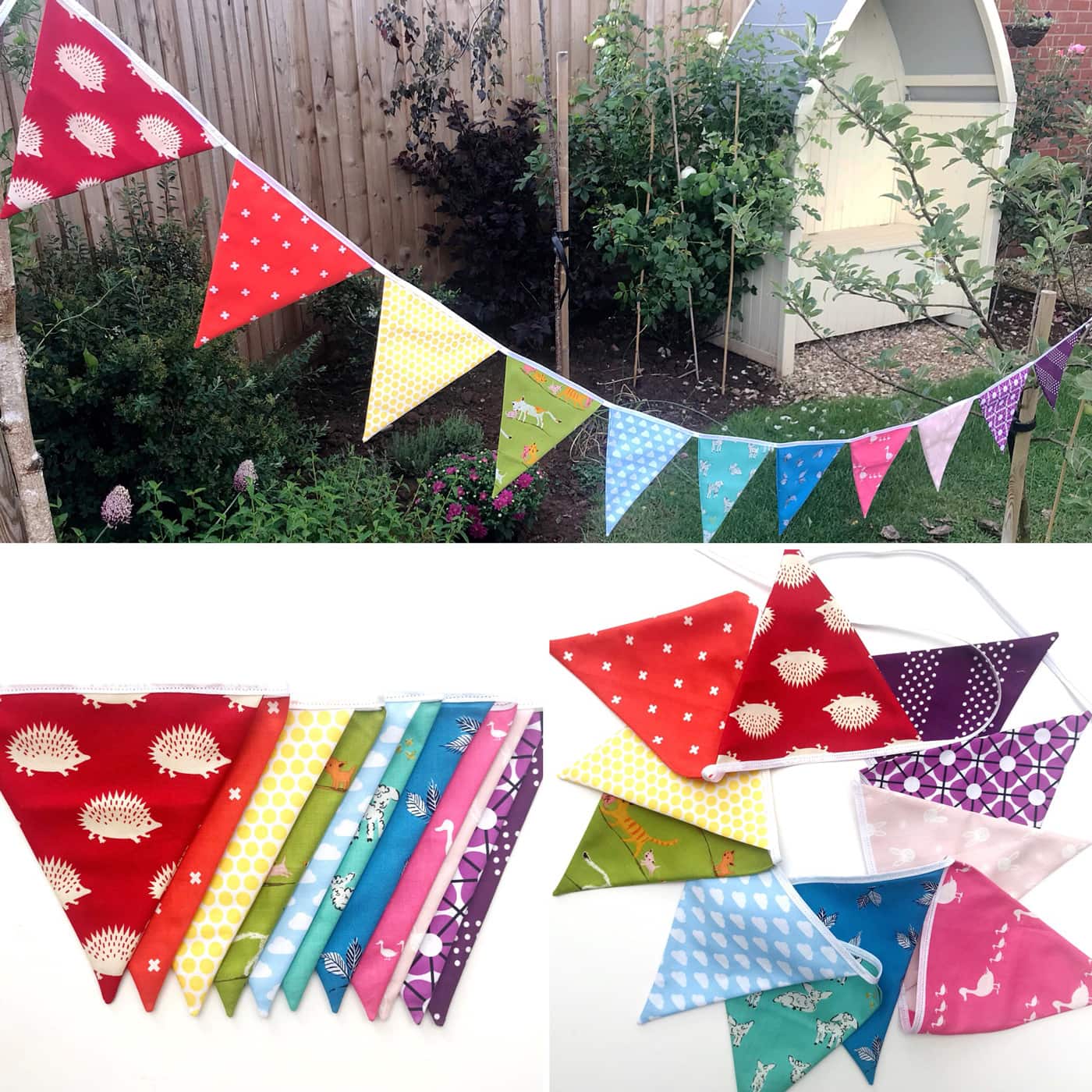 About the Maker: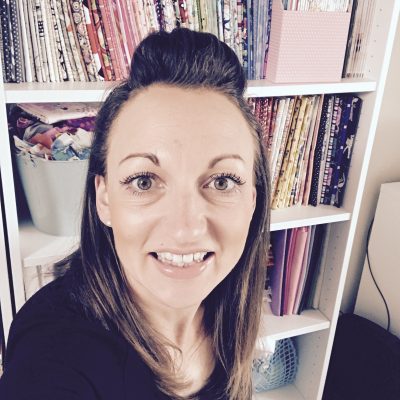 Sarah Ashford is a British Quilter and embroiderer and founder of the GreatBritishQuilter challenge on Instagram. Sarah regularly contributes projects to magazines and loves to spread the joy of quilting everywhere she goes. Follow her on Instagram at @sarahashfordstudio and be sure to check out her beautiful sewing room decals in her etsy shop www.etsy.com/shop/sarahashfordstudio
More Fun Small Sewing Projects:
Chalkboard Pencil Pouch Sewing Pattern