One of my favorite baby quilts to make is the one from my Soft n Snuggly Baby Quilt tutorial.  It pieces together quickly and is a great way to use up some of your scraps.   A friend of mine is expecting a new baby girl and I thought it would be the prefect opportunity to make another one of these quilts.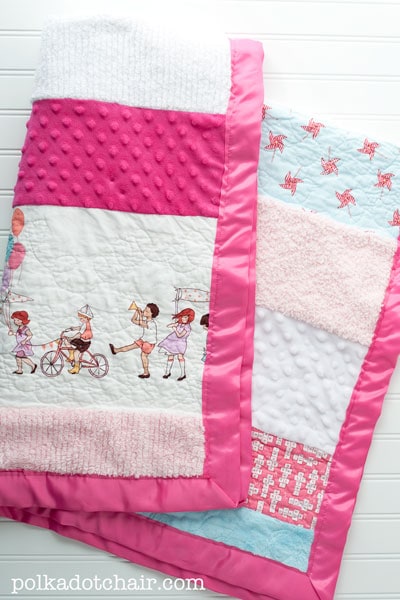 The quilt is designed to have many different textures for a baby to feel.  There is flannel, minke, chenille and cotton.    I just cut each fabric into strips anywhere from 4″ – 8″ wide and pieced them together in random order.  To finish it off I added satin blanket binding around the edges.  Satin binding is not my favorite, since I have a hard time getting it to lay flat, but I think the texture that it adds to the quilt makes it worth it.
After a good washing the blanket comes out soft and super textured.  One thing to note, since each of these fabrics shrinks at a different % the quilt is not going to be 100% perfect,  but thats not really the point of a quilt like this if you ask me.
You can find a full tutorial on how to make this quilt, along with photos of another one I made (for more ideas if you want)….. here