Today I'm excited to announce the release of a new quilt pattern! It's a bow tie quilt pattern inspired by my Derby Style fabric line.  I'm offering it at a discount for one week only to celebrate its release!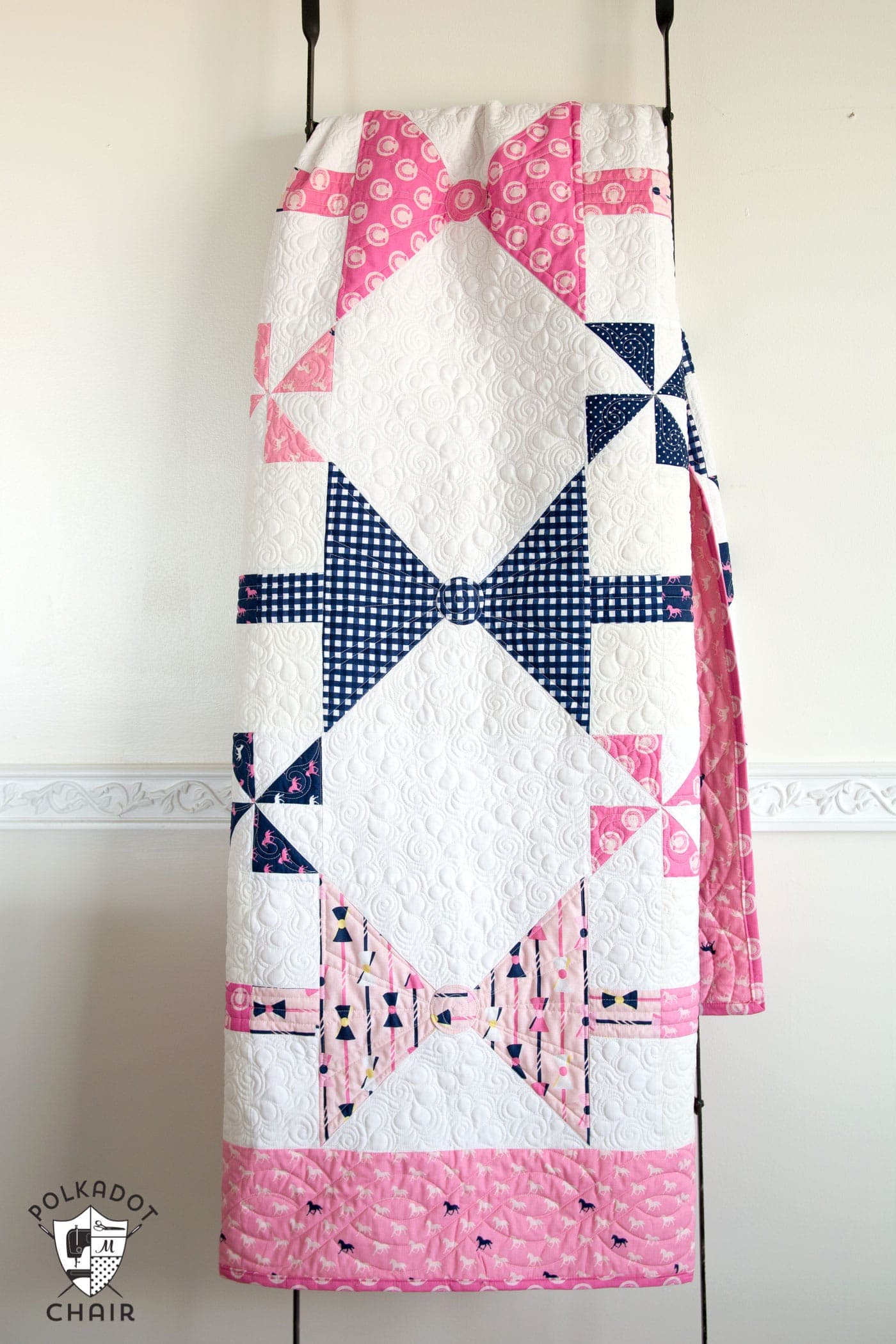 A couple of years ago I was brainstorming ideas for a quilt to showcase my Derby Style Fabric line.  I needed a quilt for  quilt market and was stuck between two ideas.  The first idea (which I eventually went with) was my Prize Ribbons Quilt, the second idea was this one, which I've named Dad's Bow Ties. 
I loved the idea of playing around bow ties all lined up in a row (like the bow tie print of the fabric line). I sketched out the pattern, then stitched a few blocks. I found a layout that I really liked and stitched about half of the quilt together.  The project then got set aside as other commitments ended up taking precedence.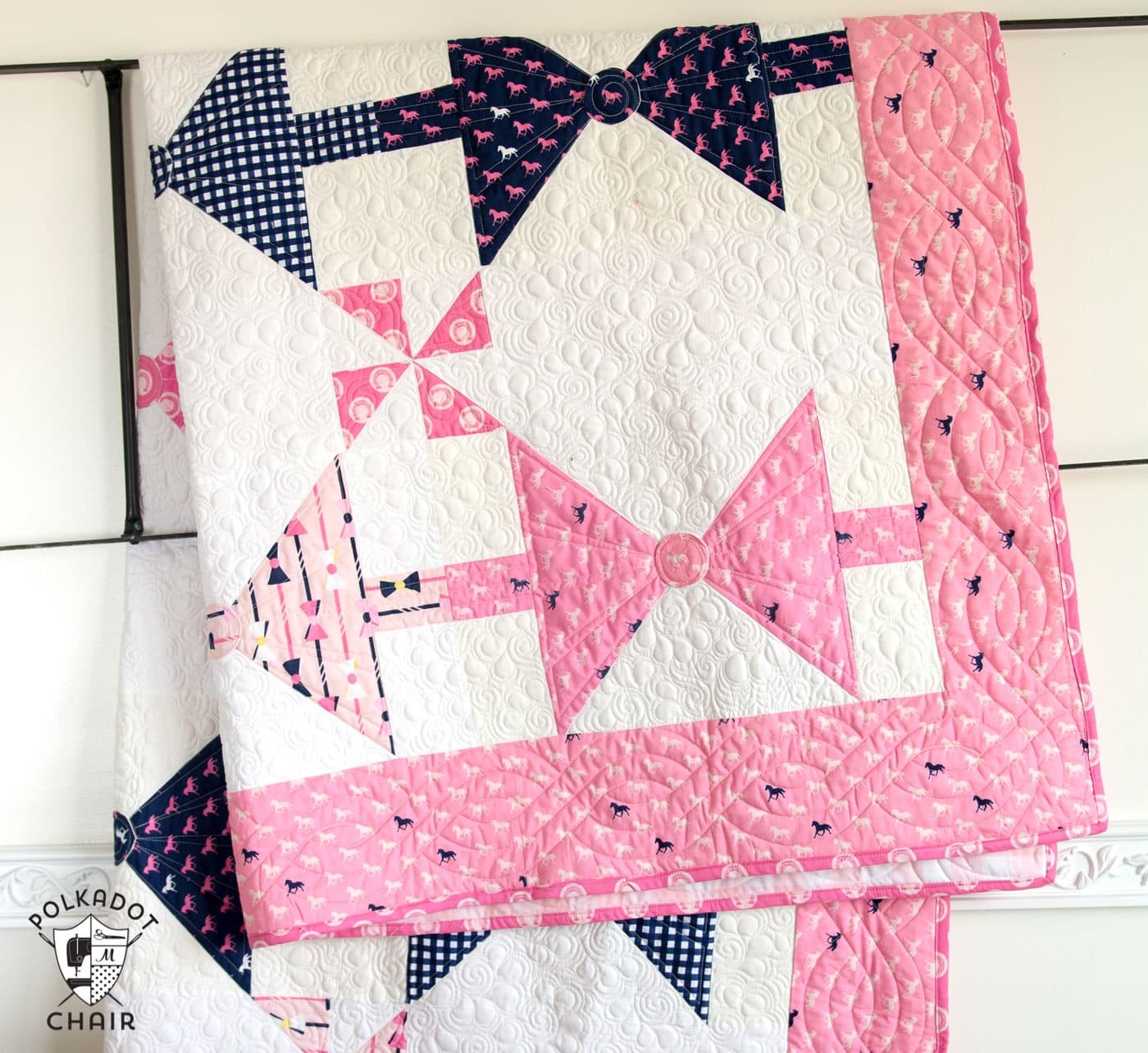 I finally finished the quilt last summer and sent it off to Natalia of Piece N Quilt to work her magic! She always does such a fantastic job machine quilting my projects. The quilt is now on the bed in my daughters dorm room.  She loves pink and navy and the "Derby" inspired design reminds her a bit of home.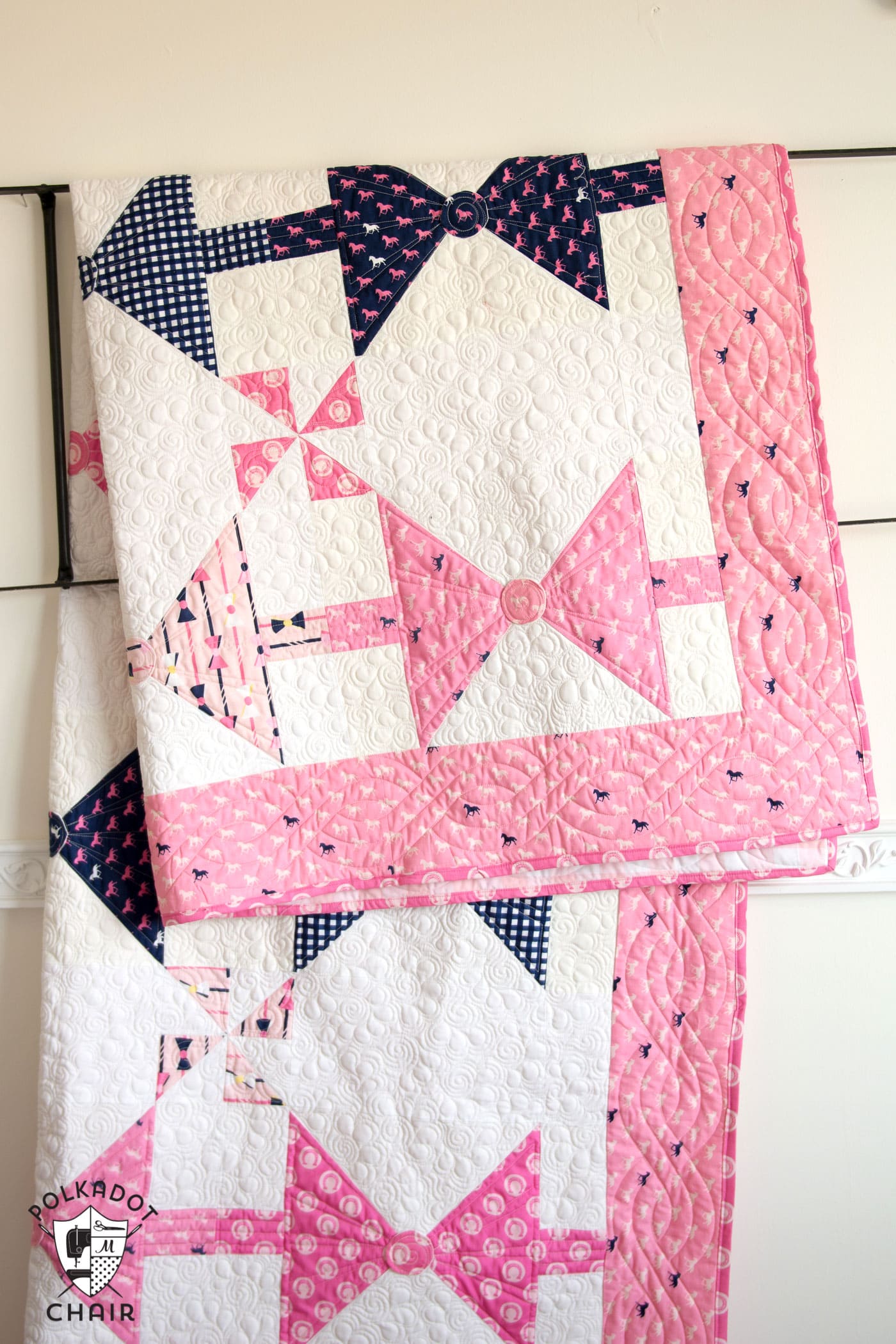 Over the last few months I've been working on putting the pattern together.  I designed the pattern in a Twin XL size (to fit on a dorm room bed), after I showed it to a friend they remarked that it would be a cute quilt for a baby boy.  I loved the idea and decided to add the option to make the quilt in a crib size also!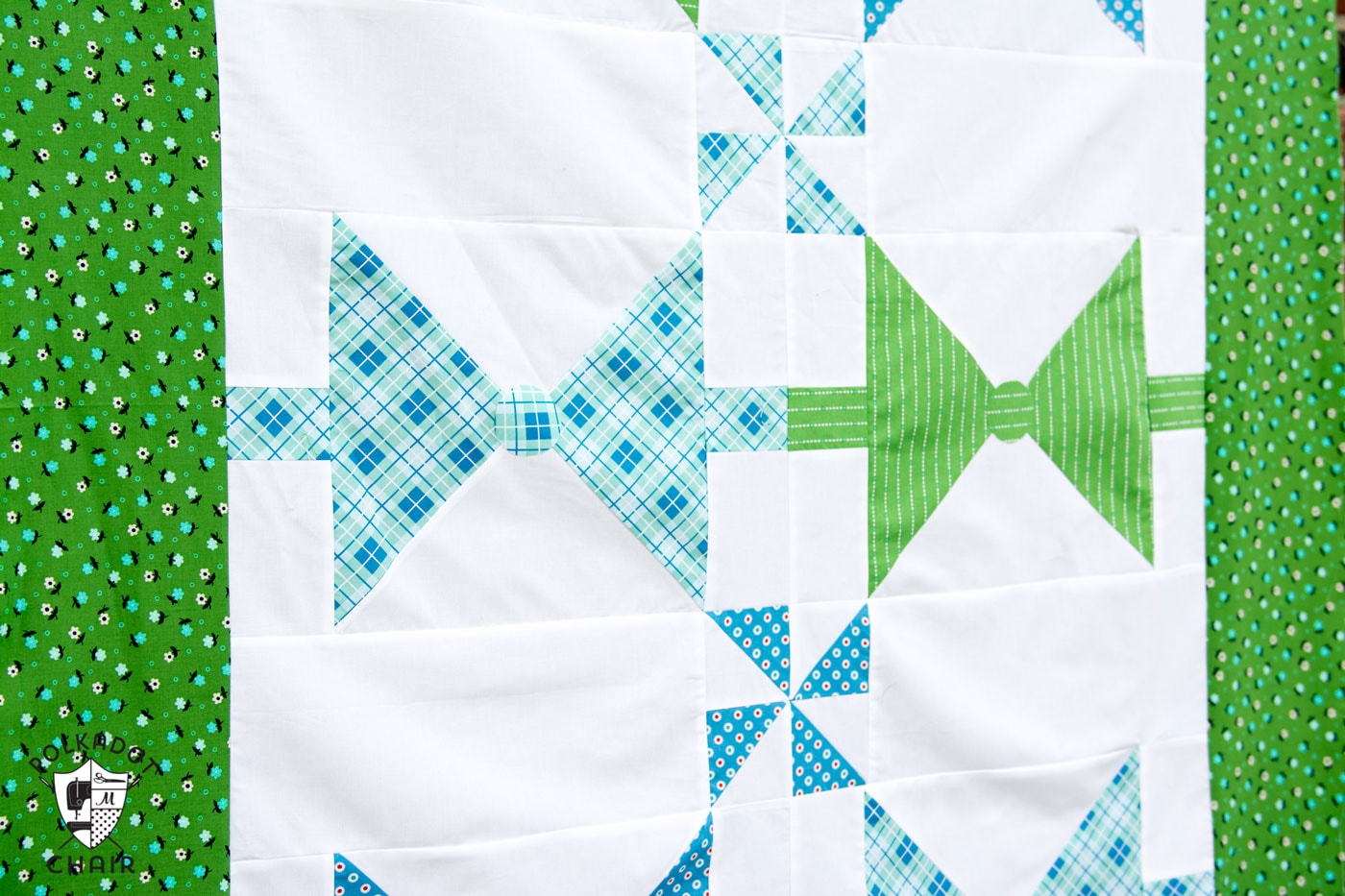 A few weeks ago I stitched up a top in the baby quilt size using some "boy" fabrics so you can see that the pattern can easily work for both genders. (Which I know is a matter of opinion, boys don't just need "blue" things…  for example when my son was little he only wanted things that were yellow (clothes, bedding, toys, cups, etc) It was kinda crazy)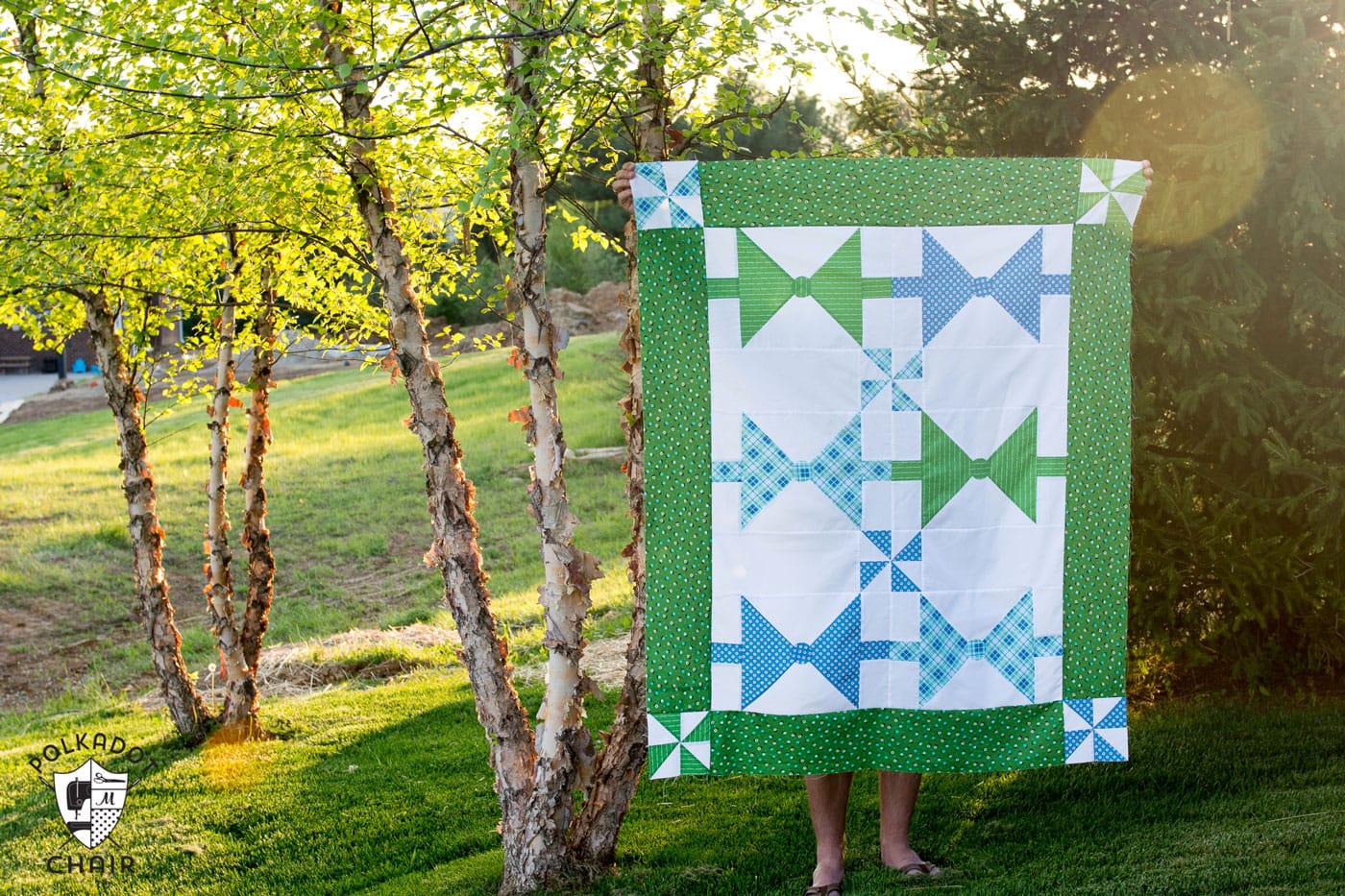 This top is sewn from some of Allison Harris' Hazel line of fabric with a bit of Cotton + Steel mixed in. It was a bit of a departure for me not to make something PINK and I enjoyed the challenge *wink*. Now someone I know just needs to have a baby boy.
I took the quilt top out for a little photoshoot over the weekend. We have had the most fabulous weather the last few weeks. I think we have been totally spoiled! Highs in the 70's-80's with no humidity!  Other than an overabundance of beetles and wasps, it's been absolutely heavenly to be outside recently.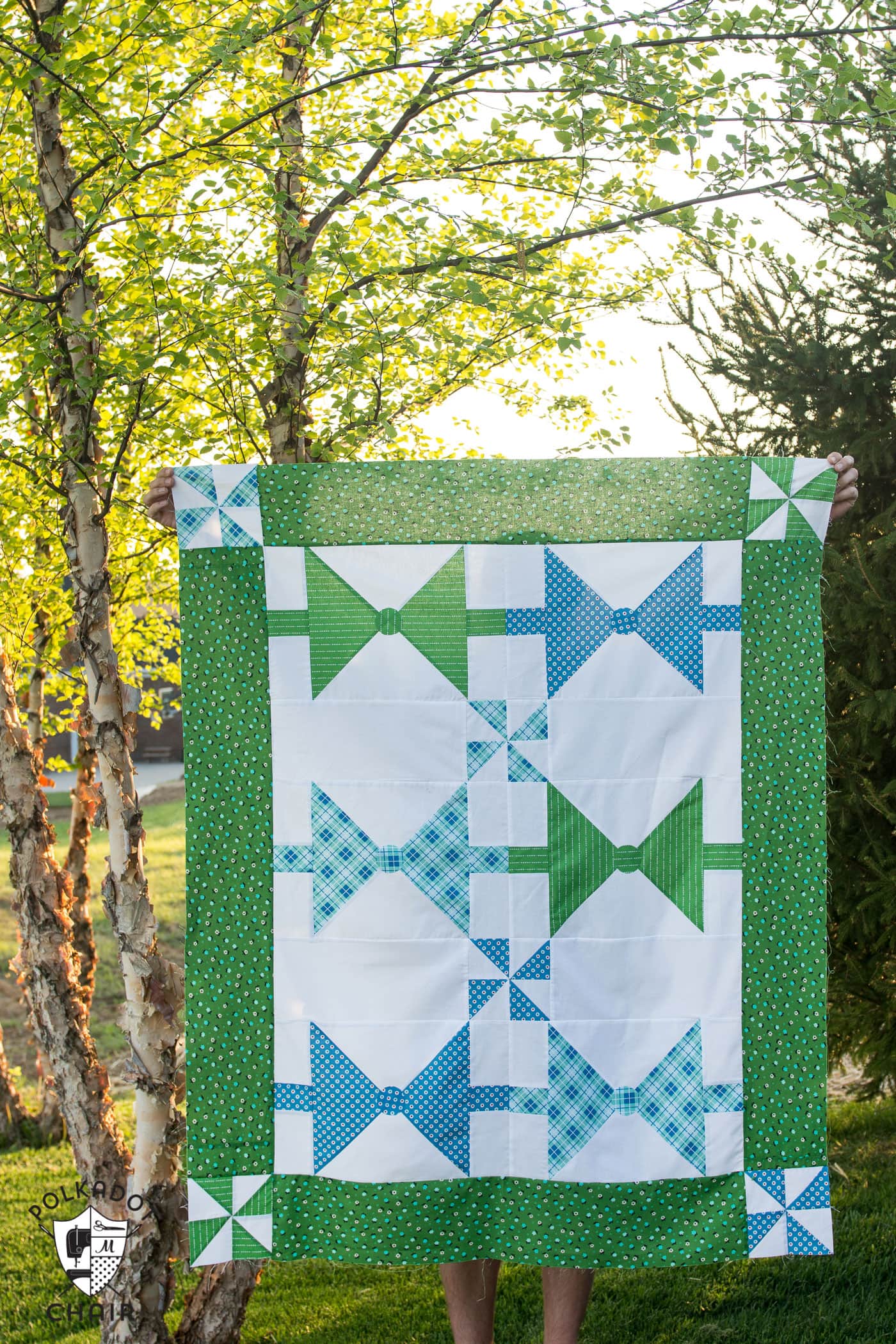 I had my ever so trusty "quilt holder" (aka my husband) help me shoot a few photos of the quilt top.
When we first moved into the house we planted the smallest cherry tree. I remember looking at it and think it would be FOREVER before it look like a legit tree… We've been watching it grow, and finally this year it gave off the most beautiful Spring blossoms. Just like someone strung like giant puff balls of cotton candy expertly across the branches.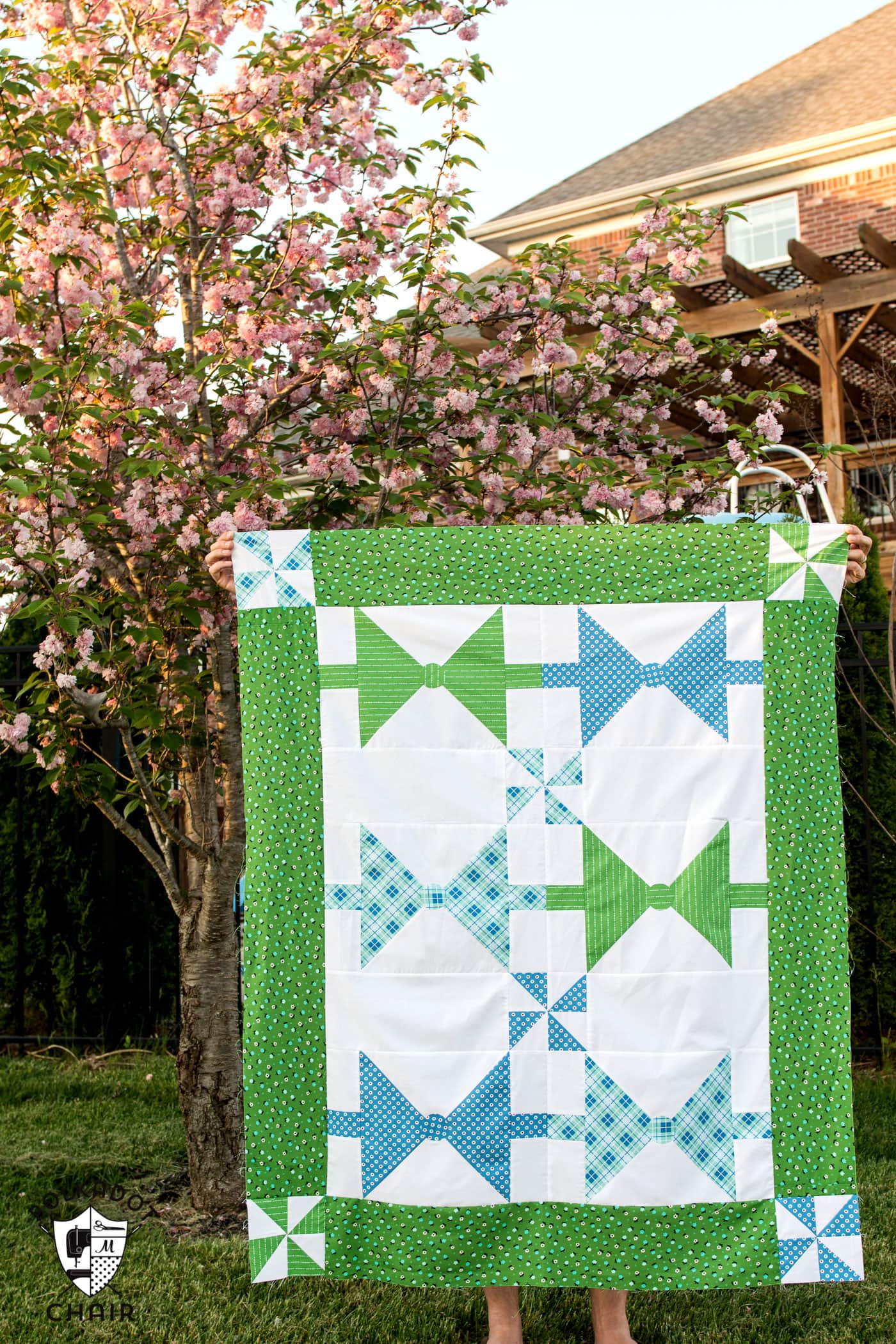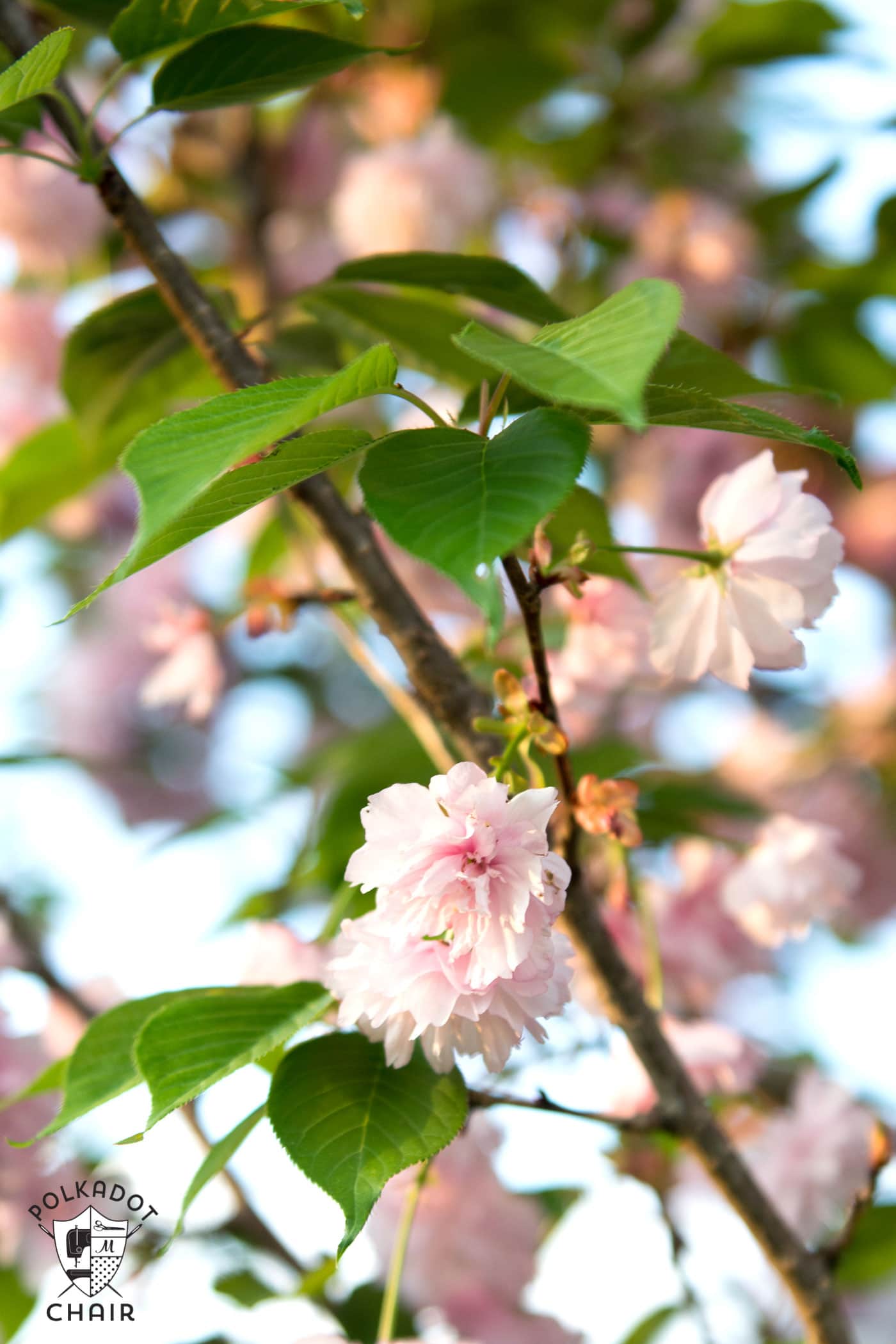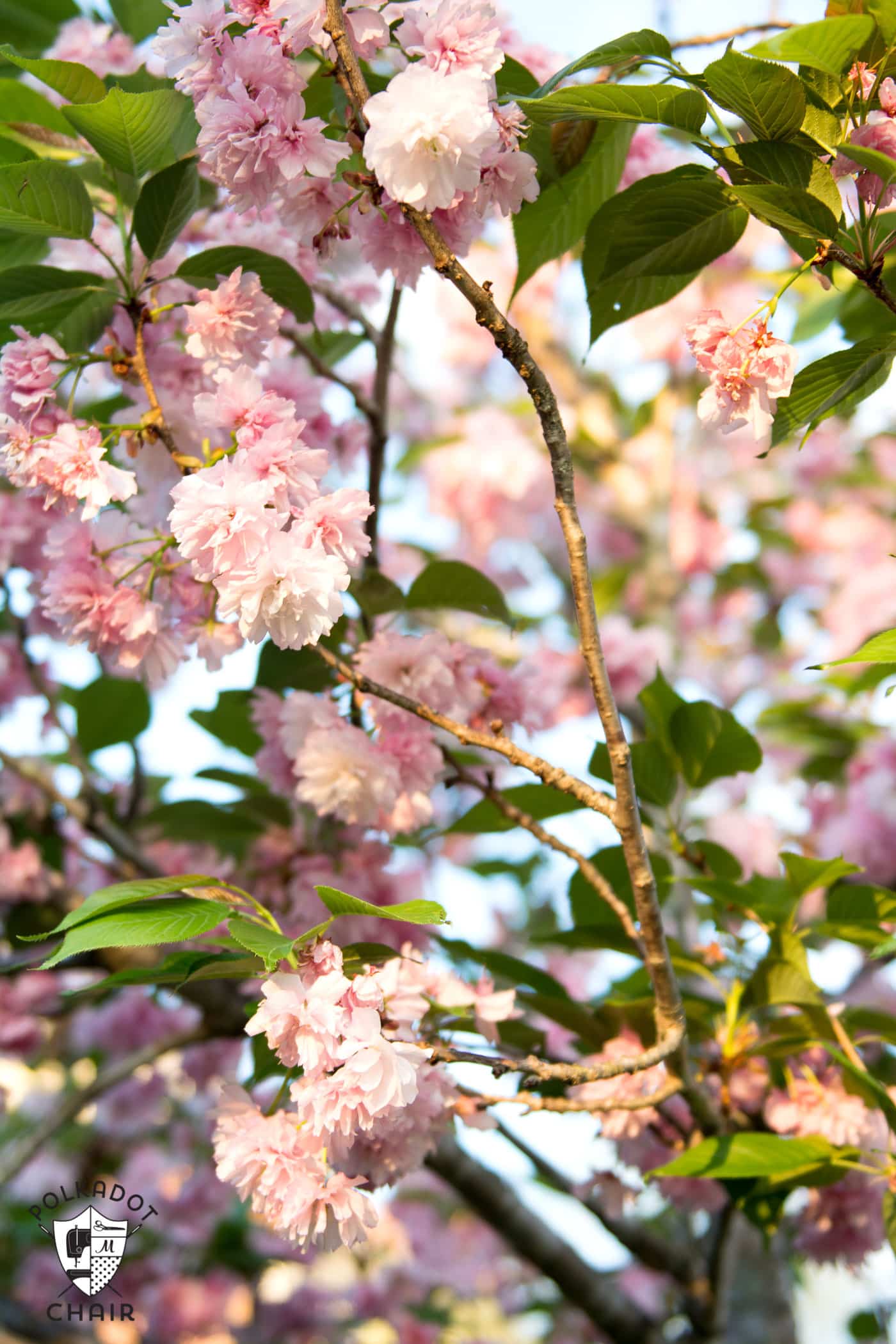 They were such a gorgeous shade of pink that I snapped a few photos with my camera.  I think it's been months since I photographed something other than a quilt or blog project. I really need to remember to do that more often.
okay… back to the pattern 🙂
I sent the pattern off to Tina of Emily Ann's Kloset to look over it for me and stitch up a sample.  She had the BRILLIANT idea of making it in Christmas fabric, that way the bow ties look like giant Christmas Bows!
Here are a couple of photos that she sent me, I'll be sure to share with you the project when it's all the way finished closer to the Holidays!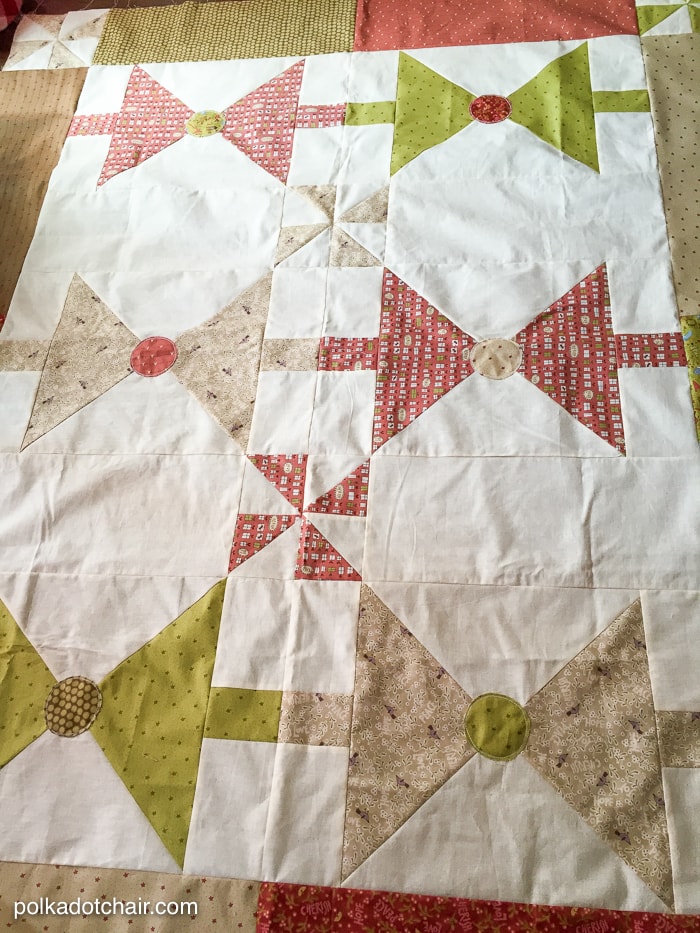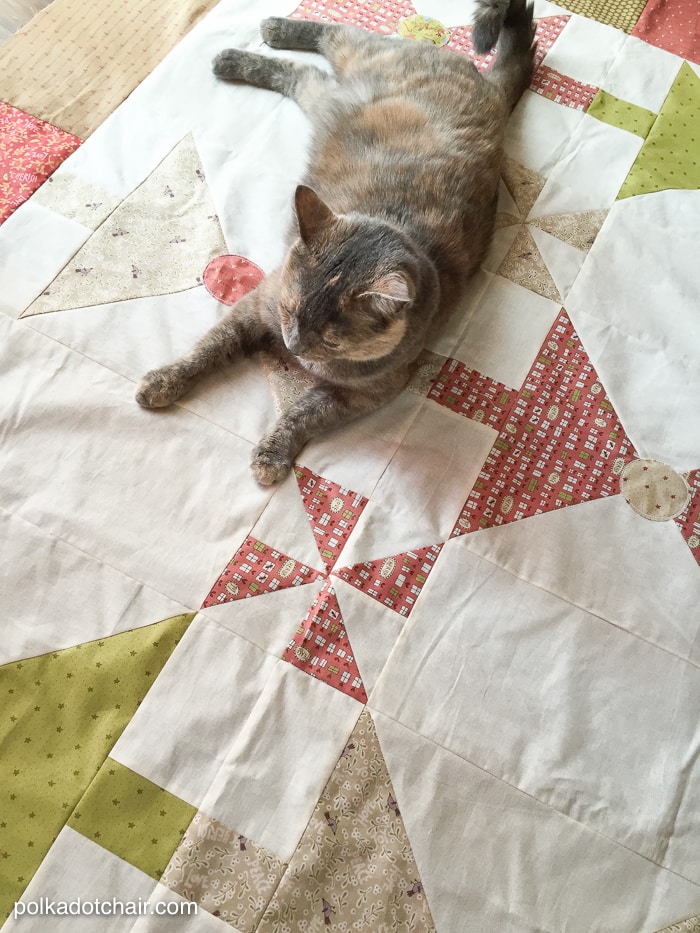 You can find the pattern in the PATTERN SHOP in PDF format. It will also be offered in print format by the end of May. I'll be sure to let you know when the printed version is available if you're interested in wholesale orders.
As a "special" the pattern will be only $5 through next week, after that the pricing will go up.  When you purchase the pattern you'll automatically be sent a link to download the pattern yourself.