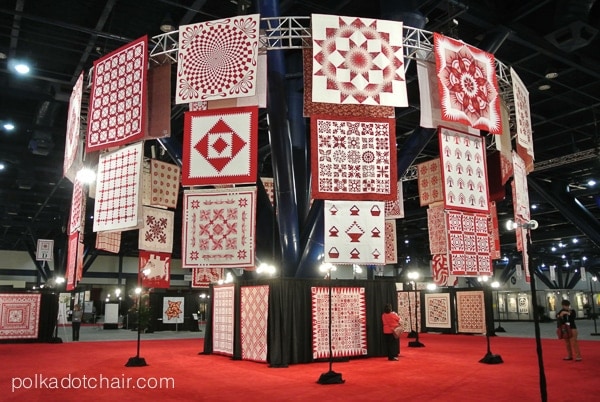 Hi guys! Today I'm going to share with you a bit more about some of the fabulous new things I discovered at Quilt Market in Houston last month. Before I get in to that, a little bit of business. I recently added a password to download my free printables. I did this because of the crazy numbers coming in from Pinterest (and some not so "honest" uses of the printables) I'm trying to protect them a bit so that I can keep sharing them for free.
To get the password, just subscribe to get new posts delivered to your email. You'll get one email per post, and it will include the FULL post not just a teaser. When I did this I wanted to make sure that it didn't affect my existing email subscribers, so I'm going to tell you now, the password is: polkadots (original huh?!).
If you ever forget it, just enter your email in the "subscribe" again and it will generate another email asking you to subscribe and telling you the password. When you get the email, you don't need to activate a subscription because you already have one. I'll also include the password in a new post for a few days, then take it out later, so you don't have to jump through hoops. Make sense? We'll try it out a bit and see how it works….
Okay now back to quilt market…
I did not get a ticket to Sample Spree!! They were sold out by the time I got there! So I don't have any photos of pretty fabric stacks for you today, but I do have lots of photos of fun finished projects.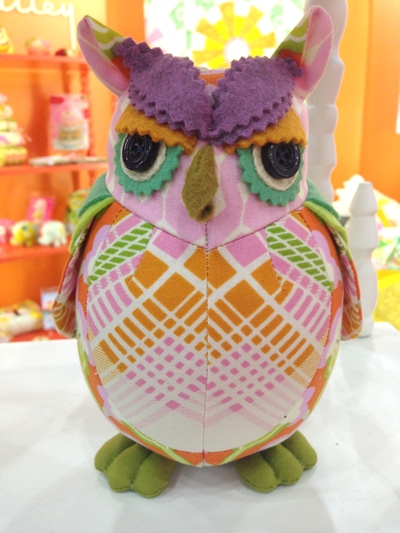 One of my favorite designers of all time is Heather Bailey and I was excited to see that not only did she have a full booth at this market, but that she was also releasing a new fabric line and new patterns. The adorable owl is one of those patterns, and I'm pretty sure this quilt: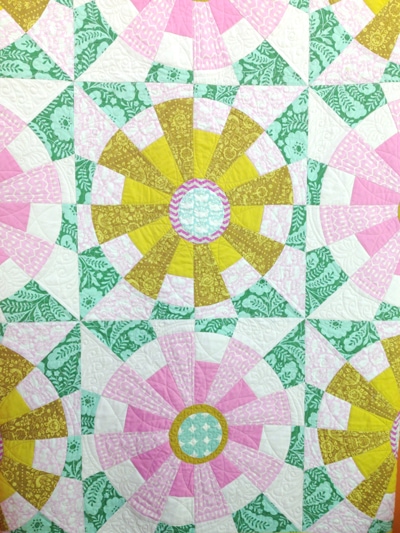 is one too.. She's got such an incredible grasp on color and design, her stuff wows me every time! (I believe she has more info on her blog)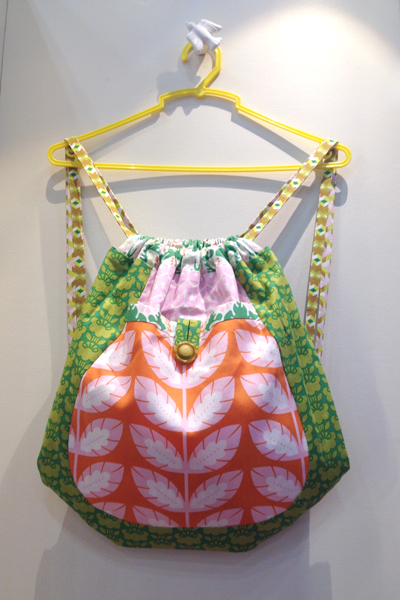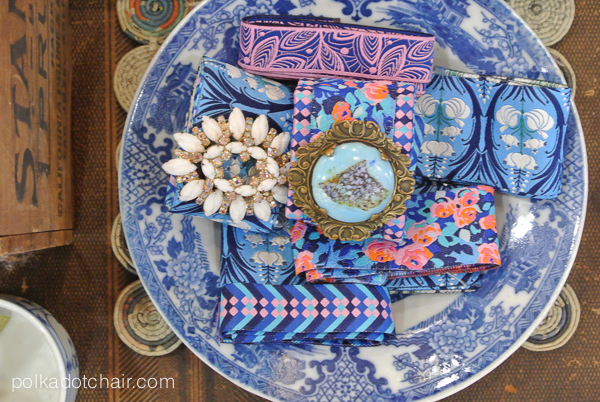 Next up is Amy Butler's gorgeous booth! Isn't this little vignette amazing?!! I love that you can see a bit of where she gets her inspiration from. The vintage baubles and new trims look so divine together!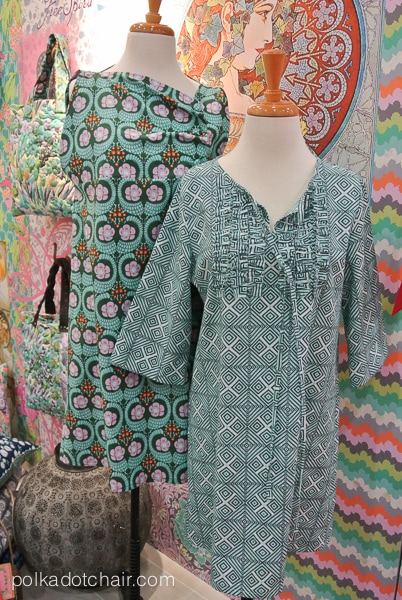 I also love that she displays a variety of projects in her booths, here are two sewn garments, that I want to STEAL right off of the mannequins! (I totally didn't steal them and they probably wouldn't fit me anyway 🙂 )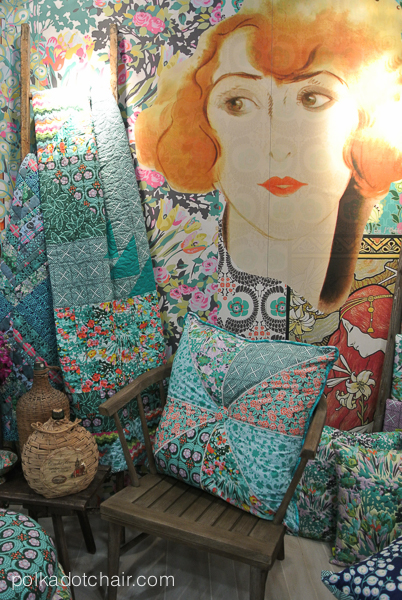 A bit more from her booth…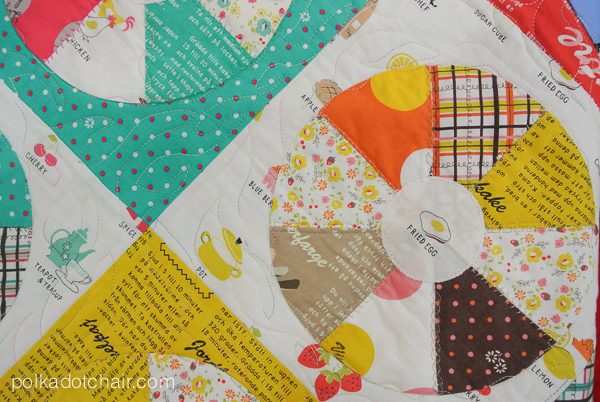 Next up is the Kokka booth. They have also been one of my long time favorites, I just wish it wasn't so darn hard to get a hold of their fabrics! Fabric Worm does carry a bit of them.
I love this "mod" vintage take on a Dresden block on the quilt above from their booth.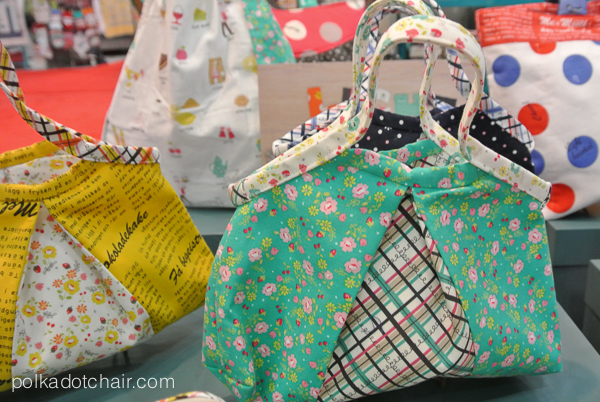 They also always have a lot of really cool handbags on display.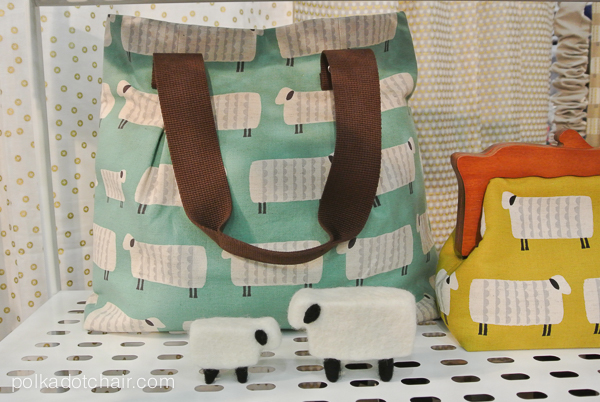 Aren't those lambs ADORABLE??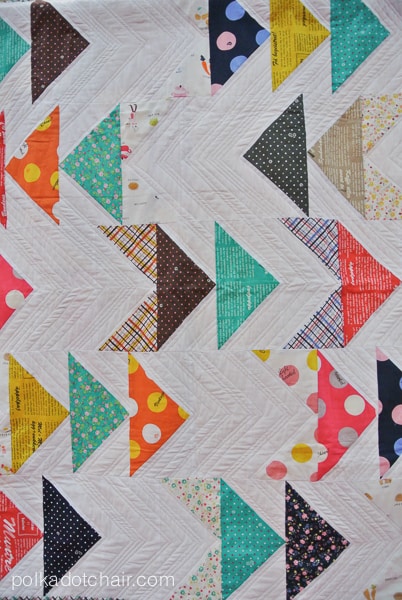 Another one from Kokka, I'm pretty sure it's the same fabric line as in the Dresden quilt above. I love the flying geese on this one, especially interspersed with the "negatives" from the flying geese blocks.
The Birch Fabrics booth was another fabulous one. I've always loved their Charley Harper Fabrics (I should really buy some, I still don't have any…) they had such a cool vintage vibe to their booth.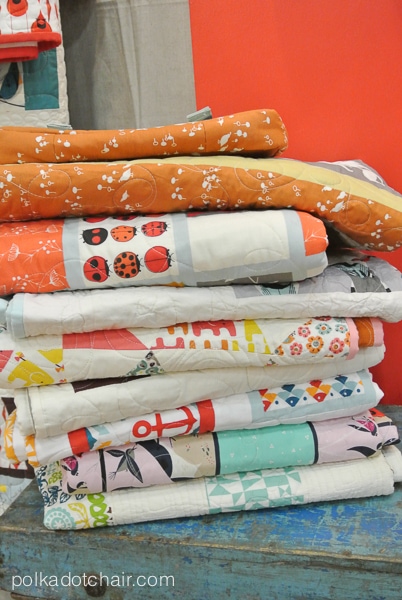 Okay, now for Cotton + Steel. Once again they were the darlings of the market, and the attention was well deserved. I bought a bunch of their basics and new fabrics after last market and still haven't sewn too much with them, so I wasn't in a HUGE rush to see what they had in store this market…. Just because I felt I needed to use up what I have before I buy more.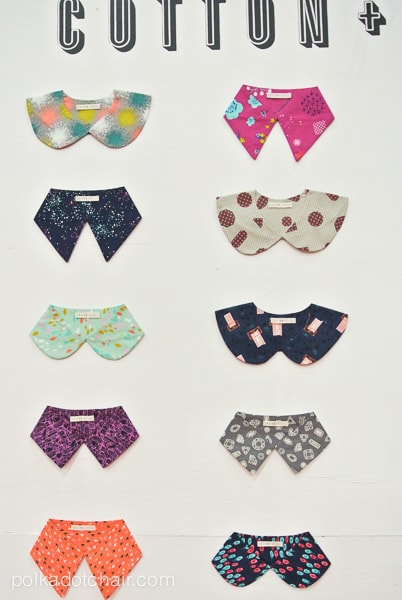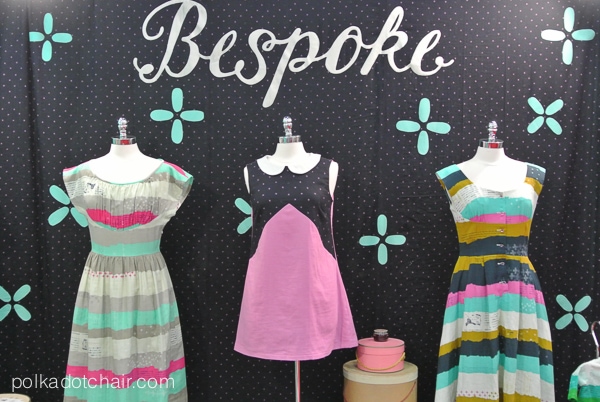 I my favorite part of their new lines is the double gauze fabric. If you're not sure what that is, it's pretty much a cotton fabric that has a lightweight feel kinda like a linen. It has a pretty texture and drape and is perfect for sewing tops, skirts and dresses. It's on my "must buy" list for spring, as I still think it's hard to find apparel fabric, that is great quality and well designed.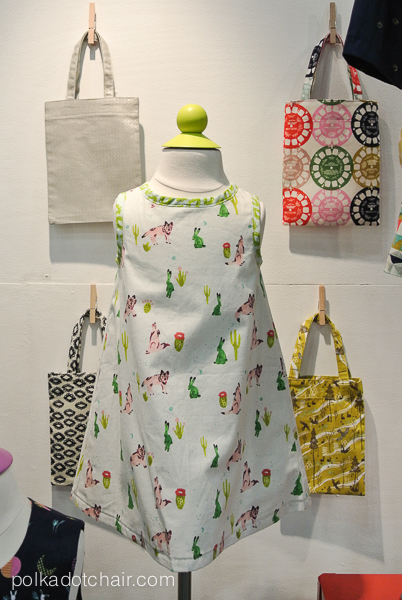 A few more shots from their booth. I was excited to see that Melody Miller's viewfinder fabric is coming back!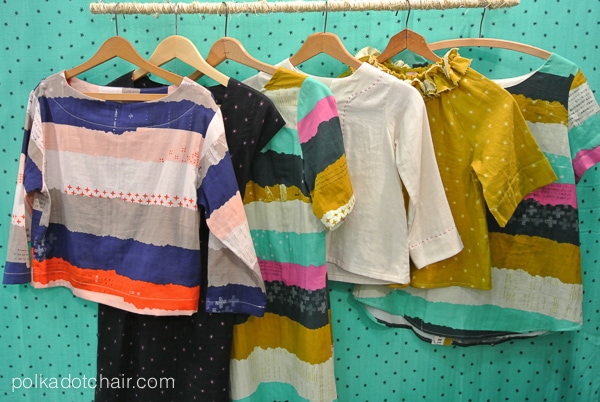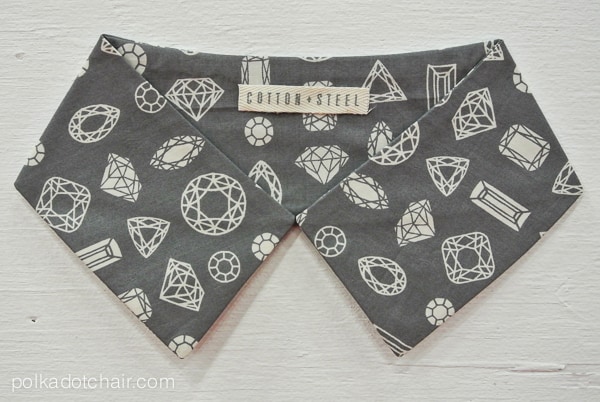 Love the gems, they seem to be exploding in popularity right now!
Here are a few more of the booths and projects…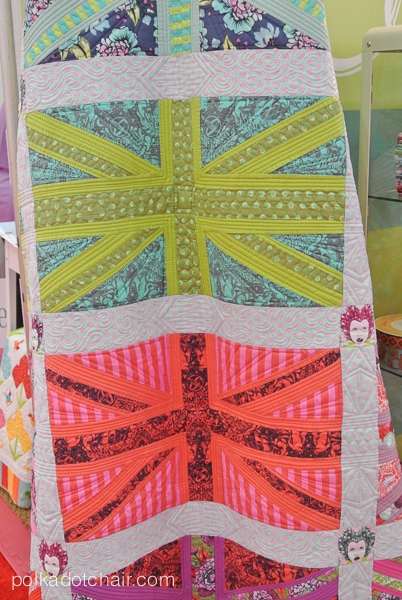 Tula Pink with her AWESOME Union Jack Quilt, don't you just love Queen Elizabeth pieced into the borders??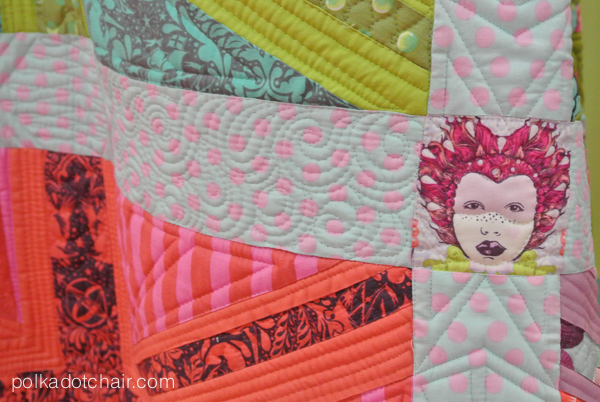 Two beautiful quilts in the Cloud 9 Fabrics Booth: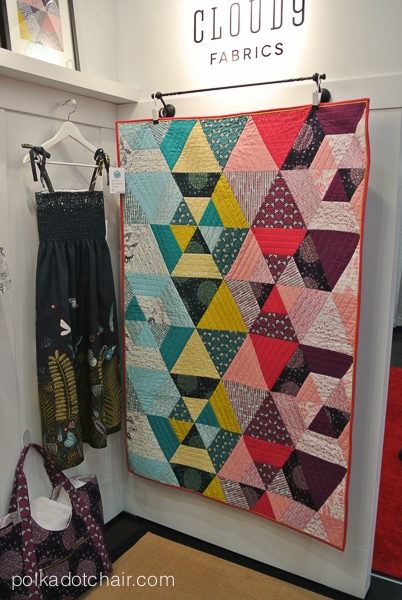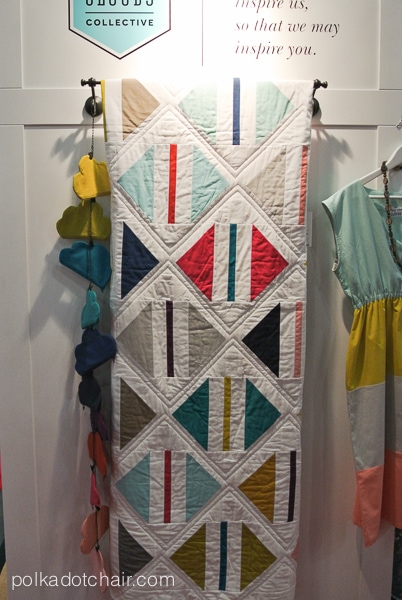 and this beauty from American Made Cottons…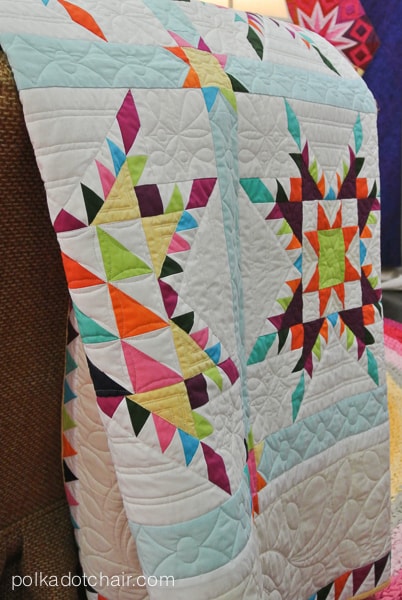 I've been home from Market a couple of weeks now and still feel like I'm processing it. By the time my book signing came up on Sunday I will have to say that I ran out of things to "do". Most of the people I knew left on Sunday early in the morning, so I spent most of the day wandering the show floor.
As a blogger/author/fabric designer I'm not there to buy fabric like a store is, so I try to stay out of the way of the people doing business…. but I couldn't shake the feeling that there was something else I should be doing… networking, hustling, selling… I don't know. I admit that I'm horrible about promoting myself, especially in person. I don't have an "elevator" pitch… and honestly it stresses me out that I would need one to be successful in this industry.
It seems that many there had set appointments and people to see and places to go… I'm sure that will come for me with time, but I don't want to give you the wrong impression of what it's like to go to Market. So I'm being honest with my experience… It's a tricky balance between wanting to connect with others and companies and not get the way of the business that they came to do at Market. I think it's hard for authors/bloggers to attend Market because there is no "set" place for us, but I also believe that we play an important part in the industry….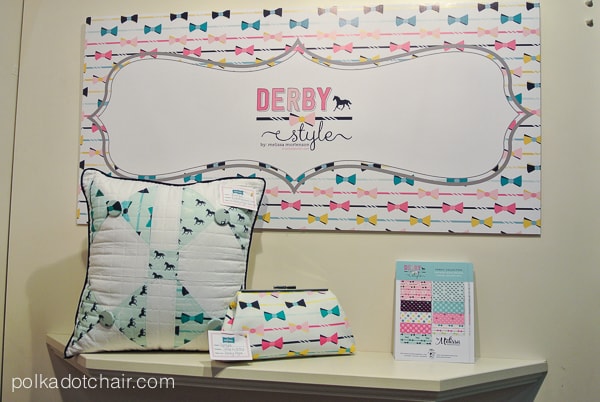 Overall I left Market really feeling really good. Not "holy cow that was the best weekend EVER" or "that was a waste of time"… but in between (leaning more towards the positive). I was ecstatic that I was able to present new fabric line and really appreciate all of the kind comments that I've received about it. I've got a fun photo shoot planned with the projects from my line this week and can't wait to share with you "pretty" pictures of all of that fabric!!