I hope you enjoy this tutorial for a quilt as you go halloween table runner.  If you like this project you may also like this tutorial for quilted halloween pillow covers.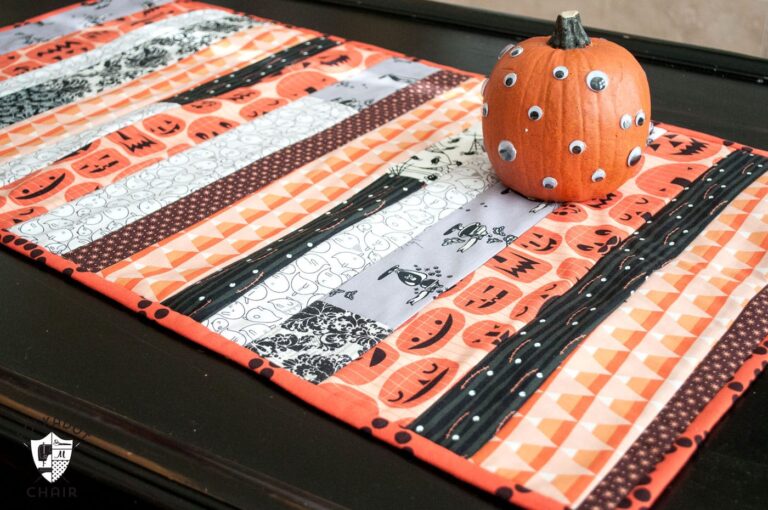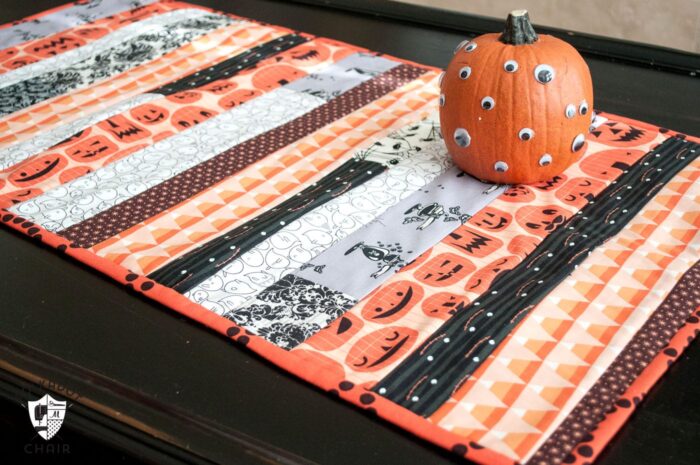 This month I've been working on some quilted Halloween pillows. I started collecting a variety of Halloween novelty fabrics and have had fun designing some pillows with all of the different fabrics.  I love finding projects to make using my Halloween fabric since I have quite a nice collection of them.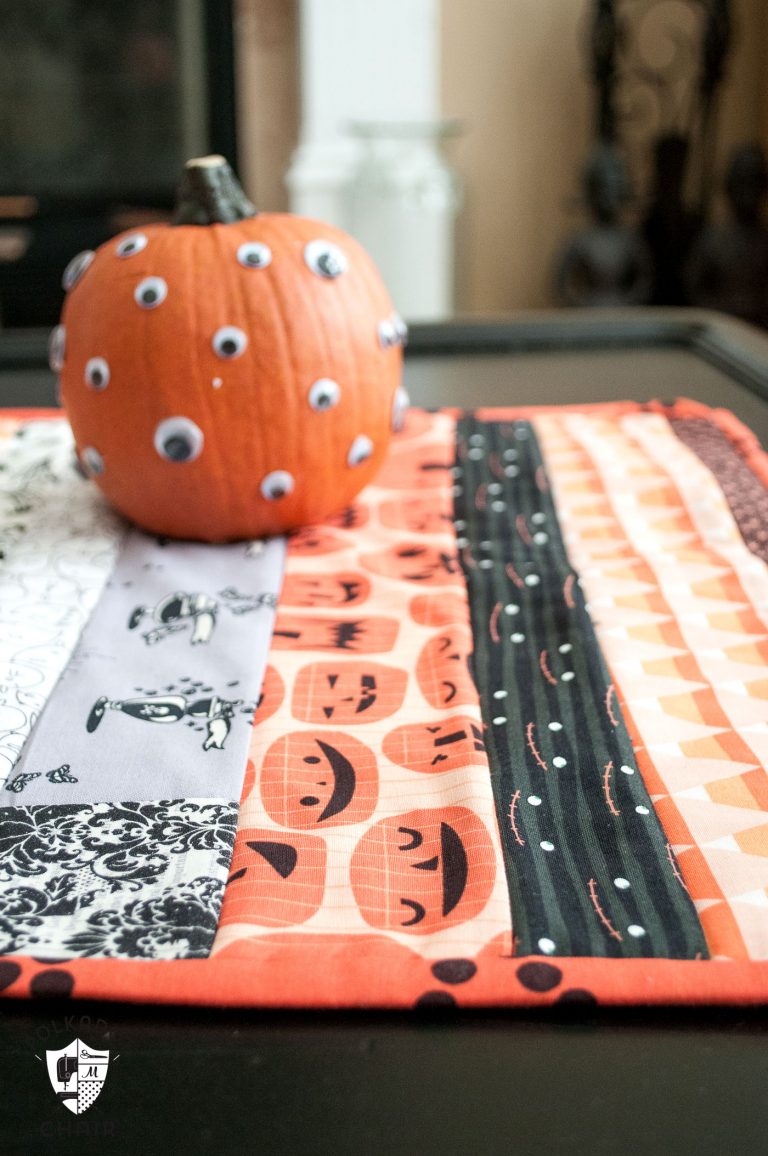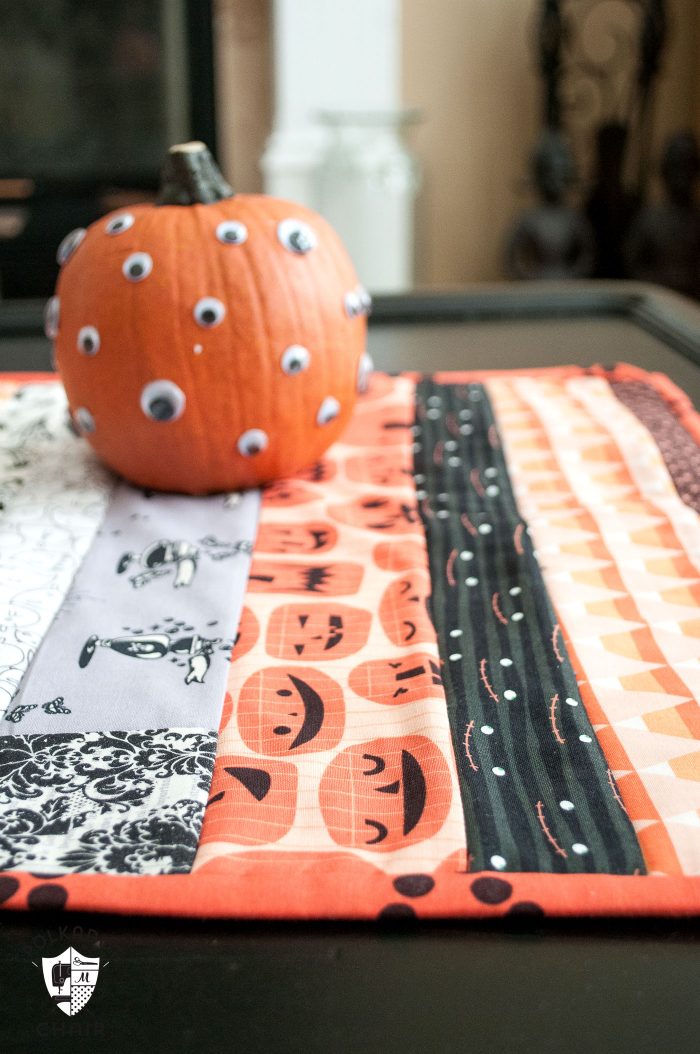 The pillows are not quite done yet (need to get on that, Halloween is next week), but as I was looking at the pile of scraps on my sewing table I thought they were all too good to waste.  If I threw them in my scrap bucket who knows what would become of them!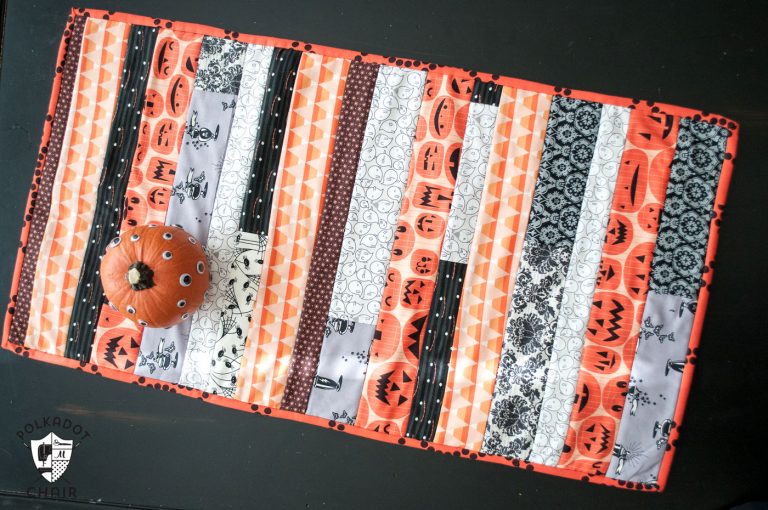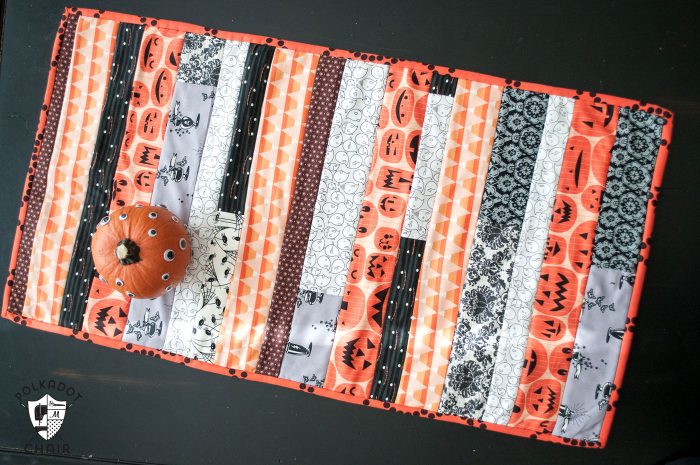 I sat down one afternoon and made a little Halloween table runner from the scraps.
Scrappy Halloween Table Runner Sewing Pattern:
To make my Halloween table runner I used an existing tutorial.  I loved the simple technique and new that I could stitch up a table runner in no time from the scraps I had on hand.
It was super easy.
I used Amy's tutorial just click here to see it.  I just skipped the part at the end where you add topstitching since I broke my sewing machine's walking foot (yeah, that takes talent). But love that touch and might go back and add it later.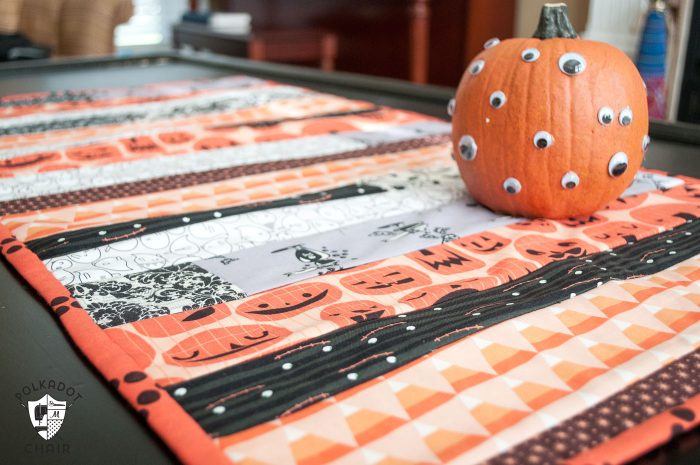 A few Tips if you decide to make a Halloween Table Runner:
The strips are all 2″ wide or 3″ wide. For the ones not quite long enough to fit the runner, I pieced the scraps.
I stuck to a simple color scheme, just 3 colors and a few neutrals.
You can make the runner any length you want, just keep sewing strips until it's as long as you like.
Since the runner is "scrappy" and a bit busy, I recommend binding the runner using a mostly solid fabric or a simple print.
More Halloween Sewing Projects:
3 Simple Tips for Sewing Halloween Costumes
Halloween Table Topper Sewing Pattern
How to make a Halloween Trick or Treat Tote Bag
How to Make Kids Mummy Costumes