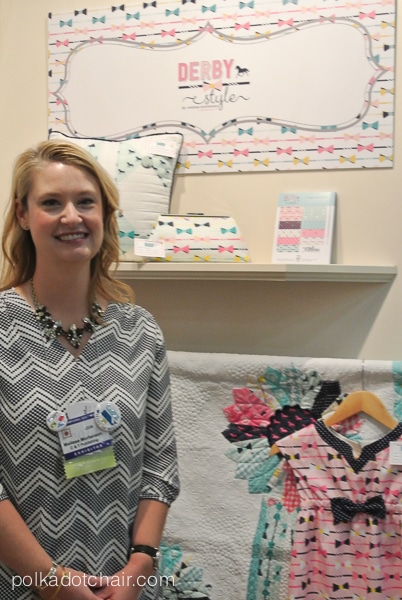 Hi Guys!
I'm home from Quilt Market and have so much to share with you.  This is my second quilt market to attend and I think I was a bit less overwhelmed this time. It was still pretty intimidating but I feel the friends I have that attended and the fun I had with them, out shadowed the worries I had going to market.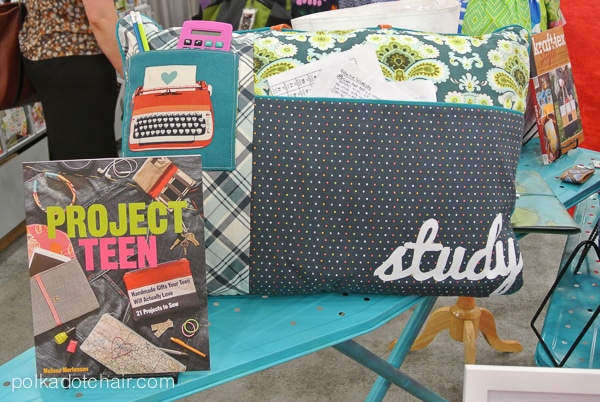 (my project and book in the C&T Publishing booth)
Why was I worried going to market you ask? Well, I was debuting a fabric line AND promoting my book and doing a signing! If that's not enough to make you nervous I don't know what is.  I mean the BEST of the BEST are at Market and it's easy to be intimidated by all of their talent.
When I had the idea to design fabric and for my first collection, I knew wanted to do something that was "ME". So as I walked through the market and saw all of the fabulous fabric, I just thought to myself "that is amazing, she is so talented and so HERSELF". I really did not try to compare myself to anyone else, (because I know I'm not on the same level as so many that exhibit there, I'm not kidding myself) but I did feel like I presented something that was unique and me.  Which made me feel very happy.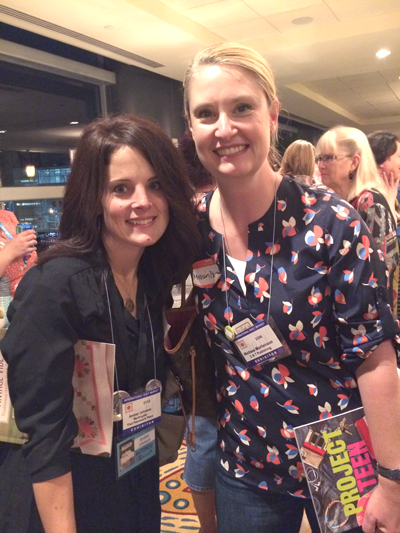 (with Amber Johnson from Gigi's Thimble and author of  Vintage Vibe
)
I'm going to break up my Quilt Market recaps into a few posts so that I don't overwhelm you with a million photos in a post. I'm also going to do a Q&A post about how I came to have the line of fabric and write my book. I know that many have questions about that, (I got a lot of the same questions over and over again) and I'm happy to chat about my process. (If you have a question leave it in the comments, I'll do my best to answer it).
I also realized when I was there that I'm just ONE person trying to do all of this. Just me, no help, and I need to work at a pace that is comfortable for me. I have days where I feel guilty that I've been working on 3 quilt patterns for 4 months and have ideas for 2 new bags that aren't done…. but I have to remember that I'm just doing what I can.  I have considered bringing on outside help but honestly that's a can of worms I'm not ready to open yet.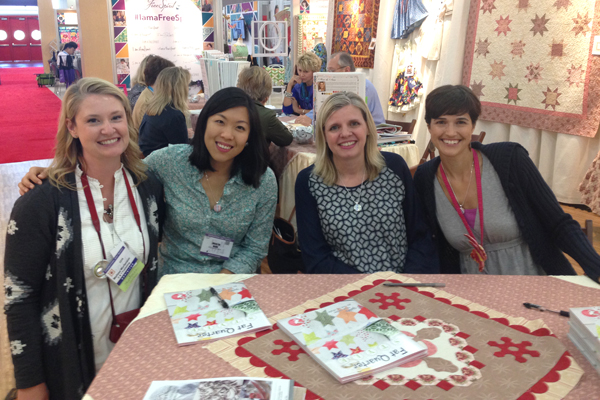 (with the girls from Fat Quarter shop at a signing of their book Fat Quarter Style)
I did decide at market to focus a bit more and get some of those unfinished projects and patterns done.  There was a quilt that I started at Craft South last summer that is still NOT DONE. Amy Butler (yes AMY BUTLER) remembered the quilt and asked me if I finished it… ummmm…. no….
A lot of people asked me also if I was just now ONLY going to make quilts or design fabric. I thought about it a lot and the answers is no. I really really enjoy doing the craft and home projects that I share here. I honestly think that dabbling in a few different mediums helps my creativity.  The guide I've always used for myself with this blog is "this is the stuff that I make"… Meaning, the recipes I share are REALLY what I'm making for dinner. Those decorations I shared this month are REALLY the Halloween decorations at my house and those nail polish gifts, they are REALLY the gifts that I plan to give teachers for holidays. Even if a post is sponsored, I never share something that I wouldn't make or do even if it wasn't sponsored, and make sure all of my sponsored content includes a DIY or a fun takeaway for you, my readers. I like that and I don't want to stop.  So if this space seems a bit scattered that's why. Hopefully you think and create like I do and enjoy the projects that I share here.
Okay, ENOUGH talk… here are some photos from Market.
Let's start with Riley Blake Designs, as that's where my stuff was (shameless I know *wink*)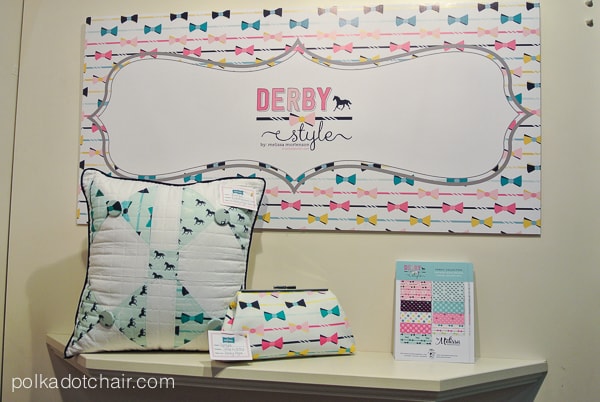 I need to take "proper" photos of all of my projects but they are all somewhere on their way home from Quilt Market… so these will have to do for now. Just note, the lighting is not the best at Market and these were not taken with my "good" camera please forgive ….
Above you can see a pillow that I made with my Derby Style fabric Do you spot the bow ties??? I'll be sharing a tutorial for it this month. Next to it is a simple frame clutch.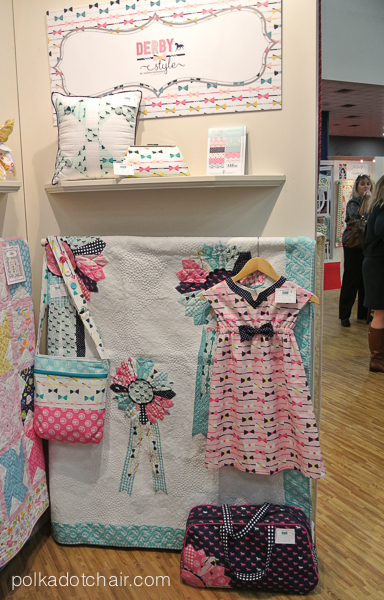 I only needed to make enough things to fill this section of the Riley Blake booth but somehow it ended up taking a lot more time than I thought! My favorite project is the quilt in the background. I was inspired by my Derby ribbons from a few years ago and my Dresden Burst Quilt pattern and came up with a fun new pattern I'm calling "Country Fair".  It features 3 "prize" ribbons appliqued onto a simple white background. For quilts I love working with big blocks and large shapes and thought this was a fun variation. It will be a pattern as soon as I get the quilt home and write it up!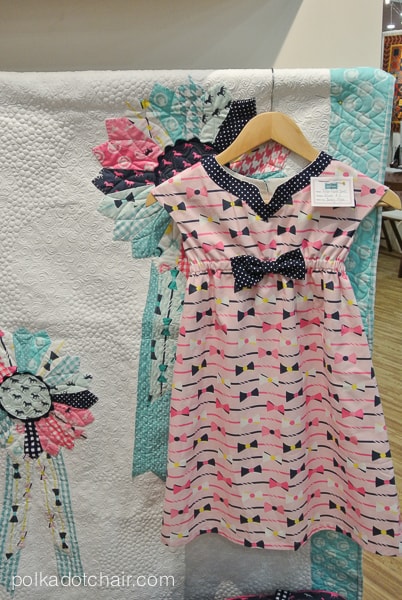 This little dress is Oliver +S Roller Skate Dress pattern. I love it in the pink bow print!! A dear friend stitched this one up for me and had the great idea to add a "bow tie" to the front of the dress.. I love the extra added touch.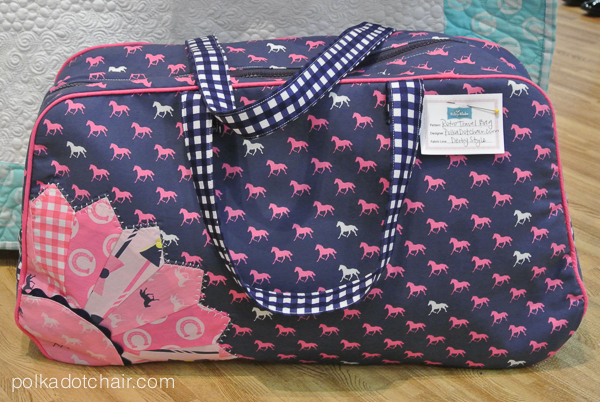 I stitched up a new Retro Travel Bag and added a Dresden plate to the corner! (I thought the Dresden's would help give the projects in the booth some consistency).  I'll share the exact measurements of the plate with you soon, you can get the pattern here (yes you can make the bag out of quilting cotton, it doesn't have to be laminate fabric).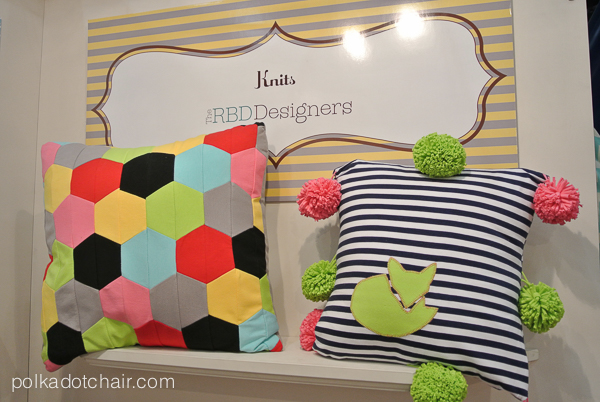 Riley Blake has a line of knit fabrics that are fabulous. I loved this pom pom pillow on display. The pom poms are made from strips of knit.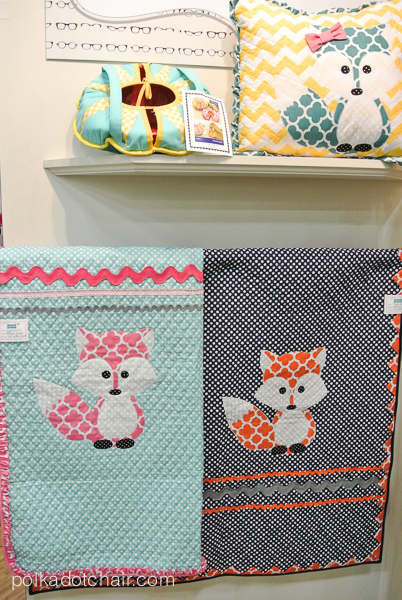 Adorable little fox appliqué really pop on some of the Riley Blake basics.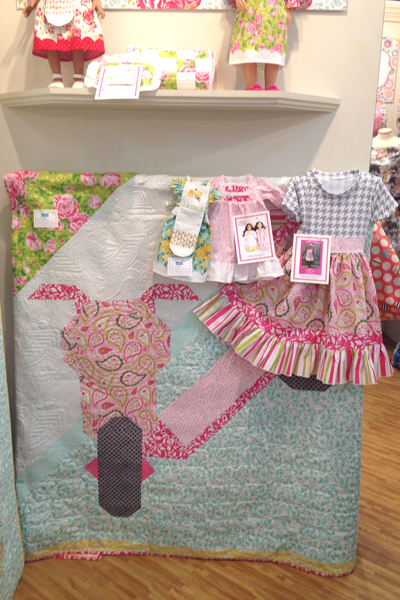 Another great line from Riley Blake, I LOVE that quilt with the scooter…. what a great and unique idea.
Whew! That's enough for now!  Part two soon…