Thank you so much to all of you that played along with my Handmade Christmas Quilt Along. I hope that many of you were able to give handmade quilts for Christmas (or another holiday) this year.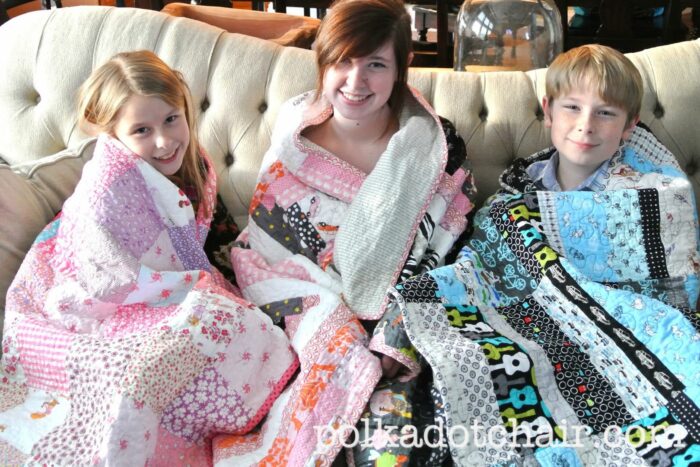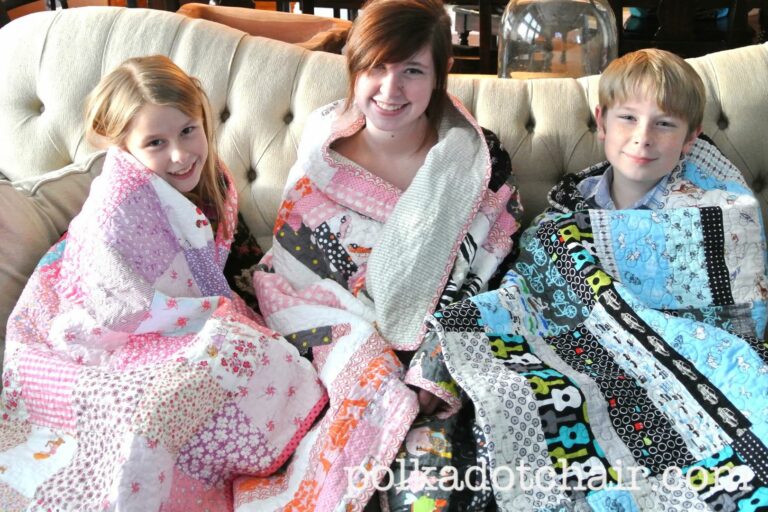 Christmas Quilts:
This is a post about the Christmas quilts I made for my kids one year for Christmas. I wanted to give them a handmade holiday and hosted a Quilt along, here on my blog. This post is older, and I know that many of you are looking for Christmas Quilt Patterns and Ideas. To help you out, I've included a few links below.
Keep reading to hear about my experience making 3 quilts for my 3 kids for Christmas.
About the Quilts I made for My Kids for Christmas:
Okay. I'll admit about December 22nd I thought I had LOST MY MIND… wondering why I get myself into these crazy situations. At one point I said to a friend "I surrender, Christmas you win… I give up."
Honestly, if it weren't for the quilt along and me telling the "blog world" I was making my kids quilts for Christmas, I would have just given up… Then the quilts would have gone to the "someday" pile and that would not be good. So for that, I am thankful to this blogging community that I have here- some positive peer pressure is good sometimes.
For those of you that wanted to play along but didn't quite get them done, a friend of mine had a great suggestion. Instead of a Christmas gift, why not one for a birthday gift for your kids? That spreads out the work a bit along the year.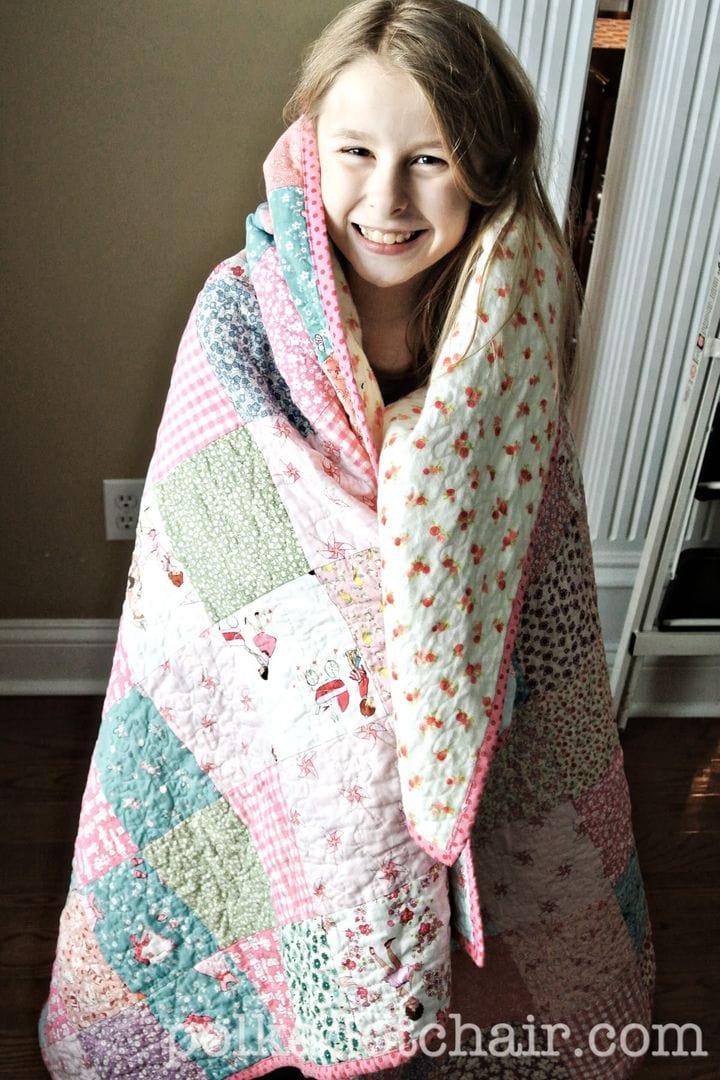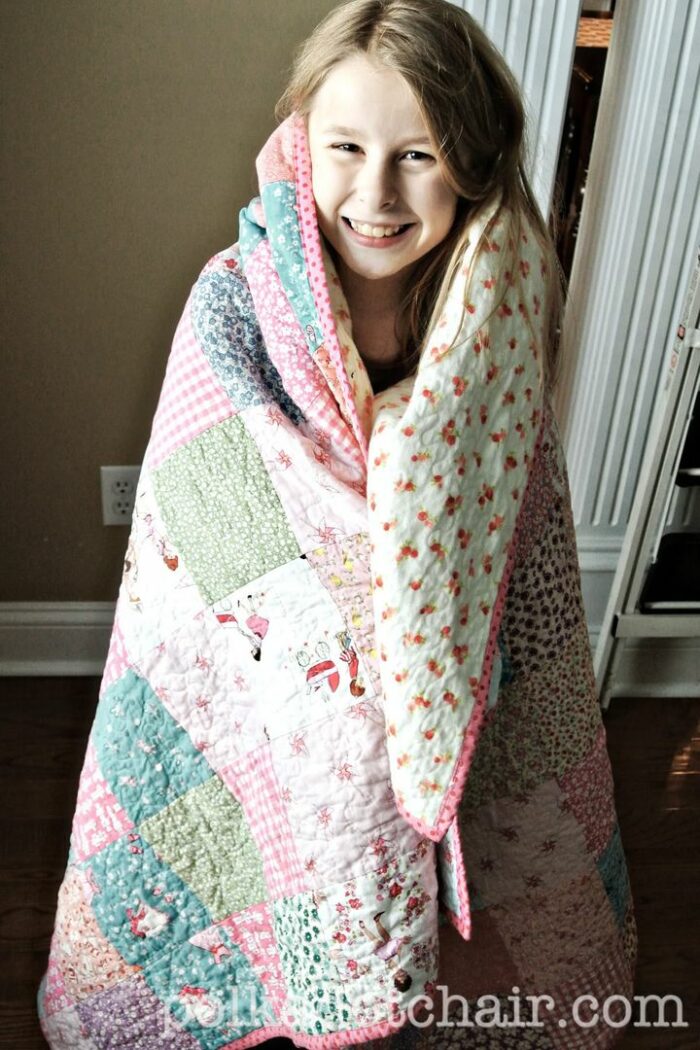 Now I try not to be one for excuses but I do have a very good excuse for finishing these at the last minute. I got a new sewing machine the week before Christmas!! I ordered it in November and got it delivered and all put together just in time to finish these quilts. It's just a sit down long arm quilter, (decided the one one the frame was too much pressure for me). I'm proud of it because I paid for it all myself. I saved for 4 years, it felt pretty good.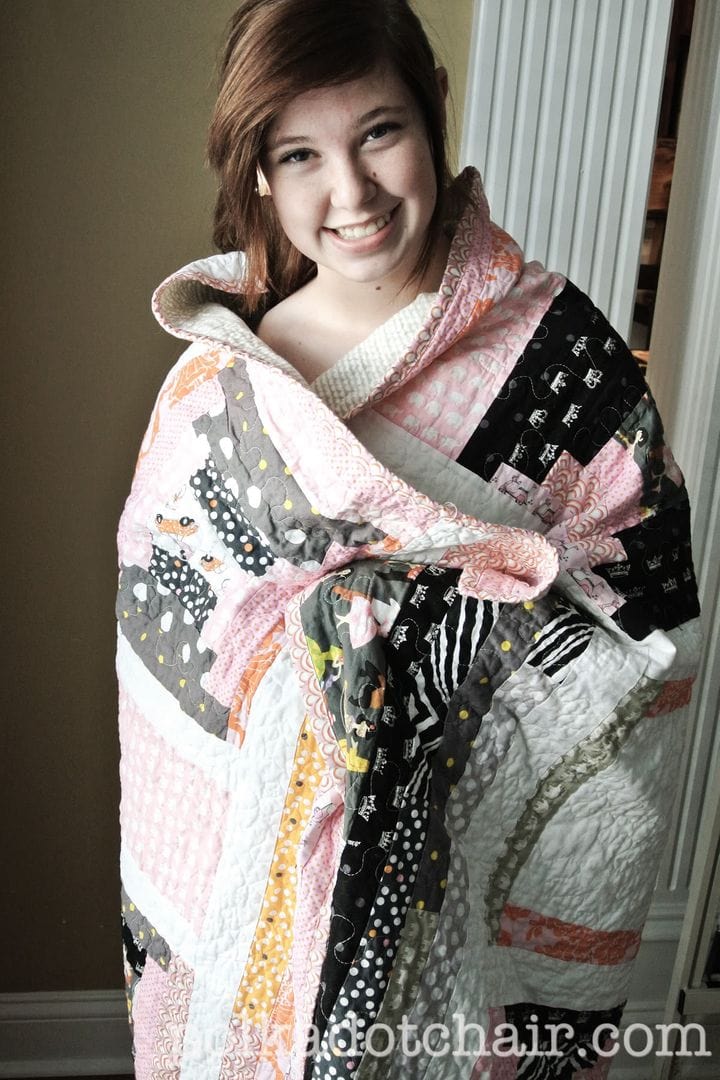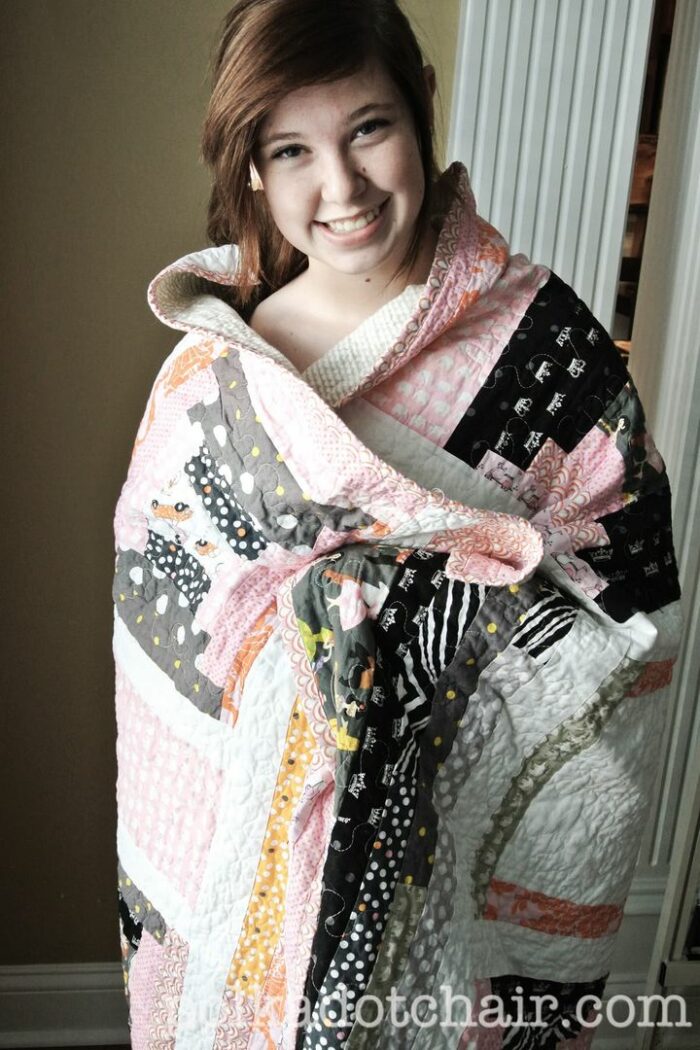 I will also say that I have NEVER free motion quilted a quilt before, and I decided to quilt 3 of them the 3 days before Christmas on a new machine, and one had minke on the back. Yeah, see why I questioned my sanity at one point?
Long story short (or shorter) the quilts got done all but the binding and were under the tree Christmas Eve. My kids were not even surprised at this point- they had all figured out what I was up to.
The quilting looks good to me and my kids but anyone with a trained eye, I'm sure would cringe.. but I figure you've got to learn somehow and quilting 3 quilts in 3 days is a good way to "jump in".
Handmade Christmas Quilt Along: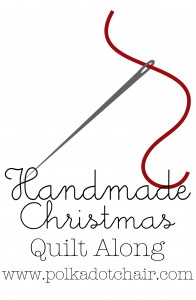 Now that you've heard my "life story" at least for the month of December. I'll move onto the quilts. To see the whole story you can click back through posts labeled "quilt along".
The Scrappy Strips Quilt that I made for my Son: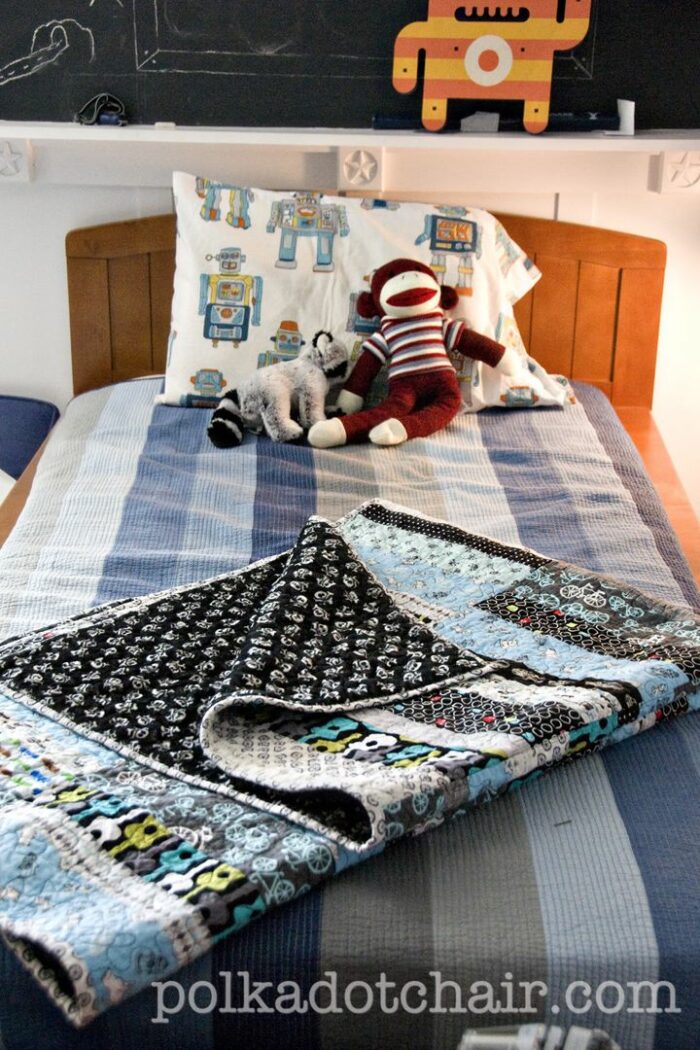 First up is my son's quilt- I think it's my favorite. I'm happy with the pattern. I decided to release it as a new PDF pattern in my shop. I won't be deleting the info about it from my blog, but if you'd rather just get it all the instructions in one place on one document instead of scrolling back through 10 blog posts, you can buy it here.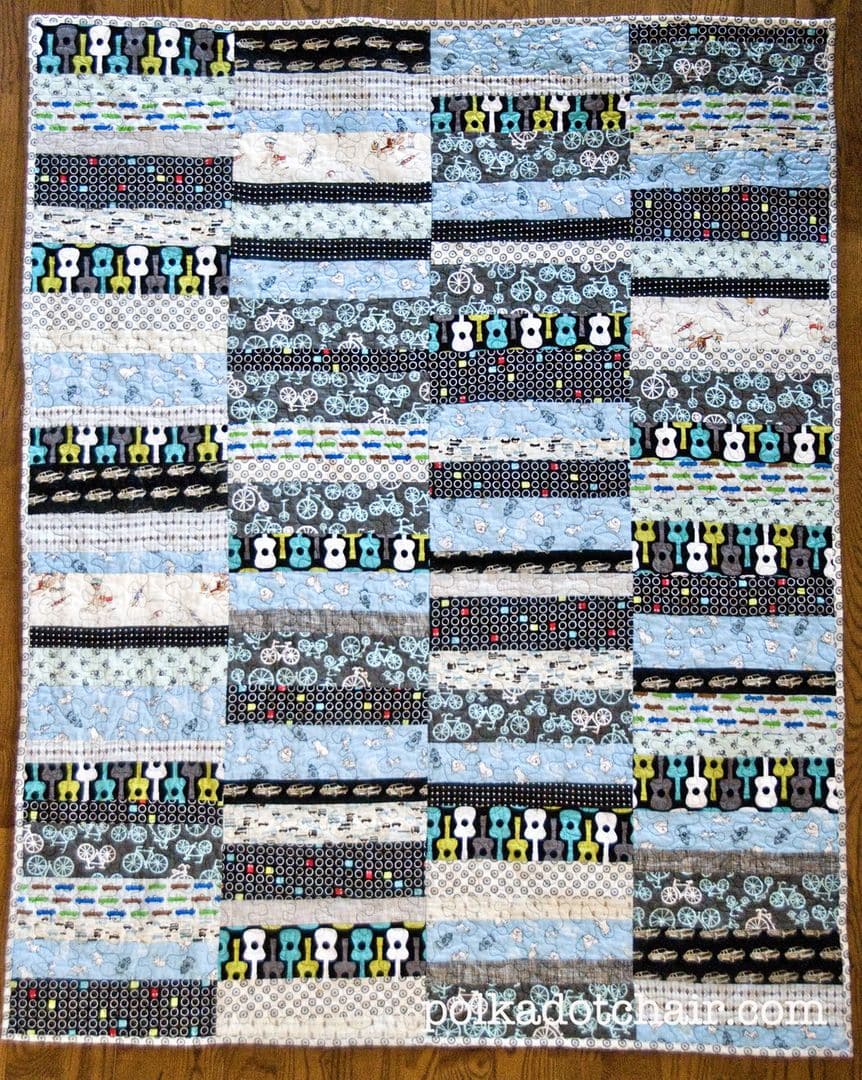 My son said the pac man print is his favorite, I think it's mine too.
Simple Patchwork Quilt Made for my Daughter: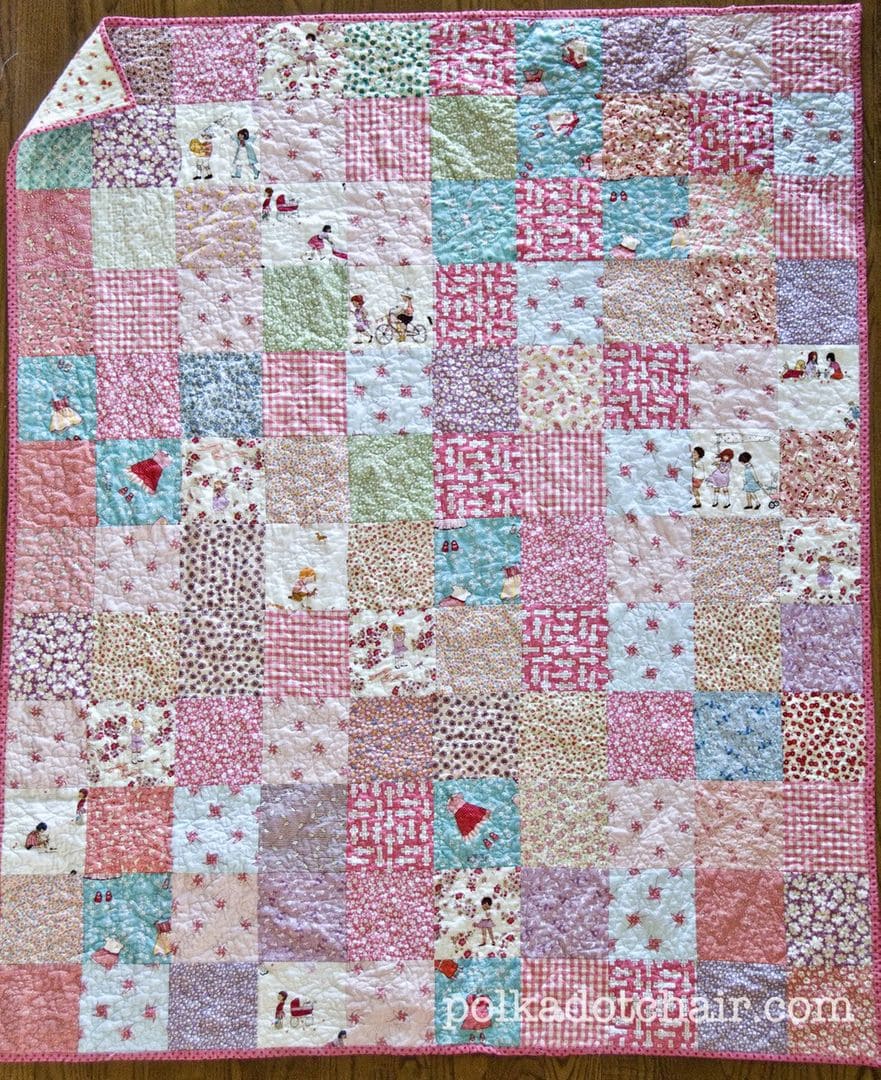 Next up is my younger daughter's quilt. Simple patchwork- mostly Sarah Jane and 30's reproduction fabrics. I love the "vintage" feel of this one.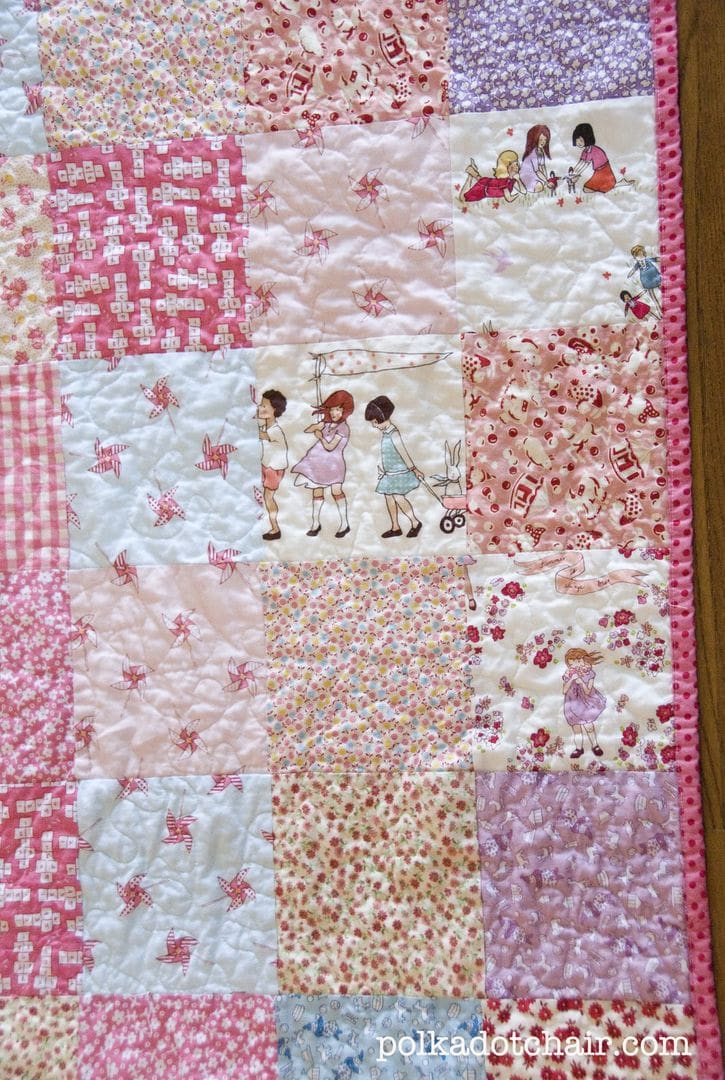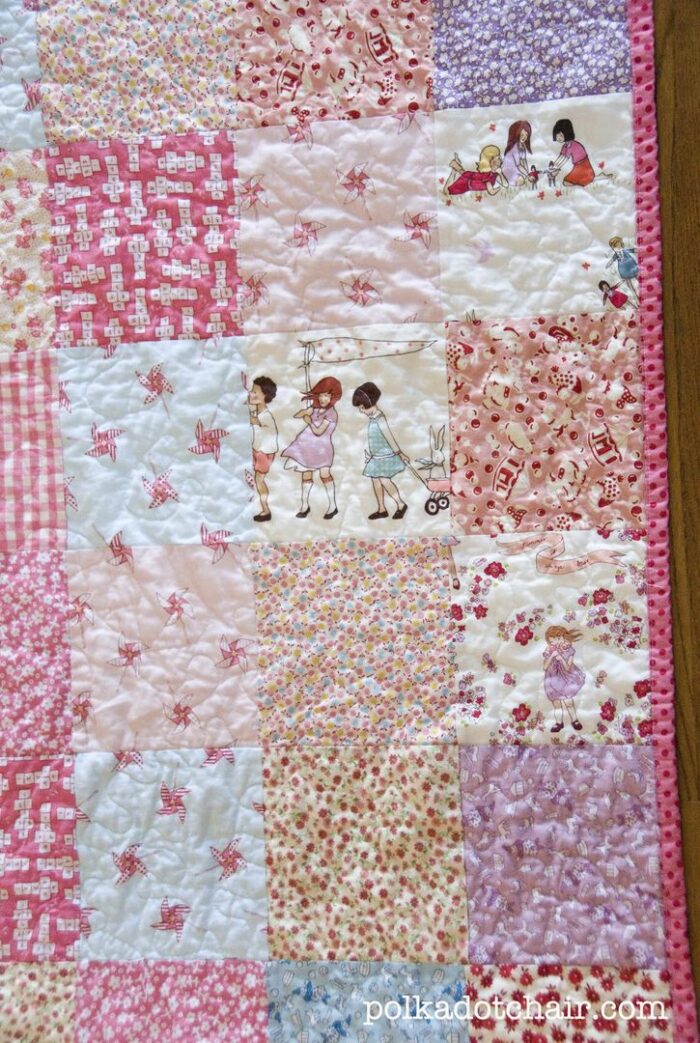 I just did a random piecing of the prints, in a few places I should have been more random- but overall I'm really happy with it. Plus it's soft. It has flannel fabric on the back.
Improv Block Quilt Made for my Oldest Daughter: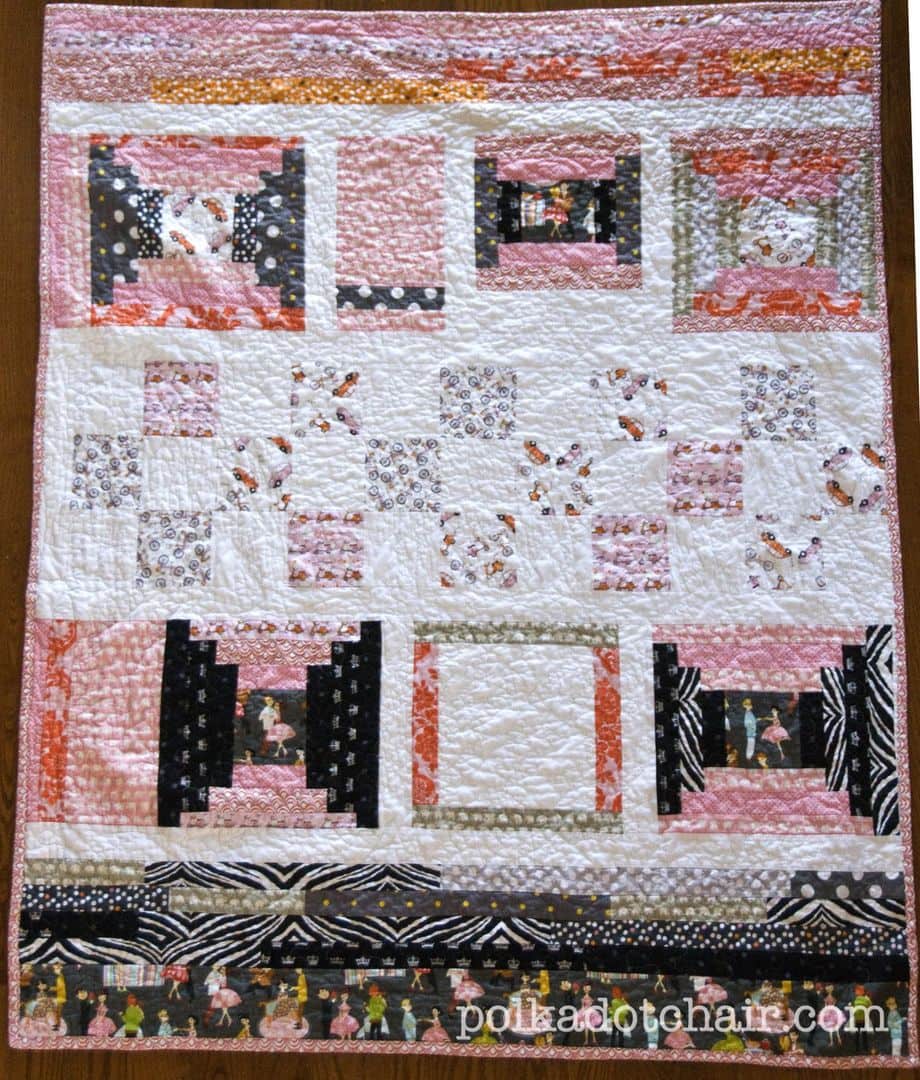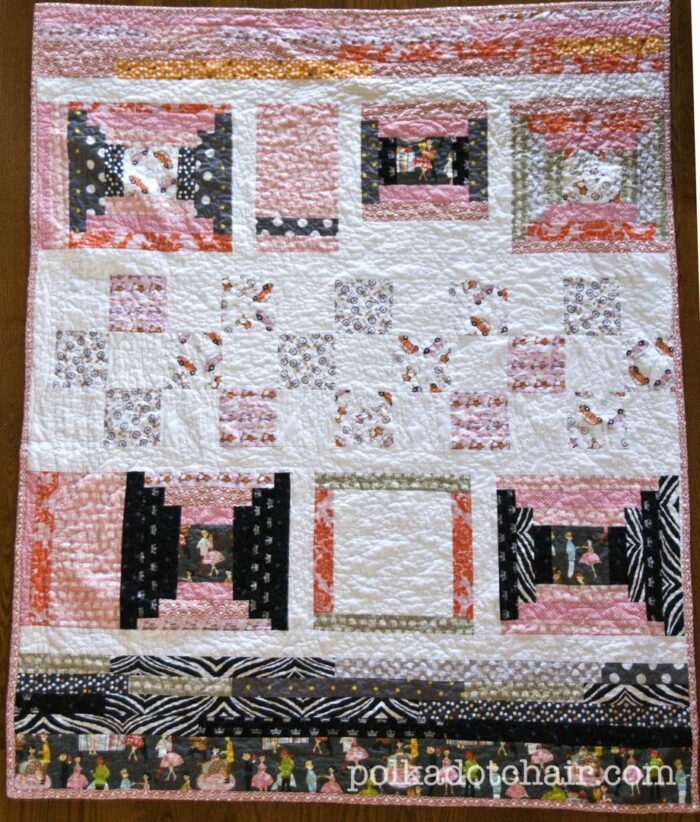 Last up is my oldest daughter's quilt. It was originally to be twelve 14″ hedgerow blocks. Then I made 4 and could get them all the same size (still learning) plus they were getting really really busy. Even with the white sashing I was worried it would be too much. I love to work with novelty prints but sometimes it's challenging.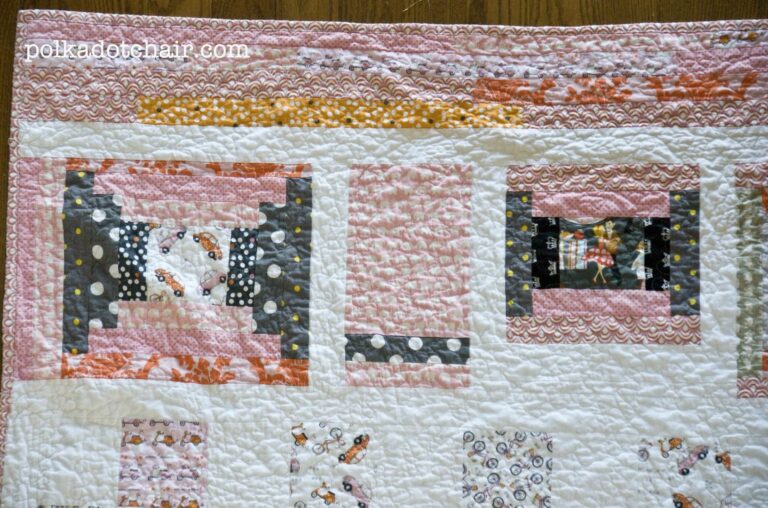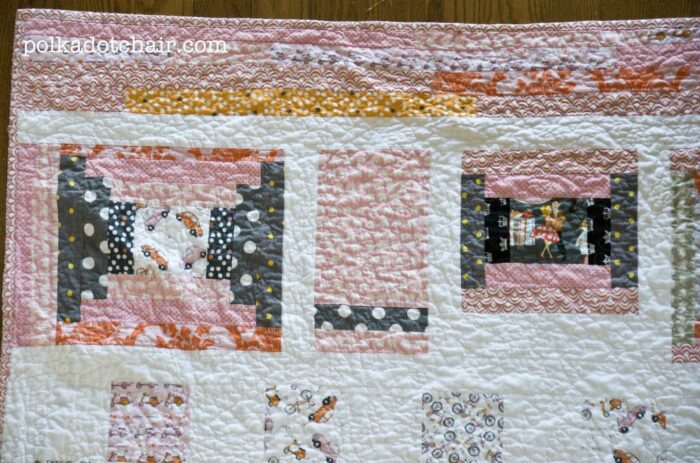 So the week before Christmas I redesigned the whole thing. I used the 4 blocks I had then just "improv" pieced the rest of the quilt top. Thank goodness I got a quilt design wall- it was a life saver!!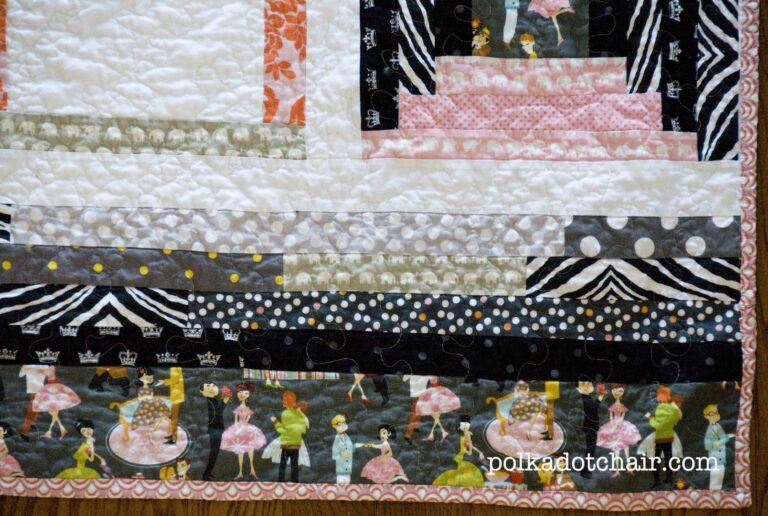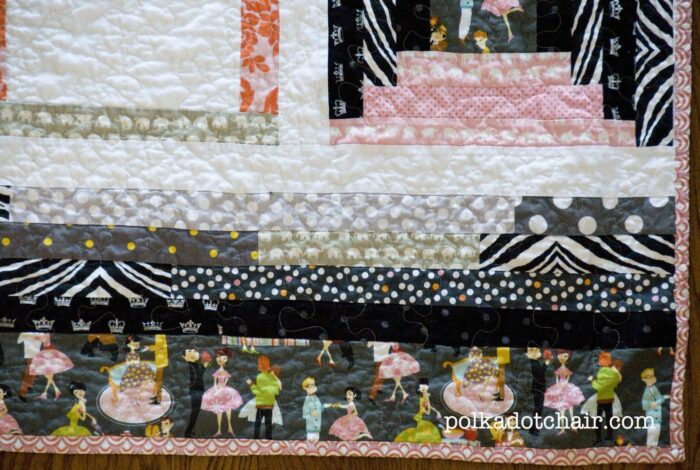 I went from absolutely hating this quilt to absolutely loving it by the end. All the white parts are moda pre-cut basics, jelly roll strips, charm squares, and one layer cake square. I used all the strips I cut for the blocks for a top and bottom border and tried to "ground" the quilt by putting the darker colors at the bottom.
She got her driver's license this year so I had to include the cars.. and she's been collecting elephants since she was little, hence all of the pink elephant print.