I hope that you'll enjoy this simple Dresden Block Baby Quilt tutorial that I'm calling "a Dresden Burst!". If you like this post you may also like this Turnstile Baby Quilt Tutorial.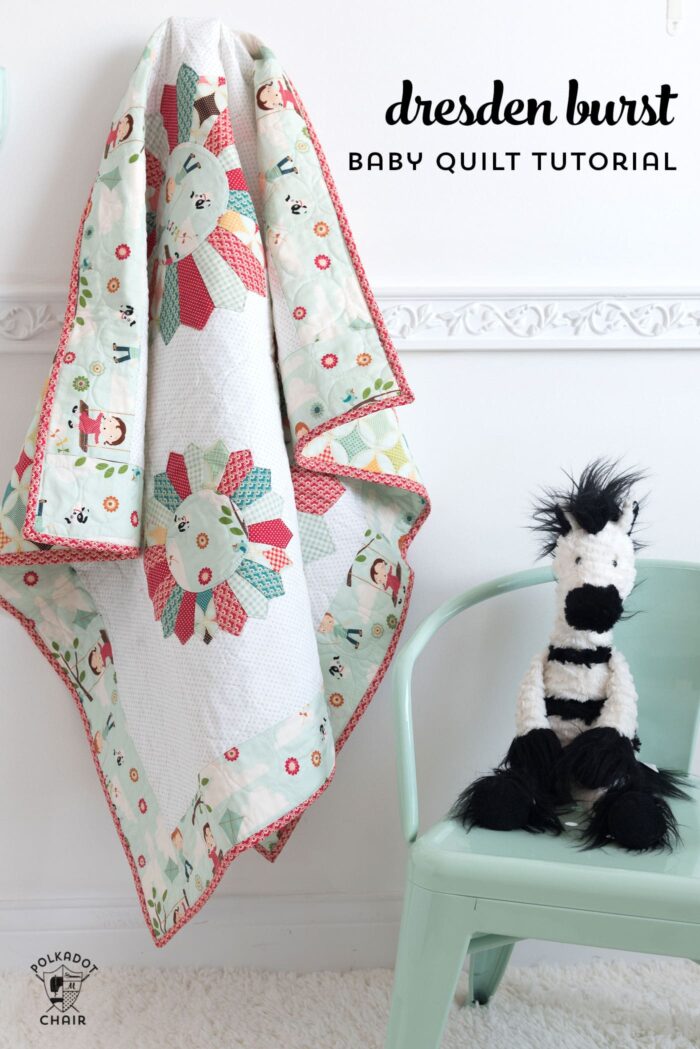 For this month's free tutorial, I am going to show you how to make a baby quilt from Dresden Quilt Blocks. I love Dresden Blocks but didn't want to make an entire quilt of them. Instead, I scattered 3 sizes of them on the front of a quilt.
Table of Contents
How to Get the Pattern
Option 1:
You can now purchase this tutorial in PRINTABLE PDF version, with 2 of our most popular Baby Quilt Patterns!
Option 2: Read the Directions off of this page
How to Make a Baby Quilt with Dresden Blocks
What to make one?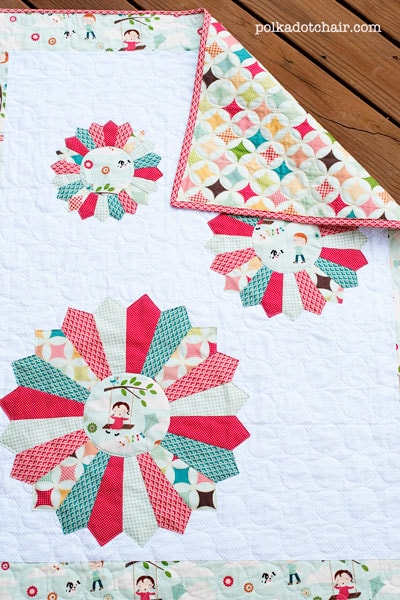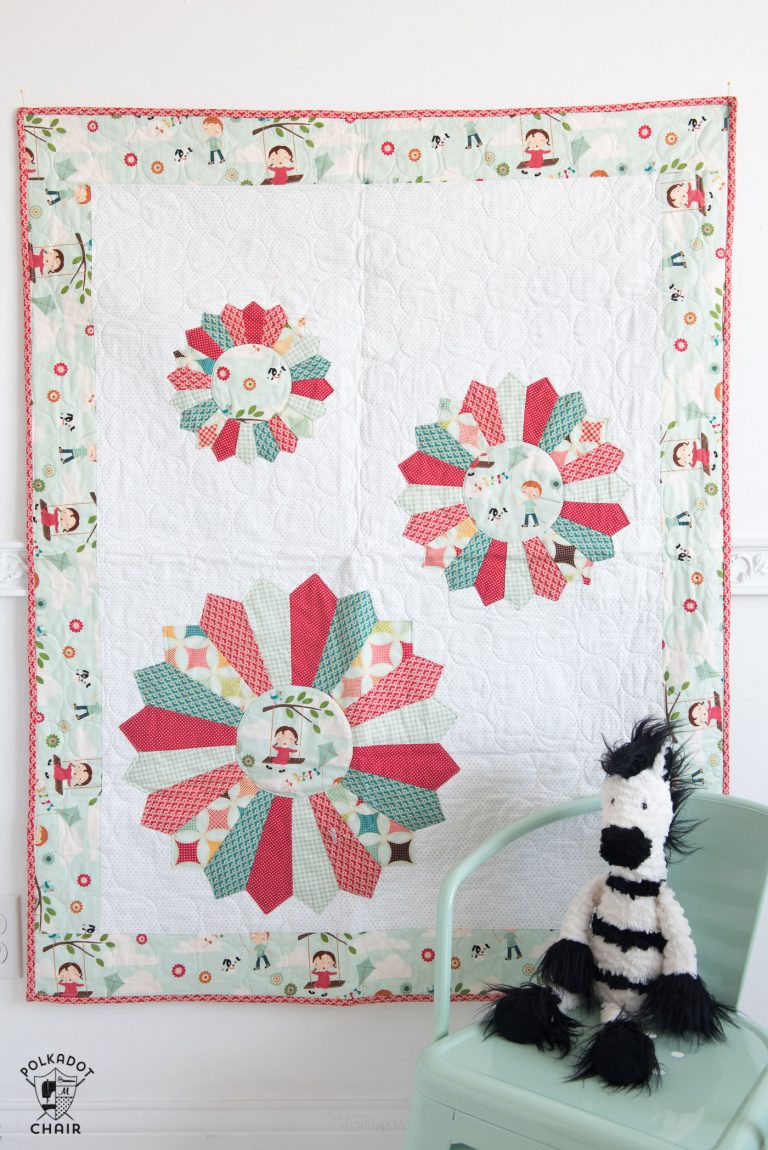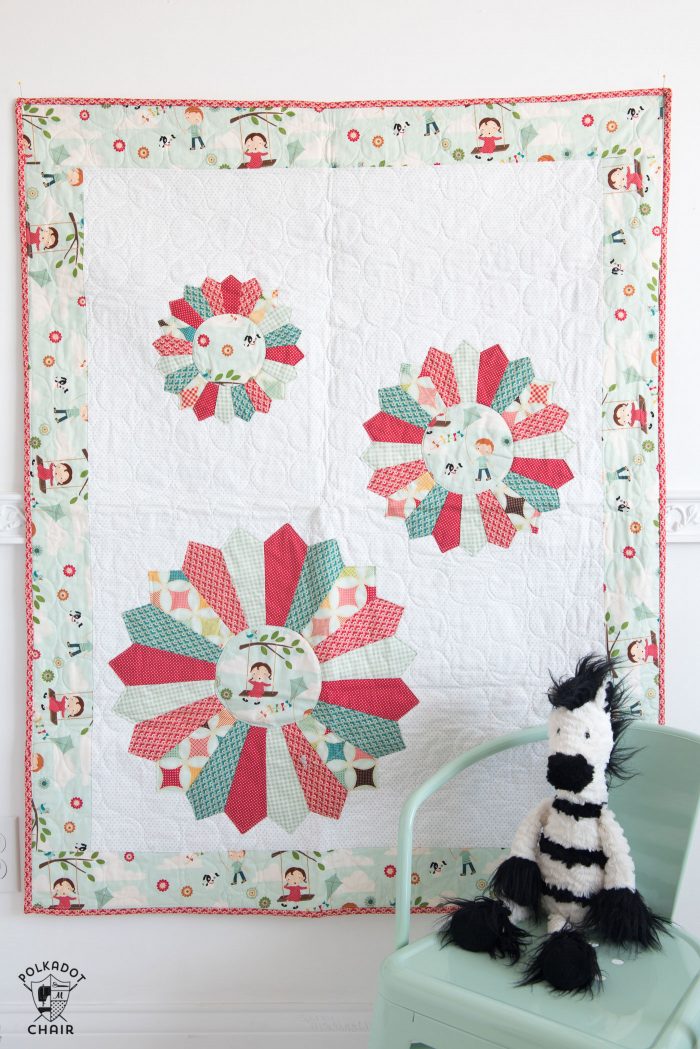 Supplies for Dresden Baby Quilt:
All fabric is from Go Fly a Kite line from Riley Blake Fabrics. The white fabric with gray dots used for the background is from the Willow line, also from Riley Blake Fabrics. Both fabrics are now out of print. I recommend picking a fabric line that has a "featured image" that you can fussy cut for the center of the dresden blocks. You can also use a simple swiss dot for the background fabric.
½ yard each of 5 different fabrics to make the Dresden blades
¼ yard fabric (may need more for pattern matching) for the centers of the Dresden Blocks
1 ½ yards fabric for the quilt back
½ yard for binding
½ yard for borders
1 yard white with gray dots (or light color) for quilt front
Easy Dresden Ruler
1 ½ yards cotton batting
Spray Starch
Spray Basting
All seam allowances are ¼″
Instructions
Step One: Create your Dresden Blocks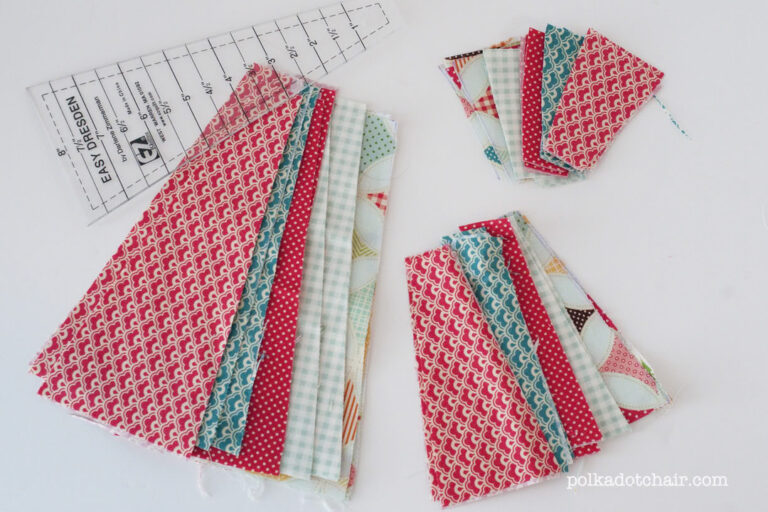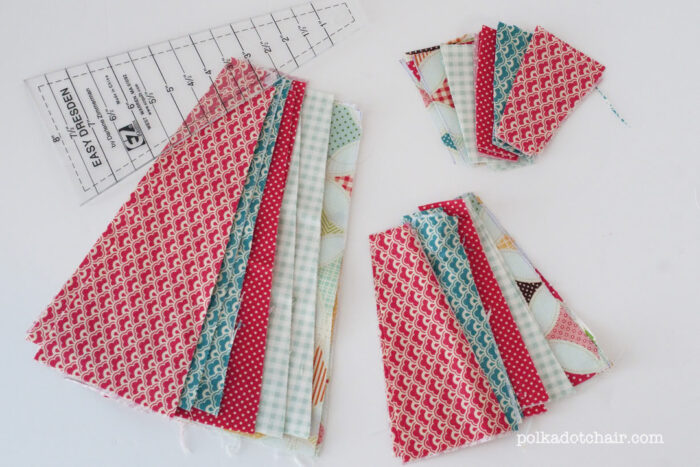 You will need 20 pieces to complete each Dresden block.
I used 5 different fabrics and cut 4 pieces from each of the 5 fabrics.
You will need to cut: (using the easy Dresden ruler)
20 Dresden pieces 8″ tall, 20 Dresden pieces 5″ tall and 20 Dresden pieces 3″ tall.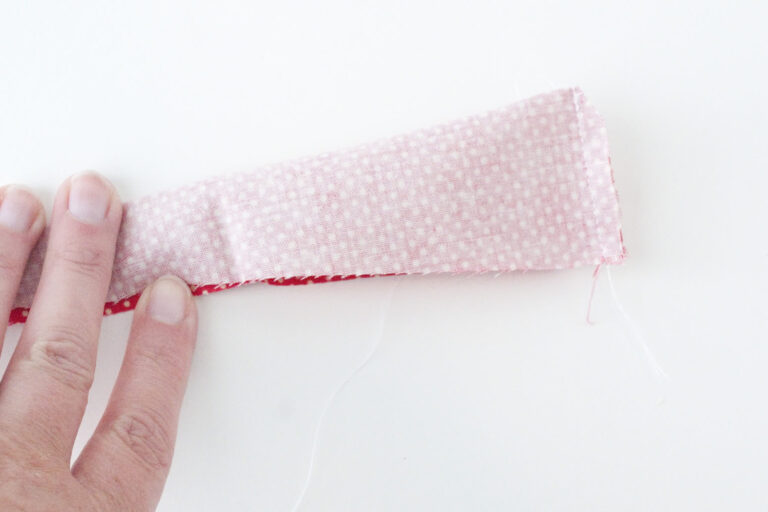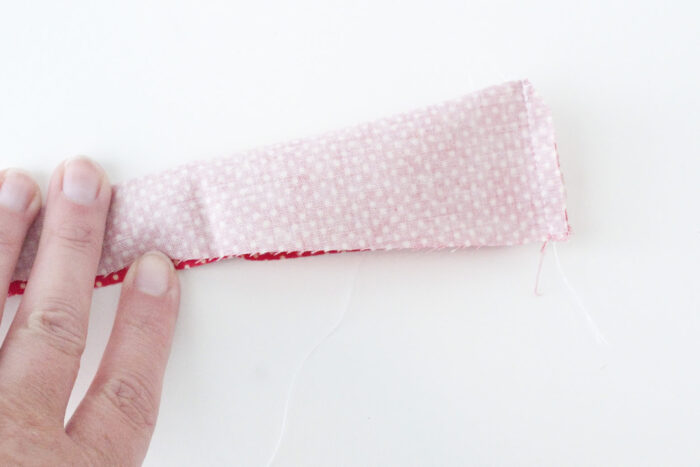 To begin making your Dresden block, fold your cut piece in half lengthwise. Stitch a ¼″ seam along the wider edge.
Trim the seam allowance at the corner and turn right side out.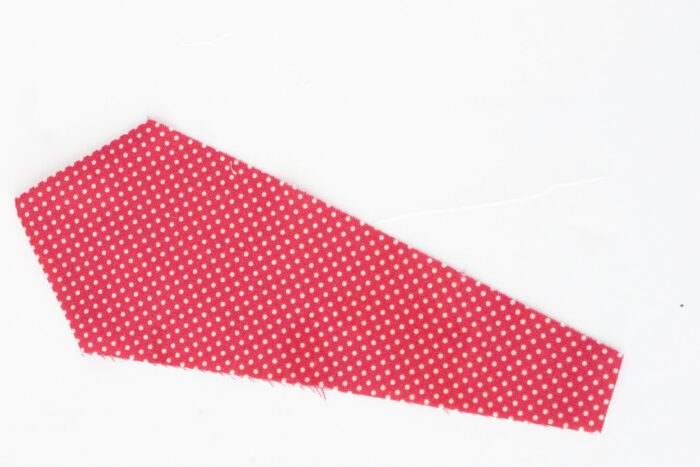 You will have a piece that looks like this. Starch lightly and press. Repeat until all 20 are sewn.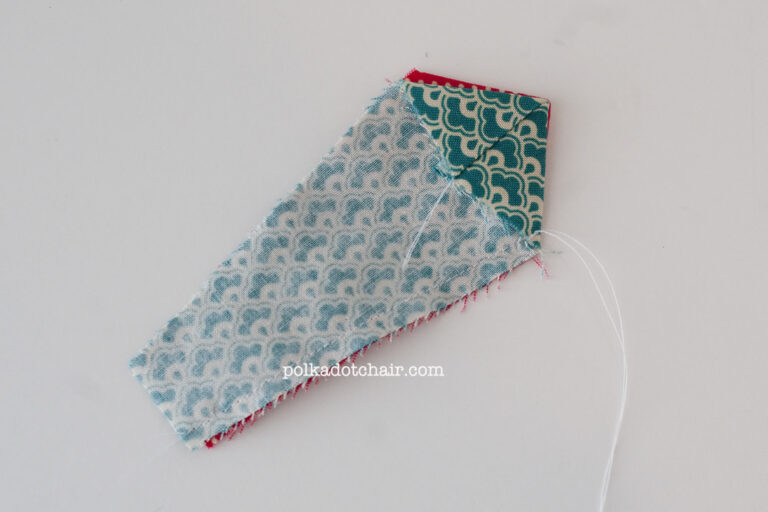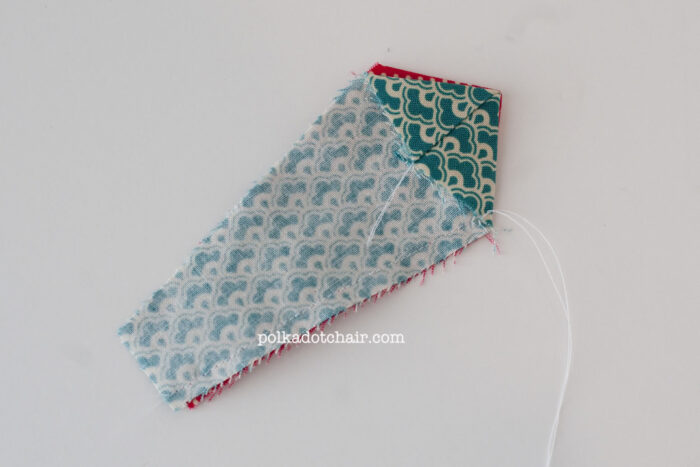 How To Make the Dresden Plate:
Pin 2 of your sewn Dresden pieces together. Stitch along one side.
Repeat until all 20 Dresden pieces are sewn together.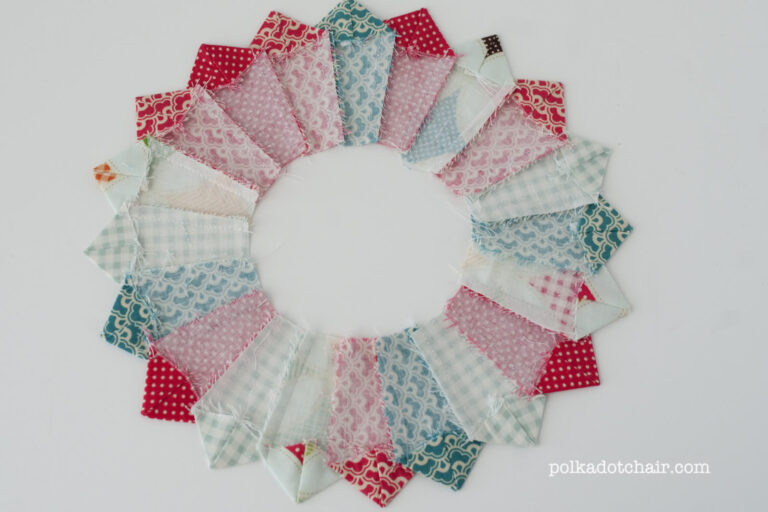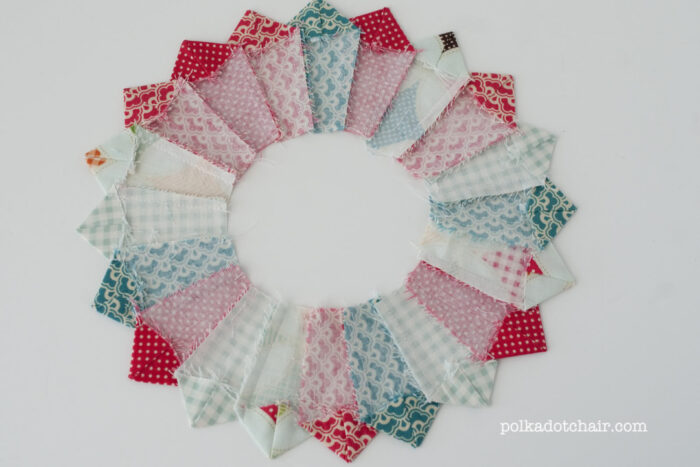 Press all seams to one side.
Repeat these steps with your other 2 sizes of Dresden's, so that when you are done you have 3 different sizes of dresden blocks.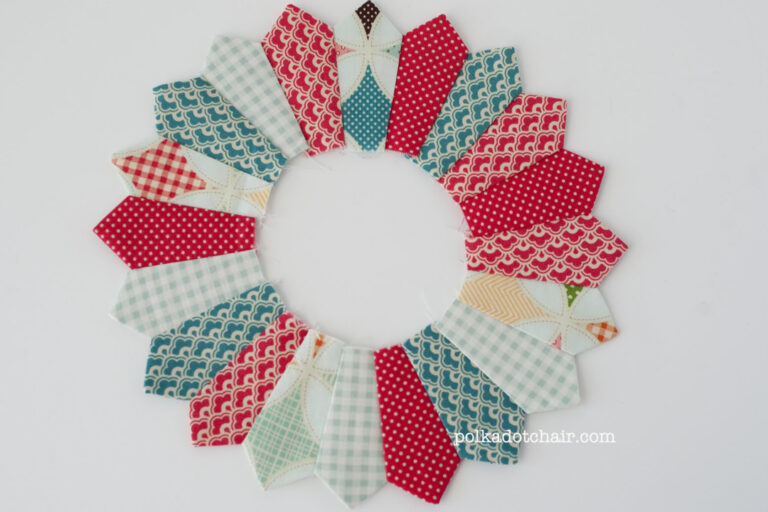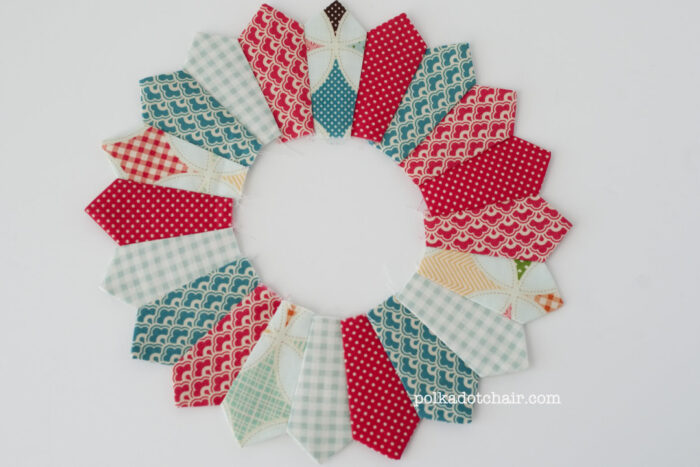 Set aside all 3 pieces.
Step Two: Prepare the Quilt Top.
Cut your background fabric (the white with gray dots) to 30″ x 40″.
Cut 4 strips from your border fabric each 4″ wide by the width of the fabric. (so 4″ x 44″)
Stitch two 4″ border strips to the 40″ sides of your background fabric. Press seams to one side and trim edges flush with the background fabric.
Stitch remaining two 4″ border strips to the 30″ sides of your background fabric. Press seams to one side. Trim.
Step Three: Attach Dresden Blocks to Quilt.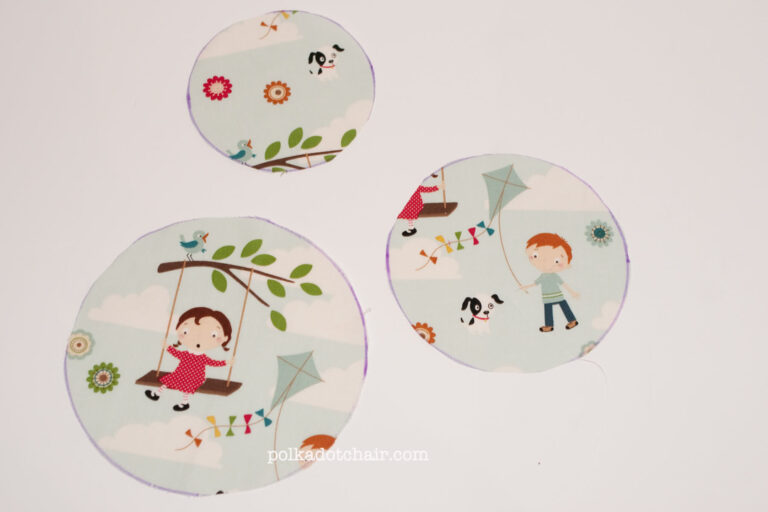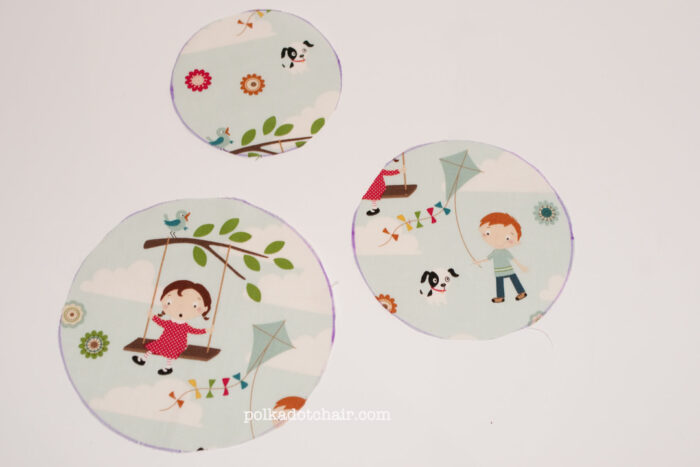 Cut 3 circles from the fabric you wish to use for the center of your Dresden blocks. I chose to fussy cut each one.
One circle 3 ¼″ in diameter, one circle 4 ¼″ in diameter and one circle 5 ¼″ in diameter.
Place the circle, right side down onto a scrap of white fabric.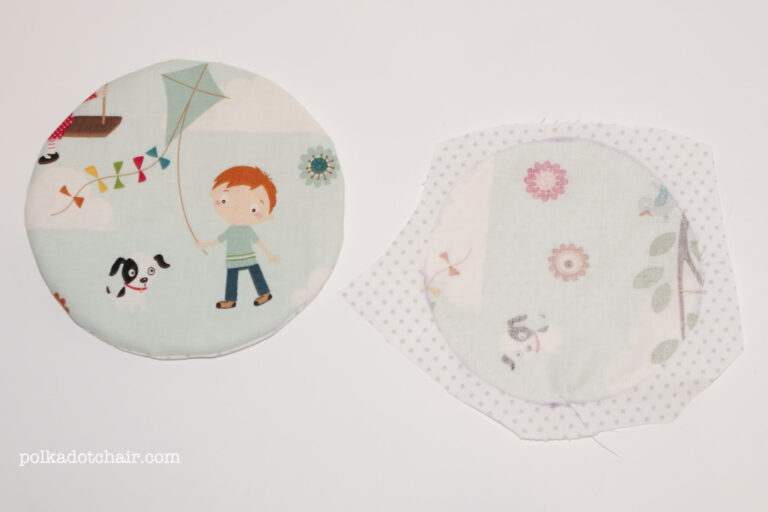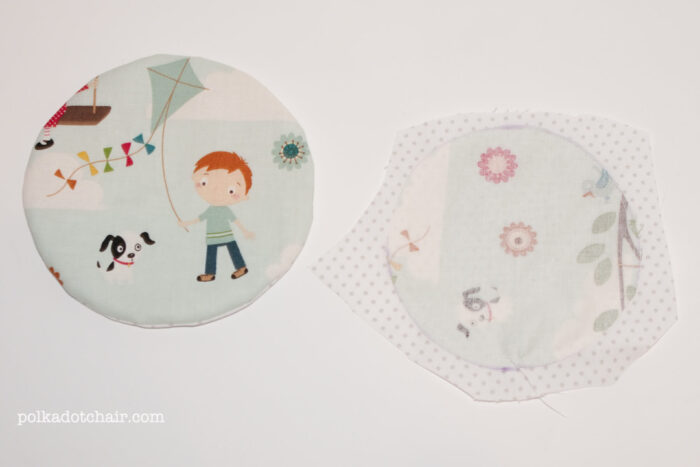 Stitch around the entire circle with ¼″ seam (don't leave an opening). Trim your white fabric and clip the seams around the circle.
Cut a slit in the white fabric and turn the circle right side out. Press well. Set aside.
Now place the dresdens on your quilt top as you like. I scattered mine. Use some spray basting to hold the dresdens in place and LOTS of pins. Stitch the Dresden to the quilt along the outside edge. Stitch as close to the edge as possible.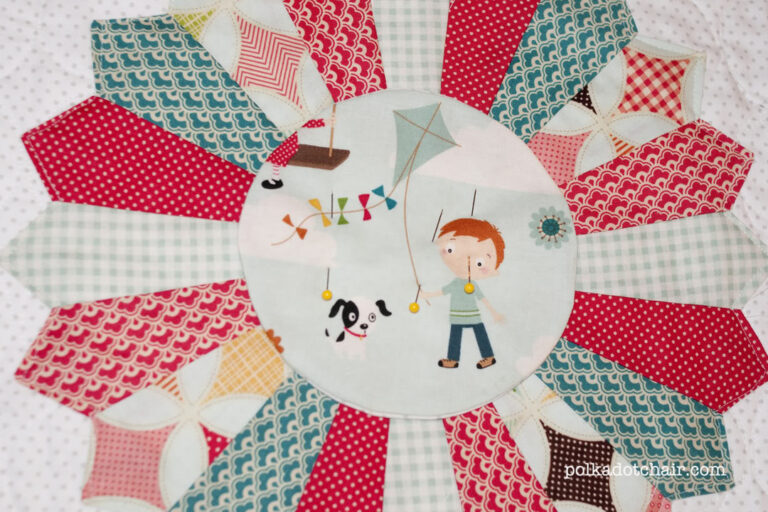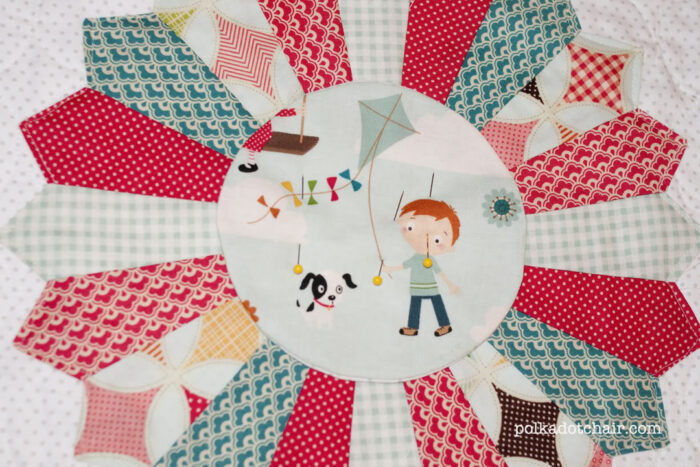 After you have stitched all 3 dresdens to the front of your quilt, pin your prepared circles to your blocks.
The 3″ (after sewn) circle goes on the 3″ tall dresden block, the 4″ circle goes on the 5″ tall dresden block and the 4″ circle goes on the 8″ tall dresden block.
Stitch each circle in place, I used an appliqué stitch around the circles to give it a more finished look.
Step Four: Quilt
Make a "quilt sandwich" with your prepared quilt top, quilt batting and quilt backing (you do not need to cut it, just leave it as 1 ½ yards).
Baste well and machine quilt as desired.
I chose to machine quilt circles onto my quilt, using my backing fabric as a guide.
There are TWO ways to quilt this. One is all over pattern quilting. You can also custom free motion quilt it. Alternatively, you can FIRST quilt the quilt then AFTER applique the Dresden blocks on to the quilt. That way the free motion quilting will not show in the blocks. However, there may not be enough quilting on the blocks to hold the fabric in place properly after it is washed.
I quilted the same pattern right over the top of the dresden blocks. If I didn't I would need to custom free motion quilt the top. I am not skilled enough to do that so I just did an all-over pattern.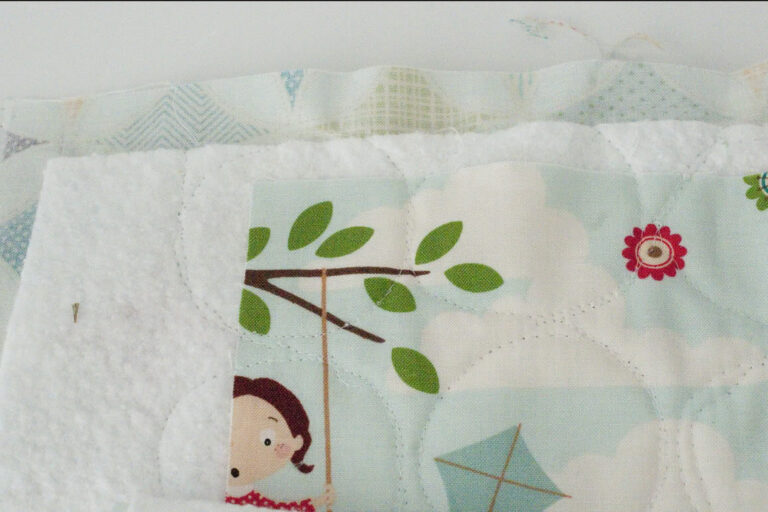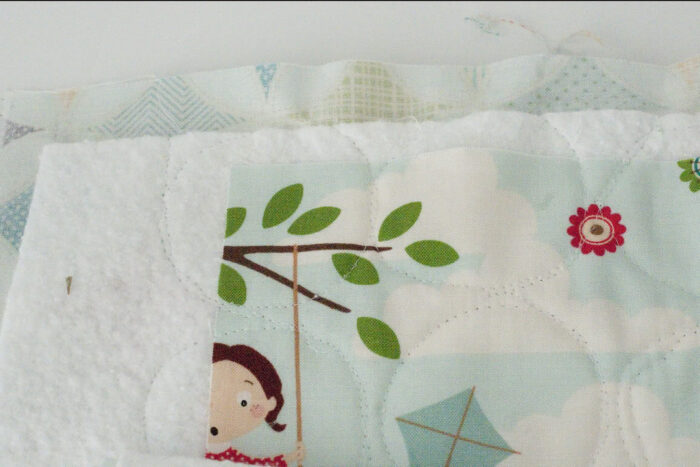 Complete your machine quilting and trim all layers even.
Finishing: Binding the Quilt
Cut your binding strips to 2 ½″ and bind as desired.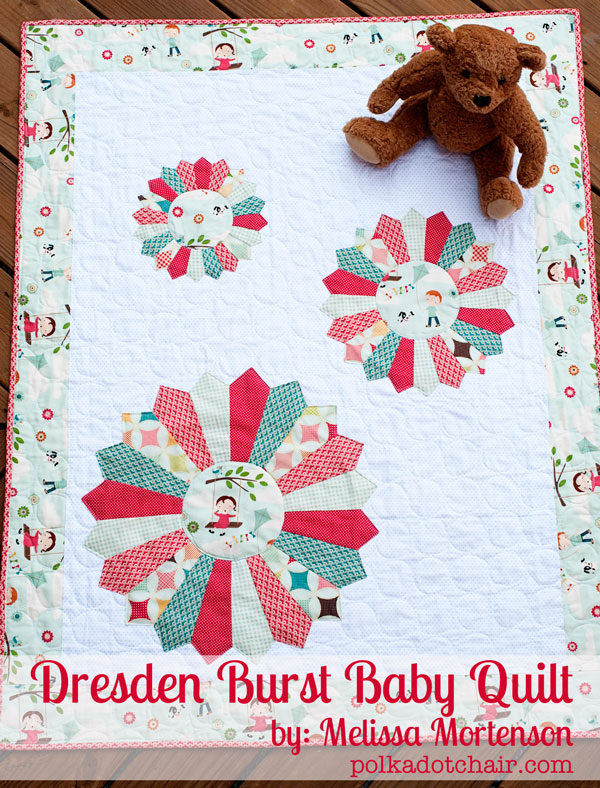 If you liked this project, you may also like these quilt patterns:
Derby Prize Ribbons Quilt Pattern!
Rail Fence Baby Quilt Pattern – Beginner Friendly