Today I'm sharing a simple zippered cosmetic pouch sewing pattern with you. The best part? This pattern is fat quarter friendly! Want to make one (or 10)?  Just keep reading below to find out how to make one.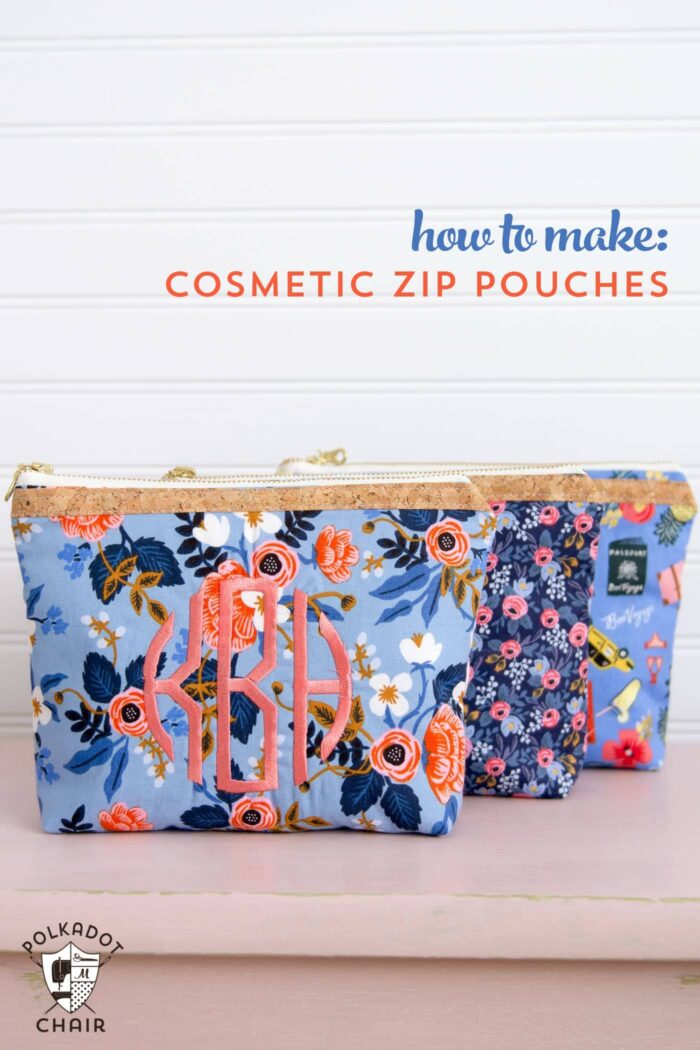 I think I've lost count as to how many zippered pouches I've made.  Every time I think I'm "done" making them I seem to find a new reason to make a batch of them.
Ideas for Cute things to Sew for Gifts:
I think I love making them so much because they are so easy to make (you can do it in less than 30 minutes once you get the hang of it) and they are insanely useful. Right now I have one in my purse that holds my "girly things", one that I use to carry my chargers, and one that matches my laptop case to keep my mouse and laptop cord in when I travel. I've also made them for my kids to use for pencil pouches, makeup bags and even to hold legos and matchbook cars.
I needed a few more gifts this Christmas so I started playing around with my basic zippered pouch pattern. I had a fat quarter stack of the new Rifle Paper Co fabric laying around and decided it was time to use it (I kinda needed a break from sewing with only my own fabric if that makes any sense).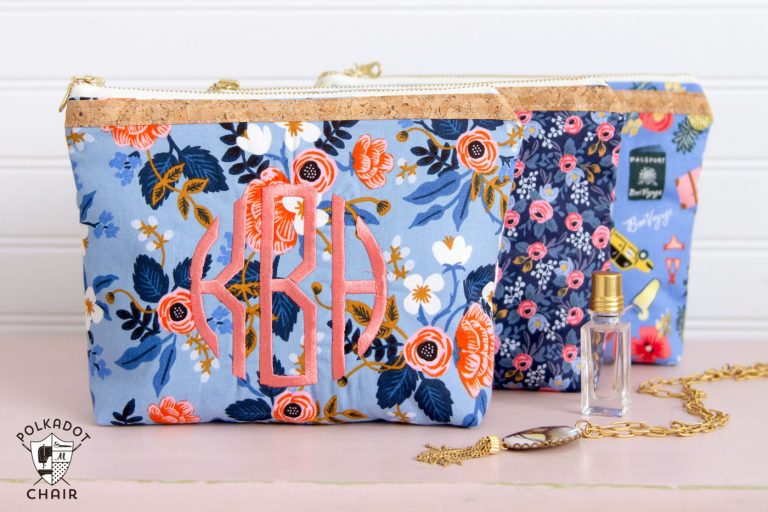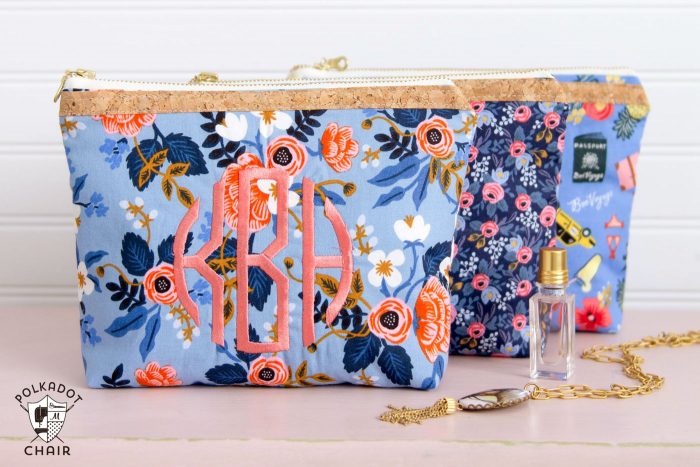 Adding the Monogram:
Just last month I started playing around with the embroidery features on my BERNINA and decided to use it to make a bunch of monogrammed bags to use as gifts this holiday season.
Since I thought many of you may also be looking simple last minute gift ideas, I'm posting a tutorial to make the pouches today. The best part about the pouches?? You only need TWO fat quarters of fabric to make them! You could even do it with one if you want the lining to be the same as the outside of the pouch.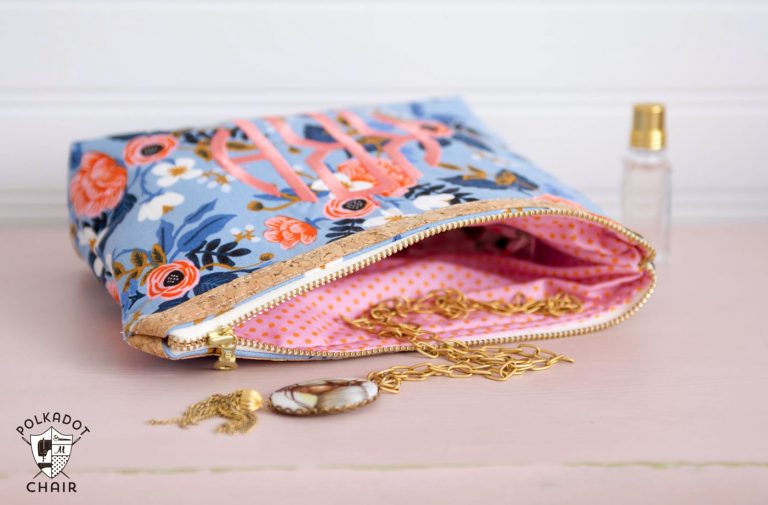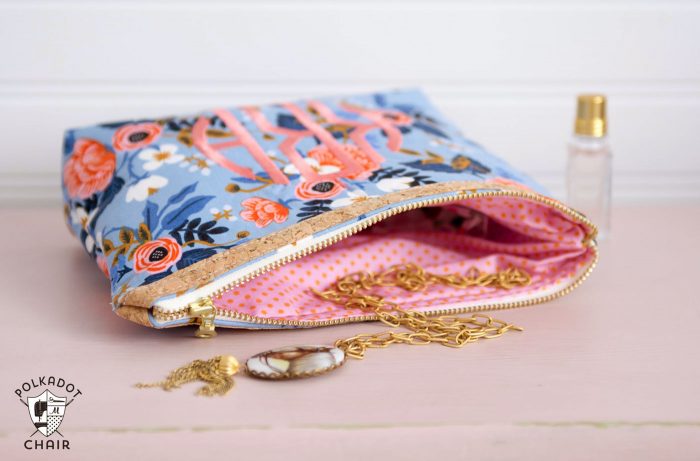 To add a bit of interest to the pouches, I've added a small ½″ strip of stitchable cork as a trim piece. I think it gives it a nice professional touch. If you're wondering what stitchable cork is, just CLICK here to read about how to use it.
I used a program called Embroidery Wizard to create my monograms. After I created them, I then loaded them onto a memory stick and stitched them out on my 770QE machine. If you don't have that program (or another monogram program) you can also just embroider a single initial on the front. My machine came with a few alphabets built in that can be used without additional software.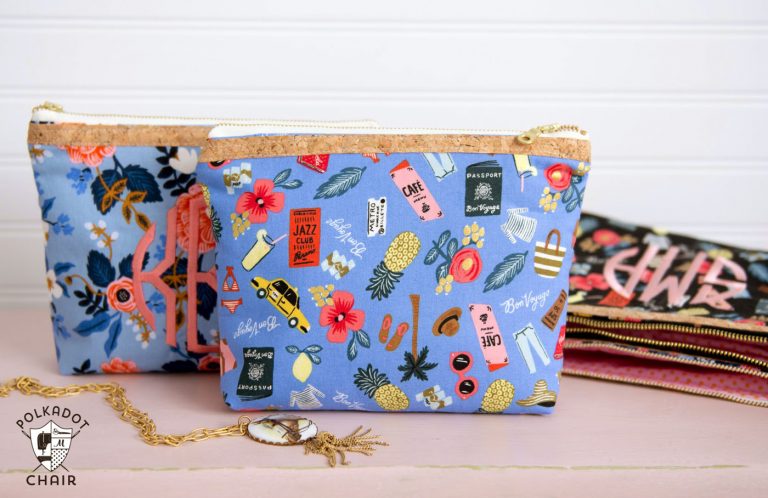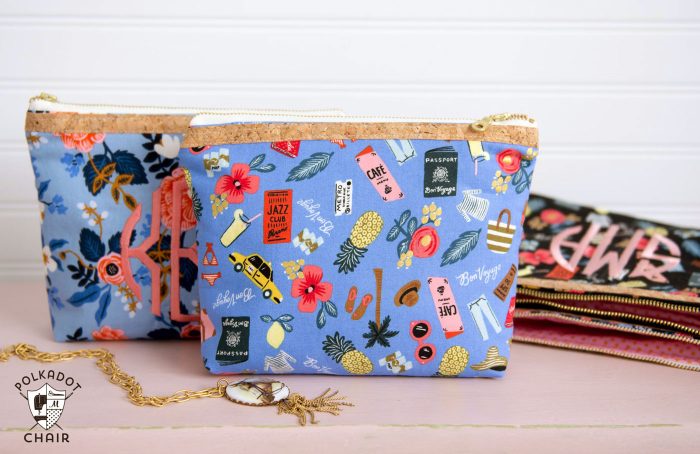 Cosmetic Bag Pattern using Fat Quarters of Fabric:
Supplies:
You're going to need (click on each item to find out where to buy, includes affiliate links):
2 Fat Quarters of Fabric; one for the pouch outside and one for the lining.  I used Les Fleurs by Rifle Paper Co. This is a great project to use up many of the fat quarters that come in a fat quarter stack. 
¼ yard of Fusible Fleece
9″ zipper (I used metal, you can use polyester too)
1 sheet of Stitchable Cork
Cutting Directions:
From Pouch Outside Fabric:
2 pieces each 8″ x 10″
From Pouch Lining Fabric:
2 pieces each 8″ x 10″
From Fusible Fleece:
2 pieces each 8″ x 10″
From Stitchable Cork:
2 pieces each ½″ x 10″
Instructions:
All seam allowances are ¼″ unless otherwise noted.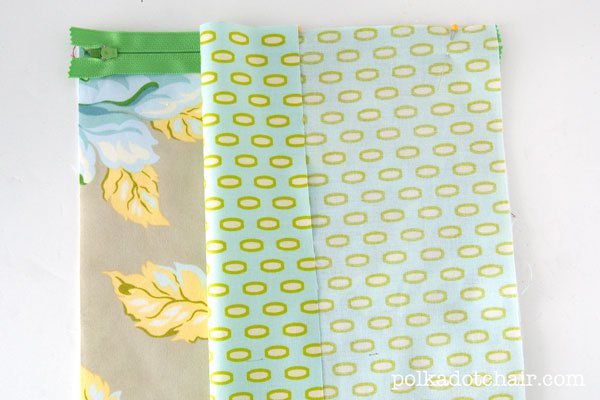 Apply Fusible Fleece:
Begin by pressing the fusible fleece to the wrong side of both of the pouch outside pieces.
Attach the Zipper:
Lay your pouch front piece right side up and place your zipper on top of it, zipper right side down. The right side of the zipper will be facing the right side of the pouch.
Lay your pouch lining piece on top of this right side down.  Pin the whole length.
Using the zipper foot on your machine, stitch through all layers, going slowly. I find it easiest to sew with the lining side towards my feed dogs on my machine.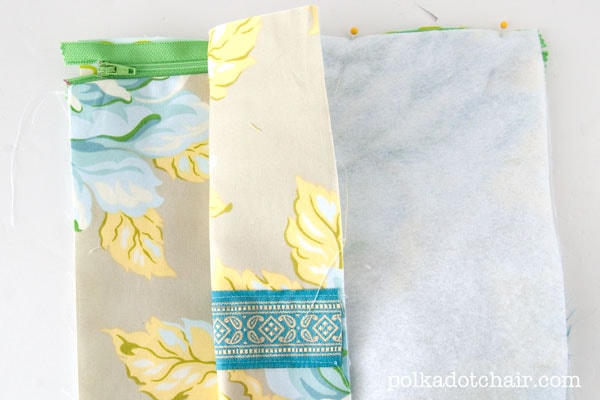 Next repeat with the other pouch and pouch lining pieces.  In this photo, the zipper is in the middle, the pouch lining piece is on the bottom (right side up) and the pouch front piece is on the top right side down. Stitch in place.
Press pouch along the zipper.  Make sure you press the seams away from the zipper.
Add the Cork Accents:
Pin a ½″ by 10″ piece of stitchable cork to the zip pouch outside close to the zipper. Top stitch along both sides of the cork to secure. Repeat for other side of the zipper.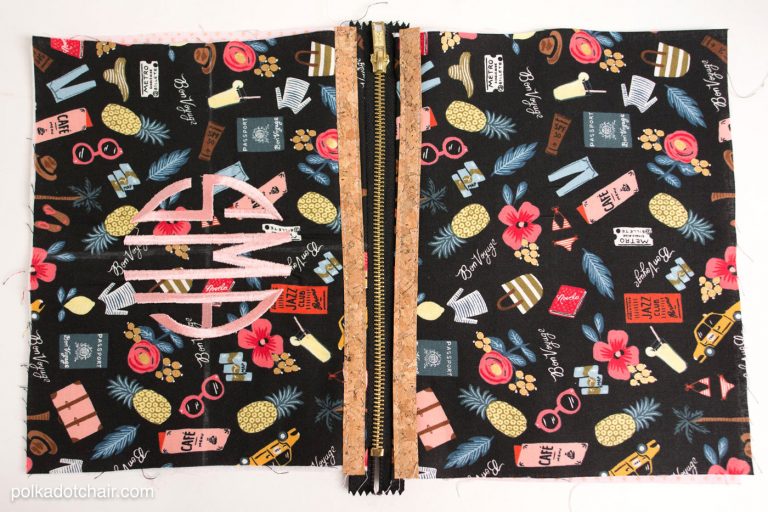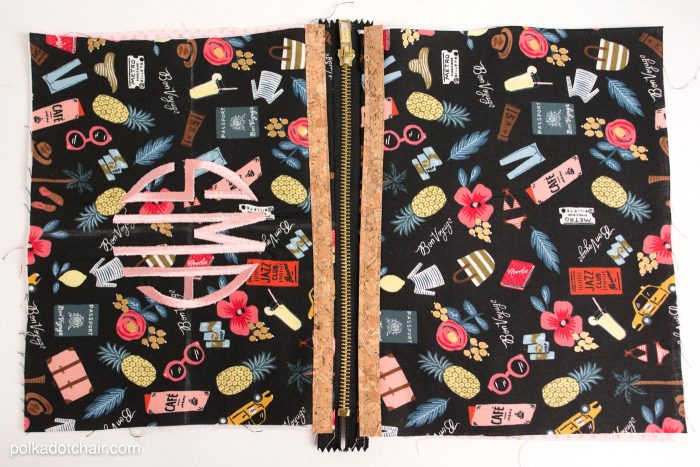 Assemble the Bag:
Unzip the zipper (DO NOT FORGET this step).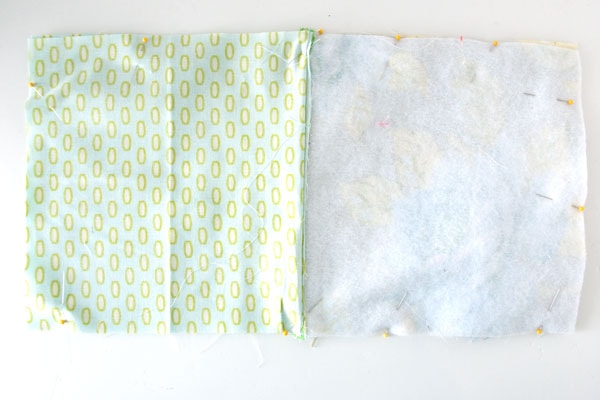 Lay the pouch with right sides together.  The right sides of the lining pieces together and the right sides of the pouch together.  Fold the zipper towards the lining when you pin it.
Add Boxed Corners:
Stitch around the circumference of the pouch leaving a 3″ opening in the lining piece. When you stitch close to the zipper make sure that you DO NOT sew over the metal part of the zipper.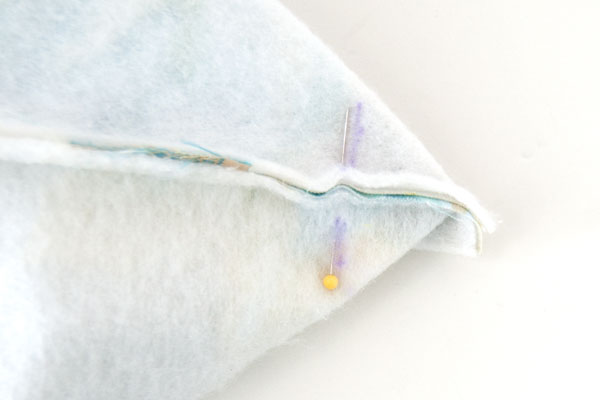 Next, take one of the corners and pinch it so that the 2 seams are sitting on top of each other and the corner comes to a point. Measure in 1″ from the tip of the point and draw a line. Stitch along this line, making sure to back stitch.
Repeat for all 4 corners.  Trim off triangular shaped pieces of fabric.
To finish. Turn the pouch right side out and press.  Slip stitch the opening in the lining closed.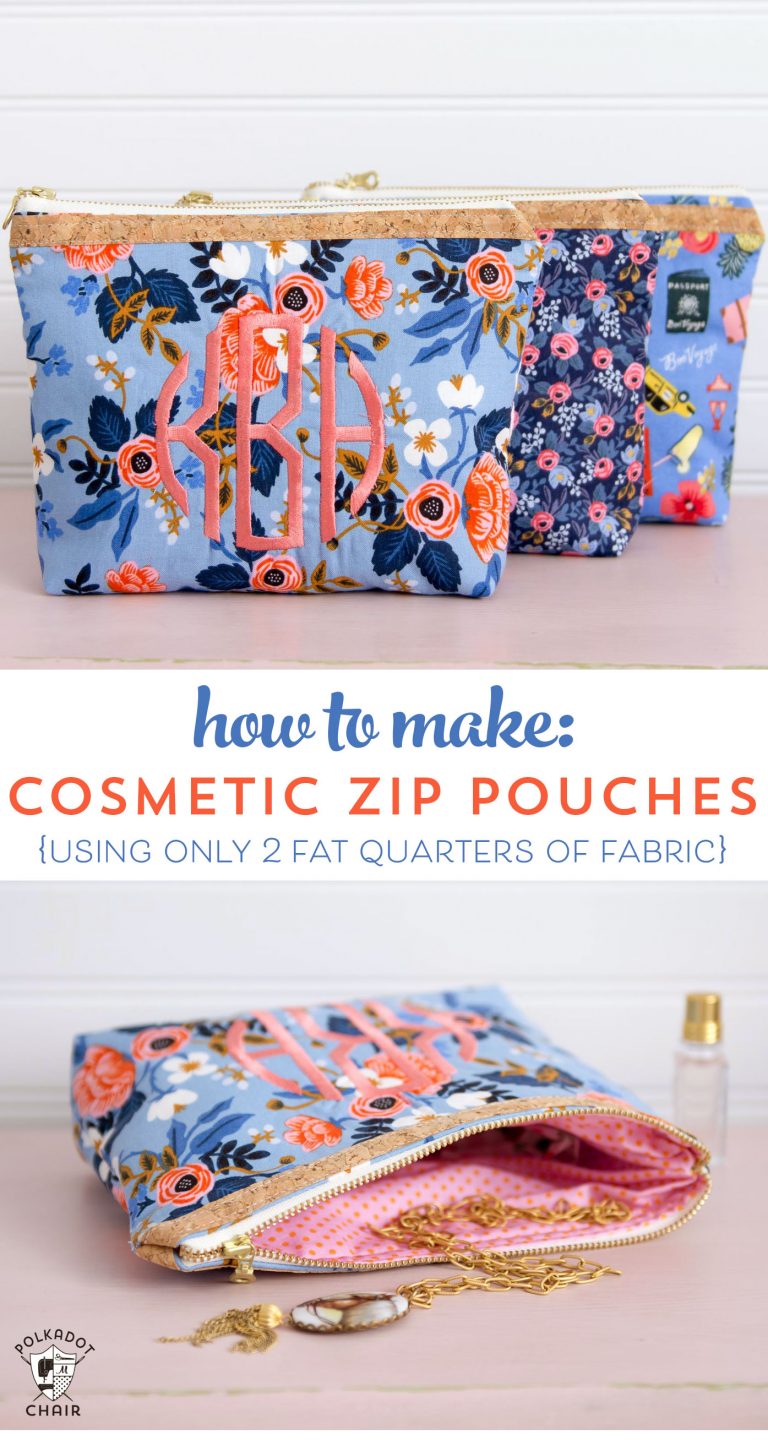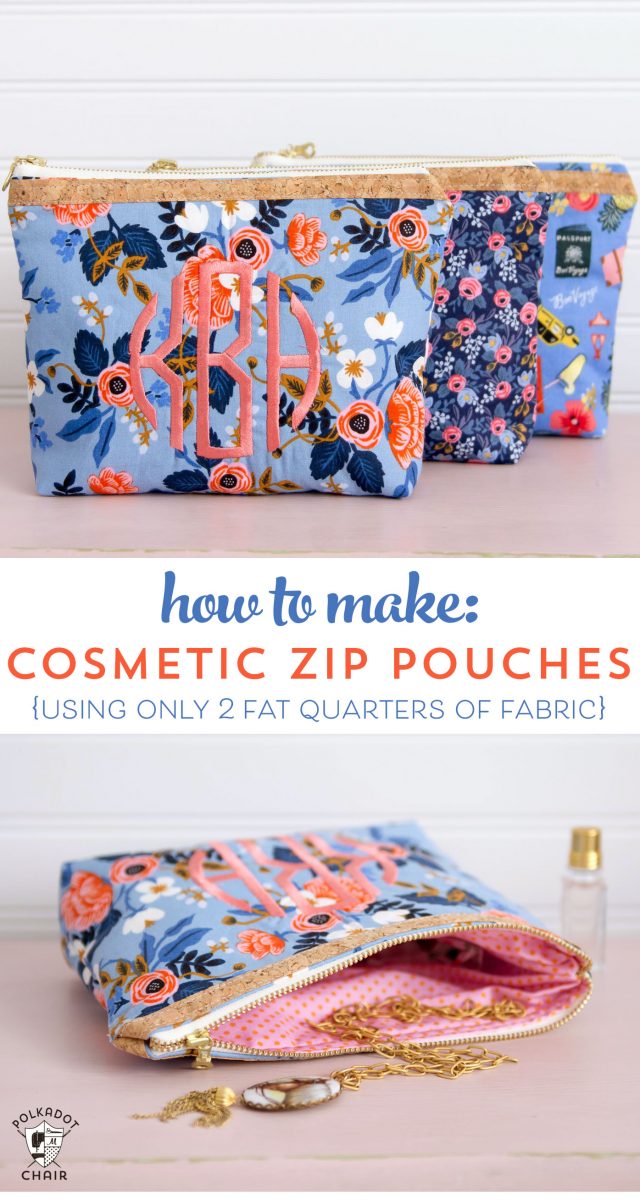 More Free Zip Pouch Sewing Patterns:
Zip Bag made with Fabric Selvages
Embroidered Zip Pouch Tutorial